7+ Refreshing Décor Ideas for a Farmhouse Living Room Design Update
Affiliate Disclosure: As an Amazon Associate we earn from qualifying purchases. Hence, if you click through and make a purchase, we will get a commission at no extra cost to you. For more info, read our full disclosure.
Transforming your farmhouse living room can breathe new life into your home's interior. Whether you're looking to embrace the rustic charm of a farmhouse or add a touch of modern elegance, refreshing your living room décor can make a world of difference.
In this blog, we'll explore seven inspiring décor ideas that will help you achieve the perfect farmhouse living room design update. From cozy textures to vintage accents, these tips will guide you in creating a space that's both inviting and stylish.
Cozy Living Room with Brick Fireplace and Built-in Shelves
In this inviting living room, you'll find exquisite white shiplap walls gracing a majestic brick fireplace. Complementing this cozy setting are built-in shelves adorned with beautiful maple wood planks, showcasing a variety of farmhouse décor. The room is elegantly rounded out with a wooden coffee table, featuring understated embellishments like a small house plant and a candle.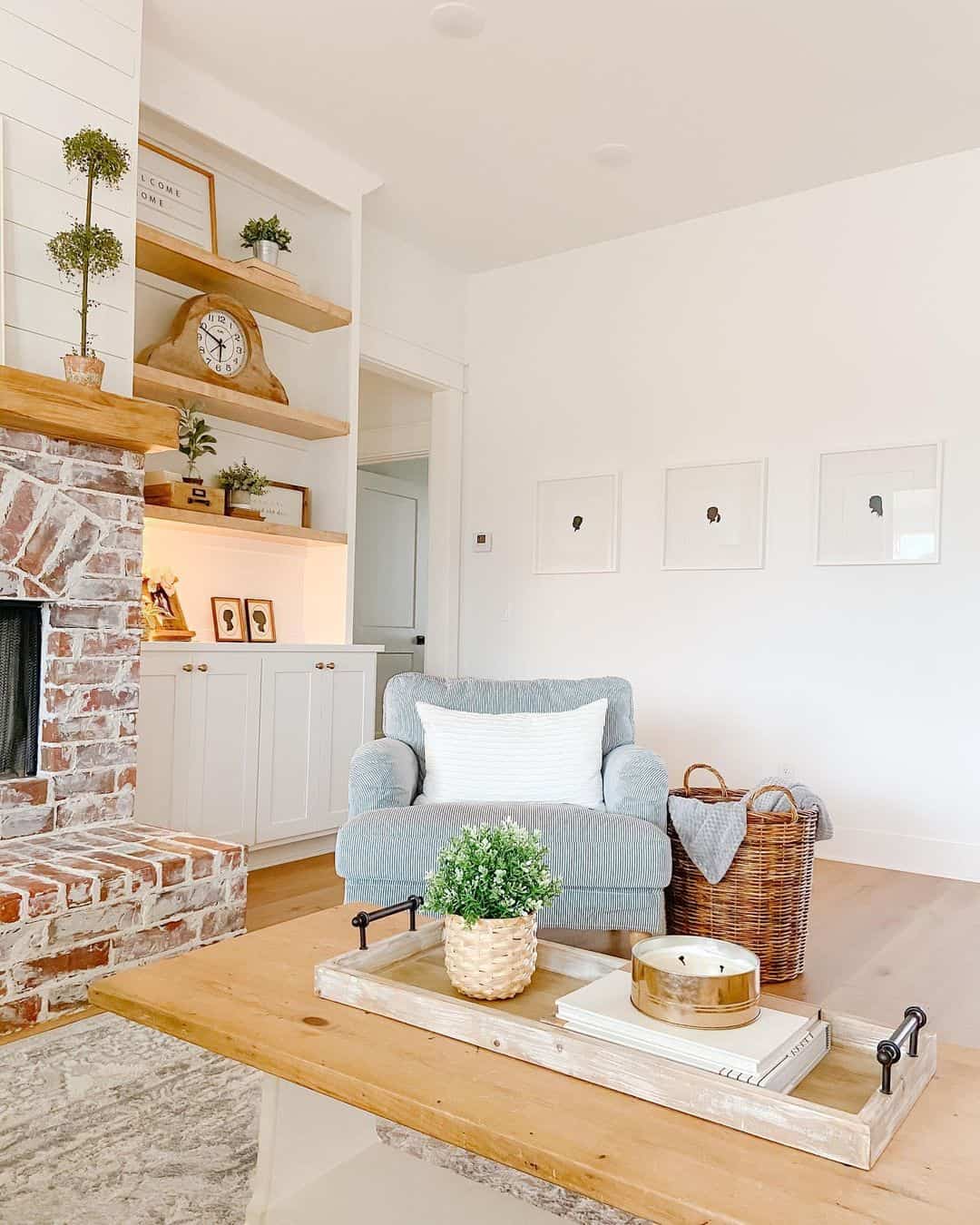 Credit: sunsetfarmhouse
Shop the Look
Elegant White Farmhouse Living Room Décor Ideas
Step into a realm of serenity within this farmhouse bedroom, where soothing shades of white reign supreme. A round coffee table serves as the centerpiece, adorned with a charming rattan basket cradling a vase filled with pristine white flowers. A white cabinet, its polished wood top gleaming, proudly exhibits an array of farmhouse-inspired adornments, including a lamp and a captivating piece of artwork.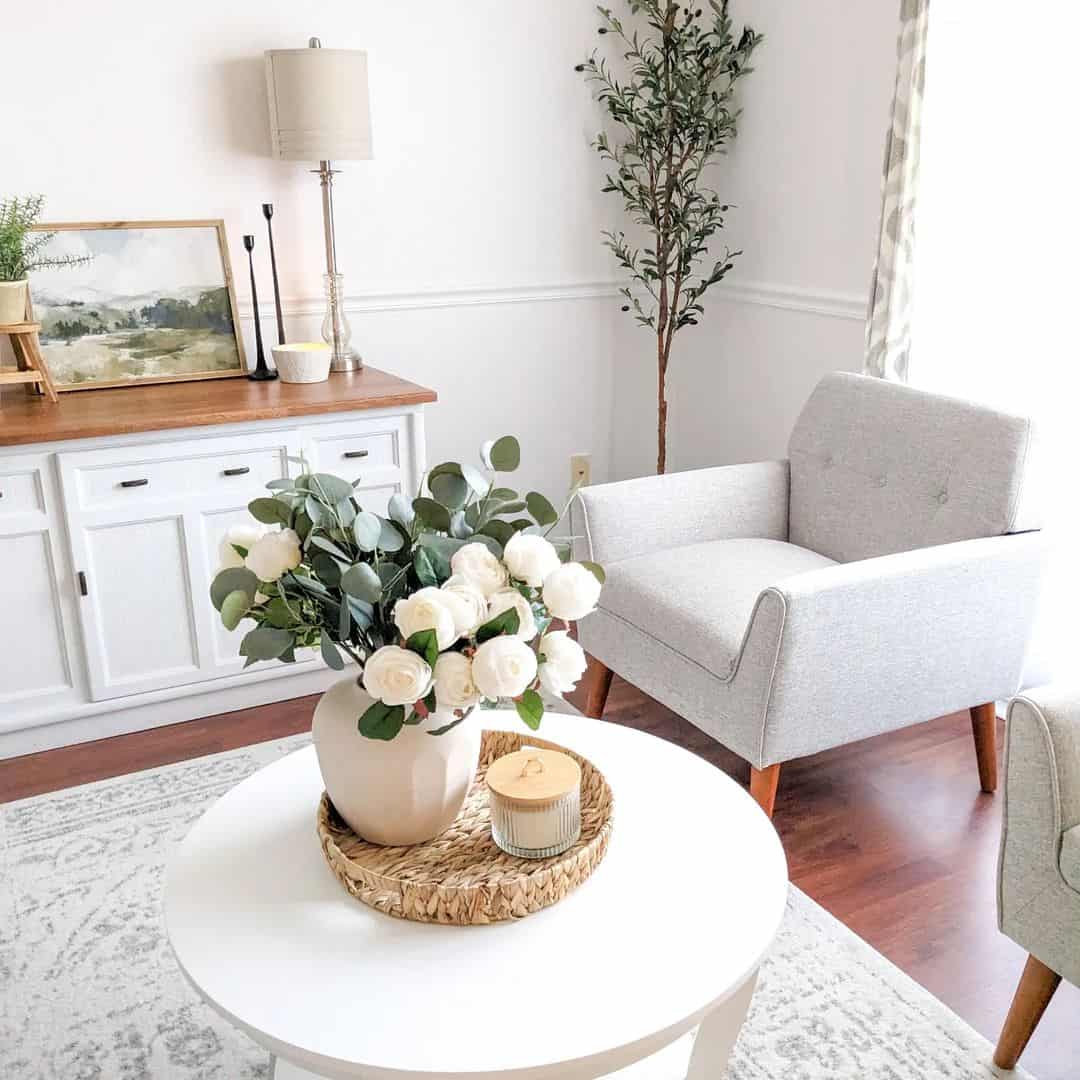 Credit: twicebakedhome
Shop the Look
Bright Room Featuring a Faux Fireplace
Embrace the freshness of spring in this vibrant room, designed to be the ultimate seasonal retreat. The faux fireplace, complete with a wooden mantel, comes alive with a profusion of verdant greenery, creating an ambiance of peace and warmth. White chairs and a cozy ottoman beckon for relaxation, while a soft throw adds a touch of comfort and texture.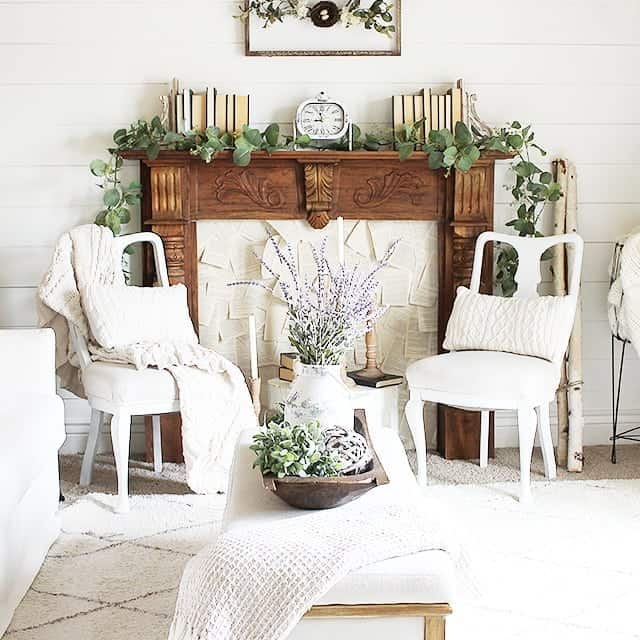 Credit: thriftyandchicdecor
Shop the Look
Farmhouse Living Room with White Shiplap Walls and Distressed Coffee Table
In this comfortable living room, soft light gray walls seamlessly blend with simple white shiplap wainscoting. A vintage white coffee table infuses character and a timeless charm into the space. At its heart lies a comfortable light gray sofa, set upon a gray wood floor that mirrors the neutral-toned palette of the room.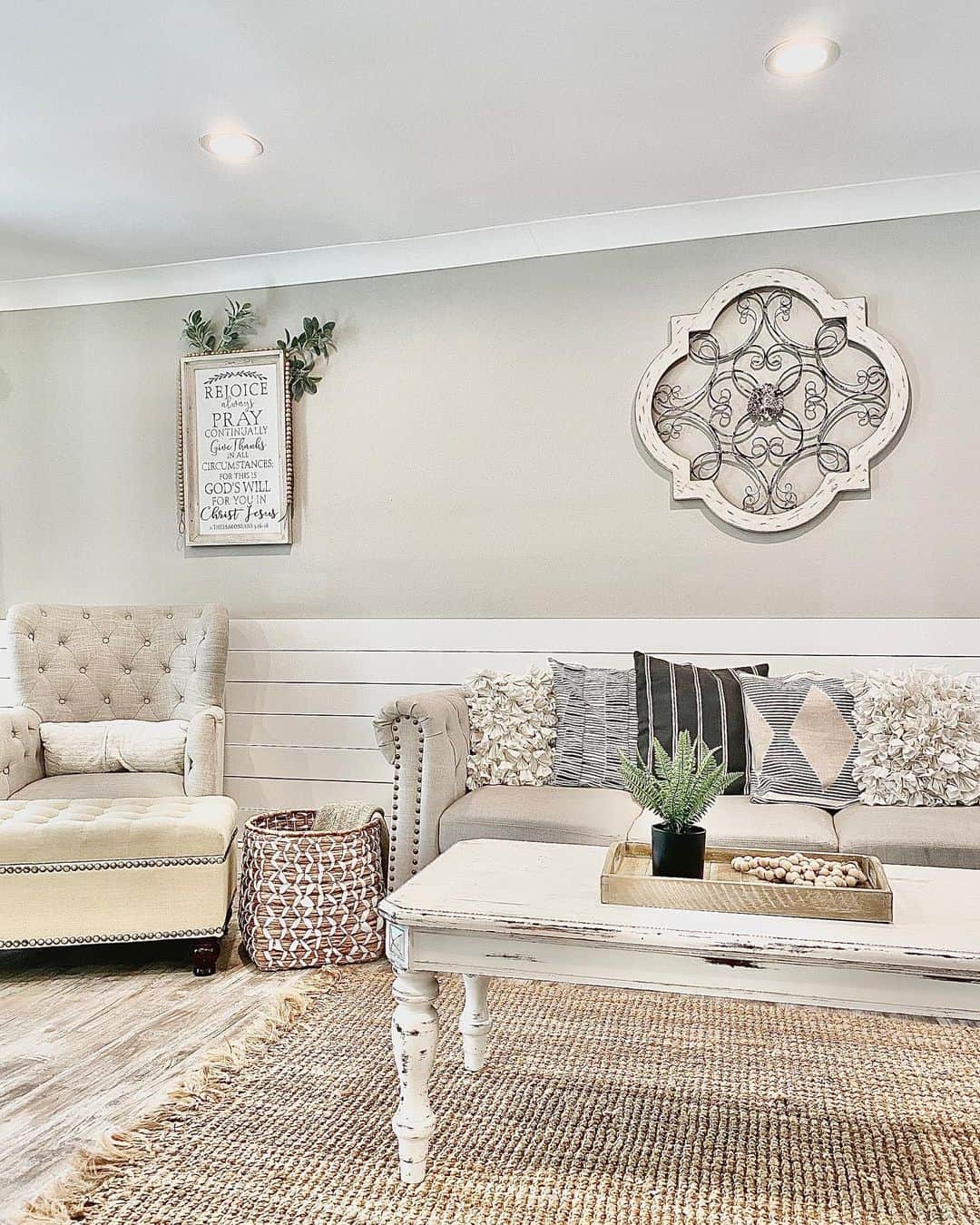 Credit: sabrina_king29
Shop the Look
Rustic Wooden TV Console in Living Room Décor
Marvel at the rustic allure of a wooden TV console, bedecked with adorable farmhouse décor in this living room. Soft cream walls play host to a collection of complementary portraits and adornments, while a round ashwood coffee table rests gracefully on a soft, diamond-patterned rug.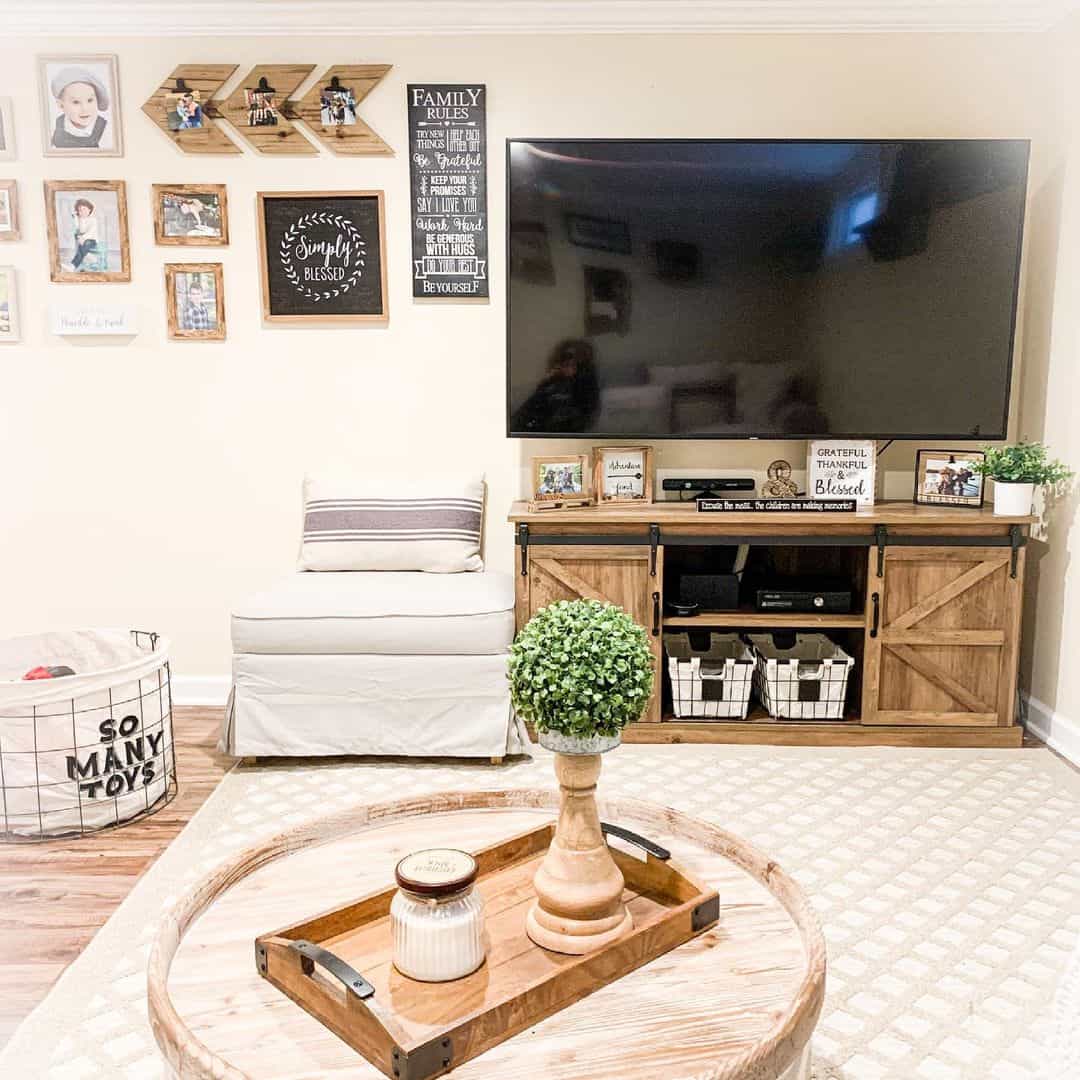 Credit: prettylittlehomesbykini
Shop the Look
Living Room with Black Wall Clock and Olive Tree
The stark contrast of a large black clock against smooth white walls lends depth and texture to this space. Nestled in a corner is a small ashwood console table, tastefully adorned with minimalist décor, alongside the presence of a tranquil olive tree. A low, modern light green armchair invites relaxation, complete with a soft white pillow and a cozy wool blanket.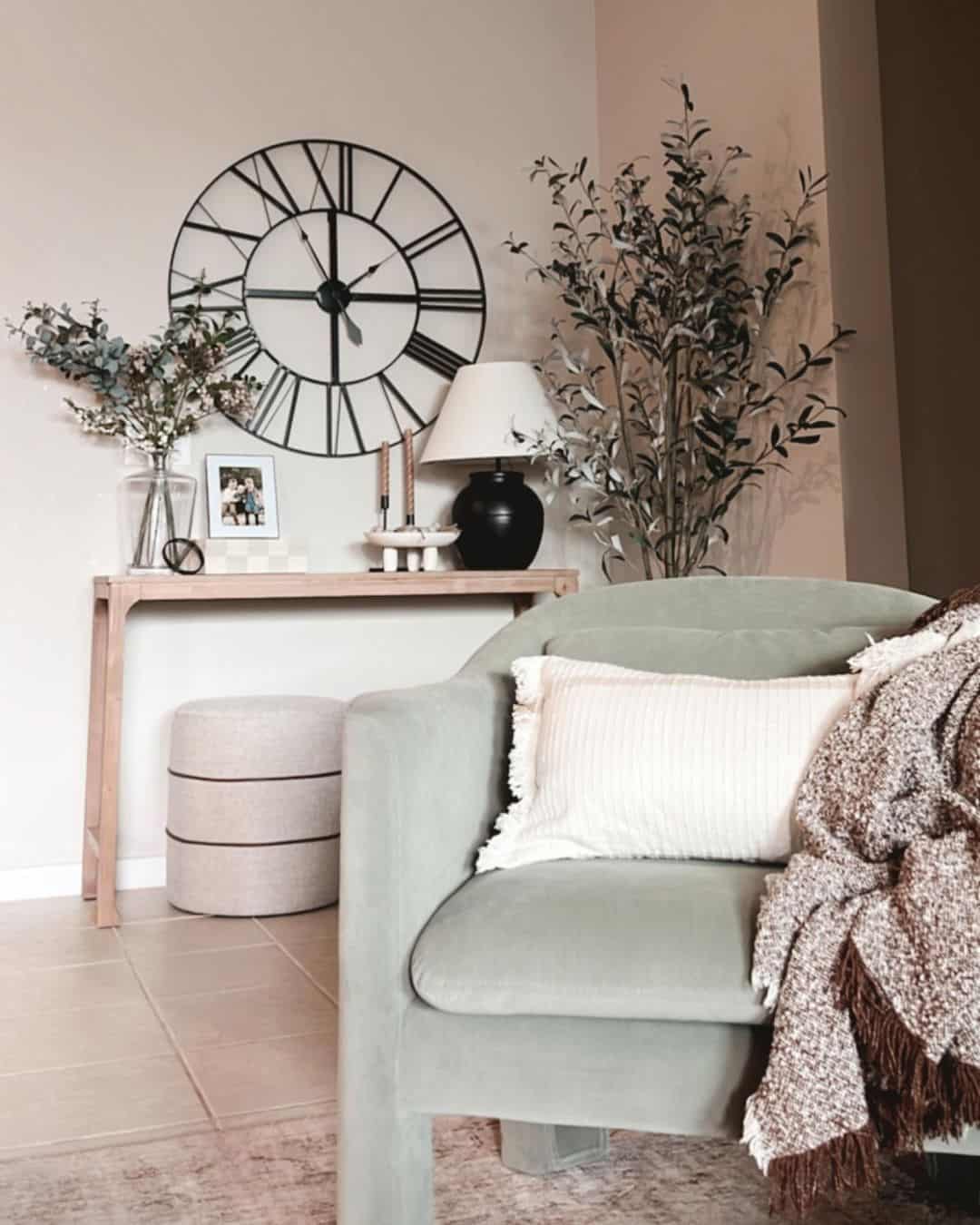 Credit: shaypdhome
Shop the Look
Elegantly Styled Living Room with Built-in Wall Decor
Experience the epitome of neutral elegance in this room, where gentle cream tones grace the walls, harmonizing with the rich natural maple wood accents. Built-in shelves proudly exhibit a meticulously curated collection of neutral décor items, elegantly lit by a charming lamp. A soft light gray couch beckons with its soft white and gray pillows, while a crackling wood-burning stove rests beneath a floating mantel and round mirror.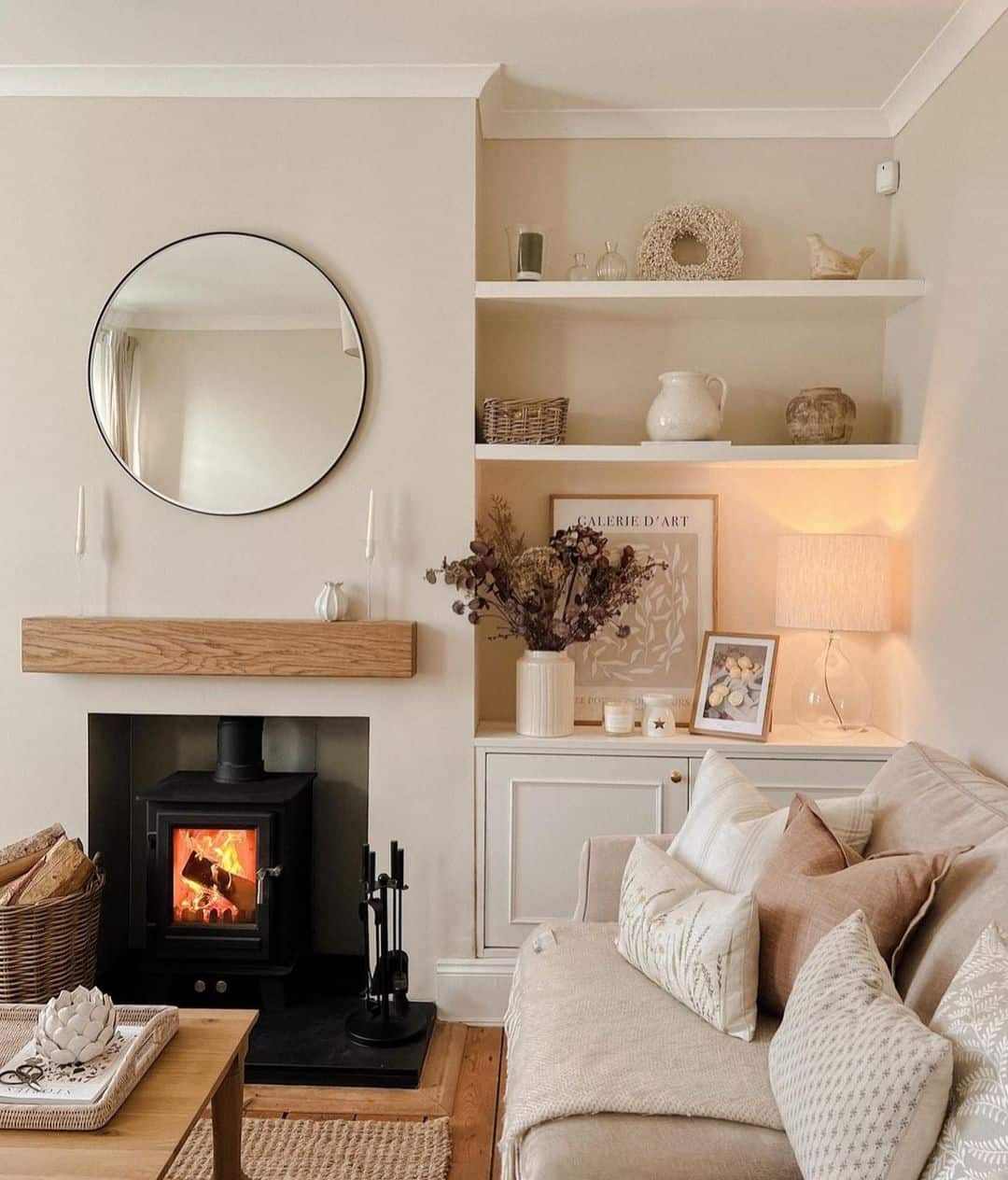 Credit: samanthajoyhome
Shop the Look
Farmhouse Living Room Décor with Ladder and Vases
Discover the clean and airy aesthetic of this farmhouse-inspired living room, where smooth white walls seamlessly blend with the rich warmth of natural wood flooring. The indoor fireplace takes center stage, adorned with pristine white vases and a captivating portrait on the mantel. Comfortable armchairs and a whimsical white ladder complete the inviting neutral interior décor.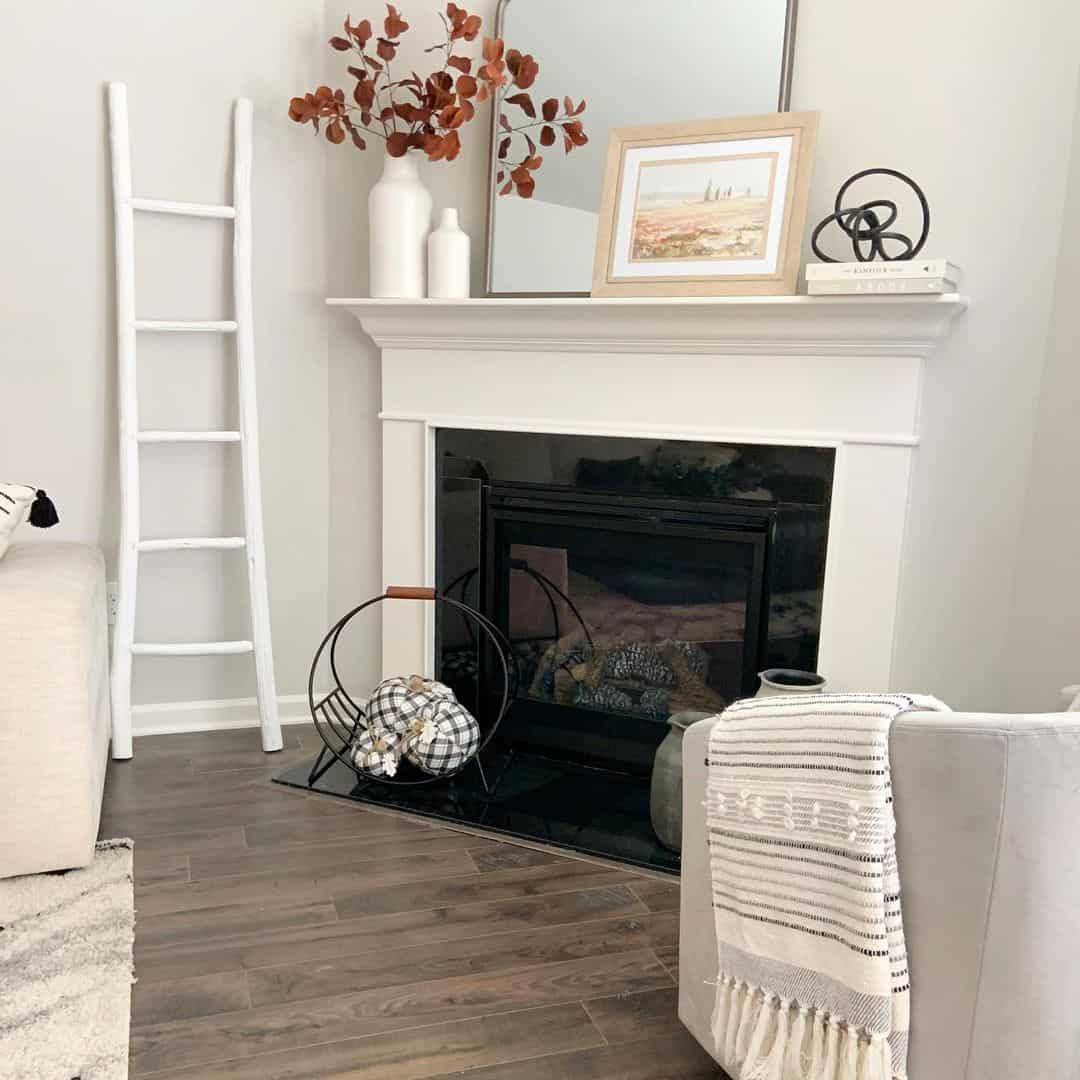 Credit: simplyhomewithkara
Shop the Look
Wrap-up
Your farmhouse living room can be a welcoming and stylish haven with just a few carefully chosen décor updates. By incorporating the elements of rustic charm and modern elegance, you can create a space that suits your personal style and enhances the overall appeal of your home.
From choosing the right furniture to adding vintage accents, these seven ideas provide a roadmap to achieve the perfect farmhouse living room design update. So, roll up your sleeves, get creative, and let your living room become the epitome of cozy, farmhouse-inspired elegance.