7+ Eerie Halloween Decor Ideas to Spookify Your Farmhouse Living Room
Affiliate Disclosure: As an Amazon Associate we earn from qualifying purchases. Hence, if you click through and make a purchase, we will get a commission at no extra cost to you. For more info, read our full disclosure.
Step into the world of spine-tingling charm as we unveil seven eerie Halloween decor ideas to transform your cozy farmhouse living room into a haunted haven. With a blend of rustic elegance and spooky allure, these ideas will infuse your space with just the right amount of spookiness to make this Halloween season truly unforgettable.
Farmhouse Elegance Living Room with Ghostly Delights
Step into this inviting living room adorned with charming white shiplap walls, where a captivating ghostly theme comes to life. Ghost-themed wall ornaments encircle a rustic white mantel, illuminated by a graceful chandelier. A wooden coffee table sits at the center, surrounded by cozy white armchairs, infusing the space with a farmhouse-style aesthetic.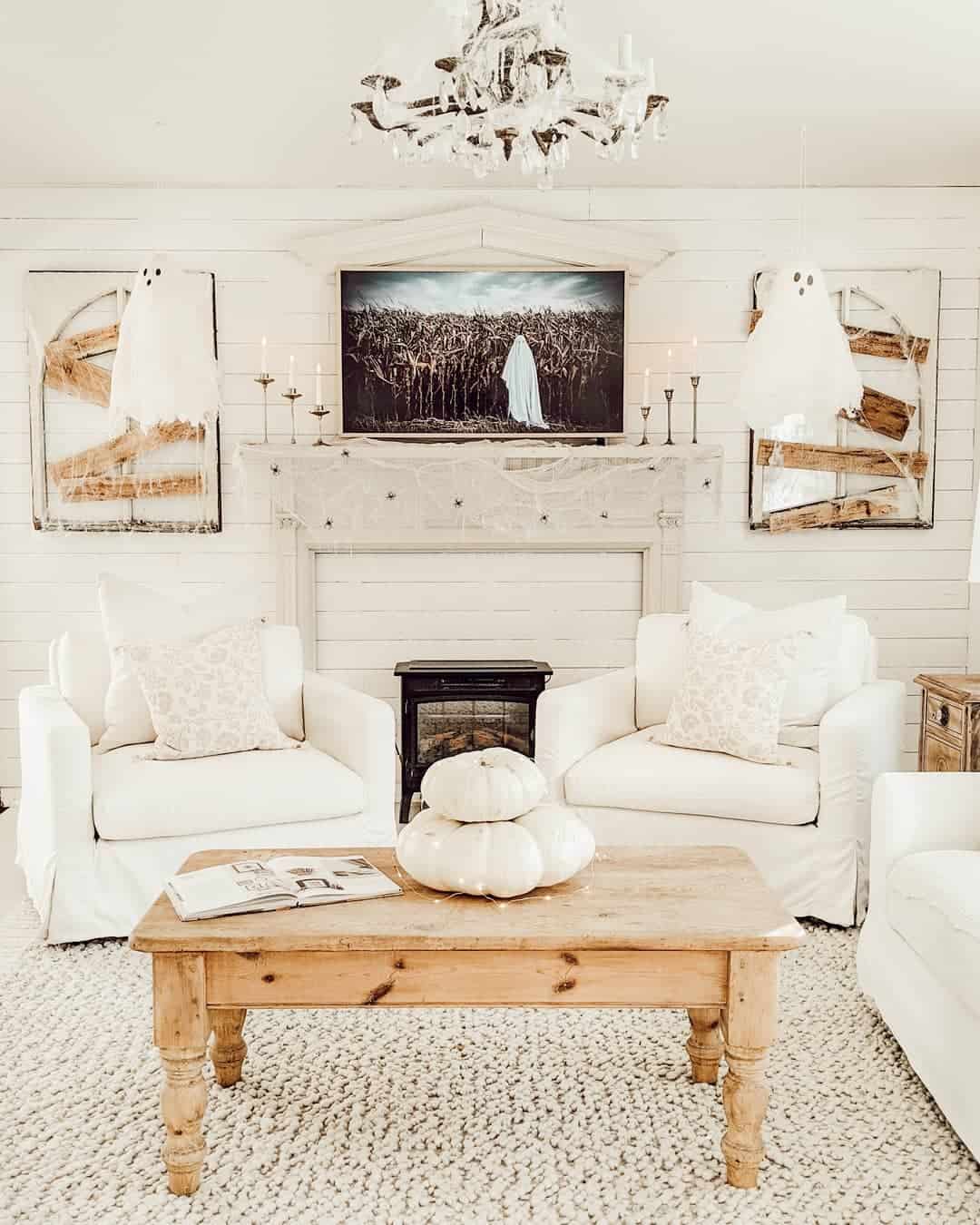 Credit: @vintageandgraceliving
Shop the Look
Hauntingly Decorated Fireplace Mantel
Step into the spirit of Halloween with a beautifully decorated living room featuring a charming white shiplap wall and an enchanting wooden fireplace mantel. Adorning the mantel are a captivating assortment of skeletons, accompanied by spooky skull and pumpkin ornaments. The atmosphere is set with the addition of black candlesticks, encased in wooden frames, and shrouded in ethereal white netting.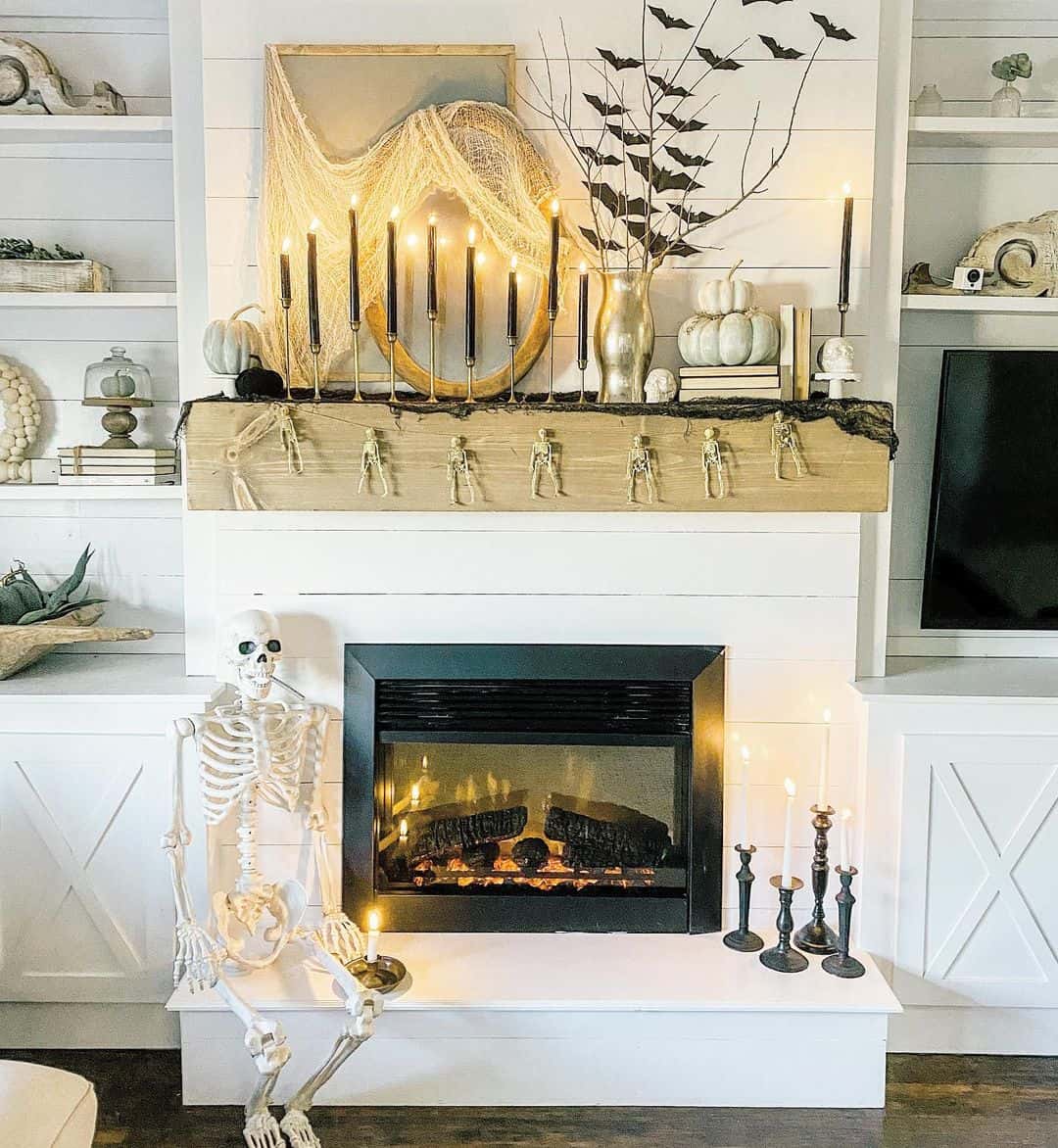 Credit: @thesimplystyledhome
Shop the Look
A Perfect Fusion of Fall Warmth and Halloween Enchantment
Adjacent to a traditional brick fireplace, an eclectic ensemble of pumpkins pays a heartfelt tribute to the quintessential symbol of fall. The nearby coffee table boldly embraces the Halloween spirit, proudly featuring a prominent skull amidst its decor. Flanking the fireplace, immaculate white built-ins stand as a pristine backdrop, allowing the harmonious fusion of autumnal and spooky elements to shine with captivating brilliance.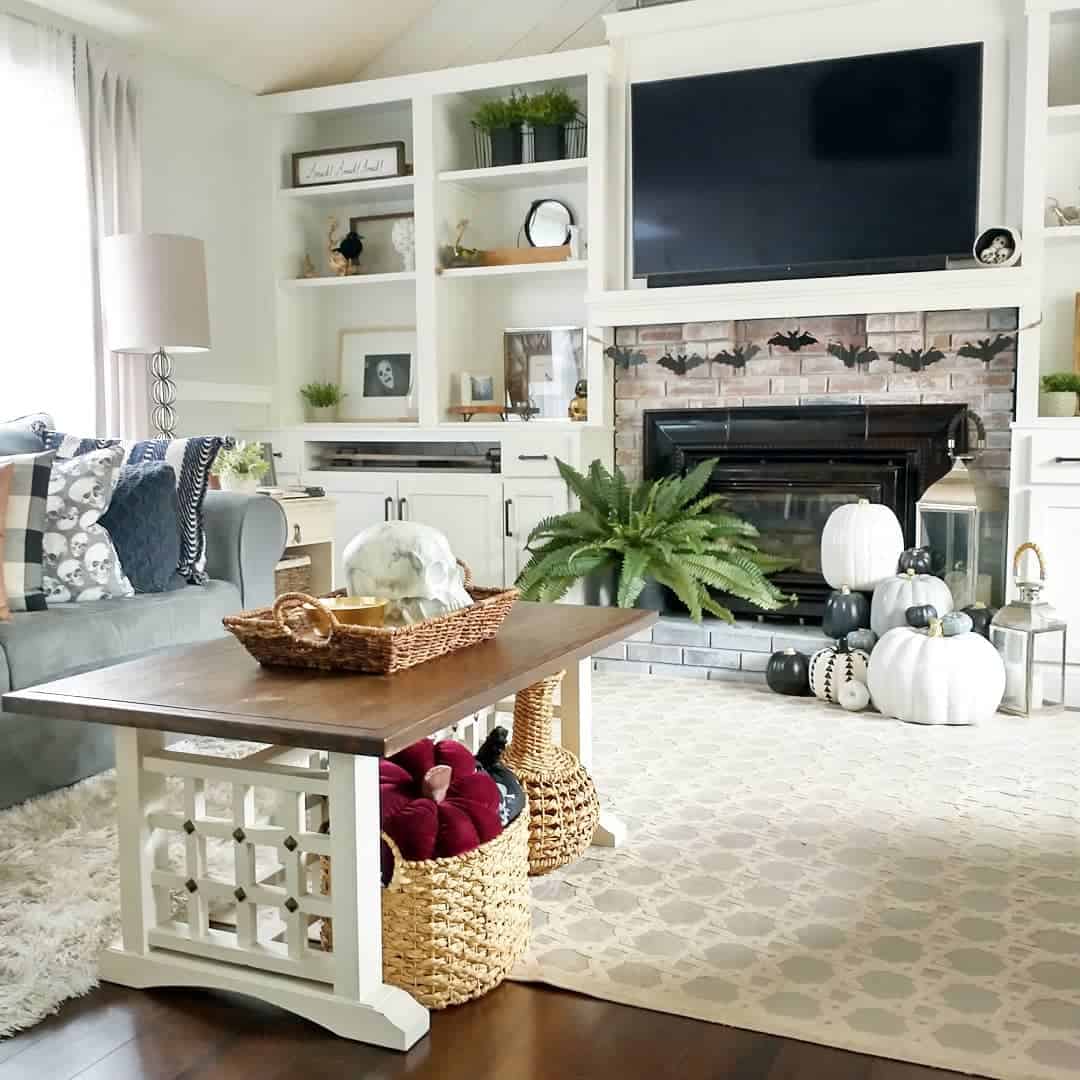 Credit: @21figs
Shop the Look
Cozy Seating Area Around a White Shiplap Fireplace
A captivating black chandelier takes the spotlight in this charming living room, set against a backdrop of a white shiplap fireplace adorned with playful paper bats. Stacked pumpkins grace the fireplace platform, accompanied by elegant black lanterns. In the heart of it all stands a wooden coffee table, inviting you to unwind on the surrounding white sofas and armchairs.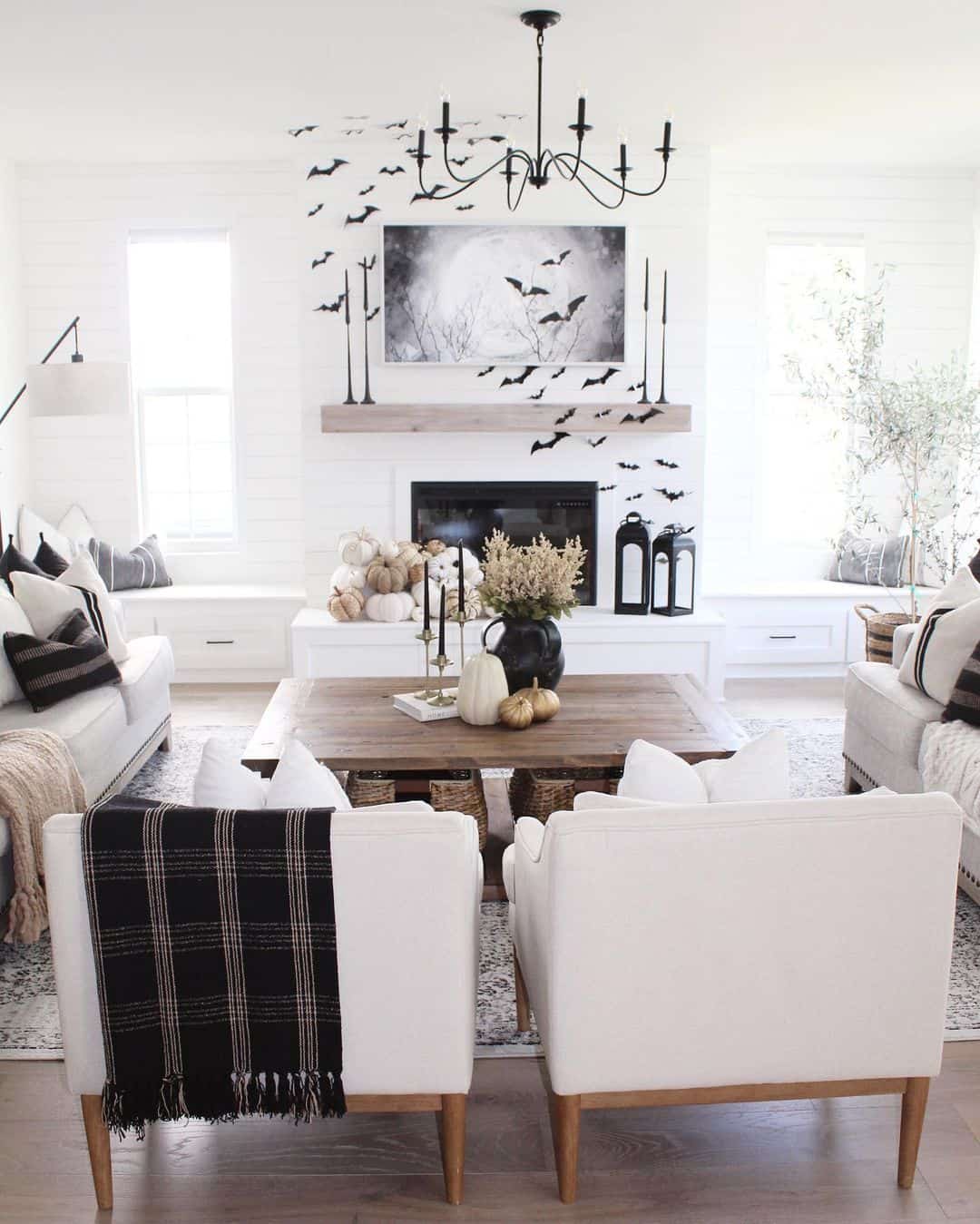 Credit: @myhousefromscratch
Shop the Look
Hauntingly Beautiful White Stone Fireplace with Eerie Mantel Decor
Halloween decor weaves its magic in the living room, adorning a black fireplace mantel and the surrounding walls. The mantel firmly rests against a white stone fireplace wall and features decorative spiders ensnared in spooky netting. Below, a tasseled rug hosts a wood coffee table adorned with captivating fall decorations.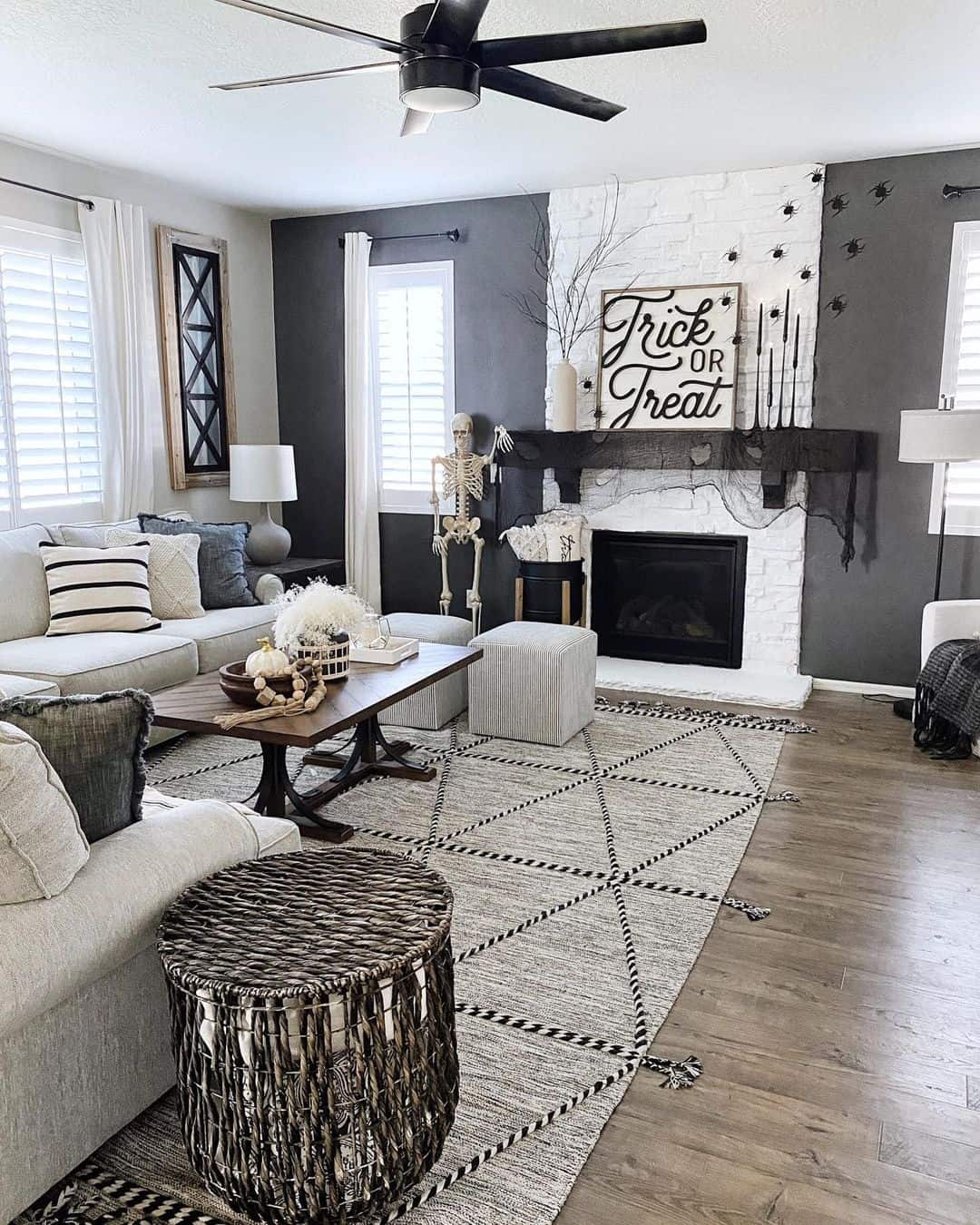 Credit: @greybirchdesigns
Shop the Look
Elevating the Spook Factor Halloween Living Room Decor Ideas
A white board and batten wall becomes the canvas for a captivating array of Halloween living room decor ideas, featuring a playful collection of paper bats. Gilded sconces cast their warm glow over a mantel adorned with black candlesticks and eerie ornaments. Above, black and white netting drapes elegantly, adding an extra layer of spookiness to a carefully arranged stack of pumpkins.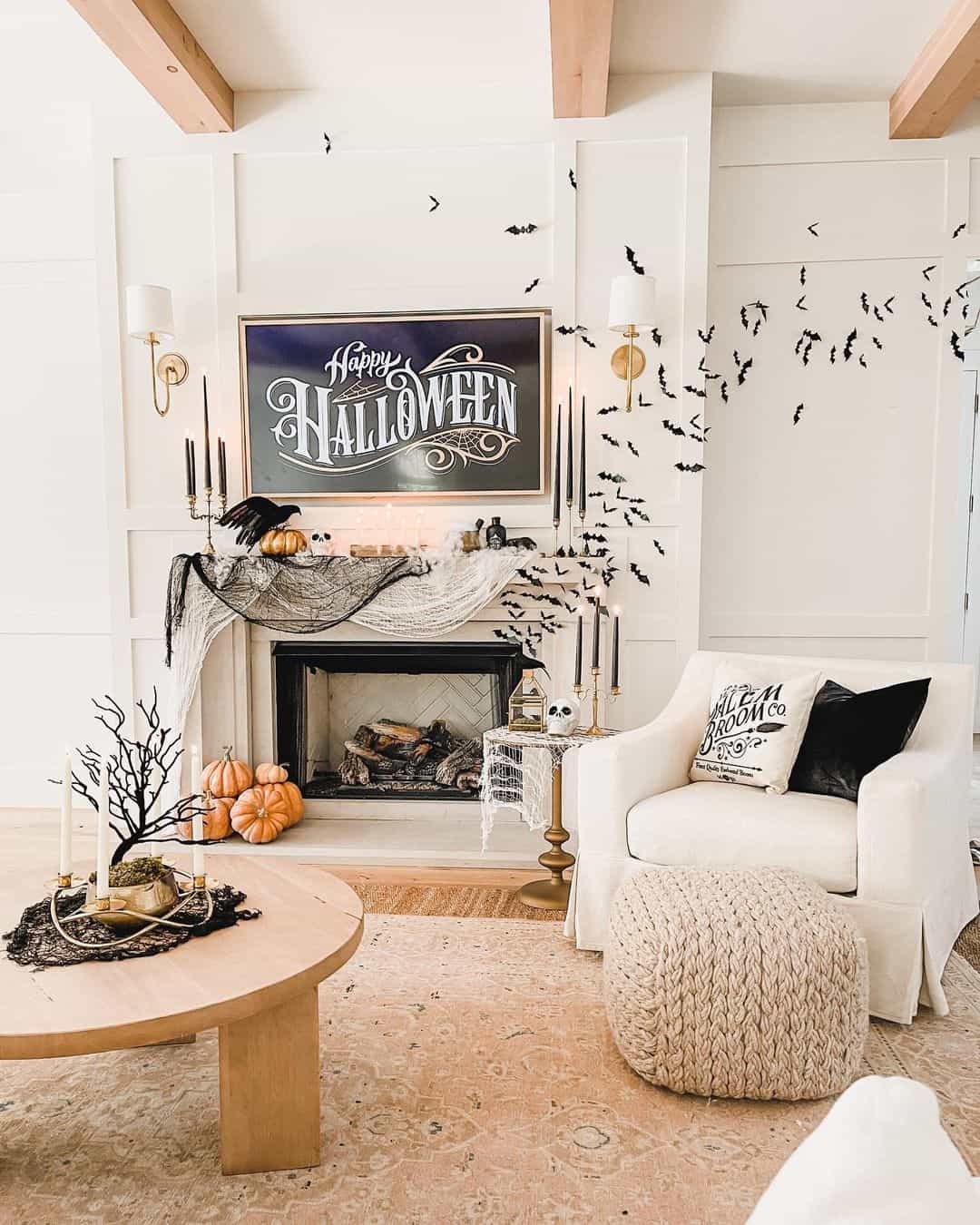 Credit: @alexisandraaustin
Shop the Look
Shiplap Serenity White Pumpkins and Garland Adorned Wall
A pristine white shiplap wall sets the stage for a platformed fireplace, enhanced by captivating Halloween decorations. A wooden mantel proudly displays sparse garlands and whimsical white pumpkins, all surrounded by a cluster of paper bats. Layered floor mats grace the ground beneath a striking black chandelier, completing the scene.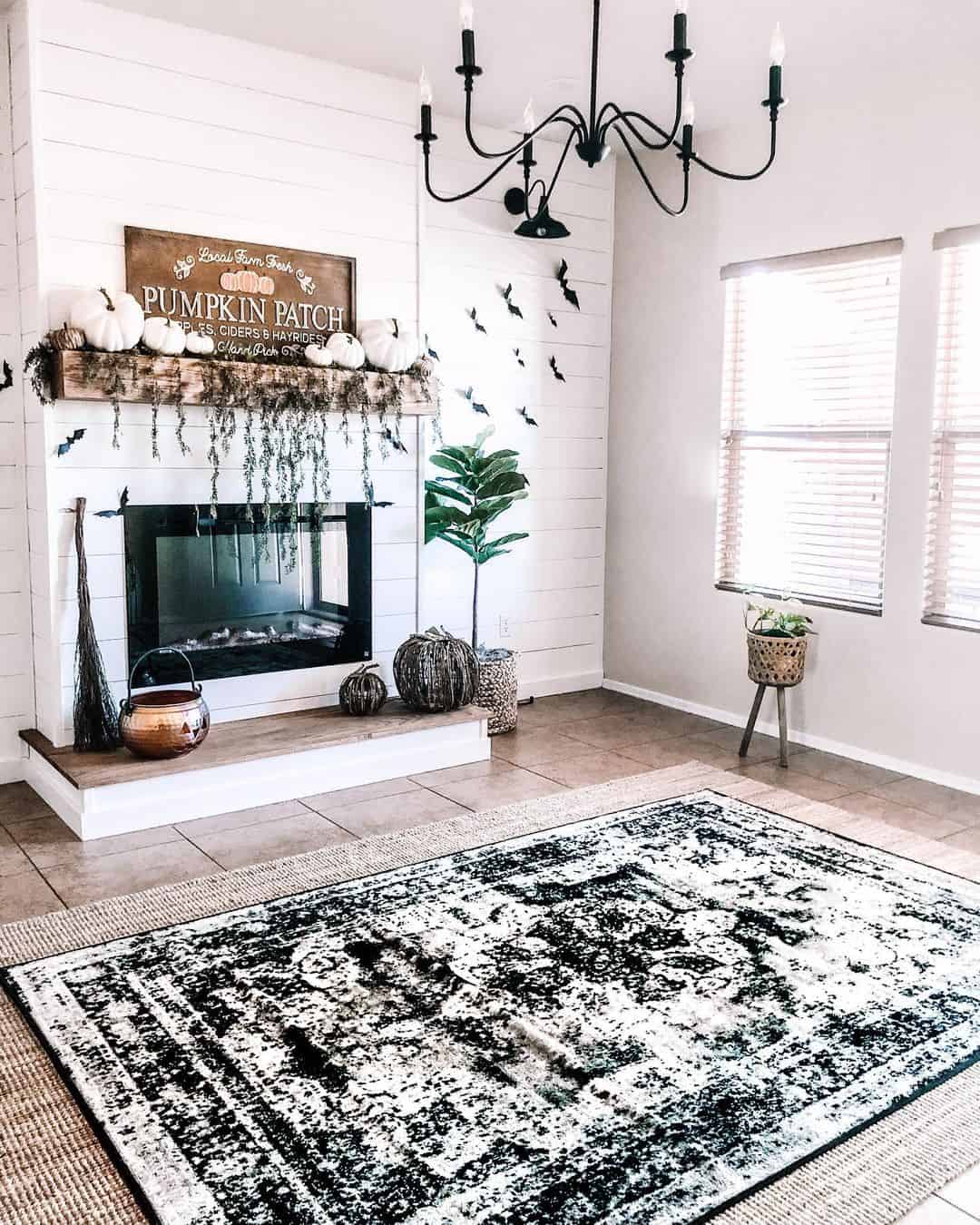 Credit: @kristine.jayne
Shop the Look
Embracing the Season White Platformed Fireplace with Seasonal Embellishments
Wooden living room flooring serves as the perfect canvas for neutral seating adorned with a delightful blend of Halloween and fall decor. A white platformed fireplace takes center stage, flanked by inviting lanterns and lifelike faux gourds. Atop the white fireplace wall, a wooden mantel showcases pristine white pumpkins and elegant candle holders, all beneath the watchful gaze of paper bats.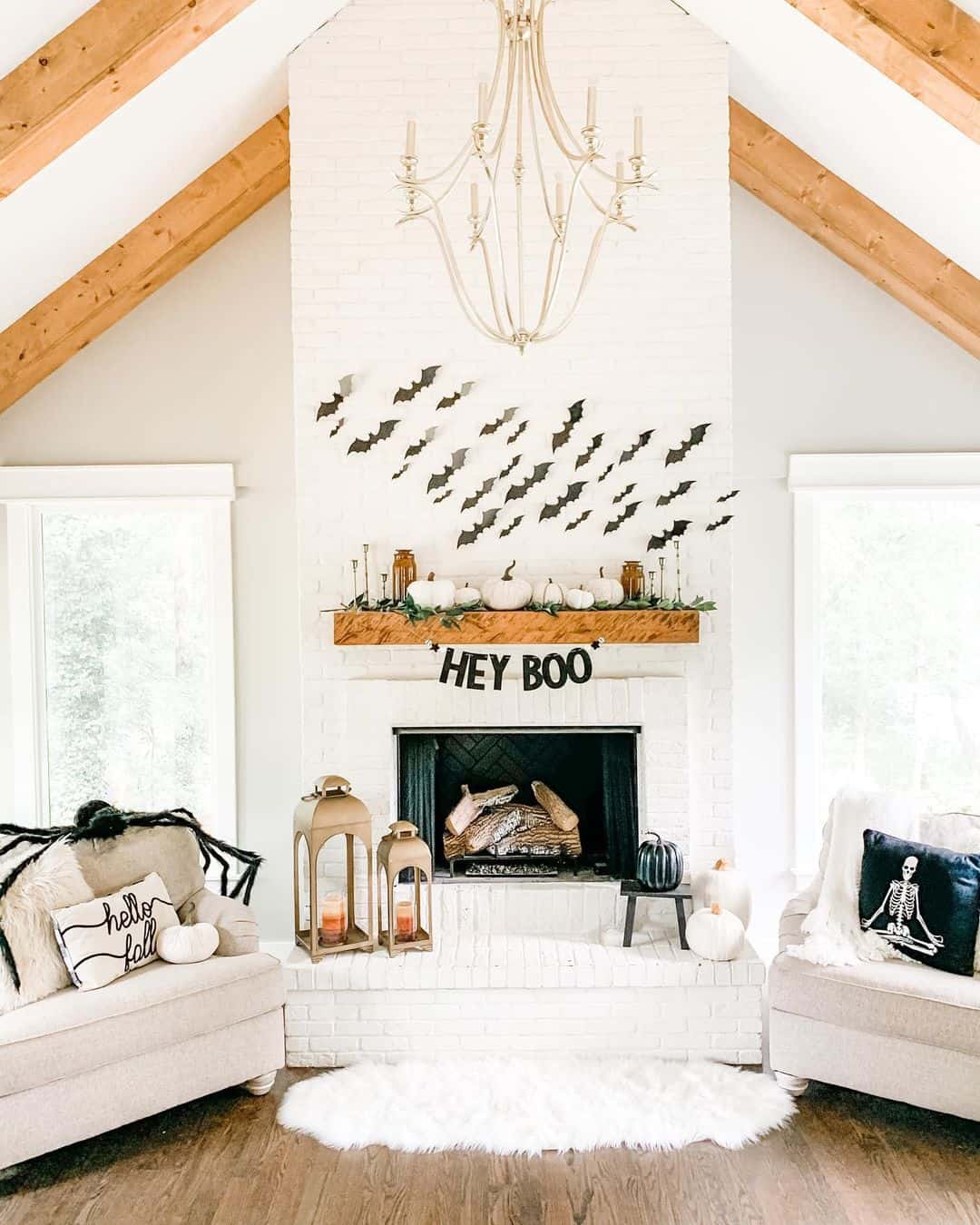 Credit: @ashleymariesavage
Shop the Look
Wrap-up
Embrace the Halloween spirit and let your farmhouse living room come alive with these chillingly delightful decor ideas. From ghoulish mantels to ghostly wall adornments, you've got all the inspiration you need to create a space that's both eerie and inviting. This Halloween, your farmhouse will be the talk of the town, enchanting guests and family alike with its bewitching charm.