7+ Chic Ideas to Infuse Farmhouse Vibes into Your Boho Space
Affiliate Disclosure: As an Amazon Associate we earn from qualifying purchases. Hence, if you click through and make a purchase, we will get a commission at no extra cost to you. For more info, read our full disclosure.
Embrace the charm of countryside living with a bohemian twist! From tasseled cushions to vintage candle holders, these 7+ ideas blend rustic farmhouse aesthetics with boho chic. Whether you're redecorating a single room or your entire home, these tips will help you create a space that's both cozy and stylish.
Farmhouse Living Room With Bohemian Touches
This farmhouse living room is a cozy haven, adorned with a gray and white boho rug that perfectly complements the wooden floor. Nestled in the corner is a dark beige sofa that harmonizes with the white shiplap walls. Above the sofa, a tobacco basket and farmhouse décor pieces are tastefully hung, adding character to the space.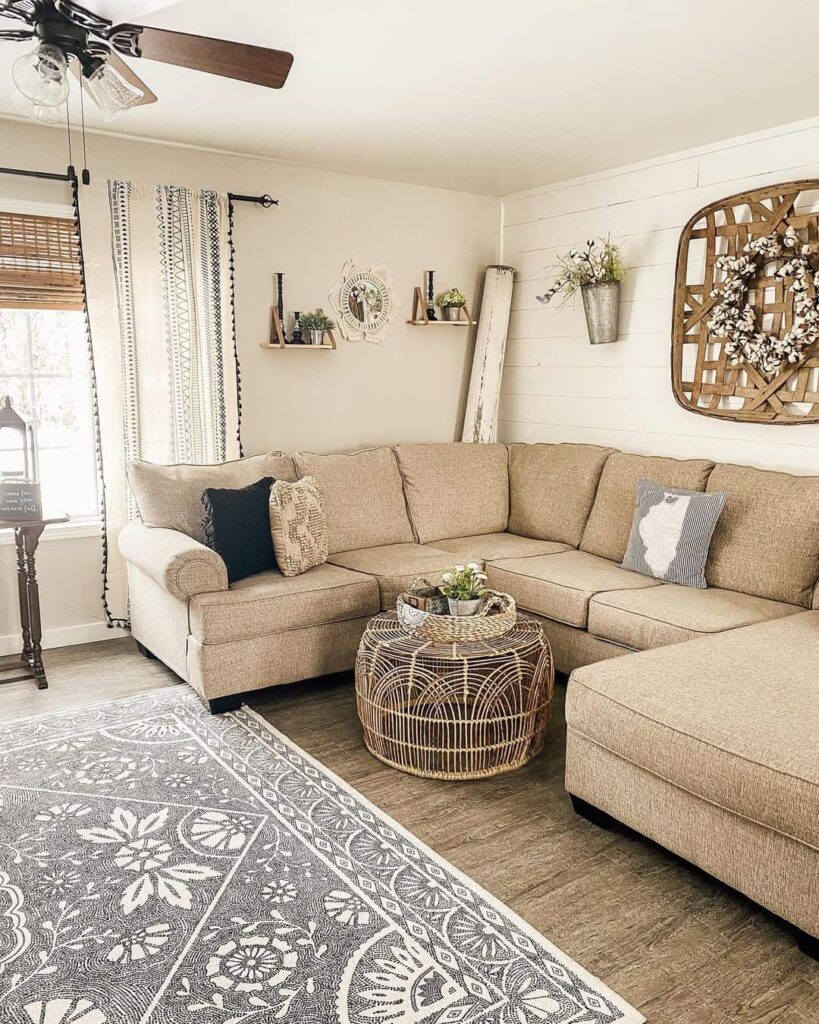 Credit: our.little.ranch.farmhouse
Shop the Style
Vintage Charm in a Farmhouse Living Room
In this boho living room, vintage candle holders find their place on a mounted shelf, accompanied by a clock and a gallery wall of photo frames. Green wreaths introduce a lively pop of color over a white sofa, with a wooden coffee table completing the look below.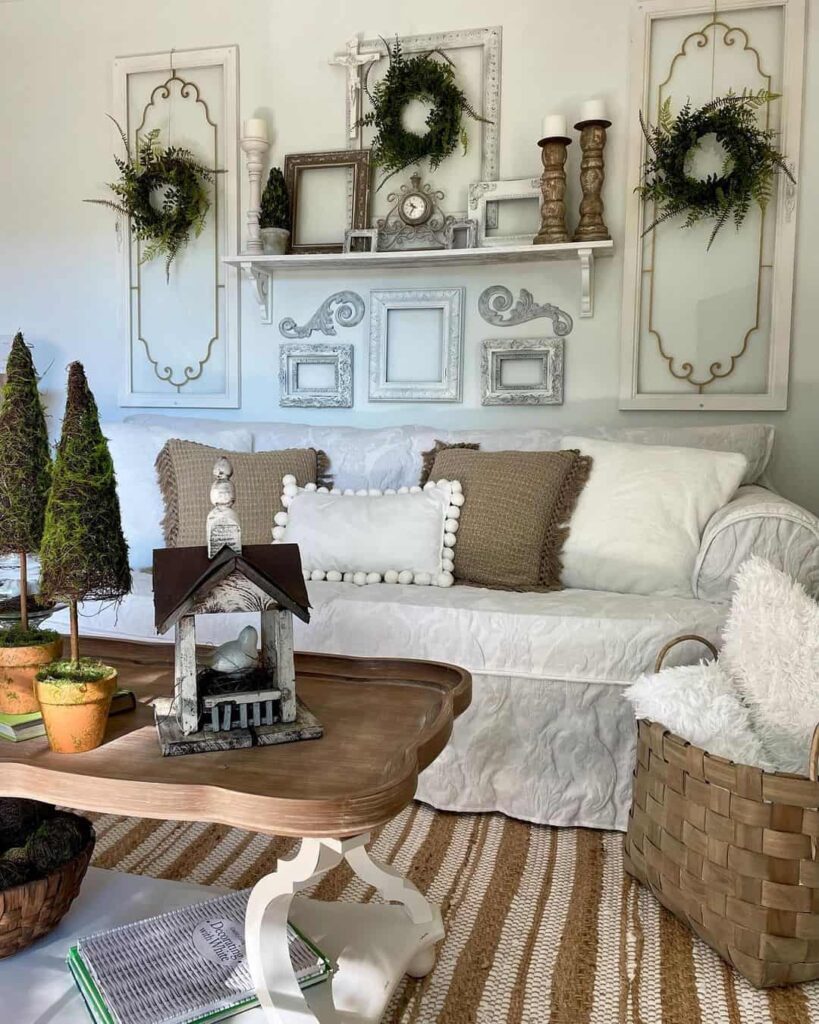 Shop the Style
Farmhouse Boho Bedroom: A Vintage Retreat
Step into a farmhouse bedroom that exudes vintage charm, featuring a white shiplap wall adorned with a mounted vintage painting. The black metal bed frame contrasts beautifully with the white bedsheets, creating a modern yet timeless aesthetic.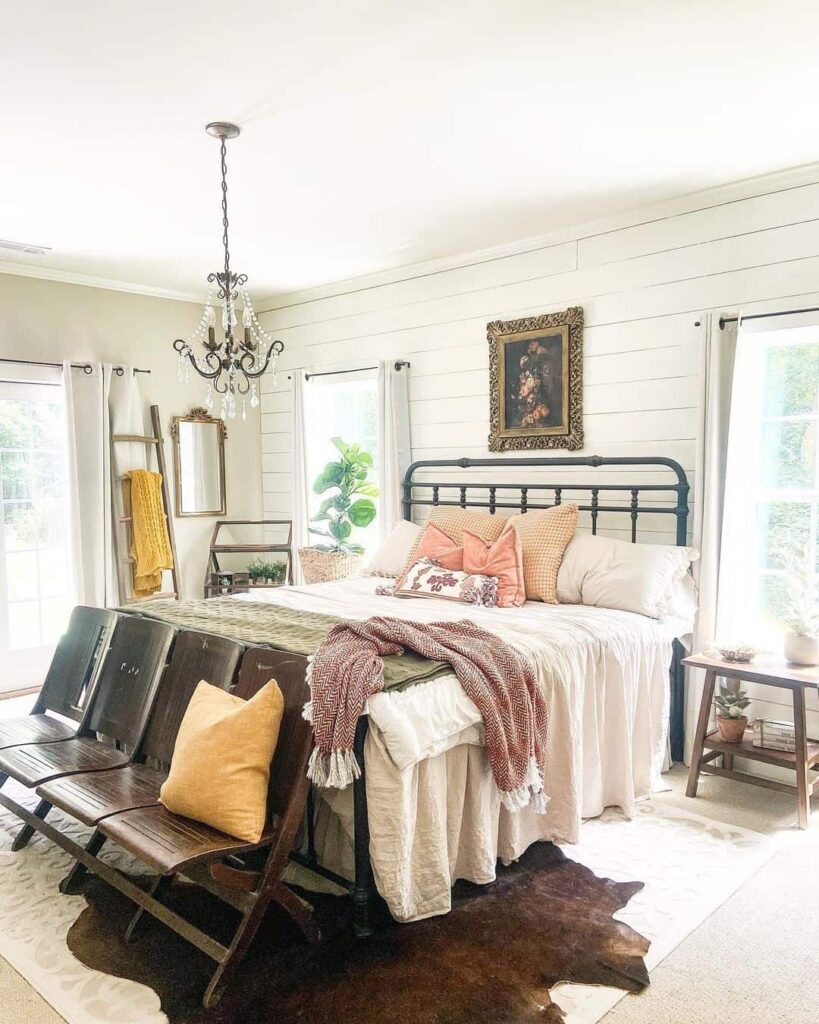 Shop the Style
Modern Farmhouse Living Room: A Wooden Wonderland
This modern farmhouse living room is a celebration of wood, with a wooden drum-style coffee table taking center stage. Paired with a woven jute rug, and wood-framed floral posters mounted on the white wall, it's a flora and fauna lover's dream.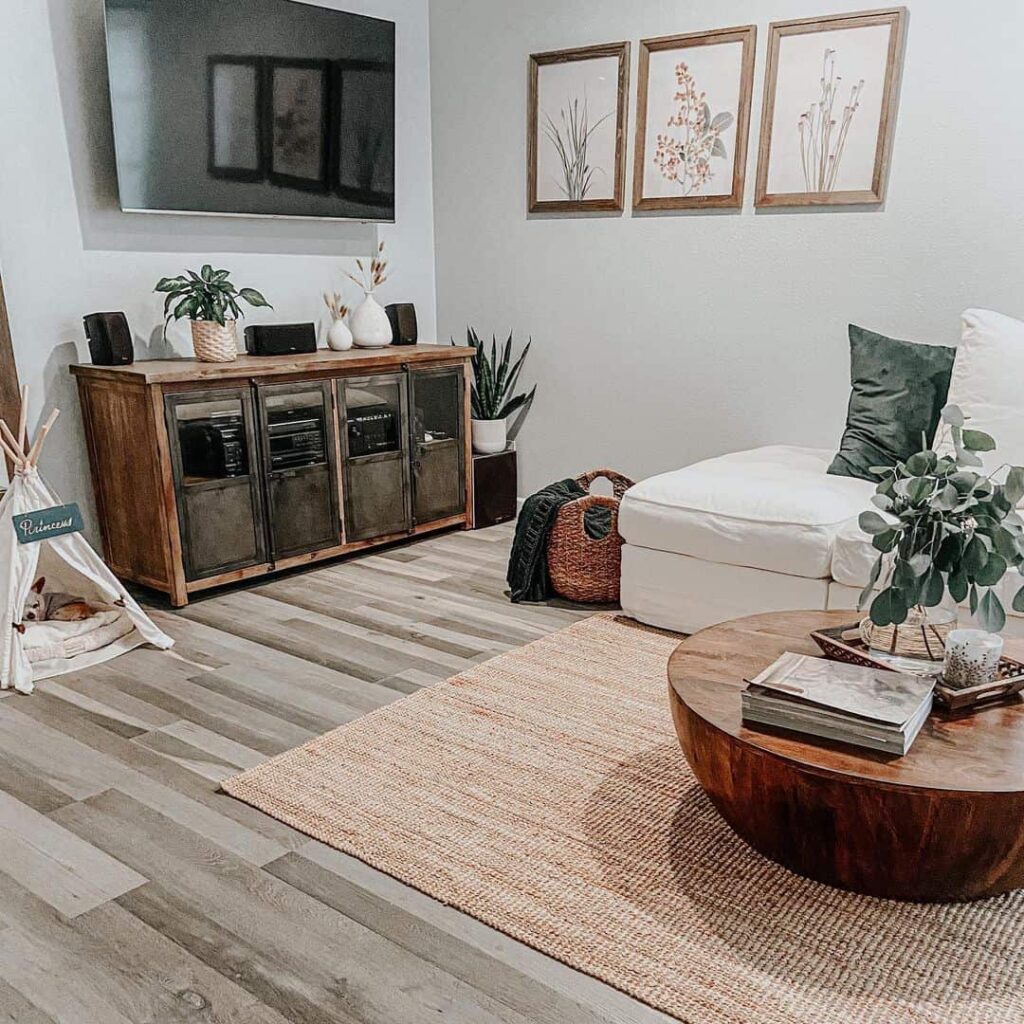 Credit: myhomeinlittlesquares77
Shop the Style
Farmhouse Living Room: A Symphony of Tassels
Neutral-toned tasseled cushions grace the brown sofa in this farmhouse living room. Opposite, a white cottage-inspired coffee table holds a faux fur runner, topped with a rustic tray holding a plant and white candles. It's comfort and style in one.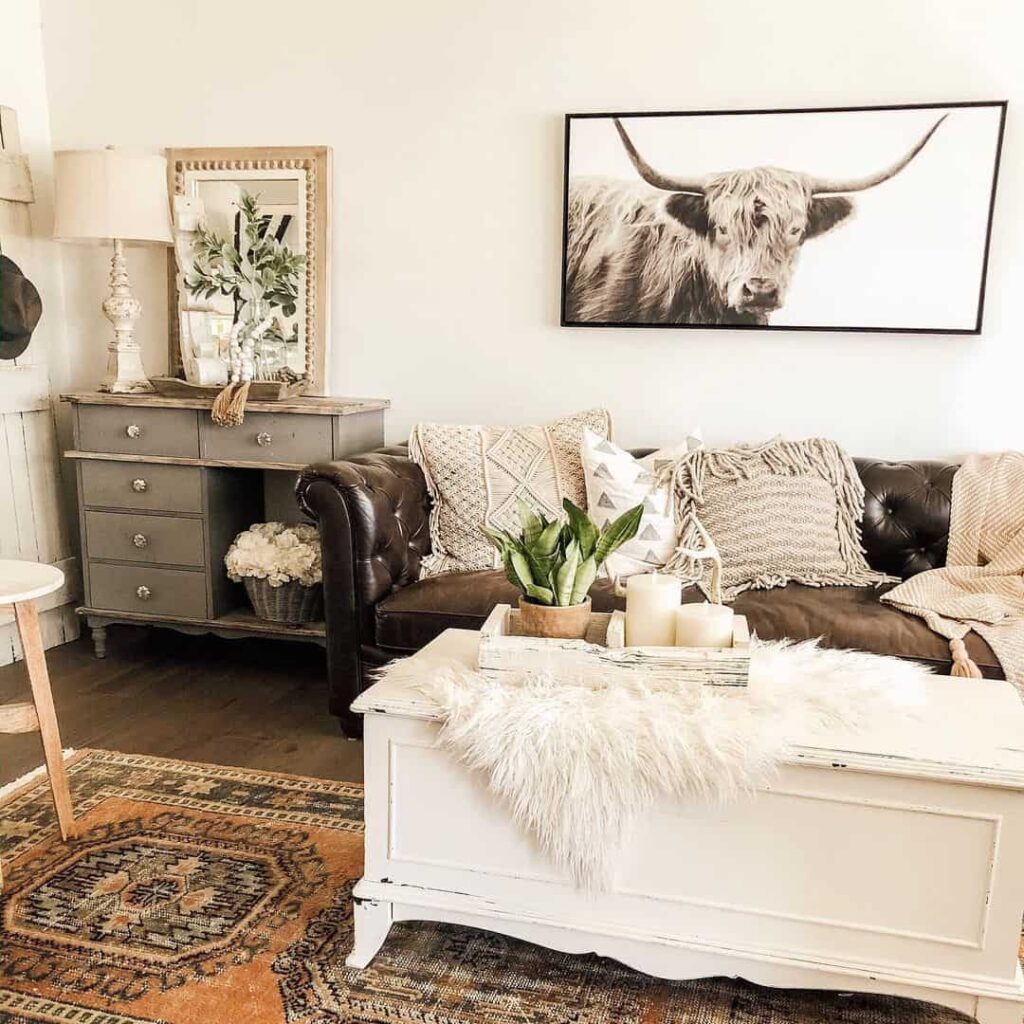 Shop the Style
White Shiplap Living Room: Rustic Elegance
Experience rustic elegance in a farmhouse living room, featuring two white hutches filled with books and décor, flanking a white entertainment center. Framed prints and rattan baskets on a white shiplap wall serve as focal points, while natural light adds warmth.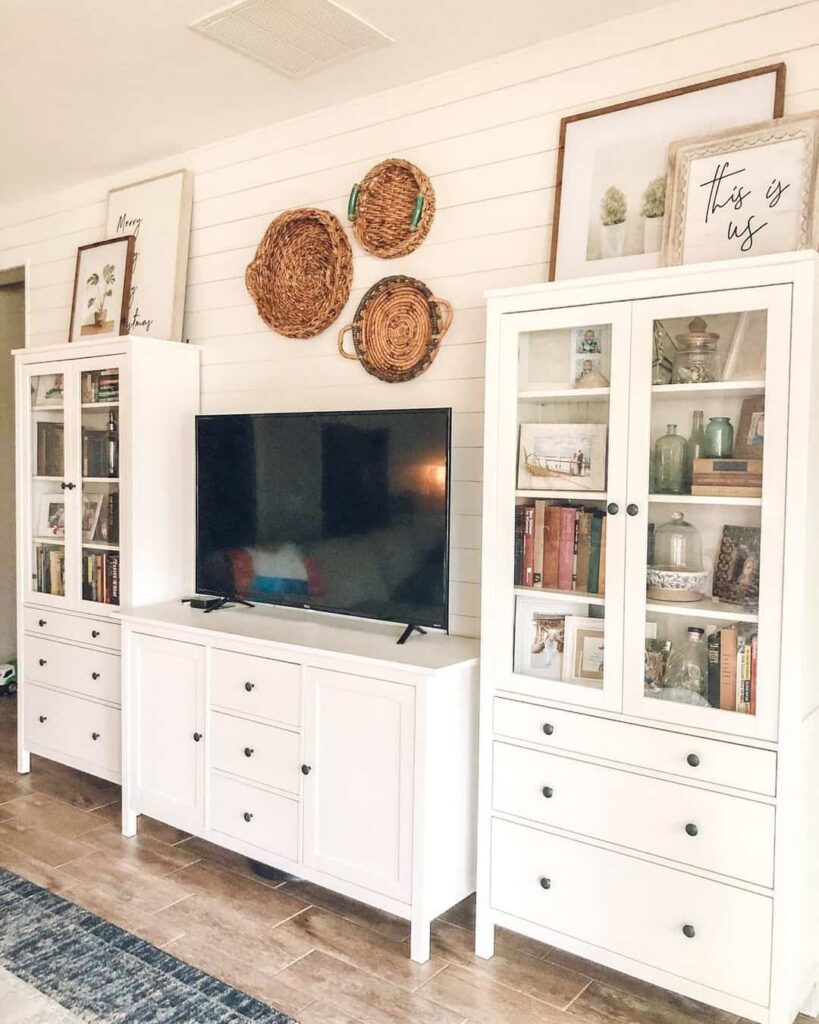 Shop the Style
White Boho Room: Tassels and Tranquility
This white boho farmhouse room is a serene escape, with a tassel chandelier as its centerpiece. The white walls, bedsheets, and drawers create a bright and clean aesthetic, while the wooden floor adds a touch of rustic charm.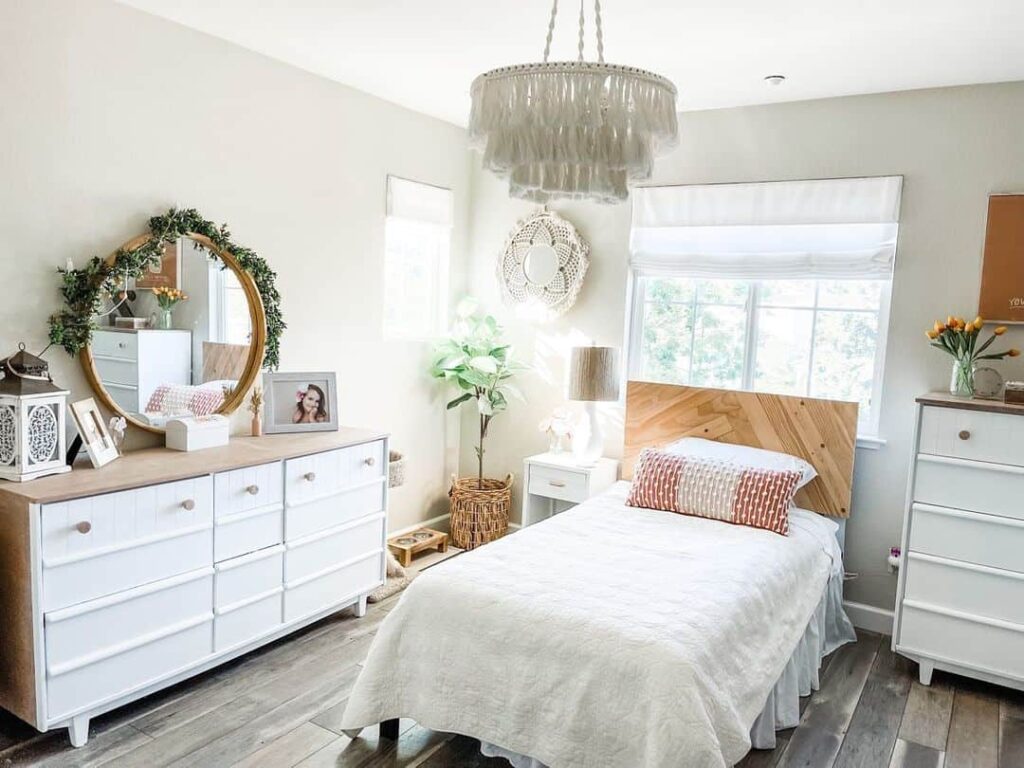 Shop the Style
White Bedroom: A Tasseled Dream
Indulge in a white boho bedroom that's a tasseled dream. The white tussled rug with black patterns pairs beautifully with the wooden bed frame, while splashes of green from the side plants add a refreshing touch.
Shop the Style
Wrap-up
Transforming your home into a farmhouse boho haven has never been easier. With these 7+ chic ideas, you can effortlessly blend rustic elements with bohemian flair to create spaces that feel warm, inviting, and uniquely yours. So why wait? Start infusing farmhouse vibes into your boho space today, and enjoy the comfort and elegance that comes with this timeless style.