7+ Timeless Farmhouse Kitchen Cabinet Ideas with Classic Black Hardware
Affiliate Disclosure: As an Amazon Associate we earn from qualifying purchases. Hence, if you click through and make a purchase, we will get a commission at no extra cost to you. For more info, read our full disclosure.
Step into a world of enduring charm with our collection of timeless farmhouse kitchen cabinet ideas, enriched by classic black hardware. Embrace the perfect blend of rustic allure and contemporary sophistication as we explore seven distinctive concepts that redefine the heart of your home.
From sleek simplicity to cozy elegance, discover the versatility and enduring appeal of these farmhouse kitchen designs.
Accentuated with Black Cabinet Handles
Explore the seamless fusion of modern aesthetics and rustic allure in this farmhouse white kitchen. The pronounced contrast of thick black drawer handles and cabinet knobs against the pristine white backdrop creates an engaging visual experience. Adding to the ambiance, the brownish-grey wood flooring introduces a cool and inviting tone to the space.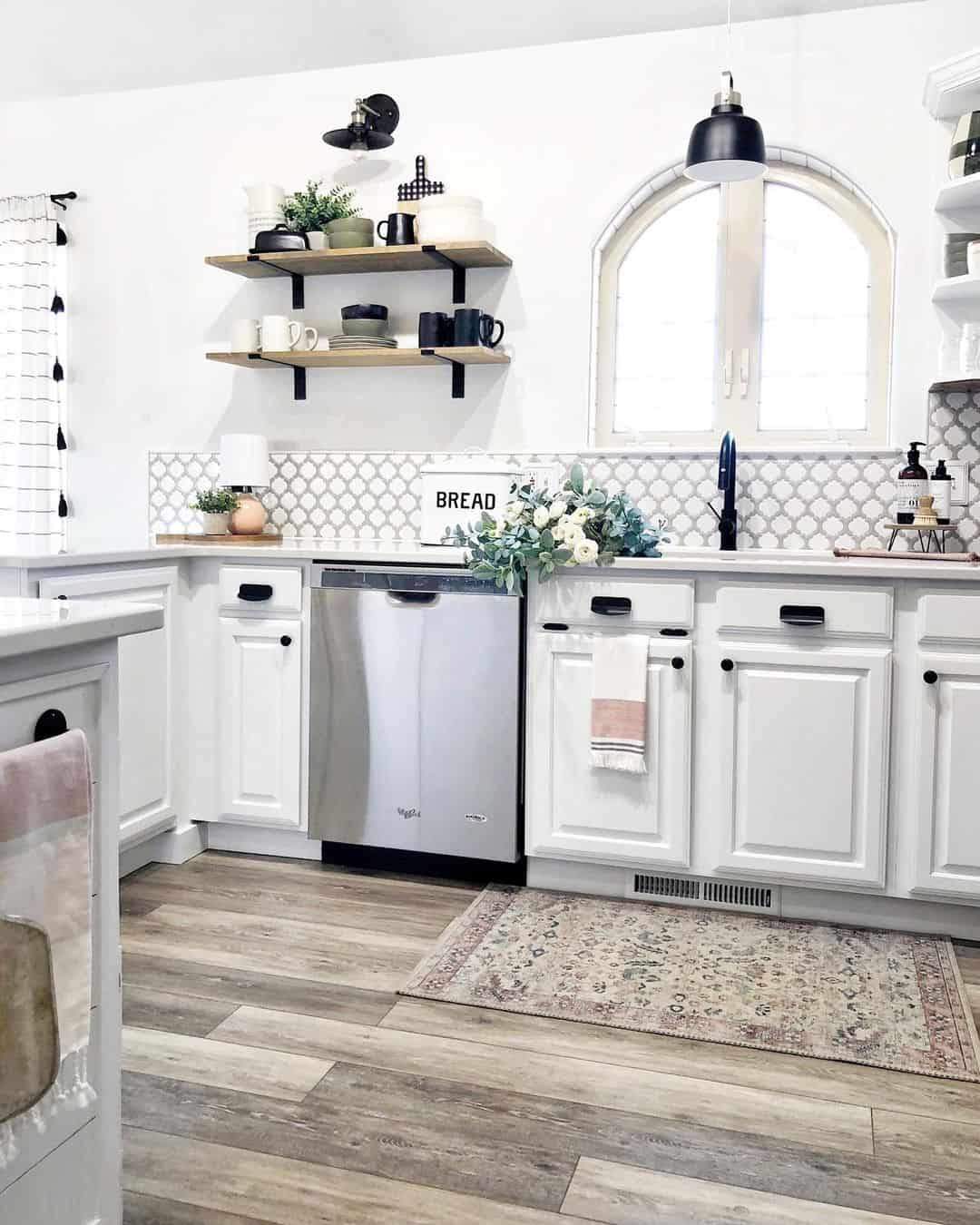 Credit: themontanamodern
Shop the Look
Farmhouse Kitchen Bedecked with Black Hardware
Step into a realm where farmhouse aesthetics effortlessly blend with modern functionality. The farmhouse white kitchen cabinets adorned with sleek black hardware exude timeless charm. The interplay of black counters between the top and bottom white cabinets, coupled with vintage lamps and wooden accents, evokes a captivating cottage-vintage vibe.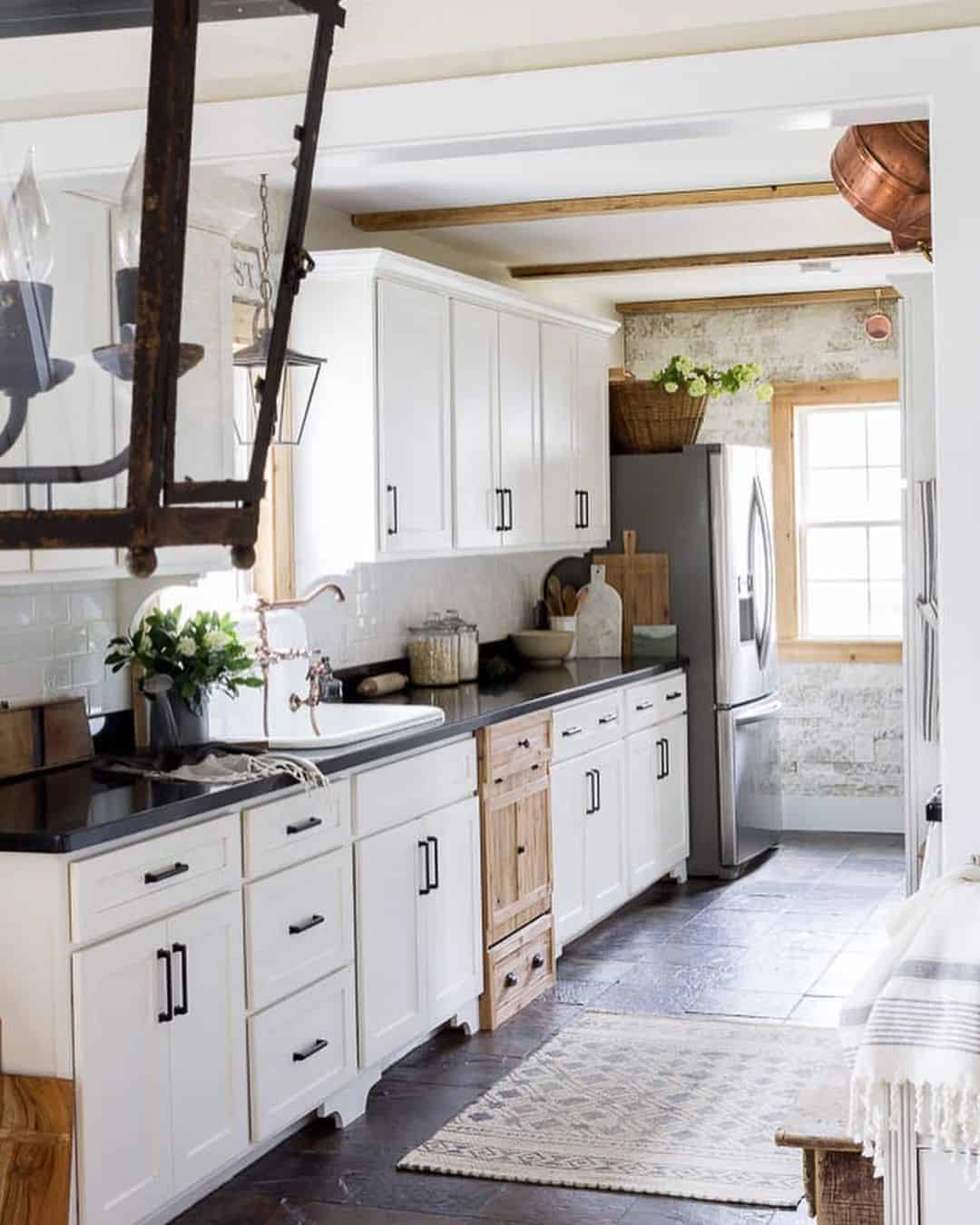 Credit: pineandprospecthome
Shop the Look
Farmhouse Kitchen Charmed by Black Cabinet Handles
Indulge in the cottage-like, cozy ambiance of this farmhouse white kitchen, where black hardware adds a touch of charm. The harmonious blend of white and neutral colors creates an aesthetically pleasing environment. Black cabinet handles seamlessly complement the white backdrop, while warm wood flooring and doors infuse the space with comfort and allure.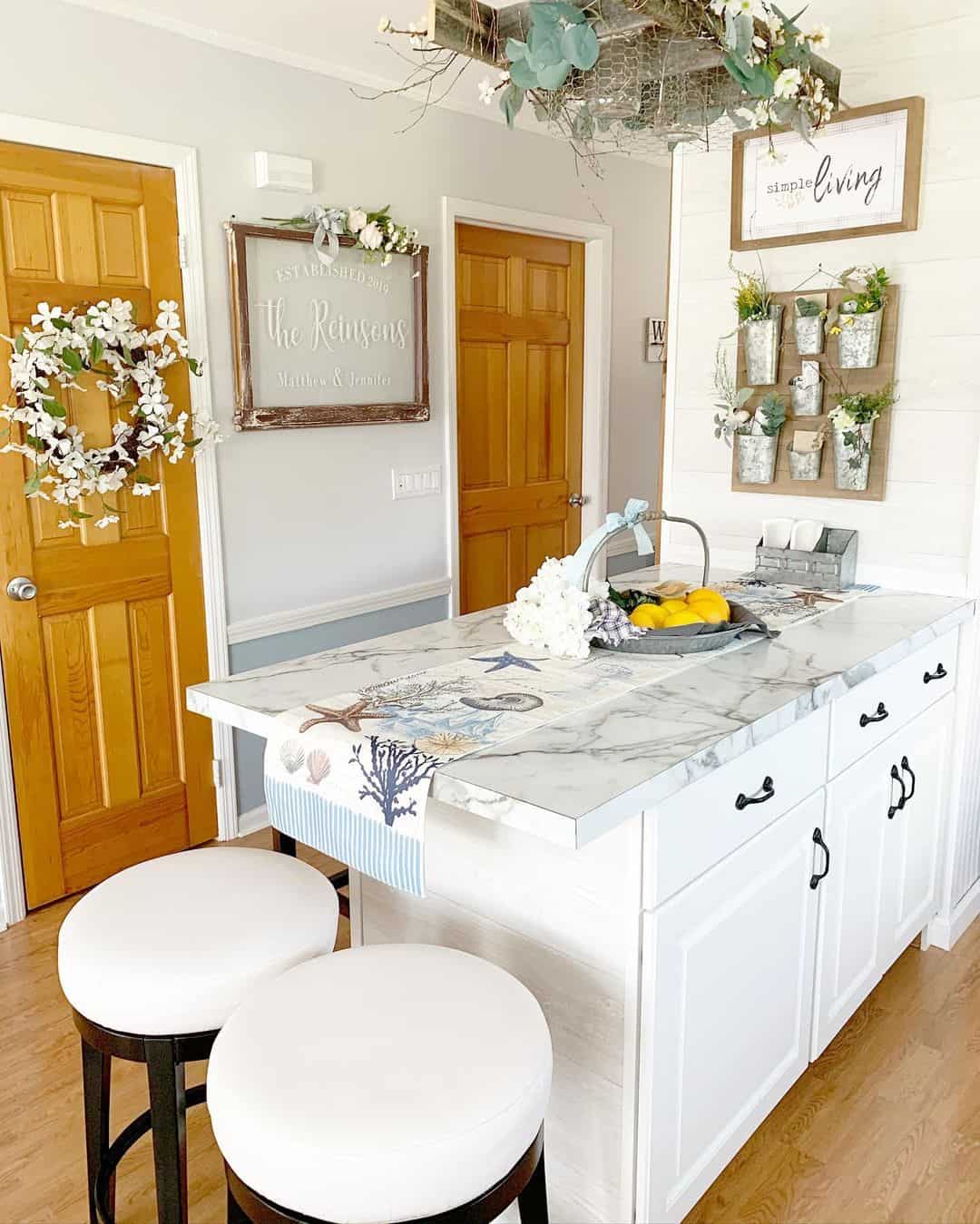 Credit: theholidayhousedecor
Shop the Look
Embracing Black Cabinet Handles in the Farmhouse Kitchen
Revel in the aesthetic allure of a meticulously designed white farmhouse kitchen. The white-coated walls, bright countertops, and cabinets create a visually pleasing atmosphere. The addition of black cabinet handles enhances the overall design, while the presence of wood kitchen tools introduces texture and neutral tones.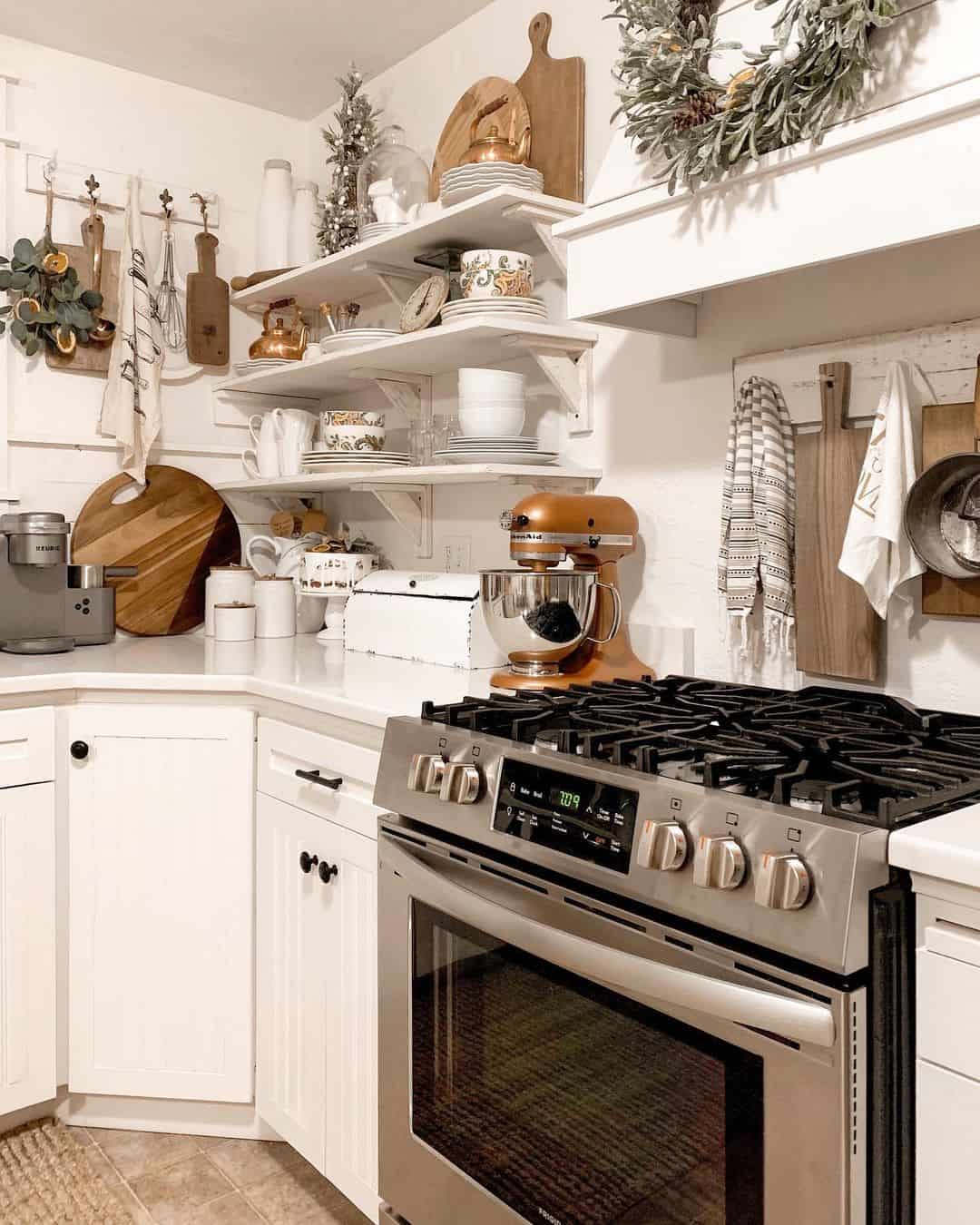 Credit: simplyminedesigns
Shop the Look
Striking Black Hardware Adorns the White Farmhouse Kitchen
Immerse yourself in the modern elegance of this farmhouse kitchen, featuring white cabinets adorned with bold black handles. Speckled countertops and a black electronic stove, accompanied by wood kitchen tools, infuse the space with contemporary flair. A wood-covered vent hood becomes a focal point, standing out against the pristine white background.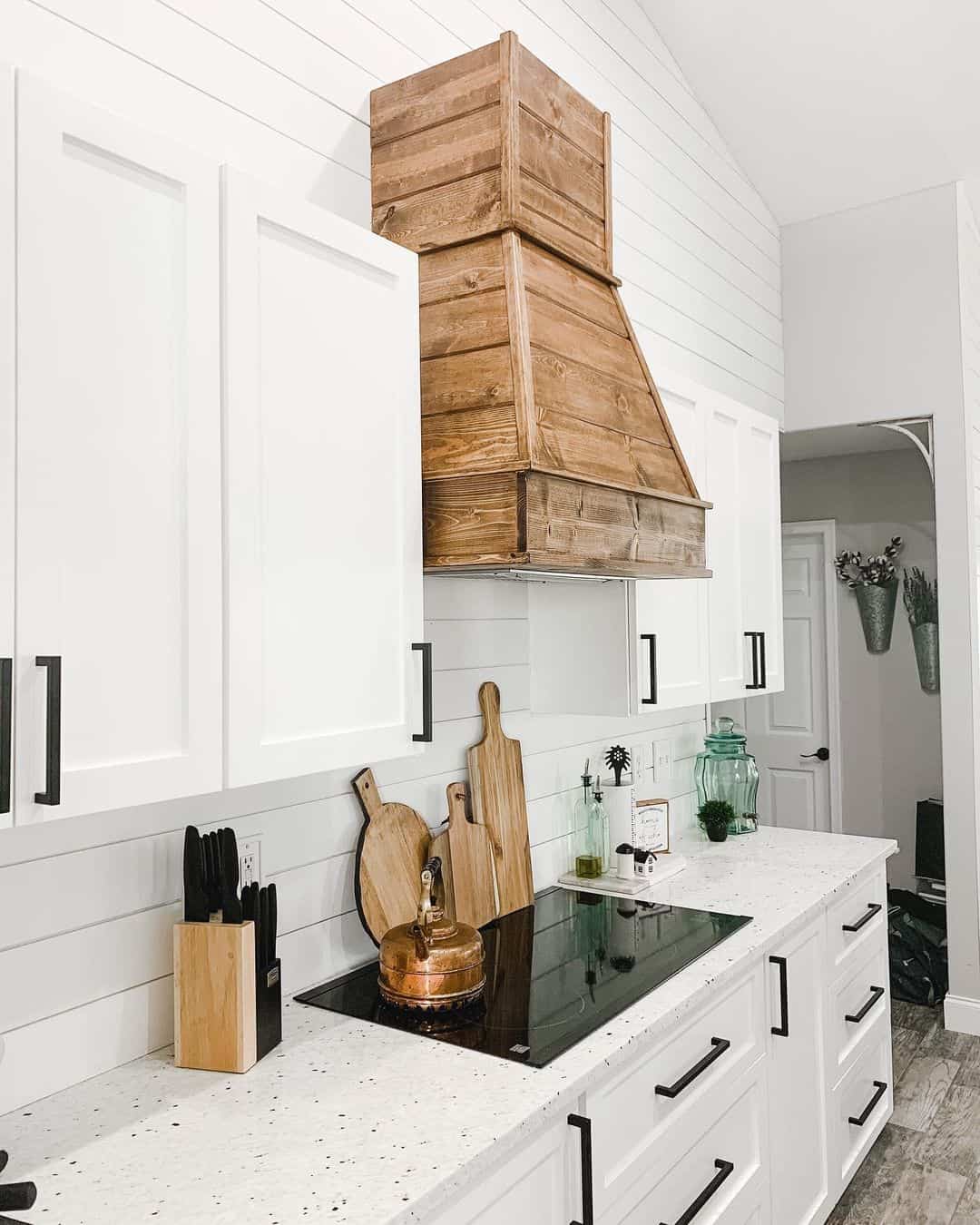 Credit: the.crafted.woods
Shop the Look
Elevating White Farmhouse Kitchen Cabinets with Black Hardware
Discover the timeless allure of white farmhouse kitchen cabinets paired with sleek black hardware. The addition of a gray speckled countertop elevates the sophistication. A white subway tile backsplash and a stainless steel double apron sink complete the classic yet contemporary look.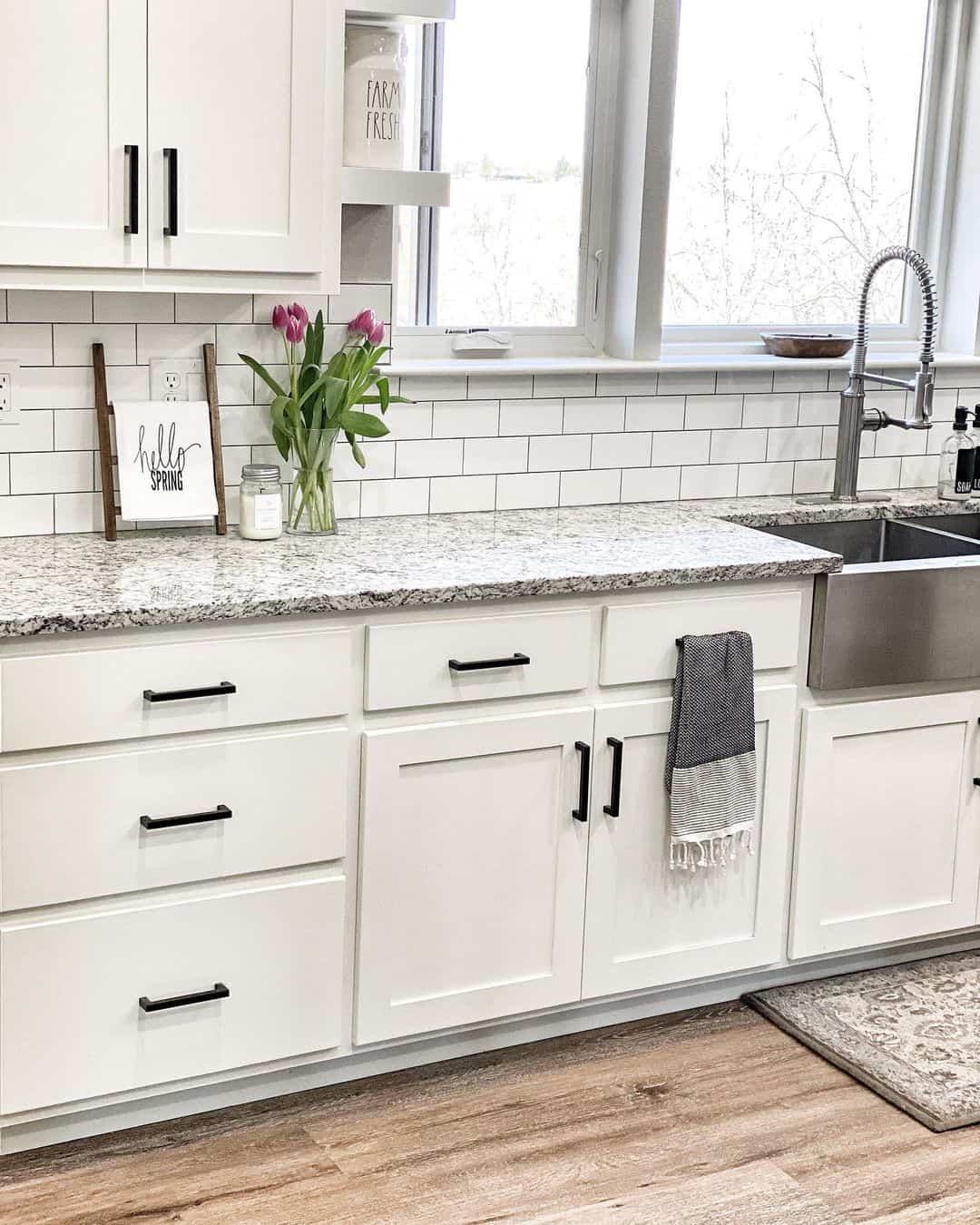 Credit: bear_creek_farmhouse
Shop the Look
Black Accents Elevating Farmhouse White Kitchen Cabinets
In this farmhouse white kitchen adorned with black hardware, a straightforward yet chic interior takes center stage. The introduction of a planter, brimming with pink tulips, adds a lively touch to the room dominated by white cabinets and countertops. Seamlessly tucked into the countertop's corner, the black stove and oven contribute to the overall understated elegance.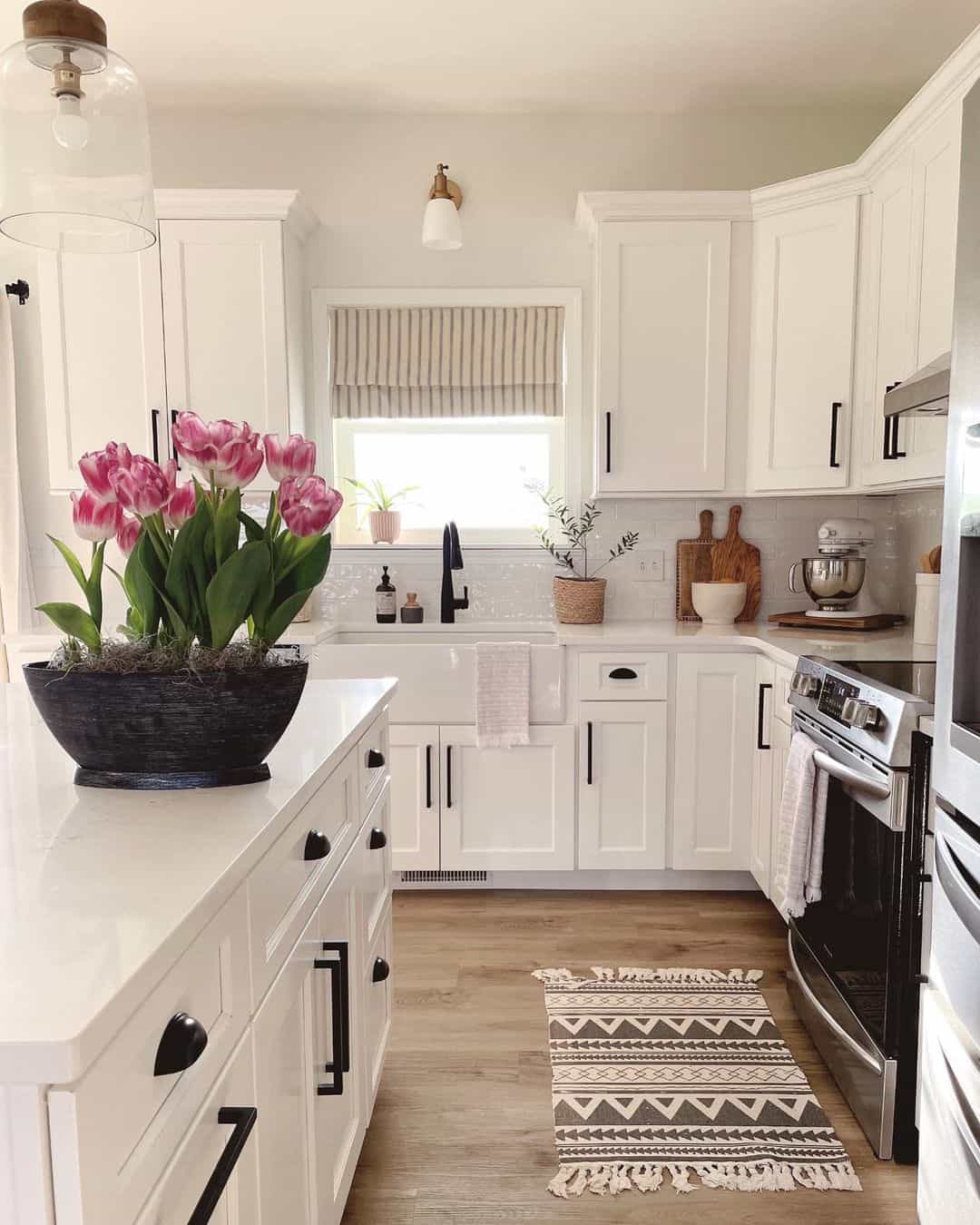 Credit: the_evergreen_house
Shop the Look
White Cabinets with Herringbone Backsplash
Admire the classic beauty of farmhouse white kitchen cabinets adorned with sleek black hardware. The gray and black countertop, complemented by a stainless steel gas range, creates a timeless look. A white herringbone tile backsplash adds a touch of elegance to this meticulously curated kitchen.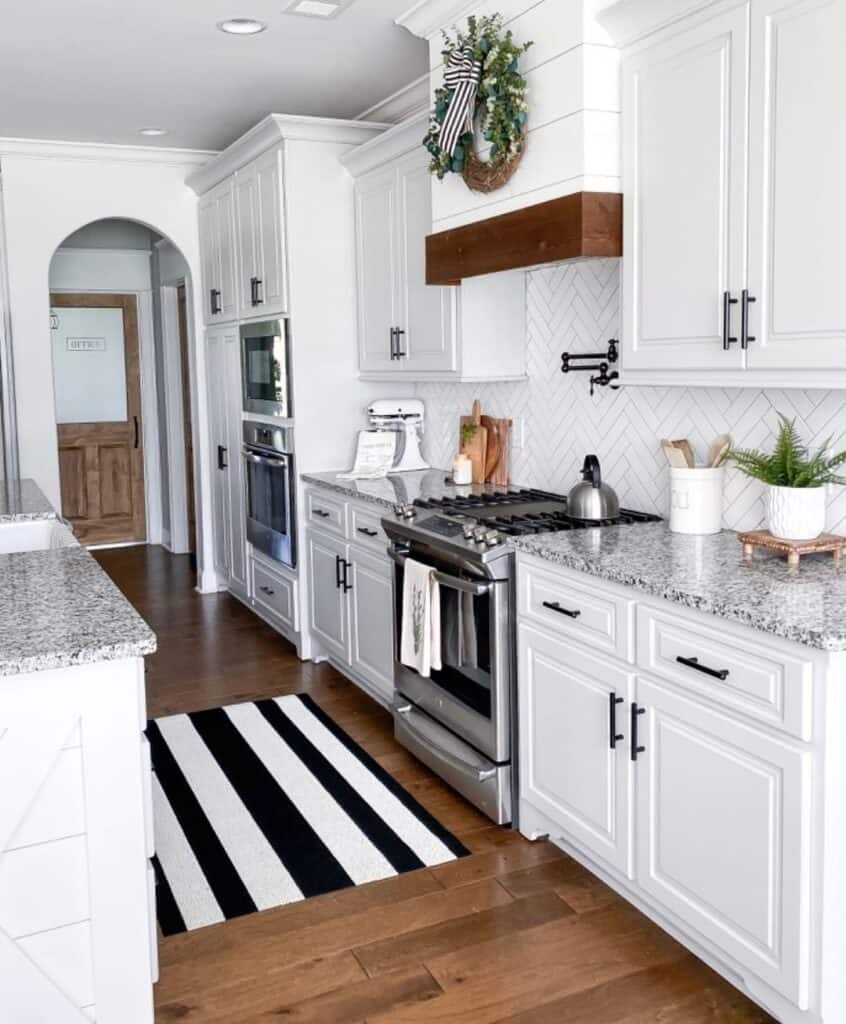 Credit: greeneacresfarmhouse
Shop the Look
Wrap-up
In conclusion, these seven timeless farmhouse kitchen cabinet ideas with classic black hardware offer more than just aesthetic charm—they provide a glimpse into a design language that transcends trends. Elevate your kitchen space with enduring elegance and functional beauty that stands the test of time. Choose a style that resonates with your taste, and watch as your kitchen becomes a timeless masterpiece.