7+ Enchanting Examples of Farmhouse Shelf Décor to Personalize Your Home
Affiliate Disclosure: As an Amazon Associate we earn from qualifying purchases. Hence, if you click through and make a purchase, we will get a commission at no extra cost to you. For more info, read our full disclosure.
If you're a fan of the charming, rustic vibes that farmhouse décor brings, then you're in for a treat. Farmhouse shelf décor is all about infusing your space with cozy, timeless appeal. From vintage treasures to carefully curated collections, farmhouse shelves offer a canvas to showcase your personality and style.
In this article, we'll take you on a journey through seven enchanting examples of farmhouse shelf décor that will inspire you to personalize your home in the most inviting and captivating way.
Captivating Vintage Aesthetics at Mercantile Coffee Corner
Adjacent to the exquisite vintage pantry doors, a pair of shelves adorns the shiplap wall, positioned above a coffee station graced with antique furnishings. These shelves proudly exhibit an array of white pitchers, creamer pots, vintage metal canisters, and fresh greenery. Completing this charming tableau, a farmhouse sign hangs just above the shelves, elegantly tying in with the beautifully distressed black hutch below.
Credit: vintagevaultannapolis
Shop the Style
Rustic Dining Delight: Unique Centerpiece Takes Center Stage
A substantial porcelain jug brimming with eucalyptus greens and an assortment of rolling pins commands attention as a truly unique centerpiece. The wooden dining table showcases a striped table runner beneath artfully arranged round braided placements, each set with pristine white plates and tastefully fringed tan napkins.
Serving as a backdrop, exposed shelves graciously house an assortment of essential kitchen items, ranging from bulk foods to delicate cake trays and elegant plate ware.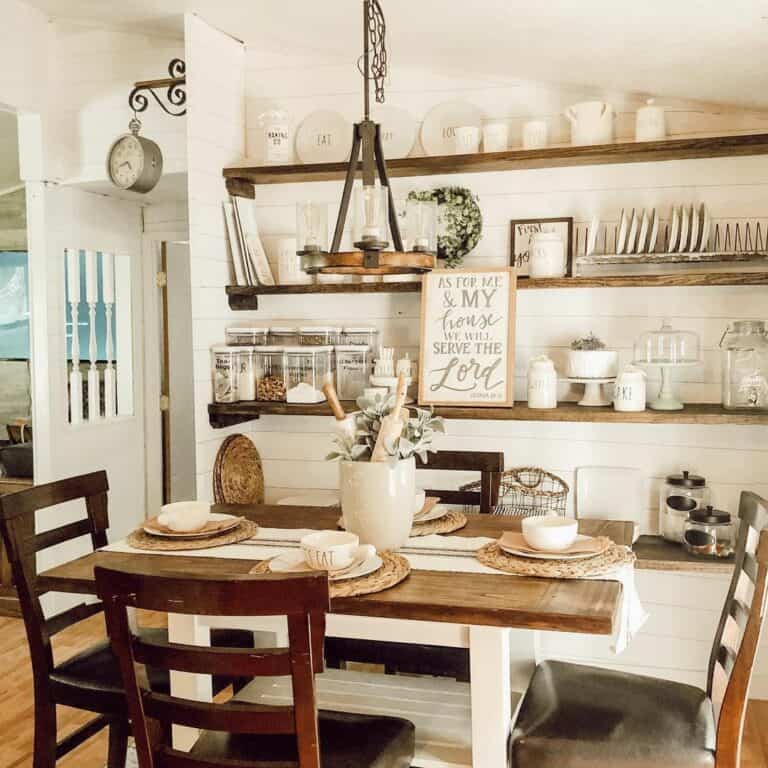 Credit: theturquoisefarmhouse
Shop the Style
Elegant Vintage Farmhouse Accents in Abundance
Within the living room, the designer's dedication is palpable, with a meticulous selection of authentic antiques adorning the farmhouse shelving tucked into the corner. These two white shelves serve as a showcase for a captivating array of items, including a weathered metal fan, a diverse collection of clocks spanning multiple eras, a vintage food scale, antique candle stands, and a neatly stacked pile of vintage books. A dash of timeless charm is added by a DIY postcard garland hanging just below the shelves.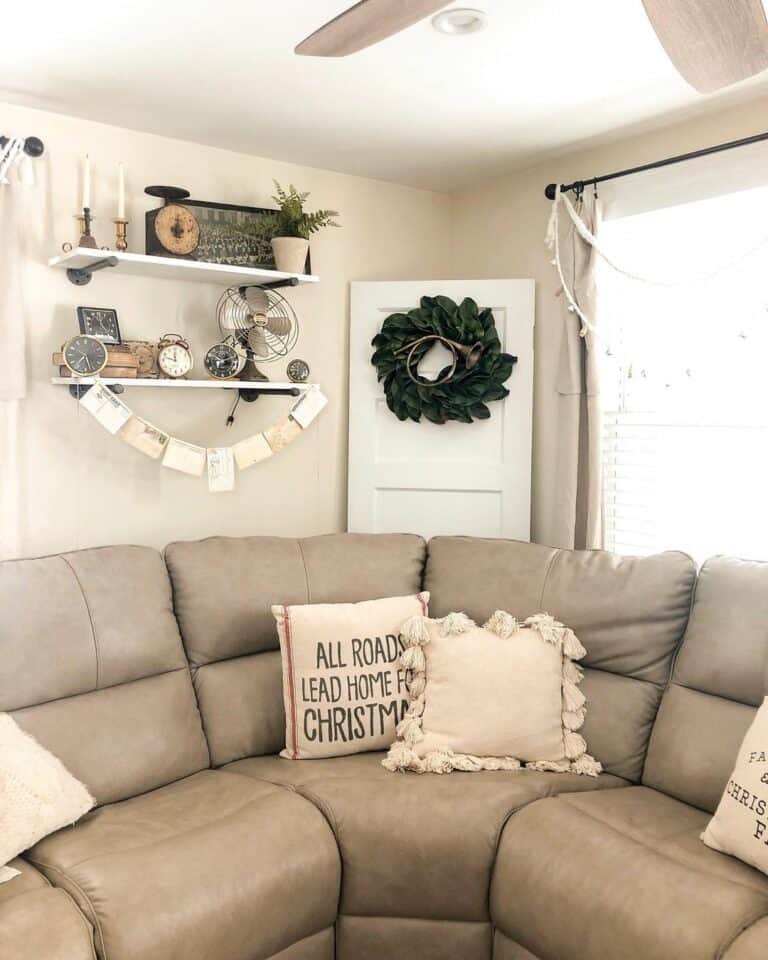 Credit: torismithhome
Shop the Style
Time-Tested Elegance: Vintage Shelving in the Dining Room
Within the heart of this farmhouse-themed dwelling, an exquisite vintage wall graces the dining room's periphery. Nestled between sturdy wooden shutters, a pristine white pocket shelf proudly showcases decades-old kitchenware. On the uppermost tier of this shelf, three antique food scales command attention, presiding over a symmetrical arrangement of white plates meticulously separated by dividers. Crowning this display are enduring straw baskets, glass jars brimming with aromatic herbs and spices, and a collection of timeless white pitchers.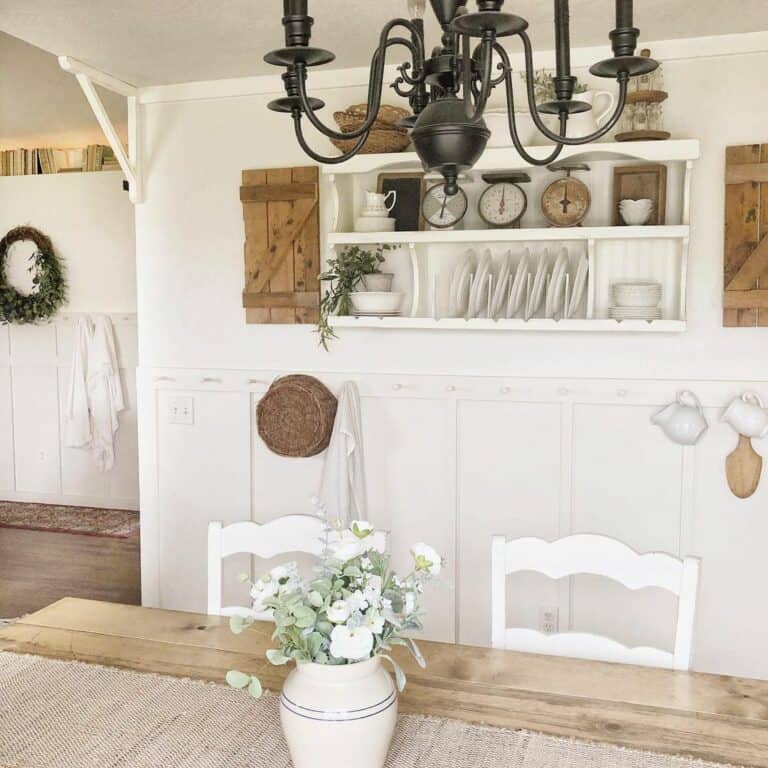 Credit: twelvetwo.at.home
Shop the Style
Sleek Farmhouse Aesthetic: Bedframe with Integrated Shelving
A masterful twist on a conventional bedroom element, the paneled bedframe in the master suite is thoughtfully enhanced with an integrated shelf, inviting personal touches and decor. The shelf hosts stacks of outward-facing books, thoughtfully interspersed among a medley of thriving plant varietals, creating an effortlessly harmonious visual.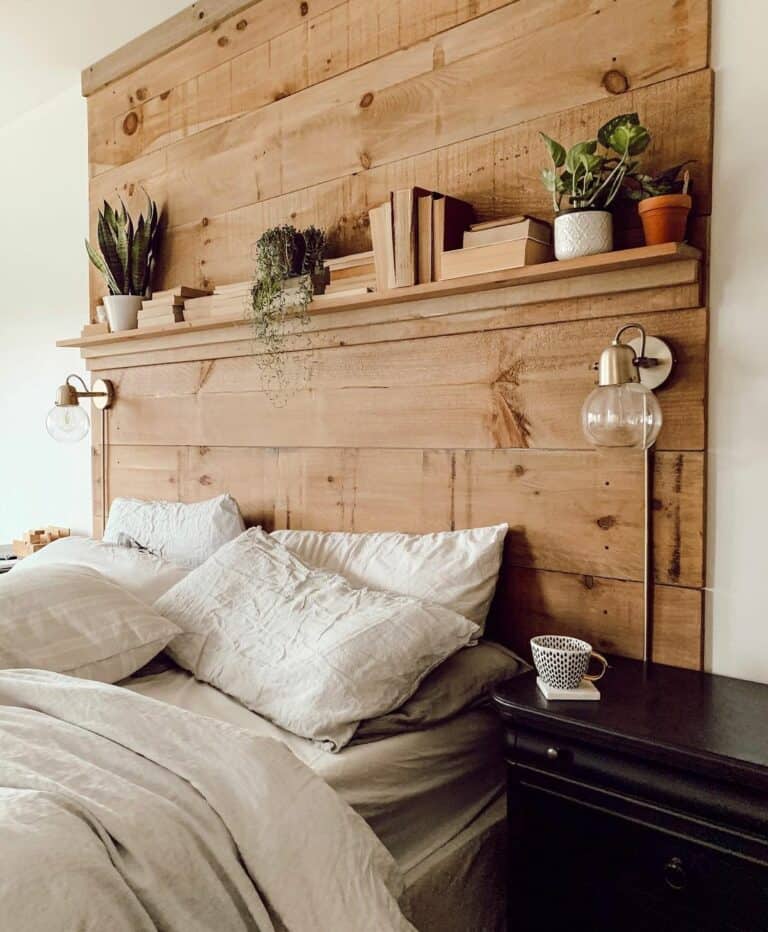 Credit: the.simple.farmhouse
Shop the Style
Classic Sophistication: Farmhouse Shelves Adorned with White Kitchenware
Above the traditional dining room hutch, a graceful pair of farmhouse shelves elegantly presents an assortment of creamy white kitchenware. The display includes a tasteful assortment of round and square plates, complemented by a curated selection of bowls, pitchers, and meticulously crafted canisters designed for housing dry goods. Artfully positioned behind the translucent glassware, an array of wooden cutting boards in varying shapes and sizes adds a touch of rustic charm.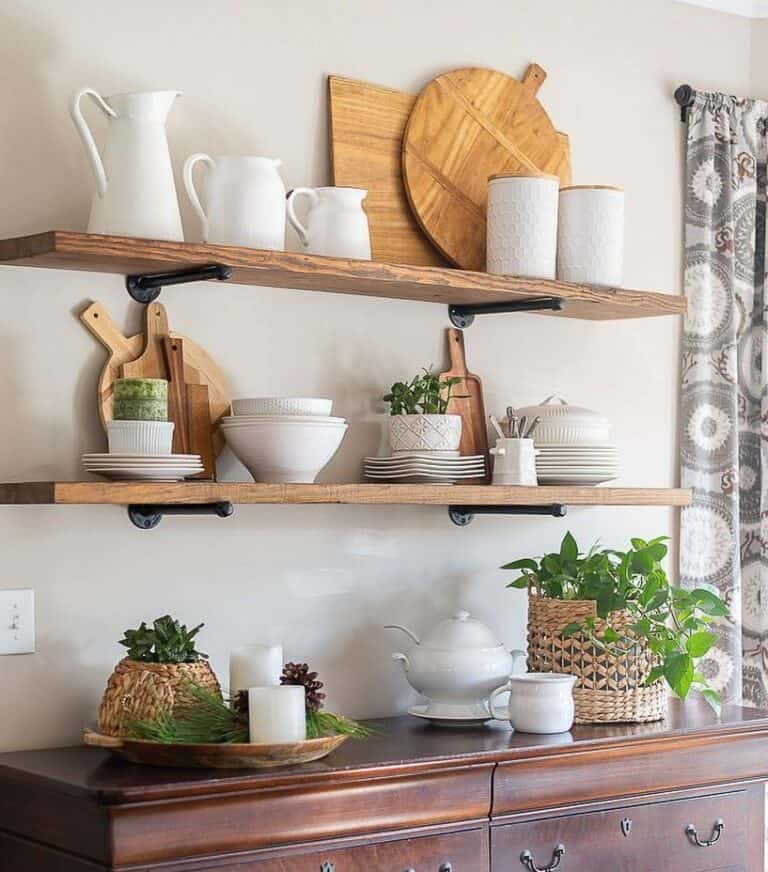 Credit: worthingcourtblog
Shop the Style
Monochromatic Elegance: Showcasing All White and Bright Dinnerware
The kitchen's shelf decor adheres gracefully to a monochromatic theme, with an array of immaculate white pieces taking center stage. With the exception of a select few cake plates, every element on display adheres to this pristine white palette. The collection features a harmonious array of bowls, plates, cups, and cake plates, all of which serve as a sophisticated counterpoint to the intricate crystal chandelier suspended above the distressed dinner table.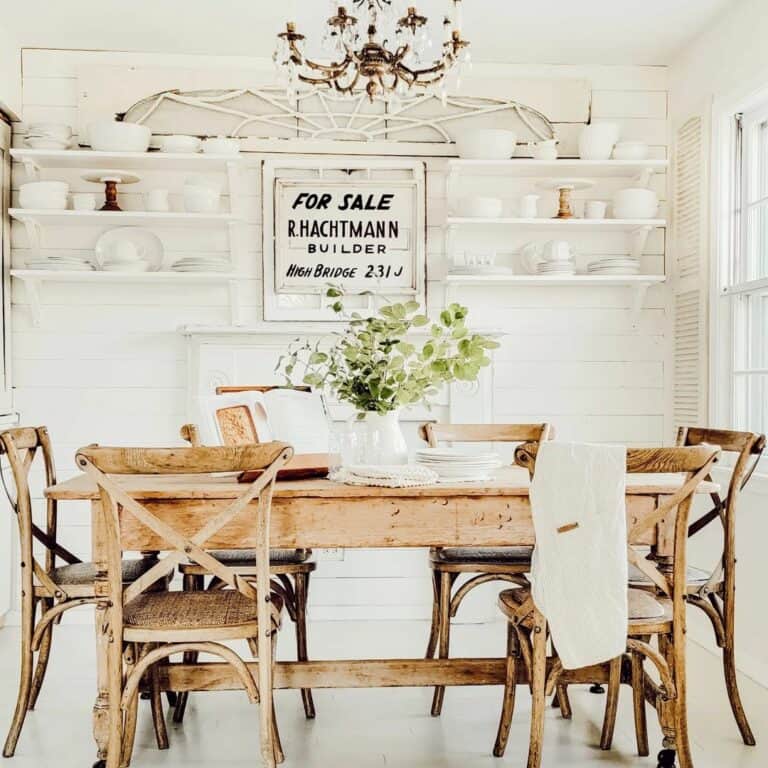 Credit: vintageandgraceliving
Shop the Style
Farmhouse Flourish: Landing Decor for Enchanting Stairwell
Adorning the landing of the white wood stairwell, characterized by horizontal black iron balusters, is an intricately patterned black and white farmhouse area rug. Overhead, a wooden floating shelf proudly displays antique farming tools, artfully positioned above a repurposed fence section set against a backdrop of pristine white shiplap.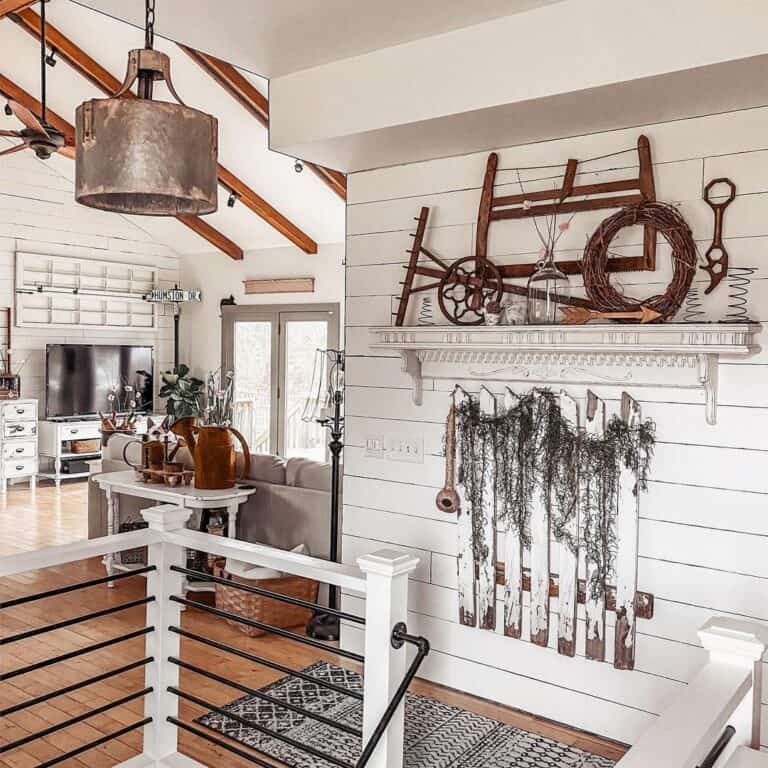 Credit: therustedroost
Shop the Style
Wrap-up
Transforming your home into a farmhouse haven has never been more delightful, thanks to the captivating world of shelf décor. Each of the showcased examples we've explored adds a touch of rustic elegance and individuality to any space.
From vintage elements to thoughtfully arranged items, these farmhouse shelves offer endless inspiration for creating a warm and inviting atmosphere that resonates with your personal style.