7+ Curtain Ideas That Complement Your Farmhouse Living Room Gray Walls
Affiliate Disclosure: As an Amazon Associate we earn from qualifying purchases. Hence, if you click through and make a purchase, we will get a commission at no extra cost to you. For more info, read our full disclosure.
When it comes to enhancing the beauty of your farmhouse living room with gray walls, curtains play a pivotal role. They not only provide privacy and control light but also serve as a stylish design element that can transform the entire space.
In this blog, we'll explore seven fantastic curtain ideas that perfectly complement your farmhouse-inspired gray walls. Get ready to discover the perfect window treatments that will add warmth, character, and a touch of rustic charm to your living area.
Cozy Farmhouse Living Room with Warm Tones
Step into this inviting living room and immerse yourself in the allure of farmhouse charm. Here, warm tones and soft lighting create an atmosphere of tranquility and comfort. The stage is set with dark gray furnishings and a striking black, warm wood coffee table. A white mantel adorned with festive décor adds a touch of whimsy and coziness to the space. The combination of medium gray walls and billowing white curtains strikes a harmonious balance, resulting in a truly cozy retreat.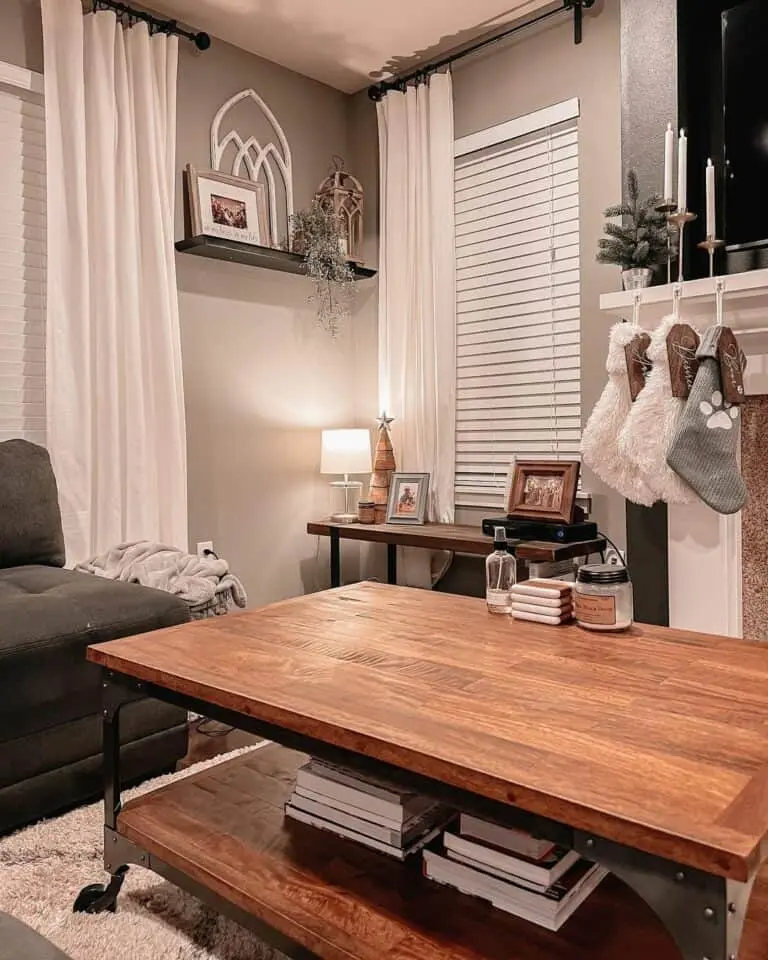 Credit: woodandgray
Shop the Style
Texture and Color Unite in Farmhouse Living Room
Experience the art of design through texture and color in this enchanting farmhouse living room. A large white sectional couch takes center stage, accented by warm wood details that invite you to relax. Texture becomes your guiding principle with buffalo plaid, light gray, and white accent pillows that contrast beautifully with a plush abstract area rug. Dress the windows in light taupe and white buffalo plaid curtains to create a cohesive look. Elevate the space with tasteful, rustic décor, and ground it with warm wood flooring for a unified and snug retreat.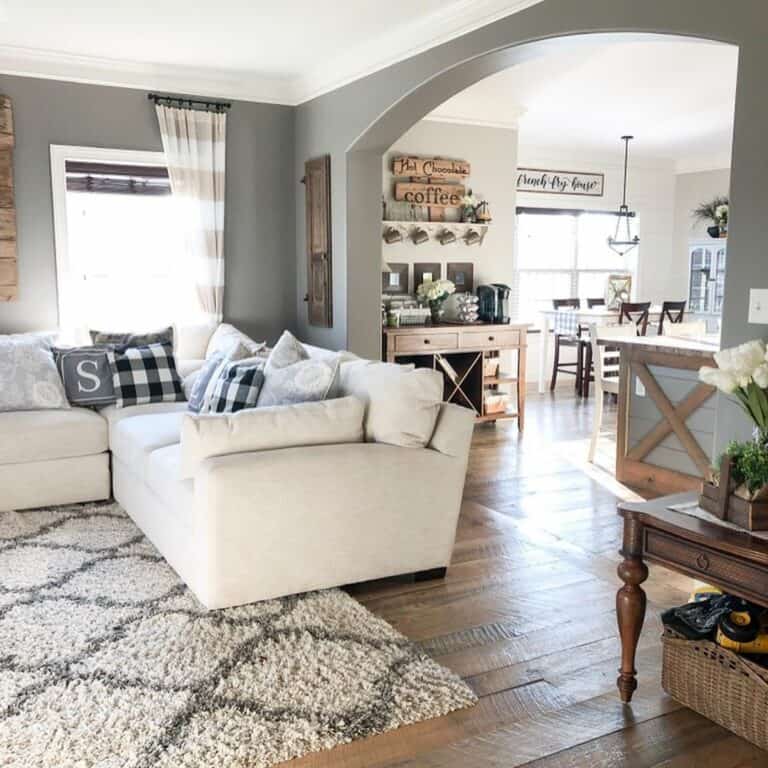 Credit: ourpictureimperfectlife
Shop the Style
Farmhouse Elegance with Pleasant Pops of Blue
In this gray farmhouse living room, playfulness meets sophistication with boho-inspired accents and a dash of blue. Vibrant pops of blue and a touch of greenery infuse youthful energy into the space. Create texture and visual balance by framing a window with charming blue curtains, which serve as a focal point that ties the room together seamlessly.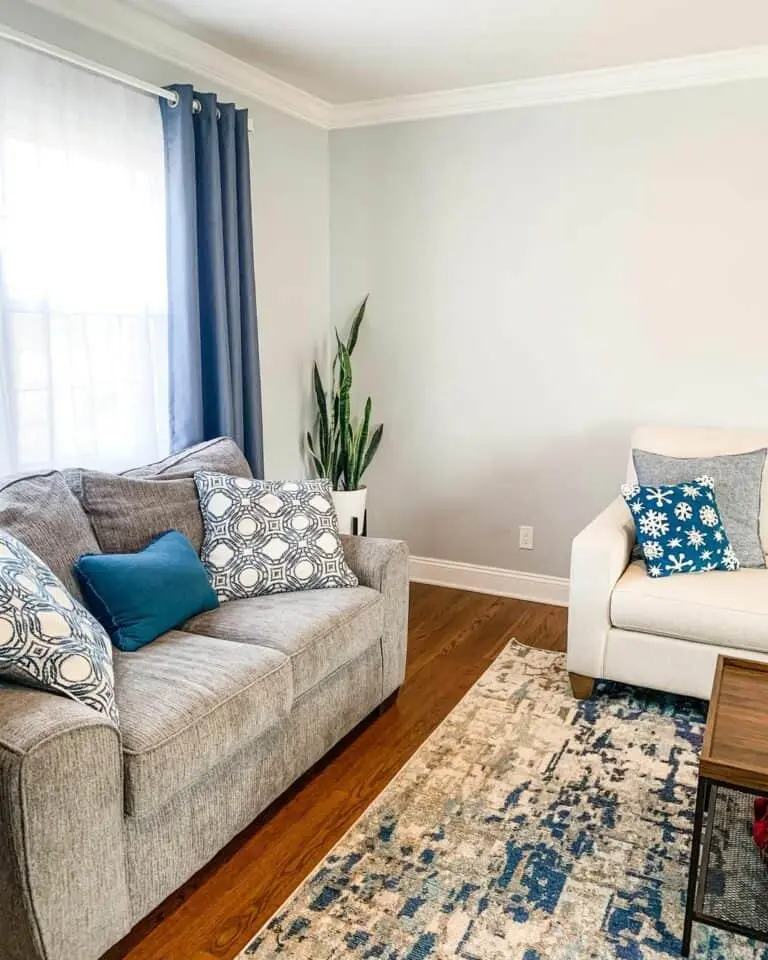 Credit: practicallybasic
Shop the Style
Airy Living Room with Rich Pink Curtains
Experience the allure of an elegant farmhouse living room, where rose-colored curtains gracefully complement pristine white walls. To elevate the ambiance, introduce a brass-rimmed arch mirror and a light wood shelf adorned with cheerful botanicals and tasteful décor. Let the soothing backdrop of light gray walls provide the perfect canvas, while a generously sized rattan basket below adds a touch of grounded charm.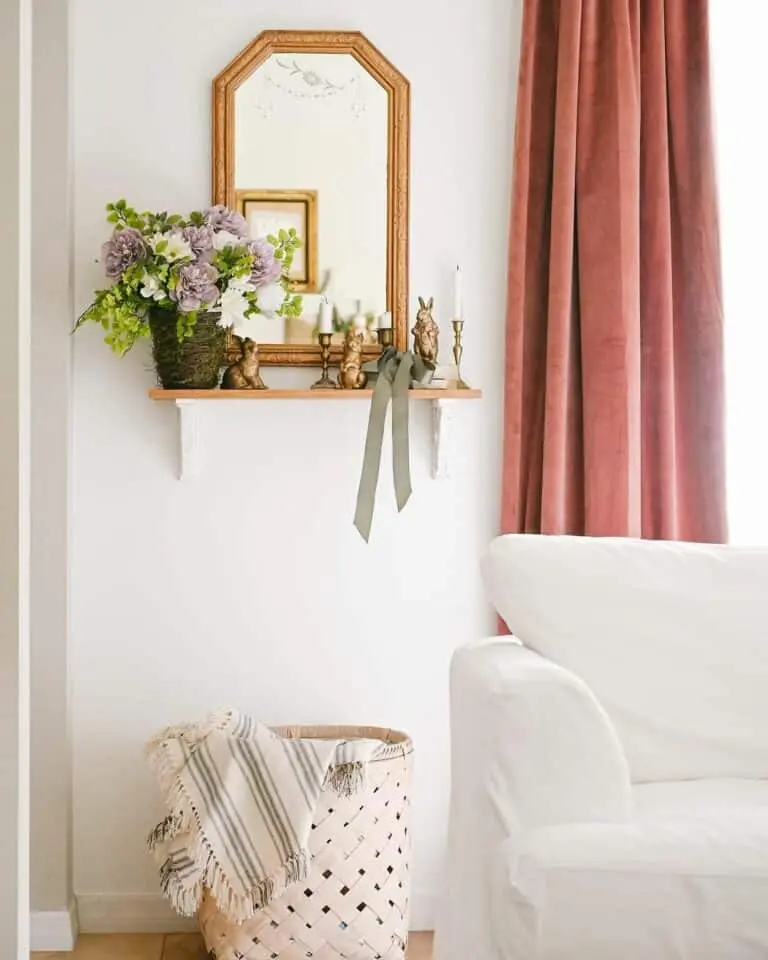 Credit: camelotartcreations
Shop the Style
Modern Elegance for a Relaxing Retreat
Indulge in modern elegance and find tranquility in this inviting living room. A neutral couch faces a striking black and warm wood coffee table, creating a soothing focal point. Frame the room's design with light gray drapes around a large window, seamlessly tying together the soft gray walls and comforting wood flooring. The result is a serene and restorative retreat.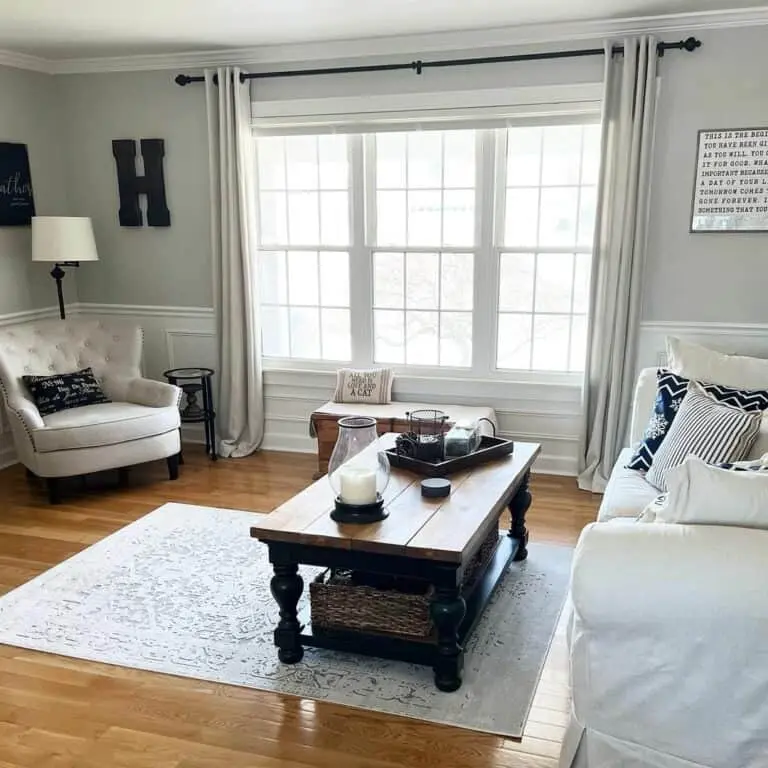 Credit: harpershomeandgarden
Shop the Style
Refreshing Pop of Color in Farmhouse Decor
Welcome the season of renewal with a refreshing touch of color gracing a pristine white console table, adorned with vibrant Spring botanicals. To infuse texture and character, employ a light gray board and batten accent wall paired with an inviting gray armchair. Complete the transformation by framing the window with natural drapes to establish a focal point and finishing with the warmth of wood flooring.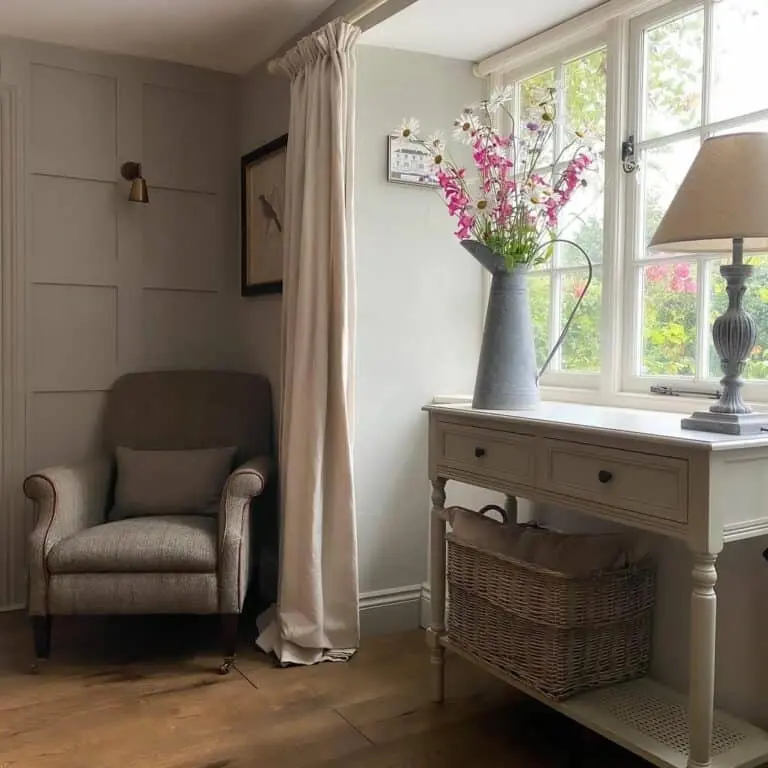 Credit: figtree.farm
Shop the Style
Rustic Farmhouse Living Room Inspiration
Explore a realm of rustic charm within this living room, featuring gray couches adorned with farmhouse-inspired pillows. A wooden coffee table rests atop an earth-toned rug, creating a cozy and inviting atmosphere. On the walls, white wooden letters, garden wreaths, and sheer curtains infuse the space with rustic allure.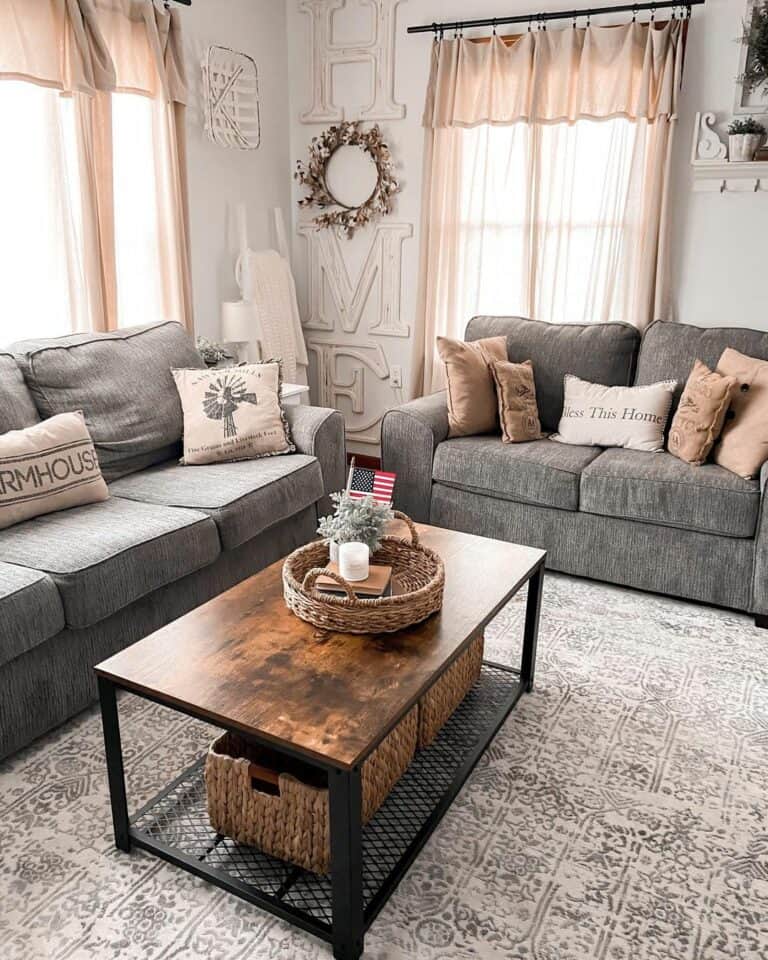 Credit: myfrugalthriftedlife
Shop the Style
Boho-inspired Botanical Bliss in Farmhouse Decor
Embark on a journey into botanical bliss in this refined farmhouse living room, tastefully adorned with boho-inspired accents and a harmonious blend of delicate textures. Carefully positioned greenery and soft floral accents introduce depth and dimension. Vintage décor elements provide a soft contrast that elevates the space's aesthetic. Soft gray walls provide the ideal backdrop, while the warmth of the wood flooring grounds the room, creating an inviting and exquisite atmosphere.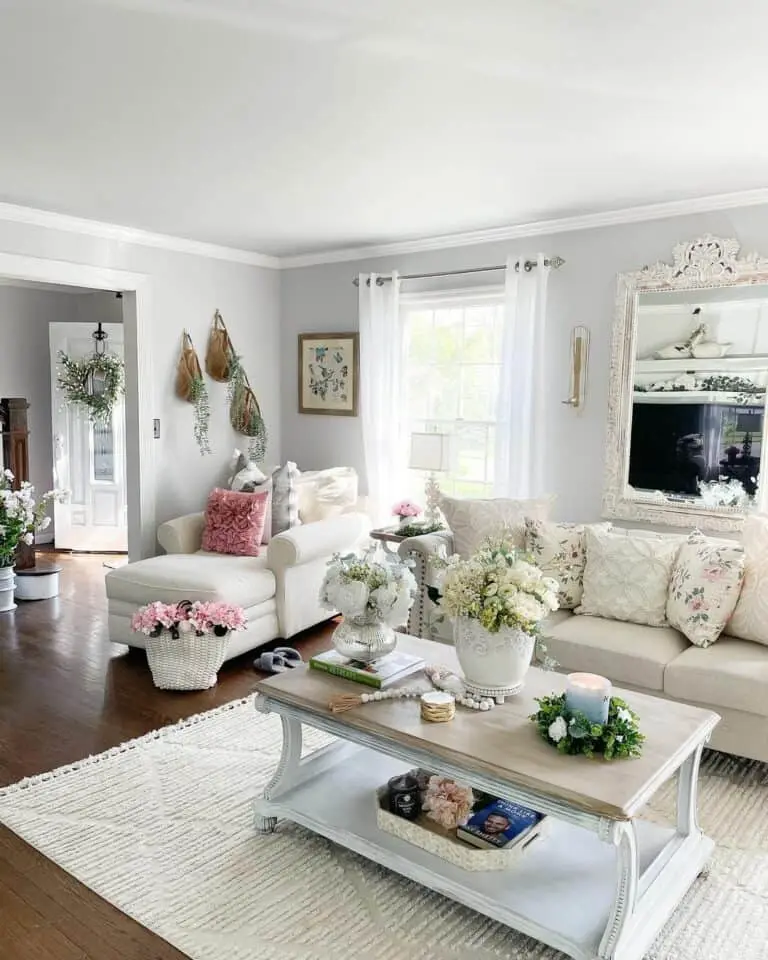 Credit: interiorlove_angelique
Shop the Style
Wrap-up
Elevating your farmhouse living room with gray walls has never been easier thanks to these seven curtain ideas. Whether you prefer a cozy, rustic look or a more modern farmhouse aesthetic, there's a curtain style to suit your taste.
From classic neutrals to bold patterns and textures, these curtains not only provide practical benefits but also enhance the overall ambiance of your space.
So, go ahead and experiment with these curtain ideas to create a farmhouse-inspired living room that exudes warmth and style.