7+ Timeless Rustic Décor Ideas for a Farmhouse Living Room Ready for Any Season
Affiliate Disclosure: As an Amazon Associate we earn from qualifying purchases. Hence, if you click through and make a purchase, we will get a commission at no extra cost to you. For more info, read our full disclosure.
Transforming your farmhouse living room into a timeless rustic haven is a design choice that stands the test of time. With a touch of nostalgia and a penchant for comfort, these seven rustic décor ideas are the perfect way to create a welcoming space that's ready to embrace any season.
From cozying up in the winter to celebrating the joys of spring, your farmhouse living room will be a versatile and timeless retreat.
Farmhouse Living Room with Earthy Accents
In this inviting farmhouse living room, a reclaimed wood hutch takes a prominent spot behind a lush earthy green velvet sofa. The room is awash in soft gray tones and features a white shiplap-paneled accent wall that adds a touch of rustic charm. On top of the hutch, you'll find a vintage farmers market sign and indoor plants, creating a natural and cozy atmosphere.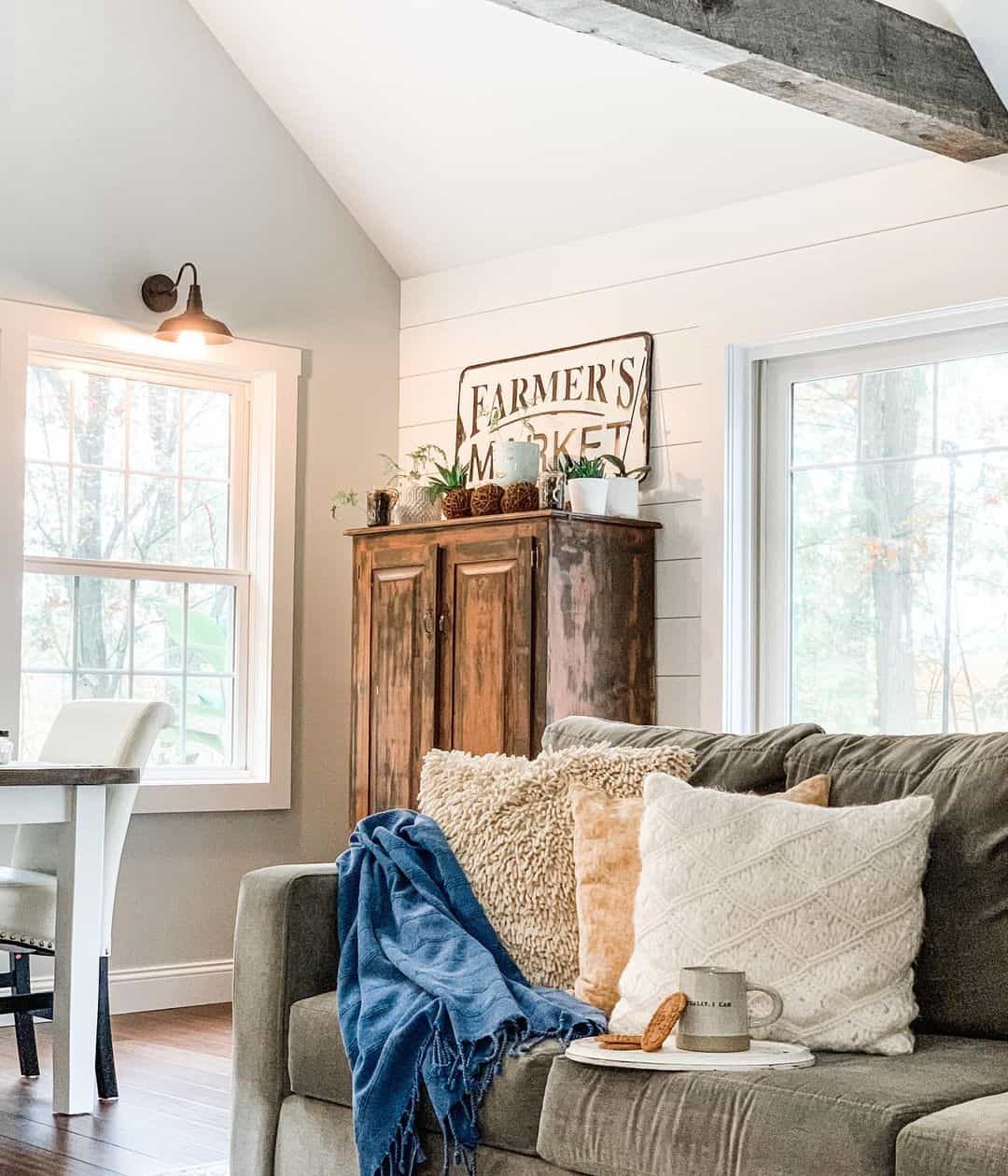 Credit: cozy_little_cape
Shop the Look
Cowhide Armchair and Vintage Piano
For a touch of rustic elegance, consider adding a cowhide-upholstered wooden armchair to your living room. Place it next to an antique piano with a rich, dark stain, and embellish the piano's top with indoor plants and vintage glass bottles, injecting natural pops of color. Don't forget to hang a beautiful watercolor painting on the wall above for that finishing touch.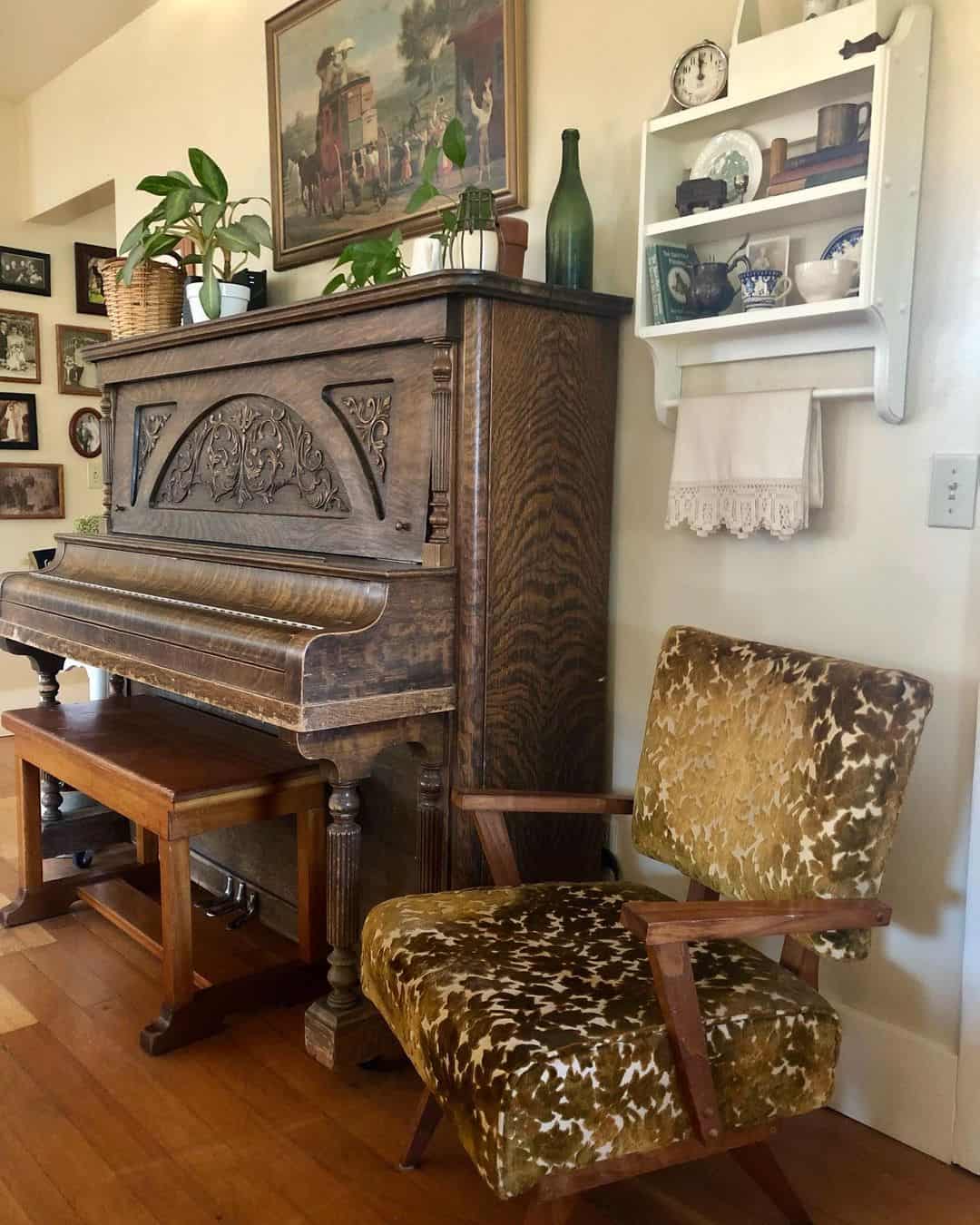 Credit: cashmerefarmhouse
Shop the Look
Vintage Mantel Decor in a Neutral Space
Achieve a timeless farmhouse look with a thick floating wood mantel gracing a white brick fireplace, complete with an extended hearth and stone bench. For added charm, adorn the mantel with farmhouse black lanterns and a wooden garden trough filled with vintage eucalyptus and rose stems, all contributing to the room's neutral and inviting aesthetic.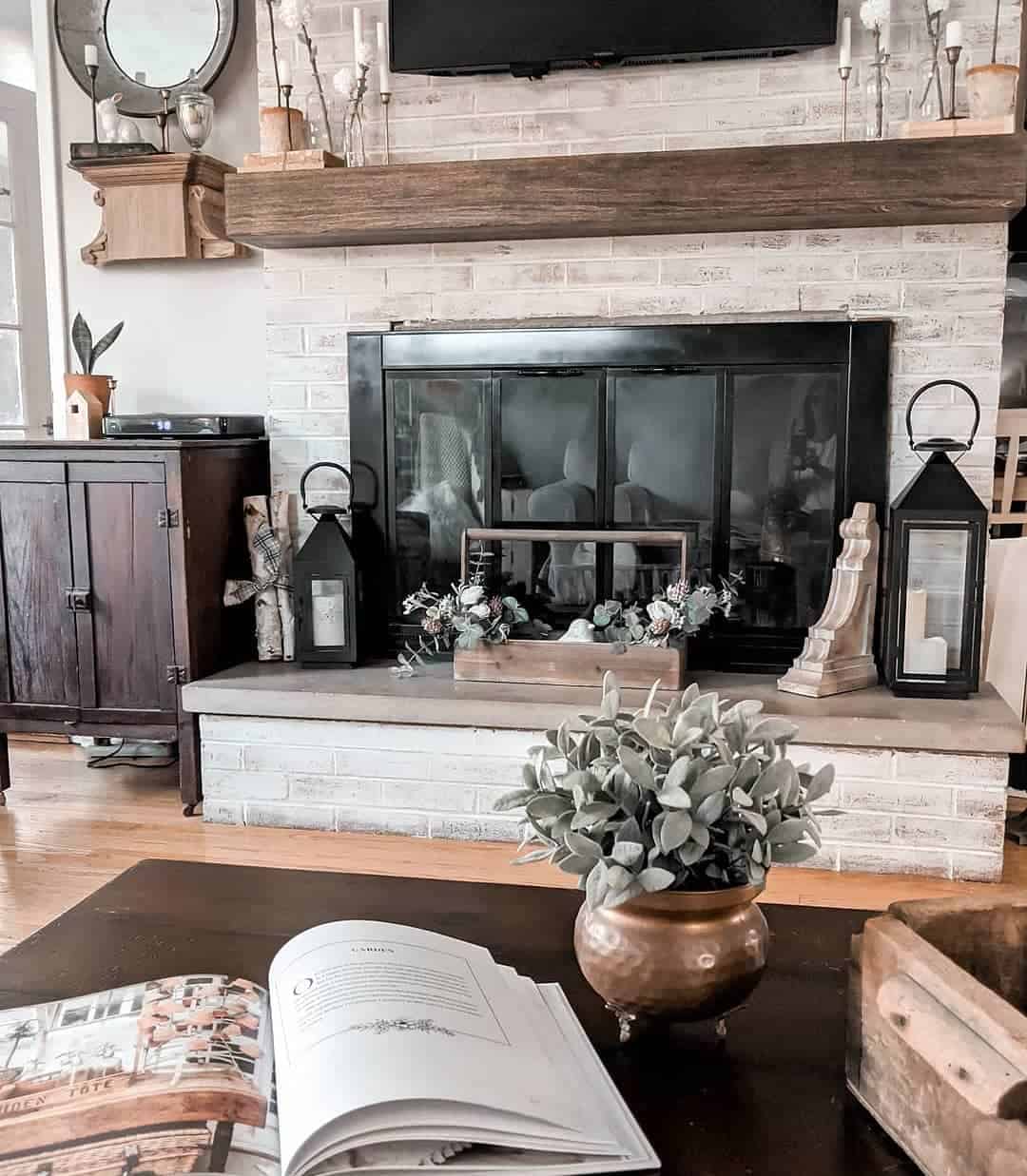 Credit: thebluegoose16
Shop the Look
Warm Farmhouse Living Room with Rustic Coffee Table
The heart of this warm and inviting farmhouse living room is a rustic wooden coffee table. It complements the room's neutral palette, which includes warm brown leather sofas, a white geometric area rug, and other charming details. To usher in the cozy vibes of fall, add a white gourd and a potpourri arrangement to the coffee table, and complete the look with western-themed throw pillows along the sofa.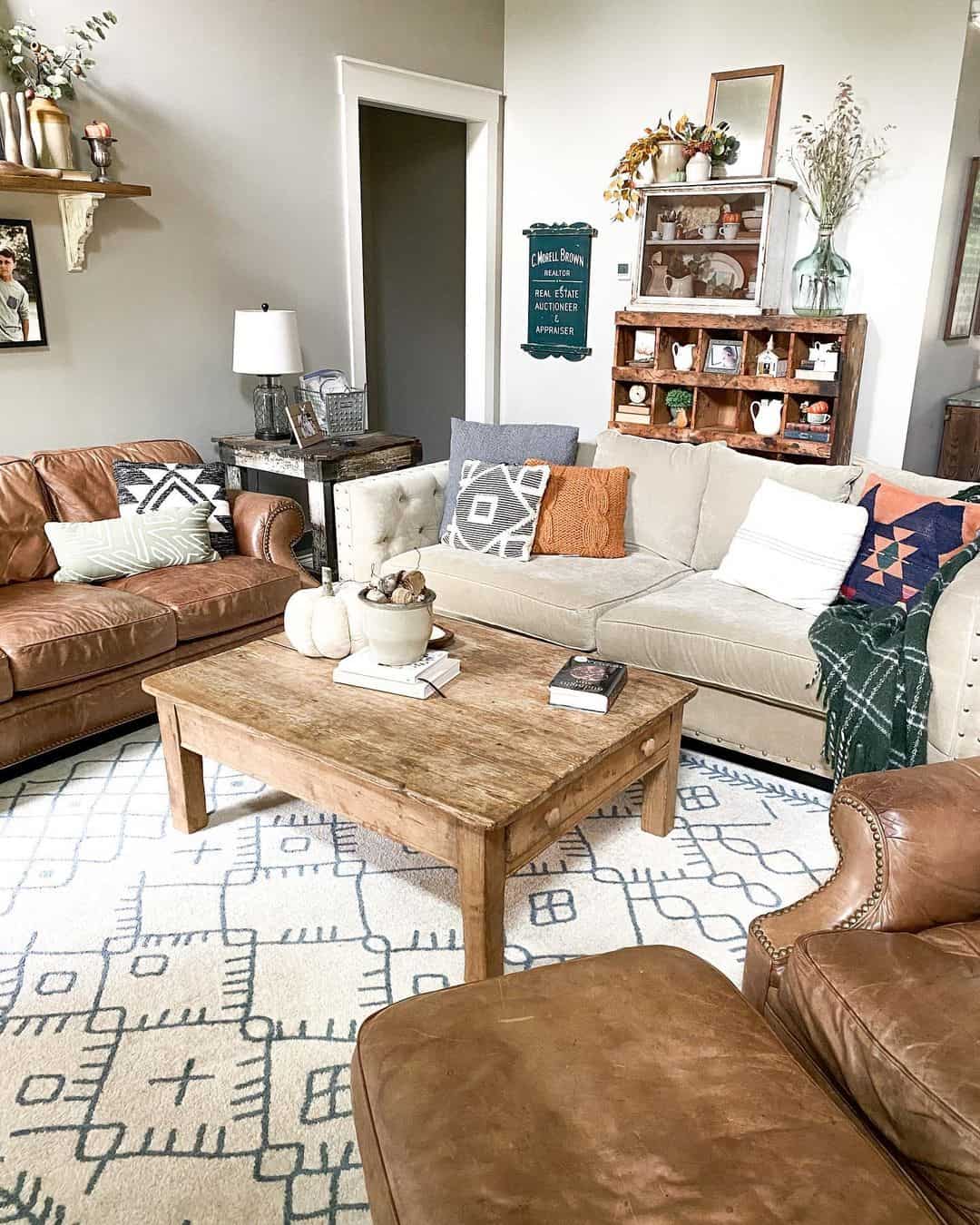 Credit: maple.and.dickerson
Shop the Look
Rustic Reclaimed Wood Accents and Neutral Decor
Experience the warmth and welcome of a cozy living area accentuated by a sliding barn door with a rustic brown wood stain. It harmonizes beautifully with the refinished farmhouse wood flooring. To continue the theme, incorporate neutral upholstered sofas and armchairs, accented by a set of burnt orange throw pillows and plaid tassel blankets.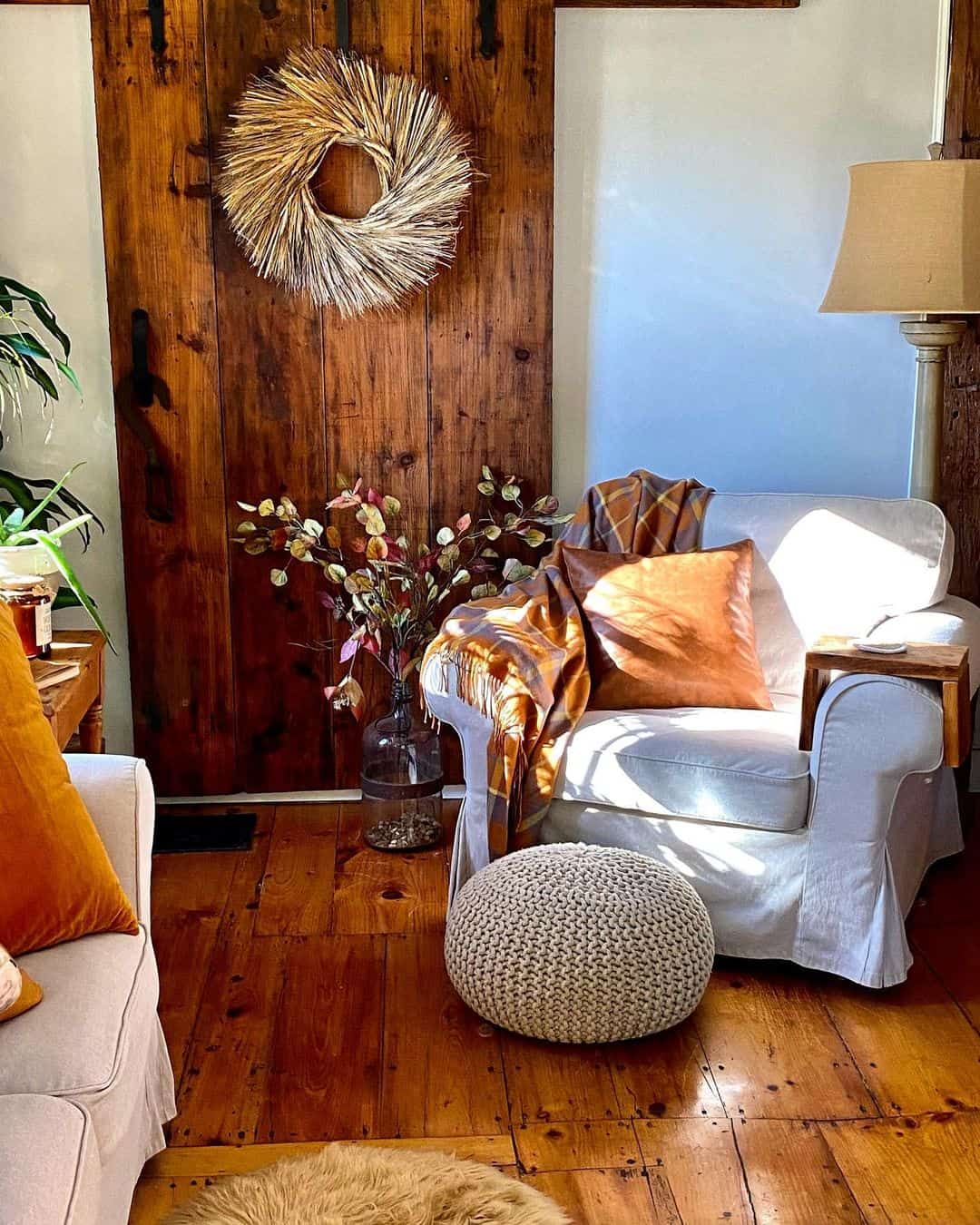 Credit: thelongawaitedhome
Shop the Look
Western Decor and Vaulted Ceilings
Step into a lodge-style living room adorned with vaulted ceilings and exposed beams, featuring a distinctive wood-paneled wall in various shades of dark brown stain. Adding to the Western charm are elk mounts that grace the space. For an extra touch of rustic elegance, decorate the hutch with vintage farmhouse decor, such as a hollowed wood-framed window and a tassel garland.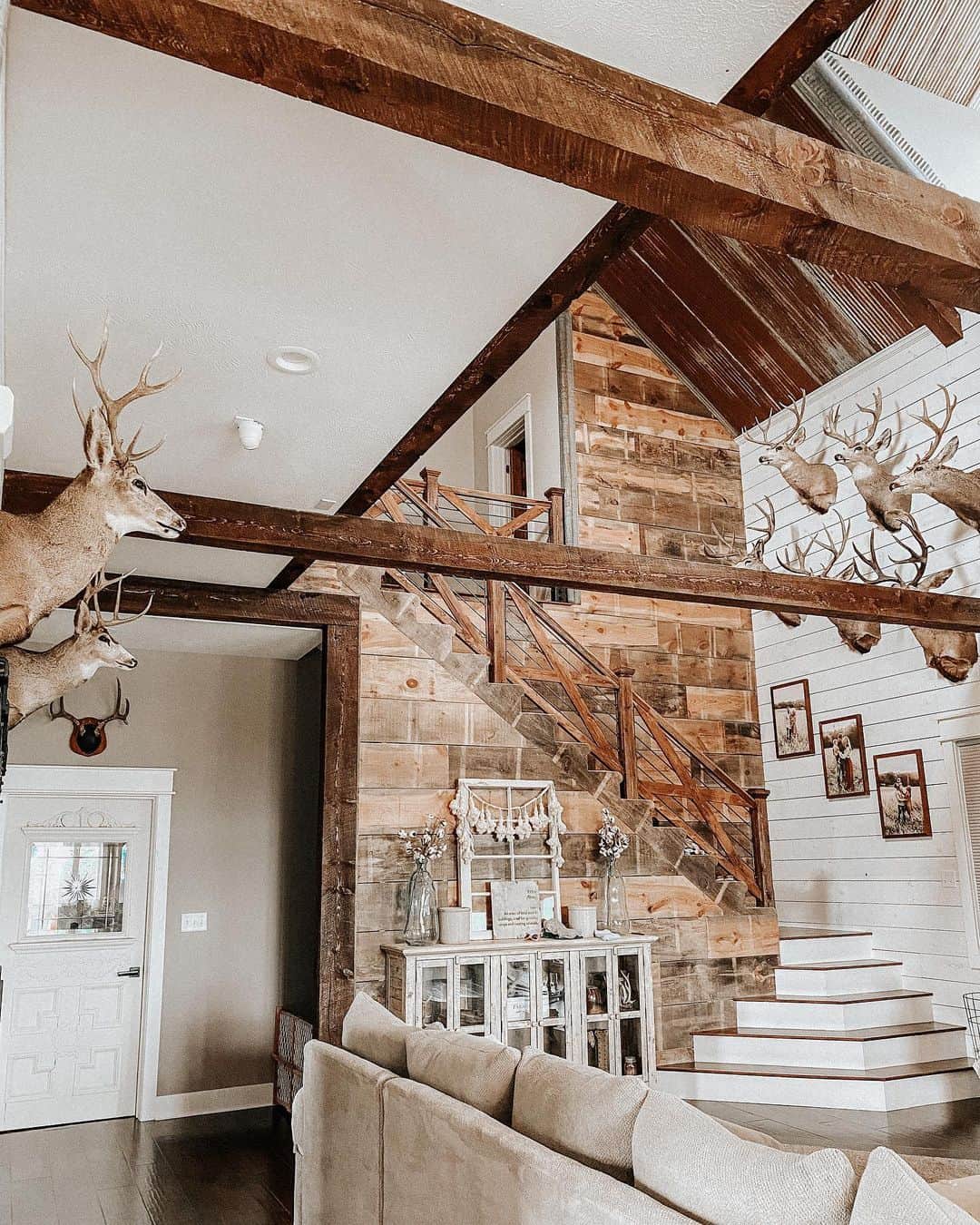 Credit: ourdeerfarmhouse
Shop the Look
Dark Wood Accents in a White Farmhouse Living Room
In this elegant white farmhouse living room, a white brick fireplace serves as the centerpiece, framed by two exposed wood beams and a matching mantel. To create a cozy, neutral atmosphere for fall, consider adding an evergreen wreath to the mirror and large tin buckets for storing firewood.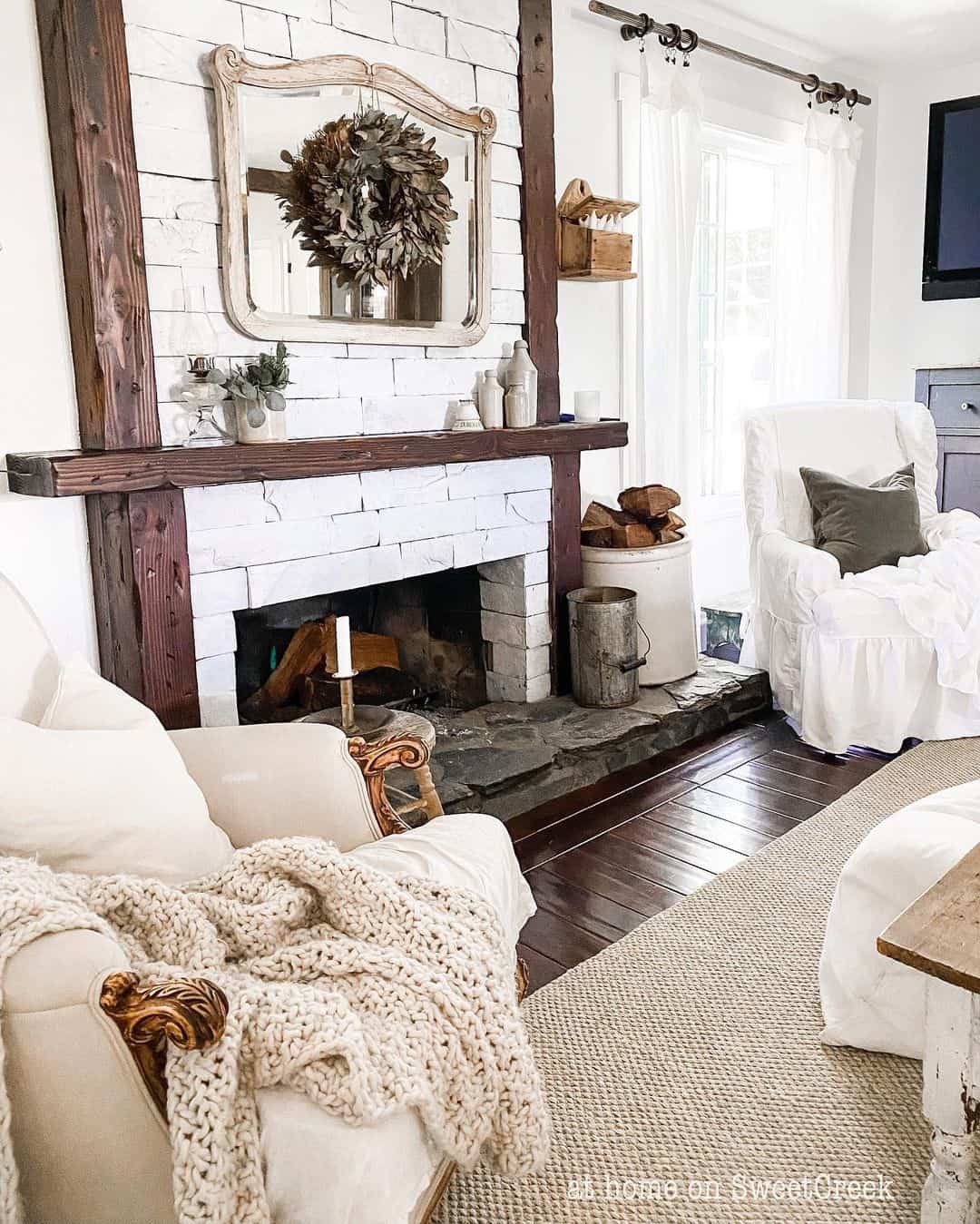 Credit: athomeonsweetcreek
Shop the Look
Antique Barn Door Decor
Step into a French country-inspired living room adorned with an antique coffee table featuring a dusty gray paint finish and a beautiful arrangement of pink and white peonies. For added character, lean a barn door with matching gray tones against the wall next to the windows, accompanied by a large antique portrait.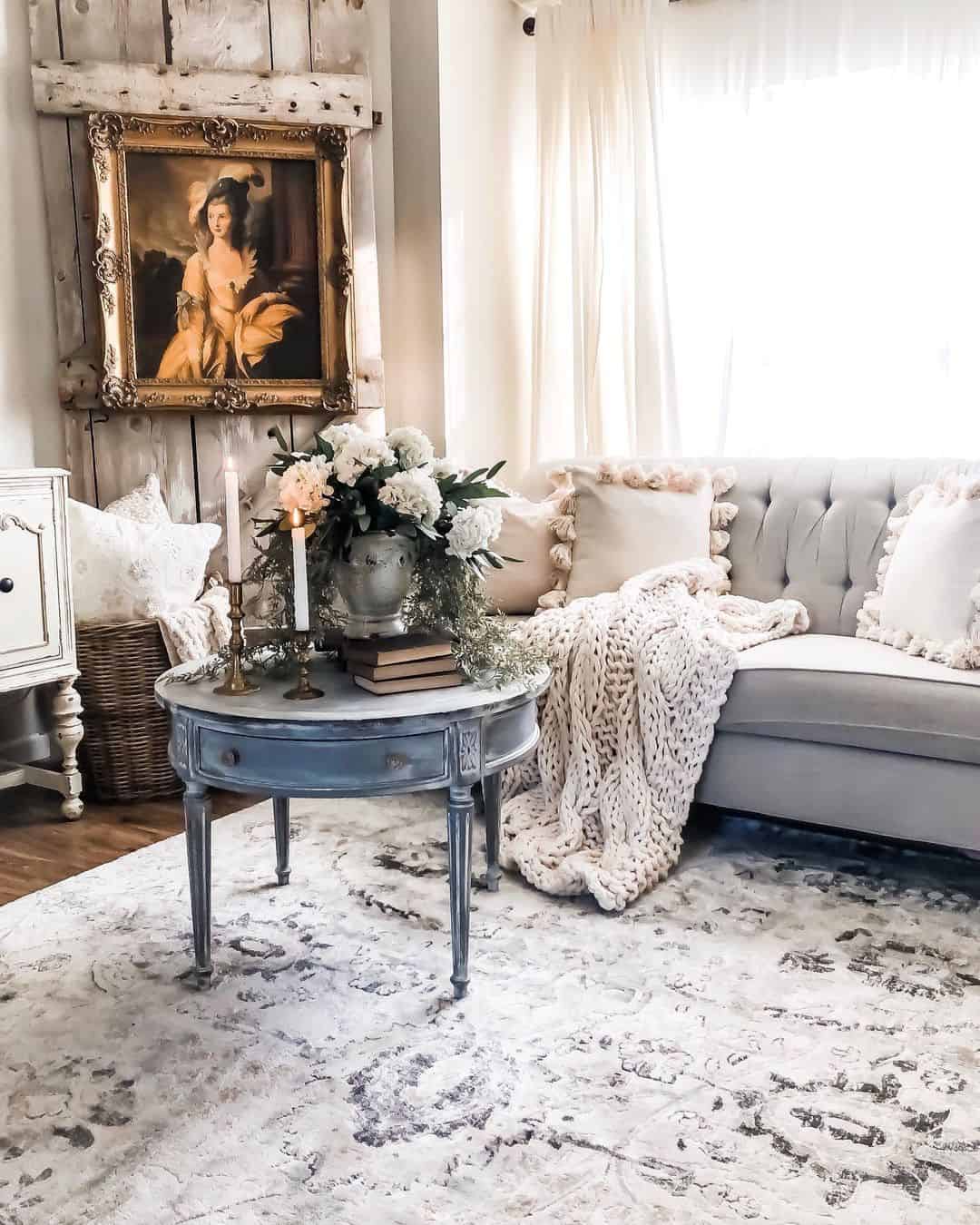 Credit: crown.and.sparrow
Shop the Look
Wrap-up
Embracing rustic décor in your farmhouse living room ensures that you're always prepared for whatever the seasons may bring. These seven ideas have not only added character and charm but also created a space that's both stylish and adaptable. So, whether it's the warmth of summer or the coziness of winter, your timeless farmhouse living room is always ready to welcome you.