7+ Warm Wood Floor Ideas to Define Your Farmhouse Living Room Space
Affiliate Disclosure: As an Amazon Associate we earn from qualifying purchases. Hence, if you click through and make a purchase, we will get a commission at no extra cost to you. For more info, read our full disclosure.
Warm wood floors are a quintessential element of farmhouse-style living rooms, infusing a sense of rustic charm and coziness into the space. Whether you're aiming for a classic, vintage farmhouse look or a more modern interpretation, the choice of wood flooring can set the tone for your entire room.
In this blog, we'll explore seven inspiring warm wood floor ideas that will help you define and elevate your farmhouse living room, creating a welcoming haven that reflects your unique style and personality.
Elevate Your Living Room with Modern Accents
Experience the charm of a minimalist living room adorned with contemporary elements. Picture a neutral couch embellished with an assortment of accent pillows, complemented by a light wood armchair gracefully positioned opposite a coffee table. The coffee table itself is adorned with branches in a dark wood vase, a wooden bowl, and wooden beads.
To define the space, a natural jute area rug sits atop light wood flooring. A tall light wood bookshelf takes center stage, showcasing modern accents, while a side table with a lamp and tall greenery potted in a large planter occupies the corner.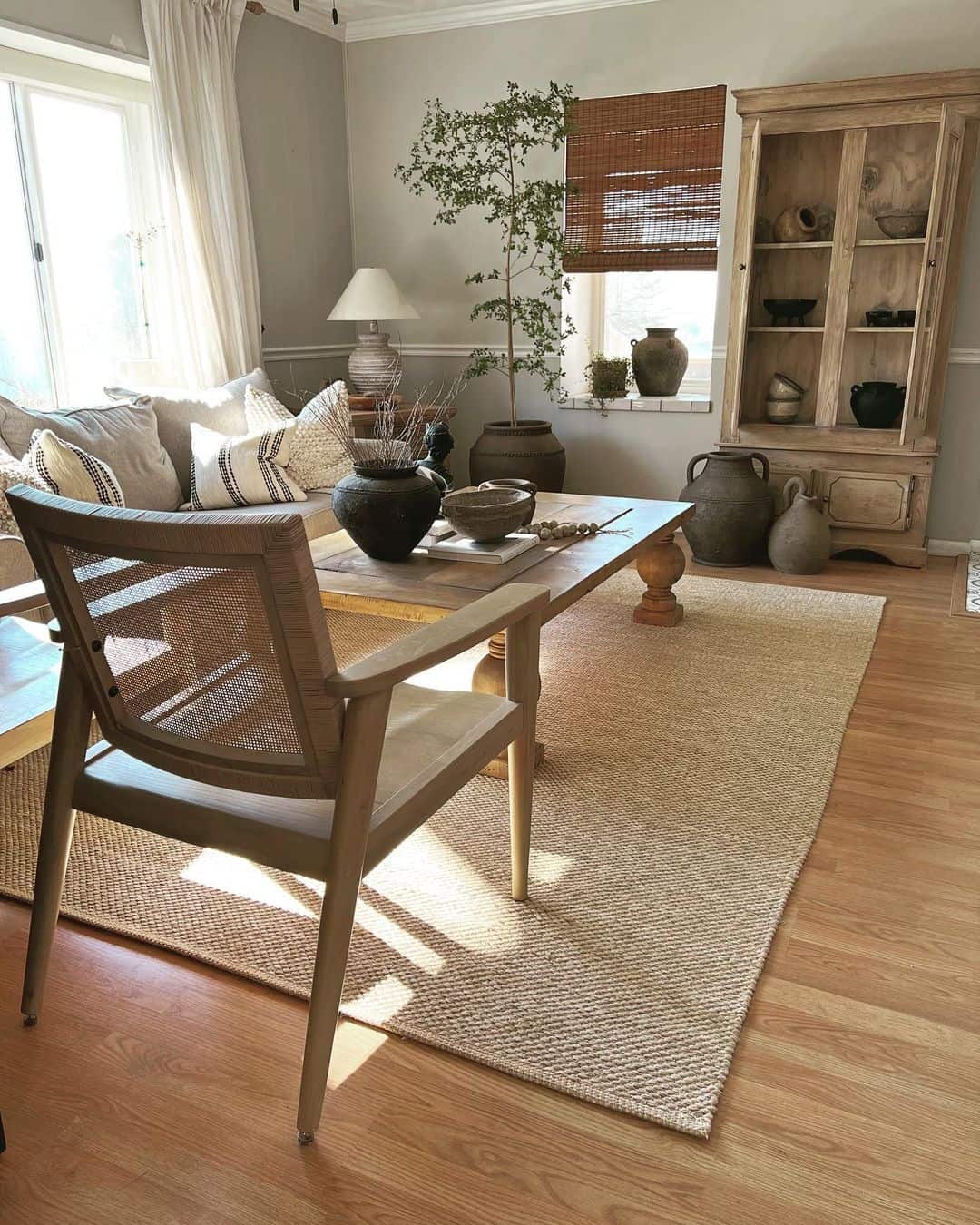 Credit: woodandhomeaccents
Shop the Look
Embrace Comfort and Warm Tones in Your Cozy Living Room
Discover the inviting embrace of warm tones in this captivating farmhouse-style living room, featuring a dark gray sectional sofa facing an elegant white mantel. Enhance the warmth with a tastefully decorated warm wood floating shelf and incorporate sophisticated accents throughout the room. Large windows, fitted with blinds and dressed in neutral curtains mounted on black rods, complete the cozy ambiance.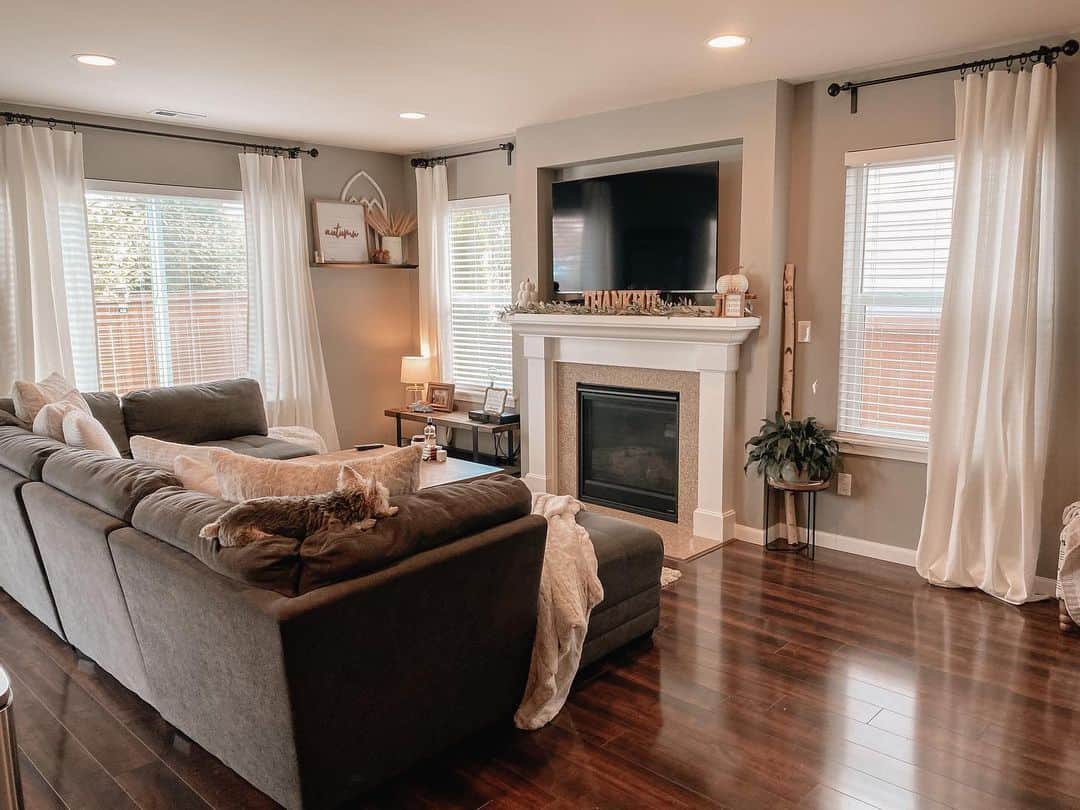 Credit: woodandgray
Shop the Look
Transform Your Space with Shiplap Wainscoting and Vintage Furniture
Create your personal half-wall sanctuary by applying white shiplap beneath beige-painted walls. Complement this farmhouse-inspired backdrop with vintage furniture, perfect for displaying your cherished rustic treasures. Don't forget to bring a touch of nature indoors by incorporating lush greenery into your decor.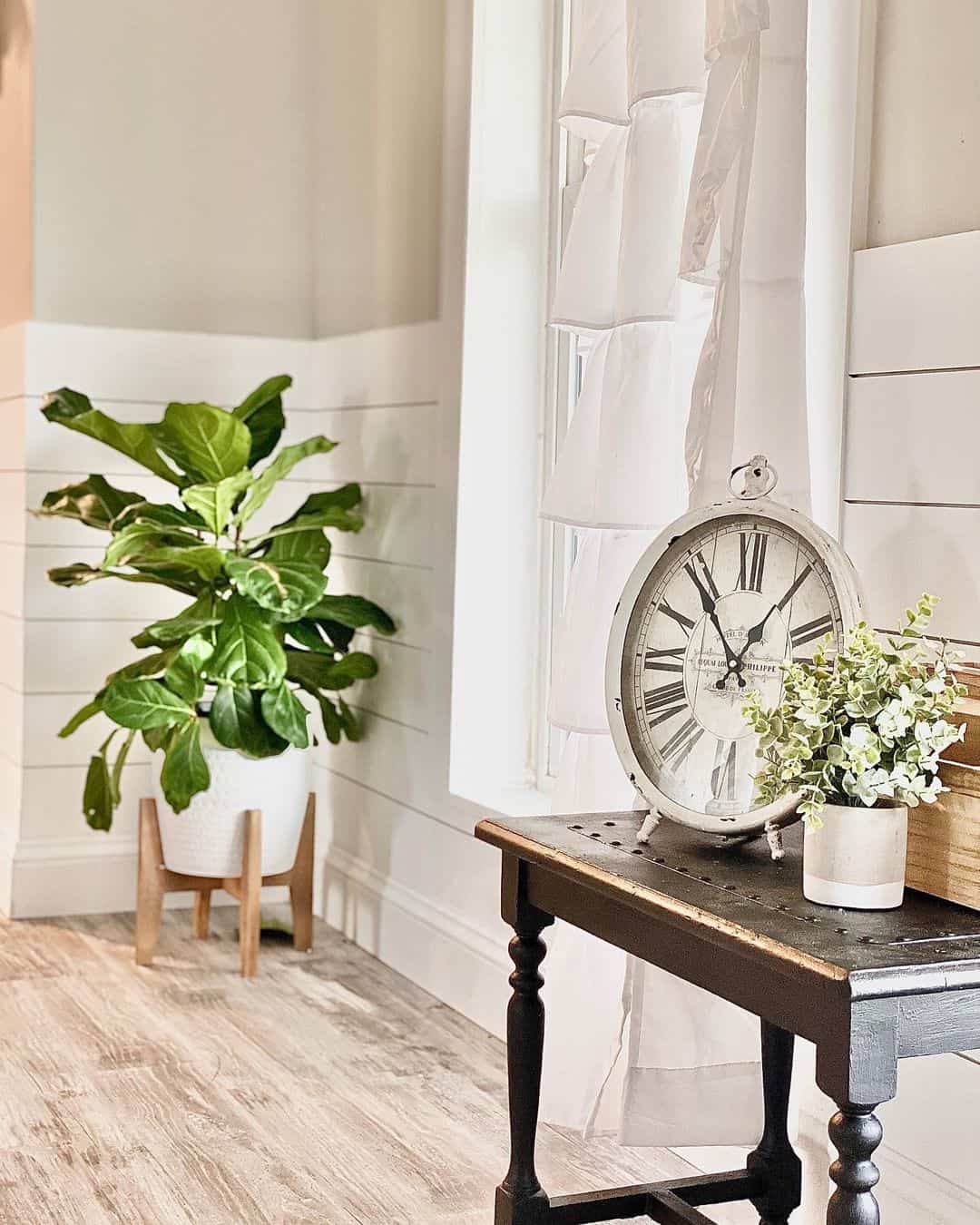 Credit: sabrina_king29
Shop the Look
Harness the Power of Large Bay Windows for Your Accent Wall
Make the most of abundant sunlight streaming through large bay windows by furnishing your space stylishly. Enhance comfort with the addition of throw pillows and a shag rug that accents the seating area. The expansive windows themselves provide an excellent canvas for creating an accent wall that doesn't overpower the room.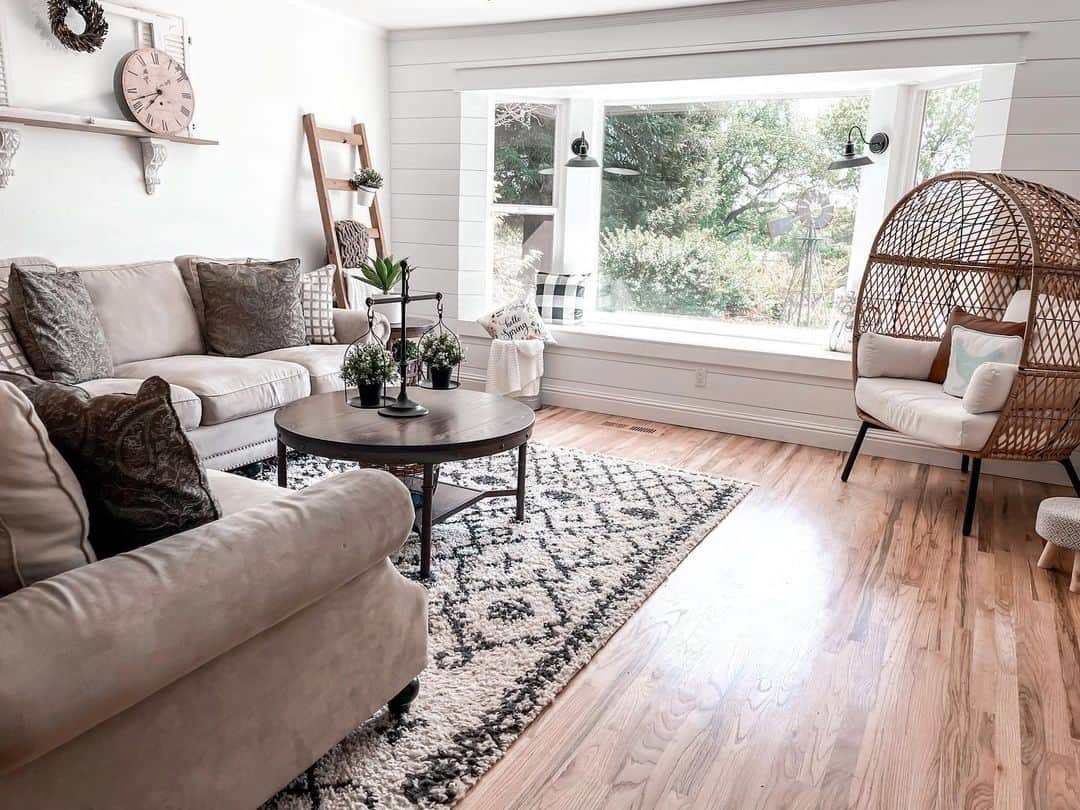 Credit: myfirst_farmhouse
Shop the Look
Achieve Elegance with a Gallery Wall of Mirrors
Elevate the elegance of your living room by featuring a carefully curated collection of mirrors. These reflective pieces not only add sophistication but also create an illusion of space. To complete the look, pair them with a simple side table and comfortable couches.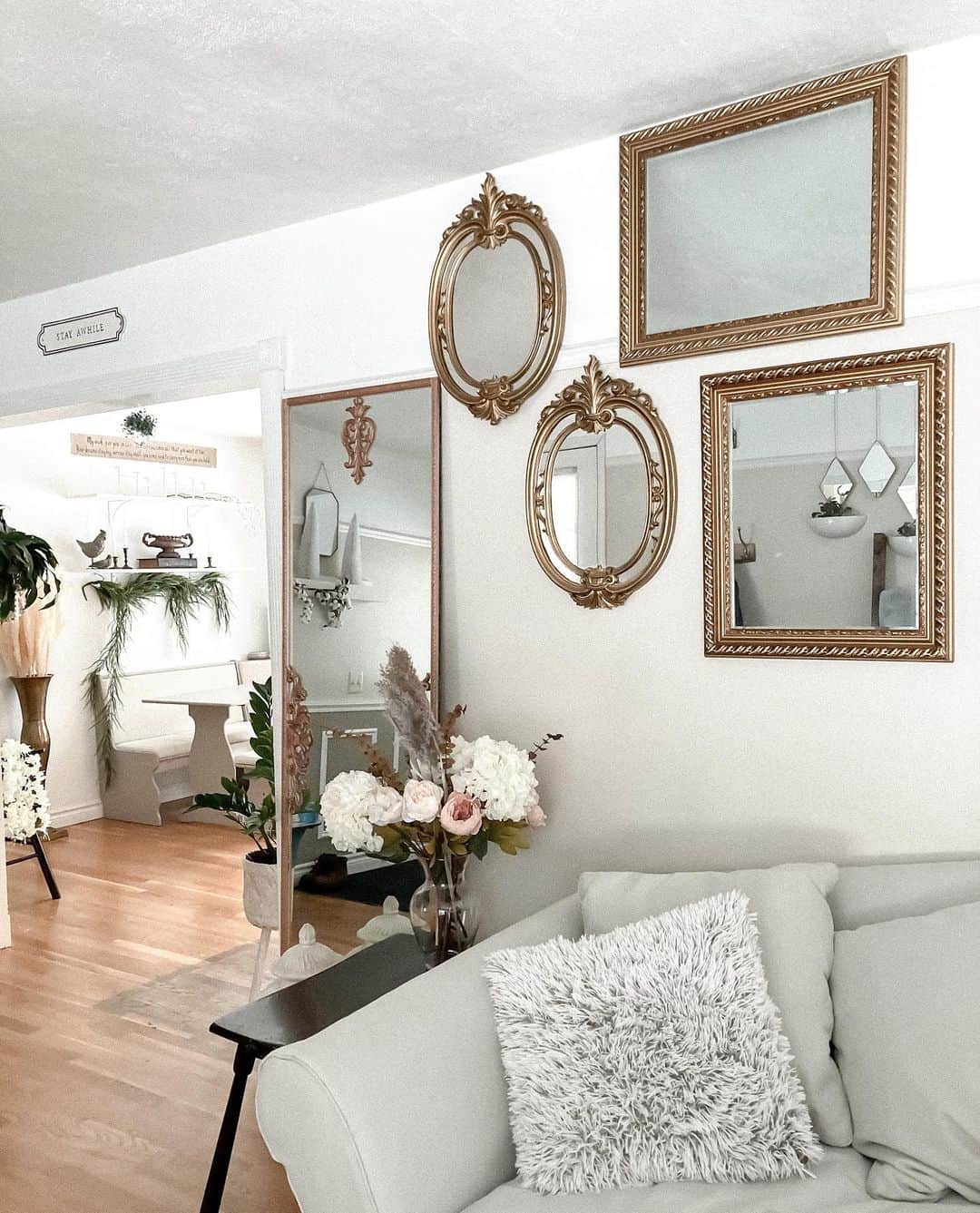 Credit: thyme_and_tinsel
Shop the Look
Timeless Beauty in Dark Blue and Beige Living Room Decor
Transform your family room with a timeless aesthetic, boasting white walls and light wood flooring as the backdrop. Dark blue pillows artfully adorn the beige couch, while a touch of greenery graces the metal coffee table resting on a dark blue rug.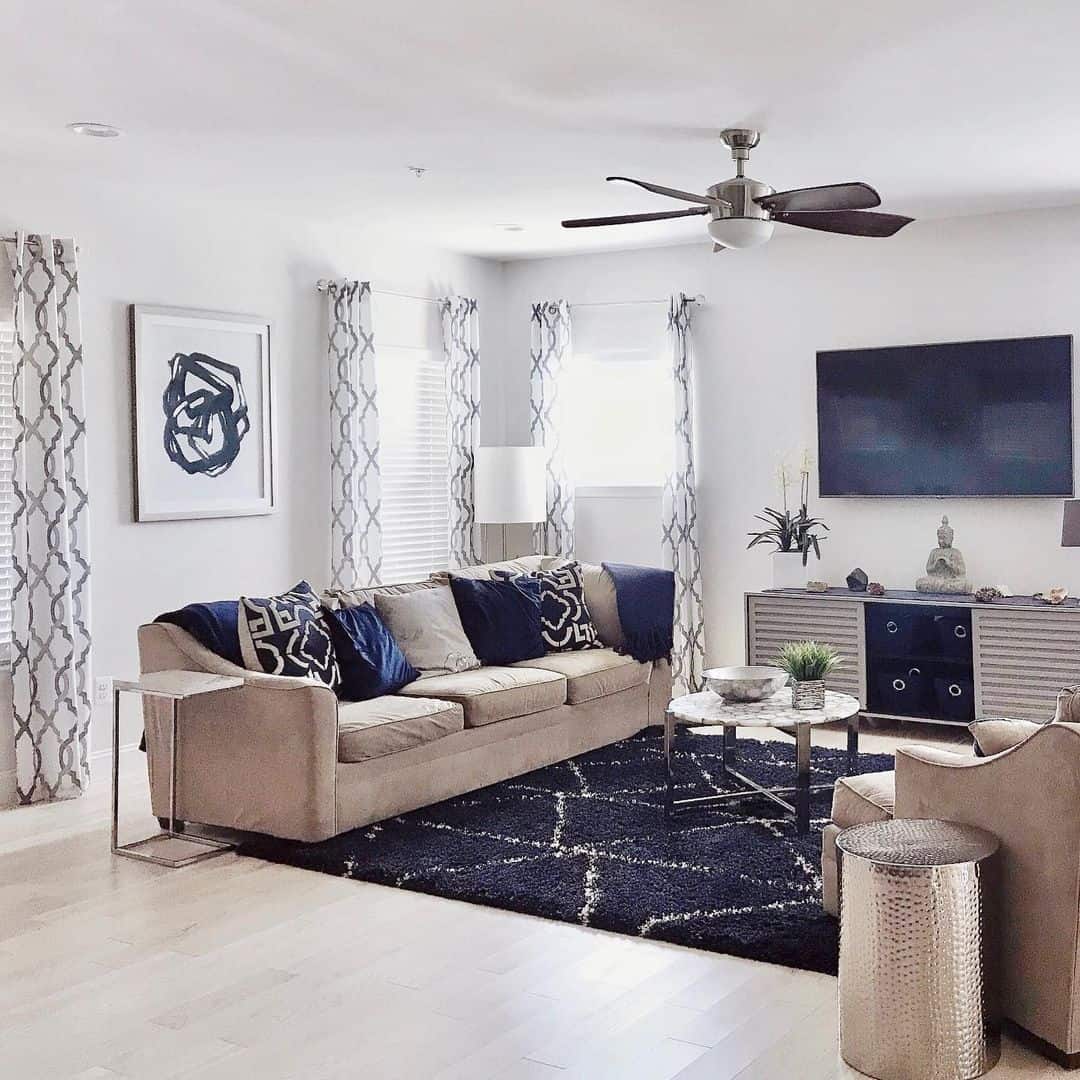 Credit: willbeagem
Shop the Look
Unleash Your Creativity with Quirky Accessories for Country Living
Express your unique personality in a quirky country living room adorned with one-of-a-kind accessories. Play with patterns, incorporating them into rugs and throw pillows, and pair them with a roll-arm sofa to give a classic look a fresh twist. Ditch conventional coffee tables for something organic and irregularly shaped.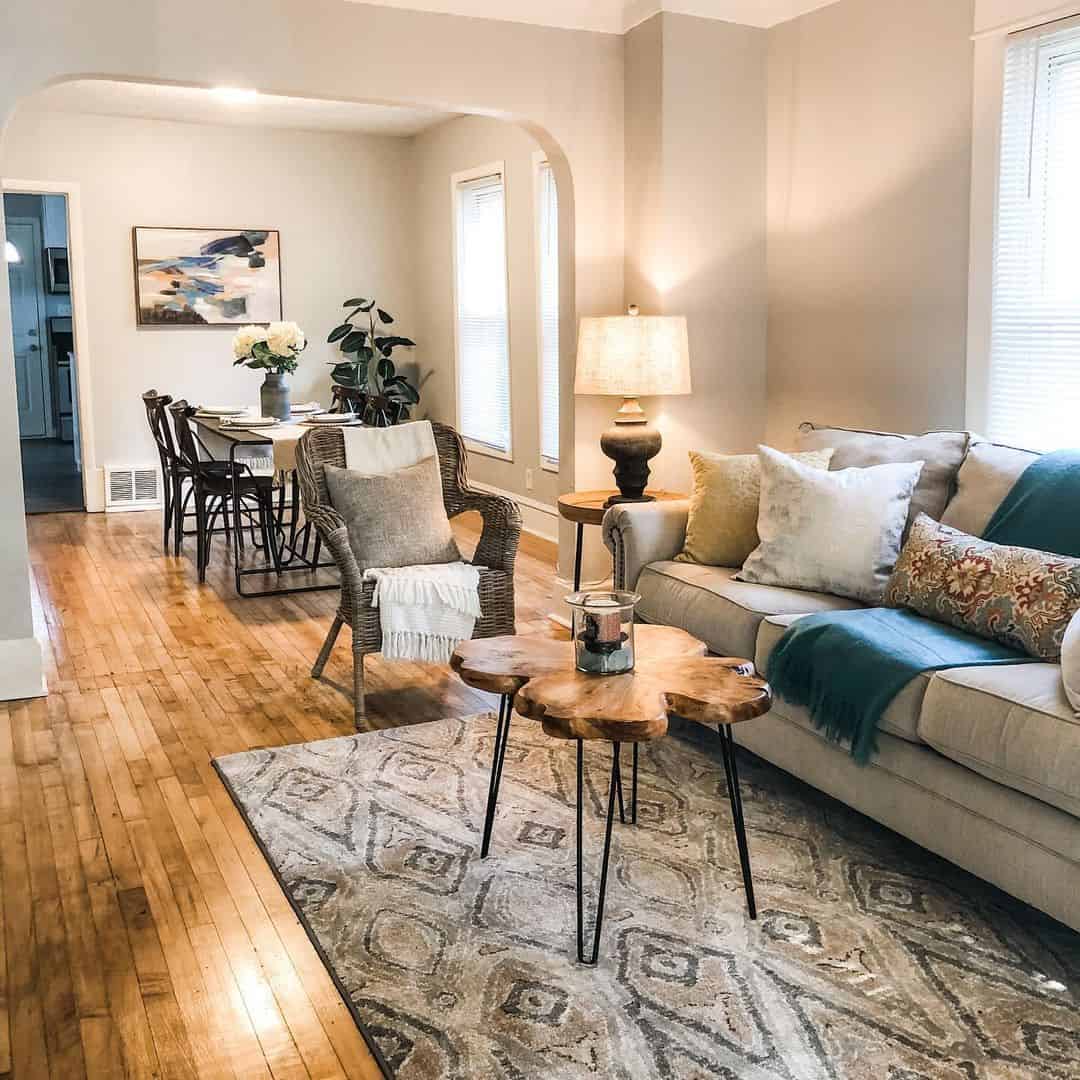 Credit: styledmicasa
Shop the Look
Infuse Soft Energy with Rounded Shapes
Experience the harmonious flow of a room enriched by the use of rounded shapes. In this space, an arched doorway and a rounded coffee table create a sense of smooth energy. Soft wood flooring subtly complements the white sofa and cream-colored walls. In one corner, immerse yourself in vintage farmhouse decor, with a chest of drawers serving as a canvas for fall decorations.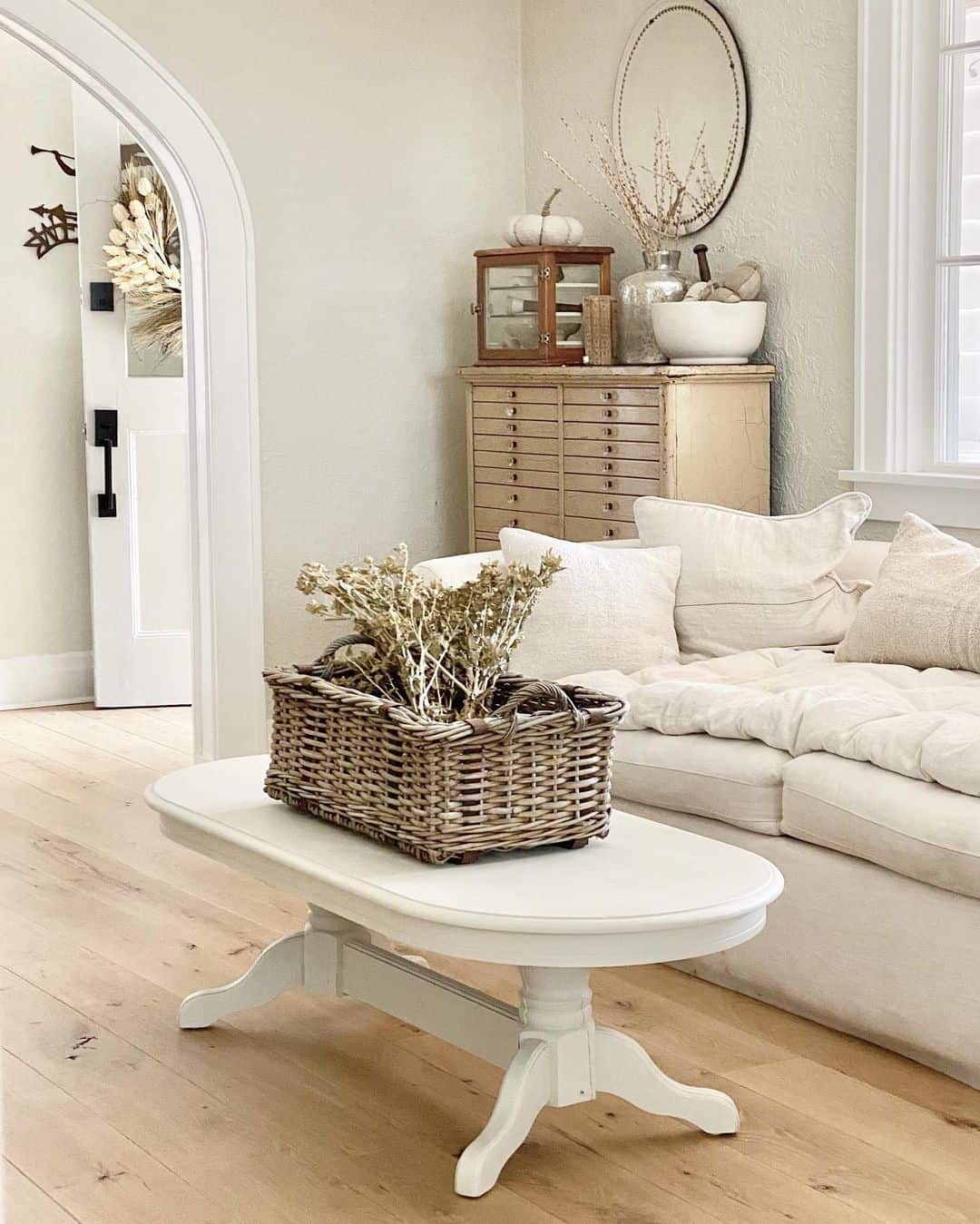 Credit: smilinghearthaven
Shop the Look
Wrap-up
Incorporating warm wood floors into your farmhouse living room design can make all the difference in creating a space that's both inviting and visually captivating. From rich, dark hardwoods that exude timeless elegance to lighter, reclaimed woods that embrace the natural beauty of imperfections, there's a warm wood flooring option for every farmhouse style.
By choosing the right wood and design elements, you can define your living room space and make it a place where comfort and aesthetics harmonize seamlessly, leaving a lasting impression on all who enter.