7+ Bay Window Seating Ideas for Your Farmhouse Living Room
Affiliate Disclosure: As an Amazon Associate we earn from qualifying purchases. Hence, if you click through and make a purchase, we will get a commission at no extra cost to you. For more info, read our full disclosure.
Transforming your farmhouse living room with bay window seating can breathe new life into your space while adding a touch of rustic charm. These versatile seating ideas not only enhance the aesthetic appeal of your room but also provide cozy spots for relaxation and captivating conversations.
In this article, we'll explore seven creative bay window seating ideas that will elevate the ambiance of your farmhouse living room.
Elegant Bay Window Seating with Cerulean Curtains
Discover the allure of deep cerulean curtains paired with patterned pillows, creating a visually captivating blue-toned atmosphere. Complementing this aesthetic are striped gray chairs that offer a tranquil retreat. Underfoot, a soft gray rug hosts an array of vibrant green plants.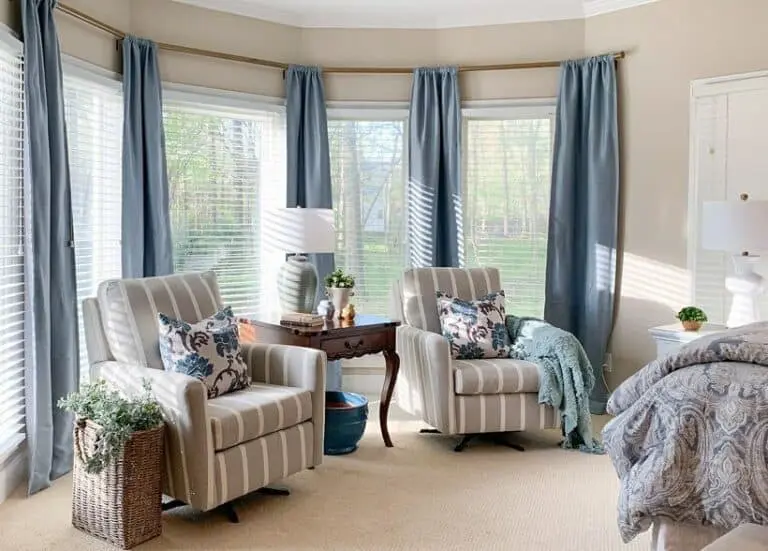 Credit: @worthingcourtblog
Shop the Style
Classical Living Room Oasis by the Bay Window
Step into a classical living room adorned with pristine white walls and an intricately patterned, dark-toned rug. A graceful white sectional sofa rests beneath long, flowing curtains, while a round wood coffee table takes center stage.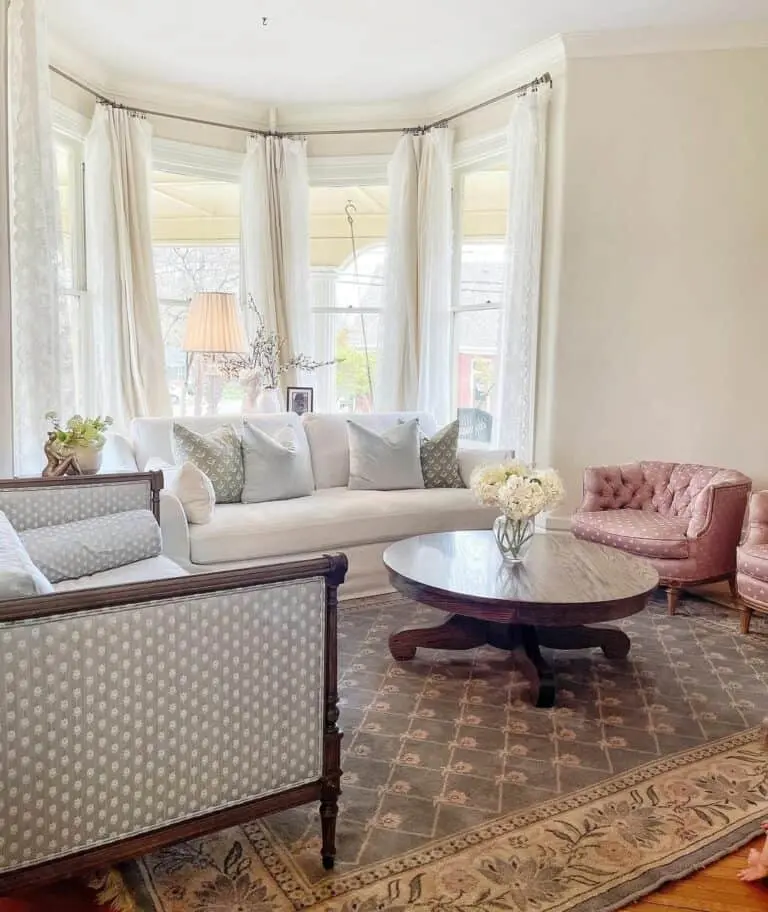 Credit: @sittingprettyhomedecor
Shop the Style
Stained Glass Windows Transform the Living Room
Embrace modern neutrality with a touch of vintage charm through top-panel stained glass windows, adorning floor-to-ceiling panels fitted with substantial wood blinds. A geometric farmhouse area rug graces the floor, beneath a pristine white stone coffee table and a chic white and gray linen sofa ensemble.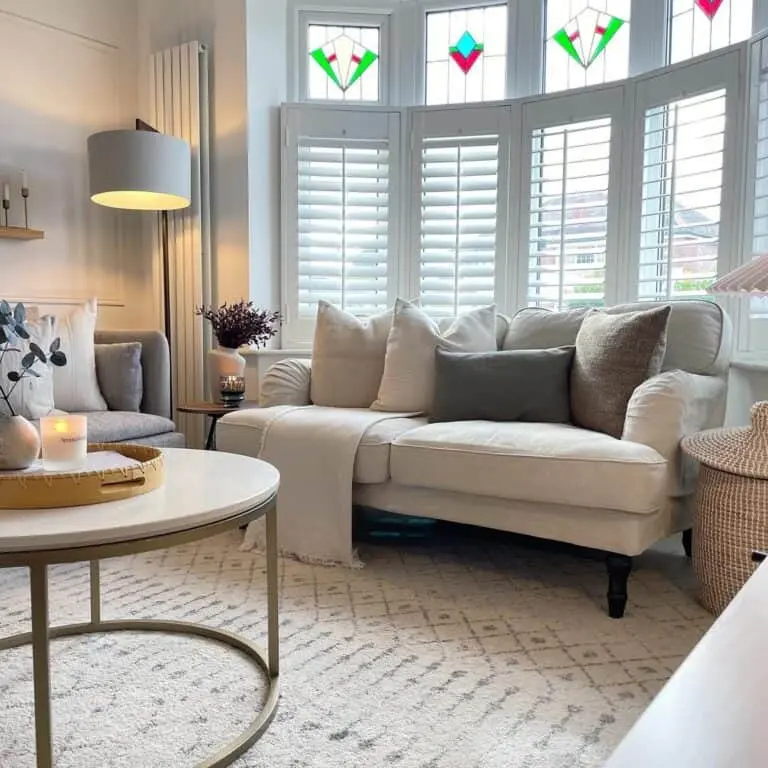 Credit: @themillys1930shome
Shop the Style
Inviting Bay Window Retreat with White Cushions
Indulge in the charm of an adorable bay window seat adorned with plush cushions and soft pillows, forming a cozy sanctuary for relaxation. Three additional cabinets provide space for books and candles, enhancing the cozy ambiance. Vertical windows offer serene outdoor views and invite natural light.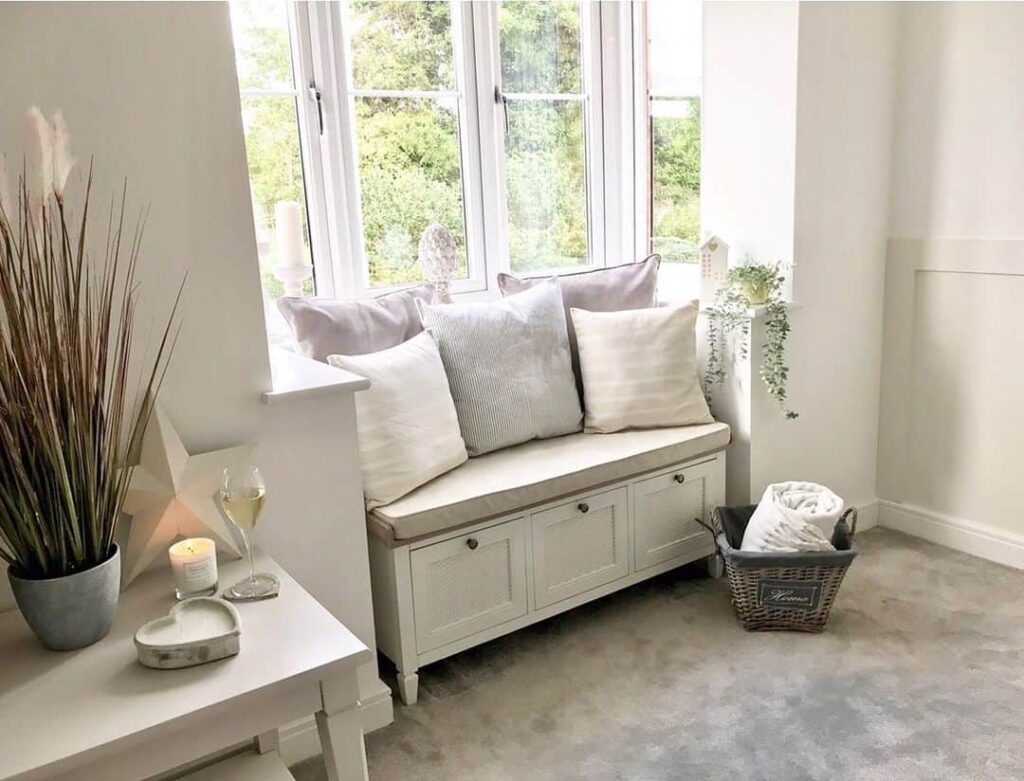 Credit: @home_at_ivy_corner
Shop the Style
Cottage-Style Comfort in the Bay Window
Experience the elegance of a cottage-style bay window seat, featuring a soft white cushion adorned with an array of charming, colorful pillows. The gentle afternoon sun bathes neutral-toned beige walls, while a gracefully draped curtain provides a refuge from the heat.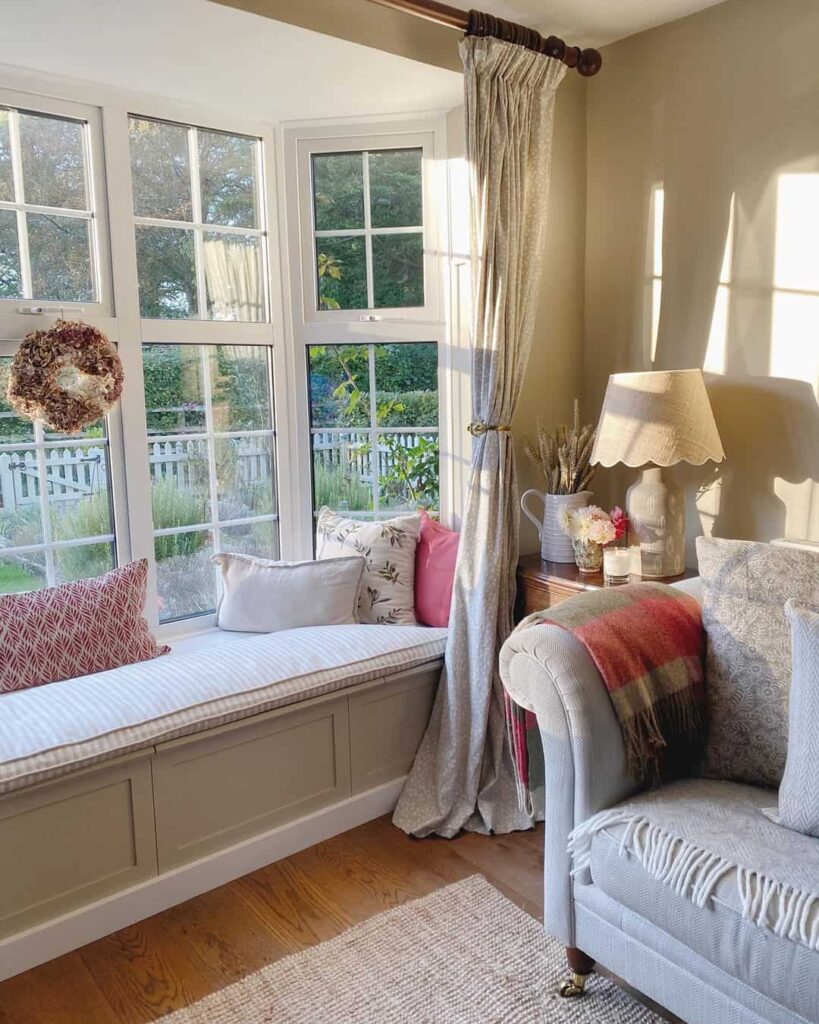 Credit: @wallflower_cottage
Shop the Style
Rustic Charm with a Wooden Bench by the Bay
Sleek black-trimmed bay windows gently frame a white bench adorned with a luxuriously stained wooden surface. The inviting arrangement is accentuated by a delightful blend of brown and white throw pillows, enticing you to luxuriate in the embrace of natural light. All the while, pristine white walls and flourishing greenery envelop the scene, creating a harmonious sanctuary.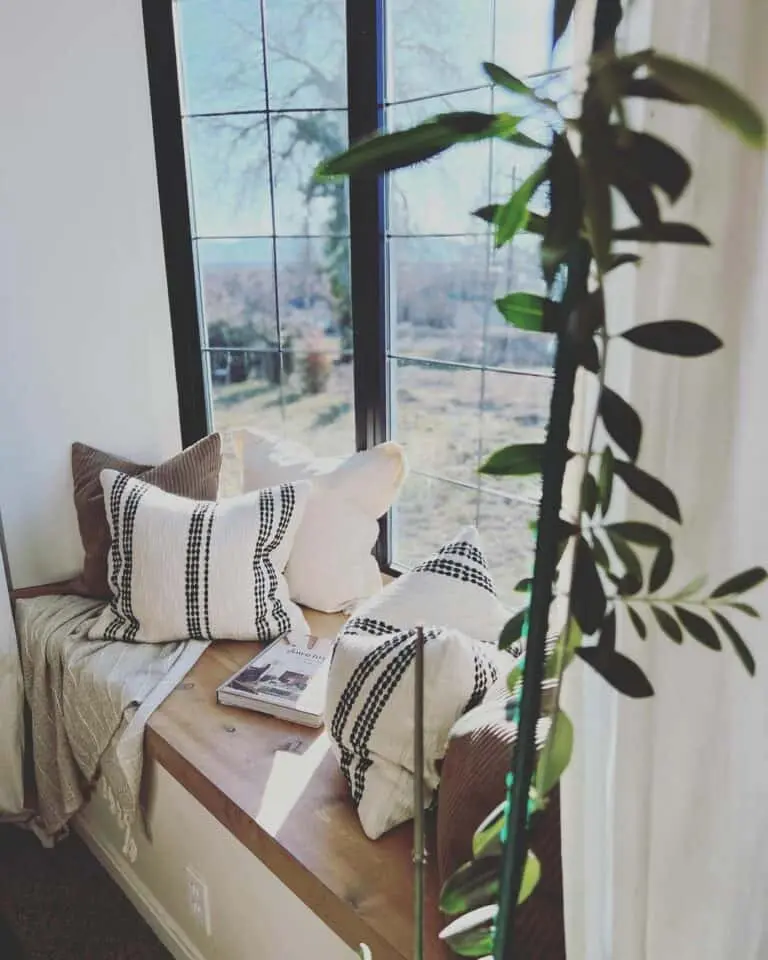 Credit: @woodandhomeaccents
Shop the Style
Cozy Conversations by the Bay Window
Whether you're yearning for a snug nook to lose yourself in a good book or a vibrant gathering spot for lively discussions, this concept has you covered. At its heart, a striking black cushion adorned with a medley of pillows graces a spotless white seating arrangement. A richly hued oak table featuring a circular white top effortlessly complements a striking wooden chair, all set upon an eye-catching diamond-patterned rug.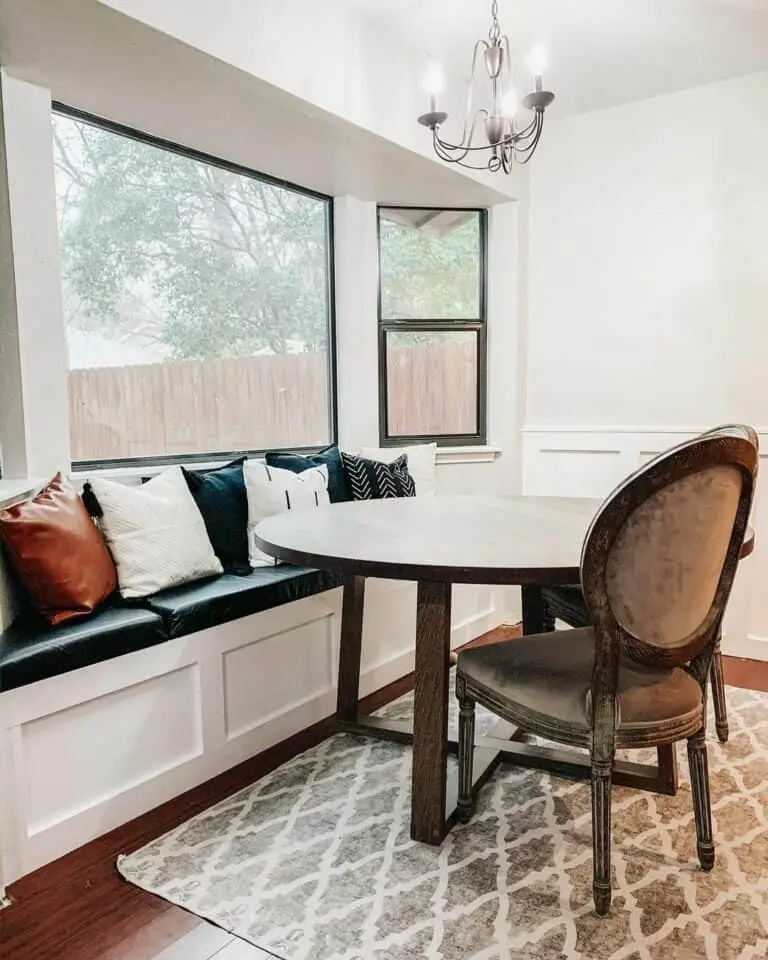 Credit: @bethanyshub_
Shop the Style
Tranquil Bay Window Seating with Farmhouse Décor
Discover serenity in this simple bay window space, featuring white shiplap walls that beautifully complement the monochrome décor and the natural vista beyond the window. A mounted black light fixture ensures the space remains inviting even after the sun sets.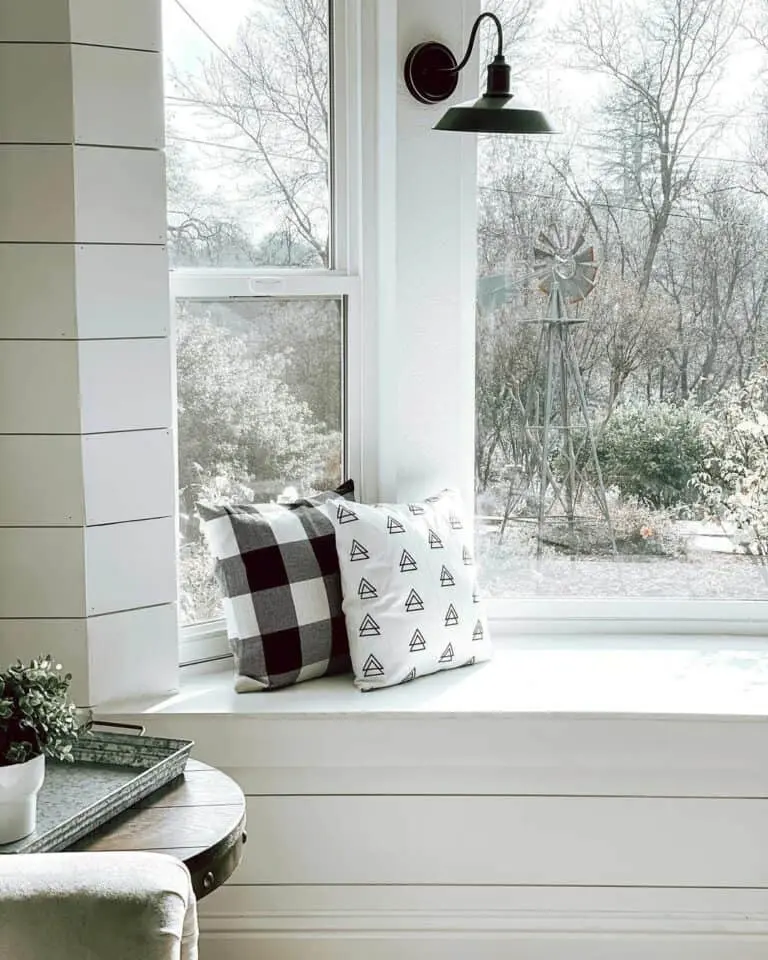 Credit: @myfirst_farmhouse
Shop the Style
Wrap-up
Incorporating bay window seating ideas into your farmhouse living room can be a game-changer in terms of both style and comfort. Whether you're aiming for a cozy reading nook, a welcoming spot for guests, or simply looking to enhance the overall charm of your space, these seven ideas offer a world of possibilities.
Embrace the rustic allure and functionality of bay window seating to make your farmhouse living room a place where relaxation and aesthetics effortlessly coexist.