7+ Stylish Grey Flooring Ideas for Farmhouse Living Rooms
Affiliate Disclosure: As an Amazon Associate we earn from qualifying purchases. Hence, if you click through and make a purchase, we will get a commission at no extra cost to you. For more info, read our full disclosure.
In the world of interior design, the charm of farmhouse living rooms continues to capture hearts with its rustic allure and cozy ambiance. When paired with the timeless elegance of grey flooring, these spaces transform into havens of style and comfort.
Whether you're drawn to modern minimalism or rustic warmth, the fusion of grey flooring and farmhouse aesthetics offers a canvas of possibilities.
In this blog, we explore seven captivating grey flooring ideas that seamlessly blend with farmhouse living rooms, adding character and sophistication to these cherished spaces.
Embracing Modern Farmhouse Aesthetics with Grey Flooring
Allowing in gentle natural light, the contemporary farmhouse-style living room features semi-closed beige rattan blinds. The soft grey wood flooring beautifully complements the pure white tones displayed by the sectional sofa and cushions. A touch of vibrancy is introduced by the wooden elements of the chairs and shelf.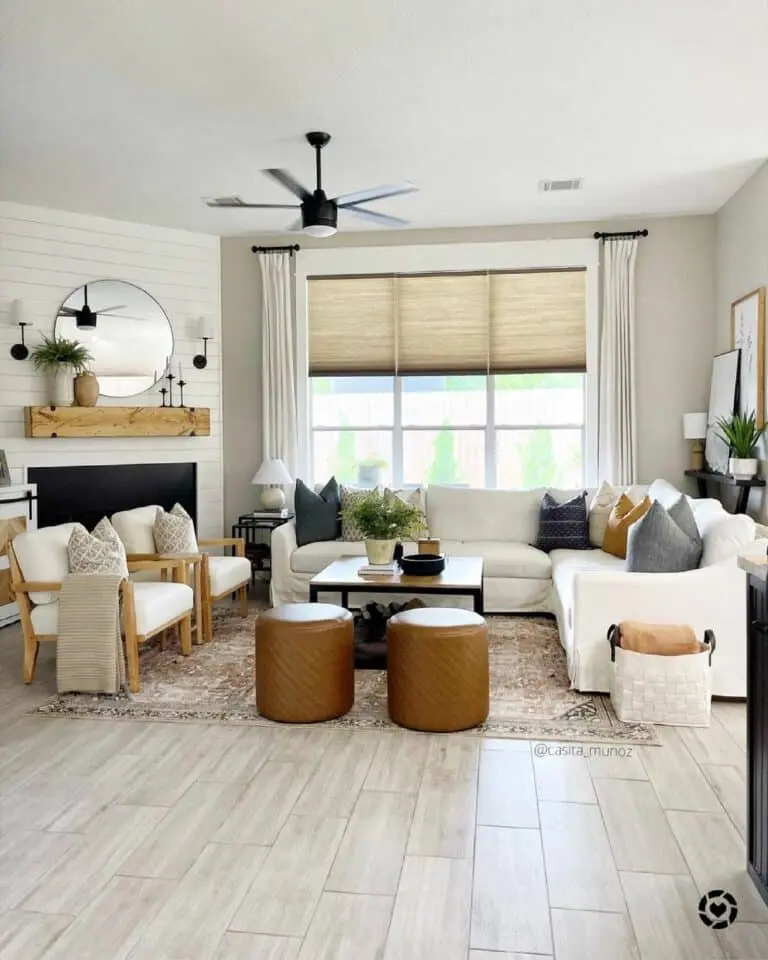 Credit: casitamunoz
Shop the Style
Grey Flooring Inspires Elegance in Piano-Adorned Living Room Concepts
A focal point of grandeur graces this elegant farmhouse-style living room—a pearl white piano. Resting atop a simple grey rug is a grey diamond-patterned ottoman. A baby blue armchair, adorned with a soft cushion and blanket, adds an inviting touch.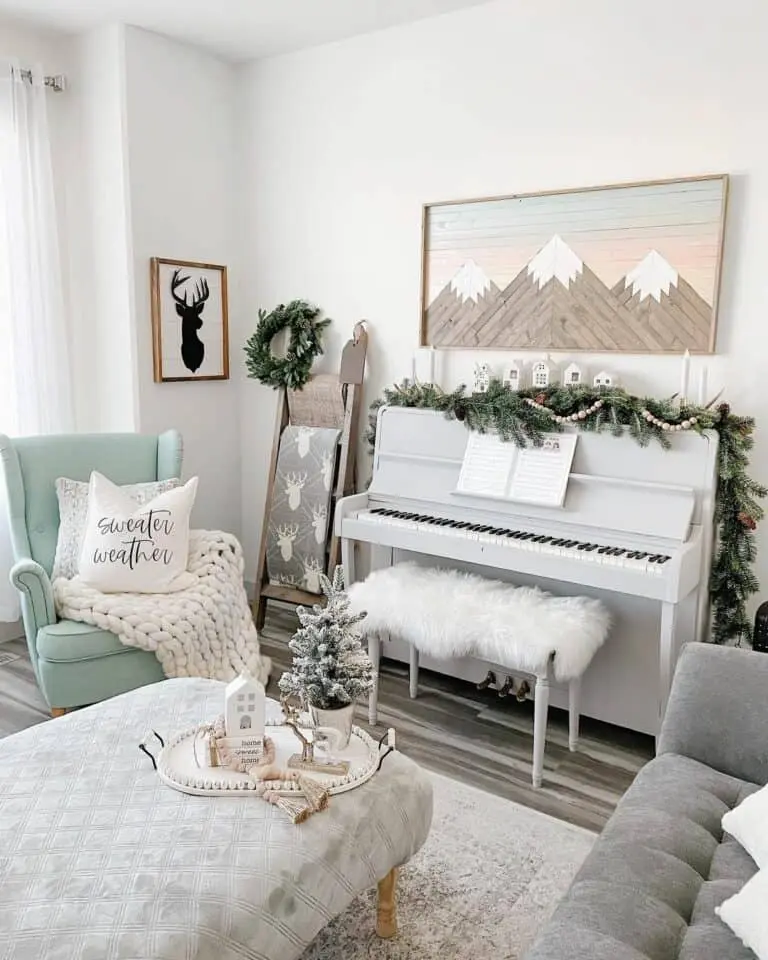 Credit: thevidalnest
Shop the Style
Cozy Warmth Meets Grey Wood Flooring Around an Indoor Fireplace
Neutral tones define this cozy living room, featuring inviting grey armchairs and plush throw pillows. A grey ottoman finds its place on a simple jute rug. A seamlessly integrated TV graces the wall, while a striking indoor fireplace anchors the room with its presence.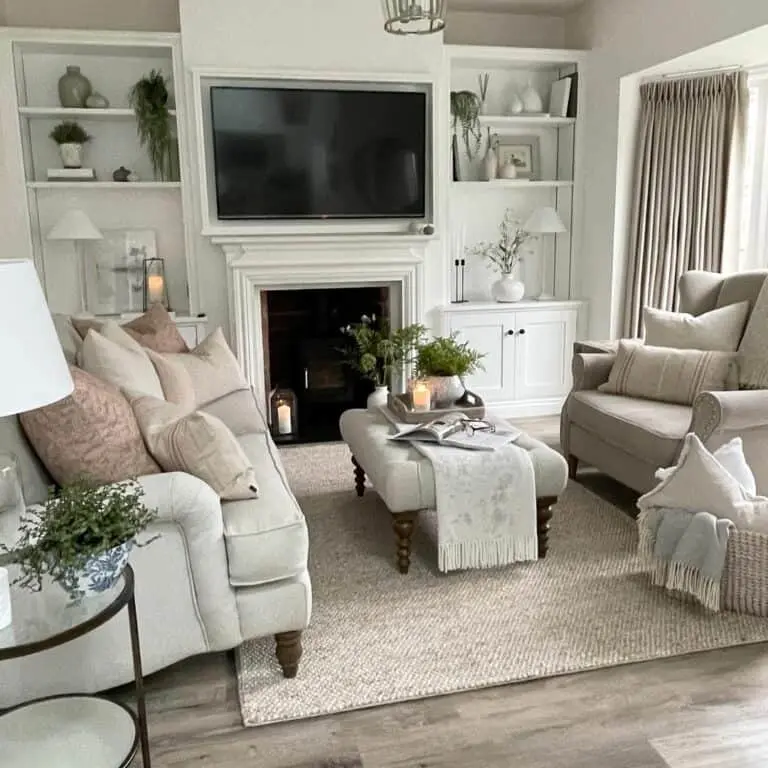 Credit: overton_renovation_
Shop the Style
Enchanting Farmhouse-inspired Living Room Showcasing Grey Flooring
Radiating charm, this adorable farmhouse-style living room welcomes with a white coffee table and a snug armchair. Potted plants infuse vibrancy, while animal portraits add rustic simplicity. The canvas of neutral-toned beige walls allows the lighter elements to take center stage.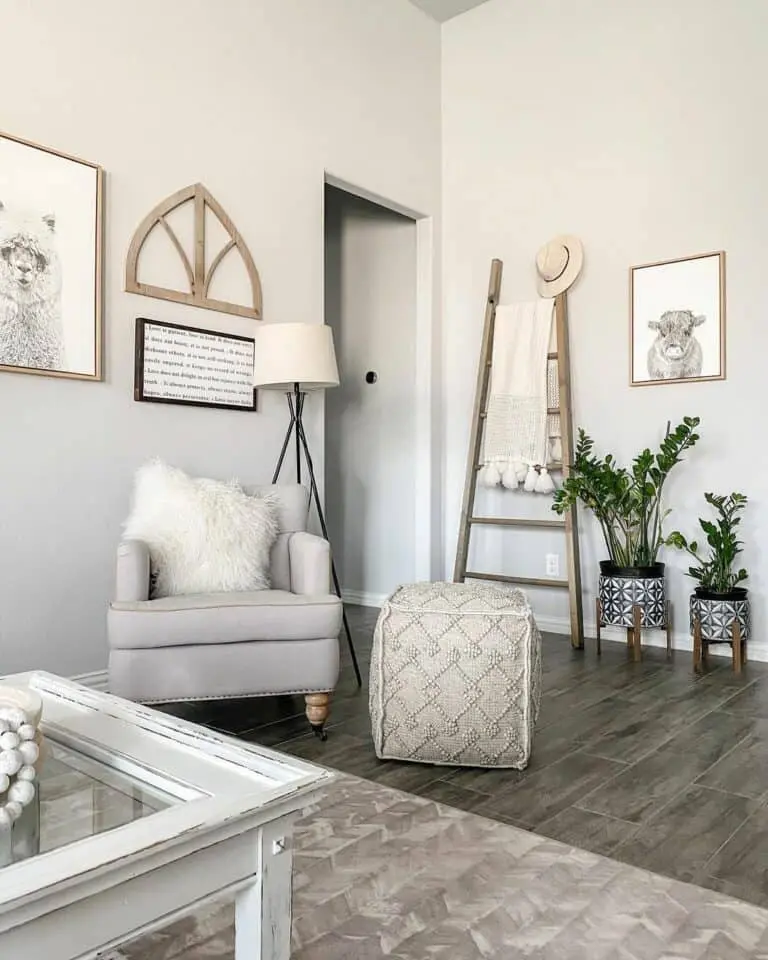 Credit: my.blessed.home
Shop the Style
Grey Tile Flooring in Focus
Sophisticated white shiplap walls set the scene for pristine grey tile flooring in this contemporary monochromatic living room. An open layout positions a grey sectional as the centerpiece, accompanied by a wall-mounted TV. Two patterned black rugs elegantly contrast with the white-toned furniture.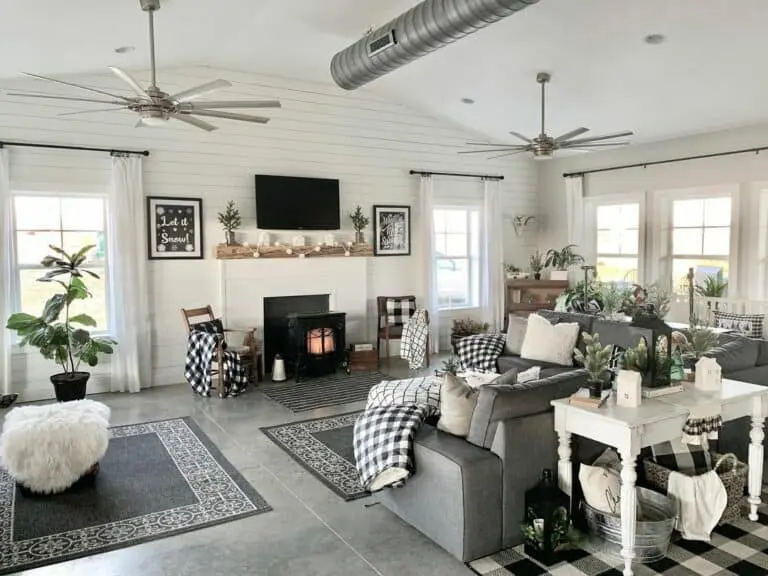 Credit: hickorynutfarmbarndominium
Shop the Style
Dark Wood Beams against a Serene White Ceiling
A canvas of white walls and a shiplap fireplace backdrop the grey fireplace in this living room. Striking dark wood beams connect to the white ceiling, accentuating the A-frame structure. Amidst this, an off-white couch and silver coffee table rest upon a white rug, contrasting with the dark wood floor.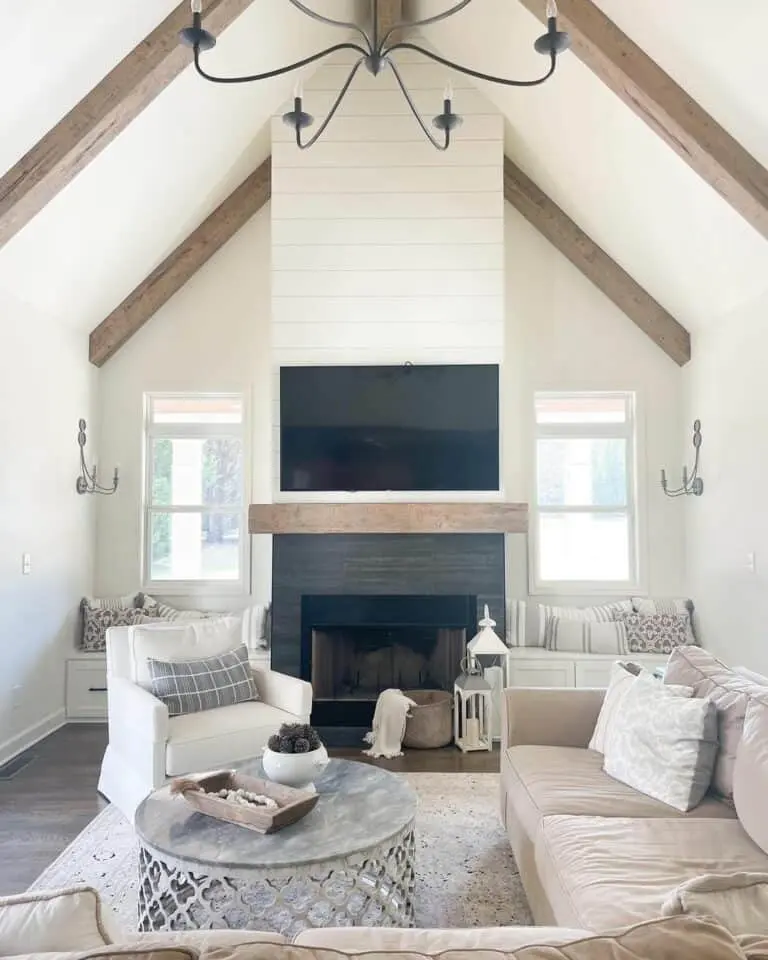 Credit: vivianaventers
Shop the Style
Merging Modern and Rustic Charm in a Farmhouse Living Room
This stylish living room harmoniously blends contemporary design with rustic allure. Neutral-toned grey wood floors provide the backdrop for walls and armchairs in varying shades of grey. A round black chandelier hangs over the indoor fireplace, becoming a captivating focal point.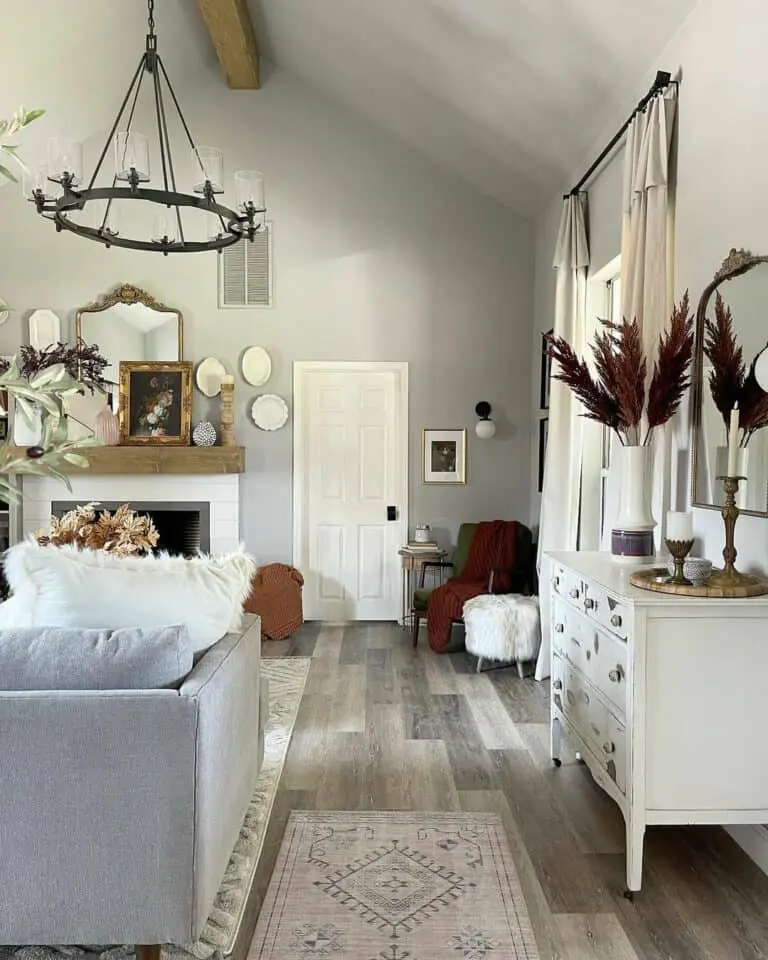 Credit: shayfarm7
Shop the Style
Cozy Ambiance with Rustic Cabinet Accents in the Living Room
A fusion of wood elements, white walls, and lively green plants creates a bright and inviting atmosphere. The understated elegance of neutral-toned grey wood flooring complements the bolder features—an alluring rustic cabinet and a charming round coffee table. The arrangement is tastefully completed by a black stand with wooden planks and a vintage black clock on the wall.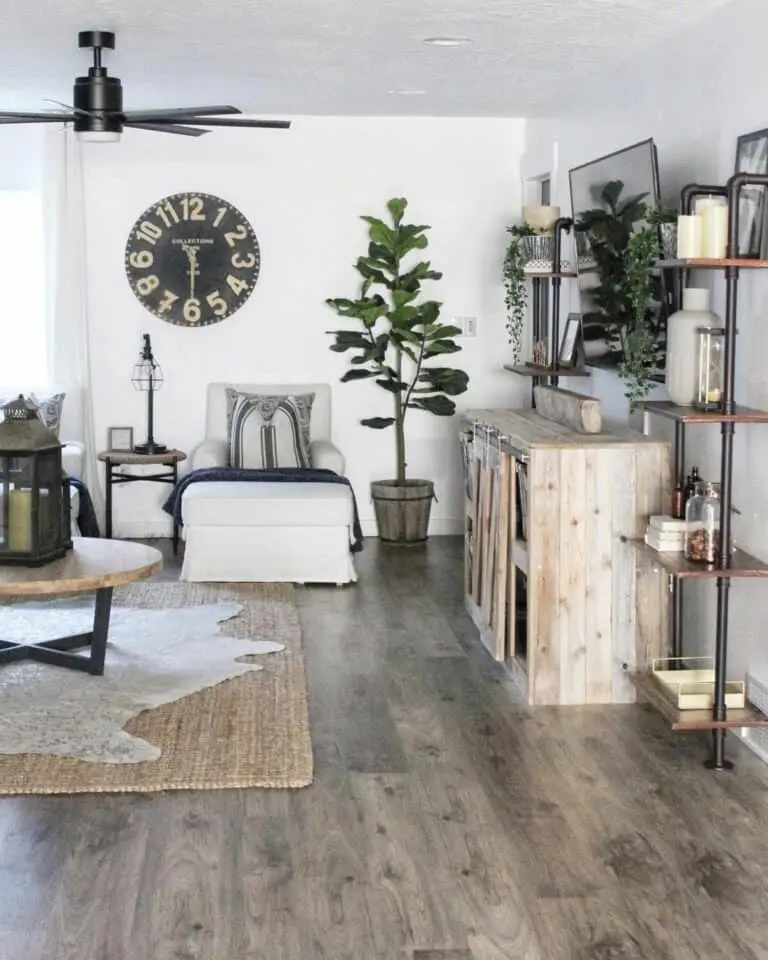 Credit: greybirchdesigns
Shop the Style
Wrap-up
As we conclude our exploration of these stylish grey flooring ideas for farmhouse living rooms, one thing is certain: the power of design lies in its ability to evoke emotion and create a welcoming atmosphere.
From the classic elegance of light grey hardwood to the rugged charm of weathered grey stone, each flooring choice holds a unique story and transforms a farmhouse living room into a sanctuary of personal style.
With a touch of creativity and the right grey flooring, your farmhouse living room can effortlessly reflect your personality while embracing the timeless beauty of this ever-popular design aesthetic.