7+ Beachy Décor Ideas to Bring Vacation Vibes to Your Farmhouse-style Home
Affiliate Disclosure: As an Amazon Associate we earn from qualifying purchases. Hence, if you click through and make a purchase, we will get a commission at no extra cost to you. For more info, read our full disclosure.
Turn your farmhouse-style home into a coastal paradise with these seven beachy decor ideas that will whisk you away to vacation mode. Whether you're seeking tranquility by the sea or a touch of nautical charm, these creative suggestions will infuse your space with the soothing vibes of a beachside retreat.
Coastal Console Table with Stained Wood Finish
This charming farmhouse console table, stained to perfection, is adorned with classic coastal decor. On one end, you'll find a pristine white jug vase, while on the other, black candlesticks grace the surface. To complete the beachy ambiance, add wicker candle lanterns to the bottom shelf.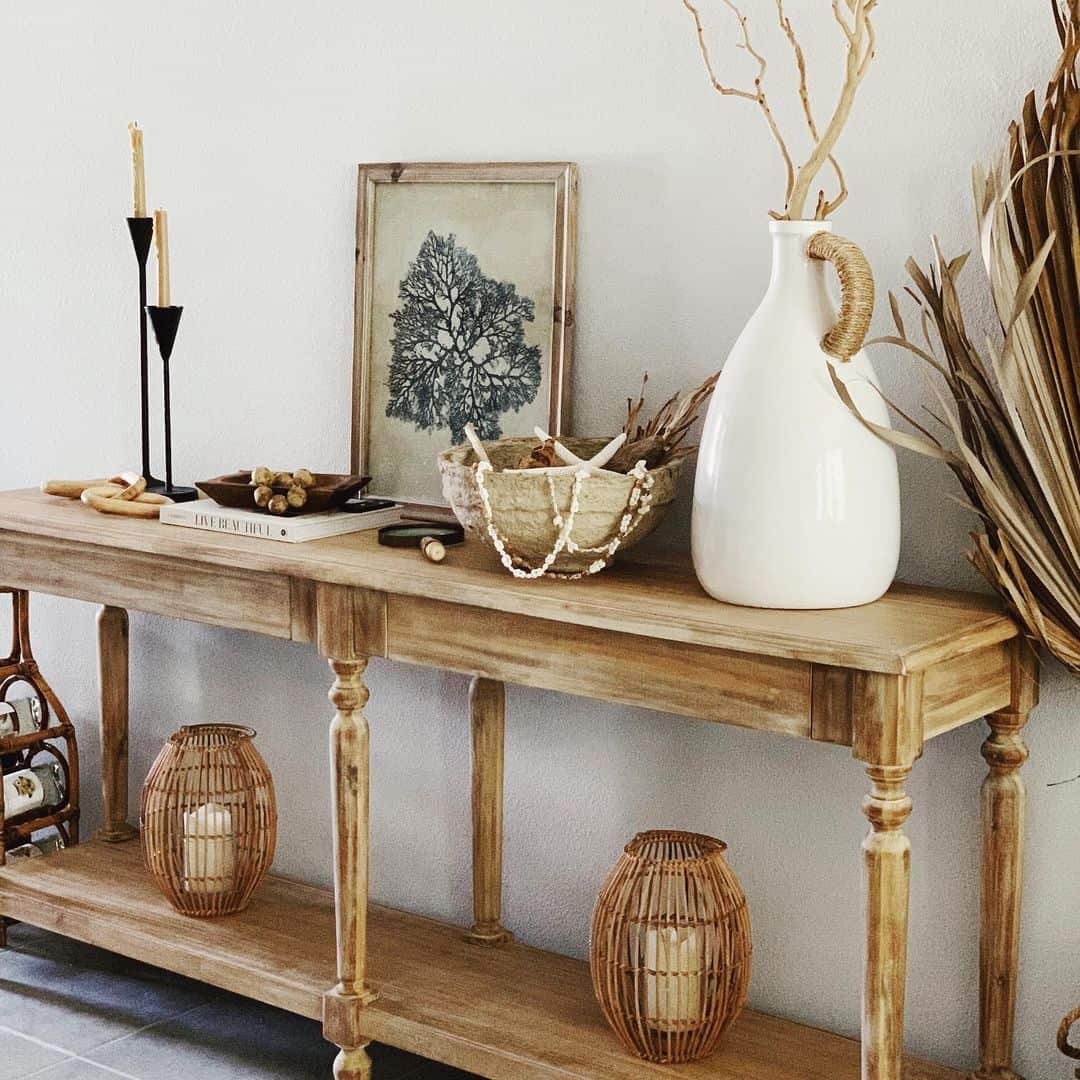 Credit: janetfornuto
Shop the Look
Light Blue Dresser with Tan Cane Drawers and Beach Flair
Make a bold statement in a boy's room with this light blue dresser featuring tan cane drawers. It stands elegantly on gray carpeting against a backdrop of dark gray board and batten wainscoting. To enhance its charm, adorn the dresser with a wicker table lamp, a circular wood frame mirror, and playful beachy accents.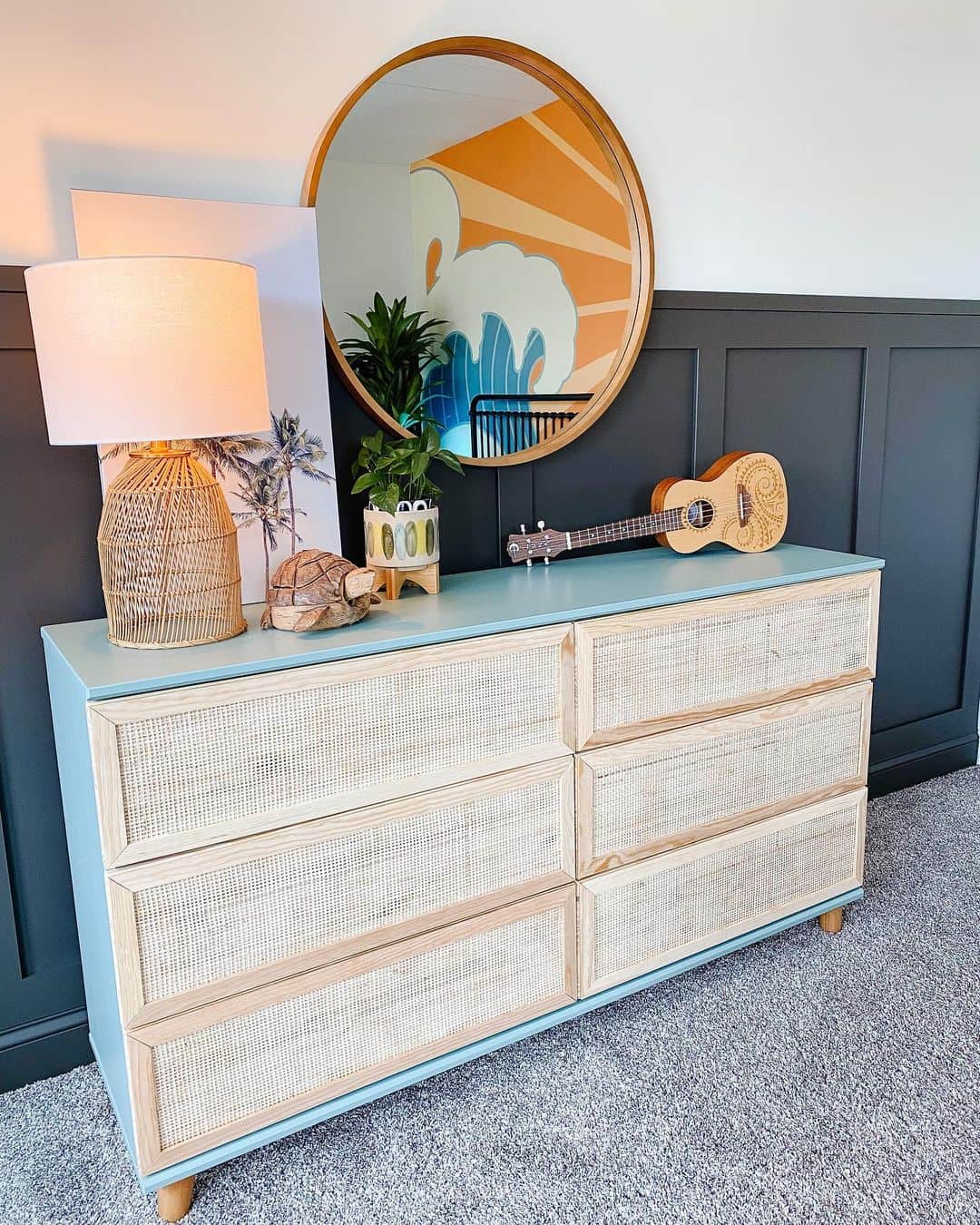 Credit: plankandpineapple
Shop the Look
Round Woven Tray: The Perfect Coastal Centerpiece
A set of brown wicker patio chairs, cushioned in calming gray, encircle a wooden outdoor coffee table. Atop the table rests a round woven decorative tray. Achieve the ideal beachy centerpiece by arranging white, tan, and blue coastal decorations within the tray's confines.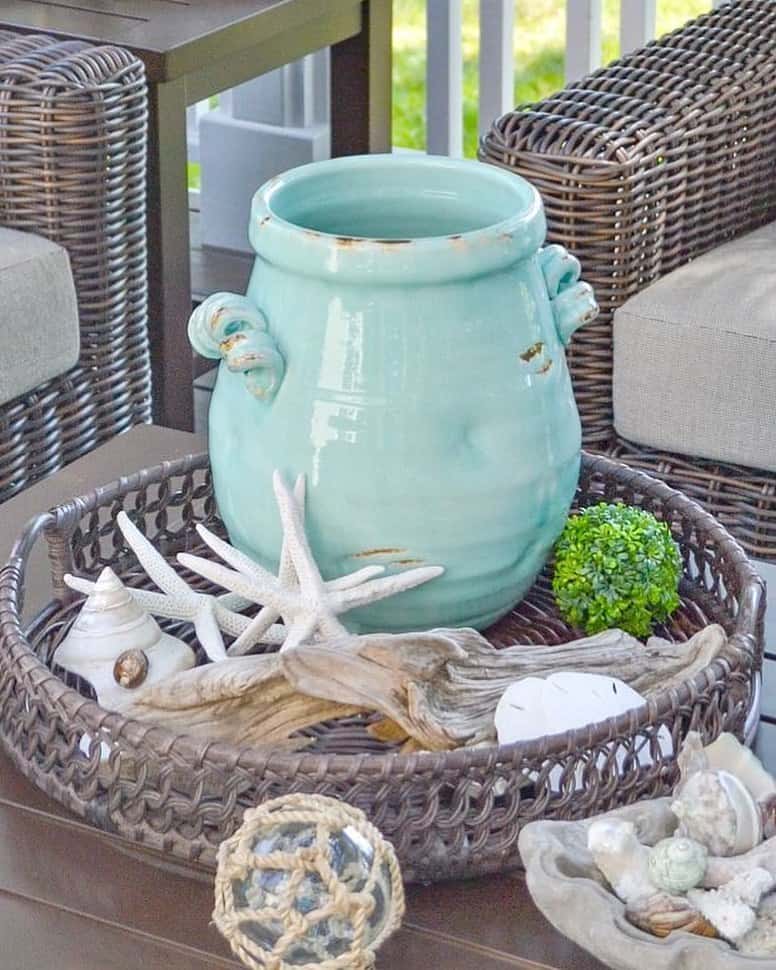 Credit: worthingcourtblog
Shop the Look
Gray Living Room Shelves with Coastal Touch
Elegance meets functionality in these sophisticated dark gray built-in living room shelves, featuring a stained wood countertop. Adding to their allure, beautiful light brown leather pulls adorn the cabinets. Lend character to these shelves with strategically placed book stacks, interspersed with gray and brown coastal decorations.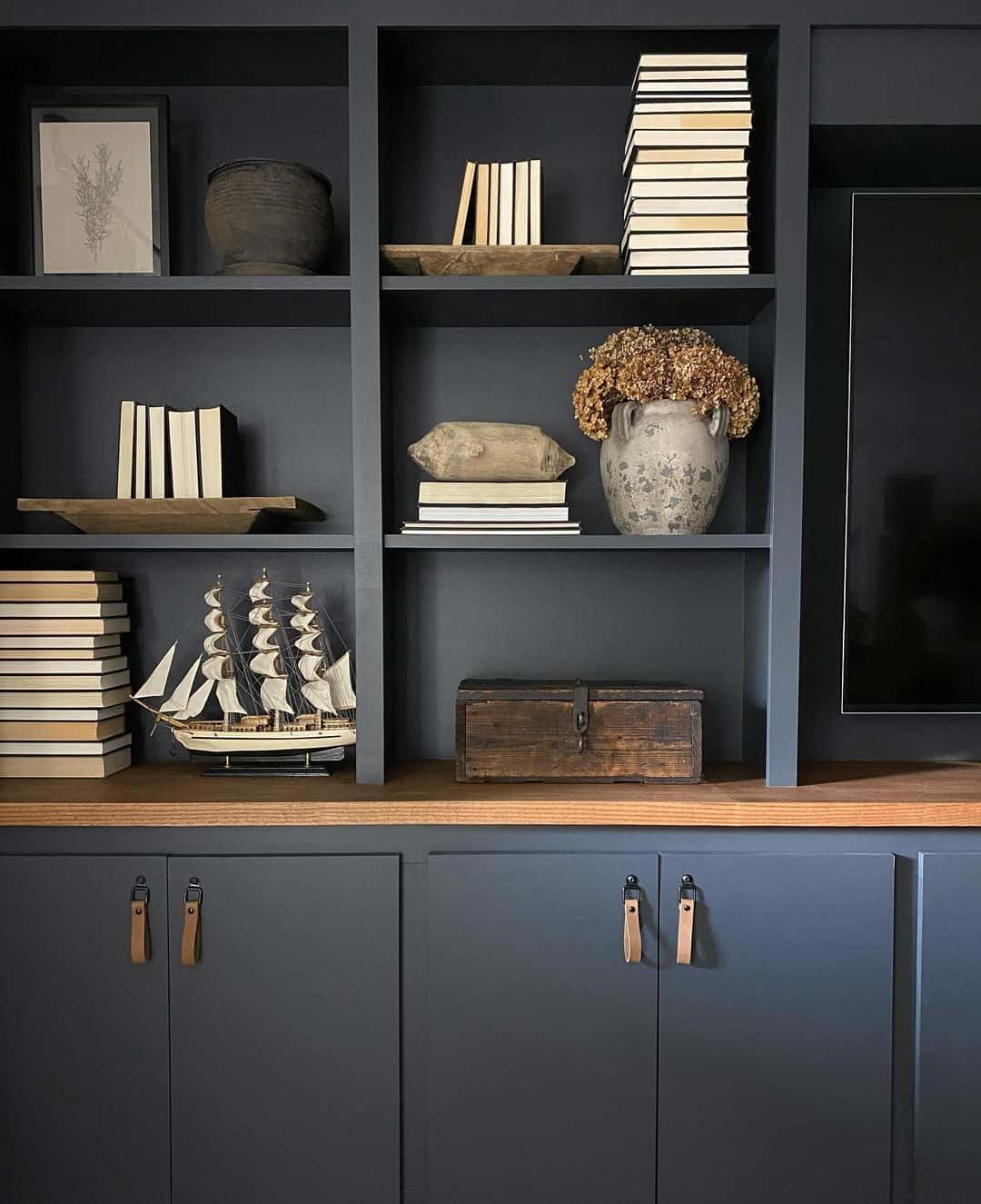 Credit: katechipinski
Shop the Look
Beachy Patio Retreat with a White Porch Swing
Nestle into the rustic charm of a white-painted wood porch swing, suspended by sturdy ropes. Accompanying this delightful spot, you'll find a white pouf ottoman and a wood log end table. To complete the seaside vibe, adorn the porch with white lanterns, greenery in gray metal planters, and delicate green glass vases.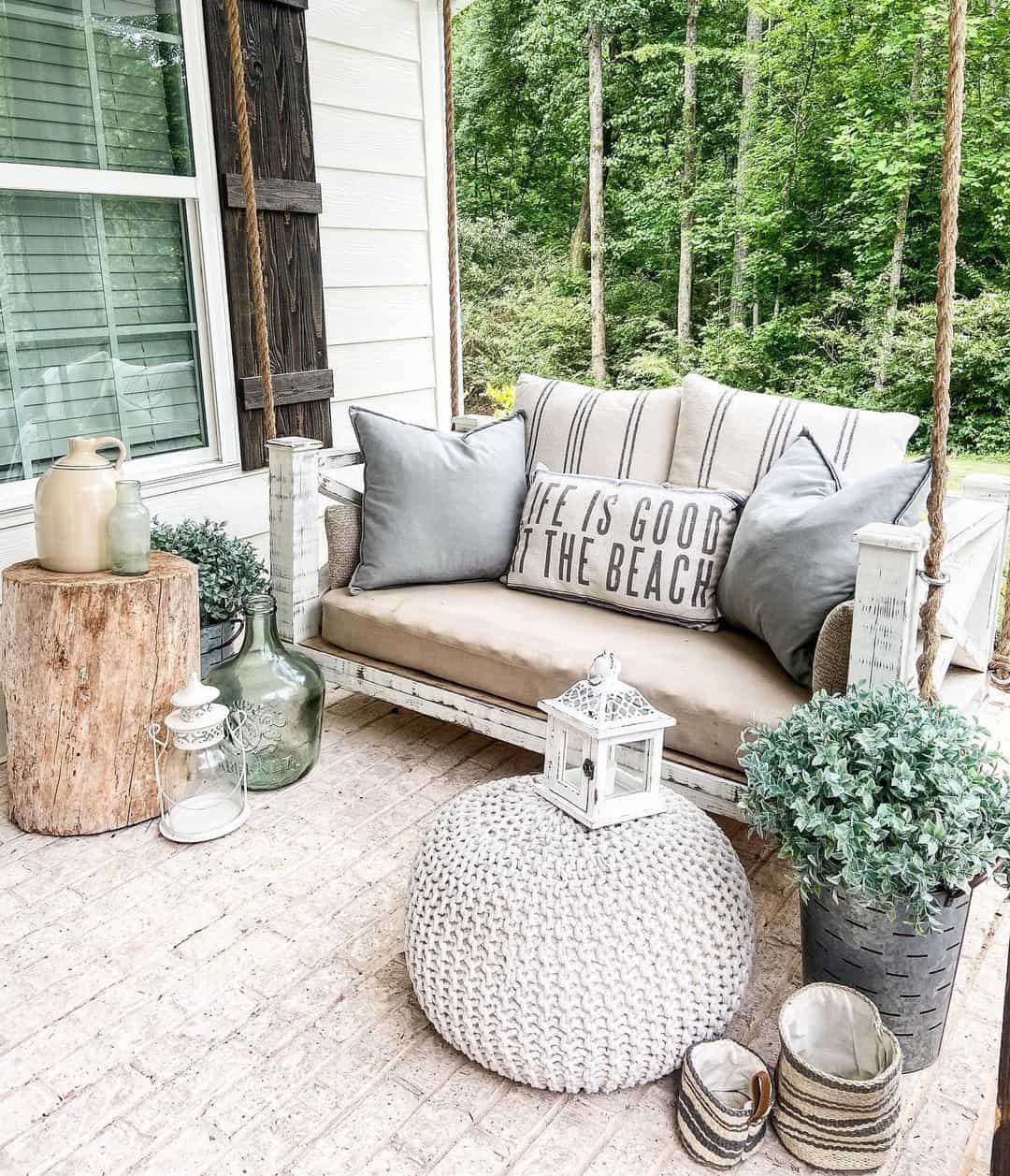 Credit: mygeorgianfarmhouse
Shop the Look
Rustic White Entryway Bench Featuring Coastal Elegance
An antique-inspired rustic white entryway bench graces tan carpeting against a pristine white vertical shiplap wall. A wicker vase takes center stage, showcasing a bouquet of white spring flowers. For a touch of beachy whimsy, a beige and blue pillow and throw complete the decor.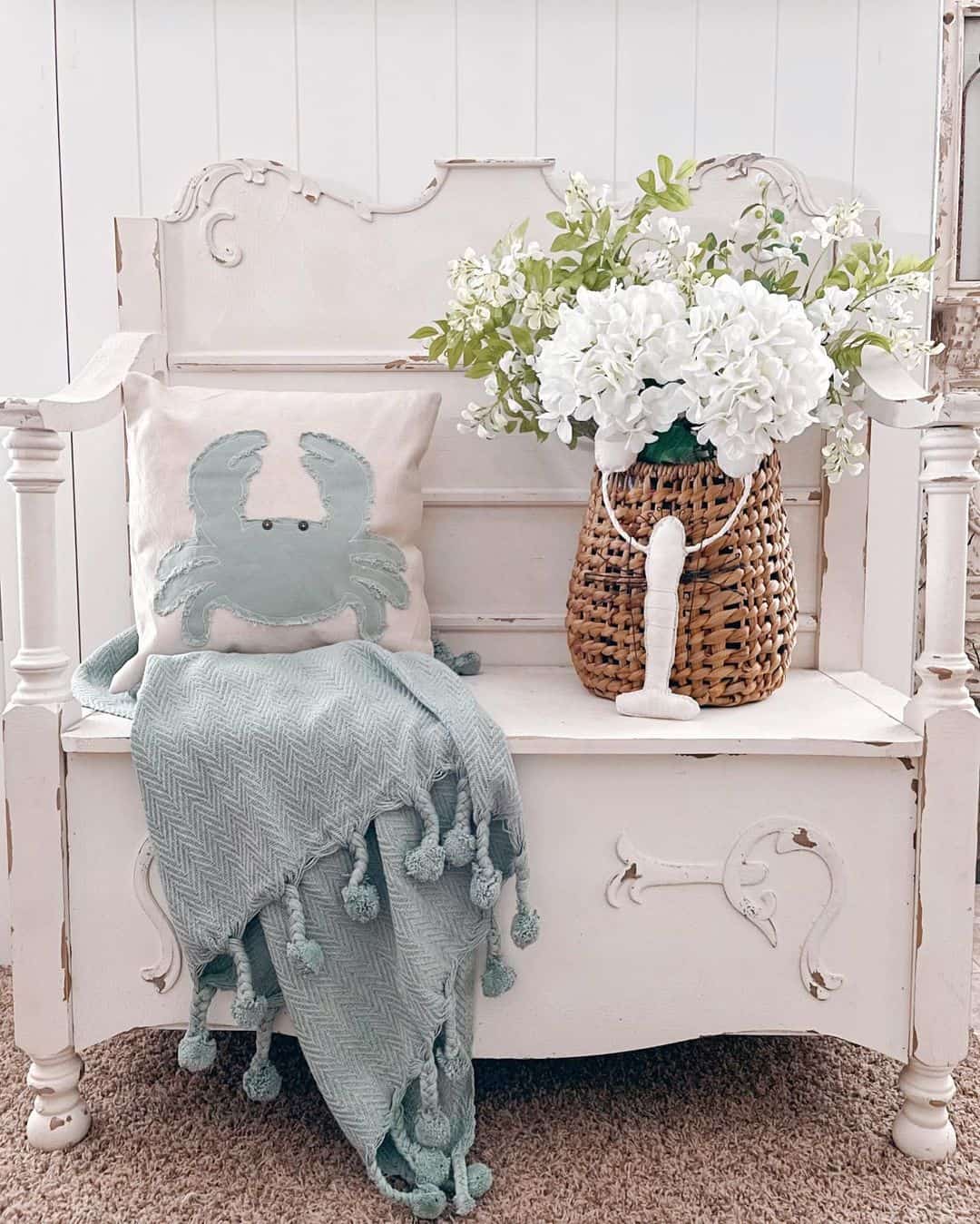 Credit: sweetcottagecharm
Shop the Look
Chic Living Room Infused with Modern Beach Vibes
Step into this chic living room adorned with a sleek gray sofa and a contemporary round coffee table in matching gray. A round white marble and gold end table adds sophistication next to the sofa, and a brown leather pouf ottoman offers a touch of luxury. Layer the look with a gray vintage rug placed gracefully over a jute rug.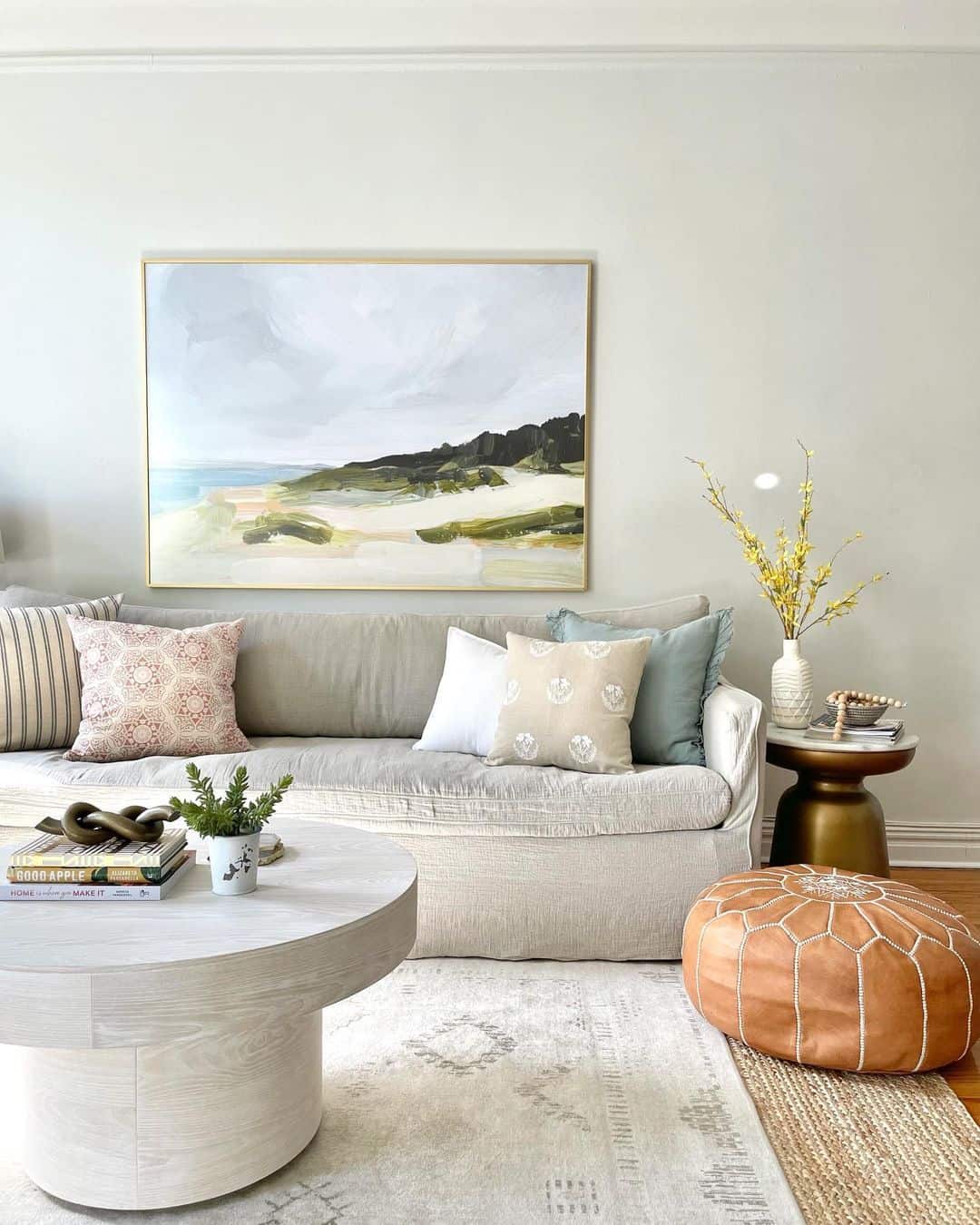 Credit: sweet_domicile
Shop the Look
Modern Coastal Centerpiece for a Farmhouse Living Room
Experience the tranquility of this neutral farmhouse living room, graced by a white wood coffee table hosting a woven serving tray. Inside the tray, clear glass apothecary jars hold starfish and sea glass ornaments, creating a captivating coastal centerpiece. A large wood bead garland drapes elegantly over a white wood tray adorned with a frosted green ornament.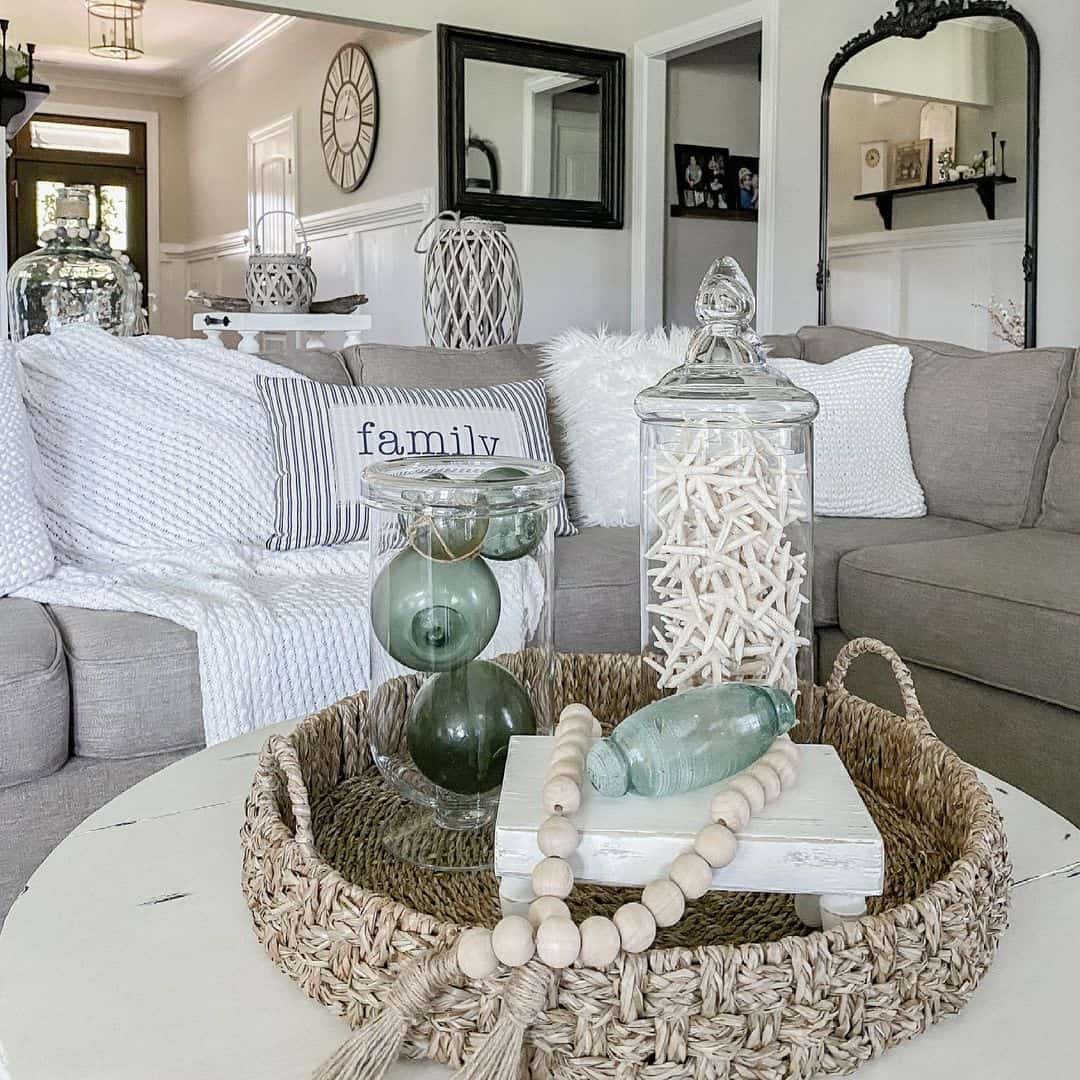 Credit: sweetfarmhousechic
Shop the Look
Wrap-up
By incorporating these beachy decor ideas into your farmhouse-style home, you can capture the essence of a seaside getaway right in your own home. From coastal colors to nautical accents, these design tips will help you create a space that exudes relaxation and vacation vibes all year round. So, grab your beach-inspired decor and let the soothing ambiance of the coast wash over your farmhouse retreat.