7+ End Table Ideas to Style Your Farmhouse Living Room Seating Area
Affiliate Disclosure: As an Amazon Associate we earn from qualifying purchases. Hence, if you click through and make a purchase, we will get a commission at no extra cost to you. For more info, read our full disclosure.
When it comes to creating a warm and inviting atmosphere in your farmhouse living room, end tables play a pivotal role. These versatile pieces of furniture not only offer functionality but also serve as opportunities for adding style and personality to your space.
In this blog, we'll explore seven-plus end table ideas that will help you elevate the charm of your farmhouse living room seating area. Whether you prefer rustic, modern, or eclectic aesthetics, you'll find inspiration here to make your living room a cozy haven.
Gray and White Stained Wood Tray Top End Table
Elevate your interior design with a gray couch nestled beneath a pristine cathedral mirror, flanked by galvanized metal wall planters. The couch finds its perfect companion in a two-toned stained wood tray top end table. Enhance the classic farmhouse aesthetics by adorning it with white flowers showcased in a white metal bucket vase.
Credit: housebyjulieann
Shop the Look
Inviting Beige Armchair with Round Light Wood Farmhouse End Table
Transform your living room into a cozy haven with an inviting beige armchair thoughtfully placed beside a round light wood farmhouse end table. Above, white floating shelves are artfully decorated with a blend of white, black, and beige accents. Illuminate the room to perfection with the addition of a sleek black and white arc floor lamp.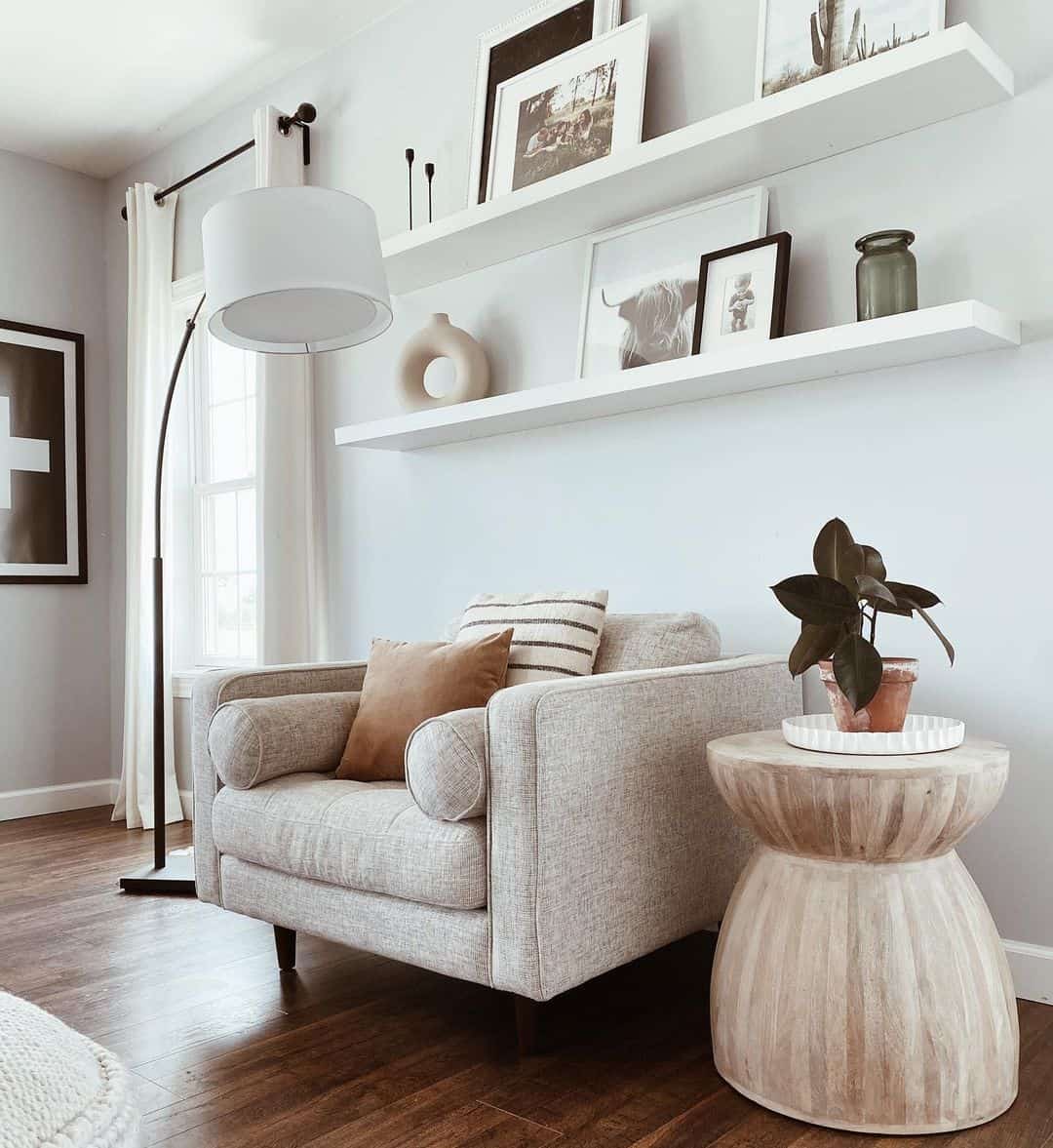 Credit: laurenraes
Shop the Look
Round Two-Toned Stained Wood Farmhouse Table for Gray Sofa
Complement your space with a round, two-toned stained wood and white farmhouse end table, perfectly positioned next to a stylish gray sofa. The sofa rests atop a beige and gray rug in front of an artful gray wood faux fireplace mantel. Complete the ambiance with the addition of white and gray decorative ladders and an indoor tree displayed in a woven planter.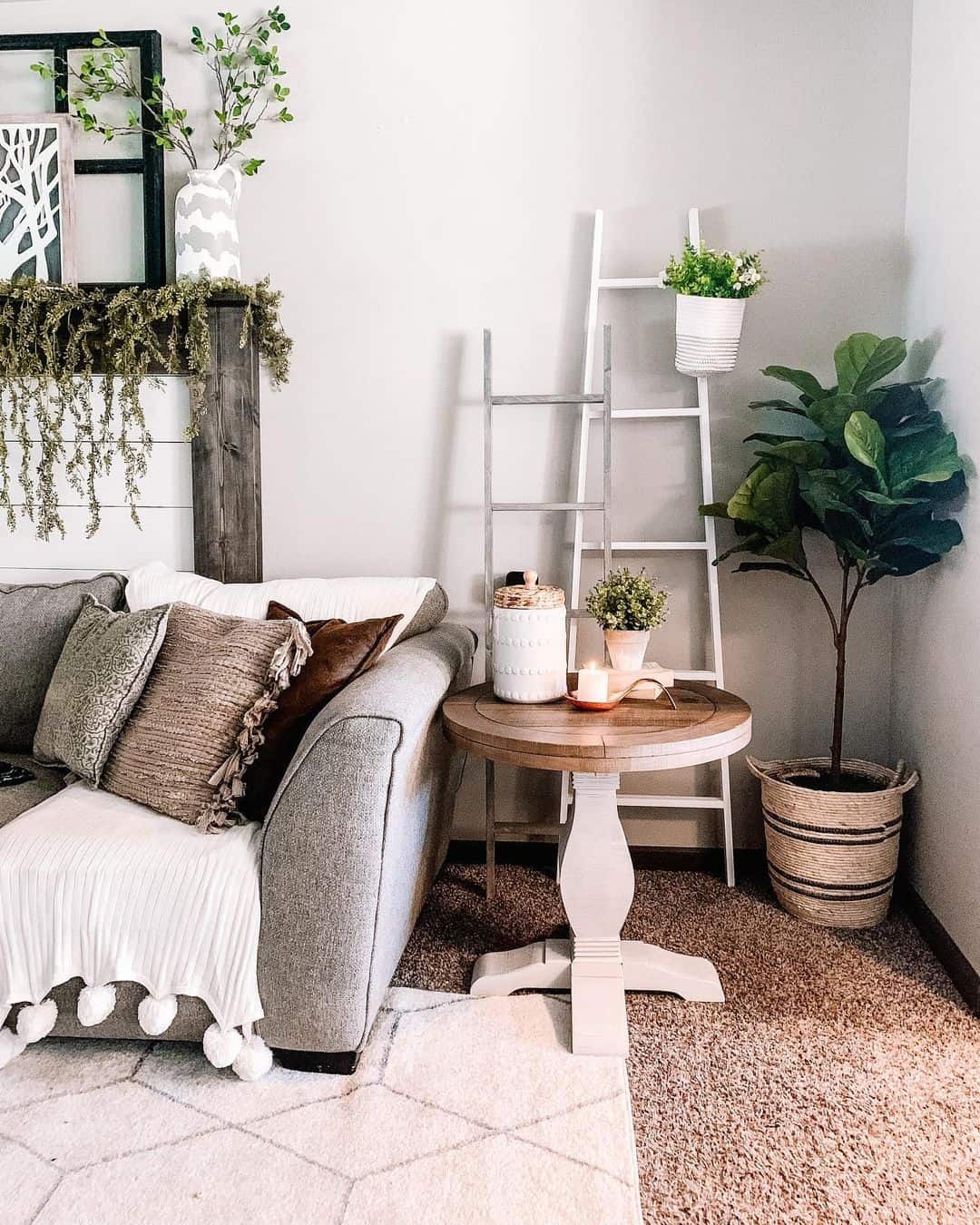 Credit: copperblossomfarmhouse
Shop the Look
Brown Leather Corner Chair and Stained Wood Farmhouse End Table
Experience ultimate relaxation in a plush brown leather corner chair, accompanied by a charming stained wood and black metal farmhouse end table. This cozy nook is set against a sophisticated gray wall featuring pristine white wainscoting. Additionally, a wall-mounted wood and black metal coat rack is the ideal spot for hanging hats and scarves.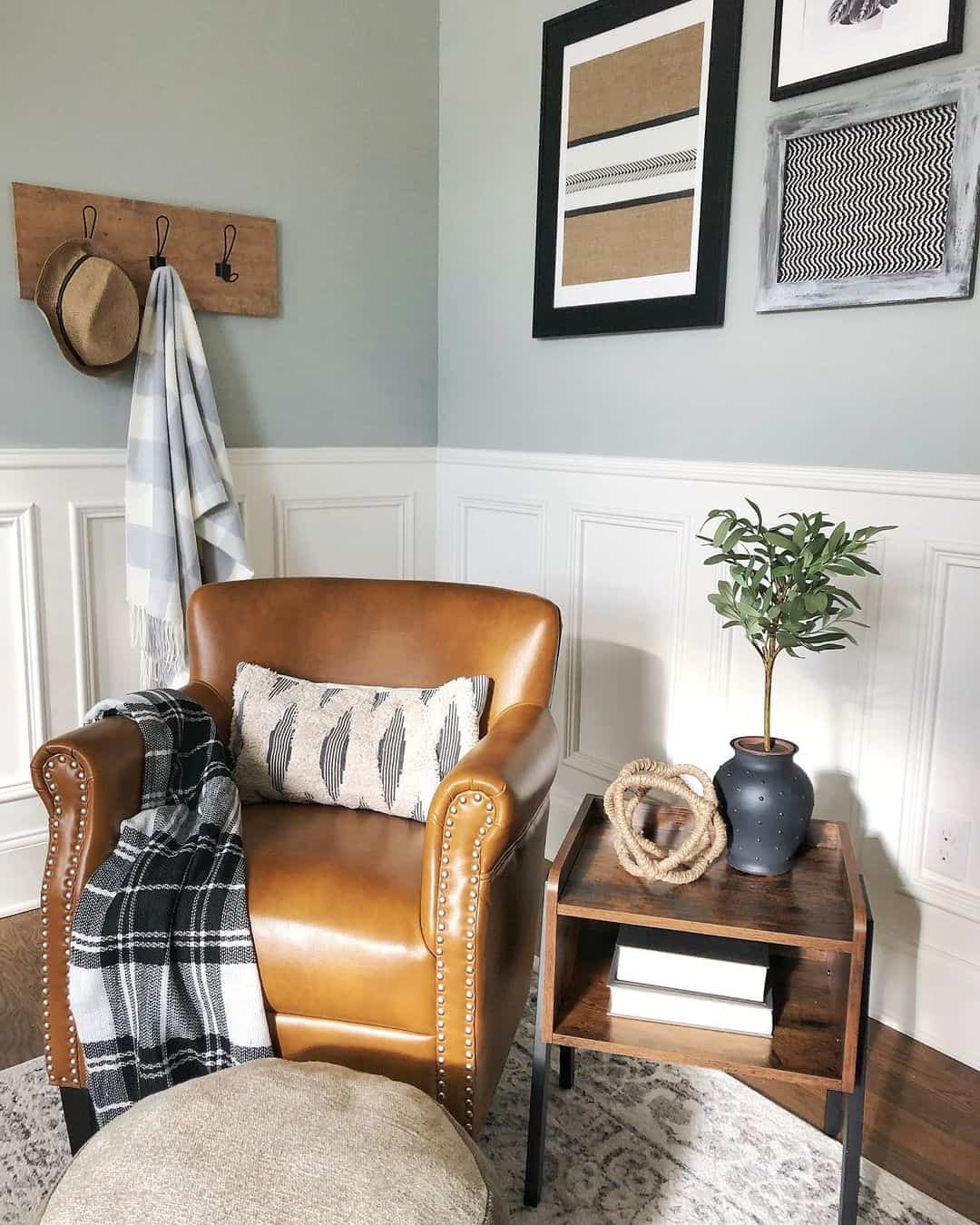 Credit: mossbanklane
Shop the Look
Farmhouse Chic: Black Farmhouse End Table with Autumn Accents
Unveil the allure of a striking brown leather couch paired with a rustic stained wood dining table, surrounded by black metal chairs. A sleek black farmhouse end table complements the couch, providing the perfect canvas for autumn-inspired decor. Elevate the look with a wooden riser adorned with delicate tan dried flowers housed in a white vase.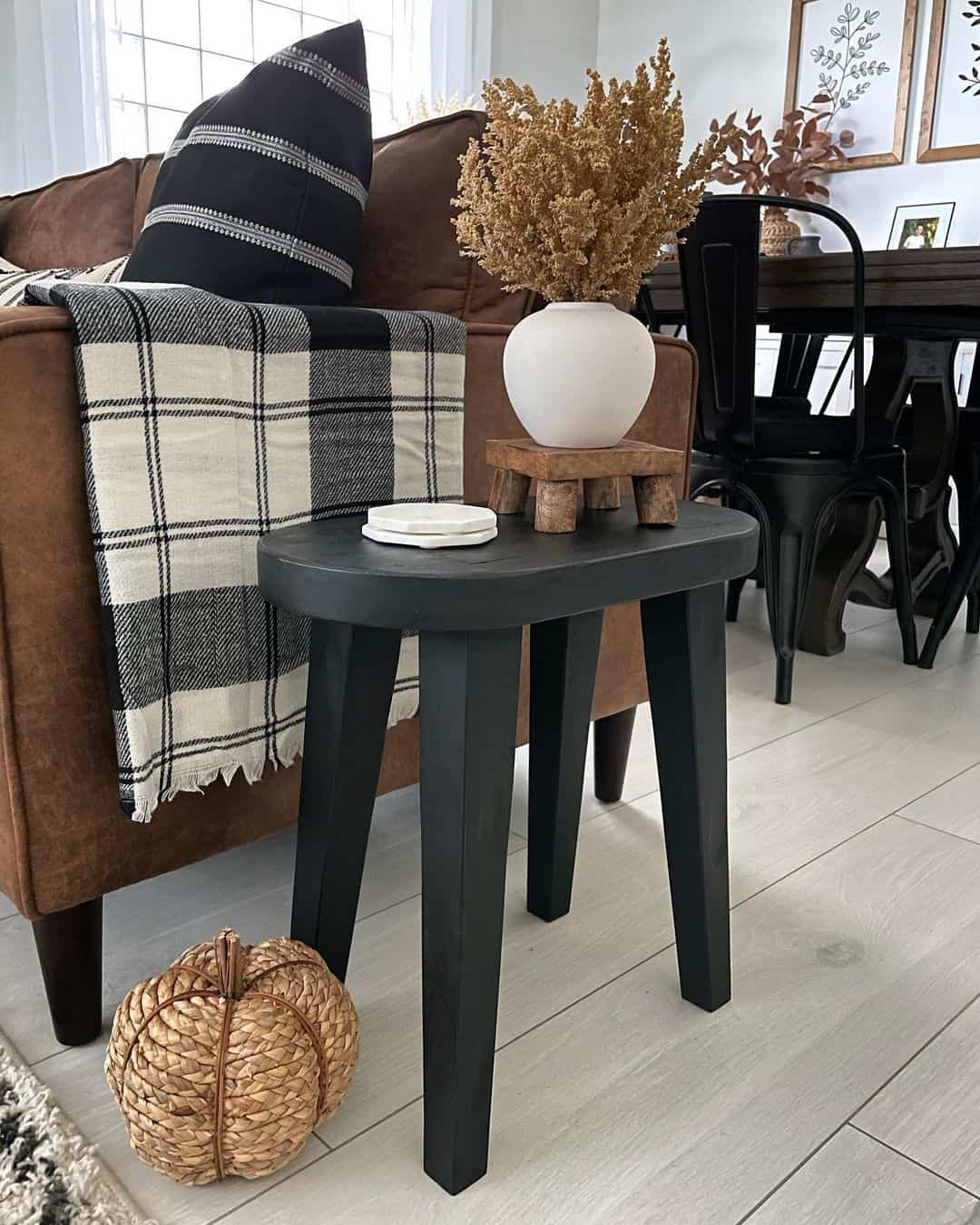 Credit: happinest_decor
Shop the Look
Stylish Living: Black and Bronze Farmhouse End Table
Indulge in the elegance of a living room graced by a white shiplap accent wall, where a distinguished gray studded couch finds harmony with a round black and bronze side table. The table comes to life with lush greenery elegantly arranged within a silver tray and a charming farmhouse basket. A wooden blanket ladder positioned behind the table invites you to showcase your favorite throws.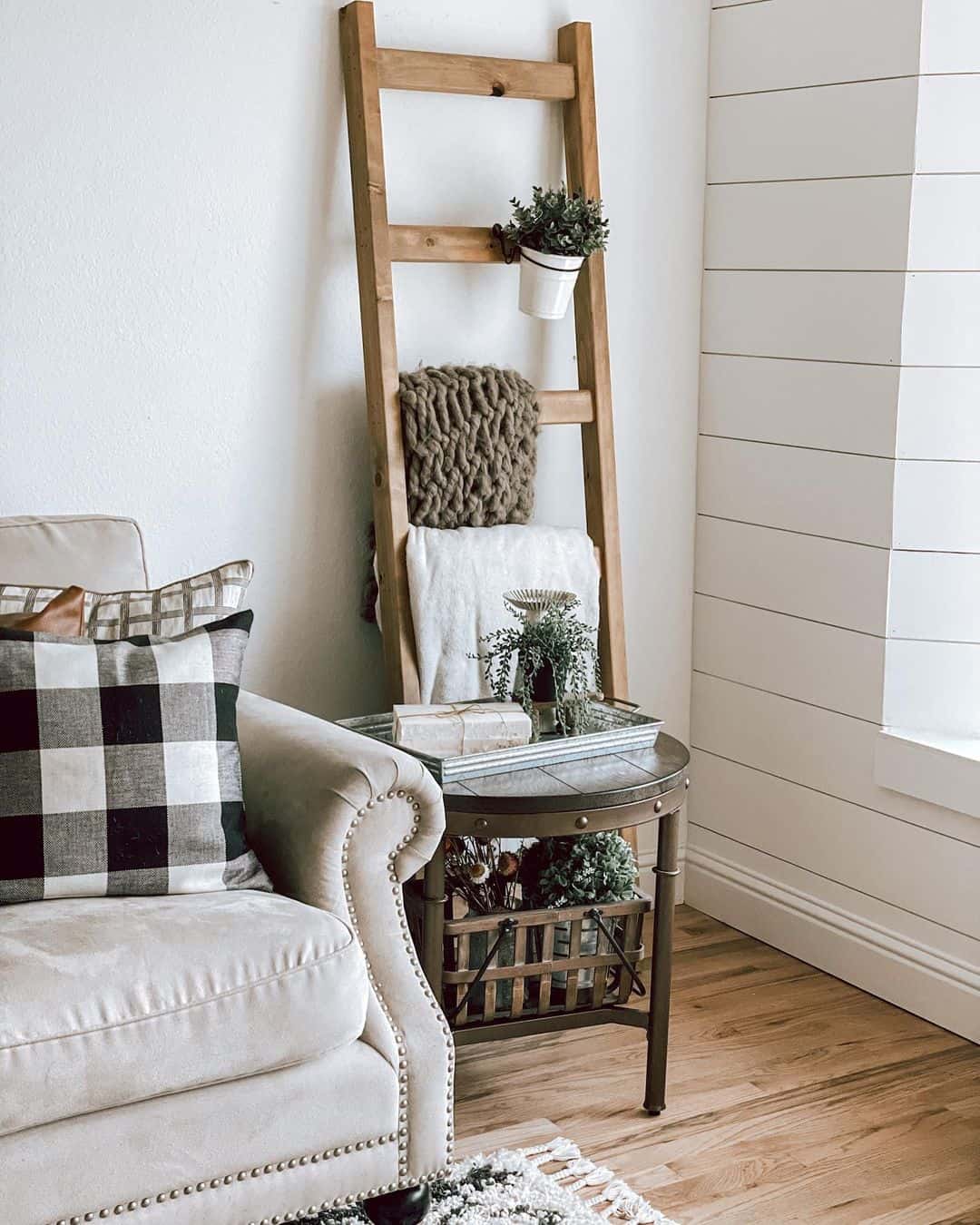 Credit: myfirst_farmhouse
Shop the Look
Square Natural Wood End Table with Statement Black Vase
A square natural wood end table takes its place beside a lengthy white sectional sofa adorned with an array of decorative pillows. This stylish ensemble is anchored by a large glossy black ceramic vase, housing delicate branches of dried pink flower blossoms. Meanwhile, a dark and traditional rug graces the wood floors below.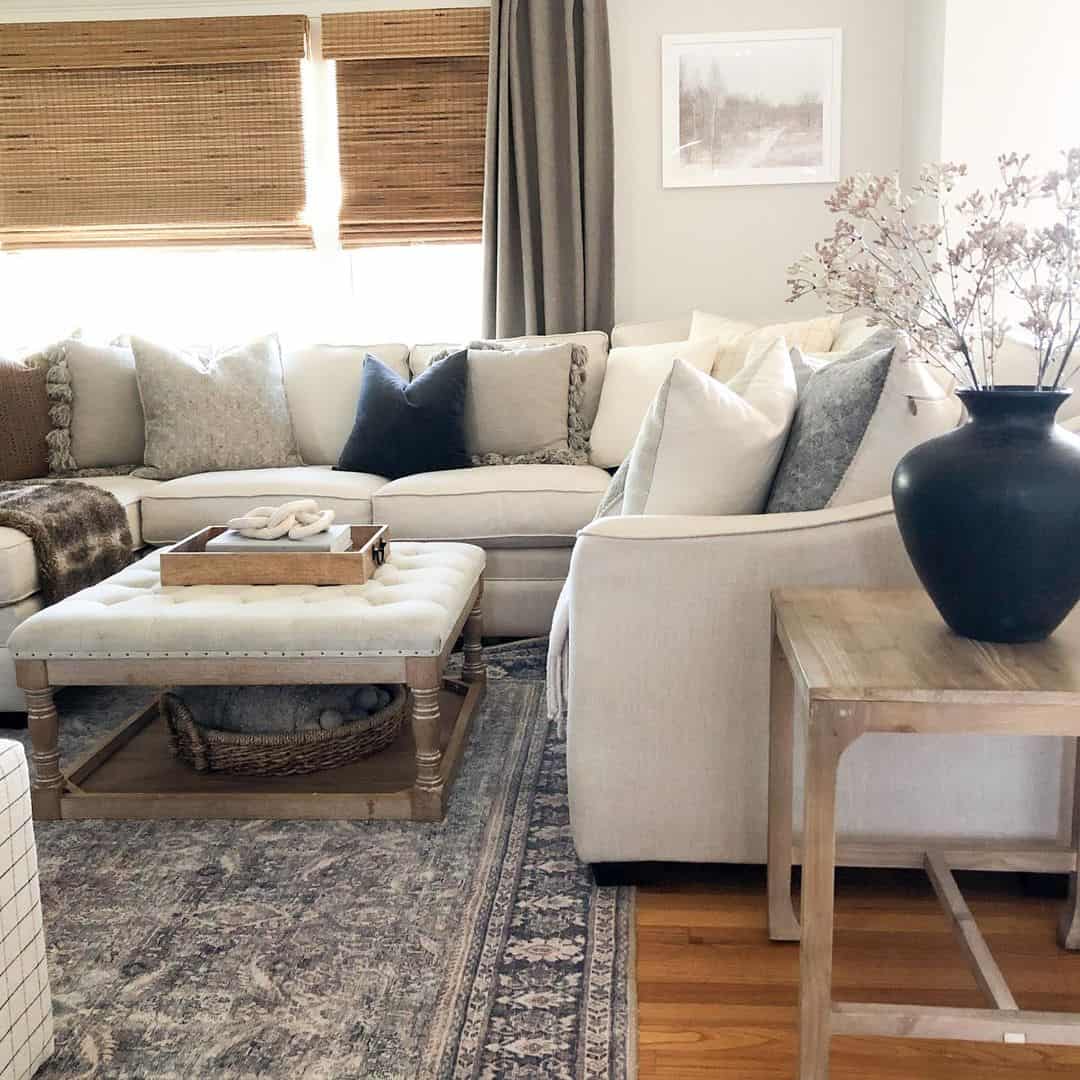 Credit: livingwithamanda
Shop the Look
Farmhouse Chic: Light Wood End Table in a Gray Living Room
Discover the charm of a gray farmhouse living room featuring a gray sofa paired with a light wood end table, softly illuminated by a gray and white table lamp. The sofa rests gracefully in front of white windows, framed by a white built-in entertainment center. Optimize your storage options with a black sofa table nestled behind the couch, ready to display vibrant greenery and elegant white decor.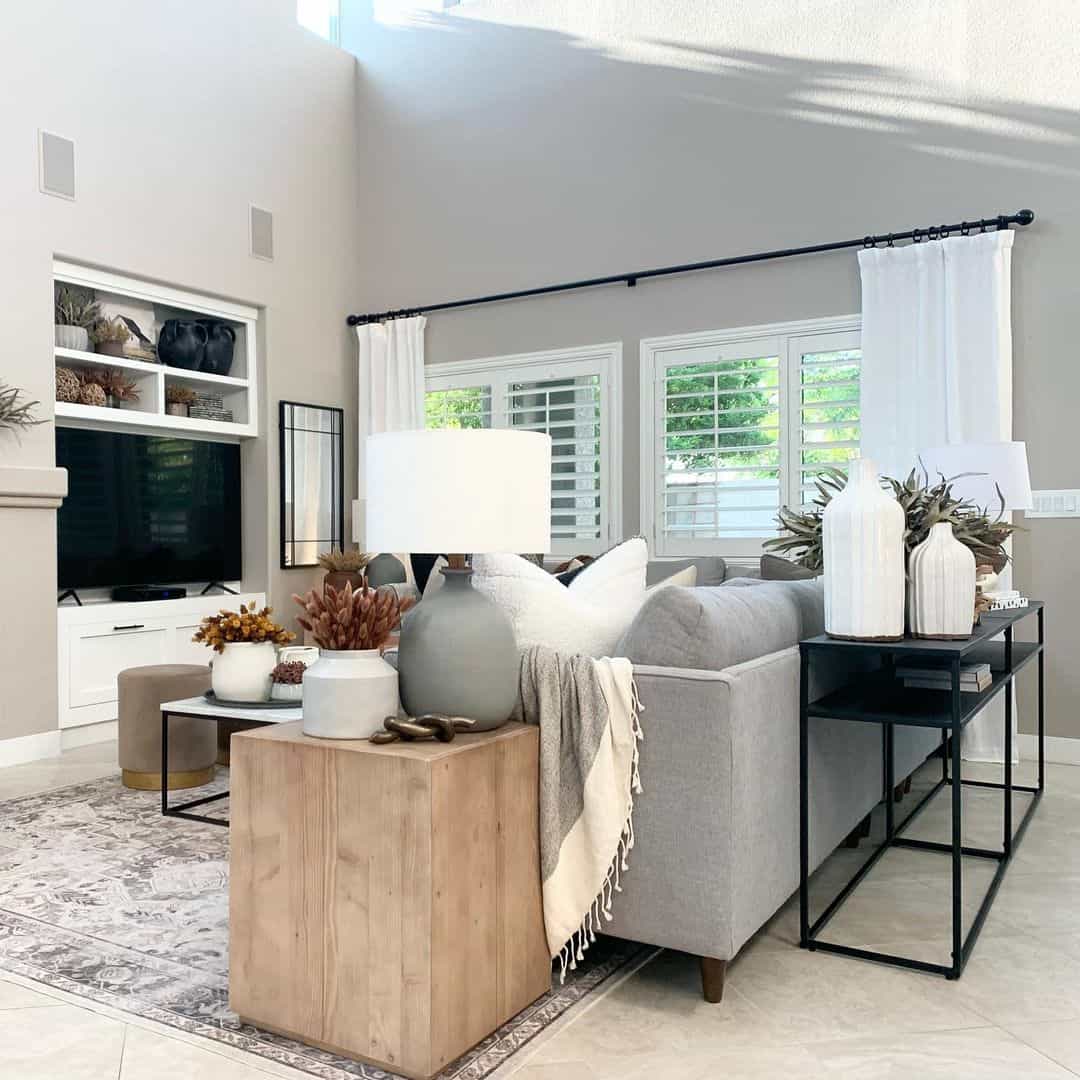 Credit: jaimebydesign
Shop the Look
Wrap-up
Your farmhouse living room should be a reflection of your unique style and a space where comfort meets aesthetics. With the right end table, you can infuse character and practicality into your seating area. We've explored a range of end table ideas, from rustic wooden classics to sleek modern designs, ensuring there's something for every farmhouse enthusiast.
These ideas will not only make your living room more functional but also add that extra touch of charm that truly makes a house feel like home. So, go ahead, explore, and transform your farmhouse living room into a cozy and stylish haven.