7+ Ideas to Incorporate Black Cabinets into Your Farmhouse Kitchen
Affiliate Disclosure: As an Amazon Associate we earn from qualifying purchases. Hence, if you click through and make a purchase, we will get a commission at no extra cost to you. For more info, read our full disclosure.
Enhancing the timeless allure of a farmhouse kitchen often involves thoughtful design choices. One such trend gaining popularity is the incorporation of black cabinets, adding a touch of sophistication and contrast.
In this blog, we explore seven creative ideas to seamlessly blend black cabinets into the rustic charm of your farmhouse kitchen, achieving a perfect balance of modernity and tradition.
Microwave Integration in the Kitchen
Discover a harmonious blend of modern and farmhouse aesthetics in this kitchen design. The focal point is an ingenious over-the-microwave cabinet setup, surrounded by sleek black cabinets that emanate contemporary allure. The play of black cabinetry against a light wood countertop creates a visually stunning effect, perfectly complemented by the backdrop of white-tiled walls.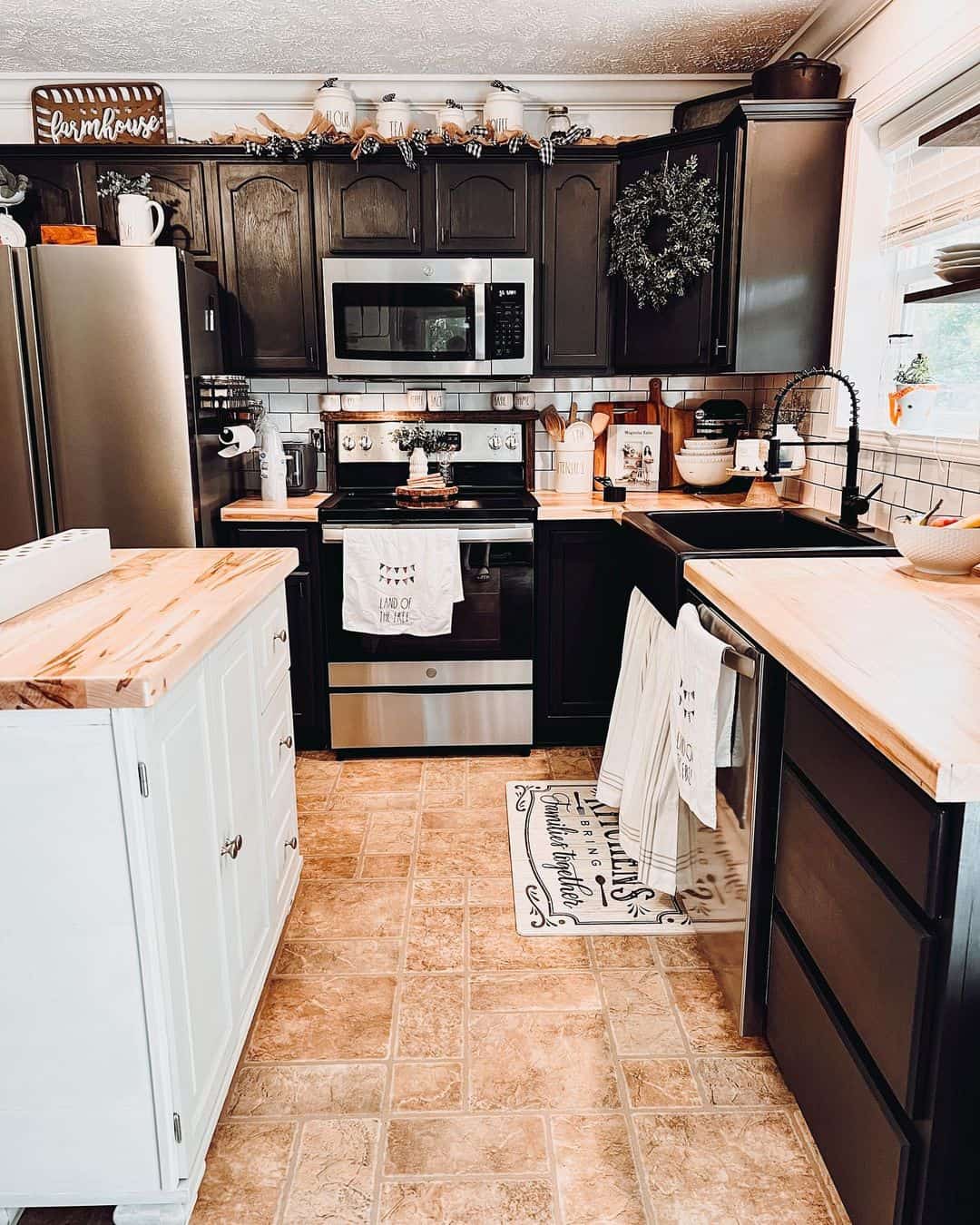 Credit: ridgeranchfarmhouse
Shop the Look
Themed Black and White Culinary Space
Immerse yourself in a culinary sanctuary where sophistication meets simplicity. Embrace the timeless elegance of a black-and-white theme, where a pristine white countertop rests gracefully on a canvas of black and white cabinets. Introduce depth and warmth by layering the design with a rich brown mat on the dark wood floor.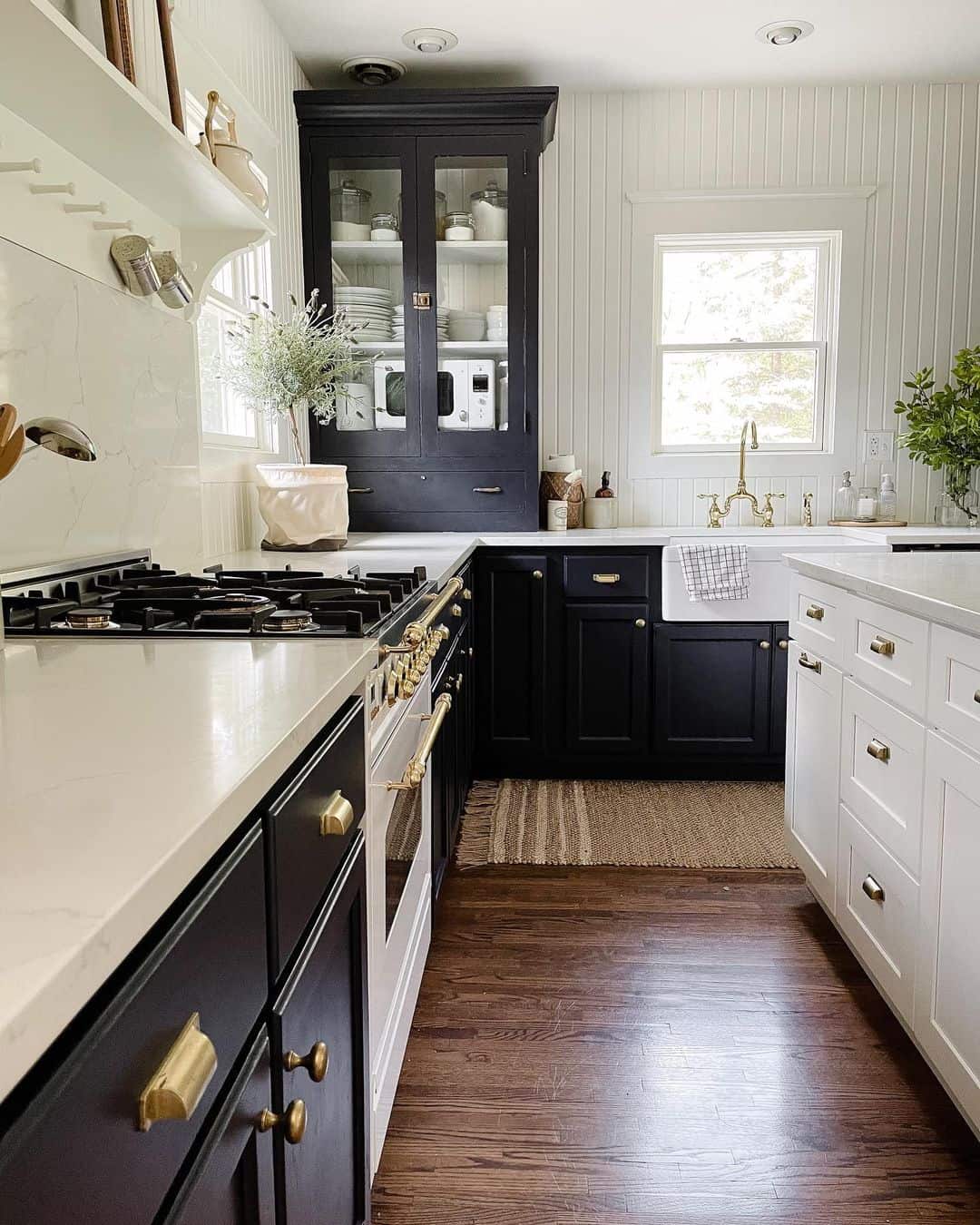 Credit: jaymesquires
Shop the Look
Black Cabinets and Green Wreaths for the Holidays
Prepare your kitchen for the festivities with a delightful combination of white walls, black cabinets, and silver pulls. Stand in awe of a stainless steel refrigerator adjacent to a chic gray countertop. Infuse the holiday spirit into your space by adorning tall black kitchen chairs with charming green wreaths.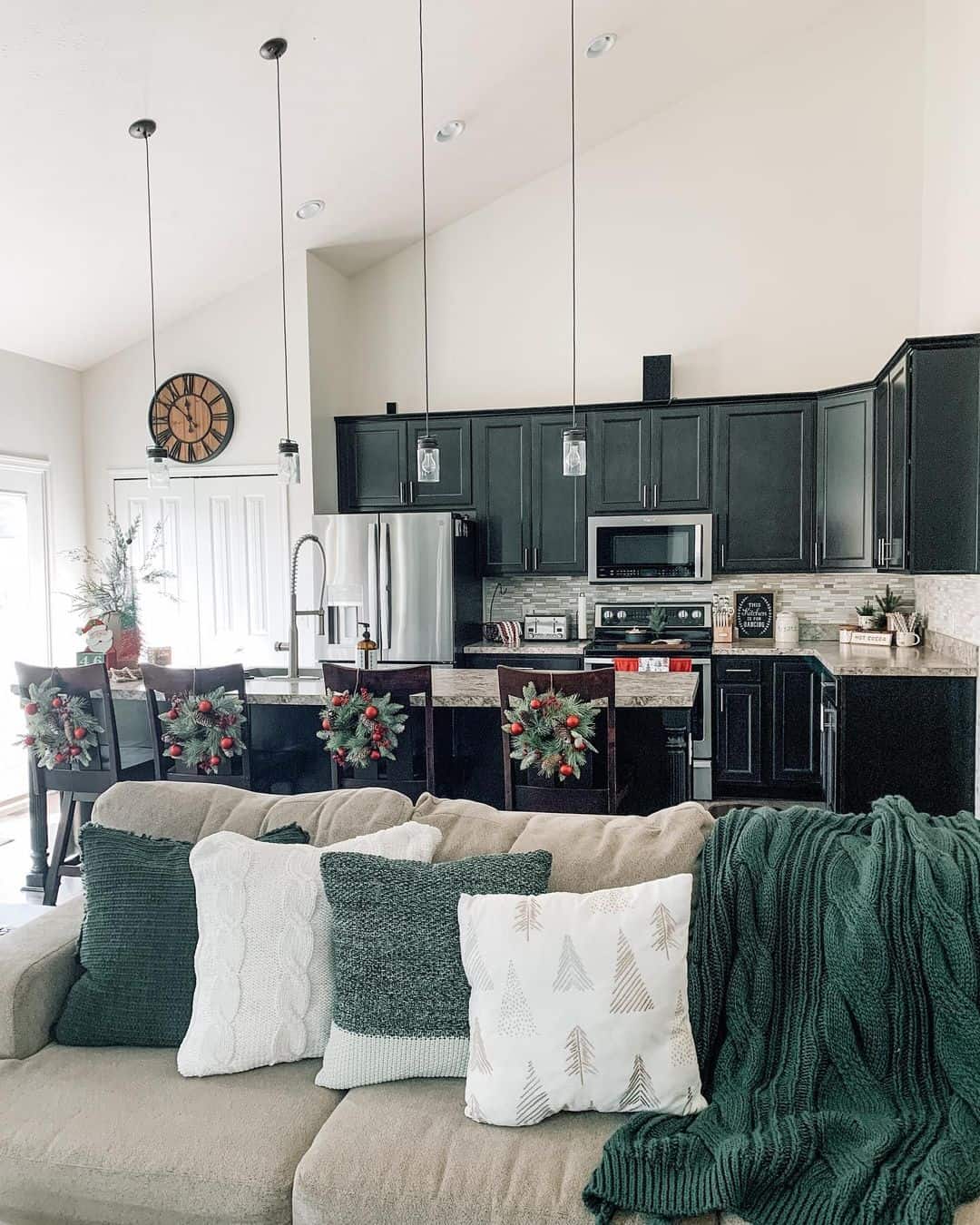 Credit: mel_mcfarland
Shop the Look
Black Lower Cabinets in a Cozy Kitchen Setting
Embrace the rustic charm of a secluded retreat adorned with suspended wooden shelves set against a cozy red brick accent wall. A prominent black microwave rests gracefully on a light wood countertop, serving as a focal point in the space. Meanwhile, sturdy black lower cabinets secure the design's foundation on the inviting dark wood floor.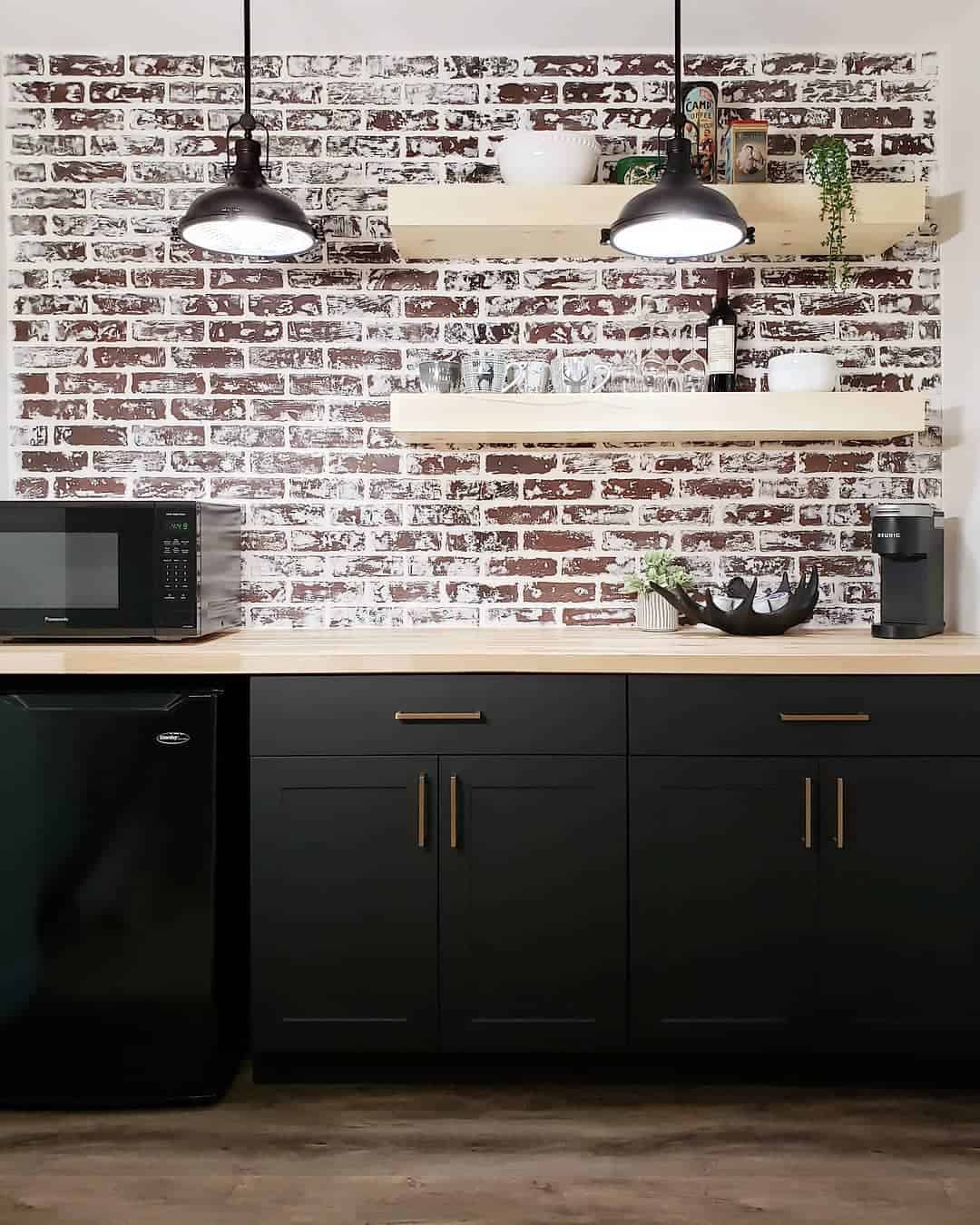 Credit: homewithmarieza
Shop the Look
Black Cabinets and White Tiled Backsplash
Gather with loved ones in this welcoming kitchen, where a white tiled backsplash beautifully complements two rows of modern black kitchen cabinets. Nature finds its place with a lively green plant gracing a wicker basket on the window sill, accompanied by delicate glass containers. Add a pop of vibrancy by elegantly placing a red towel on the grey cabinet, creating a warm and inviting atmosphere.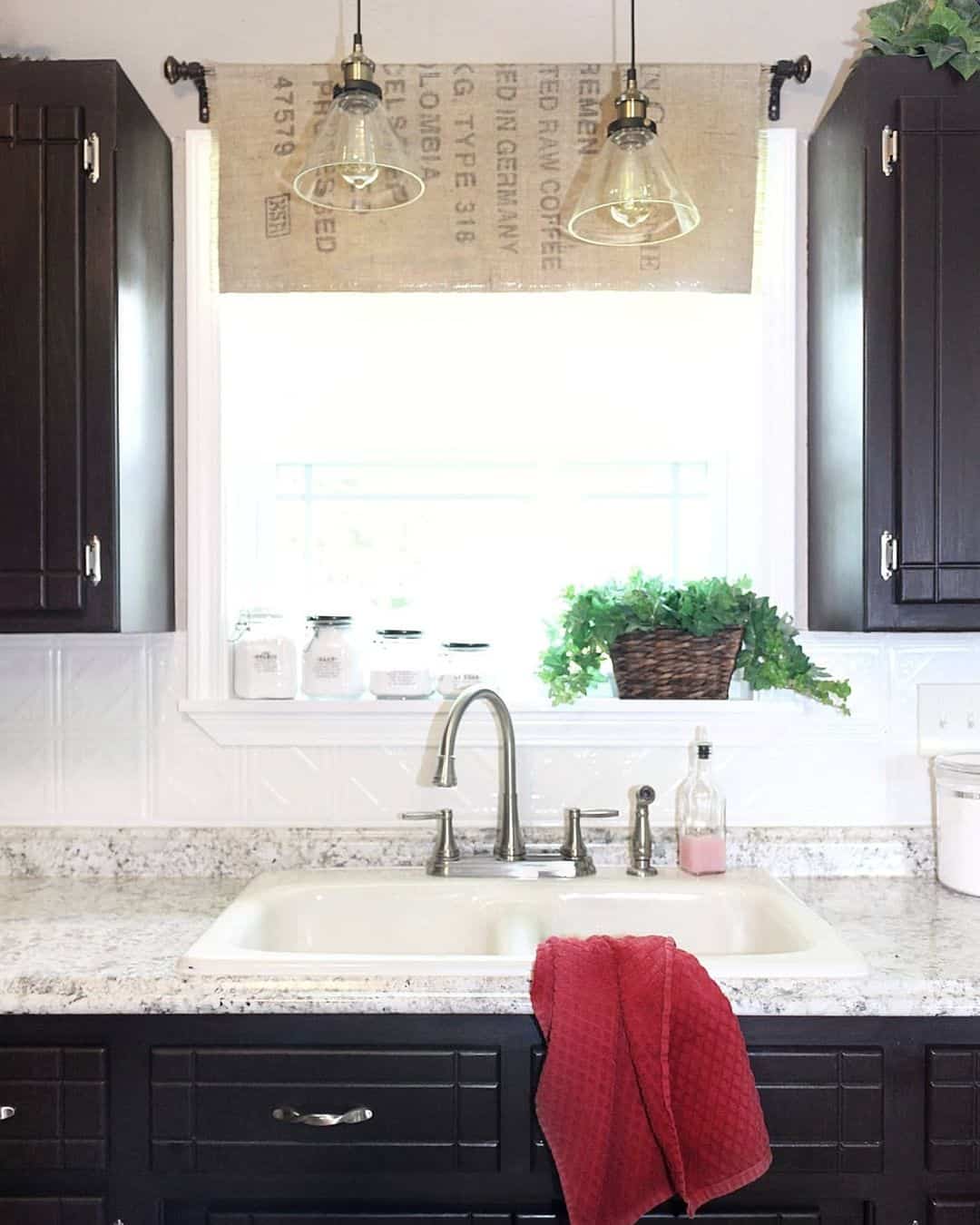 Credit: our.cultivated.home
Shop the Look
Black Cabinets and Herringbone Flooring
Indulge in the serene ambiance of a pristine kitchen illuminated by the soft glow of glass pendant lights. A white countertop graces a stylish black kitchen island, complemented by two contemporary wood barstools on a light wood herringbone floor. Classic white subway tiles maintain a timeless allure.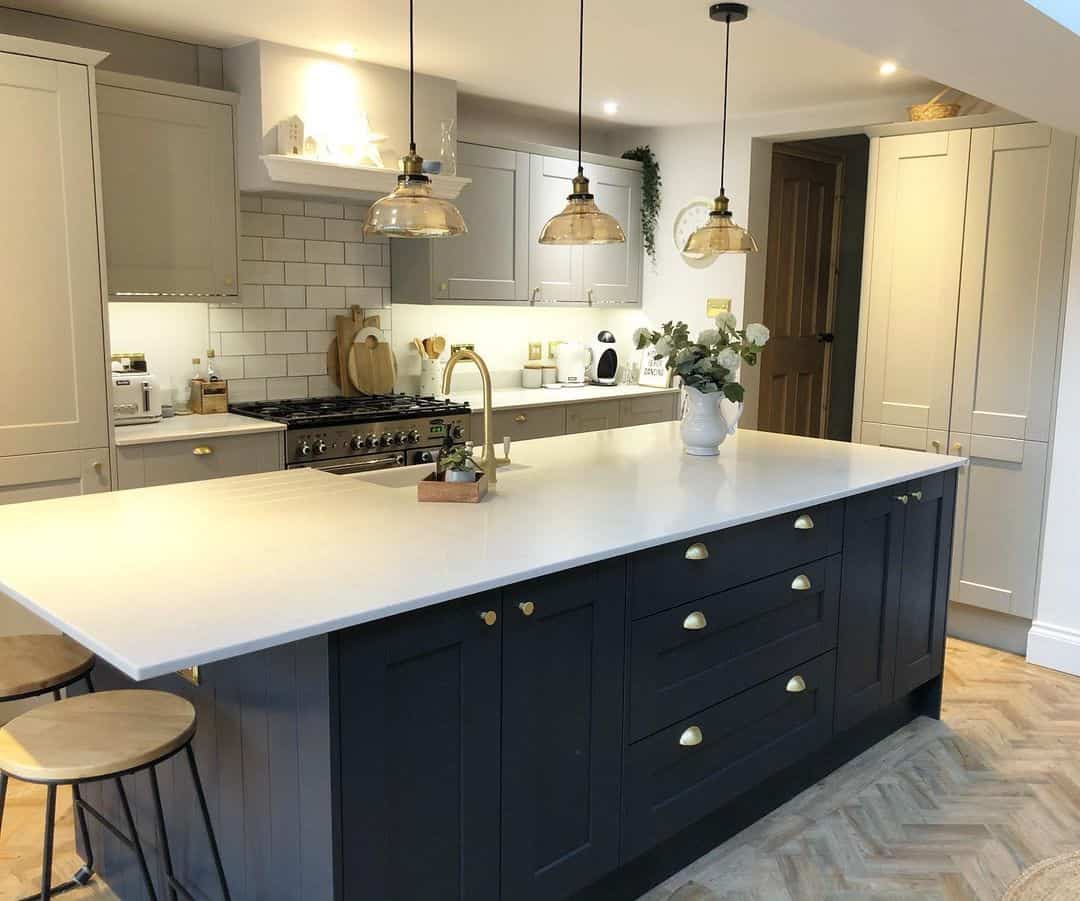 Credit: ourvictorianhome_66
Shop the Look
Chic Black Cabinets and Subway Tile Backsplash
Immerse yourself in the serene ambiance of a kitchen retreat, surrounded by tall, pristine white cabinets and a timeless white subway tile backsplash. A seamless blend of sophistication and functionality is achieved as a white counter elegantly graces the black lower cabinets adorned with refined gold pulls. To add an extra layer of warmth and texture, introduce a pop of color with a carefully laid red and blue rug, seamlessly accentuating the ornate brown and white tile floor.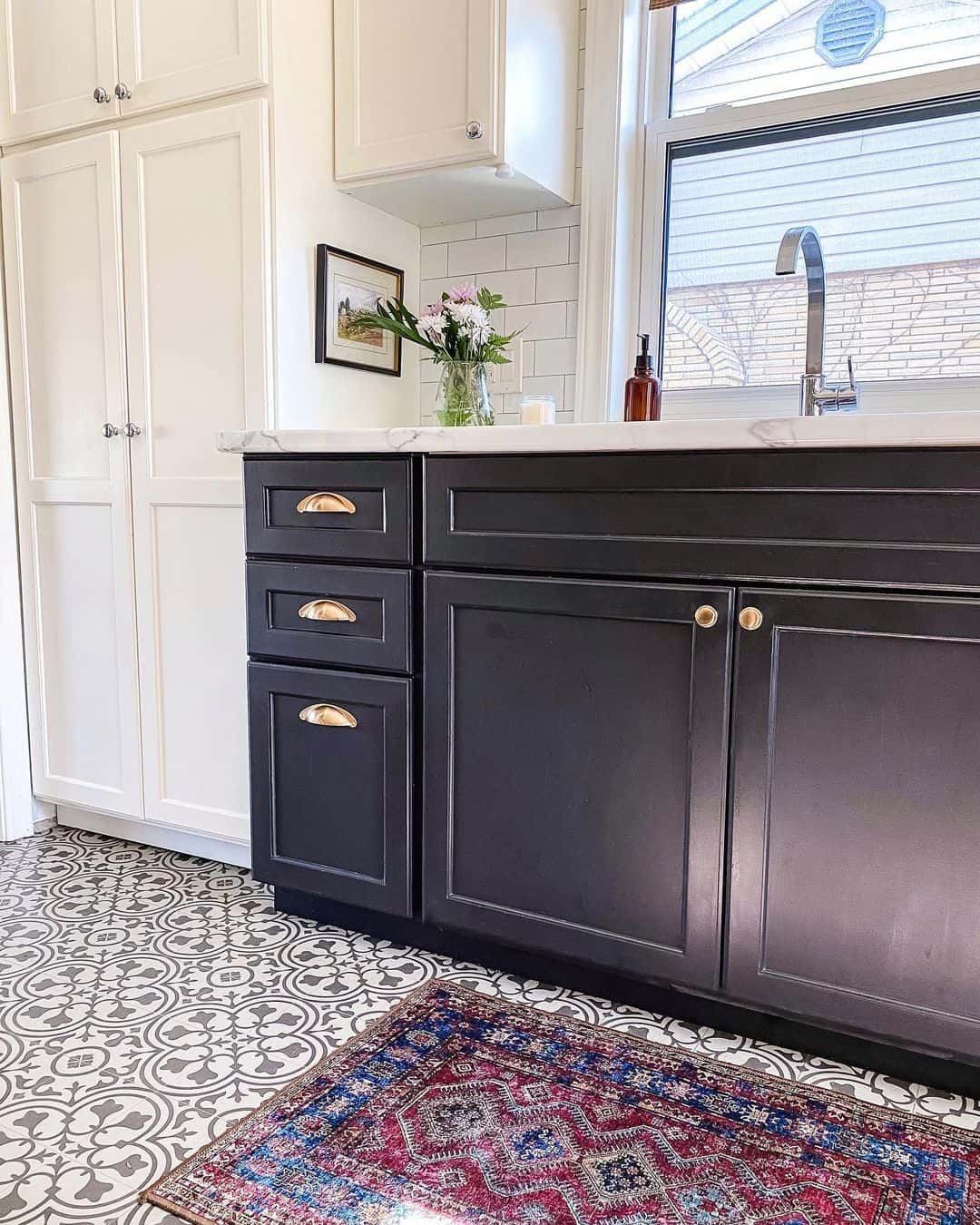 Credit: lexstyleanddesign
Shop the Look
Black Sconces Casting Shadows Over a White Canvas
Immerse yourself in the moody ambiance of a kitchen where a wood floating shelf adorned with string lights and miniature pine trees stretches above a pristine white countertop. Enhancing the atmosphere, two black wall sconces project over the counter, seamlessly matching the black cabinets beneath.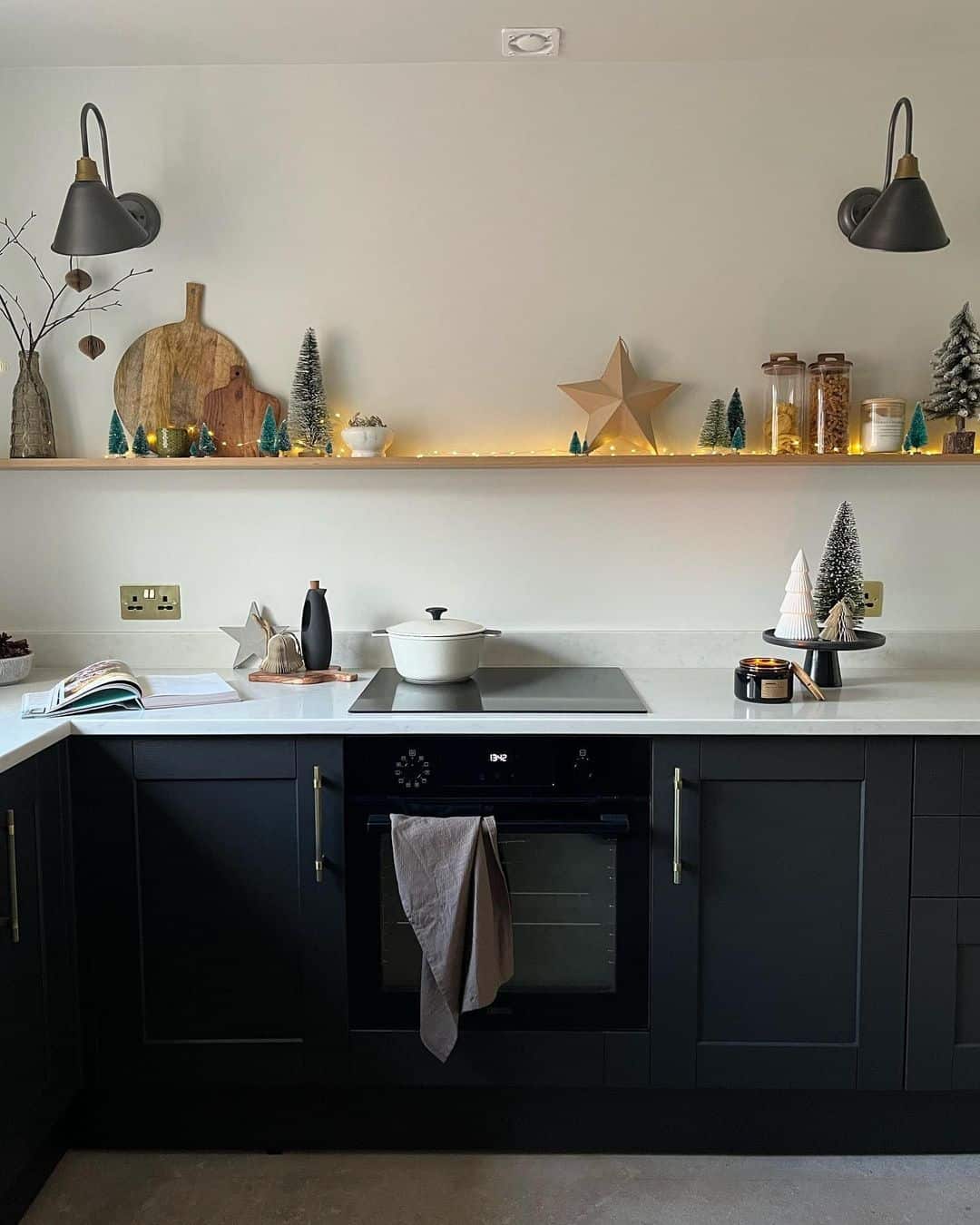 Credit: athomewiththeraines
Shop the Look
Wrap-up
As we conclude our exploration of incorporating black cabinets into your farmhouse kitchen, it's evident that this design choice offers versatility, depth, and a contemporary twist to the classic rustic setting. From bold contrasts to subtle complements, these ideas empower you to personalize your space and create a kitchen that effortlessly marries the warmth of farmhouse aesthetics with the sleekness of black cabinetry.