7+ Fresh Modern Farmhouse Kitchen Decor Ideas to Revitalize Your Space
Affiliate Disclosure: As an Amazon Associate we earn from qualifying purchases. Hence, if you click through and make a purchase, we will get a commission at no extra cost to you. For more info, read our full disclosure.
Step into a world of modern farmhouse charm with our curated collection of seven-plus fresh kitchen decor ideas. Embrace the perfect fusion of contemporary style and rustic warmth as we guide you through creative concepts to revitalize your space. From sleek hardware to charming accessories, discover innovative ways to transform your kitchen into a modern farmhouse haven.
Christmas-adorned Open-concept Kitchen
Immerse yourself in the spirit of the season as delicate Christmas wreaths gracefully adorn the back of light brown barstools centered around a pristine white island. This farmhouse kitchen radiates holiday cheer, with two coordinating small pine trees adding a touch of nature. Modern elements, including floating shelves and elegant white-and-black lamps, seamlessly blend to enhance the festive charm of this open-concept space.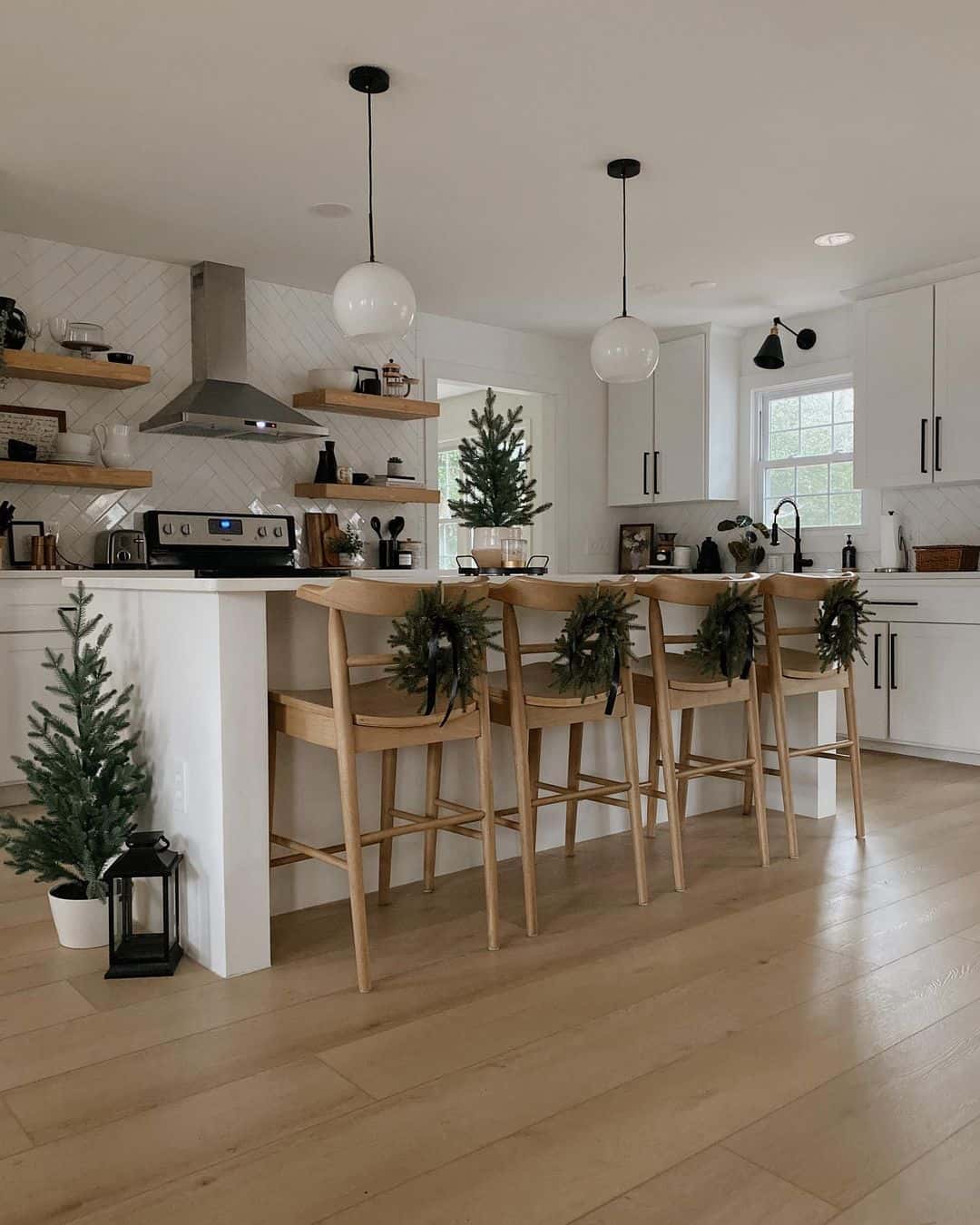 Credit: wetmoreworksinprogress
Shop the Look
Mixing White Shades in Kitchen Décor
Step into a realm of modern farmhouse sophistication with a unique twist on the traditional white kitchen. The designer of this space has artfully chosen two distinct shades of white for the upper and lower kitchen cabinets, creating a captivating visual contrast. Rich and creamy tones grace the upper cabinets, harmonizing with taupe countertops, while the lower cabinets boast a brighter hue that coordinates seamlessly with the island base.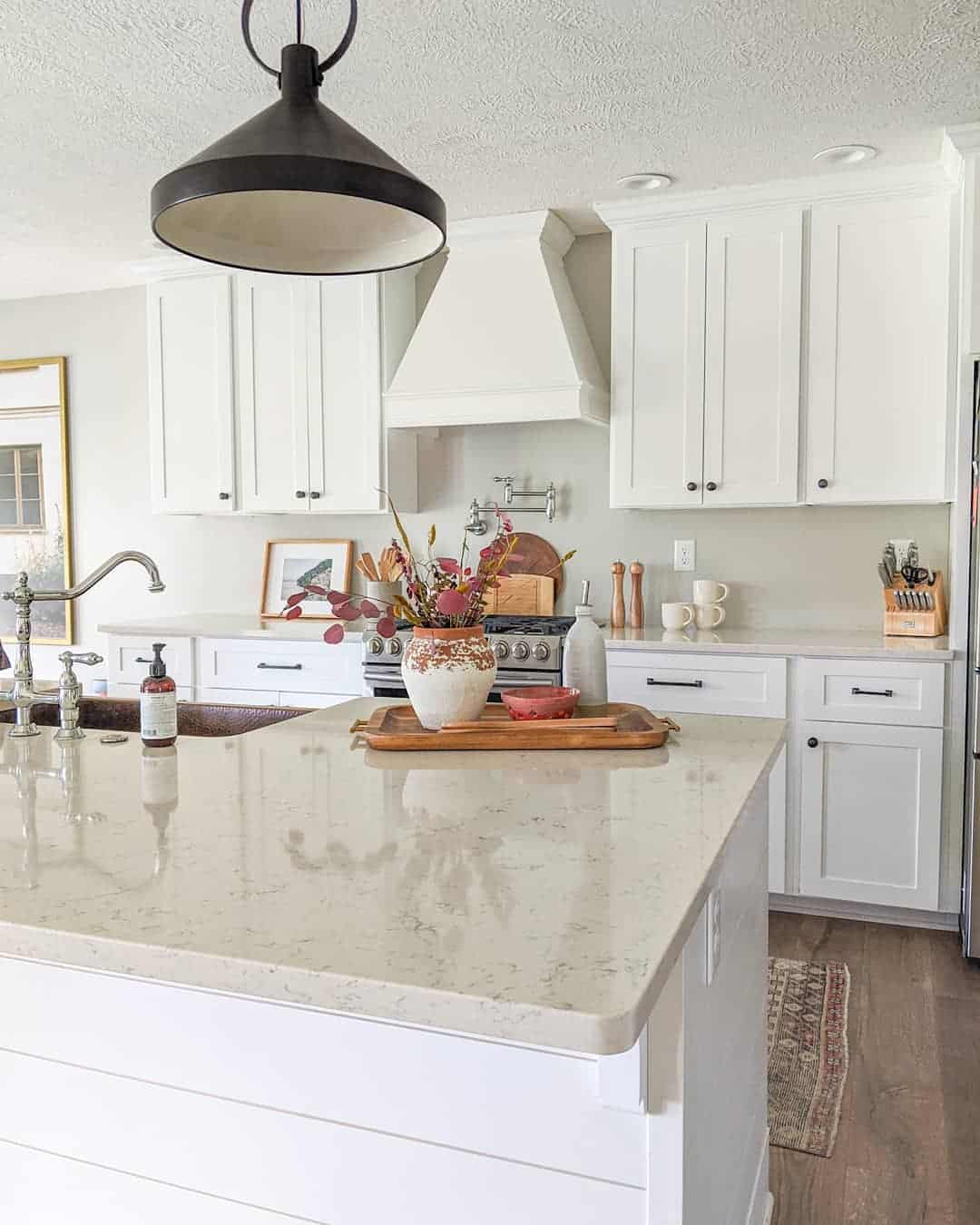 Credit: wv_modernfarmhouse
Shop the Look
Modern Farmhouse Cabinet Finishes
Immerse yourself in the cozy allure of modern farmhouse decor by seamlessly blending warmer tones with classic whites and creams. In this meticulously curated kitchen, the upper cabinetry is adorned in a crisp, timeless white, while the lower kitchen cabinets maintain a warm brown finish.
A large white apron-front sink, accompanied by a sleek black faucet and complemented by the warm glow of gold sconces, becomes the centerpiece, casting a perfect aura on the inviting quartz countertops.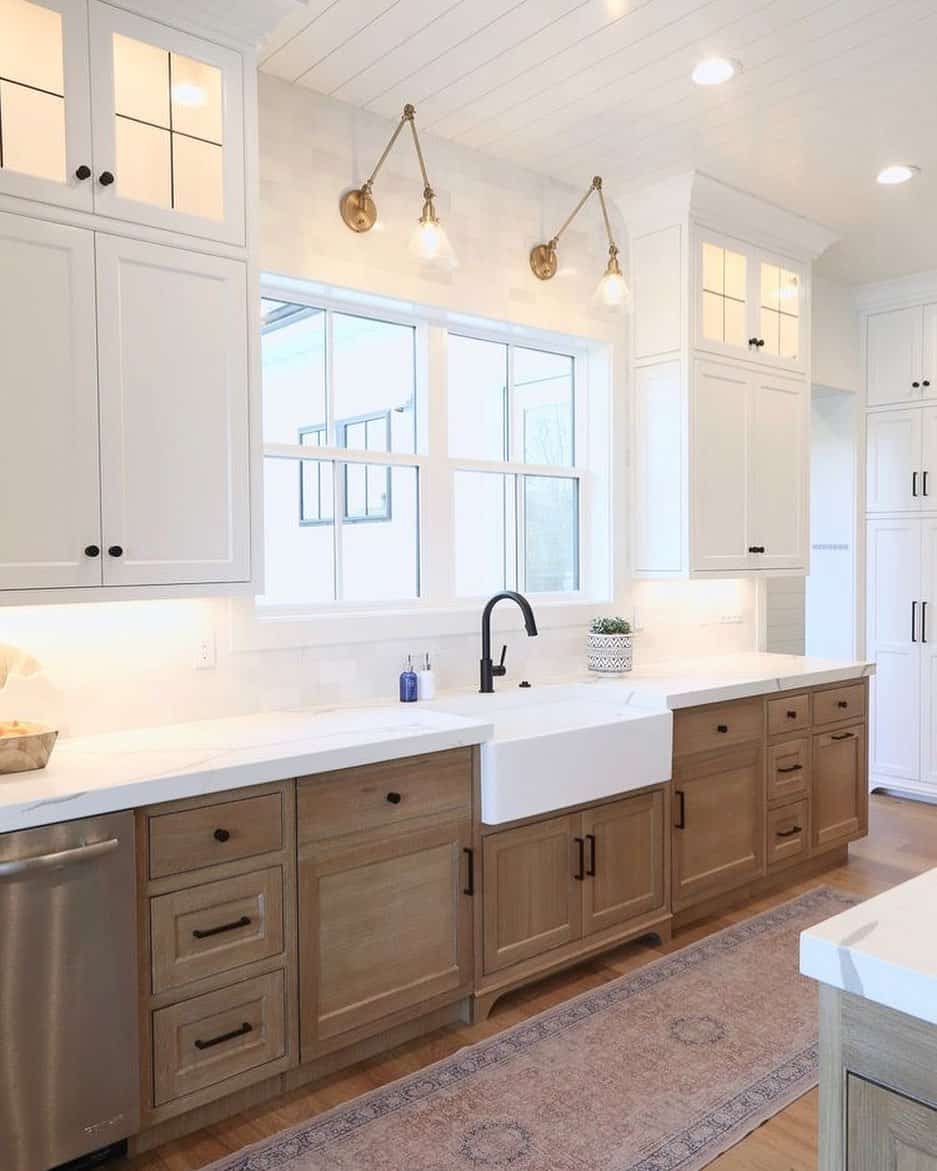 Credit: the.house.of.polls
Shop the Look
Blue Paint Accents and Limewashed Brick Backsplash
Embark on an exploration of contemporary farmhouse aesthetics within a kitchen that seamlessly integrates essential elements of this style. White cabinets, embellished with black hardware and suspended pendant lights, form a timeless foundation.
However, what truly distinguishes this space is the bold blue paint that extends gracefully above the cabinetry and the delightful limewashed brick backsplash enveloping the concrete slab countertops. This harmonious blend achieves a perfect equilibrium between rustic charm and sophisticated elegance.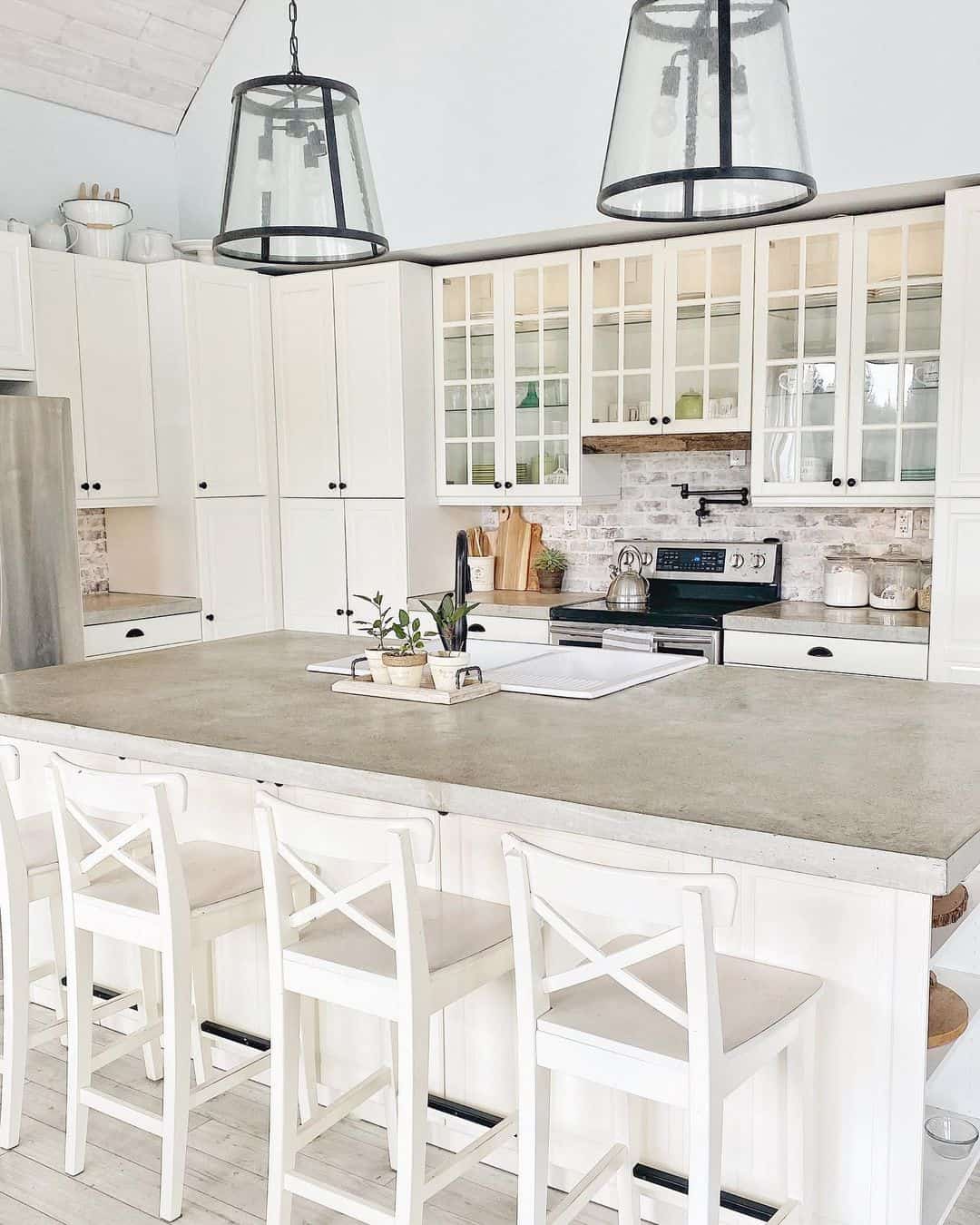 Credit: thishouseofsix
Shop the Look
Exposed Beams in Kitchen Design
Gaze upward and be captivated by the exposed ceiling beams that define the contemporary charm of this farmhouse kitchen. Atop the cabinets, a carefully curated collection including a black vase, a beautifully framed landscape portrait, and a classic white cake plate adds a touch of personality.
Completing the modern farmhouse tableau are candelabra farmhouse pendants, gracefully suspended above the speckled island, seamlessly intertwining timeless farmhouse themes with contemporary design.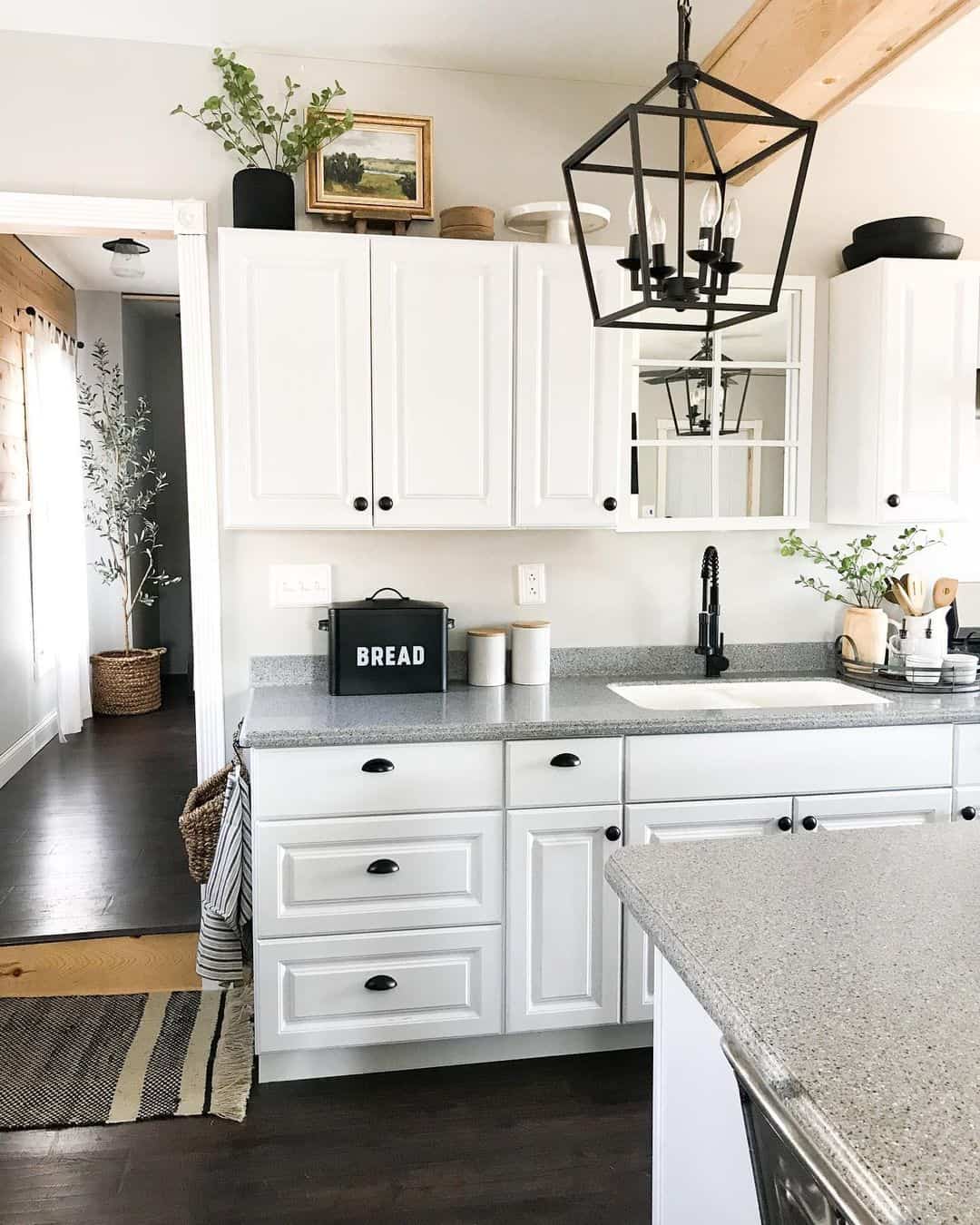 Credit: thewallshouse
Shop the Look
Candelabra Chandelier Adding Elegance to the Modern Farmhouse
Elevate your kitchen space with timeless sophistication as a black-framed candelabra chandelier, adorned with eight bulbs, gracefully hangs above a spacious white marble island. The kitchen exudes elegance with its cream tones and gleaming stainless steel appliances. The exposed brown ceiling beams, paired with white panels, showcase a vaulted ceiling, harmoniously blending modern and farmhouse aesthetics.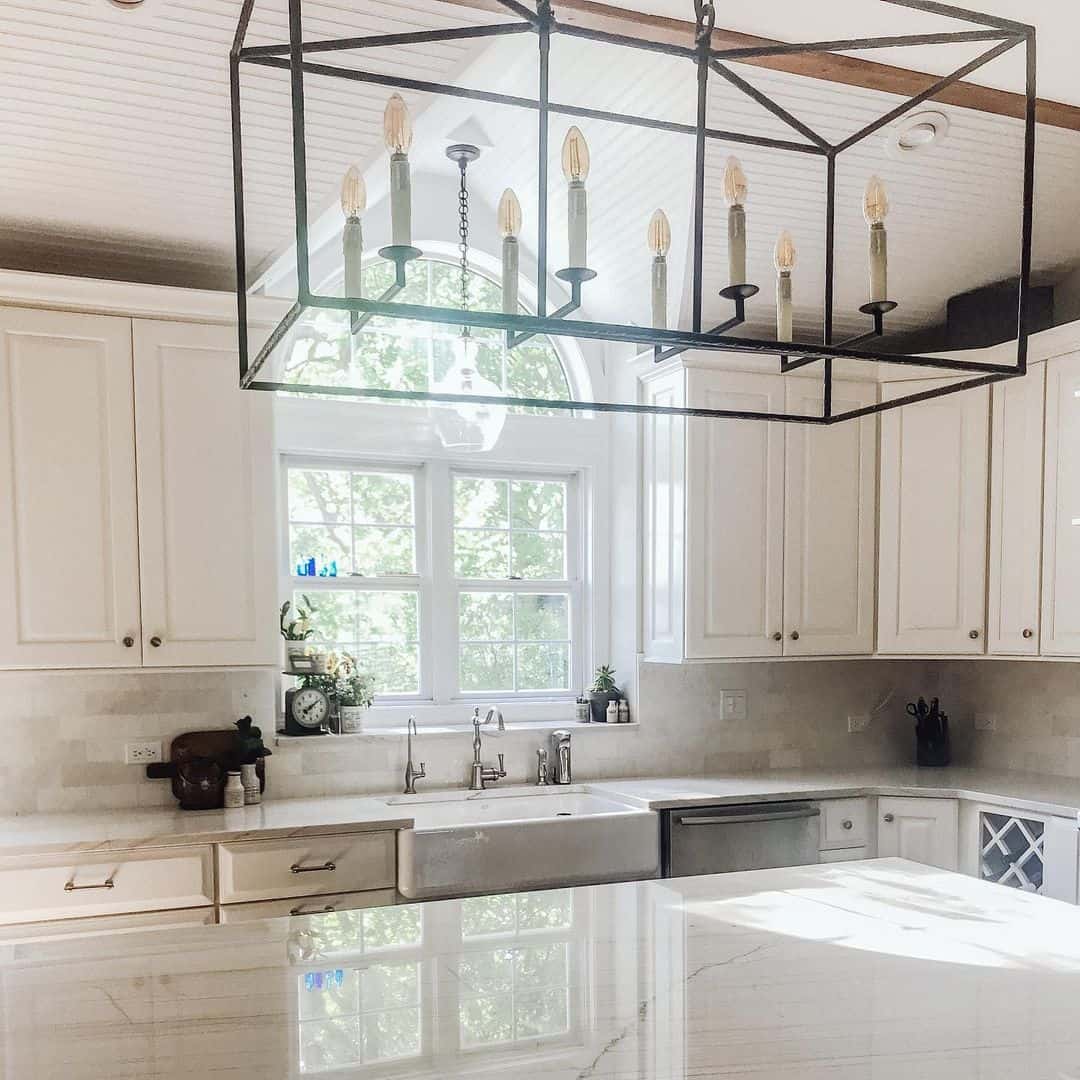 Credit: thevintagebreadbox
Shop the Look
Modern Farmhouse Kitchen with Elegant Gold Hardware
Embark on a journey of modernization with the right hardware selection. Brushed gold hardware and light fixtures take center stage in this modern farmhouse kitchen, offering an attention-grabbing contrast to traditional stainless steel appliances. The artful combination of metals and wood tones creates a visually interesting and thoroughly contemporary kitchen space.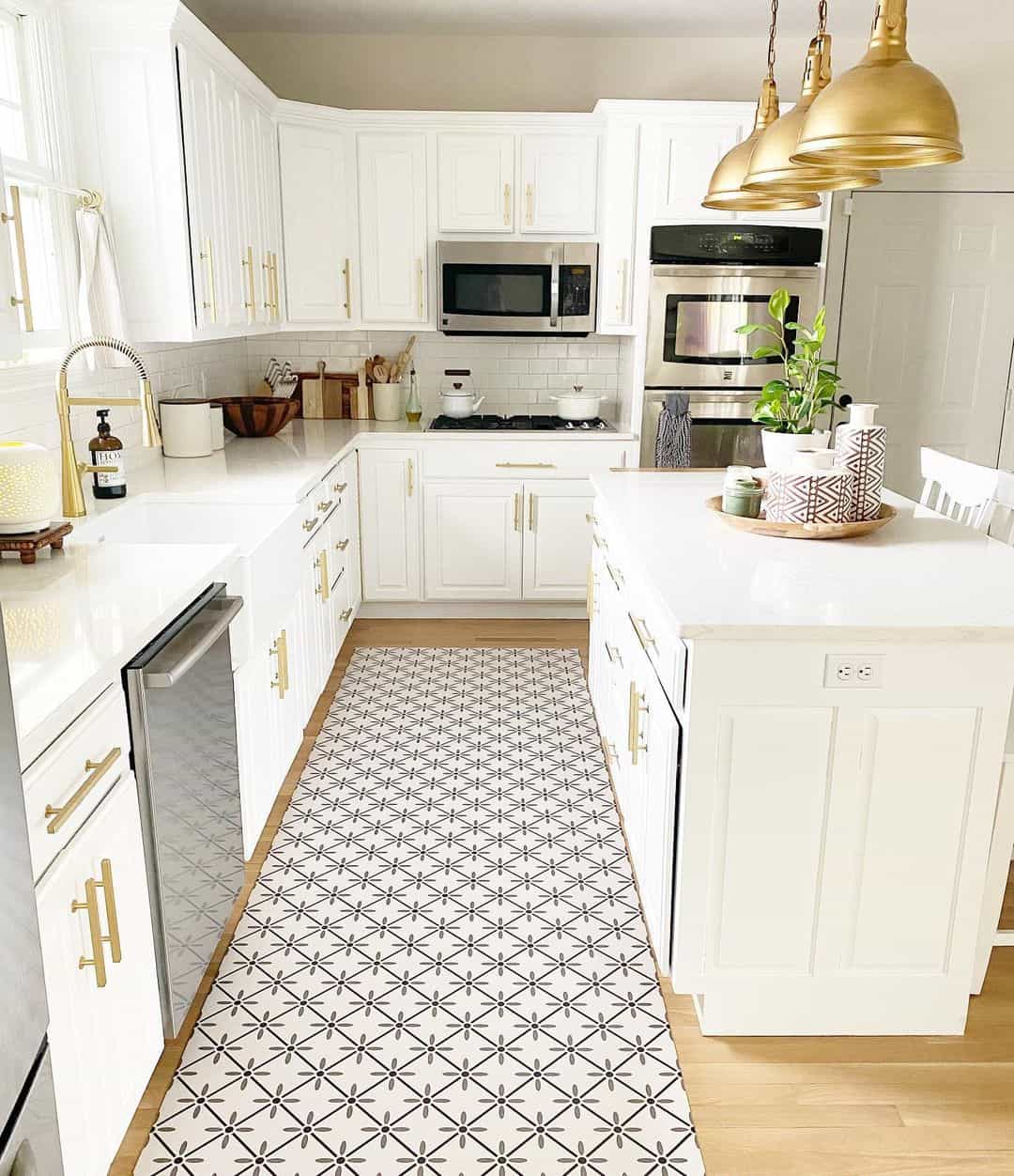 Credit: thehawkins.onthehill
Shop the Look
Mason Jar Centerpiece on Marble
Transport your kitchen into a bygone era with a vintage mason jar centerpiece. Blue antique jars, artfully arranged on a light stone tray atop a pristine marble countertop, become the focal point of this timeless kitchen. A fresh pink hydrangea bloom introduces a subtle and soft pop of color, completing the vintage charm of this elegant space.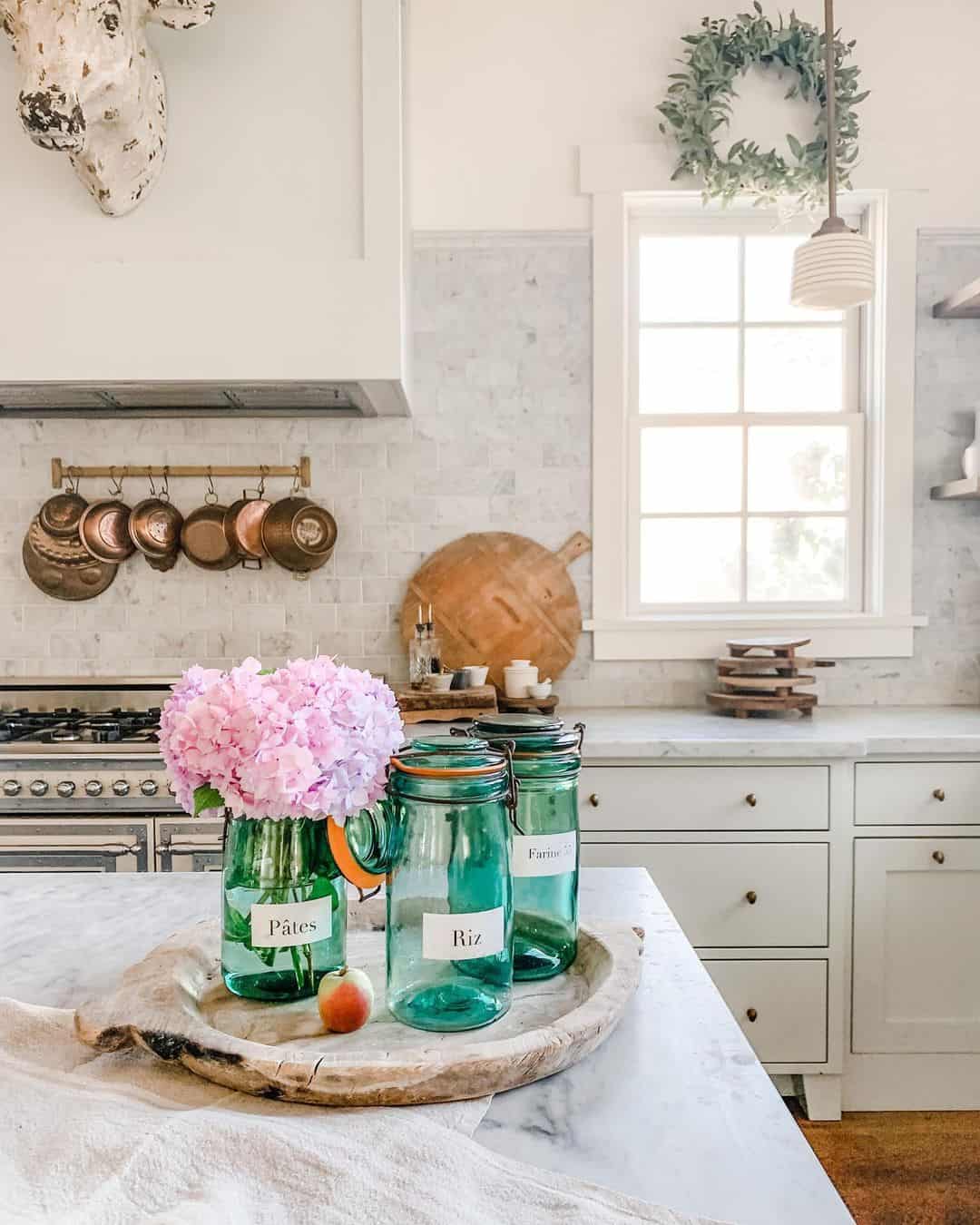 Credit: thestonehouseroad
Shop the Look
Wrap-up
As we wrap up this exploration of modern farmhouse kitchen decor, you're equipped with a wealth of ideas to breathe new life into your culinary haven. Whether it's the allure of gold hardware or the timeless elegance of exposed beams, each suggestion is a step toward a space that balances freshness and farmhouse charm. Now, go forth and infuse your kitchen with personality and style.