7+ Amazing Built-in Entertainment Center Ideas for Your Farmhouse Living Room Movie Night
Affiliate Disclosure: As an Amazon Associate we earn from qualifying purchases. Hence, if you click through and make a purchase, we will get a commission at no extra cost to you. For more info, read our full disclosure.
When it comes to creating the perfect farmhouse living room for your movie nights, a built-in entertainment center can be a game-changer. These functional and stylish additions not only provide a dedicated space for your entertainment equipment but also add a touch of rustic charm to your home.
In this article, we'll explore seven amazing built-in entertainment center ideas that will elevate your farmhouse living room and make movie nights a memorable experience.
Embracing Minimalism with Ashwood Accents
Discover a captivating living space that embraces minimalism to achieve a clean and sleek aesthetic. Bright tones of ashwood grace the furniture and flooring, seamlessly merging with the soft white-cream hues of the walls and decor. A cozy beige couch invites you to indulge in lazy Friday night movie marathons.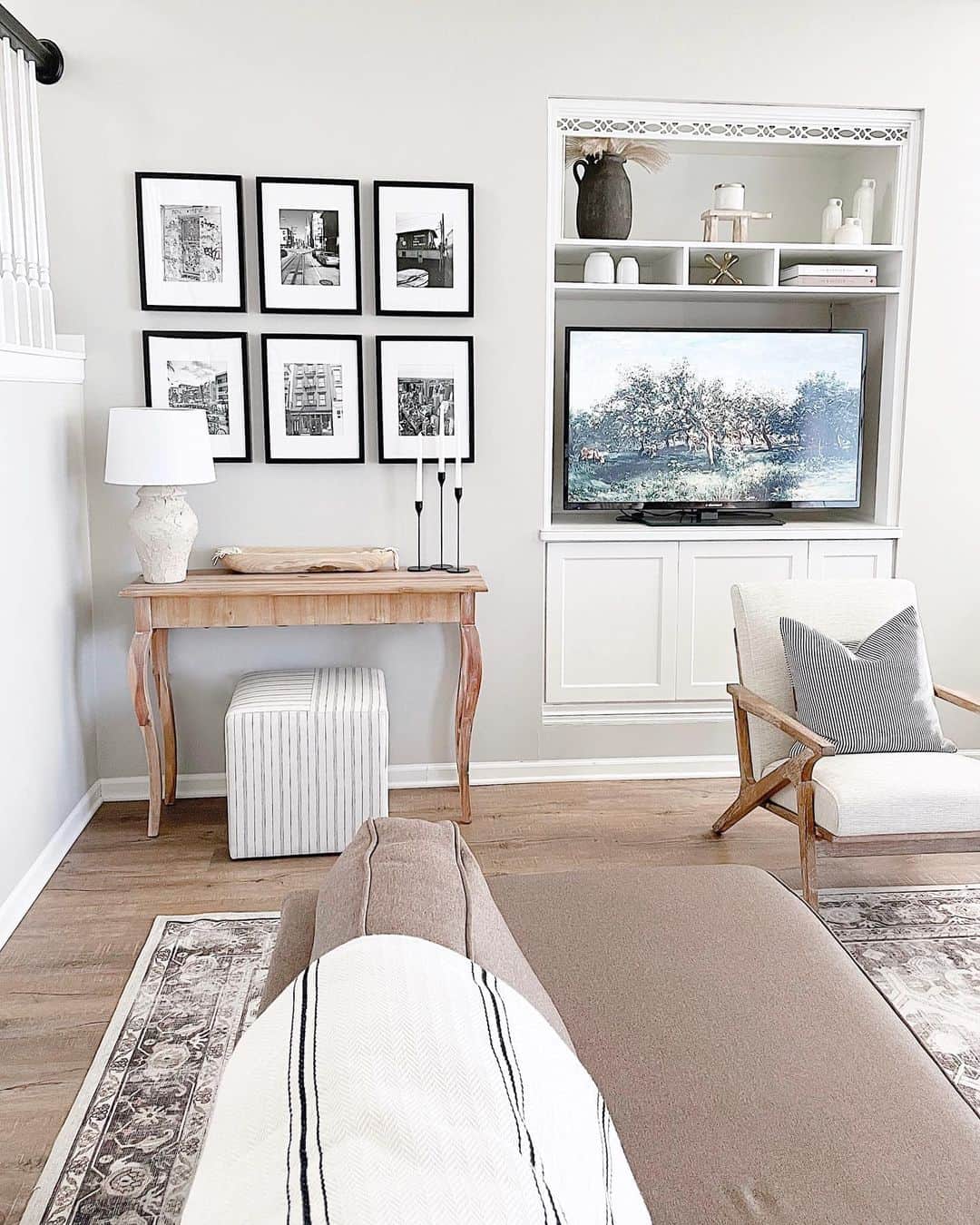 Credit: homewithresa
Shop the Look
Coastal Elegance with a Built-in Entertainment Center
Step into a vibrant coastal-inspired living room adorned with light ashwood flooring, complemented by an intricately patterned carpet. The centerpiece is a built-in entertainment center proudly housing a TV surrounded by cabinets to impeccably organize and display your cherished items. Plush chairs and a comfortable sofa provide various options for relaxation.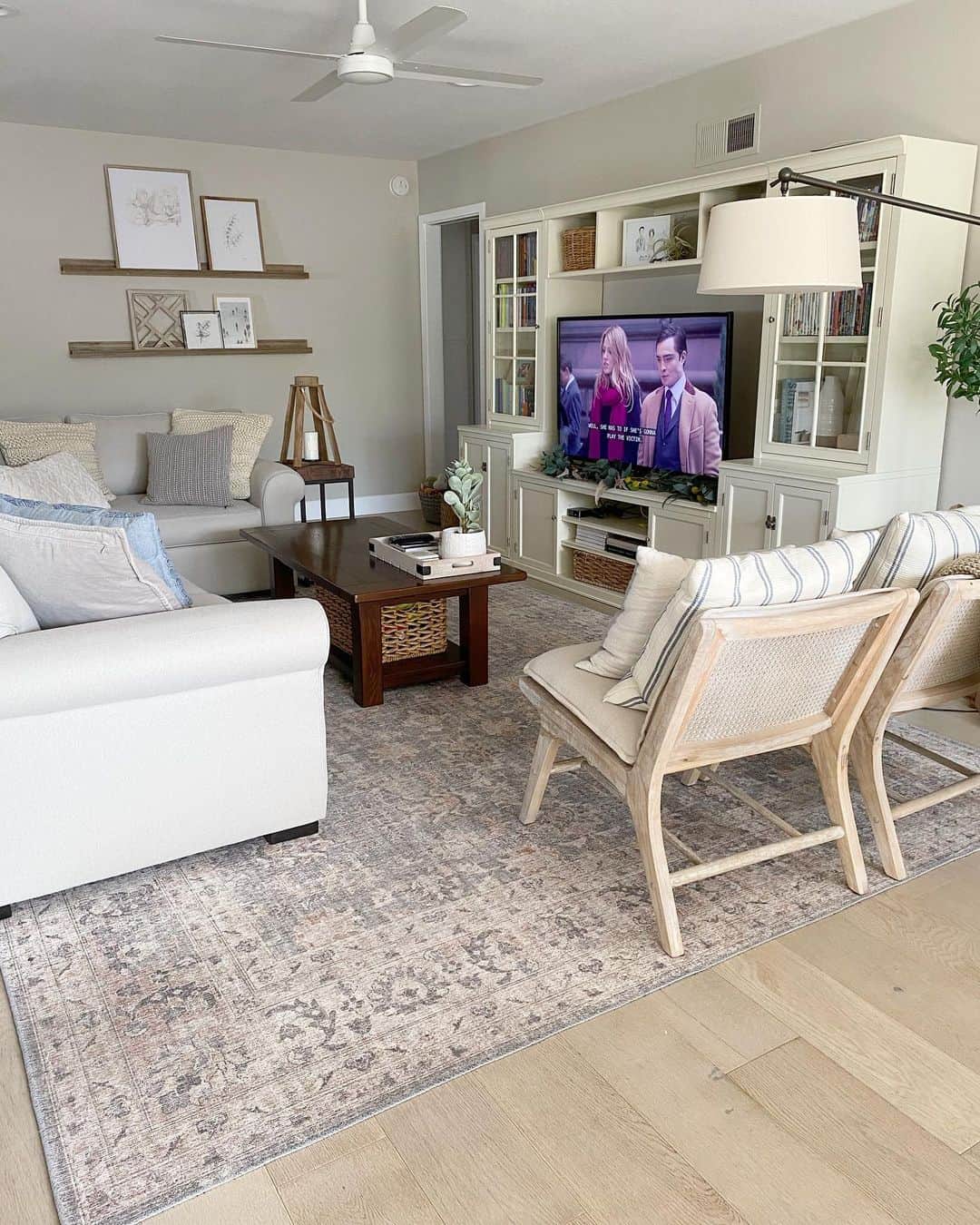 Credit: offponderosa
Shop the Look
Unique Off-Center Fireplace and Functional Cubby Storage
Reimagine your living room with an off-center fireplace and entertainment unit. Instead of a traditional placement, the firebox shares its space with a convenient storage cubby for wood. Ornate molding and wainscoting grace the central chimney, perfectly complemented by a grand gray sectional and a captivating patterned area rug.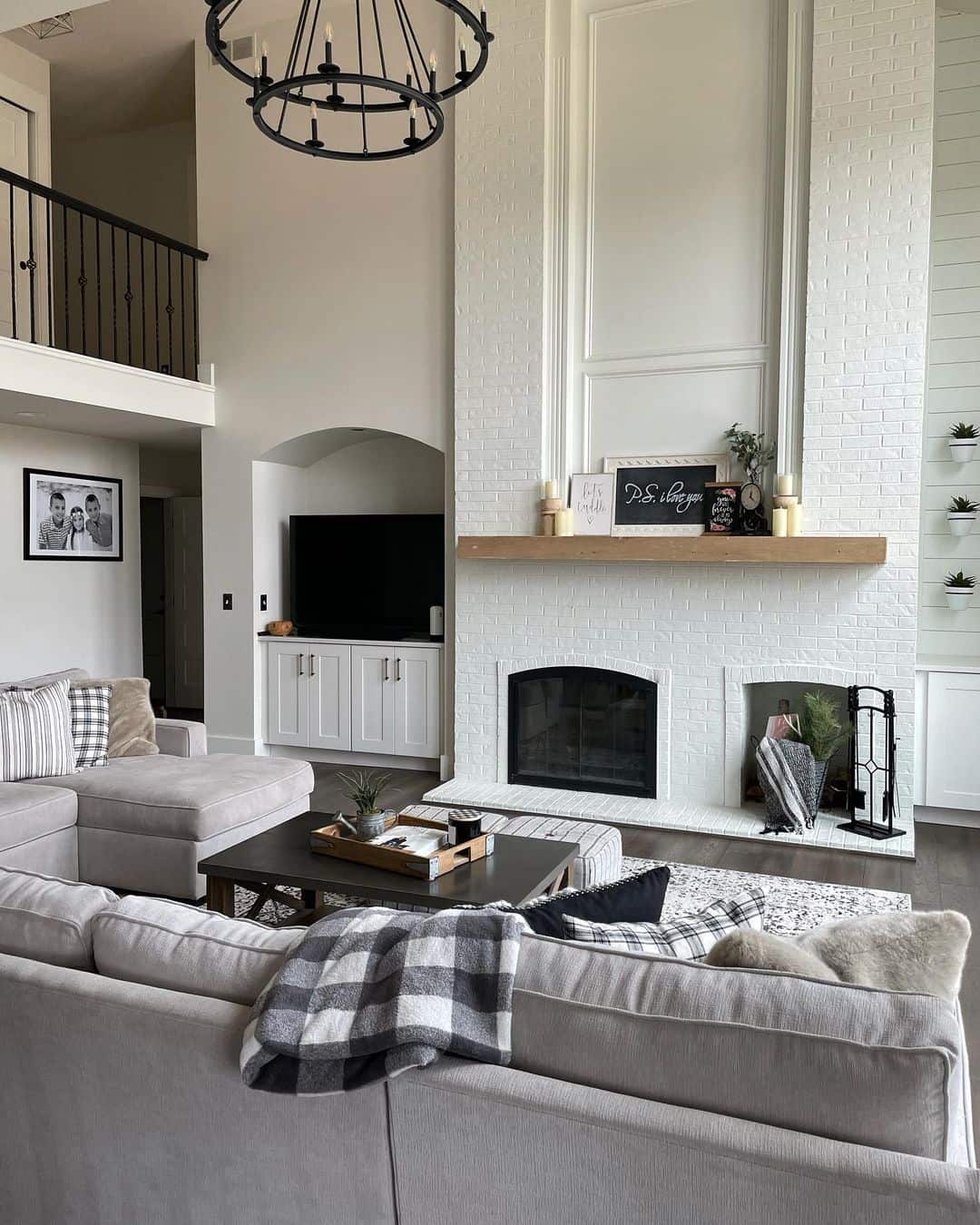 Credit: mykcvalleylife
Shop the Look
DIY Basement Transformation: Built-in Entertainment Center
Embark on a DIY journey to transform your basement with an impressive entertainment center. The TV frame receives a touch of elegance with champagne bronze gold, harmonizing beautifully with the neutral white shelves. Rich, earthy wooden notes emerge from wicker baskets and a round teak table. A comfortable gray sofa is adorned with plush throw pillows and a soft, fuzzy blanket for the ultimate viewing experience.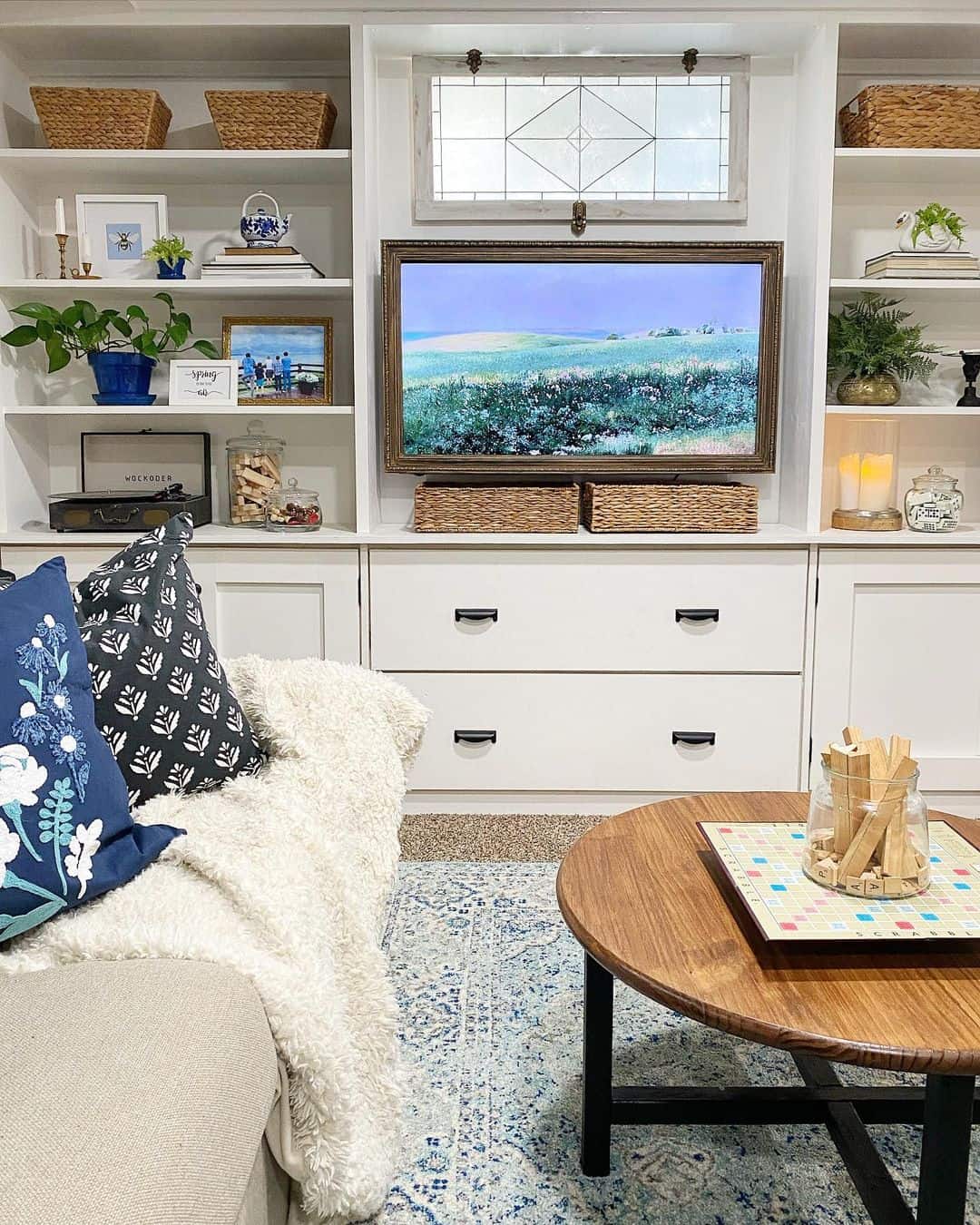 Credit: my.purposed.place_2
Shop the Look
Sherwin Williams Urbane Bronze Entertainment Center
Experience the allure of a warm, dark Sherwin Williams Urbane Bronze application in this entertainment center. The rich color harmonizes seamlessly with the bright ashwood accents of the built-in shelves and complements the natural wood floors. A dedicated nook, provided by a wooden plank underneath, offers the perfect spot for your cozy throw pillows.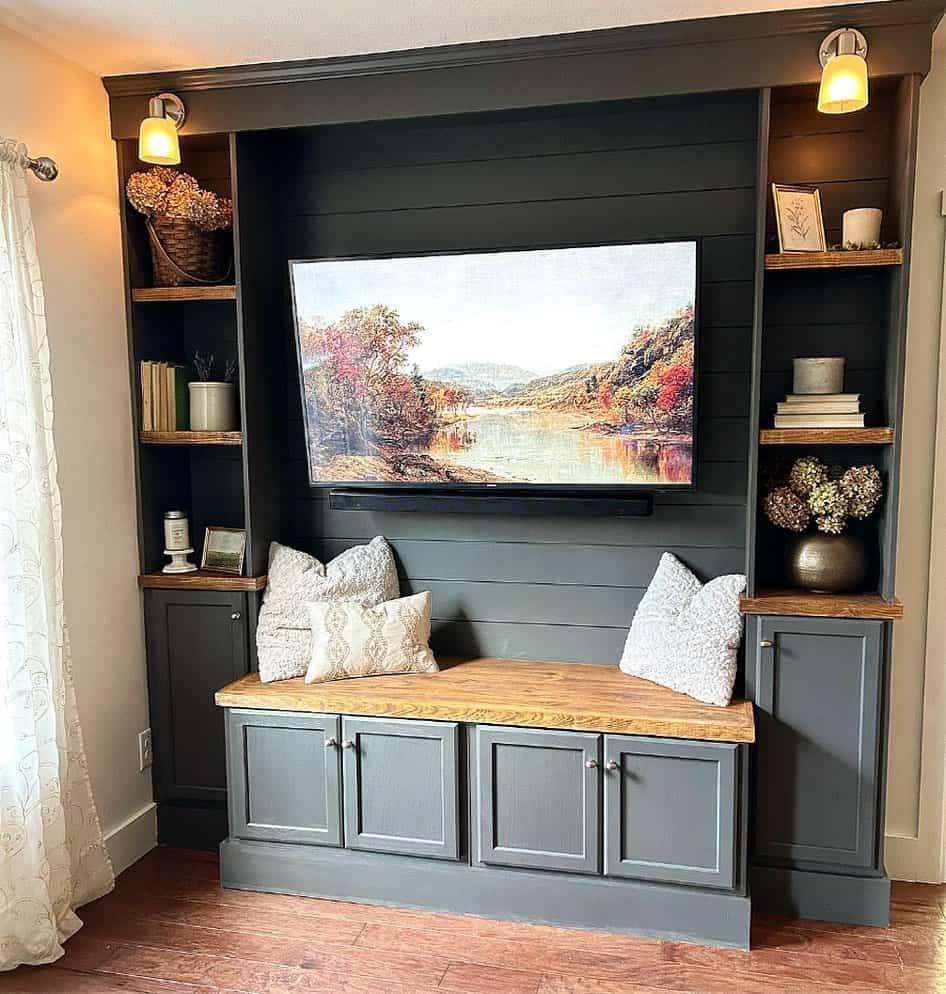 Credit: edwardsfarmstead
Shop the Look
Embracing Natural Decor in the Living Room
Step into a delightful living room that celebrates the beauty of natural decor. Lovely pink accents, courtesy of fresh flowers, combine with the inviting warmth of deep wood floors. The pristine white entertainment center serves as a stylish home for a mounted flatscreen TV, ideal for your viewing pleasures.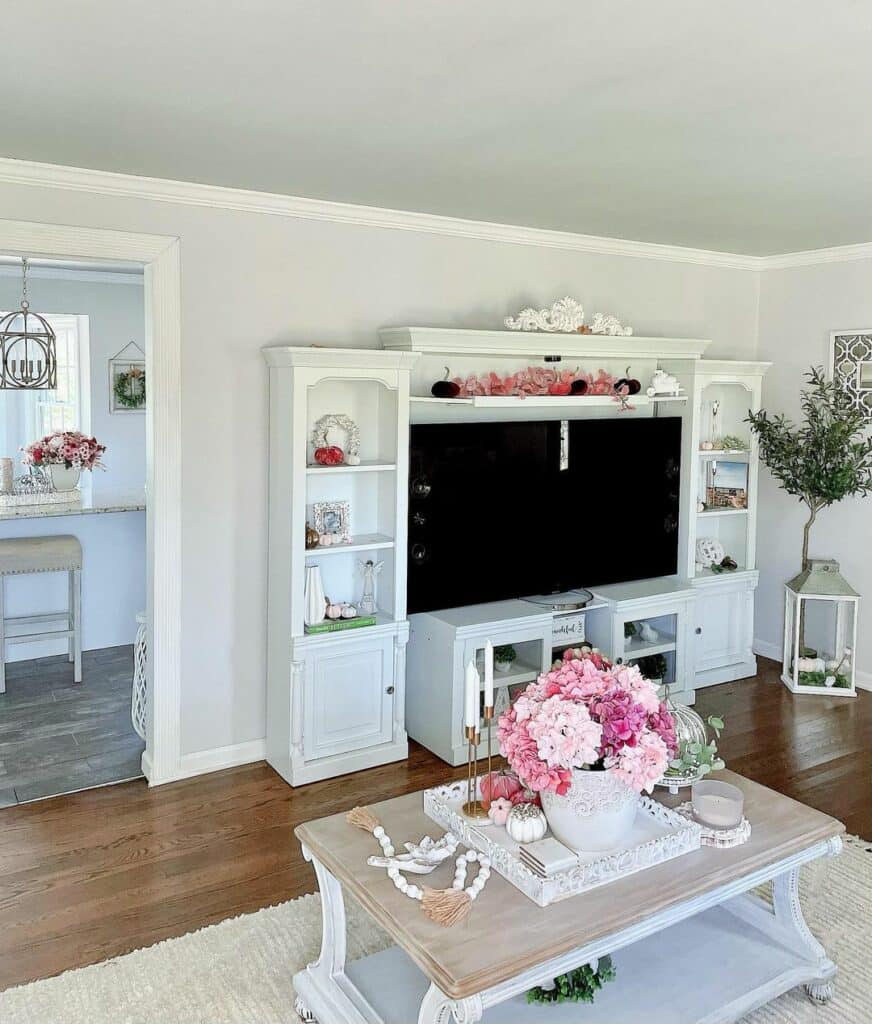 Credit: interiorlove_angelique
Shop the Look
Contemporary Living: Cabinets with Modern Accents
Elevate your contemporary living space with a distinctive built-in entertainment center featuring chic living room cabinets. A neutral couch and white loveseat, adorned with tasteful accent pillows, encircle a light wood round coffee table. Large white grid windows flood the room with invigorating natural light, while light wood flooring extends gracefully throughout. Contemporary decor elements adorn the living room cabinets.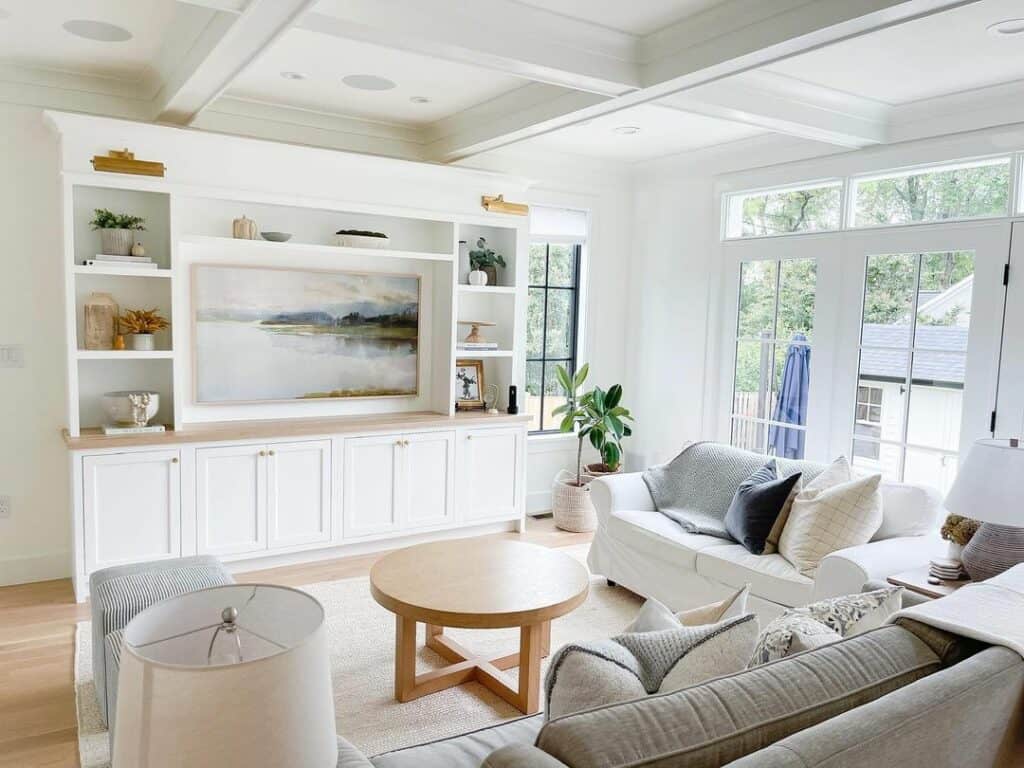 Credit: the_drews_design
Shop the Look
Contemporary Splendor: Large Entertainment Center
Enter a realm of contemporary splendor within this living room, showcasing a capacious built-in entertainment center adorned with modern accents. A cozy fireplace, a TV, and stylish cabinets take center stage. A textured area rug commands attention, reflecting the abundant natural light from an adjacent window. Light-toned walls further enhance the luminosity, while a modern light fixture with neutral shades gracefully hangs from the ceiling.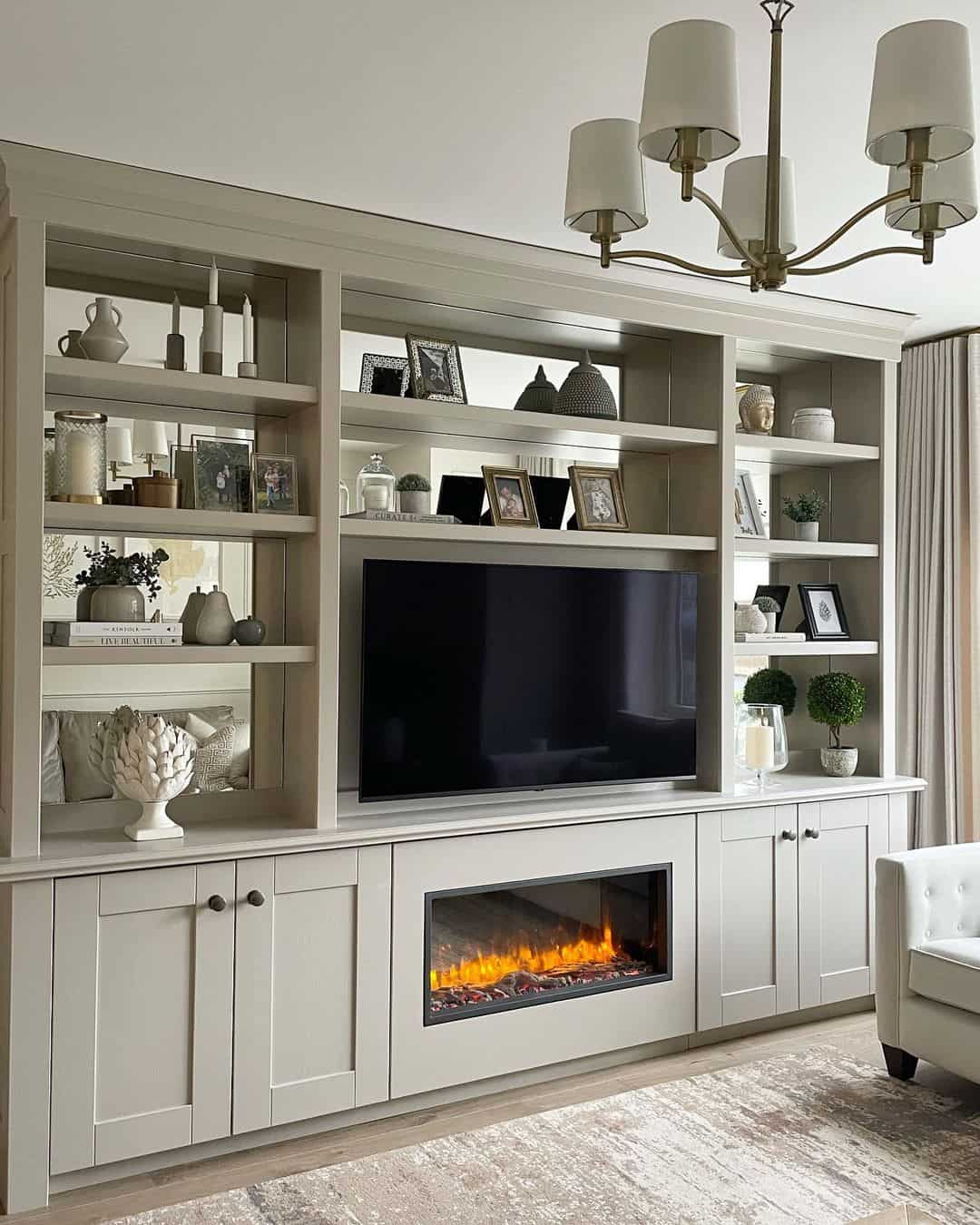 Credit: insidenumberseventy6
Shop the Look
Wrap-up
Incorporating a well-designed built-in entertainment center into your farmhouse living room is a surefire way to enhance your movie night experience. From rustic wooden cabinets to modern farmhouse-inspired designs, there's a style to suit every taste.
These centers not only organize your entertainment equipment but also become a focal point of your decor. Say goodbye to clutter and hello to cozy movie nights in your farmhouse haven.