7+ Functional Corner Shelf Ideas to Optimize Your Farmhouse-style Home 
Affiliate Disclosure: As an Amazon Associate we earn from qualifying purchases. Hence, if you click through and make a purchase, we will get a commission at no extra cost to you. For more info, read our full disclosure.
When it comes to farmhouse-style homes, making the most of every nook and cranny is key to achieving that cozy, functional aesthetic. In this blog, we'll explore seven functional corner shelf ideas that will help you optimize your farmhouse-style living space.
From kitchen corners to cozy coffee nooks, these innovative solutions will not only maximize your storage but also add charm and character to your home.
Transforming Kitchen Corners
In the heart of this kitchen, white cabinets and countertops snugly nestle in the corner, complemented by a stylish black subway tile backsplash. Above, a floating wood shelf stretches across two walls, offering a charming platform for displaying black and white farmhouse decor.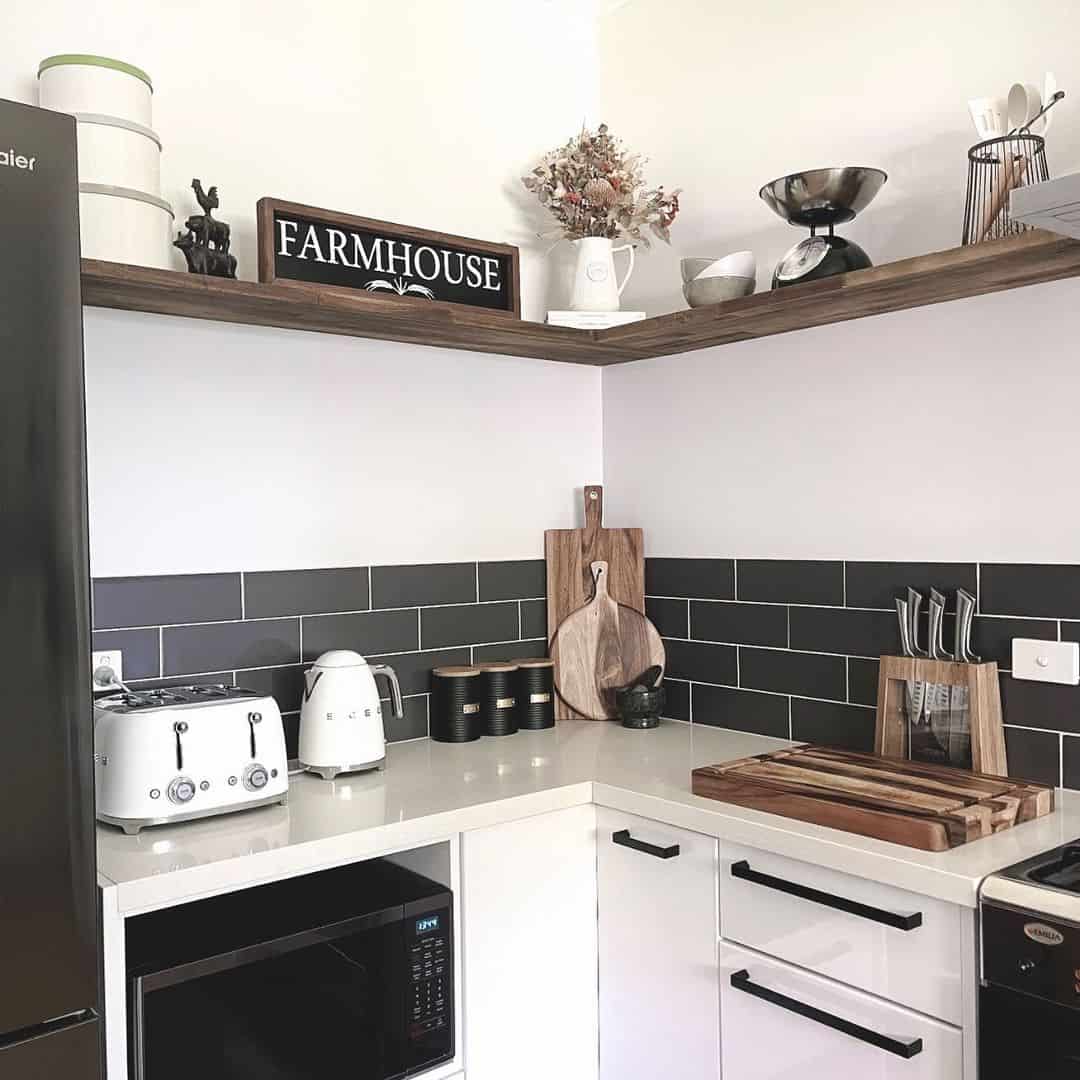 Credit: @our_rural_country_home
Shop the Look
Butler's Pantry Brilliance
Unlock the full potential of a narrow butler's pantry with shelves that elegantly wrap around multiple walls. These versatile spaces are perfect for prep work before seamlessly transitioning to the kitchen. Thanks to butcher block countertops, tasks become a breeze, and the open design, with accessible storage beneath the countertop, ensures everything is within easy reach.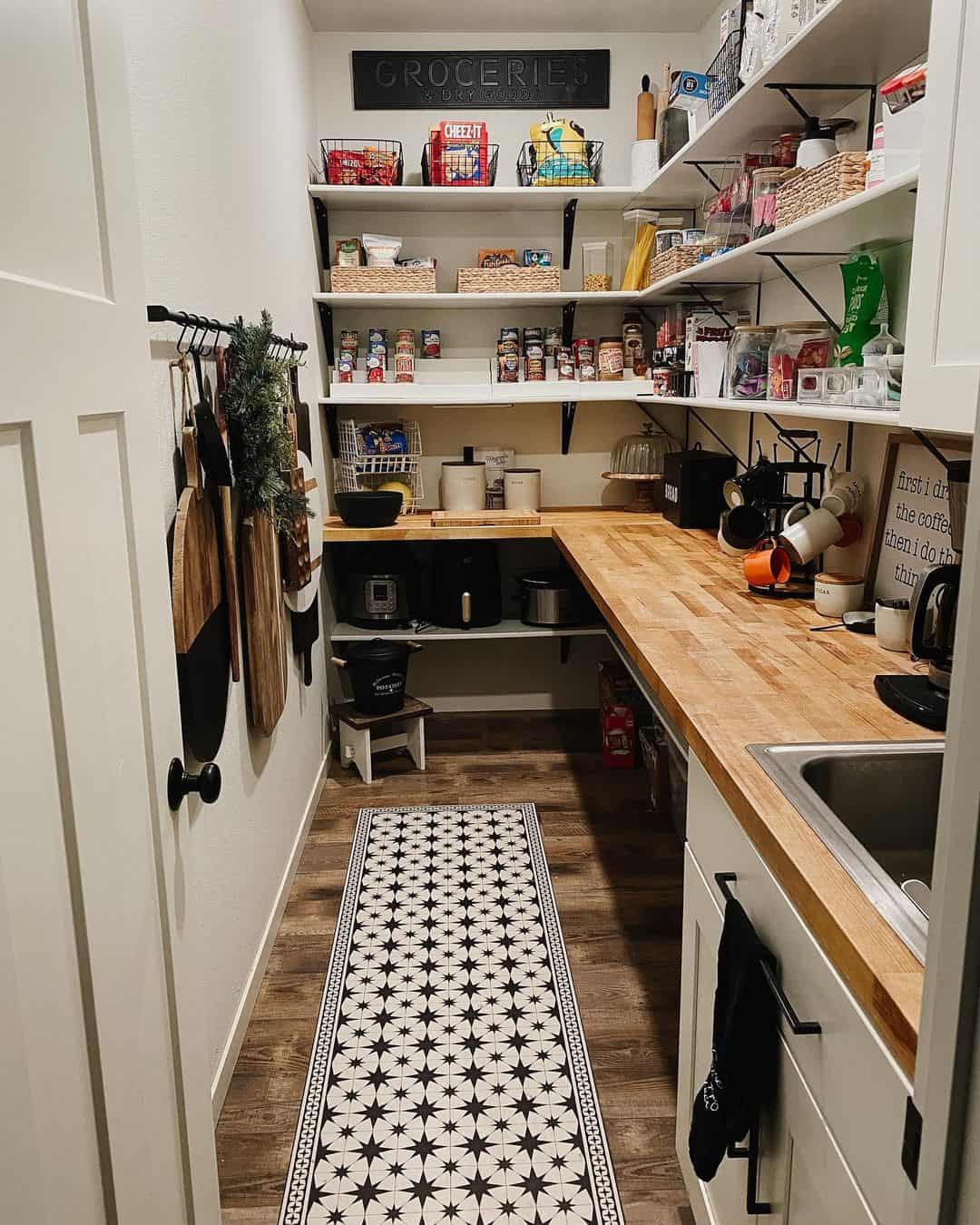 Credit: @oursodakfarmhouse
Shop the Look
Maximizing Kitchen Corners
For added storage or to showcase your decorative items, consider adorning your kitchen corners with floating shelves. These space-saving shelves harmoniously align with your kitchen cabinets and create an alluring backdrop over the backsplash. The color and material of the shelves can further enhance your existing decor.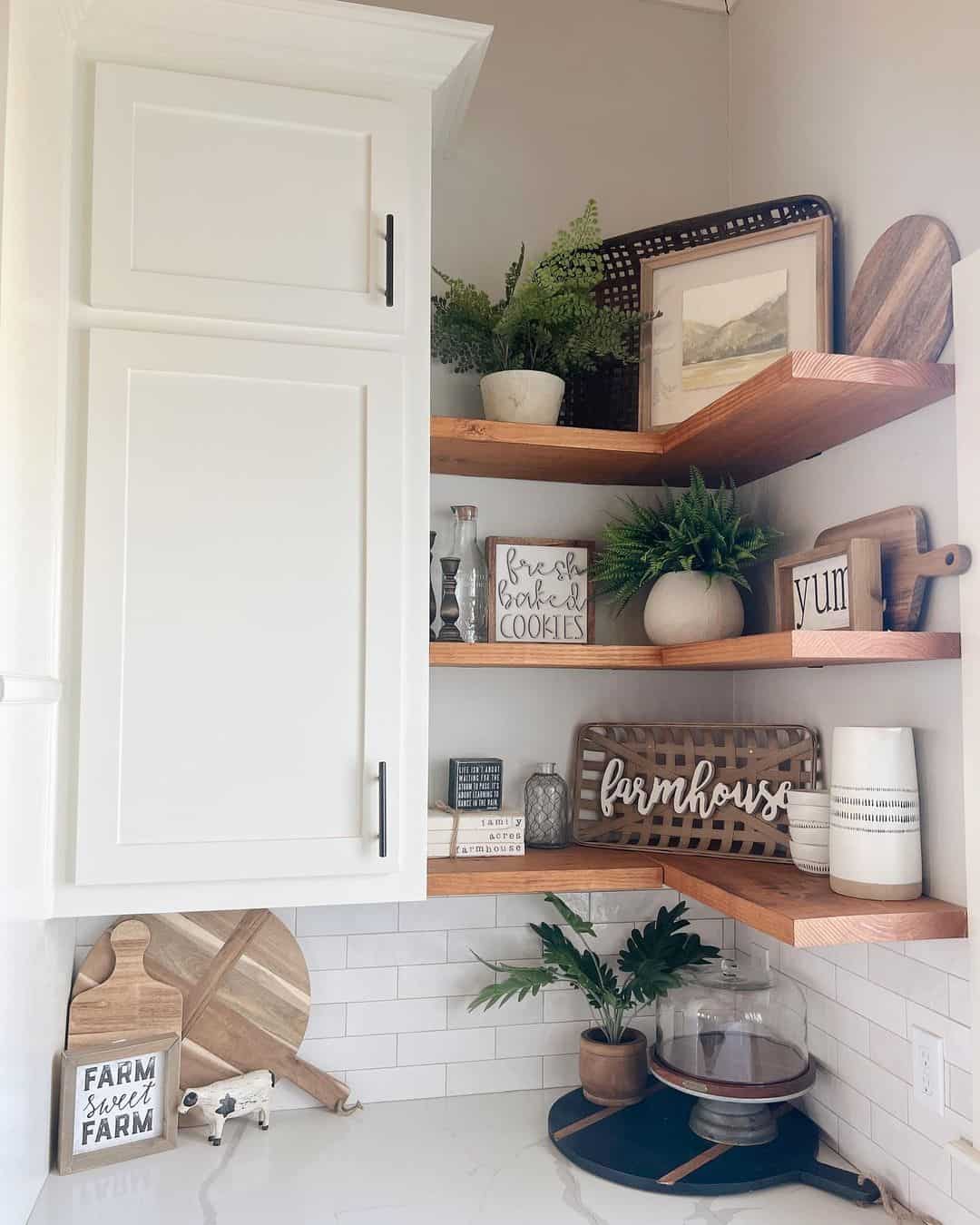 Credit: @familyacresfarmhouse
Shop the Look
Illuminated Kitchen Displays
Adopt a contemporary twist in your farmhouse decor with the inclusion of a stylish gray island, boasting a marbled white countertop extension that offers extra seating options. Paired with a couple of natural wood stools, this island seamlessly infuses the rustic charm your kitchen desires. Elevate your decor game by incorporating built-in lighting to accentuate your favorite accessories.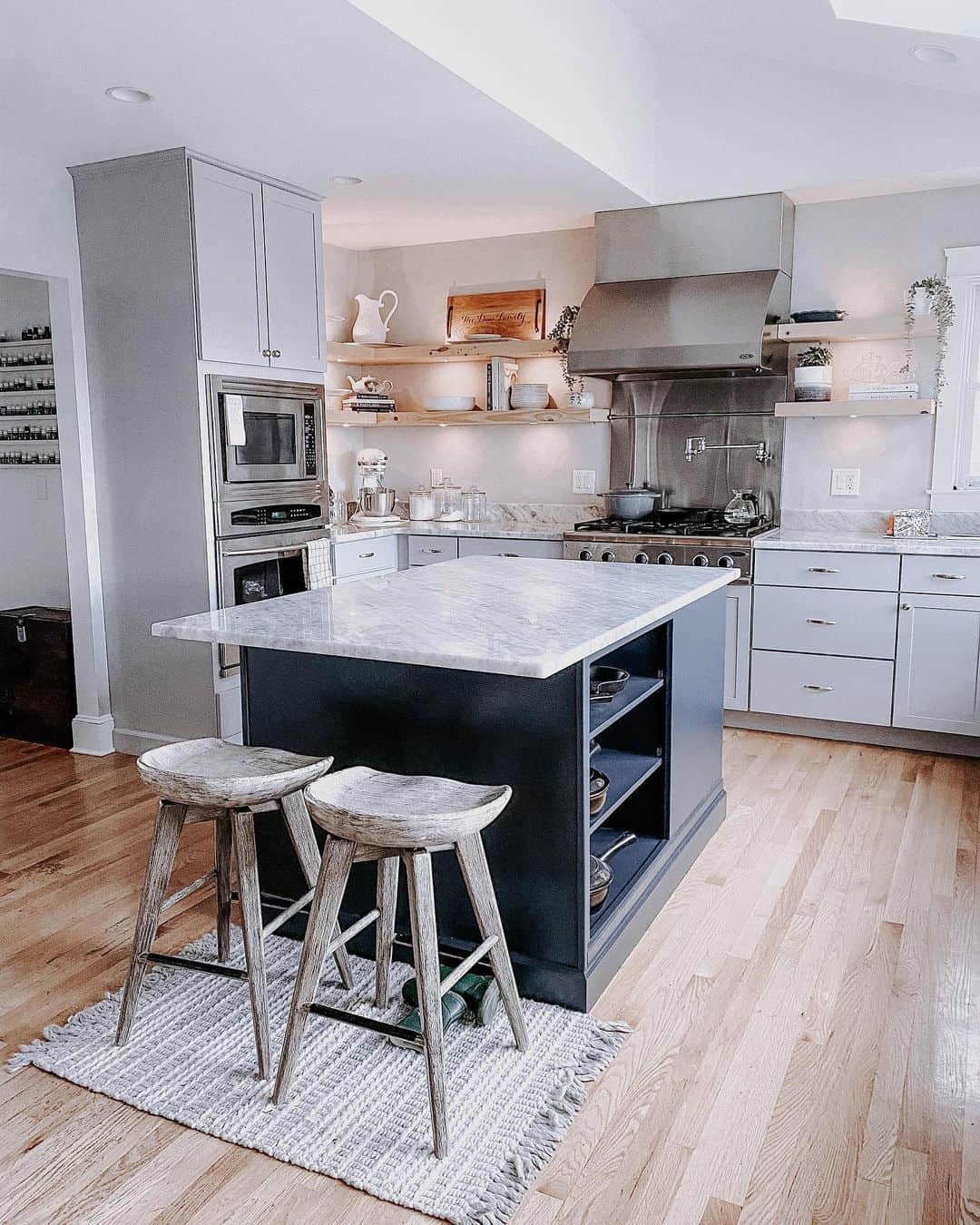 Credit: @aliciaann_home
Shop the Look
Chic White Farmhouse Elegance
At the heart of this kitchen, a rustic white table takes center stage, surrounded by matching chairs that perfectly complement the room's aesthetic. The shelving design seamlessly integrates with sturdy white brackets providing unwavering support. An antique chandelier adds a touch of opulence, casting a luxurious aura over the dining area.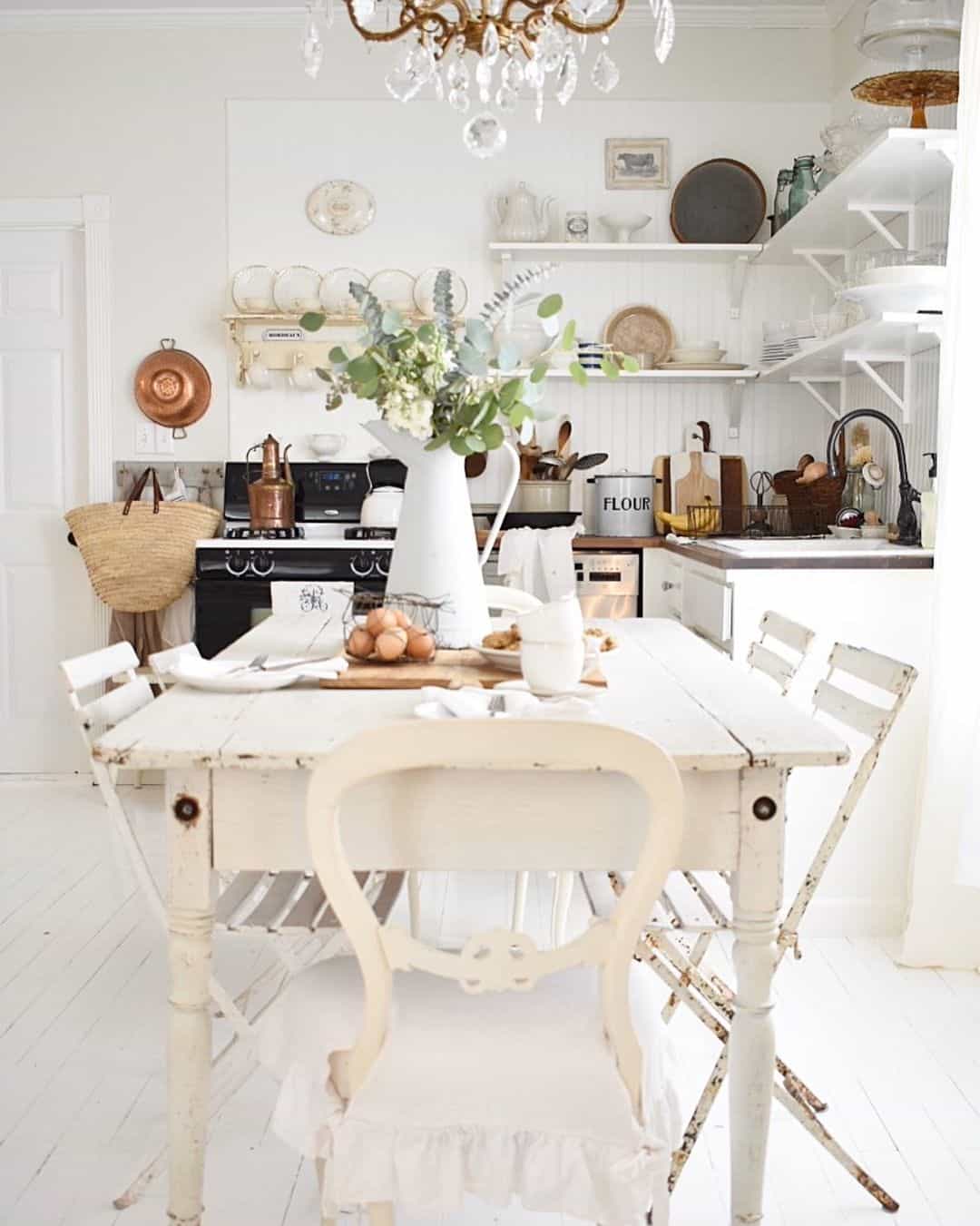 Credit: @myriversidefrenchcottage
Shop the Look
Welcoming Wood Accents
A beautiful wood frame adorns the kitchen entrance, embracing the cozy farmhouse decor with grace. A vase of pink flowers on the kitchen island adds vitality to the space. For a harmonious touch, contemplate the addition of wall-mounted bars alongside the shelves, providing a stylish platform to showcase serving boards and small decorative items.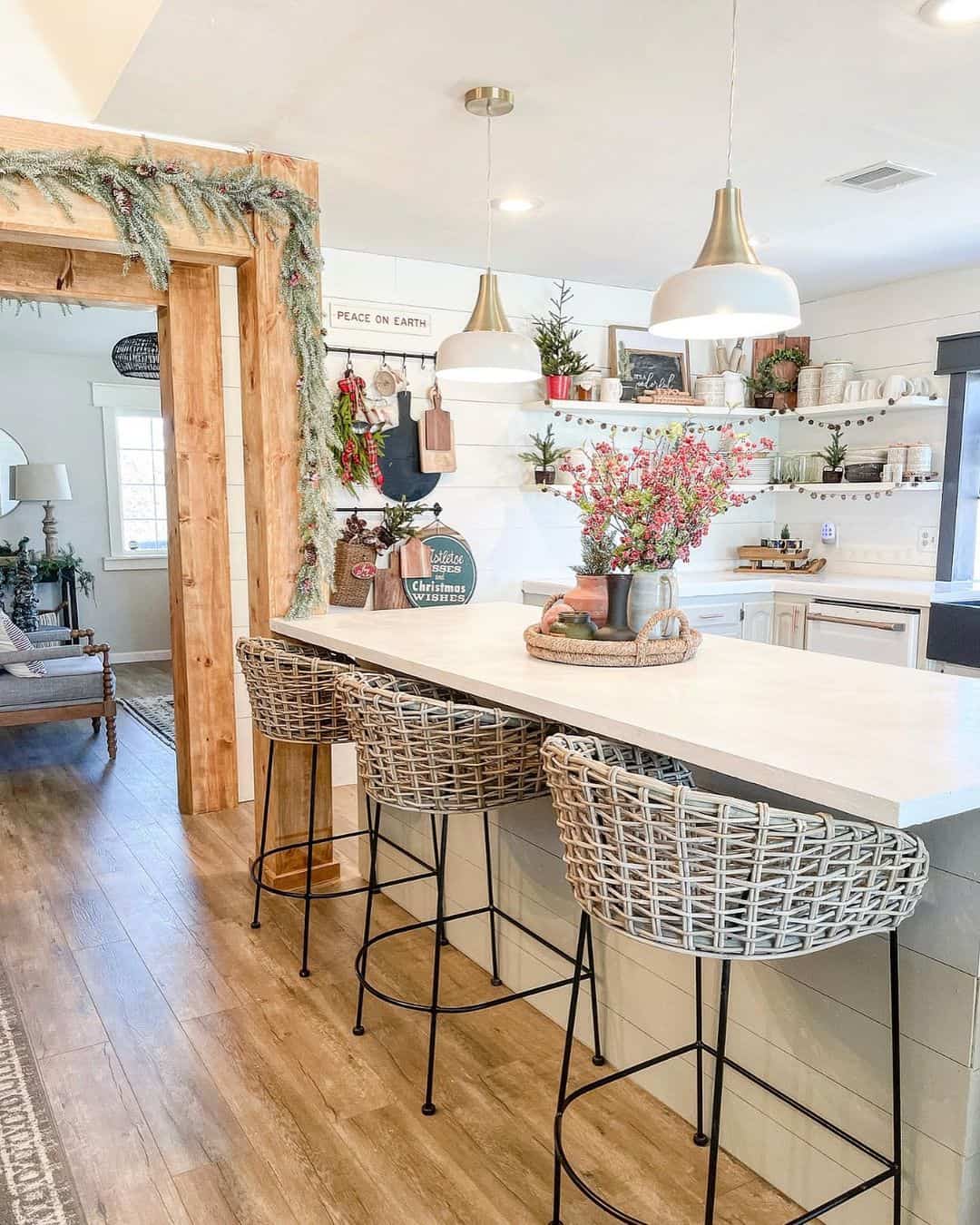 Credit: @davia_at_home
Shop the Look
Seasonal Coffee Bar Charm
Infuse a dash of seasonal magic into your cozy coffee bar with spooky decorations that remind us of the transformative power of seasonal decor. Even the coffee mugs join the festivities, adorned with adorable black and white ghosts. Given the compact space, a single white shelf graciously hosts the bulk of these enchanting decorations.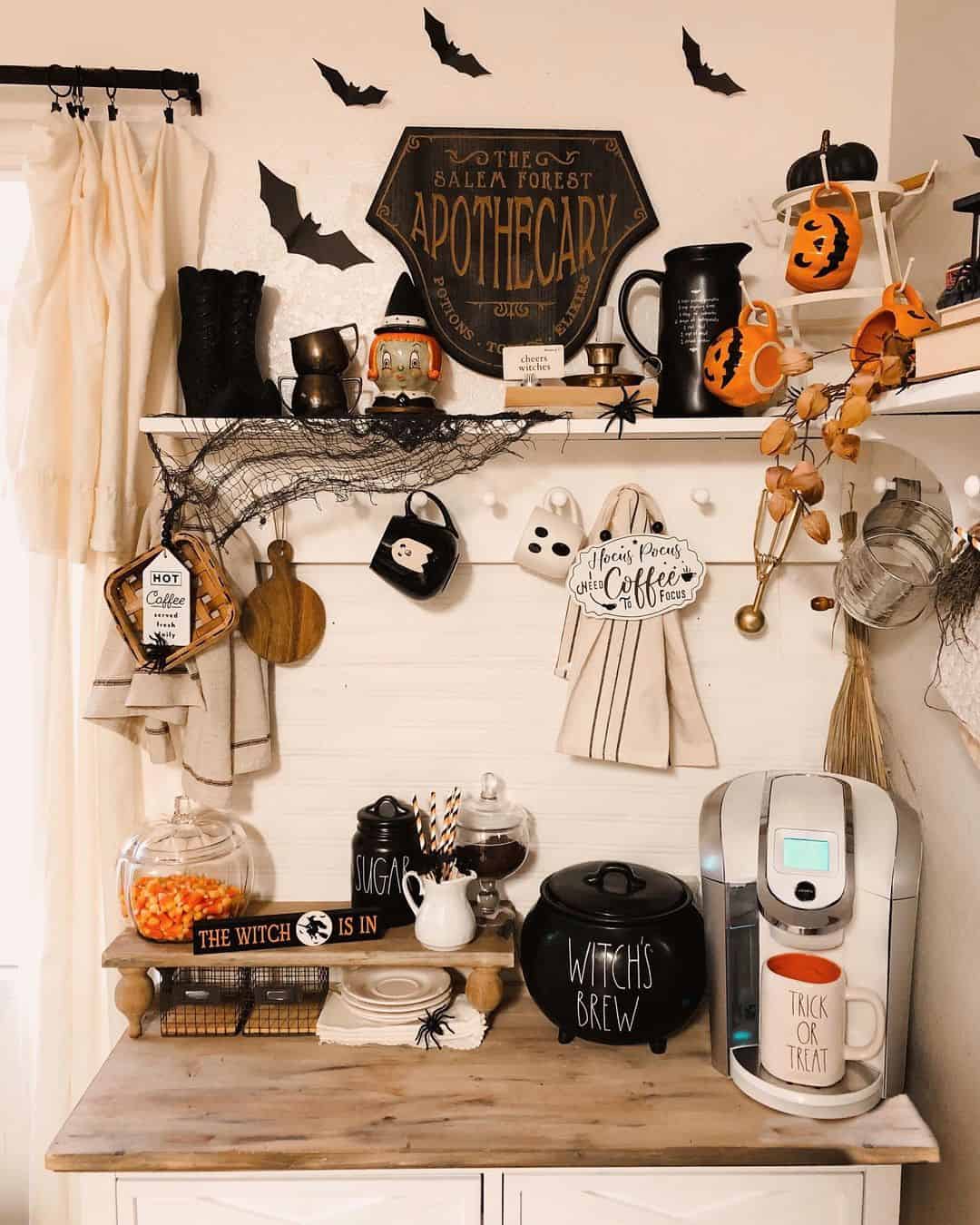 Credit: @mylittlefarmhouse.lv
Shop the Look
Corner Shelf Extravaganza
While closed cabinets are undoubtedly practical, consider adding sink curtains to infuse undeniable charm into your kitchen. A farmhouse sink serves as the perfect canvas for showcasing these delightful additions. Transform your compact kitchen with the delightful look created by utilizing corner shelves to decorate the walls.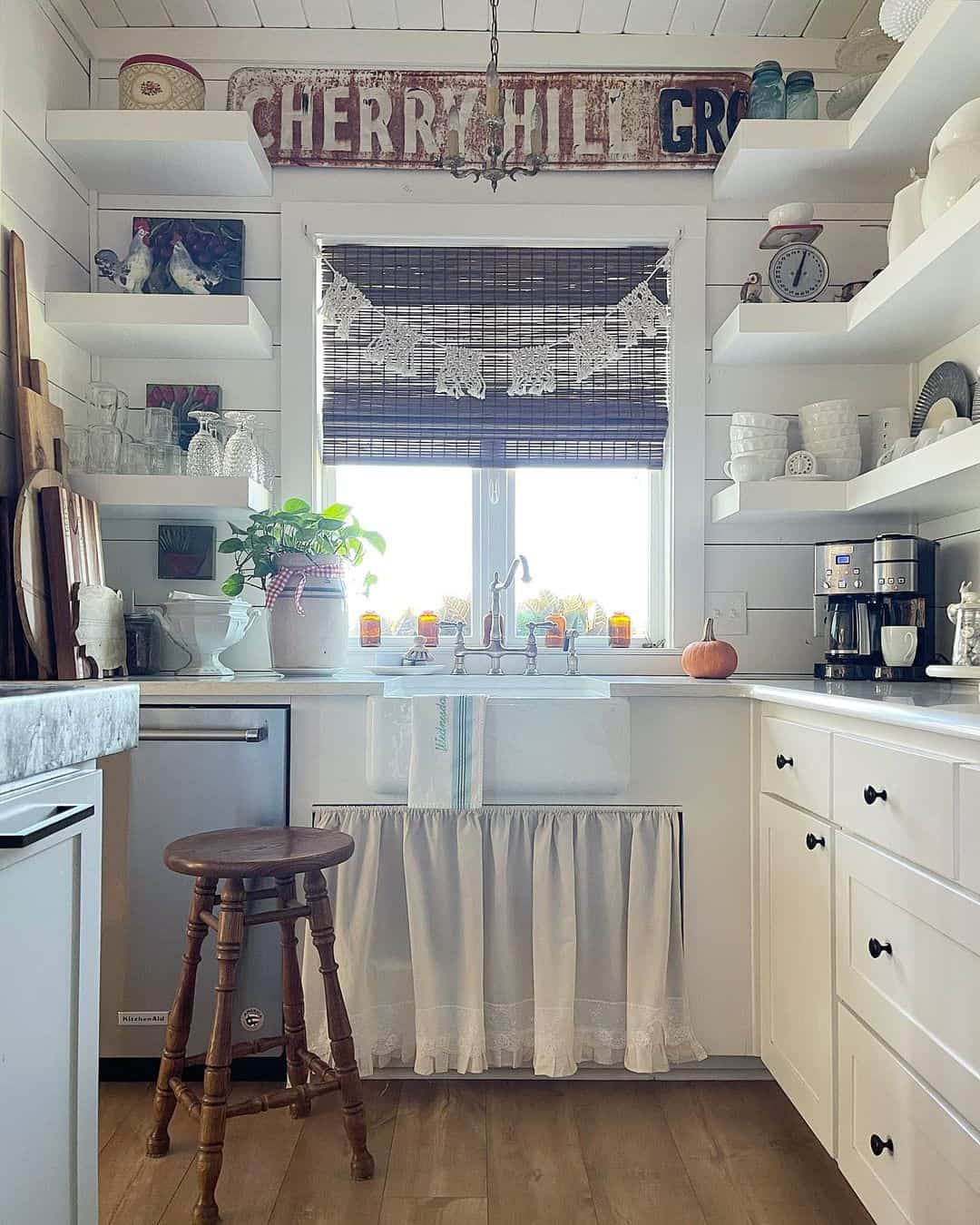 Credit: @cherry_hill_cottage
Shop the Look
Wrap-up
Incorporating functional corner shelves into your farmhouse-style home is a brilliant way to elevate both form and function. With these seven ideas, you'll not only optimize your space but also infuse your home with that unique rustic charm that defines farmhouse living. From the kitchen to the living room and beyond, these corner shelf solutions are sure to enhance your home's aesthetic and practicality.