7+ Cozy Corner Fireplace Ideas to Warm Up Your Farmhouse Living Room
Affiliate Disclosure: As an Amazon Associate we earn from qualifying purchases. Hence, if you click through and make a purchase, we will get a commission at no extra cost to you. For more info, read our full disclosure.
In the heart of your farmhouse living room, a cozy corner fireplace can be the quintessential focal point that exudes warmth and charm. To elevate your rustic haven, we've gathered seven fabulous fireplace ideas that will not only bring comfort but also add a touch of timeless elegance to your space.
These ideas are designed to create an inviting atmosphere that makes your farmhouse living room feel like home.
A Cozy Farmhouse Family Room Featuring an Exposed Stone Fireplace
Enhance your living space with the charm of a cozy farmhouse family room. Elevate the room's ambiance with an exposed stone corner fireplace framed by rustic wooden beams, creating a perfect blend of rustic and refined design elements. To add a personal touch, adorn the smooth white walls with a delightful collage of photos and introduce exposed wood panels to infuse classic and rustic aesthetics into the space.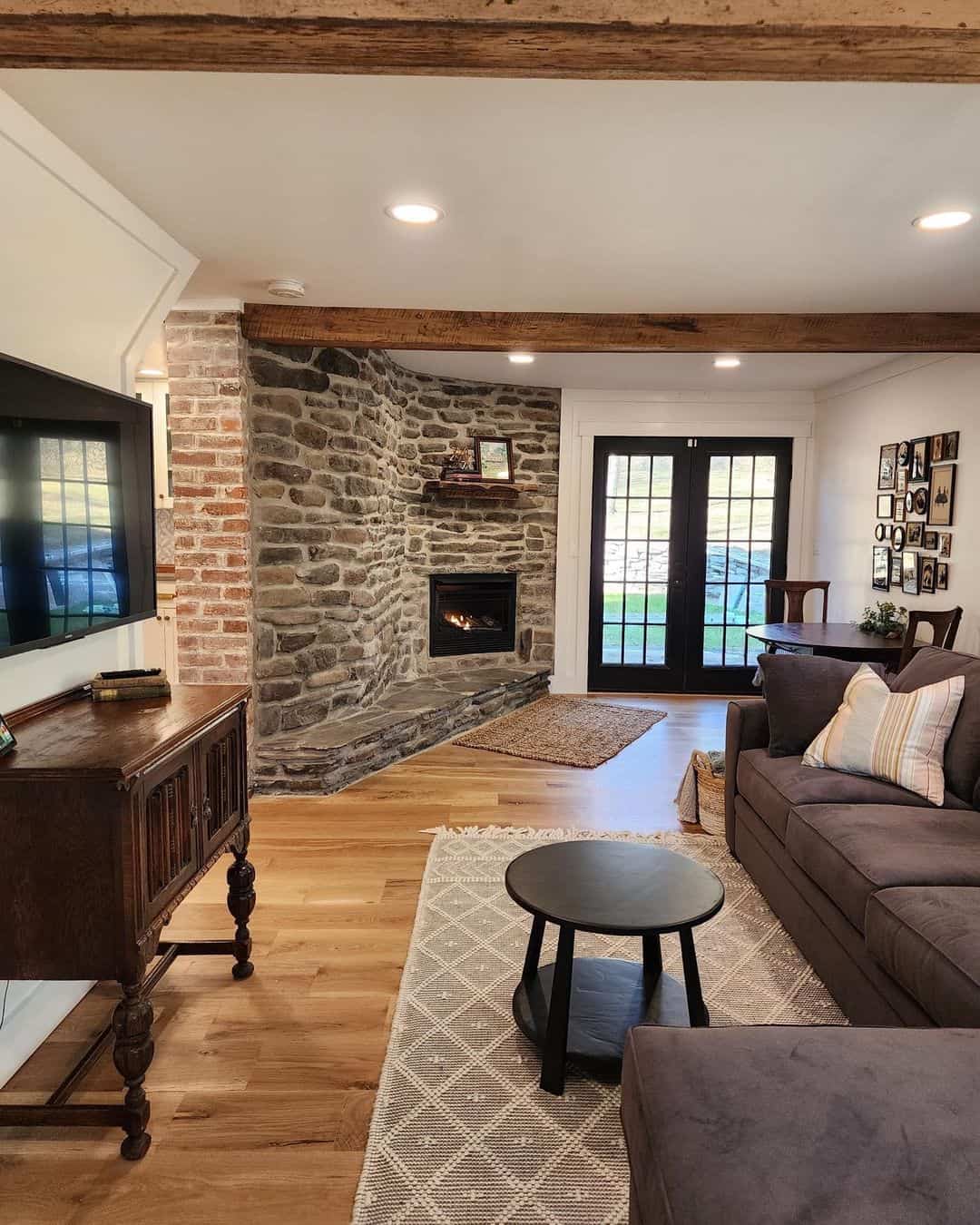 Credit: crazyfixerupper
Shop the Look
Embracing Neutrality in Your Living Room with a Black Fireplace
Transform your living room into a timeless oasis of elegance with a neutral color scheme and a striking black fireplace in the corner. The calm tones of the sofa and carpet are beautifully contrasted by the bold black fireplace, which features vertical shiplap and is complemented by a matching black coffee table. For a harmonious look, incorporate vintage elements such as candles and artwork.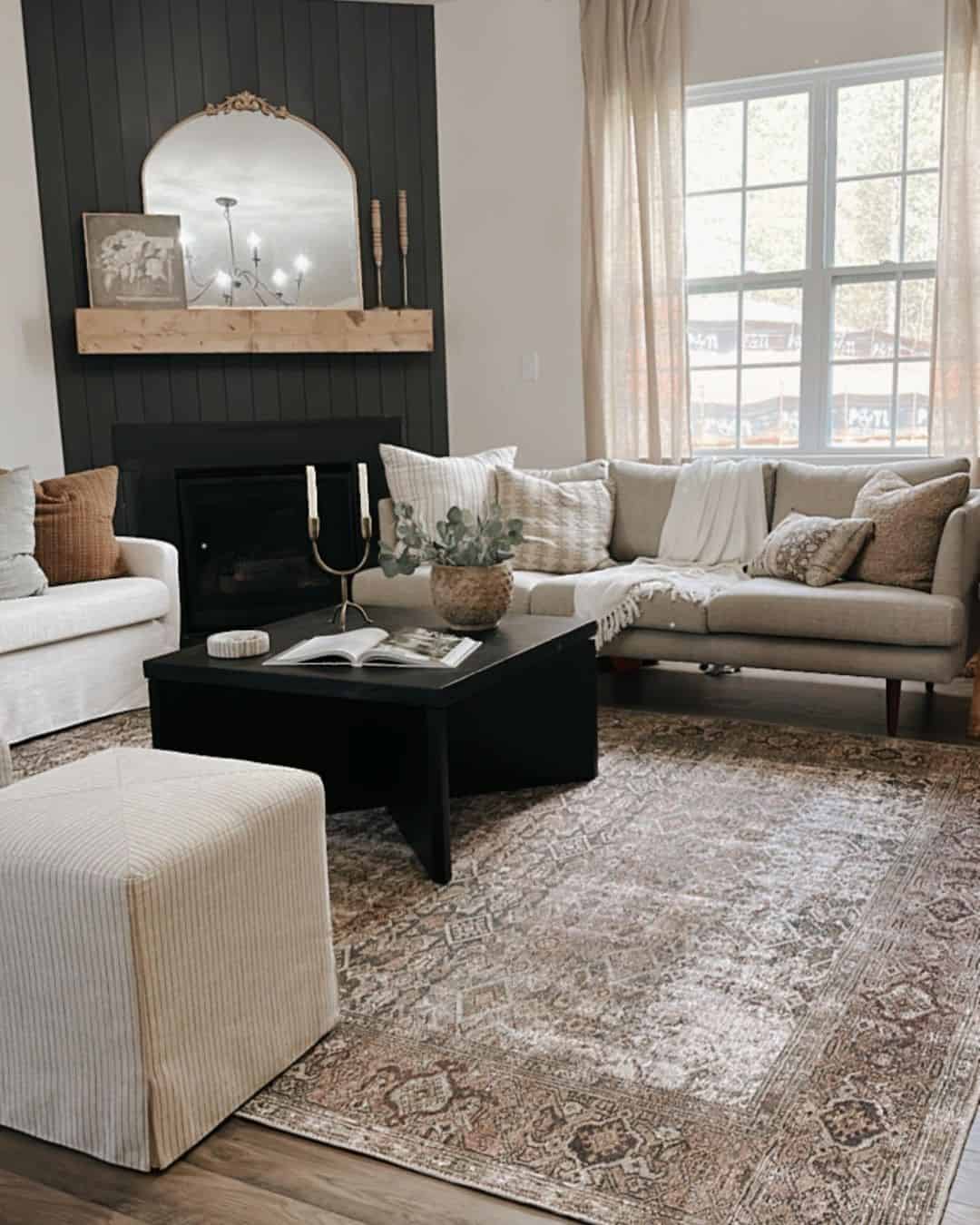 Credit: jessyrhome
Shop the Look
Infusing Green Vibes into Your Living Room with a White Fireplace
Bring the beauty of nature indoors with a green-themed living room featuring a white brick corner fireplace. Top it off with a wooden mantel, and layer an array of lush houseplants to create a fresh and inviting atmosphere. This botanical touch pairs seamlessly with rustic wood flooring and wooden furniture.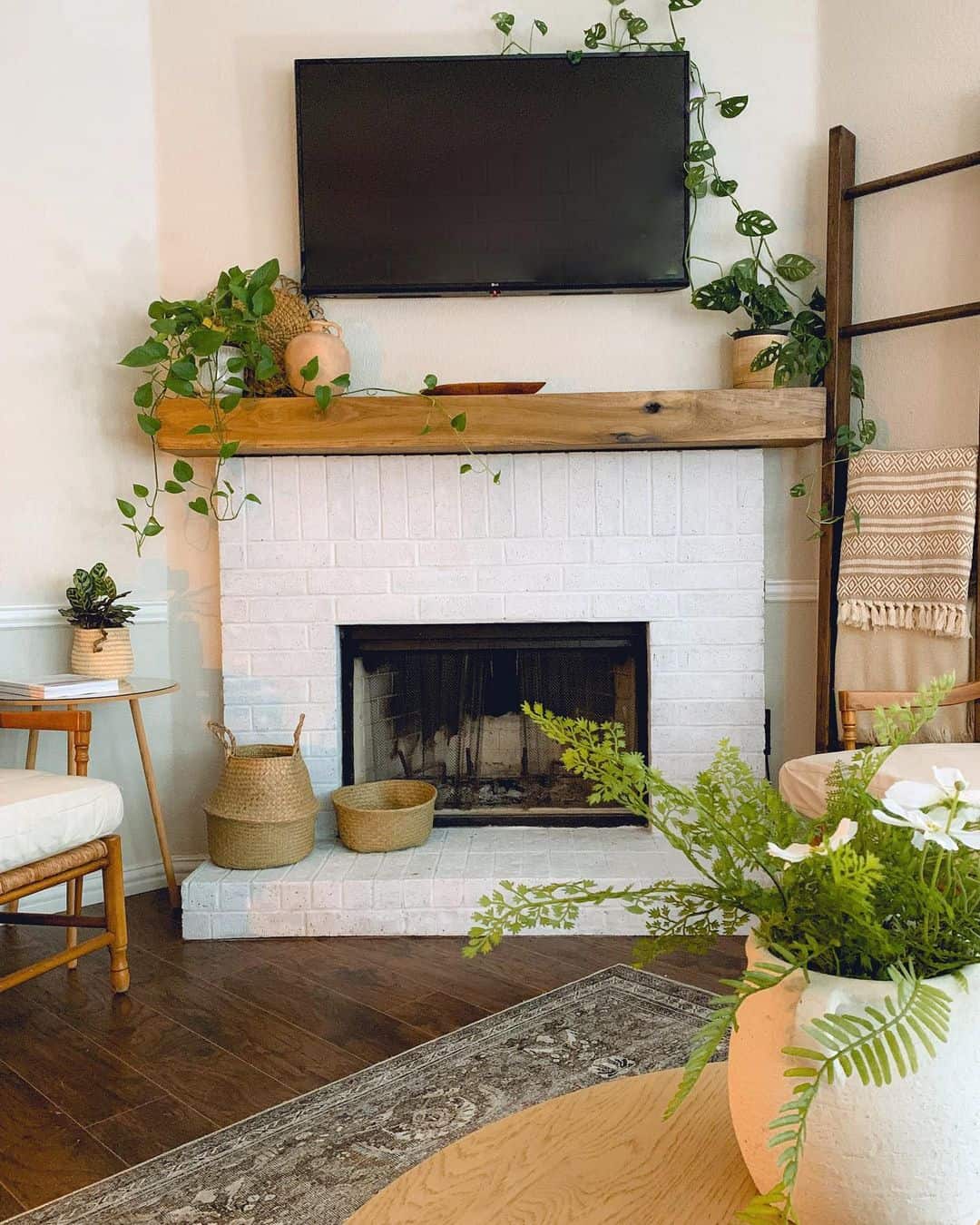 Credit: shannon.e.santiago
Shop the Look
Enhancing Cozy Farmhouse Vibes with Rattan Decor for the Fireplace
Transform your living space into a cozy farmhouse haven with a corner fireplace adorned with rattan accents. The addition of rustic, repurposed shutters above the mantel imparts a charming character to the room. Complete the look by pairing the fireplace with a neatly stacked bundle of firewood, artfully contained in a black-framed holder.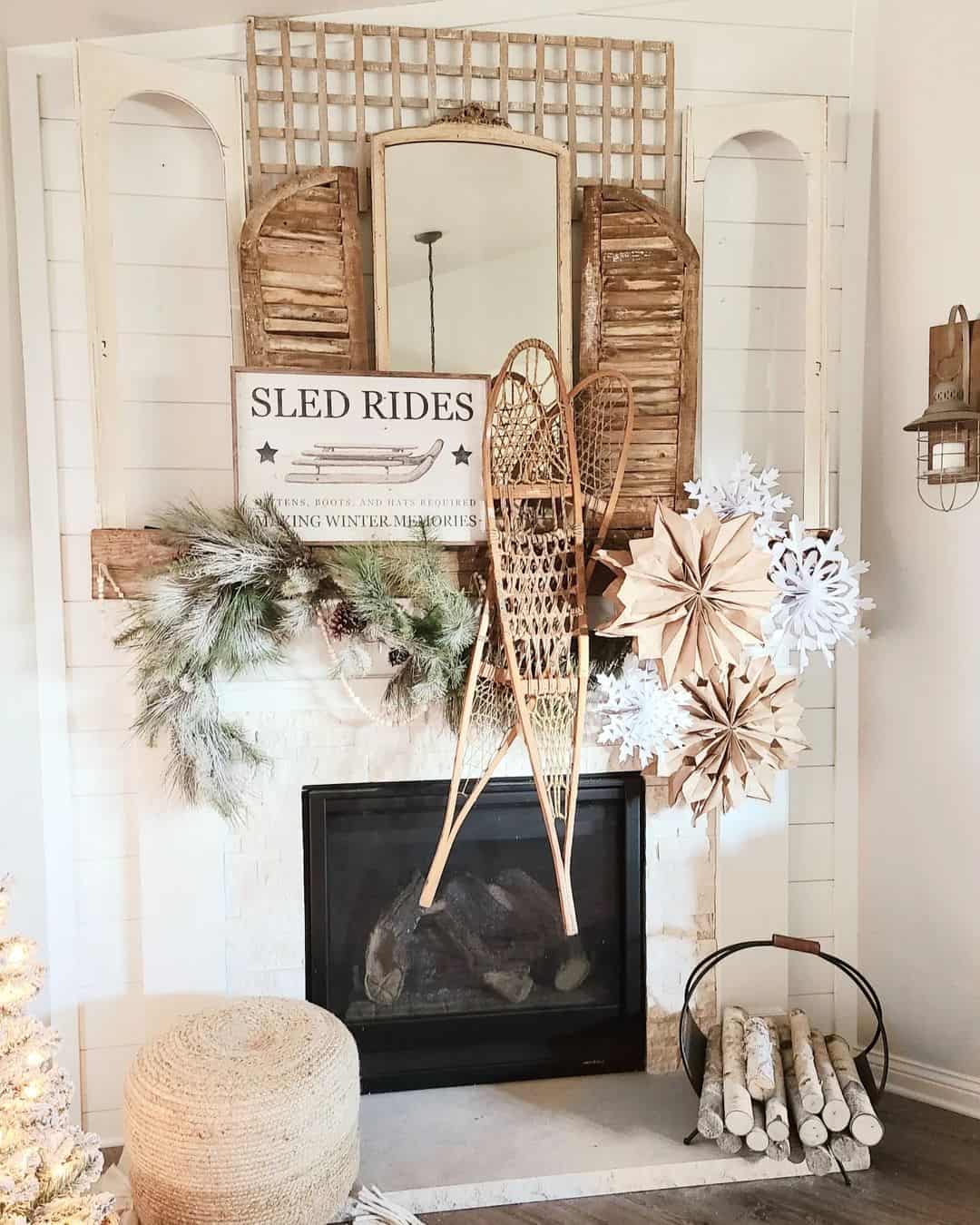 Credit: lrenzy.land
Shop the Look
Inspiring Farmhouse Fireplace Ideas
Embrace the quintessential charm of a farmhouse aesthetic with this fireplace inspiration. A charming stone fireplace becomes the centerpiece of your living room, exuding warmth and character. Complement it with seasonal decor elements and various farmhouse ornaments to create a cozy and inviting atmosphere.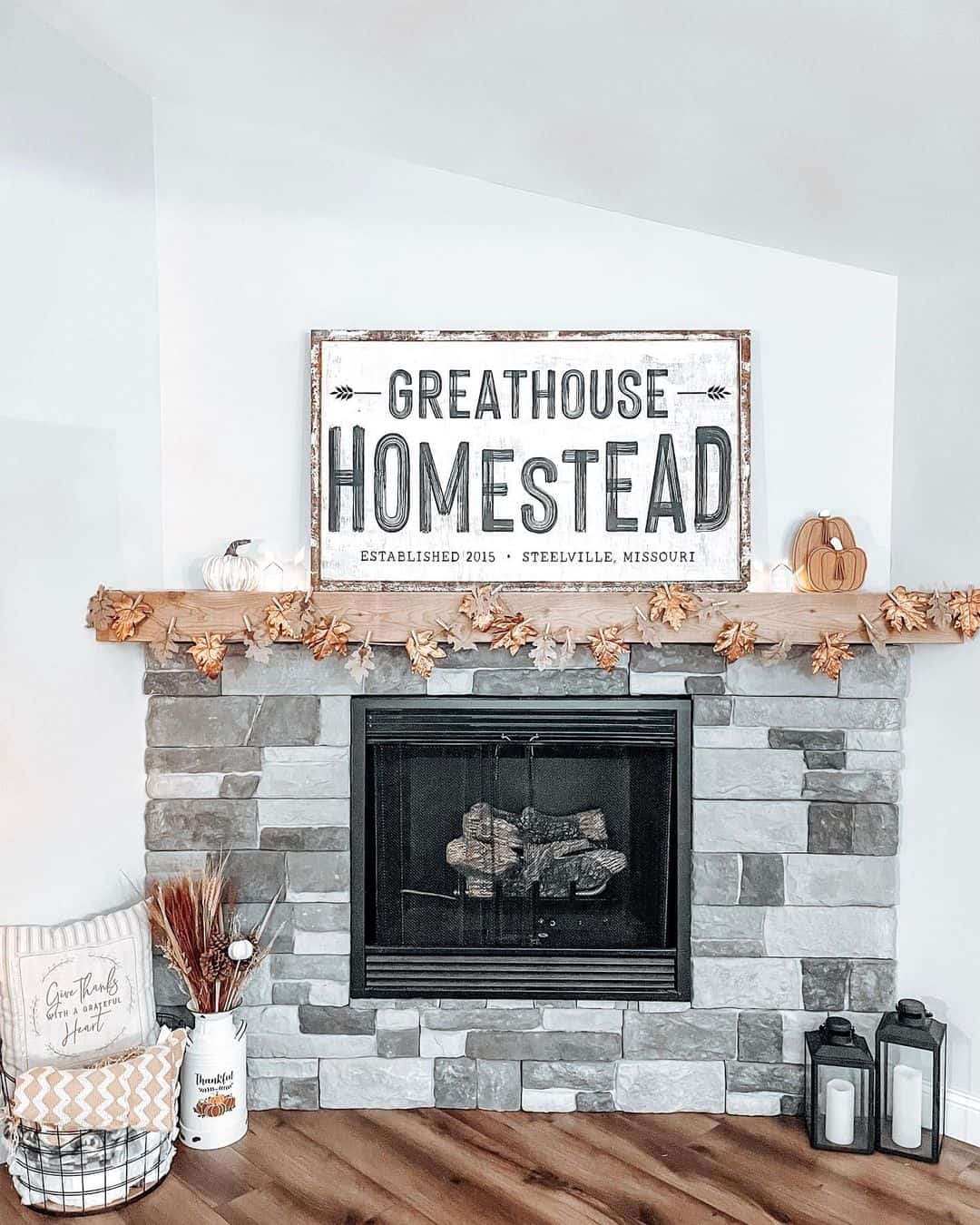 Credit: hickoryridgecharm
Shop the Look
A Festive Farmhouse Setting with a Stone Fireplace
Cozy up for the holiday season in a living room adorned with a stone fireplace as its focal point. Surround it with rustic farmhouse decor and a palette of soothing neutral tones. Arrange plush sofas near the window, creating the perfect cozy zone for celebrating the festive season.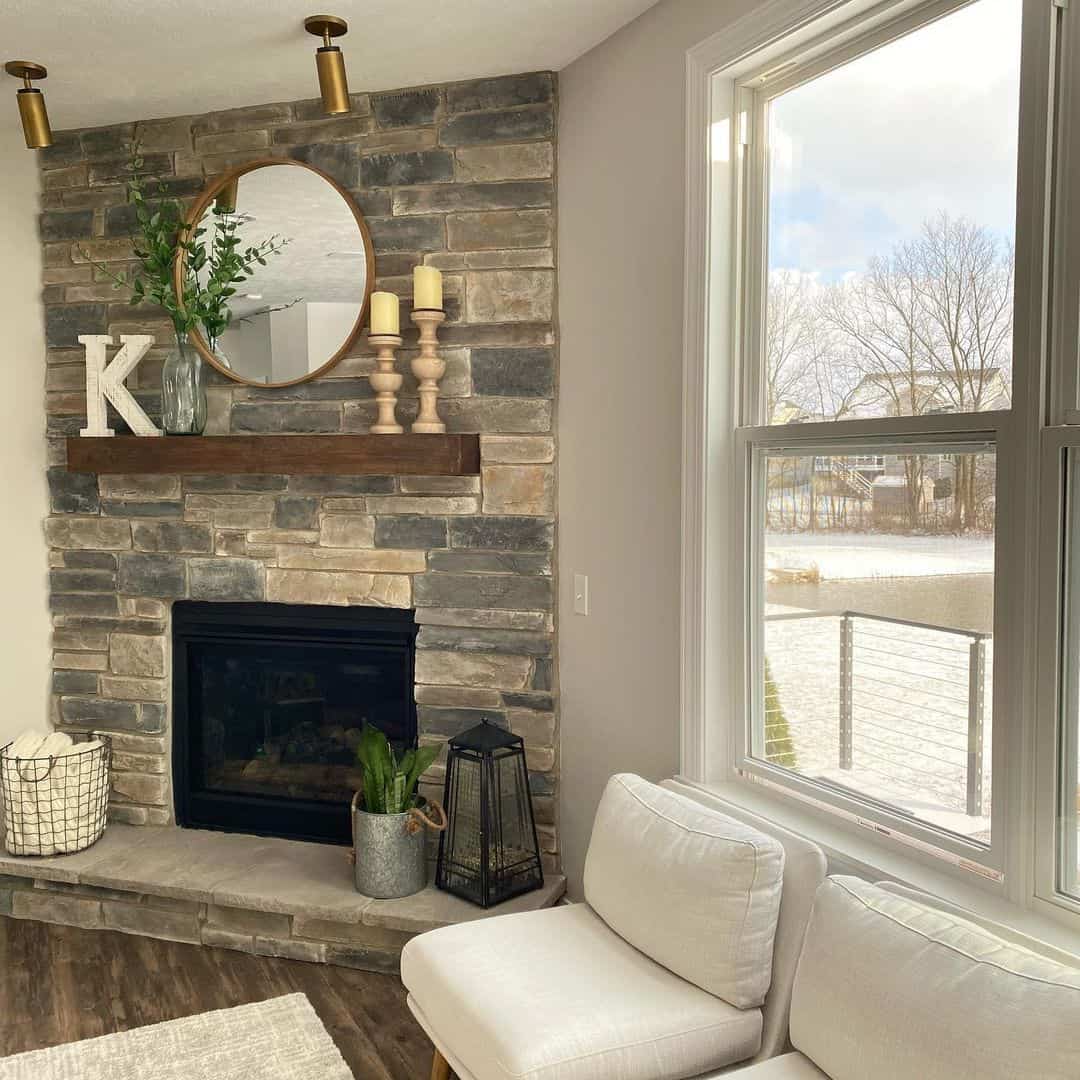 Credit: plankandpineapple
Shop the Look
Creating an Autumn Farmhouse Aesthetic in Your Living Room
Infuse your living room with the cozy charm of autumn and farmhouse style. Enhance the corner fireplace by adorning the mantel with a vibrant garland of fall leaves, evoking the spirit of the season. Elevate the room's ambiance by incorporating various farmhouse decor elements throughout the space.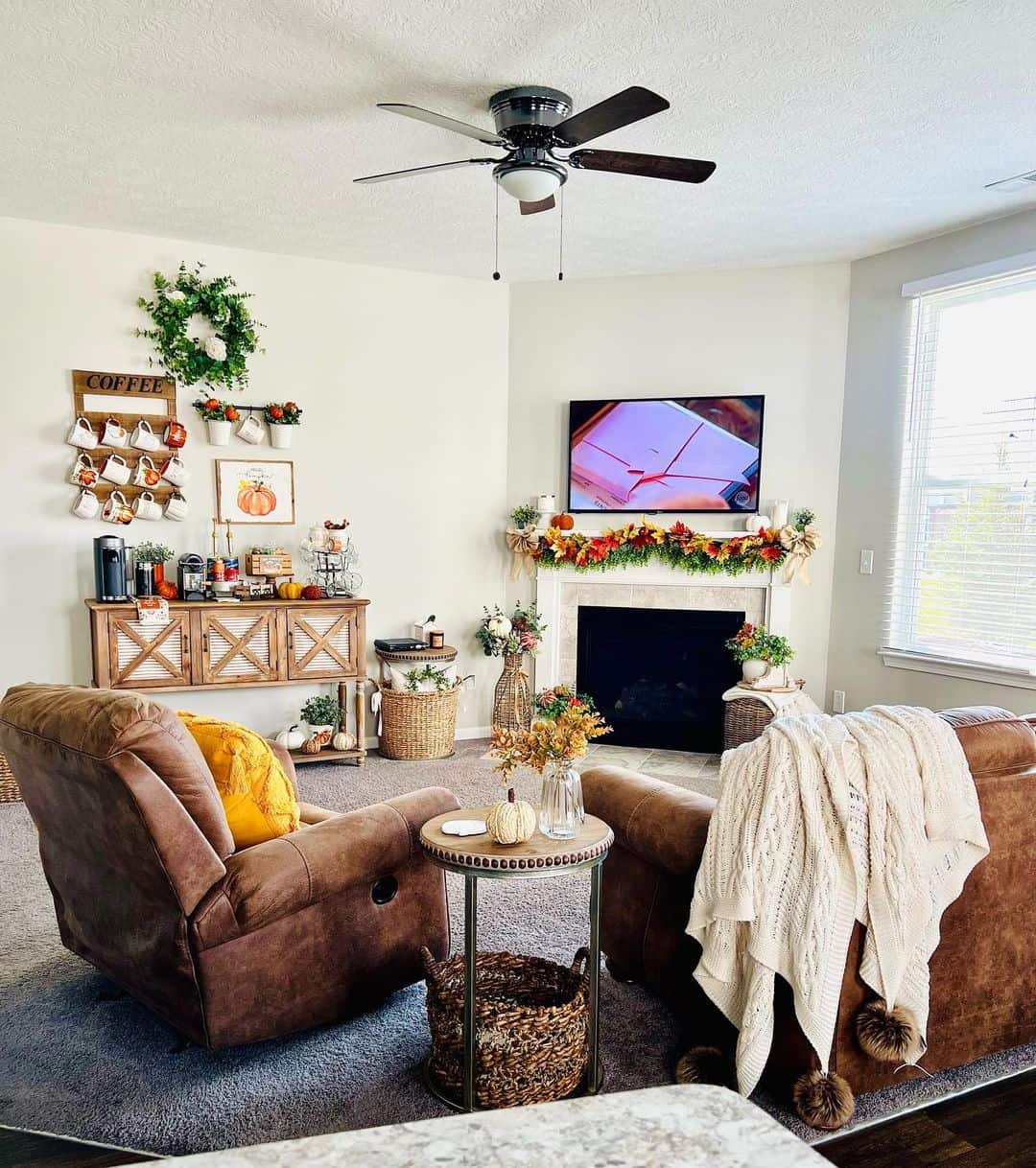 Credit: carmensmakingthishouseahome
Shop the Look
A Minimalist Living Room with Jet Black Console Table and White Fireplace
Achieve a sense of organization and minimalism in your black-and-white themed living room. Introduce a sleek jet-black console table to complement the natural oak flooring. Complete the look by adding a textured white fireplace in the corner, creating a minimalist yet refined aesthetic.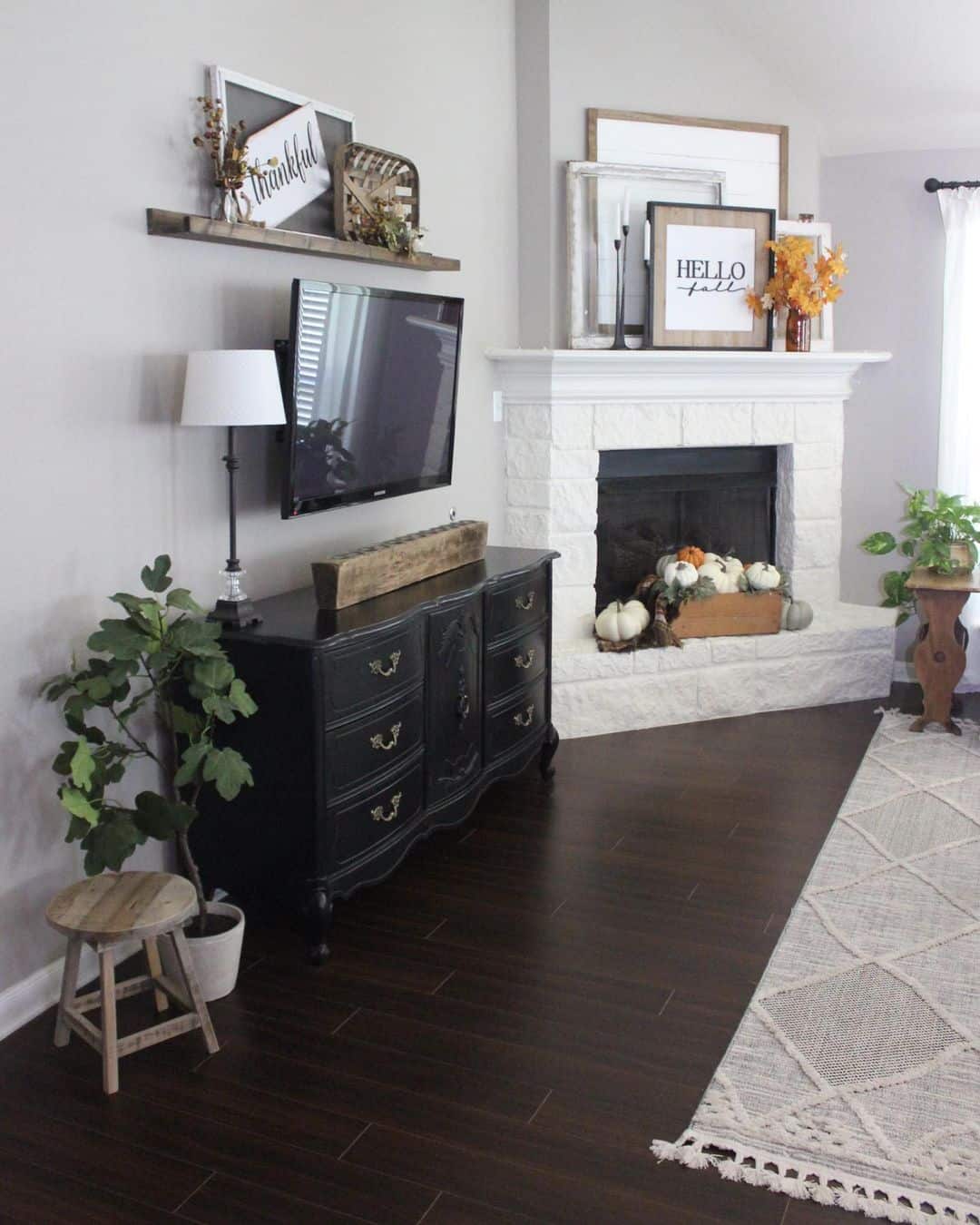 Credit: faithfootballandfairytales
Shop the Look
Wrap-up
Cozy corner fireplaces have an inherent ability to transform the ambiance of any farmhouse living room. They infuse warmth, character, and a rustic allure that's hard to resist. By exploring these seven fireplace ideas, you've embarked on a journey to create the perfect cozy sanctuary in your farmhouse.
As you implement these ideas, you'll discover the delightful fusion of comfort and style, making your living room the heart of your home.