7+ Perfect Curtain Inspirations to Revamp Your Farmhouse Living Room
Affiliate Disclosure: As an Amazon Associate we earn from qualifying purchases. Hence, if you click through and make a purchase, we will get a commission at no extra cost to you. For more info, read our full disclosure.
Transforming your farmhouse living room into a cozy haven of style and comfort is easier than you might think. One key element that can instantly revamp your space is choosing the perfect curtains. Curtains not only offer privacy and shade but also serve as stylish design elements.
In this blog, we've curated seven-plus curtain inspirations that will breathe new life into your farmhouse living room. From rustic charm to modern elegance, discover how the right curtains can elevate your home's aesthetic.
Texture and Color Symphony
Immerse yourself in the world of texture and color, as this delightful farmhouse space weaves them together seamlessly. Picture an inviting armchair complemented by vintage and floral accents. Elevate the room's vibrancy by framing the window with red and white floral and checkered curtains, adding a tactile dimension. Meanwhile, the sunny yellow walls offer a warm contrast, and the cozy wood flooring brings everything together for an inviting and relaxing atmosphere.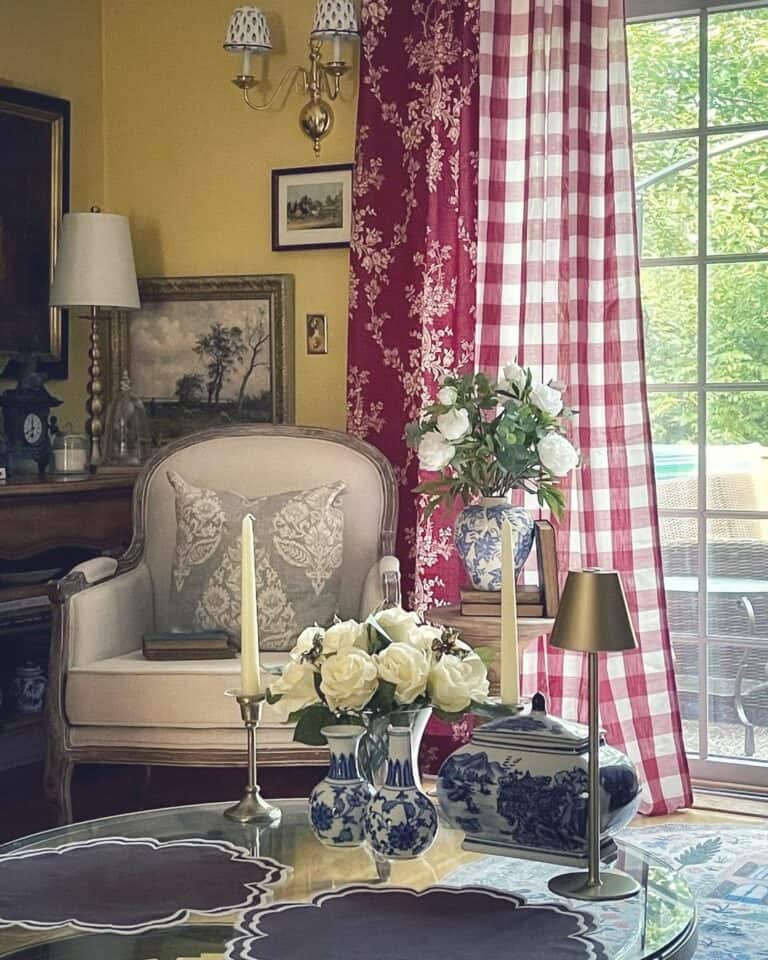 Credit: thefrenchcountryfarmhouse
Shop the Style
Boho Euphoria
Embark on a journey of bliss within this boho-inspired haven, where white furnishings are adorned with vintage touches and carefully placed florals. Elevate the ambiance with splashes of blue boho accents and decorative white urns adorned with fall-themed decor. Maintain the aesthetic by dressing your window in boho-patterned drapes, harmonizing them with the pristine white walls and wood flooring for a well-balanced look.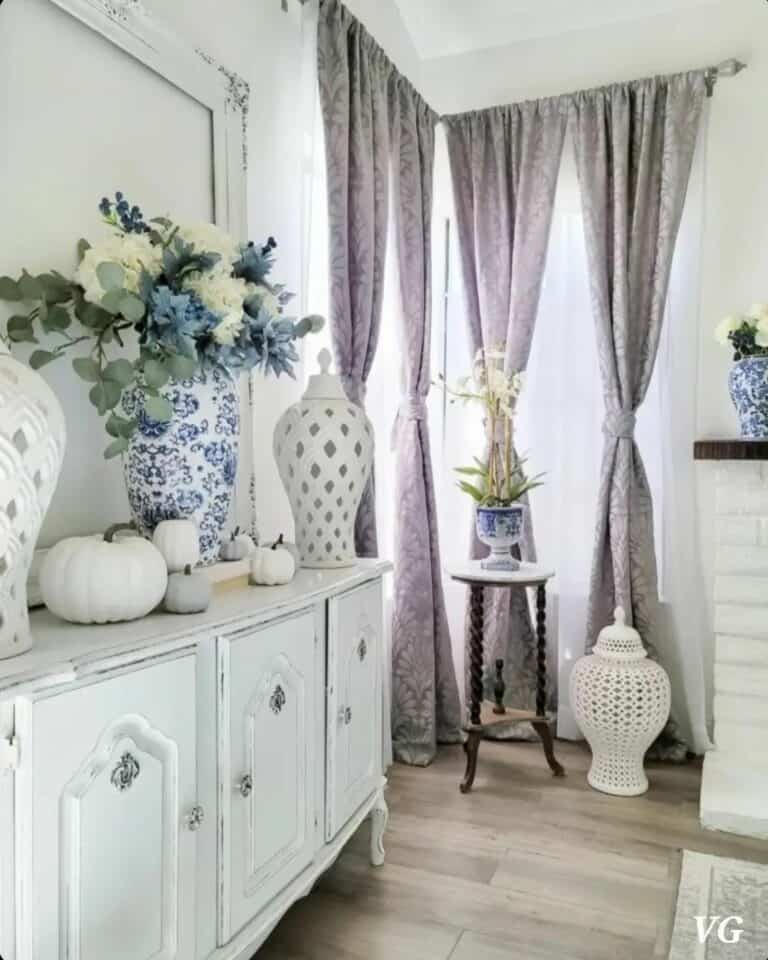 Credit: vintagechicdecor
Shop the Style
Vintage Charisma and Farmhouse Allure
Allow the enchanting allure of farmhouse charm and vintage aesthetics to take center stage in this captivating space. Featuring white furnishings adorned with vintage accents, the room exudes elegance. Draw the eye with soothing gray walls and seamlessly blend the window with the room using white sheer curtains, minimizing distractions. Soft lighting and a textured area rug atop dark wood flooring come together to create a truly unique and inspired space.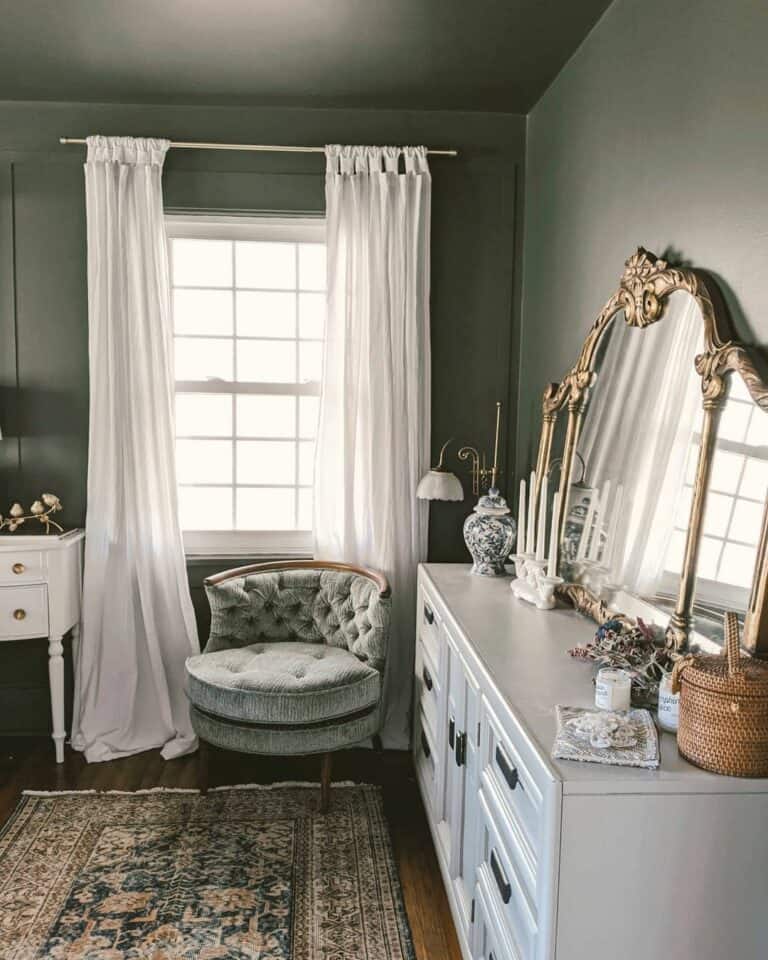 Credit: thelittledovehome
Shop the Style
Farmhouse Coziness Meets Boho Vibes
Combine the inviting comfort of farmhouse charm with the spirited vibes of boho style in this thoughtfully styled living room. Warm wood furnishings harmonize with accents of serene blue boho decor. Foster a pleasant atmosphere with soft lighting and boho-inspired drapes, accented by carefully placed decor. Soft white walls provide a calming contrast, resulting in a harmonious and tranquil space.
Credit: theboglecottage
Shop the Style
Elegant Drapery Inspirations
Embrace elegance within this opulent sitting area featuring a textured armchair, lush potted greenery, and warm wood furnishings. Create a serene ambiance by framing a bay window with muted drapes, allowing for a restful space. Complete the picture with taupe walls and plush white carpeting for a truly relaxing design.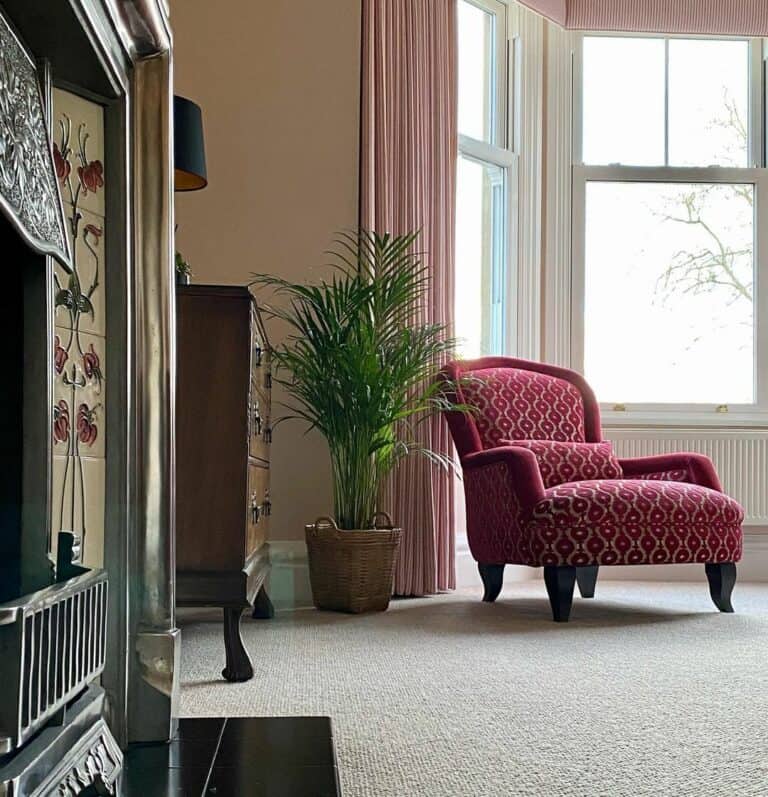 Credit: thegarthhome
Shop the Style
Rustic Festivities With Cozy Appeal
Revel in the festive spirit while immersing yourself in rustic farmhouse grace, replete with distressed pieces and cozy accents for a distinctly primitive charm. Enhance the cozy atmosphere with the warm glow of lit candles, tasteful wicker accents, and carefully arranged greenery. Seamlessly blend the window with neutral drapes and finish with warm flooring, achieving a harmonious space with rustic, homespun character.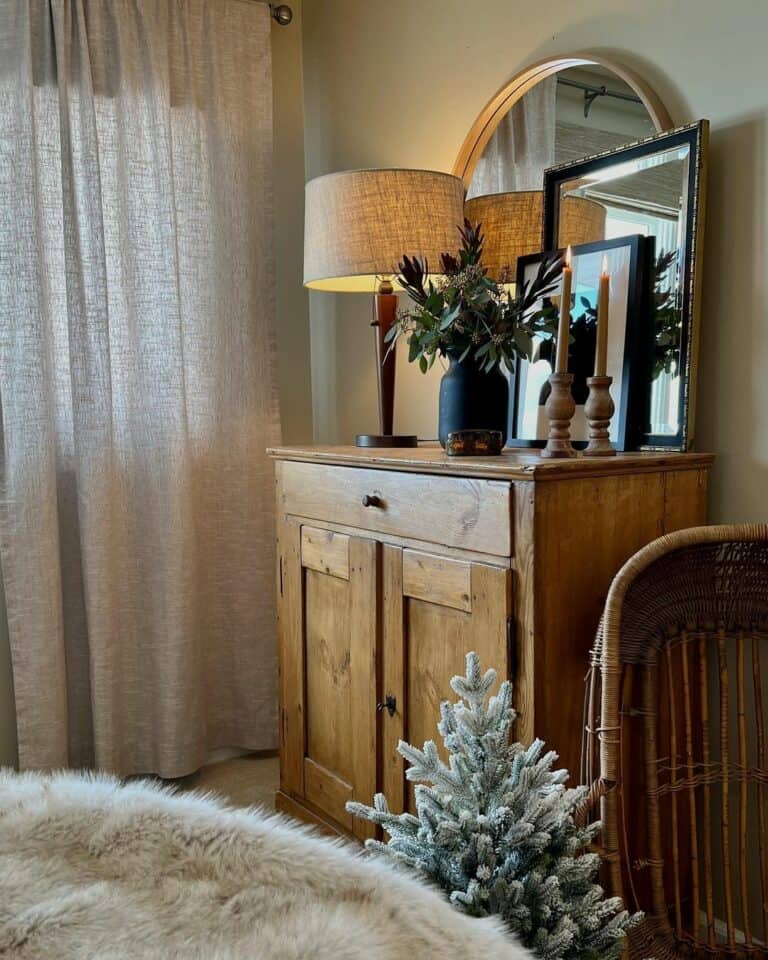 Credit: transitionmode.llc
Shop the Style
Monochromatic Elegance in the Farmhouse Family Room
Experience the allure of a monochromatic palette in this chic and contemporary farmhouse family room. Various shades of gray furniture and farmhouse decor converge, creating a sophisticated atmosphere. An elegant, floor-to-ceiling curtain adorned with a subtle geometric print adds a touch of visual intrigue to this otherwise understated space.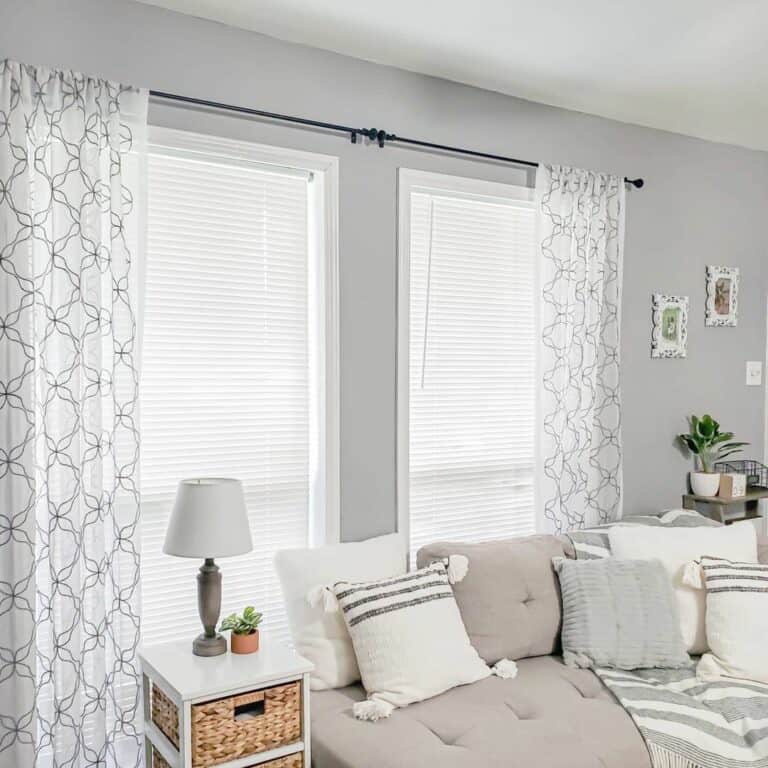 Credit: yasminnnie
Shop the Style
Simple Elegance in a Cozy Retreat
Unwind and embrace the beauty of simple elegance within this bedroom, tastefully styled with soft colors and white rustic furnishings. Delight in the tranquil ambiance heightened by soft textures and artfully placed accents. Seamlessly blend the large window with neutral drapes against a backdrop of soft white walls and white wood flooring, creating a peaceful and inviting haven.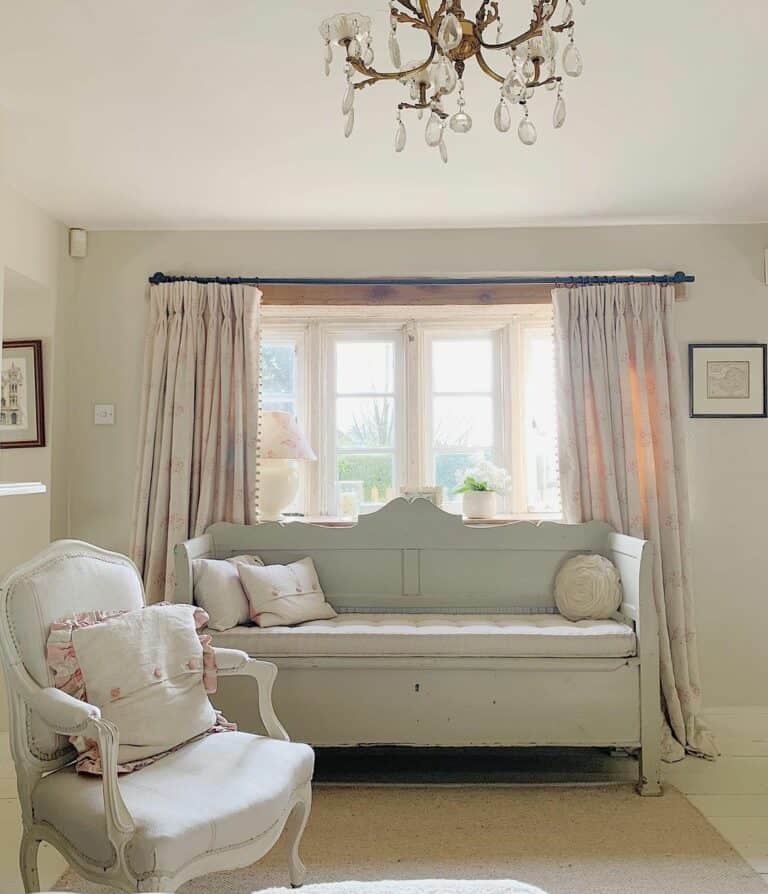 Credit: thelittlecornercottage
Shop the Style
Wrap-up
Incorporating the right curtains into your farmhouse living room design can make a world of difference. These curtain inspirations we've shared encompass a wide range of styles, ensuring there's something for every farmhouse aesthetic.
Whether you're drawn to rustic, boho, or contemporary vibes, the right curtains can tie your entire room together, adding warmth and personality.
So, don't underestimate the power of this often-overlooked element when it comes to revamping your living space.