7+ Ideas for Revamping Your Space with a Farmhouse Style Entertainment Center
Affiliate Disclosure: As an Amazon Associate we earn from qualifying purchases. Hence, if you click through and make a purchase, we will get a commission at no extra cost to you. For more info, read our full disclosure.
Transforming your living space into a cozy haven with a touch of rustic charm has never been easier. Farmhouse style is all the rage, and a key element to achieving this aesthetic is a well-curated entertainment center.
In this blog, we're about to unleash 7+ innovative ideas to revamp your space using a farmhouse-style entertainment center. Get ready to infuse warmth, character, and timeless elegance into your home.
Farmhouse Wall Decor with Artistic Baskets
In this expansive white lounge, you'll discover a captivating farmhouse media console adjacent to a charming blanket ladder. Elevate the ambiance by adorning the coffee table with an artfully arranged tray of decorations to impress your guests as they relax on plush white sofas. The pièce de résistance? A collection of mounted baskets, transforming the wall into a captivating work of art.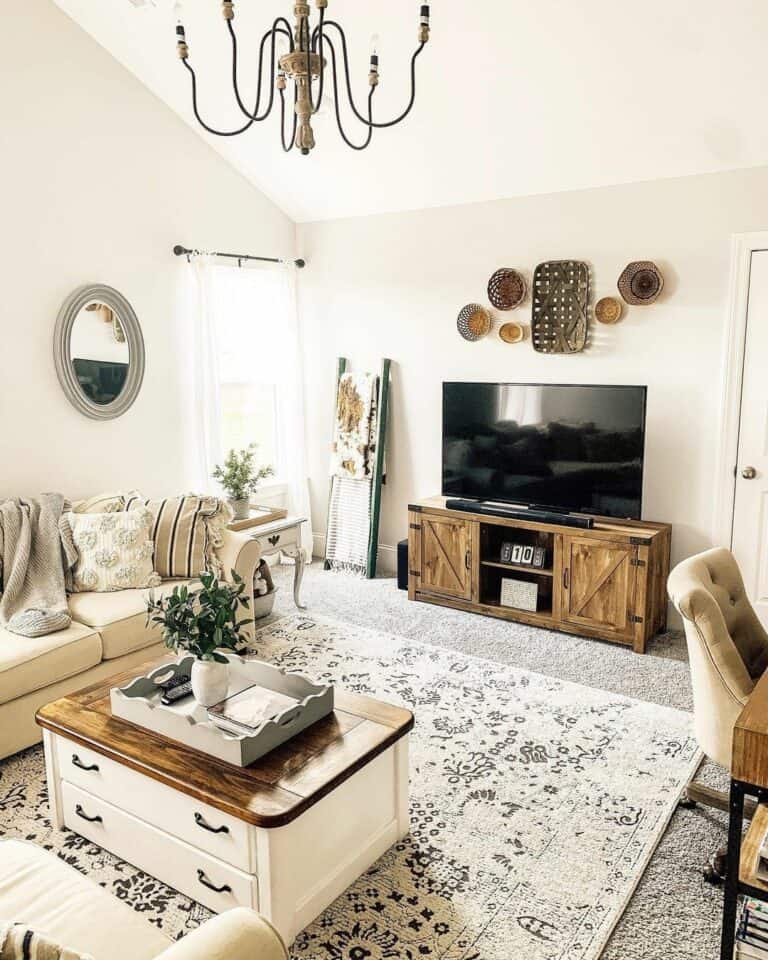 Credit: @homewithjoanie
Shop the Style
Springtime Elegance in the Farmhouse Cottage
Welcome the spirit of spring into your neutral farmhouse lounge. Adorn the white media center with a graceful floral garland, breathing life into the space. Achieve both simplicity and striking aesthetics by employing a pair of wooden shelf ladders to showcase your décor treasures and charming baskets.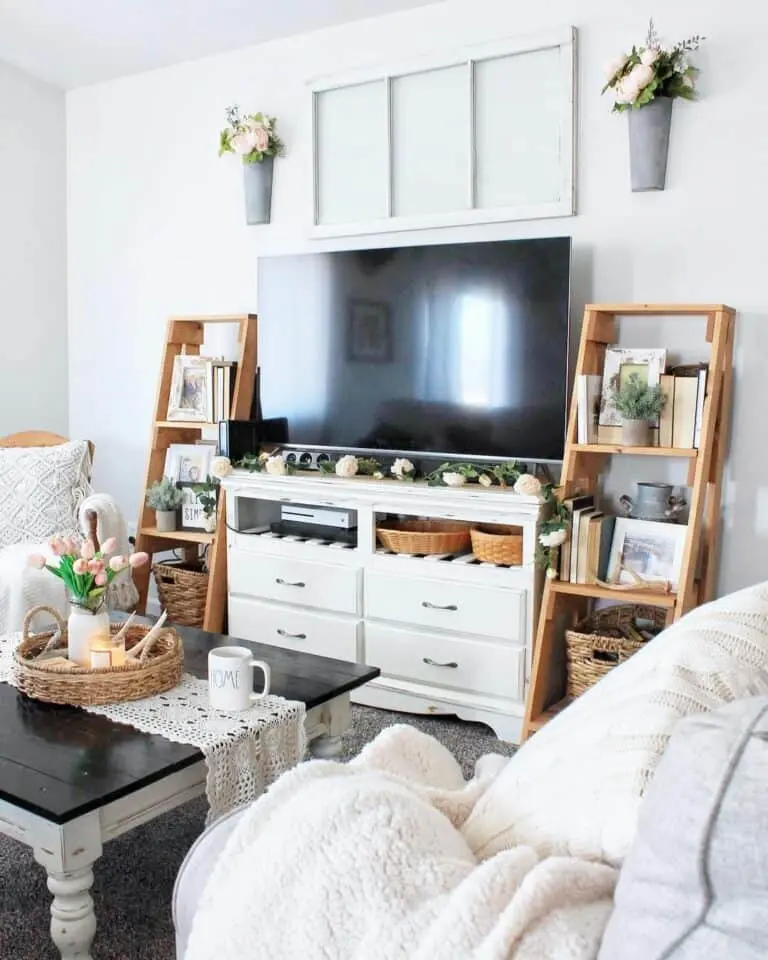 Credit: @kaitsnest
Shop the Style
The Subtle Charms of a Neutral Farmhouse Living Room
Step into a world where rustic, vintage, and cottage aesthetics harmoniously blend. The gray TV wall seamlessly integrates with the soothing tones of the living room. A gray cabinet beneath the mounted TV, adorned with white and brown accents, adds an exquisite touch of character.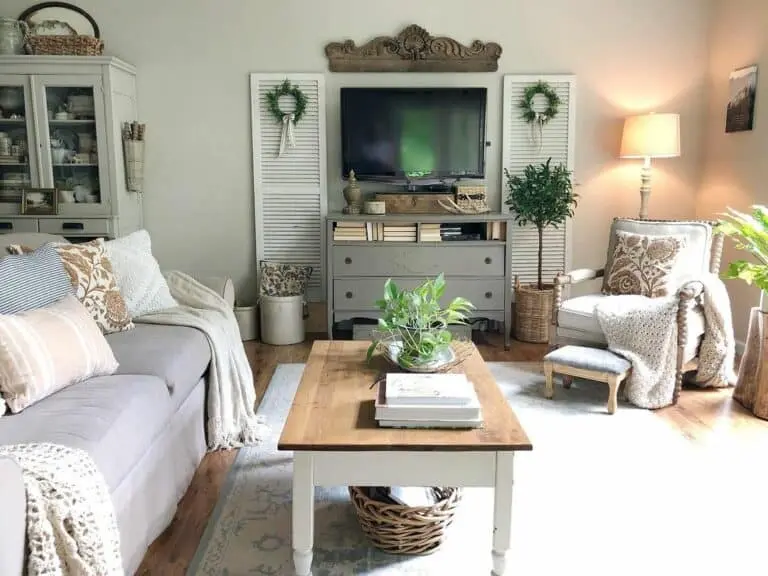 Credit: @lostandfoundcottage
Shop the Style
Blending Scandinavian, Farmhouse, and Boho Vibes in Your Cozy Living Room
In this inviting living room, Scandinavian style harmoniously mingles with the warmth of farmhouse and the charm of boho aesthetics. A low, brown leather sofa invites you to take a seat beside a round coffee table adorned with intricately woven decor. Enhance the modern allure by incorporating floating shelves above a rustic media center, creating a perfect fusion of styles.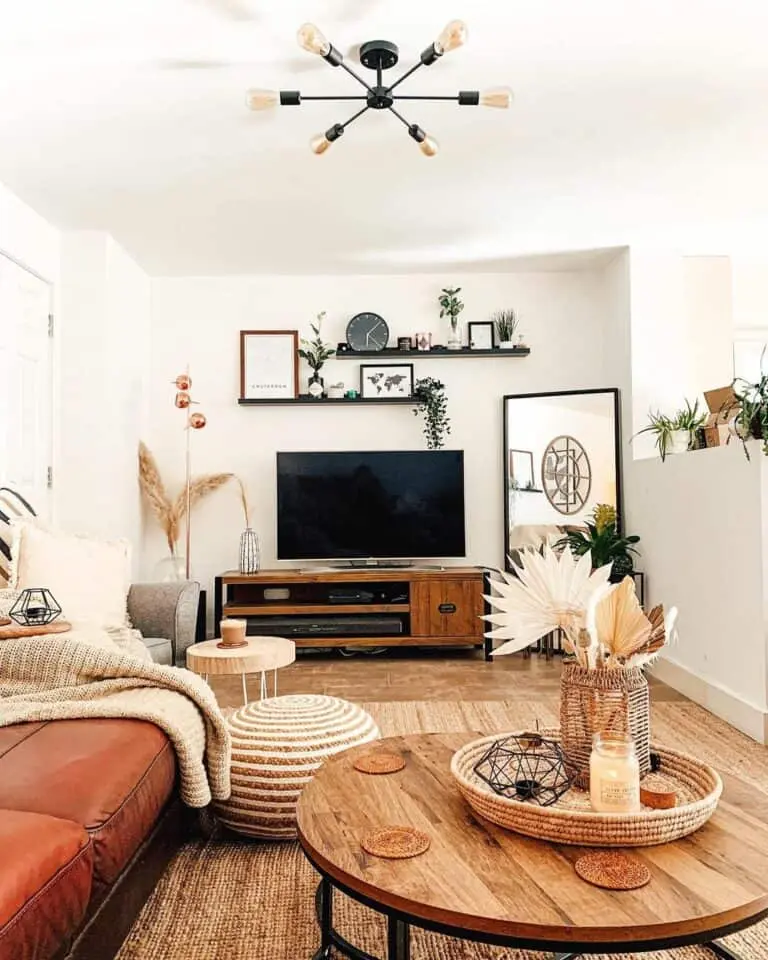 Credit: keelieslife
Shop the Style
Farmhouse Living Room Layout With TV
This rustic farmhouse-style living room beckons with its accessible shelves, designed to house your cherished decorations and entertainment center essentials. The TV takes center stage, resting gracefully amidst a backdrop of smooth, polished wooden flooring. Soft beige tones, coupled with natural wooden hues, accentuate the rustic beauty of farmhouse design.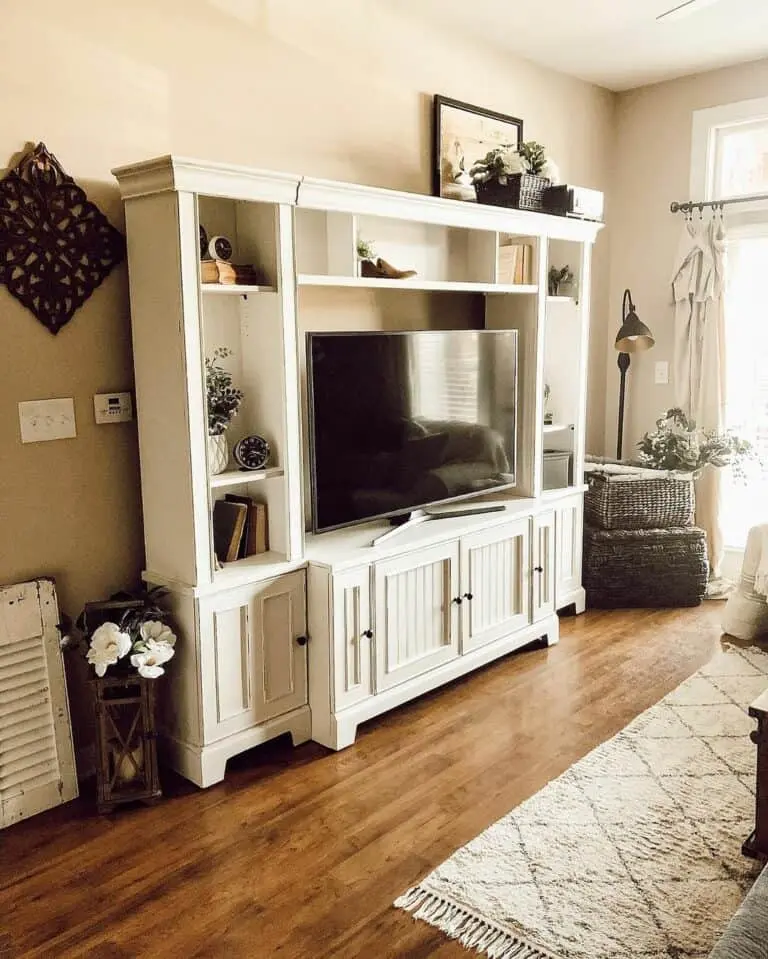 Credit: @the.vintagefarmhouse
Shop the Style
Farmhouse-Inspired White TV Entertainment Center
Step into a delightful, intimate setting featuring a small yet inviting white farmhouse entertainment center. Its white cabinet, adorned with tasteful shelving and farmhouse decor, takes center stage, flanked by concealed compartments that shift the focus to the TV. Rattan accents, a rustic clock, and potted greenery grace the white wall above the TV, while neutral tile flooring bathes the space in luminosity.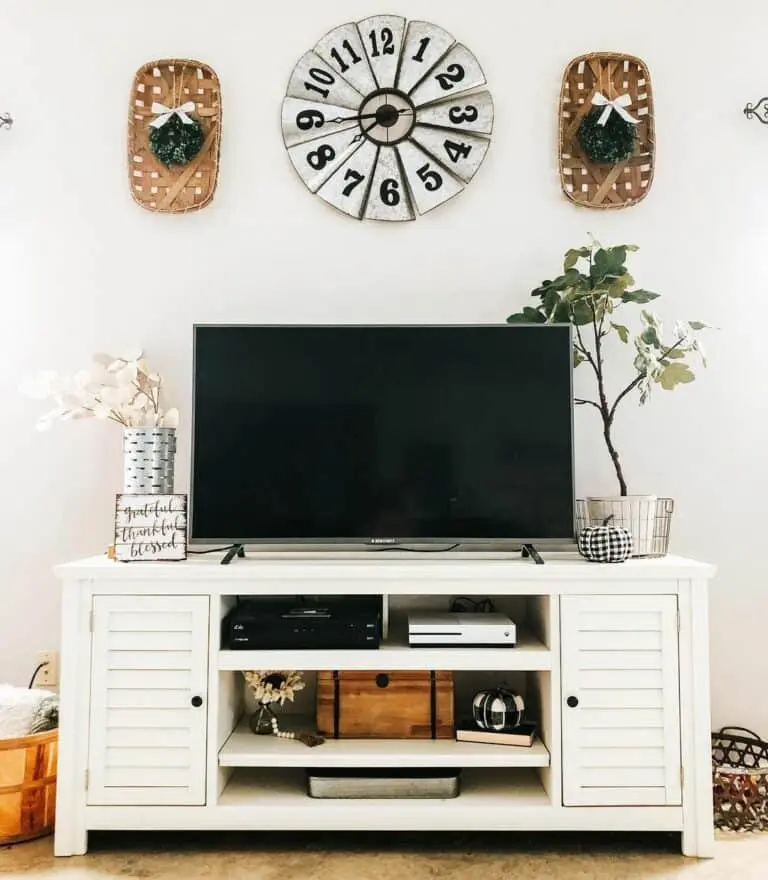 Credit: @ourwildleafranch
Shop the Style
Elevate Your Lounge with Farmhouse Entertainment Center Ideas
Transform your neutral lounge into a captivating space with a farmhouse-style entertainment center as the striking centerpiece. By adding tasteful bookstacks and ornaments to the shelving, you can achieve a simple yet sophisticated decor scheme. To enhance the coziness, introduce a wicker basket filled with cushions for an extra touch of comfort.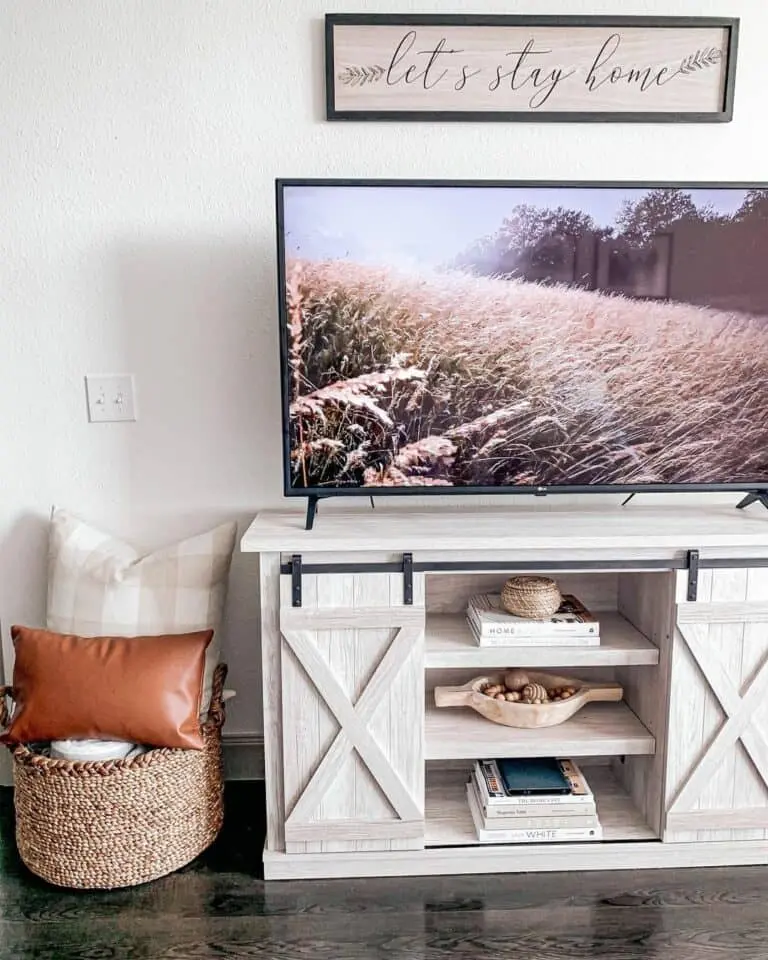 Credit: myhomebodylifeblog
Shop the Style
Farmhouse-Styled Nook with Media Center
In this inviting living room, you'll find an ornate entertainment center that seamlessly blends with modern farmhouse touches. To infuse a sense of coziness into the space, consider placing potted plants and framed photos strategically. As a finishing touch, a rustic sign gracefully hangs over this welcoming nook.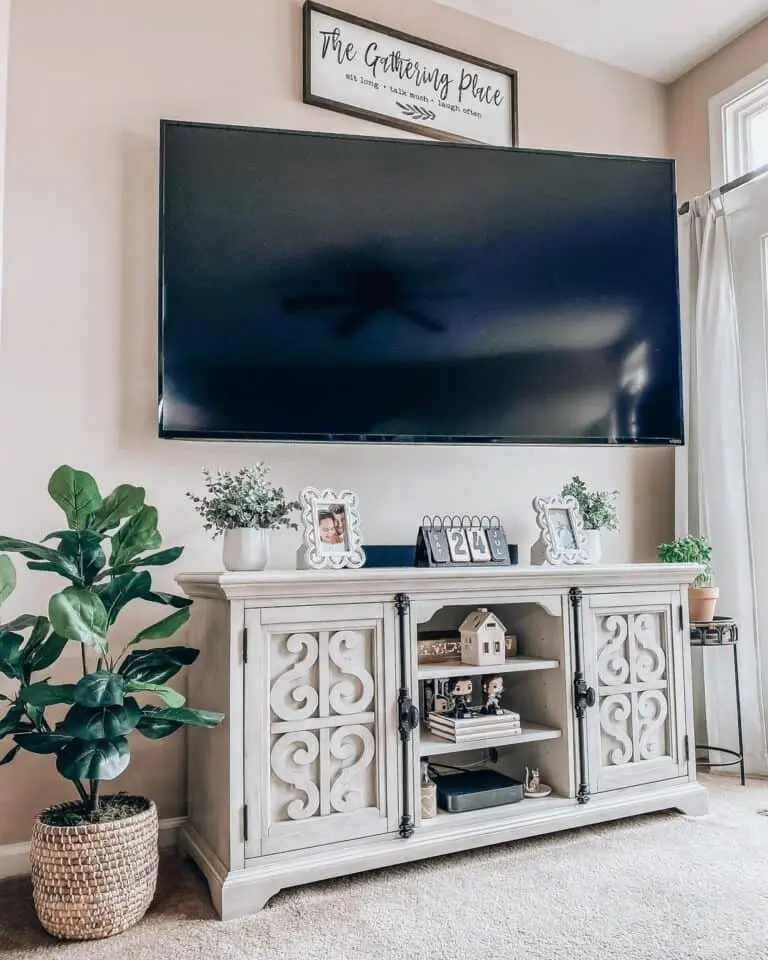 Credit: housebyjulieann
Shop the Style
Wrap-up
Incorporating a farmhouse-style entertainment center into your home decor can breathe new life into your living space. With the ideas and inspiration we've shared in this blog, you can embark on a journey to create a cozy, inviting atmosphere that reflects the charm of rural living.
So, go ahead and infuse your home with warmth and character, transforming it into a farmhouse-inspired haven where you can relax and unwind in style.