7+ Beige Wall Ideas to Infuse Calm and Elegance in Your Farmhouse
Affiliate Disclosure: As an Amazon Associate we earn from qualifying purchases. Hence, if you click through and make a purchase, we will get a commission at no extra cost to you. For more info, read our full disclosure.
When it comes to designing your farmhouse, the color palette plays a crucial role in setting the tone for your space. Among the various options, beige walls stand out as a timeless choice that effortlessly combines calmness and elegance.
The neutral nature of beige allows it to harmonize with various decor styles while providing a soothing backdrop for your home. In this article, we'll explore 7+ captivating beige wall ideas that will help you infuse a sense of tranquility and sophistication into your farmhouse.
Captivating Farmhouse Living Room Ambiance
An ancient chandelier dangles gracefully over the slate-hued sofa and expansive, art-adorned rug. A white-brick hearth, crowned with a TV, cozies up against the soothing beige walls of this snug living haven. Completing the tableau, a console table adorned with a mirror in a wooden frame stands sentinel, wrapping this enchanting farmhouse narrative in its embrace.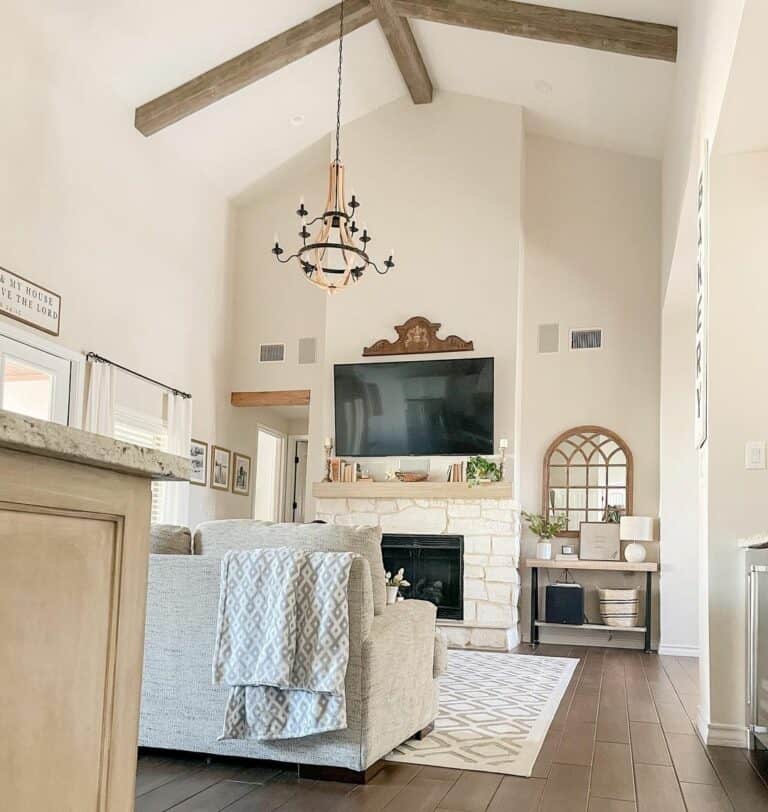 Credit: arlynmdesigns
Shop the Style
Intimate Seating Arrangement Around an Ottoman
Embark upon the expanse of this airy living sanctuary, where beige walls embrace white wainscoting's grace. A tufted ottoman rests upon a decorative rug, beckoning to be admired. Around it, serene light gray armchairs and a pristine white sofa gather like old friends, fashioning the perfect haven for heartful conversations with kin and cherished guests.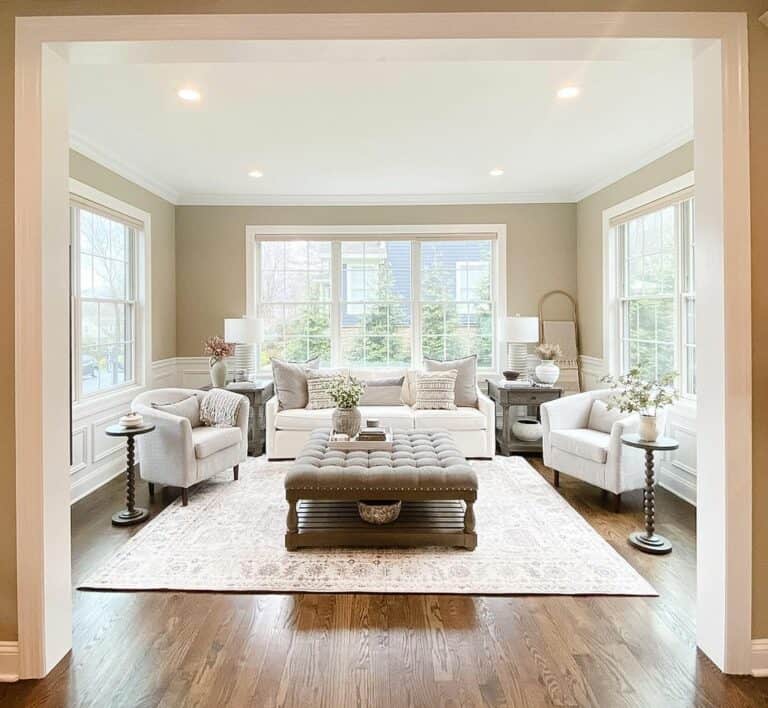 Credit: hilshomestories
Shop the Style
Tranquil Office Decor Ideas Featuring Herringbone Paneling
Nestled within the heart of comfort, a neutral home office beckons. Its walls, a gentle dance between gray and beige, cradle an accent wall adorned in a herringbone embrace. A wooden desk, sturdy and inviting, sits in harmony with a tan leather chair, their partnership radiating professional ease. Beneath, a round woven jute rug adds tactile warmth.
In the backdrop, a black metal wall shelf stands sentinel, its alliance with the curve of a pendant lamp and a table light evoking an artistic harmony that resonates within the workspace.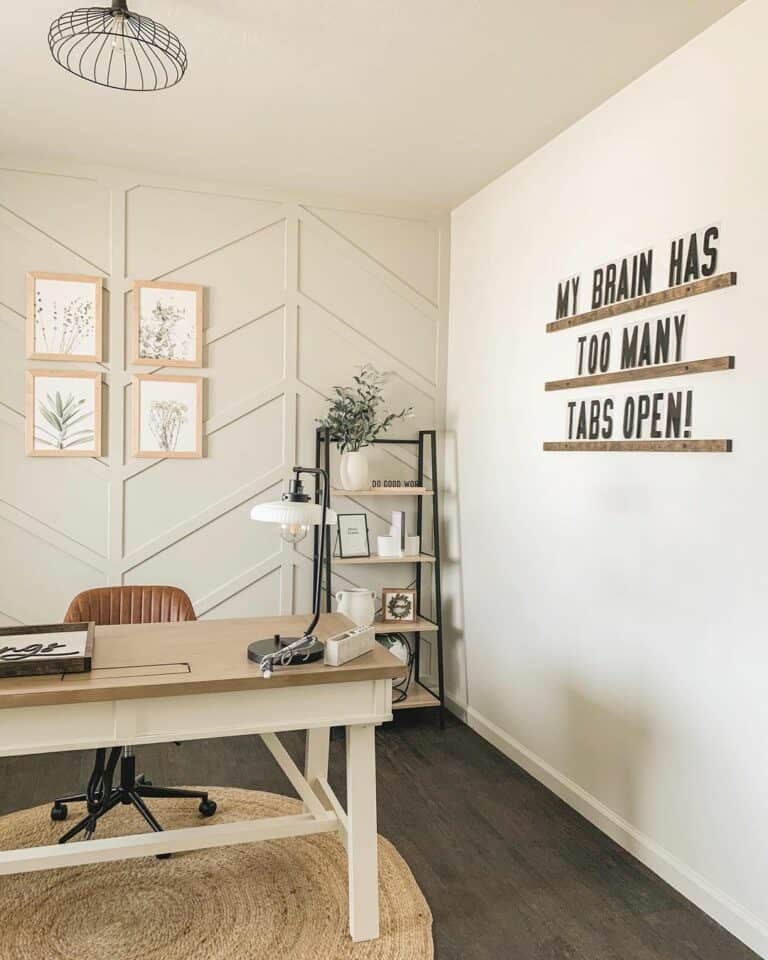 Credit: ourlakepointfarmhouse
Shop the Style
Rustic Living Room Elegance with Ceiling Trim
In this haven of rustic charm, white ceiling trim dances across light beige walls like intricate lace. Ivory couches find solace on either side of a weathered wooden coffee table, their tale adorned with rosy floral accents, a symphony of nature's embrace.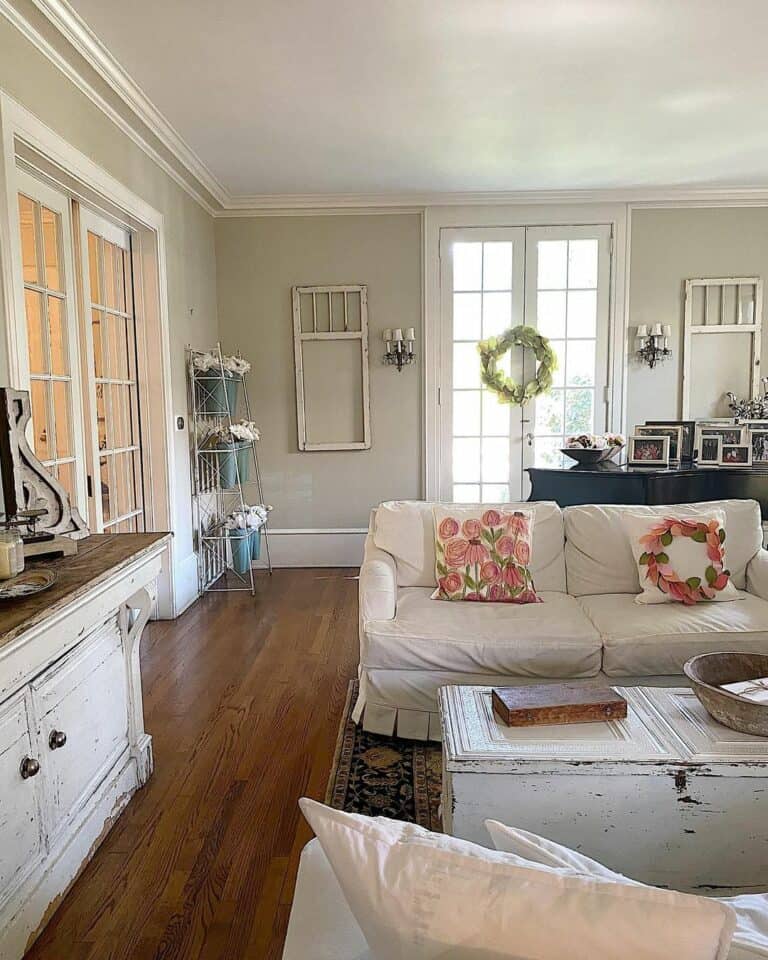 Credit: my100yearoldhome
Shop the Style
Arching Pathway from Living Room to Staircase
Embark on a journey down the winding staircase, guided by the archway's embrace, into the heart of the living canvas. The floor, a tapestry of polished wood, cradles a stoic gray sofa and an inviting wooden coffee table. In the corner, a vintage floor lamp stands sentinel, casting a warm glow that dances playfully, bidding adieu to the tyranny of overhead illumination.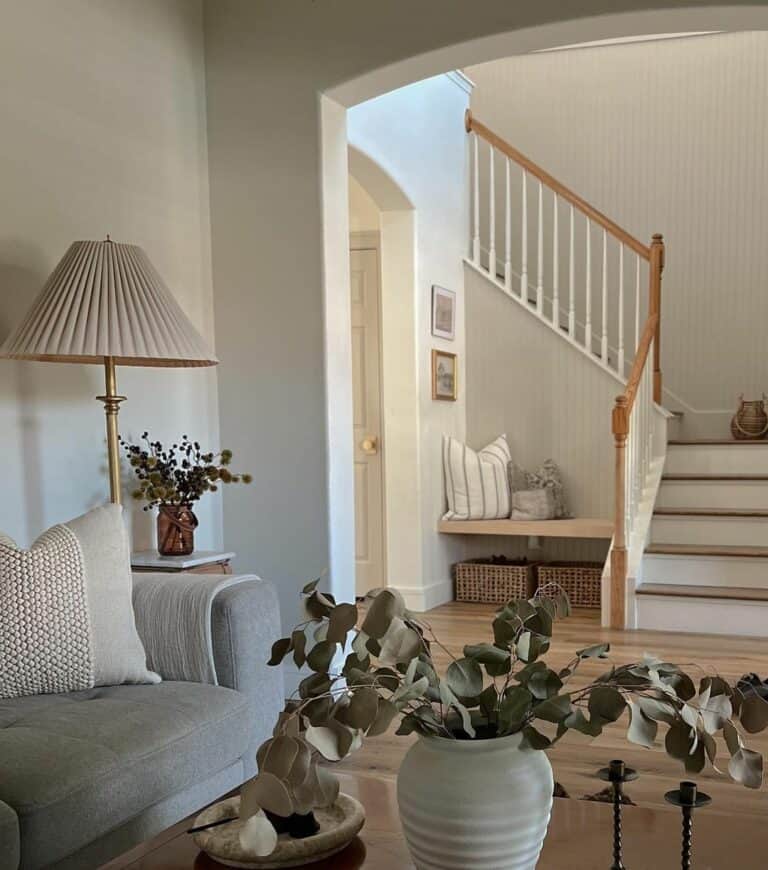 Credit: style_meetshome
Shop the Style
Luxurious Embellished Headboard on Beige Carpeting
Dive into opulence with a farmhouse touch, where a regal white headboard resides between nightstands with bowed legs. Ruffled pillow shams, like whispers of clouds, grace beige bedding, exuding serene elegance. The beige carpet below adds a soft brushstroke of warmth to the canvas of walls.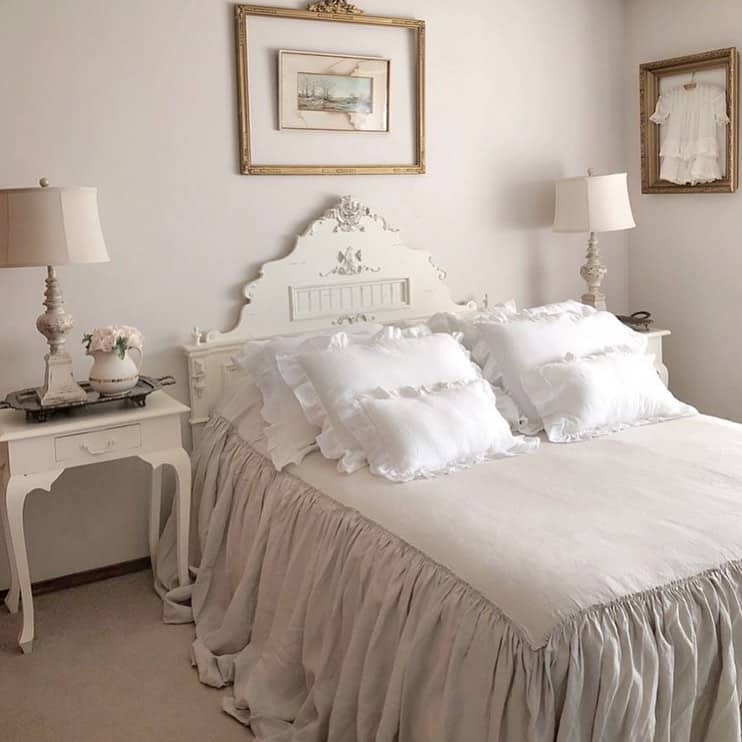 Credit: thewhitelinenfarmhouse
Shop the Style
Graceful White Sideboard Alongside Wooden Dining Table
Elevate the neutrality of your living room by weaving in faux greenery, a vibrant echo of garden revelry. A white sideboard transforms into a gallery, showcasing your treasures while allowing the dining table to breathe. Pair the natural allure of wooden dining tables with the purity of white accent chairs, conjuring an unadorned yet captivating farmhouse ambiance.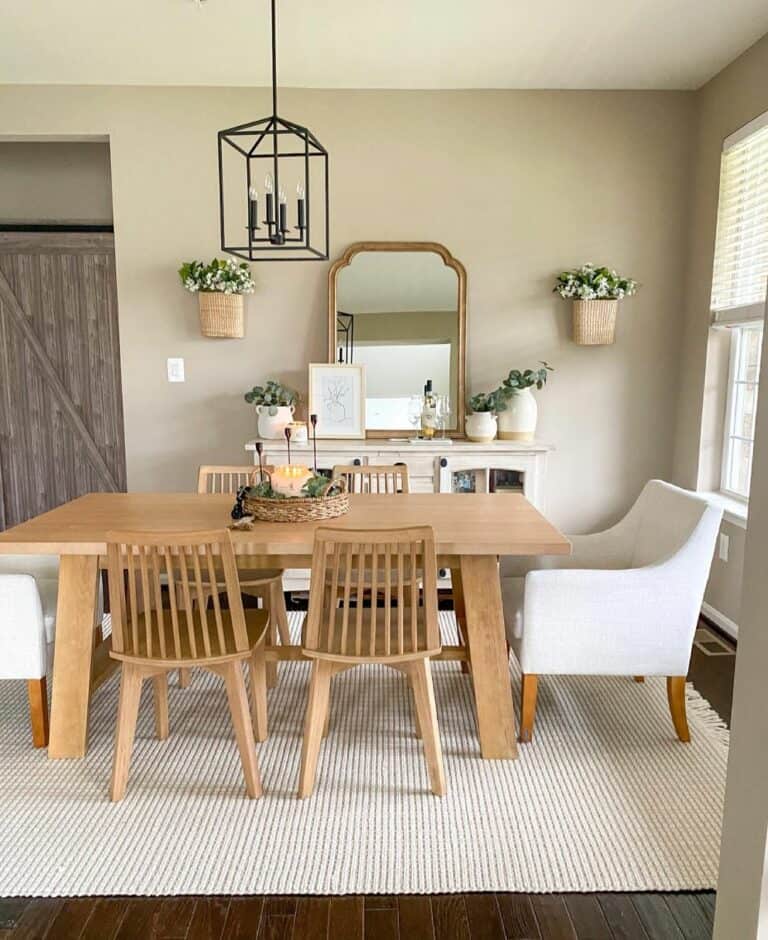 Credit: letsstayhometogether
Shop the Style
Embellished Dining Tabletop Accompanied by Beige Seating
Allow your gaze to linger upon the intricacies adorning the rustic wooden dining table, a tapestry of stories etched into its grain. As you nestle into the embrace of a beige dining chair, the wall-mounted mirror, a masterpiece of grids, orchestrates a dance of light that beckons attention to the serenity of the light wood sideboard below.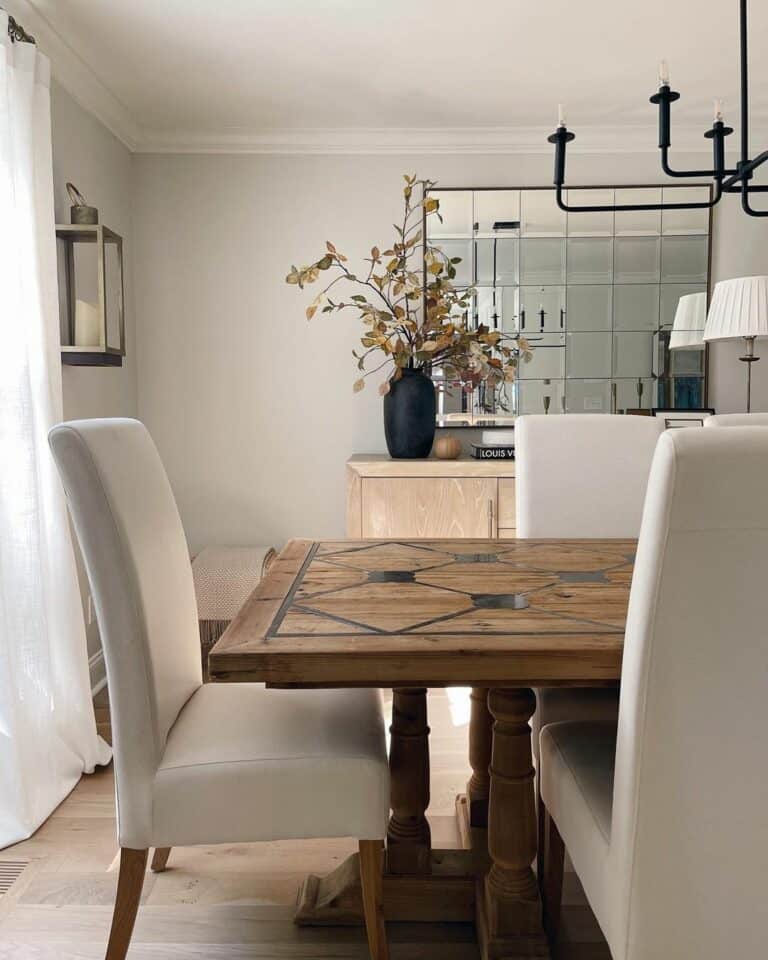 Credit: ourhickoryhouse
Shop the Style
Wrap-up
Creating a farmhouse ambiance that exudes both tranquility and elegance is a balancing act, and beige walls prove to be a versatile canvas for achieving this aesthetic. From subtle tones to warmer hues, these beige wall ideas offer endless possibilities to transform your space.
Whether you're aiming for a rustic charm or a more contemporary feel, the calming influence of beige walls provides the perfect foundation for your farmhouse haven.