7+ Farmhouse Windows to Illuminate and Enrich Your Interior
Affiliate Disclosure: As an Amazon Associate we earn from qualifying purchases. Hence, if you click through and make a purchase, we will get a commission at no extra cost to you. For more info, read our full disclosure.
In the realm of interior design, few things are as captivating as the interplay between natural light and rustic charm. Farmhouse windows serve as portals that not only let light flood in but also add a touch of timeless elegance to any space. Whether you're revamping your living room, kitchen, or bedroom, the right farmhouse windows can create an enchanting atmosphere that blends the beauty of the outdoors with the coziness of your interior.
Join us on a journey to explore a curated collection of 7+ farmhouse window styles that will not only illuminate your space but also enrich its soul.
Reveling in Exposure: Dining Room Windows on Display
A farmhouse dining room with unobstructed windows choosing windows without blinds or drapes requires audacity, yet the outcome is a splendid display in this farmhouse dining room. Enhanced by a modern building exterior portrait and a rustic farmhouse table, the exposed windows infuse vitality into the space.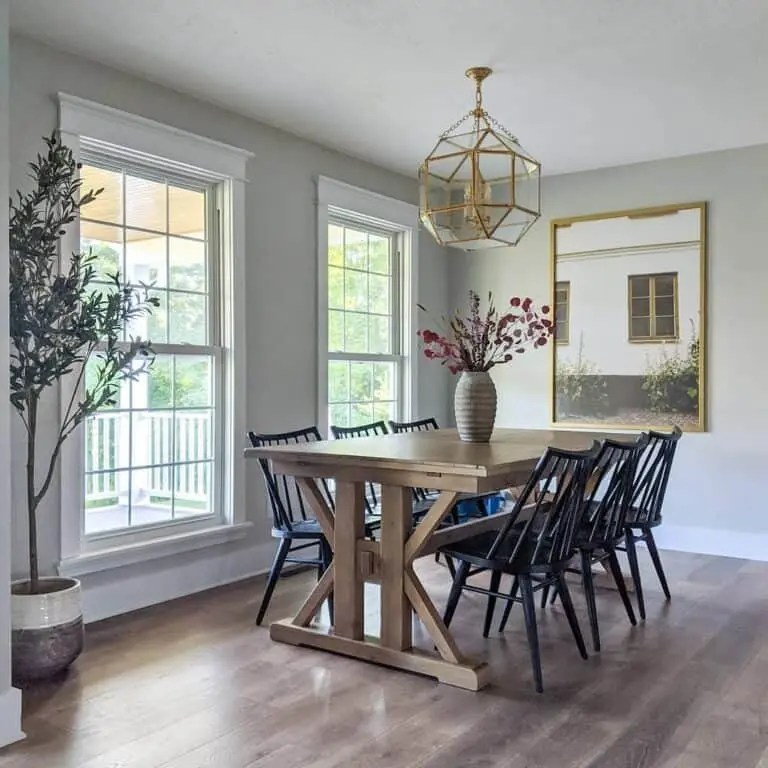 Credit: wv_modernfarmhouse
Shop the Style
Sunroom Bliss: Farmhouse Windows Illuminated by Skylight
This sunroom with panoramic windows and overhead skylights sunrooms offers perpetual delight, and features boasts extensive wall-to-wall windows accompanied by graceful skylights above. Nestled within a wood-paneled ceiling, the skylight enhances the sunroom's ethereal ambiance, creating an idyllic setting for dining, reading, and relaxation.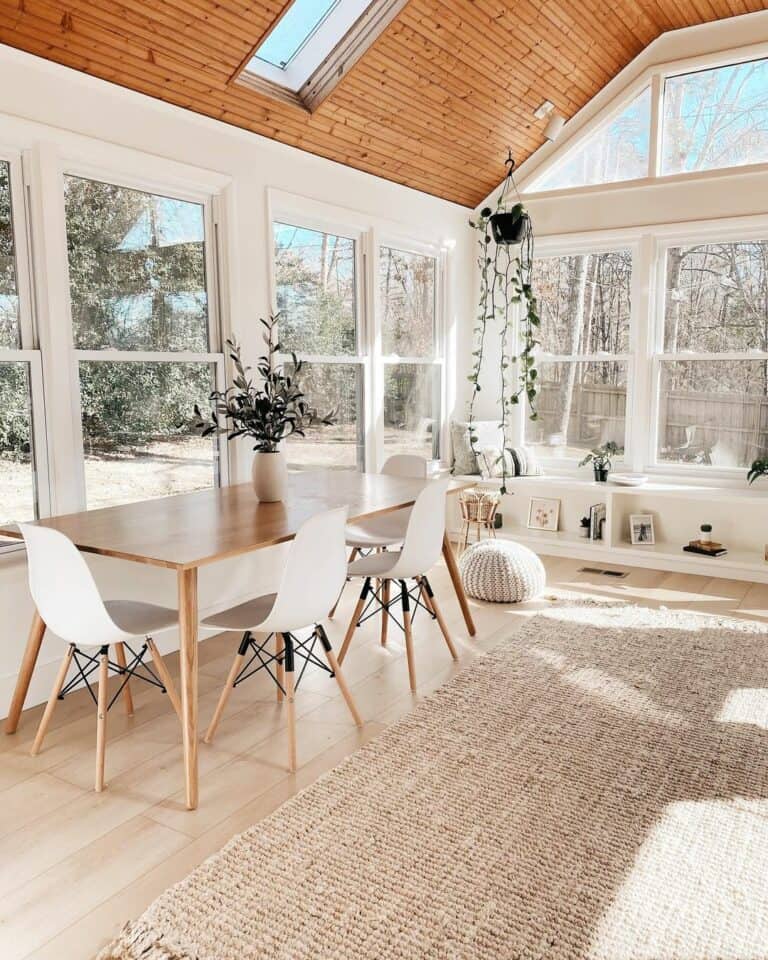 Credit: wetmoreworksinprogress
Shop the Style
Charm of Shiplap Windows in the Farmhouse
Intertwining shiplap with windows results in a snug and inviting atmosphere within this room. The windows grace the space behind an elongated desk, adorned with wooden décor above. A profound religious quote positioned between the windows gains prominence through a black lamp sconce, mirroring the room's hutch.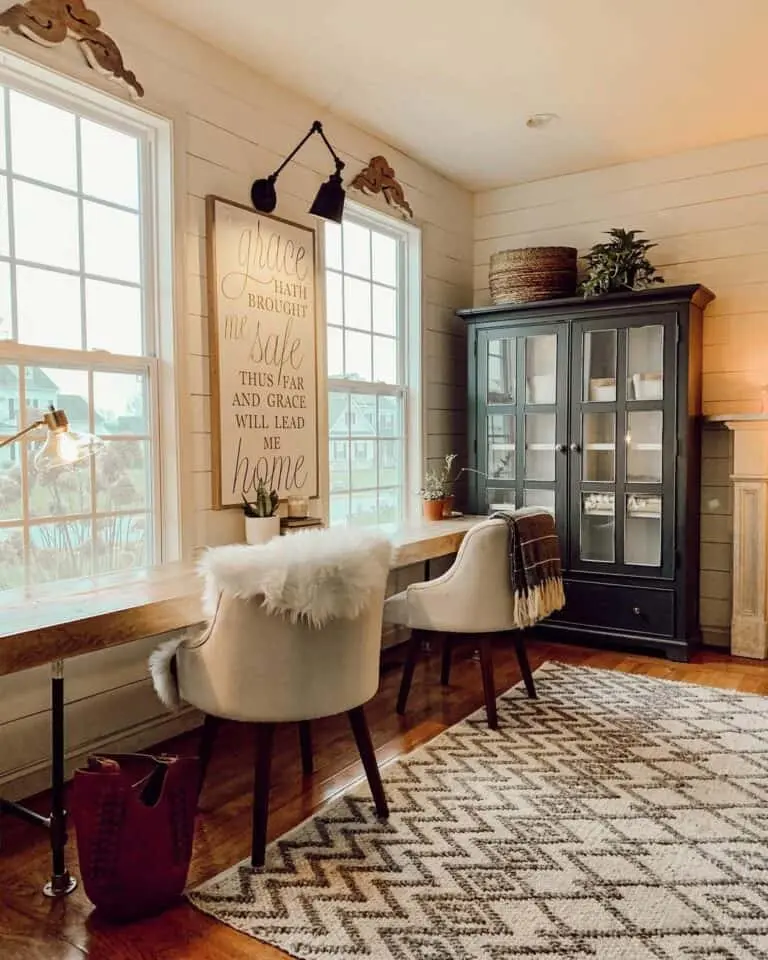 Credit: the.simple.farmhouse
Shop the Style
Graceful Drapery for Sliding Door Illumination
A sliding door becomes the focal point of luminosity in this farmhouse dining room. Adorned with drapes cascading gracefully to the floor, the door emanates sophistication. Deeper into the living area, the same drapes, on a black curtain rod, dress a double-hung window paired with folding tan shades.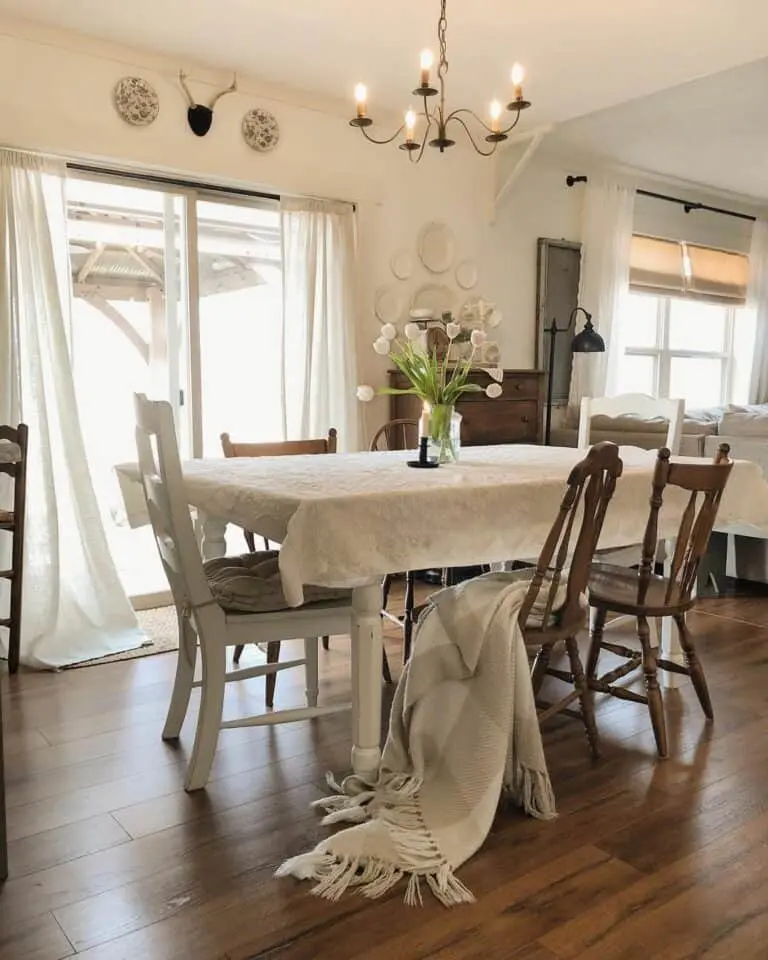 Credit: twelvetwo.at.home
Shop the Style
Bay Windows: Illuminating Nooks of Radiance
Bay windows are a hallmark of classic homes, crafting cozy corners embraced by lounge chairs and illuminated by soft lamps. Their ability to channel natural light from various angles makes them ideal for creating inviting seating spots, whether adorned with curtains or left bare.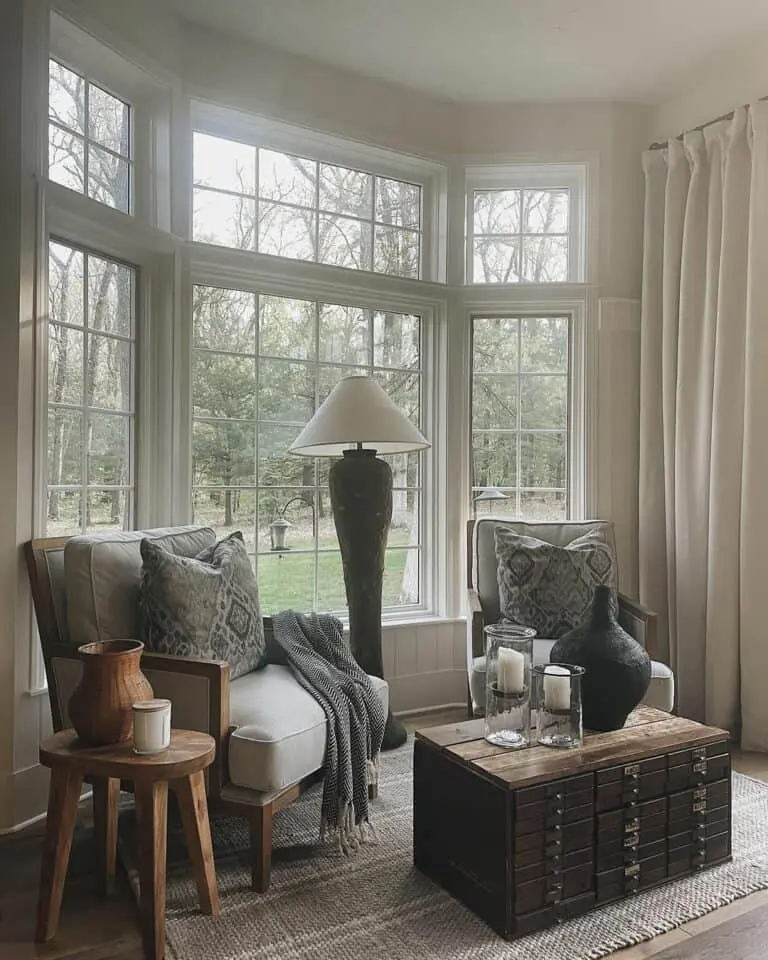 Credit: thenottinghome
Shop the Style
Chic Privacy: Light Filtering Fabric Blinds
Introducing light-filtering fabric blinds brings an element of sophistication and privacy to this dining room. Teamed with white curtains, the window occupies a graceful space above the white chair rail and wainscoting. Vintage open-paned windows on either side contribute as elements of farmhouse wall décor.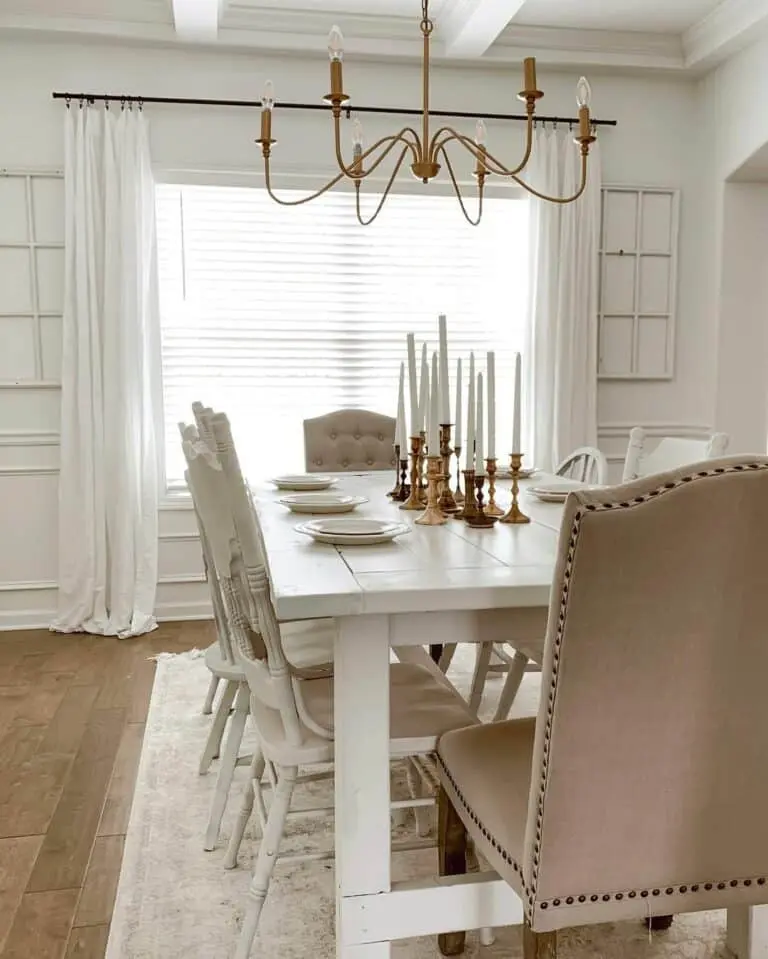 Credit: thesimplyblessednest
Shop the Style
Rustic Elegance: Farmhouse Dining with Plantation Shutters
Within a dining room that embodies a robust farmhouse theme, a substantial picture window finds its counterpart in the form of white plantation shutters. Adjacent to the window, an unconventional shelf featuring white plates adorns the wall, harmonizing with an aged oak table and striking black chairs. Above the window, distressed wood artwork converges with a chic wooden light fixture.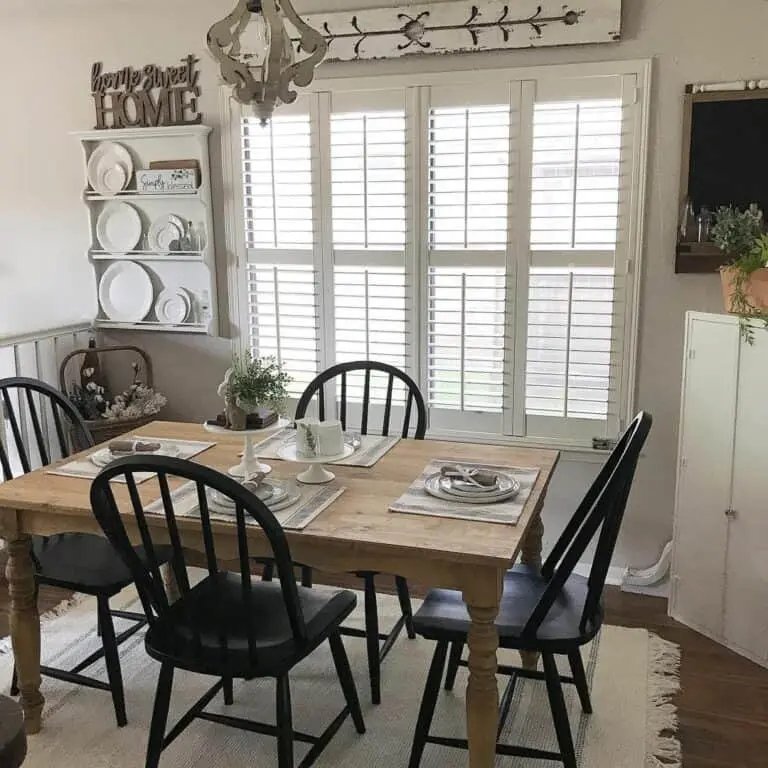 Credit: vintage_square_
Shop the Style
Radiance in the Kitchen: Exposed Double Windows
Step into this spacious kitchen and be greeted by the presence of two sliding windows mounted above the sink and dine-in kitchen area. Glazed cabinets add a textured dimension to the kitchen's abundant brightness. Framed with white molding, the windows subtly accentuate the neutral beige walls.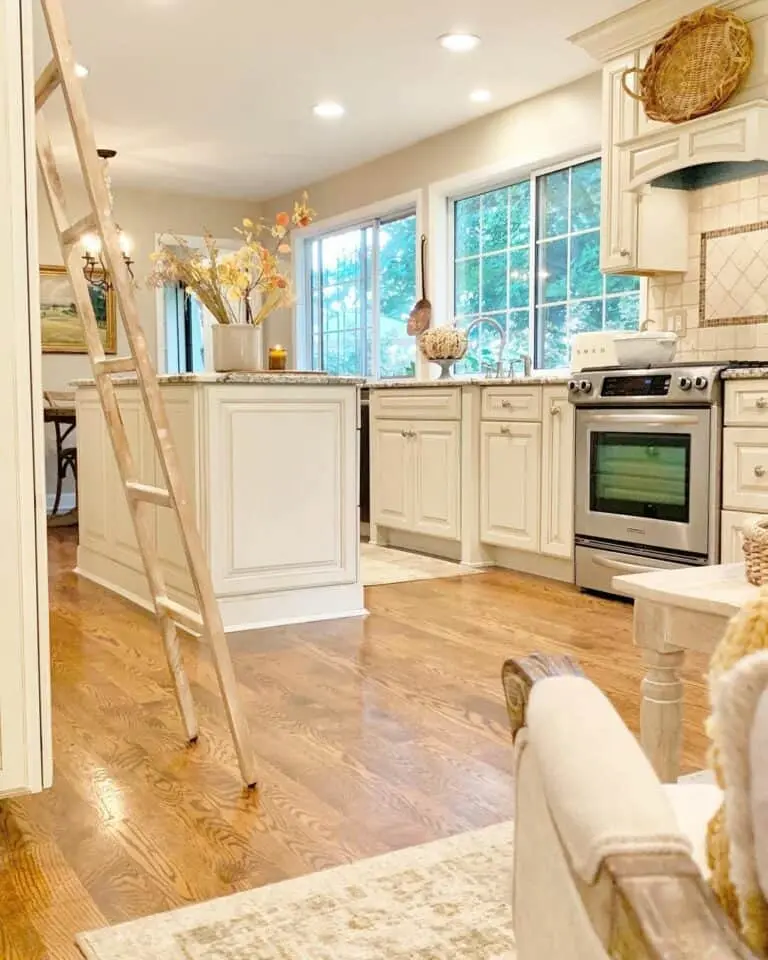 Credit: thestyleed.home
Shop the Style
Wrap-up
As the sun sets on this exploration of farmhouse windows, one thing becomes abundantly clear: these windows are more than mere architectural features—they're storytellers, bringing the countryside's allure indoors.
From the quaint charm of exposed dining room windows to the exquisite elegance of light-filtering fabric blinds, each style we've delved into has a unique way of infusing warmth, character, and authenticity into your interior.
By inviting these windows into your design narrative, you're not just enhancing your living spaces; you're crafting a visual ode to rustic sophistication.