7+ Trendy Farmhouse Coffee Table Decor Inspirations & Ideas
Affiliate Disclosure: As an Amazon Associate we earn from qualifying purchases. Hence, if you click through and make a purchase, we will get a commission at no extra cost to you. For more info, read our full disclosure.
If you're a fan of rustic charm and cozy aesthetics, farmhouse decor is the perfect choice for your living space. Your coffee table is more than just a functional piece; it's an opportunity to express your personal style and create a warm and inviting atmosphere. Join us as we explore delightful farmhouse coffee table setups that add character and beauty to your farmhouse-style home.
White Sectional and Round Coffee Table
In this living room, a delightful white shiplap wall sets the stage for a sophisticated farmhouse look. A white slipcovered couch, adorned with a mix of white and gray throw pillows, invites you to sink in and relax.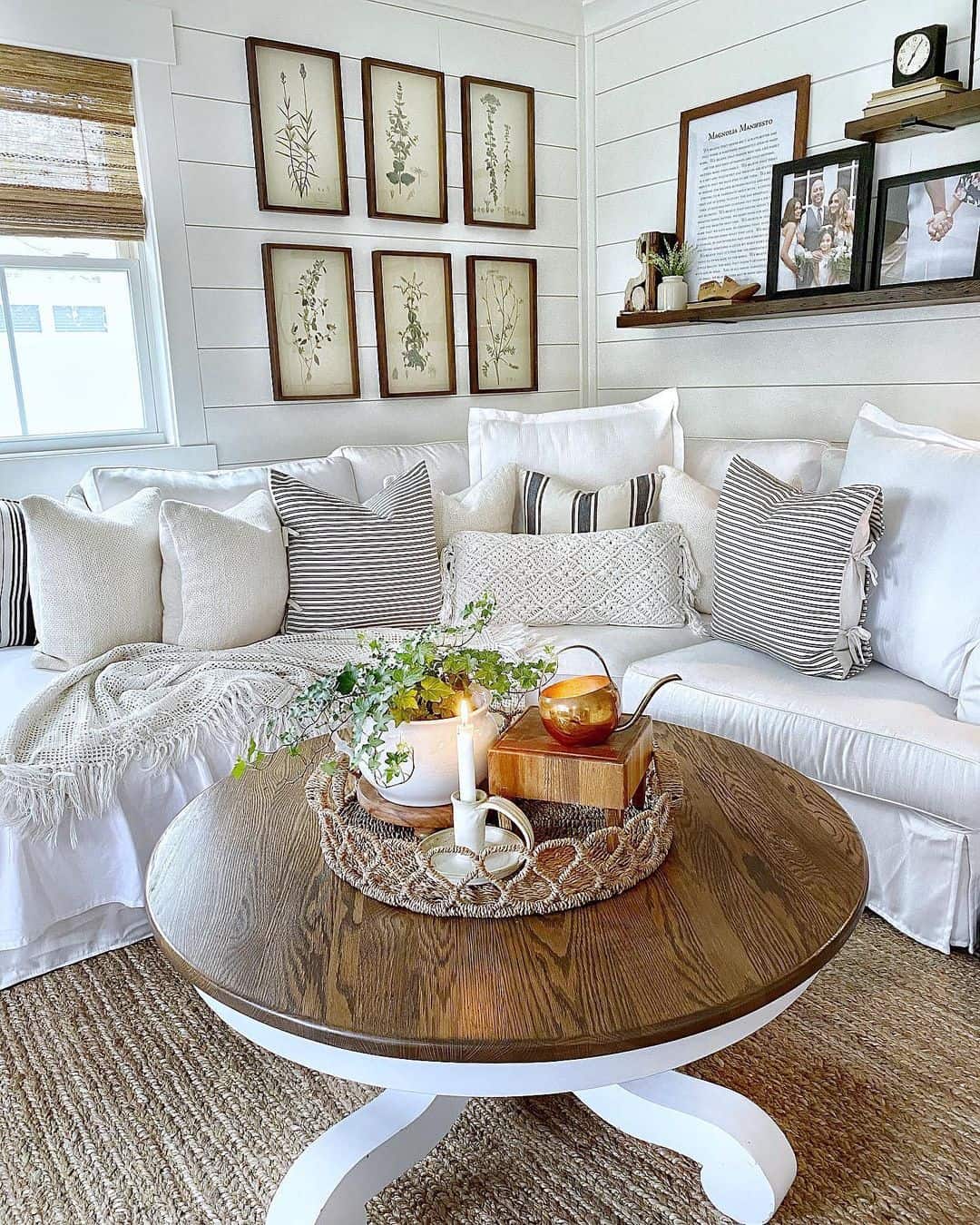 Credit: Vintage Vault Annapolis
Shop the Style
The centerpiece is a round woven tray, thoughtfully arranged with a potted ivy plant, a charming candle, and a rustic wooden box, adorning the exquisite round coffee table. This elegant combination creates a serene and tranquil ambiance perfect for unwinding after a long day.
Moody Living Room with Rustic Wood Table
Infuse a touch of contemporary flair into your farmhouse living room with the perfect blend of rustic and modern elements. Rustic wood beams adorn the ceiling, drawing attention to the white French doors.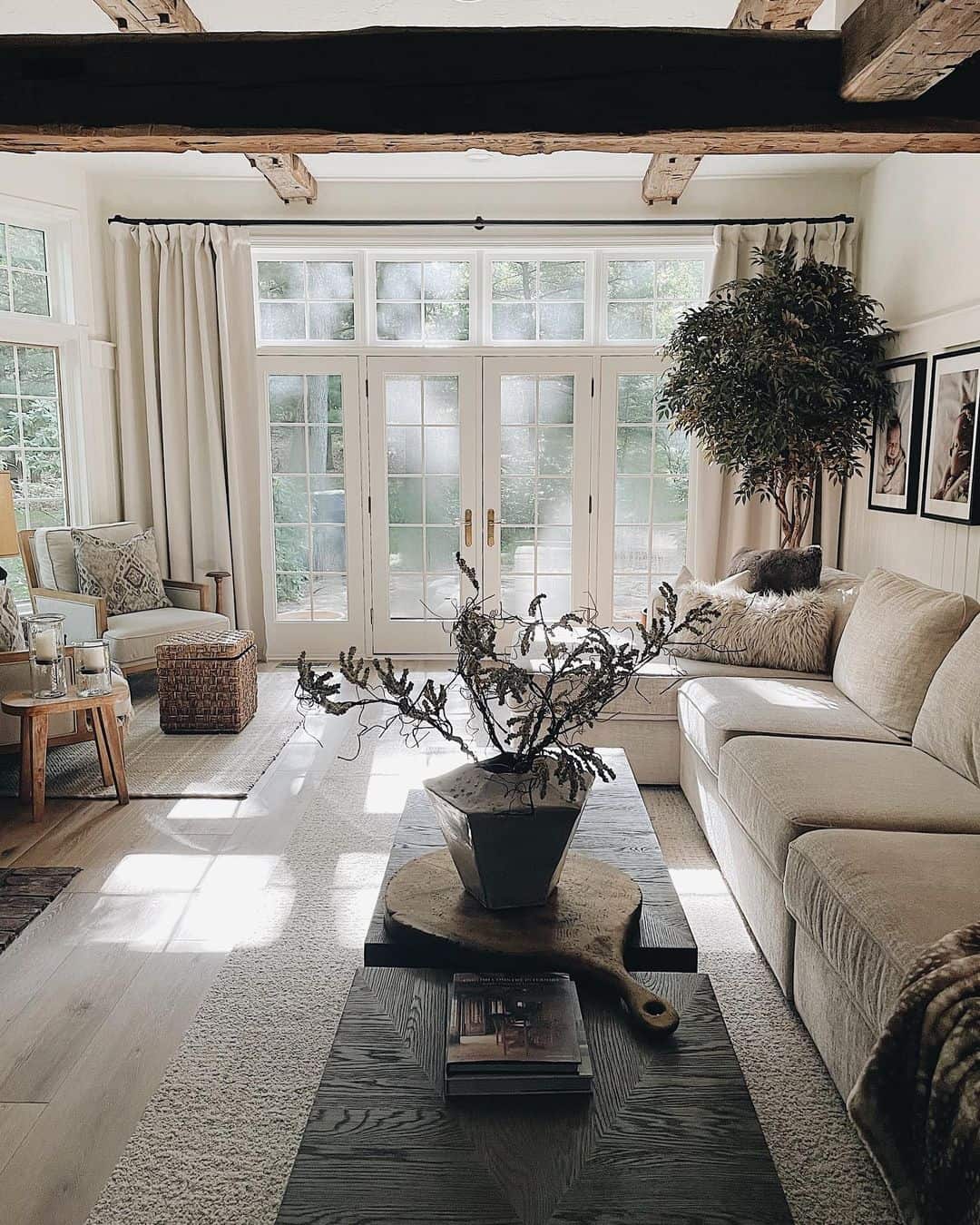 Credit: The Notting Home
Shop the Style
Complementing this setup is a cozy beige sectional couch sitting atop a stylish gray rug, facing a captivating wood coffee table. The table is artfully decorated with a flat wooden tray showcasing a unique metal vase filled with charming branches, offering a captivating focal point that effortlessly balances modernity and warmth.
Rustic Wood Apothecary Coffee Table with Glass Cloches
If you adore rustic charm with a hint of vintage appeal, this farmhouse coffee table setup is tailor-made for you. The spotlight is on a rustic wood apothecary coffee table, brimming with character and history.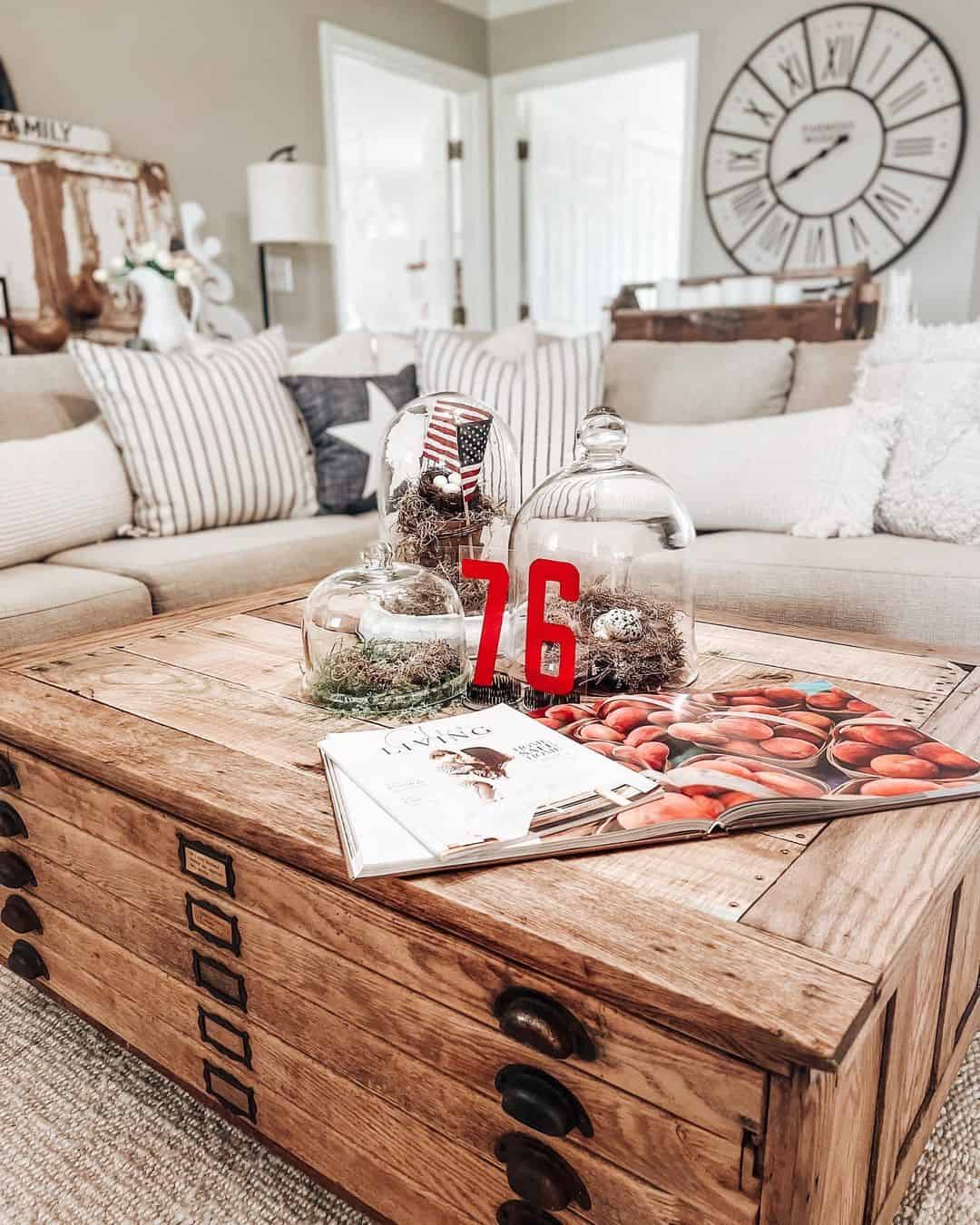 Credit: The_Penton Farmhouse
Shop the Style
Glass cloches filled with natural decor take center stage, adding a touch of elegance to the table. Paired with a white farmhouse couch adorned with striped pillows, this arrangement creates a cozy and welcoming living space that exudes timeless beauty.
Reclaimed Wooden Coffee Table in a White Living Room
Embody the essence of farmhouse living with a white living room featuring a reclaimed wooden coffee table on a textured white rug. White shelves adorned with wicker baskets and ample firewood surround a captivating white hearth, evoking a sense of rustic charm.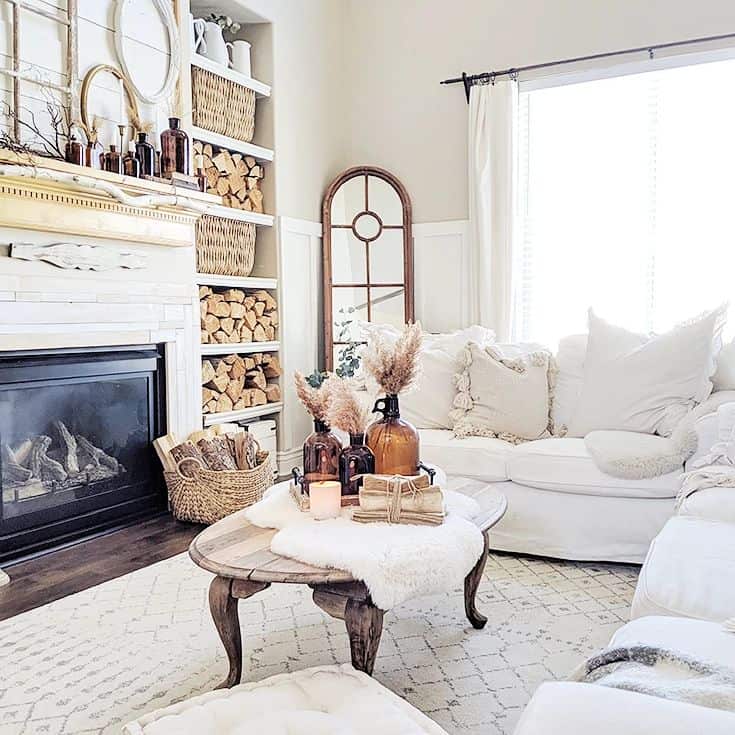 Credit: Thrifty and Chic Decor
Shop the Style
The mantel, adorned with amber bottles, pampas grass and refurbished wooden frames, adds a touch of sophistication to the space. Embrace the fusion of farmhouse simplicity and refined elegance with this remarkable setup.
Open-Concept Living: White Sofa and Wooden Coffee Table
An open-concept living room blending seamlessly with the kitchen offers the perfect opportunity to showcase a stylish farmhouse coffee table. Positioned in front of a cozy white sofa adorned with pillows and throws, the wooden coffee table becomes a focal point.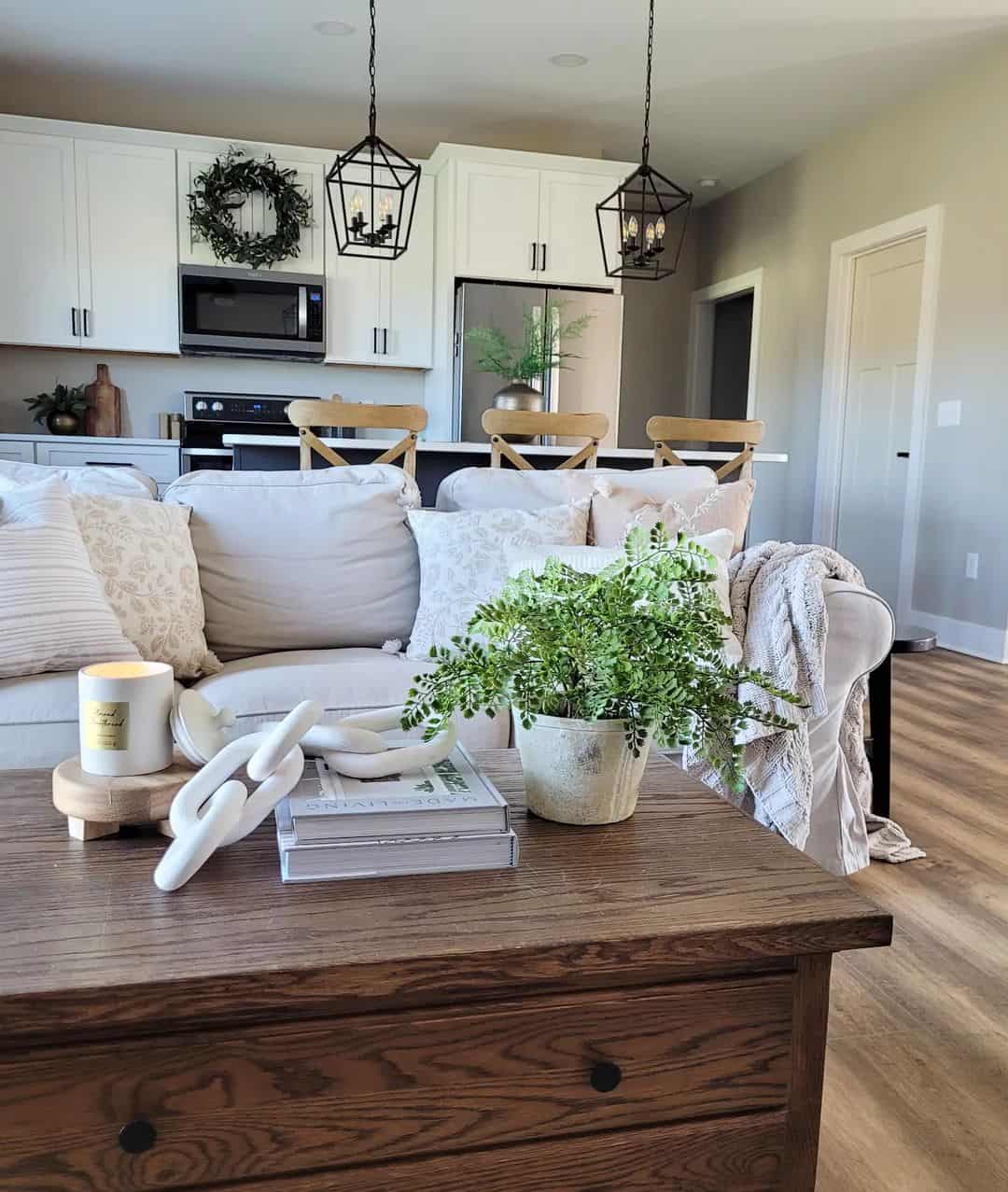 Credit: The_Miller Homestead
Shop the Style
The table is thoughtfully arranged with a potted maiden hair fern, delightful books, a charming candle, and elegant white chair decor. This setup effortlessly combines comfort and functionality, encouraging relaxation and socializing in one inviting space.
Pale Wooden Coffee Table with Brown Leather Couch
Unleash the essence of earthy elegance with a pale wooden coffee table complementing a brown leather couch. A black and white patterned rug sets the stage, inviting you to sit back and unwind in comfort.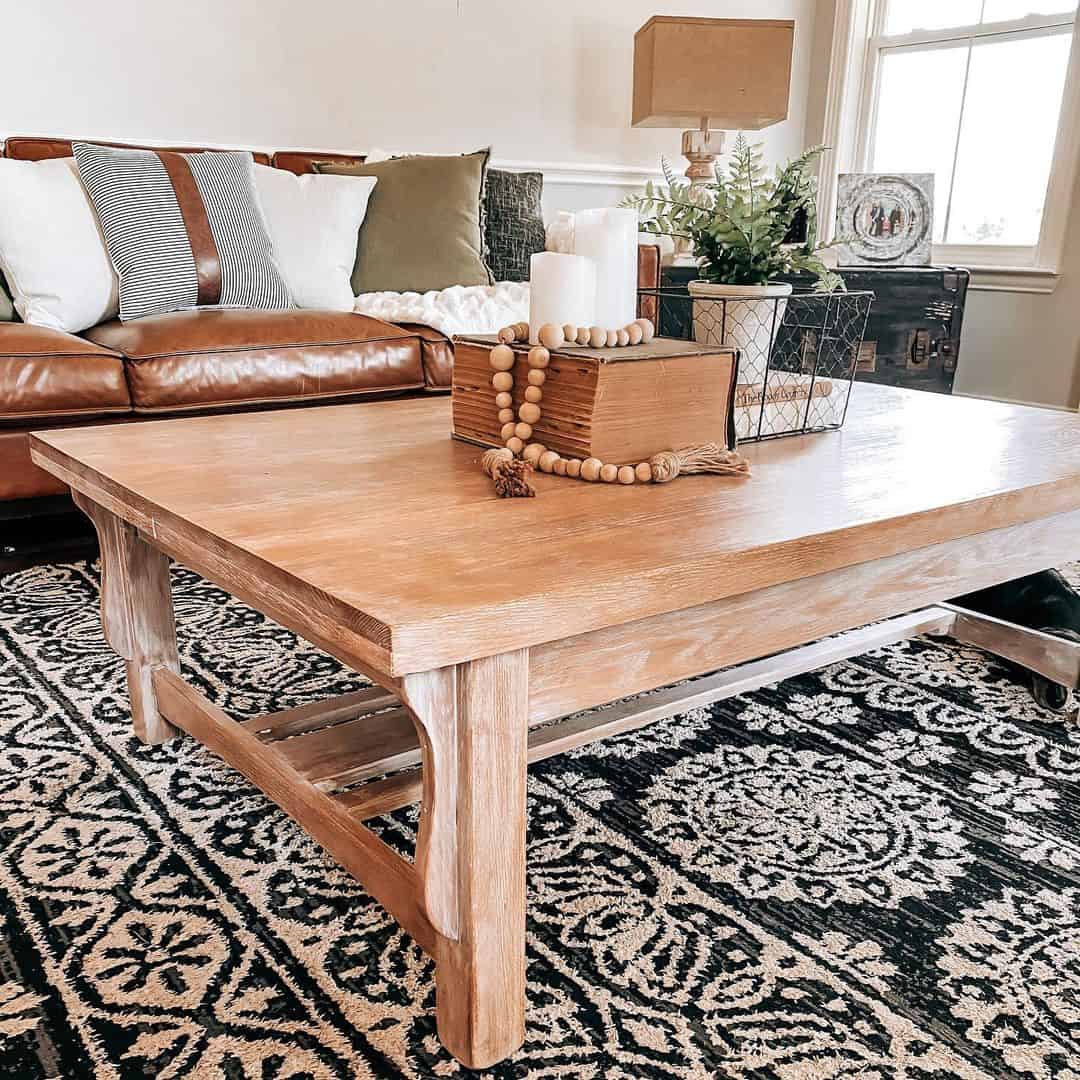 Credit: The Yellow Rose Farmhouse
Shop the Style
On the coffee table, two white candles amidst wooden beads create a serene atmosphere, enhancing the overall farmhouse charm. Nearby rests a black metal basket, housing a delightful potted fern, showcasing the beauty of nature indoors.
Embrace Simplicity with a Minimalistic Coffee Table
Sometimes, less is more, and a minimalistic coffee table can speak volumes about your farmhouse style. In this setup, an elegant round wooden coffee table takes center stage, adorned with a white vase displaying autumnal branches. The subtle arrangement of books adds a personal touch to the space.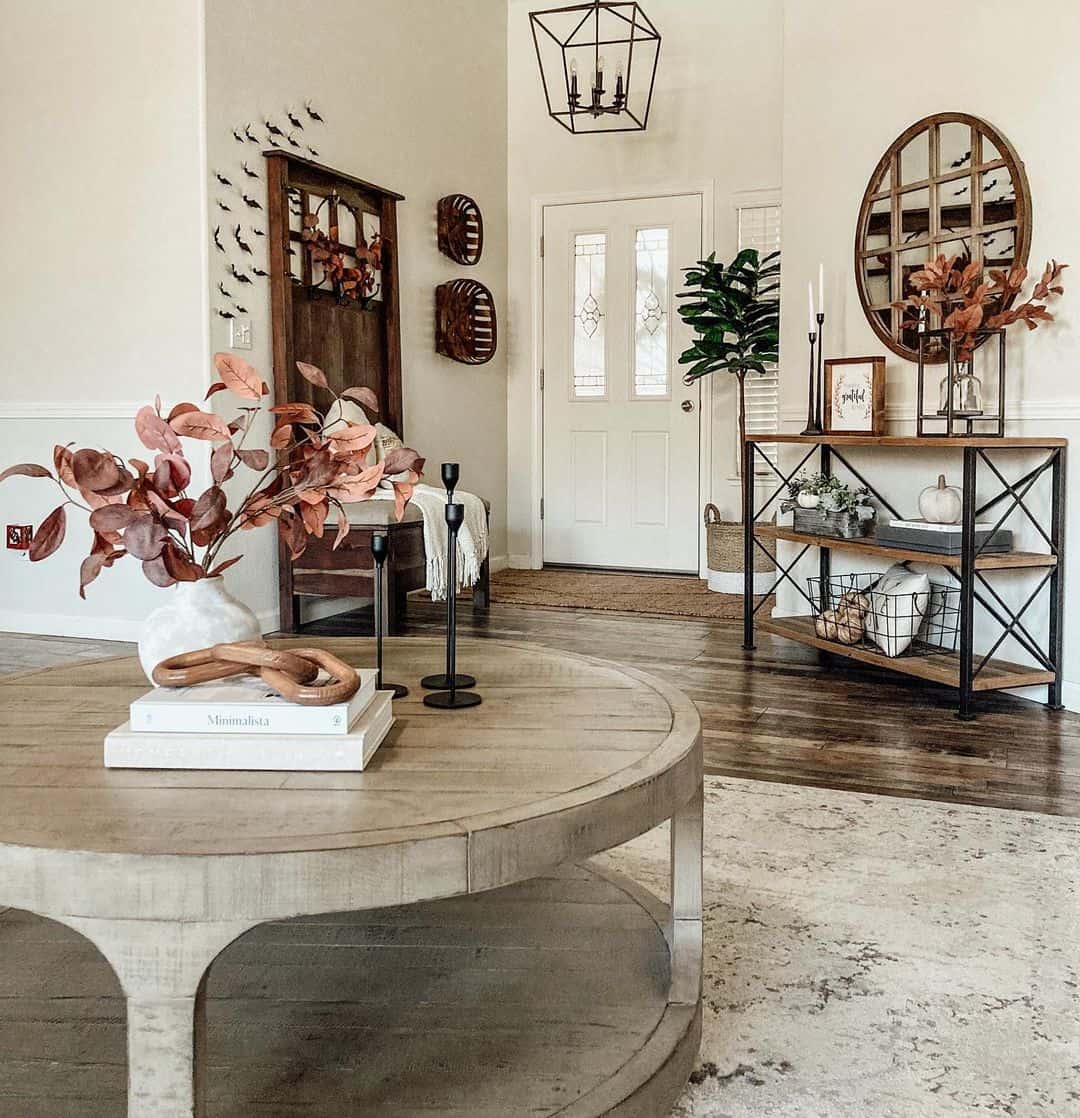 Credit: The Brooksnest
Shop the Style
Nearby, a wooden console table serves as the perfect canvas for fall decorations, including floral decor and tall black candlesticks with white candles. Completing the look is a wood-framed mirror, creating an alluring and visually captivating farmhouse setting.
Lush Greenery: Living Room with Abundant Plants
In this modern farmhouse-style living room with light gray walls, lush greenery takes center stage, adding life and vibrancy to the space. A small leafy plant graces a beige ceramic vase, charmingly placed on a round wooden tray atop the minimalist rectangular coffee table.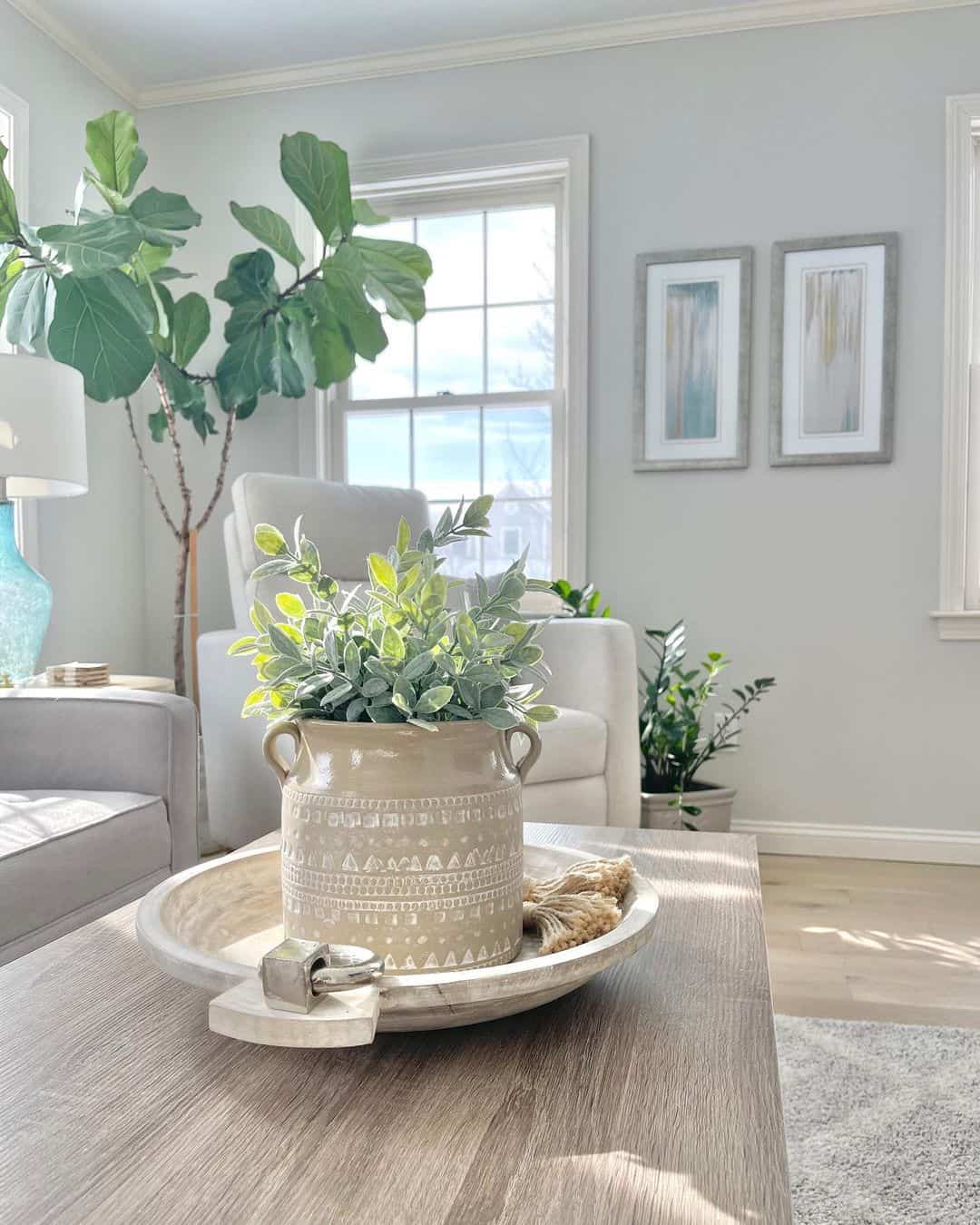 Credit: These Wild Flower Walls
Shop the Style
A striking fiddle-leaf fig and a potted ZZ plant add to the abundance of greenery, creating a fresh and invigorating atmosphere. This living room brings nature indoors, infusing your farmhouse decor with the beauty of the great outdoors.
Wrap-up
From elegant white sectionals with wood-framed gallery walls to minimalistic setups that embrace the beauty of simplicity, there's something for everyone. Whether you prefer a contemporary twist, vintage charm, or an abundance of lush greenery, these decor ideas seamlessly blend rustic elegance with modern aesthetics.
So, go ahead and embark on your farmhouse decor journey, and let your coffee table become a captivating centerpiece that reflects your unique style and creates a warm and inviting ambiance for all to enjoy. Happy decorating!