7+ Breathtaking Color Ideas That Complement Yellow in Farmhouse Living
Affiliate Disclosure: As an Amazon Associate we earn from qualifying purchases. Hence, if you click through and make a purchase, we will get a commission at no extra cost to you. For more info, read our full disclosure.
Yellow is a color that radiates warmth, happiness, and energy. When it comes to farmhouse living, incorporating yellow can add a touch of vibrancy and charm to your space. In this blog, we'll explore 7+ breathtaking color ideas that complement yellow, adding a fresh and inviting feel to various areas of your home. From neutral tones to bold contrasts, these ideas will inspire you to infuse yellow into your living spaces in a way that's both stylish and cozy.
Neutral Living Room Colors That Complement Yellow
A soothing palette of white and beige creates a harmonious backdrop for yellow accents in this living room. The white console, adorned with baskets and floral garland, holds a TV, while ladder shelves display books, framed images, and green plants. 
A yellow chair, beige sectional, and yellow pillows add a pop of color, and the dark wood coffee table contrasts beautifully with the white base. Artwork and metal vases with pink flowers complete the farmhouse look.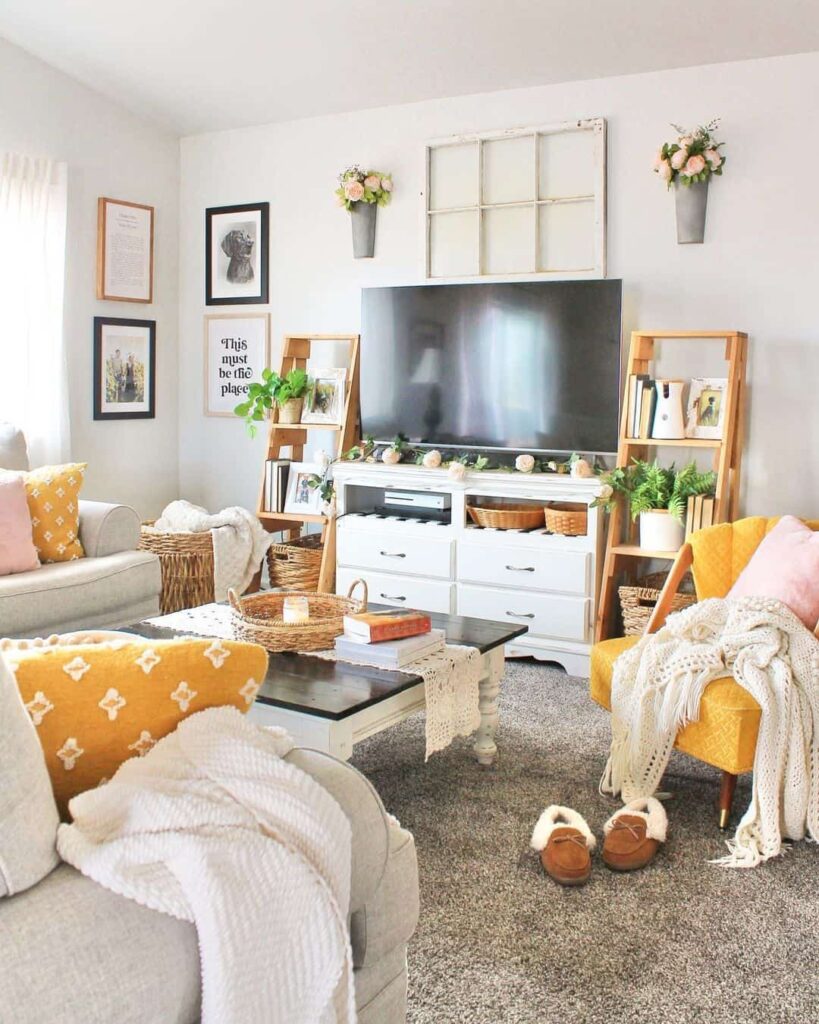 Credit: kaitsnest
Shop the Style
Pink and Yellow Living Room Décor With Floral Touches
This living room showcases a delightful combination of yellow and pink, with a textured pink pillow resting on a yellow chair. The black and white polka dot wallpaper adds a whimsical touch, while yellow and pink floral curtains frame the window. A white and gold planter with a leafy plant adds a fresh touch to the gray-carpeted area.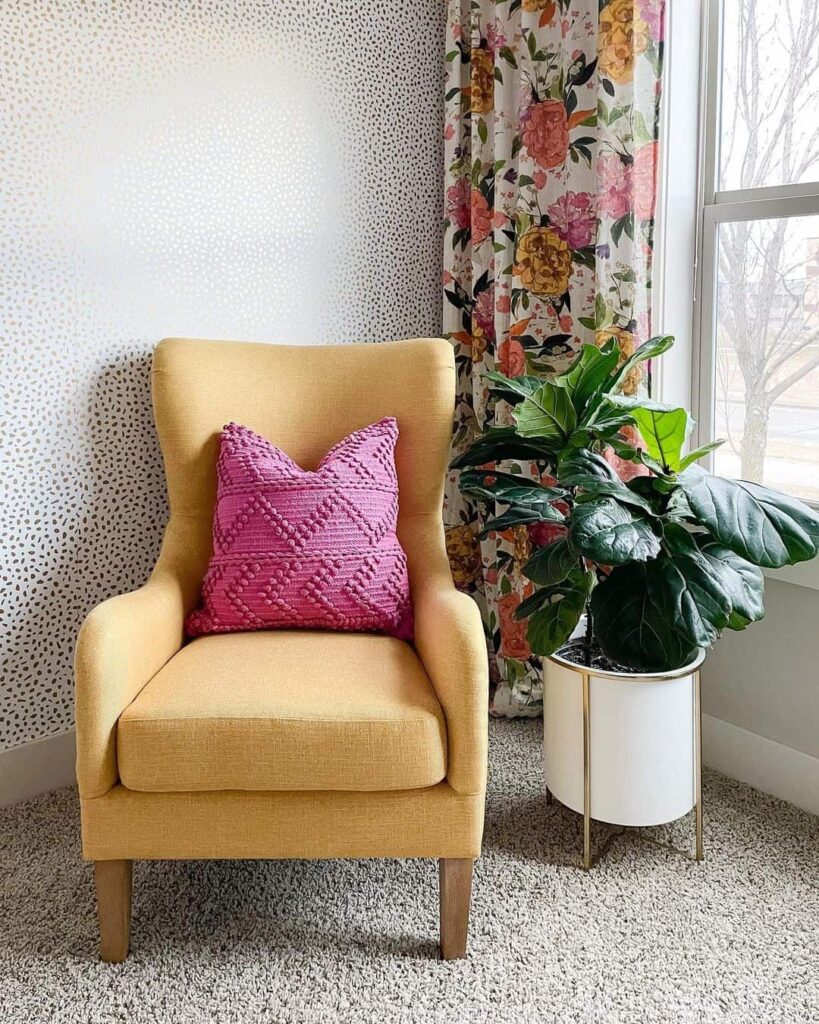 Credit: made.with.madeline
Shop the Style
Porch Colors That Harmonize With Yellow
The bright turquoise door of this farmhouse porch creates a stunning contrast with the yellow chair and rustic ladder display. Two porch lights and a galvanized metal sign add to the farmhouse charm, while a black and white welcome mat and crates with ferns add rustic appeal.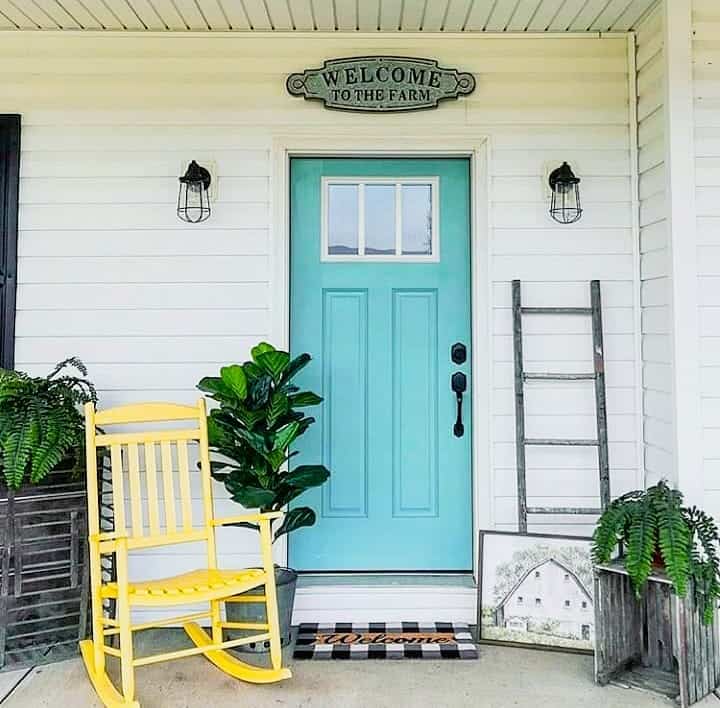 Credit: modernmeetsfarmhouse
Shop the Style
White Patio Bench Adorned With Yellow and White Pillows
Spring comes alive on this white patio bench, adorned with lovely yellow and white pillows. White flowers in a container and a blue and ivory rug on the concrete add splashes of color, enhancing the brick front entrance of this home.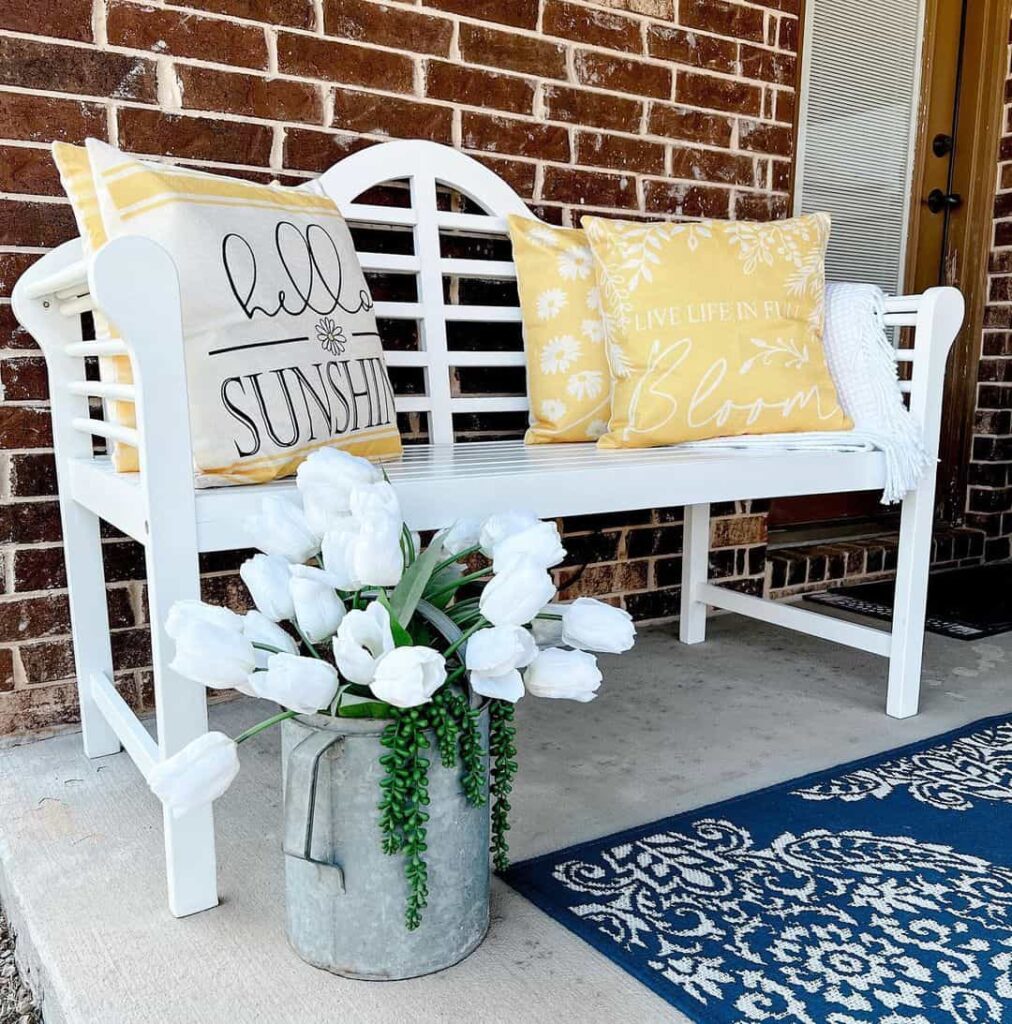 Credit: weatheredwhimsy
Shop the Style
Black, White, and Yellow Laundry Room Inspiration
This laundry room design features a blend of black, white, and yellow, with a wooden shelf decorated with farmhouse signs and yellow flowers. Black and white striped curtains, rugs, and a metal shoe rack with yellow rubber boots add character, while a coat rack with floral accents completes the look.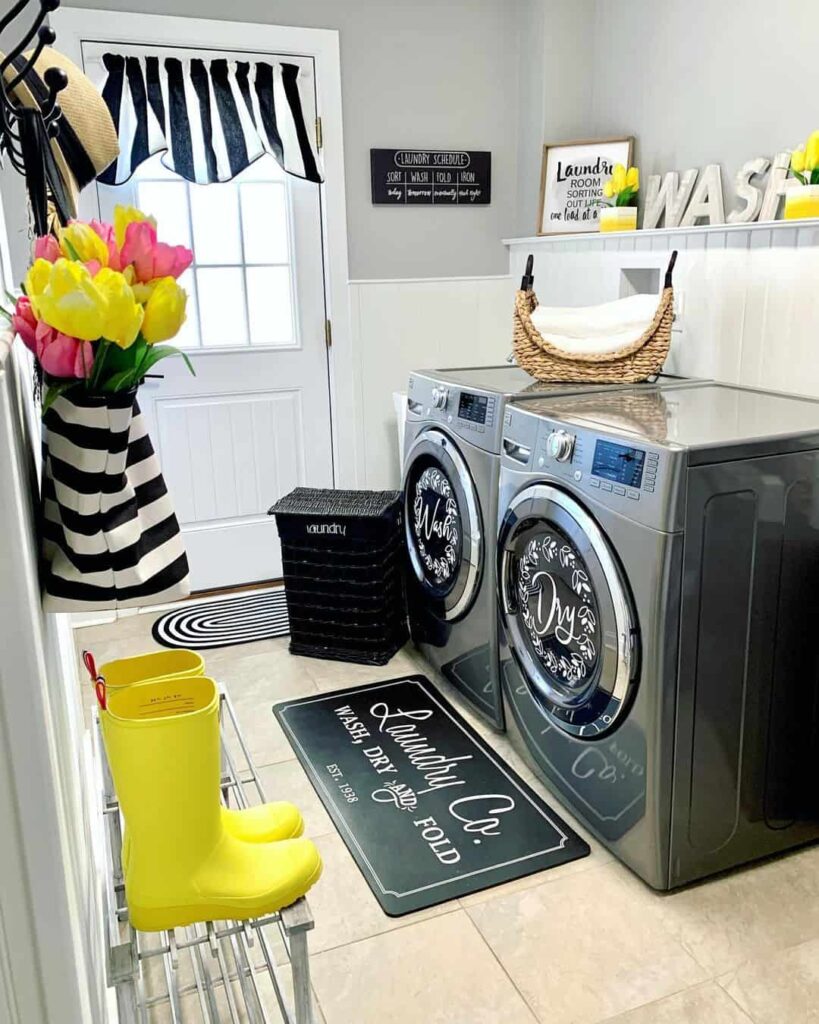 Credit: decor_ate_with_sharon
Shop the Style
Yellow Floral Accent Pillow Concept
In this living space, a beige sectional is embellished with black and white buffalo check pillows and yellow floral pillows. A farmhouse sign, tray with Easter décor, and candlestick with a planter add seasonal charm, while a black stand holds more Easter decorations.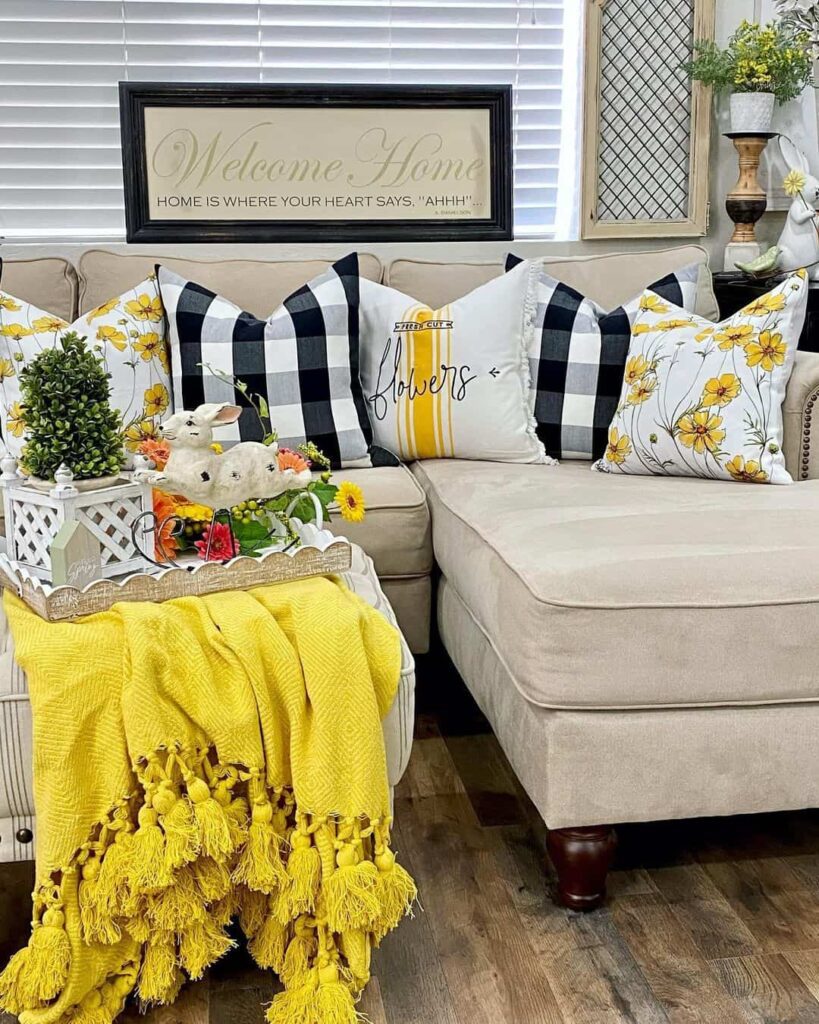 Credit: kh_decor
Shop the Style
Green and Yellow Laundry Room Styling
This laundry room pairs green and yellow for a fresh and cheerful look. A small window with a yellow valance overlooks birdhouses and potted plants, while white shelves hold wicker baskets and farmhouse décor. A green cabinet with serving ware and plants adds a touch of nature, and a wreath on the doors adds a finishing touch.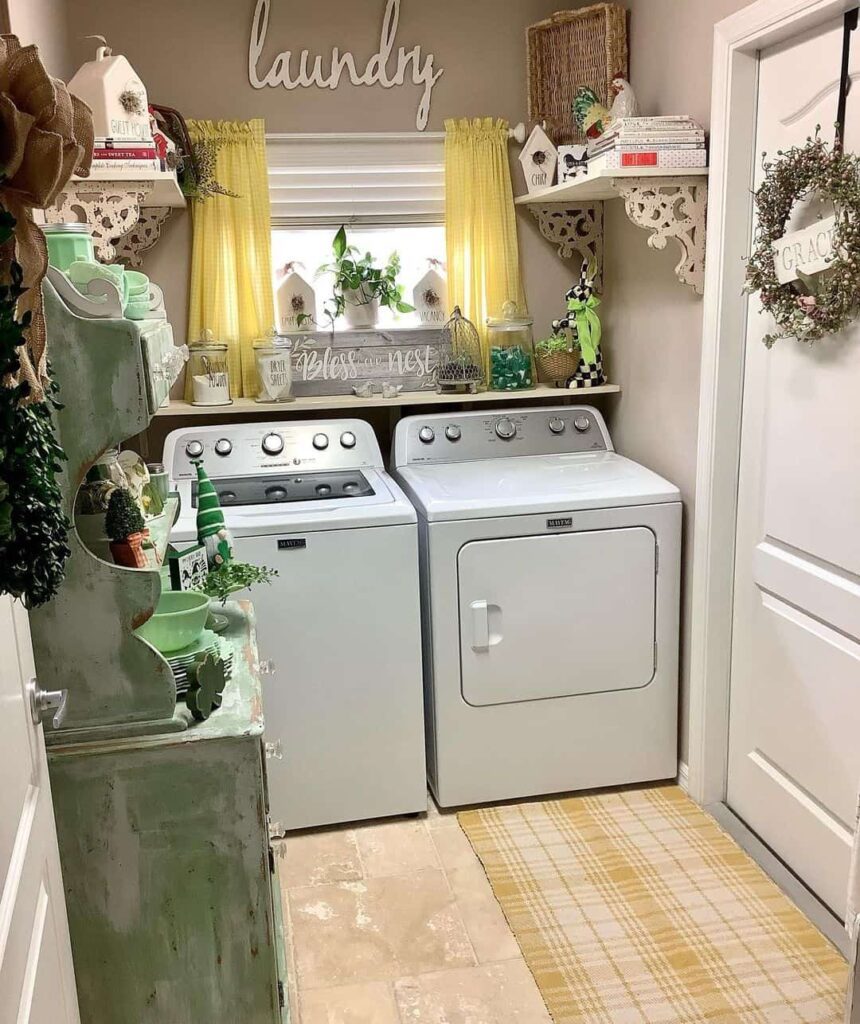 Credit: missjanice_14
Shop the Style
Black Vases With Yellow Floral Accents
In this kitchen, black vases of various shapes and sizes hold bouquets of yellow flowers, adding a touch of elegance to the gray island. White cabinets, a farmhouse mirror, and wooden utensils create a cohesive look, while wood cutting boards add a rustic touch.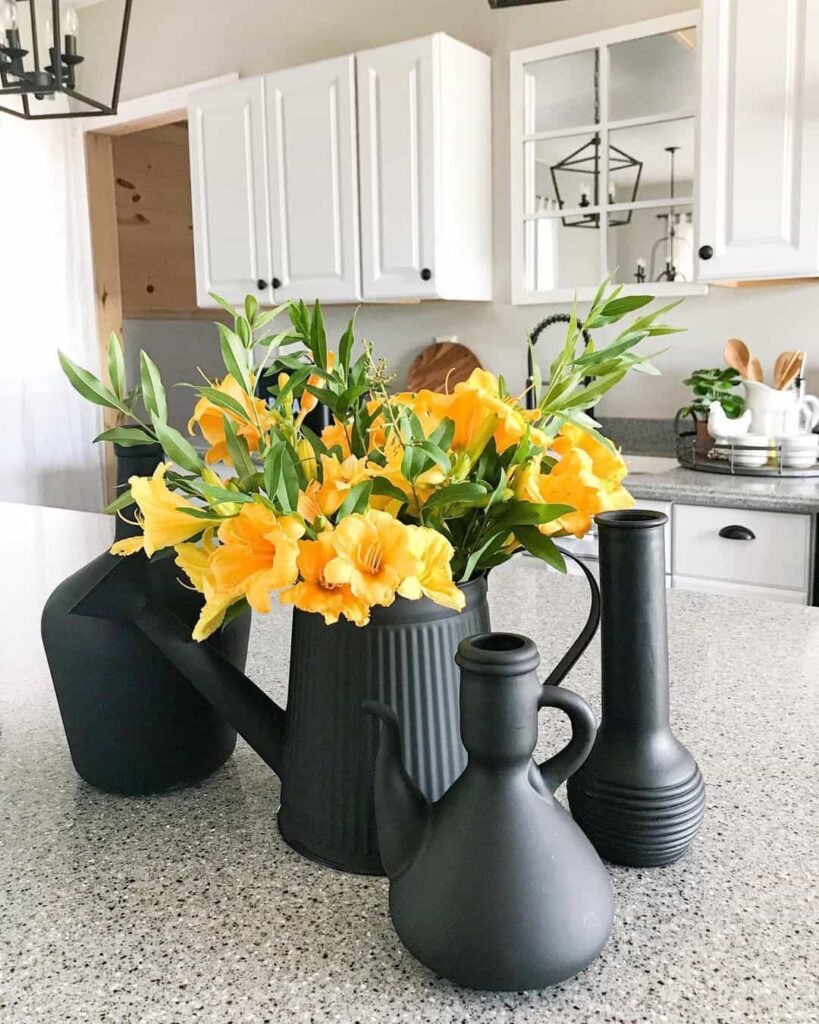 Credit: thewallshouse
Shop the Style
Final Thoughts
Yellow, with its sunny and cheerful disposition, can breathe life into any space, and these 7+ breathtaking color ideas have showcased just how versatile and complementary it can be. Whether paired with neutral tones, accented with floral touches, or blended with bold contrasts, yellow has proven to be a delightful addition to farmhouse living. 
From living rooms to laundry rooms, porches to patios, the infusion of yellow creates a warm, inviting, and stylish ambiance. If you're looking to refresh your home with a touch of brightness and charm, these ideas offer a wonderful starting point. Embrace the vibrancy of yellow, and let your creativity shine!