7+ Amazing Farmhouse Décor Tips To Infuse Charm Into Your Home
Affiliate Disclosure: As an Amazon Associate we earn from qualifying purchases. Hence, if you click through and make a purchase, we will get a commission at no extra cost to you. For more info, read our full disclosure.
Farmhouse décor is a timeless and comforting style that brings a sense of warmth and coziness to any home. With its neutral tones, natural materials, and vintage-inspired elements, it can transform your space into a rustic retreat.
In this article, we will explore eight creative ways to infuse farmhouse charm into your home, from wooden wall-mounted shelving in the kitchen to black-and-white millwork in the dining area. Follow along and get inspired to create your own farmhouse haven.
Wooden Wall-mounted Shelving in Kitchen Corner
Infuse a touch of farmhouse charm into your kitchen by incorporating wall-mounted shelves with warm wooden accents and lush greenery. The lightly marbled countertop features a striking white metal container, while white tulips introduce a burst of freshness to the room.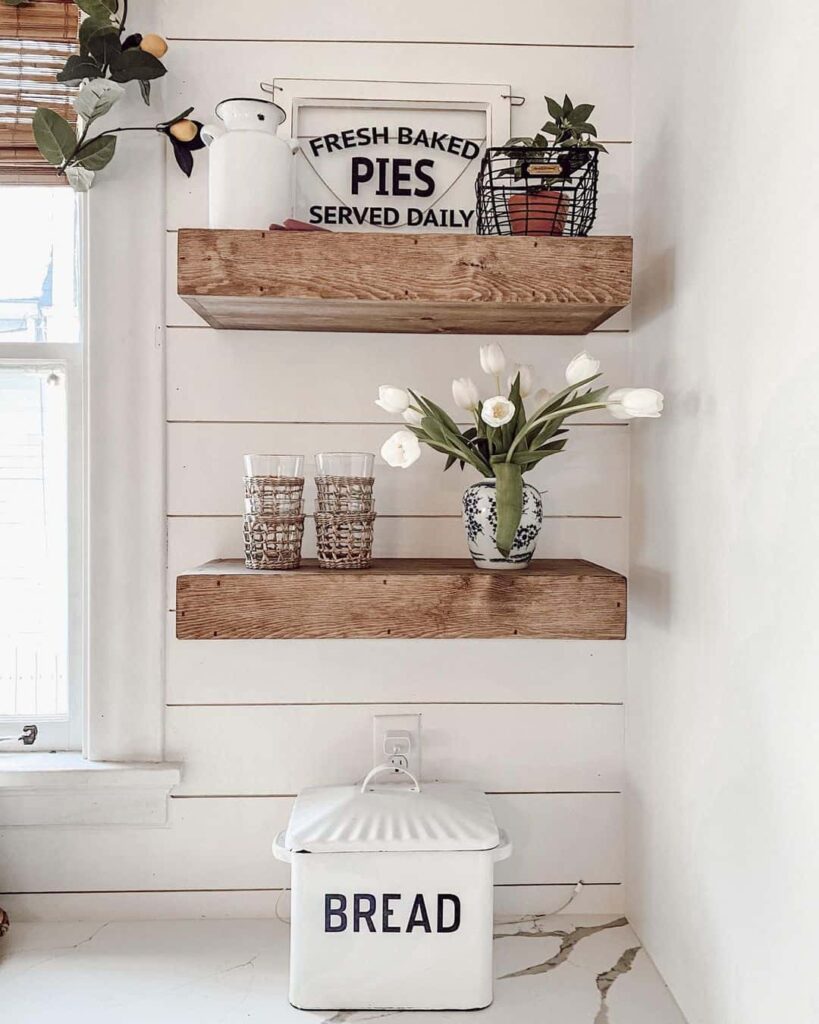 Credit: jamiewardtv
Shop the Style
Rustic Details on Hallway Wall
Revitalize your dull hallway walls into a rustic haven with wooden shelves adorned with delicate cotton flowers. Rustic wood-framed inspiring quotes and white farmhouse frames grace the shelves, while charming rustic cans filled with more cotton flowers sit at the bottom.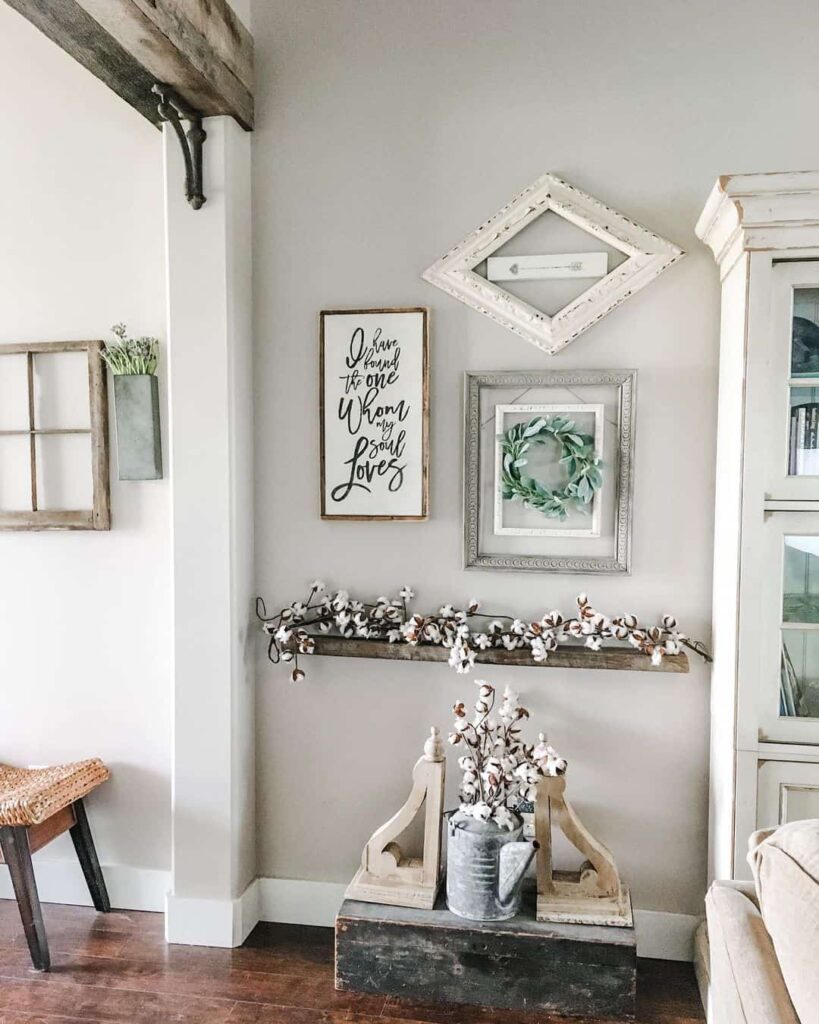 Credit: cottonandrust
Shop the Style
Pastel-green Walls and Farmhouse-inspired Frames in Bedroom
The bedroom radiates a serene ambiance with its pastel-green walls and white farmhouse-inspired frames. The comfortable bed is decked with patterned cushions and fresh flowers on a wooden tray, while a blanket ladder contributes warmth to the room.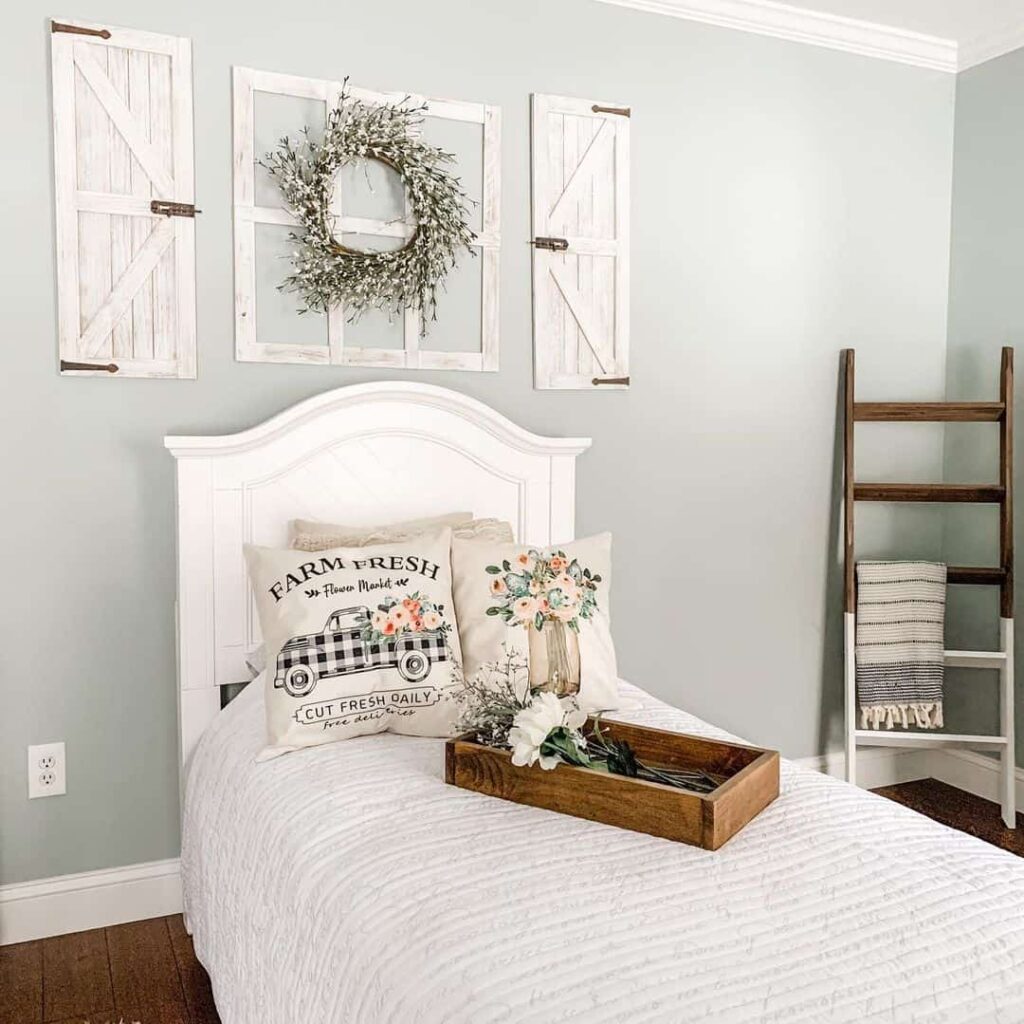 Credit: cozy_little_cape
Shop the Style
Dining Area Adorned With Rustic Wooden Farmhouse Décor
The dining area exudes a warm and welcoming aura, featuring a rustic wooden dining set paired with fall-inspired tableware. Gorgeous golden-accented pendant lighting enhances the earthy color palette, while the rustic wooden cabinet stands out against the patterned wallpaper.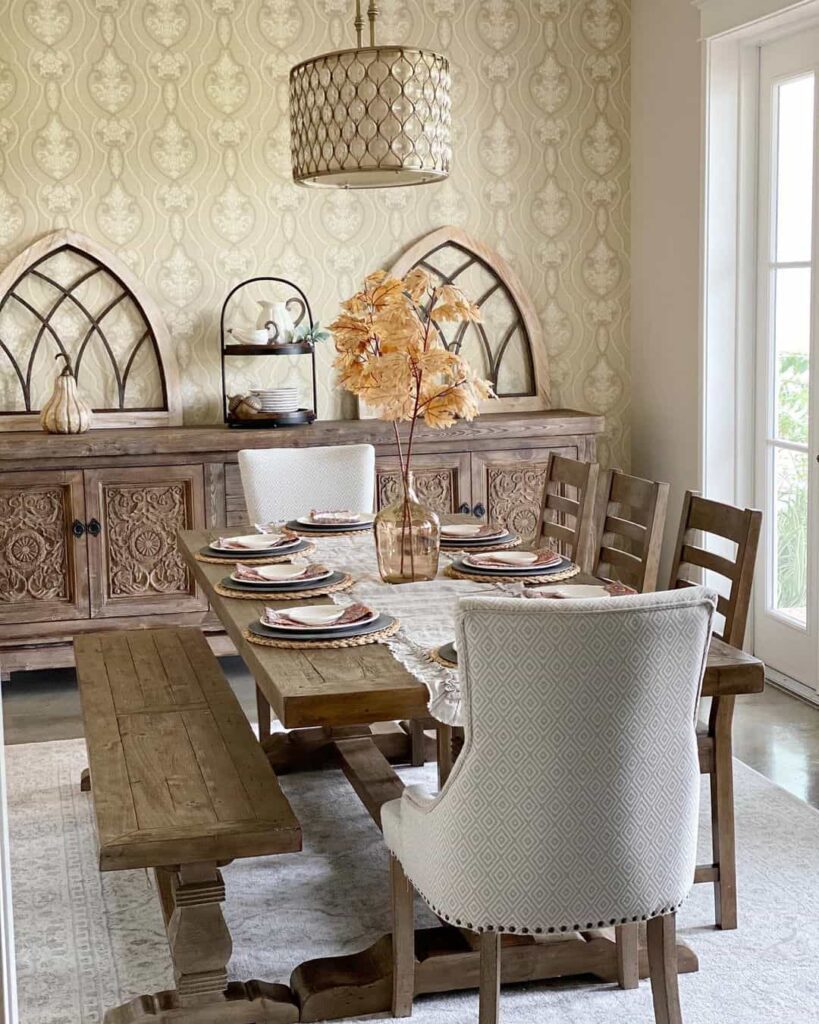 Credit: nita_home
Shop the Style
Farmhouse-inspired Details in Open-concept Kitchen
This kitchen showcases a versatile white island that doubles as a dining area, adorned with black trays filled with beautiful flowers and farmhouse-inspired pendant lights. The inviting open space flows effortlessly into the wooden dining table and elegant white mantelpiece.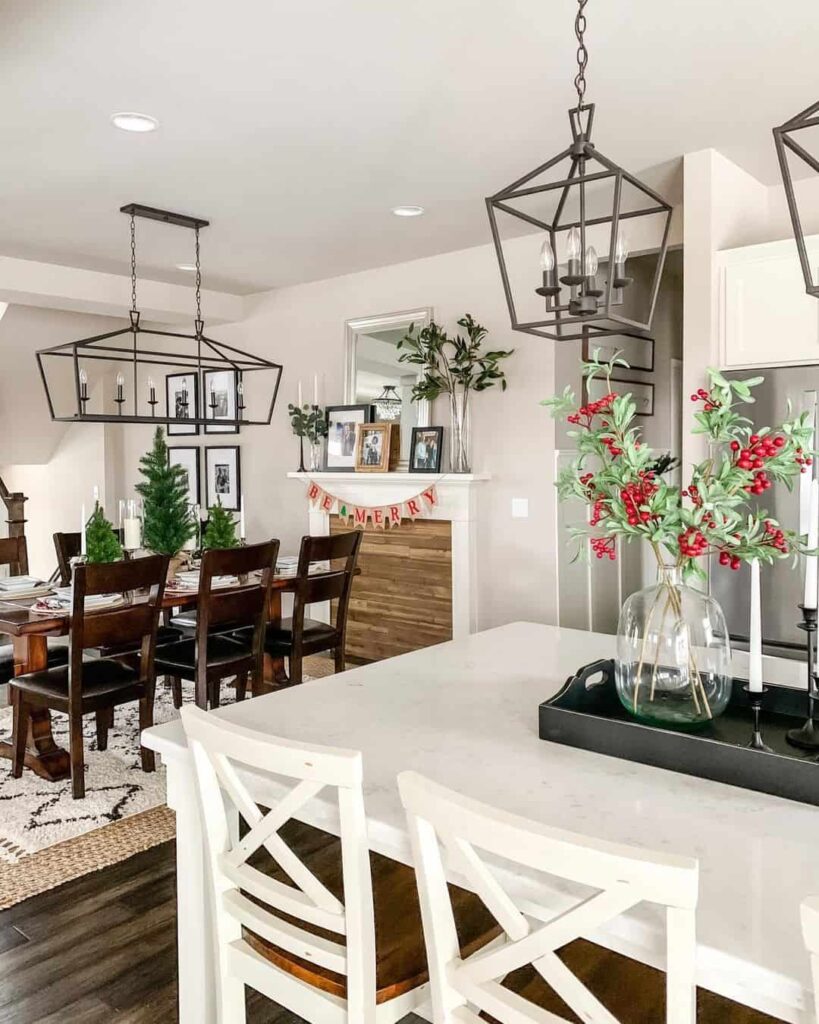 Credit: the.westnest
Shop the Style
Living Room Featuring Massive Farmhouse-styled Wall Clock
This stunning living room houses a cozy white armchair and an earth-toned oriental rug, creating a warm and welcoming ambiance. The oversized farmhouse-style clock infuses rustic charm, while the wooden blanket ladder offers both functionality and style.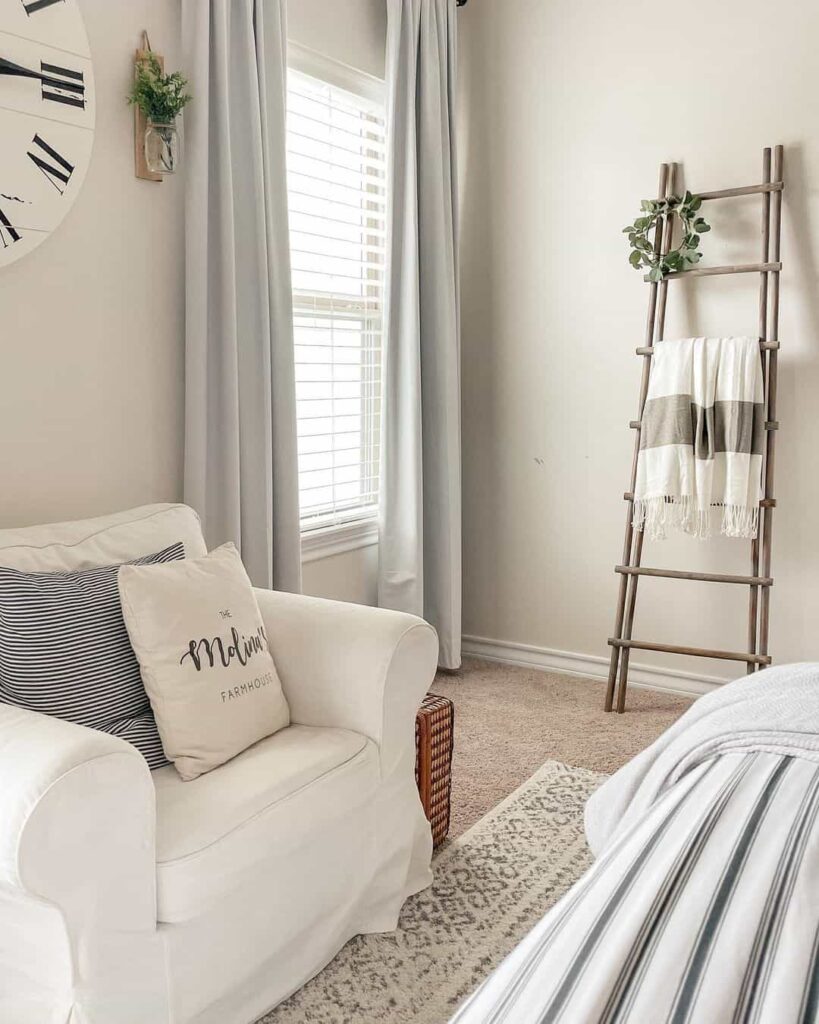 Credit: arlynmdesigns
Shop the Style
Hallway Featuring Cabinet with White-and-Wooden Accents
The hallway emanates farmhouse charm with a striking white cabinet adorned with wooden accents. Woven baskets, tableware, and wooden-accented signs create a welcoming atmosphere. The addition of greenery introduces vibrant splashes of color to this delightful space.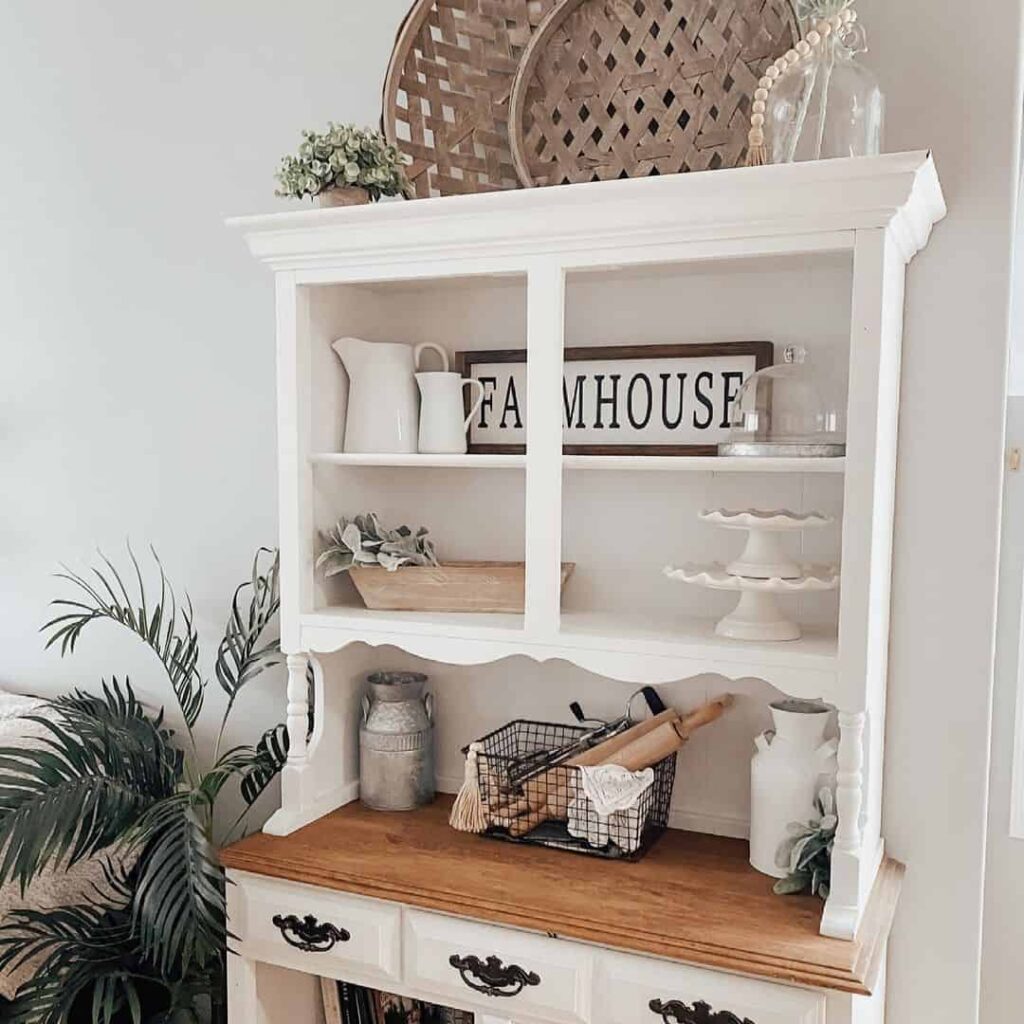 Credit: ourprairiecottage
Shop the Style
Dining Area Showcasing Black-and-White Millwork
The dining area showcases mesmerizing black-and-white picture frame molding decorated with woven baskets of varying sizes. A wooden dining table, set with bronze-accented candles and potted plants, serves as the focal point. A black-accented chandelier elegantly hangs from above, rounding out the stylish yet cozy ambiance.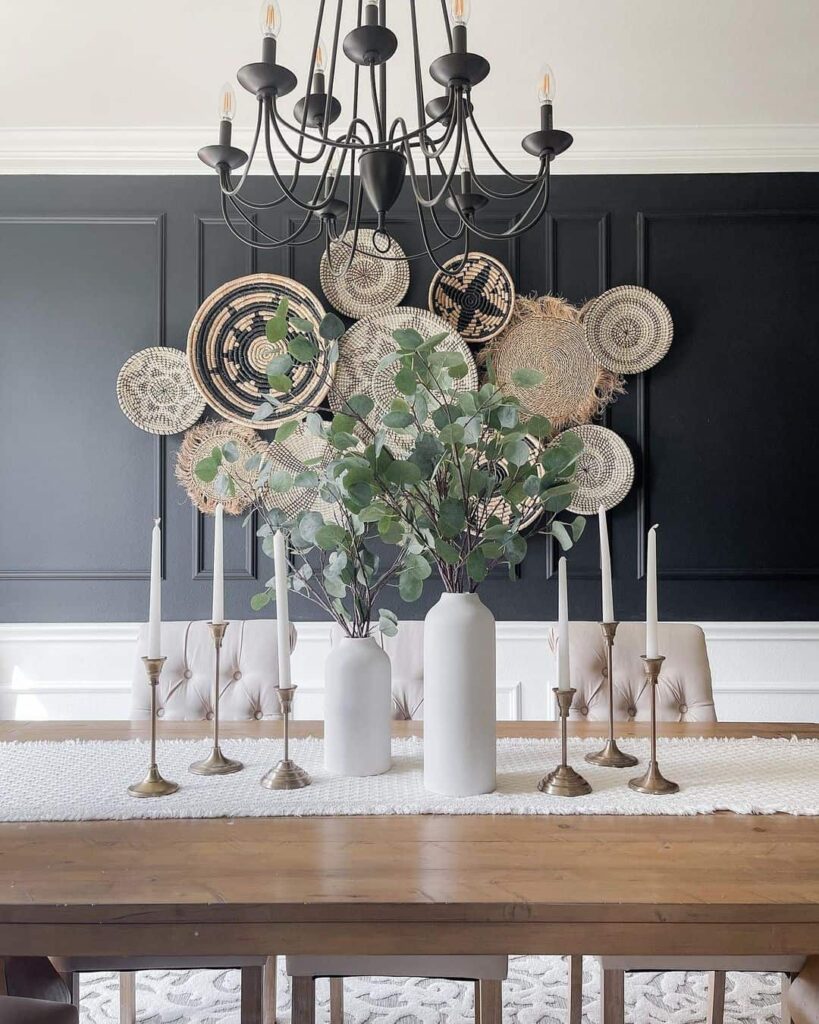 Credit: touchesofwood_lexi
Shop the Style
Wrap-up
Incorporating farmhouse décor into your home does not have to be complicated. By adding wooden accents, fresh greenery, and rustic details, you can create a space that is both cozy and stylish. Remember to mix and match different textures, patterns, and materials to achieve a more authentic and lived-in look.
Whether you are looking to update your kitchen, bedroom, or hallway, these tips will help you infuse farmhouse charm into every corner of your home. Happy decorating!