7+ Innovative Ways to Blend Antique Farmhouse Décor into Your Living Room
Affiliate Disclosure: As an Amazon Associate we earn from qualifying purchases. Hence, if you click through and make a purchase, we will get a commission at no extra cost to you. For more info, read our full disclosure.
Embracing the charm of antique farmhouse décor in your living room can transport you to a bygone era filled with rustic simplicity and timeless elegance. Whether you're a vintage enthusiast or simply seeking a cozy, warm atmosphere, blending antique farmhouse elements into your living space can be a creative and inspiring endeavor.
In this article, we'll explore seven innovative ways to seamlessly integrate antique farmhouse décor into your living room, breathing life into your home with a touch of yesteryear.
Embrace Cozy Rustic Vibes with Antique Seating
Within this inviting living space, you'll discover a charming woven rug taking center stage, gracing the floor beneath a rustic coffee table ingeniously crafted from reclaimed wood. The room is adorned with antique furniture, including a plush sofa and comfortable armchairs, all enhancing the rustic charm. Adding to the cozy ambiance, white side tables are topped with shaded table lamps that cast a warm, welcoming glow.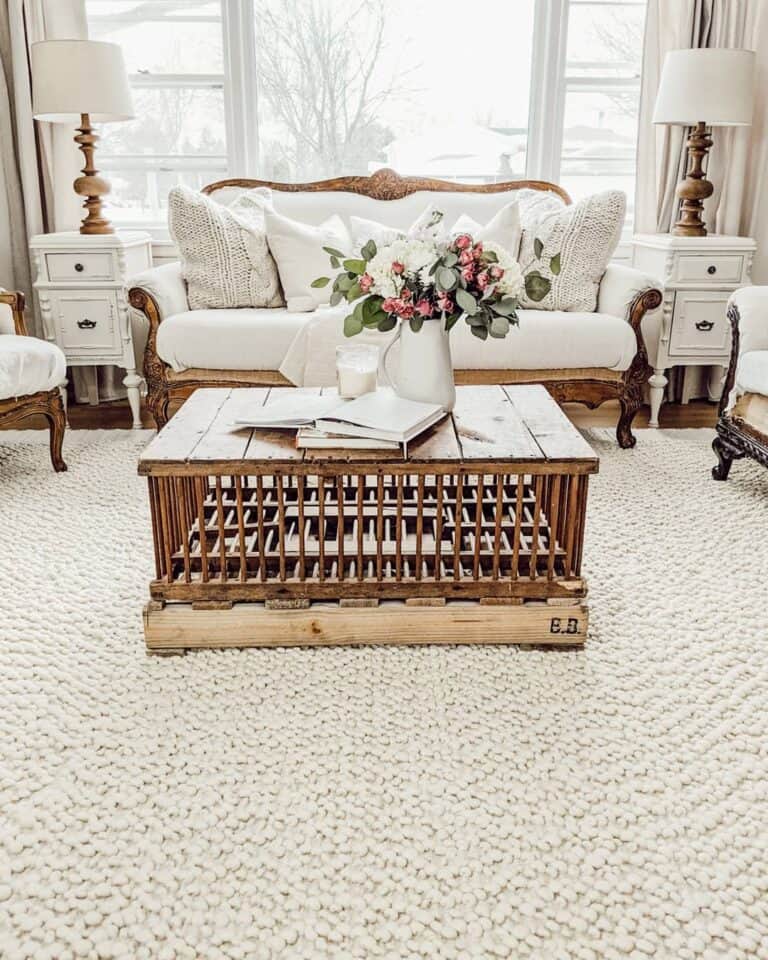 Credit: vintageandgraceliving
Shop the Style
Vintage Metal-framed Daybed Transforms into a Stylish Couch
Basking in the warm embrace of the summer sun, a vintage metal-framed daybed metamorphoses into a delightful couch in this farmhouse-themed living area. Dressed in white, the vintage futon boasts large cream pillows and stands gracefully before a magnificent window. On one side, a brown dresser adorned with layered mirrors adds to the room's thematic appeal.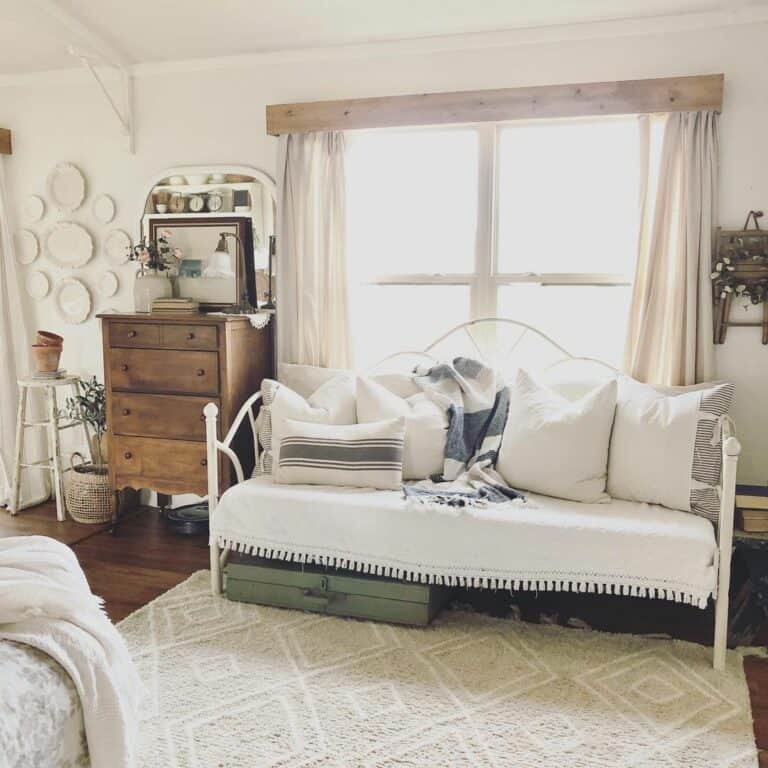 Credit: twelvetwo.at.home
 Shop the Style
Black and White Silhouette Art
An exquisite homage to antique farmhouse aesthetics resides atop a weathered white dresser—a small black and white silhouette portrait. True to vintage style, the dresser proudly displays a missing drawer handle, an authentic nod to the design theme that adds character and charm to the room.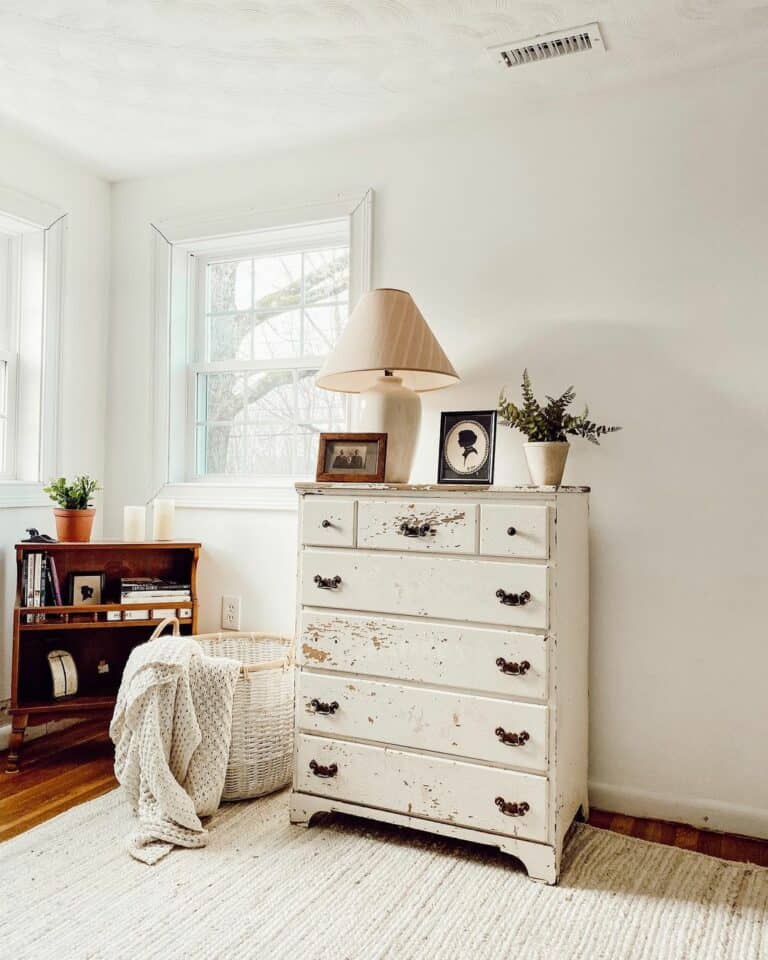 Credit: torismithhome
 Shop the Style
European Sitting Room with French Spindle Leg Table
This sophisticated European-style sitting room unveils a one-of-a-kind French spindle leg table. The room's design exudes timeless elegance, with red curtains, a floral rug, and an antique lounge chair gracing the space. Vintage decorative accents, including a vase of mums, a tureen, stacked books, and a small bust statue, complete the picturesque vignette styling.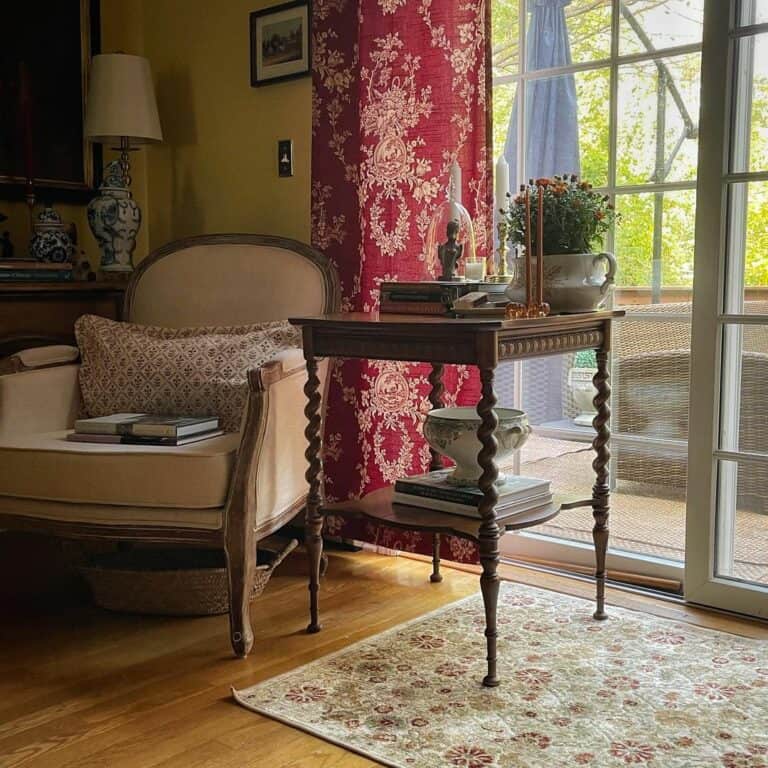 Credit: thefrenchcountryfarmhouse
Shop the Style
Repurposed Vintage Church Pew for Creative Seating
In a creative departure from conventional seating arrangements, a repurposed antique church pew takes center stage, serving as unique seating for a charming coffee station. Stripped down to reveal its original wood, the pew infuses the space with a dash of rustic allure. Suspended above it, vintage paintbrushes dangle gracefully, imparting a delightful cottage ambiance.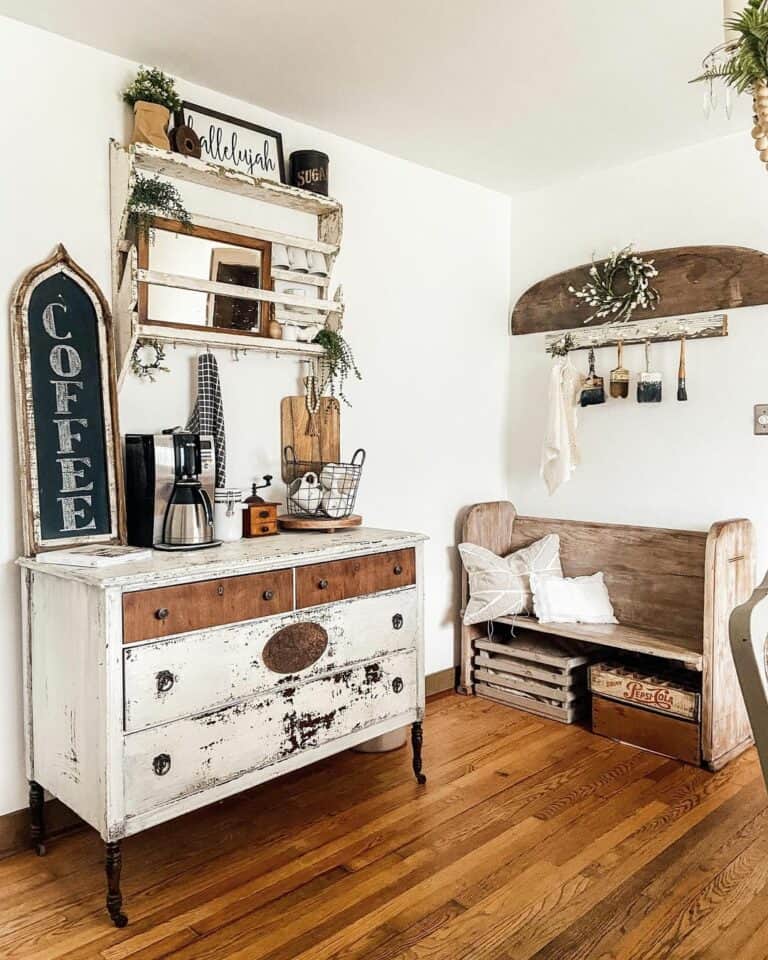 Credit: treasuresredeemed
Shop the Style
Antique Farmhouse Tribute
The entryway of this home serves as a remarkable gallery wall dedicated to the family's ancestors. Paying homage to those who came before, the wall displays vintage photographs in frames of various shapes, colors, and sizes, all exuding an antique flair. If you have a passion for family history, this idea offers a heartfelt gesture to your loved ones.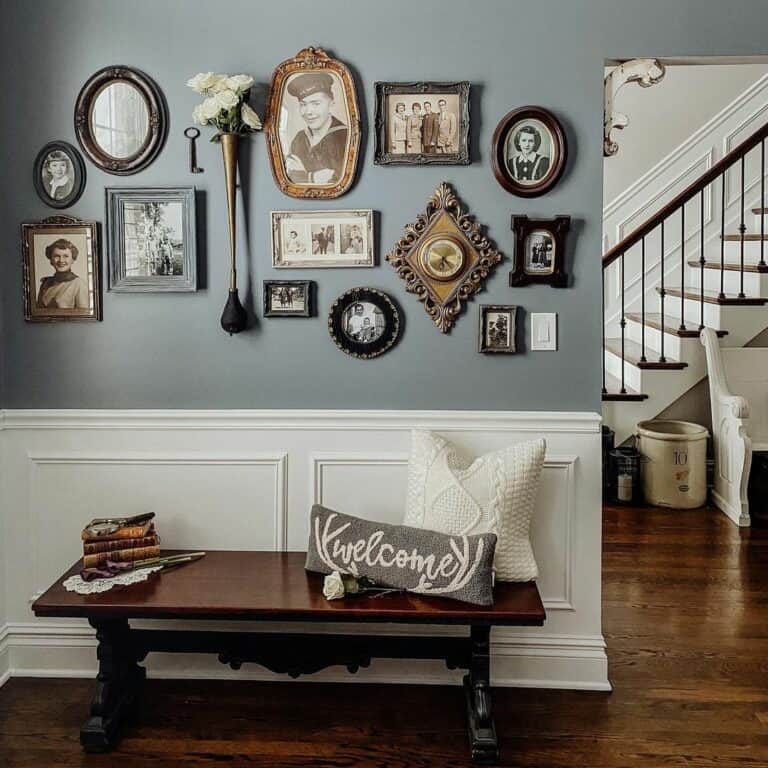 Credit: thevintagebreadbox
Shop the Style
Decorative Black-framed Mirror Adding Depth
In a farmhouse sitting room radiating with brightness, a black-framed mirror subtly disrupts the serenity. Hanging behind a collection of lamps, vases, and candle stands, the mirror features an arched metal frame with intricate antique detailing at its crown. Layering pieces like this ensures there's always something visually captivating to catch the viewer's eye.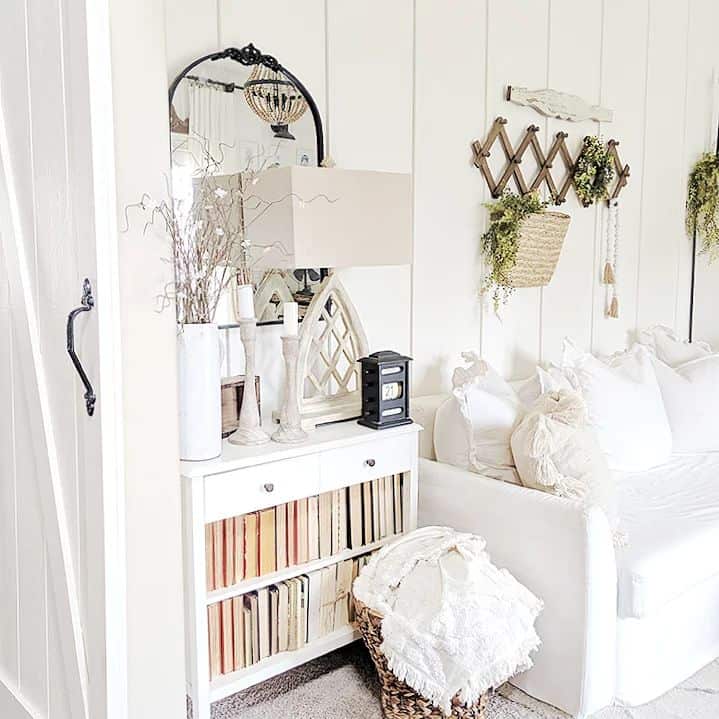 Credit: thriftyandchicdecor
Shop the Style
Illuminating Distressed Iron Lamp Sconces
These gracefully distressed iron lamp sconces, sometimes referred to as barn door lights, elegantly grace a shiplap-adorned wall, casting a warm and inviting glow onto a reverent entryway table. The table itself features a wallboard devoted to the spiritual hymn "Amazing Grace." Thanks to their grand dimensions, these sconces can effortlessly find a place in your kitchen, bedroom, hallway, or even adorn the exterior of your home.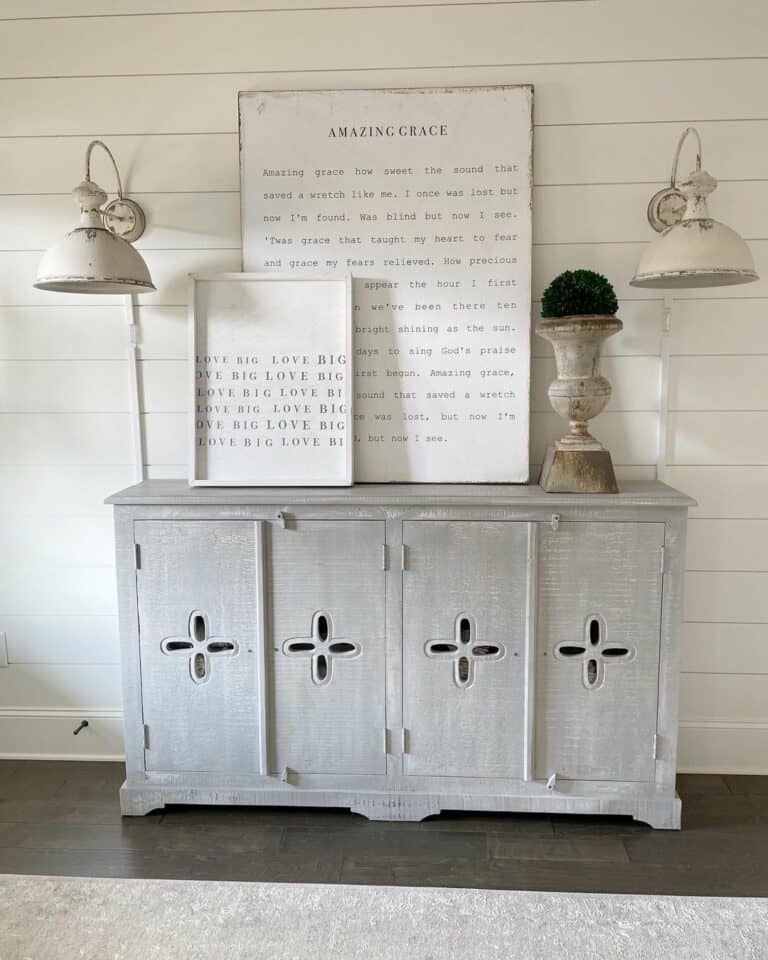 Credit: white.cottage.life
Shop the Style
Wrap-up
Incorporating antique farmhouse décor into your living room is not just about decorating; it's about creating a welcoming, nostalgic retreat that tells a story. By mixing old-world elements with modern design sensibilities, you can achieve a harmonious balance that radiates warmth and personality.
From reclaimed wood furniture to vintage textiles and clever DIY projects, these seven innovative ideas have shown us that the past can indeed find its place in the present, creating a timeless, inviting, and utterly captivating living room space.
So go ahead, explore your creativity, and let the charm of antique farmhouse décor breathe new life into your living room – it's a journey well worth embarking on.