7+ Elegant Farmhouse Dry Bar Ideas to Elevate Your Entertaining Space
Affiliate Disclosure: As an Amazon Associate we earn from qualifying purchases. Hence, if you click through and make a purchase, we will get a commission at no extra cost to you. For more info, read our full disclosure.
Discover the perfect fusion of elegance and rustic charm with these exquisite farmhouse dry bar ideas. Whether you're a seasoned entertainer or just looking to enhance your home's social hub, these creative setups will elevate your space and create an inviting atmosphere for guests.
From open shelving to stylish wooden counters, each design encapsulates the essence of farmhouse aesthetics while catering to your entertainment needs.
Rustic Charm: Open Shelving and Wooden Counter
For a touch of rustic charm in your home, consider open shelving adorned with cocktail-making accessories and liquor bottles. This farmhouse kitchen boasts olive green cabinetry paired with a warm wooden counter, all enclosed by inviting shiplap walls.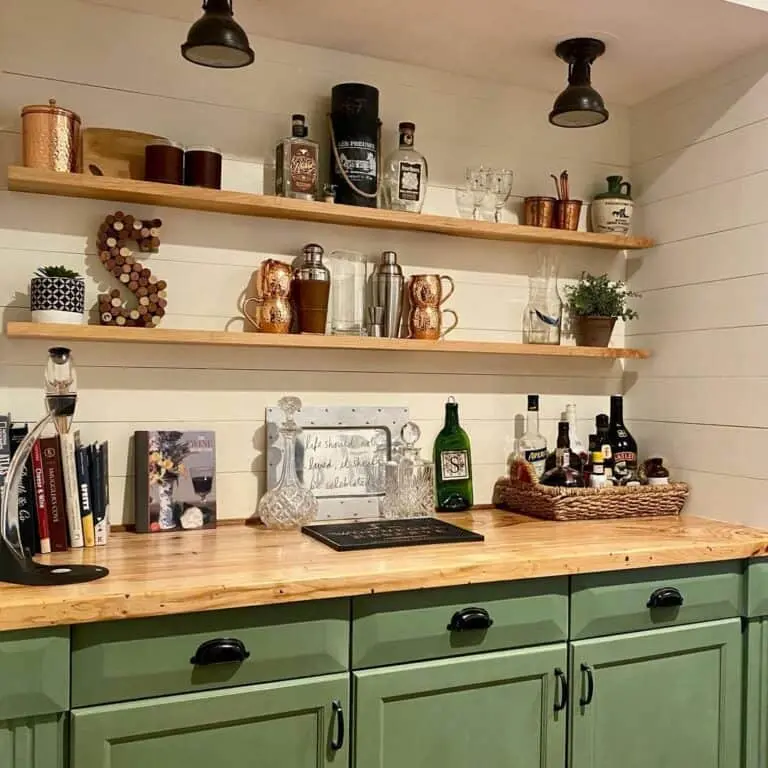 Credit: ahousewren
Shop the Style
Elegance Up Above: Barreled Ceiling in Butler's Pantry
Step into a spacious modern butler's pantry featuring sleek gray cabinetry and a meticulously organized beverage bar. The open shelving proudly showcases an array of liquor bottles, while wine bottles find their place in stylish chevron-style compartments. Above, a gracefully arched shiplap ceiling adds an extra layer of elegance to the space.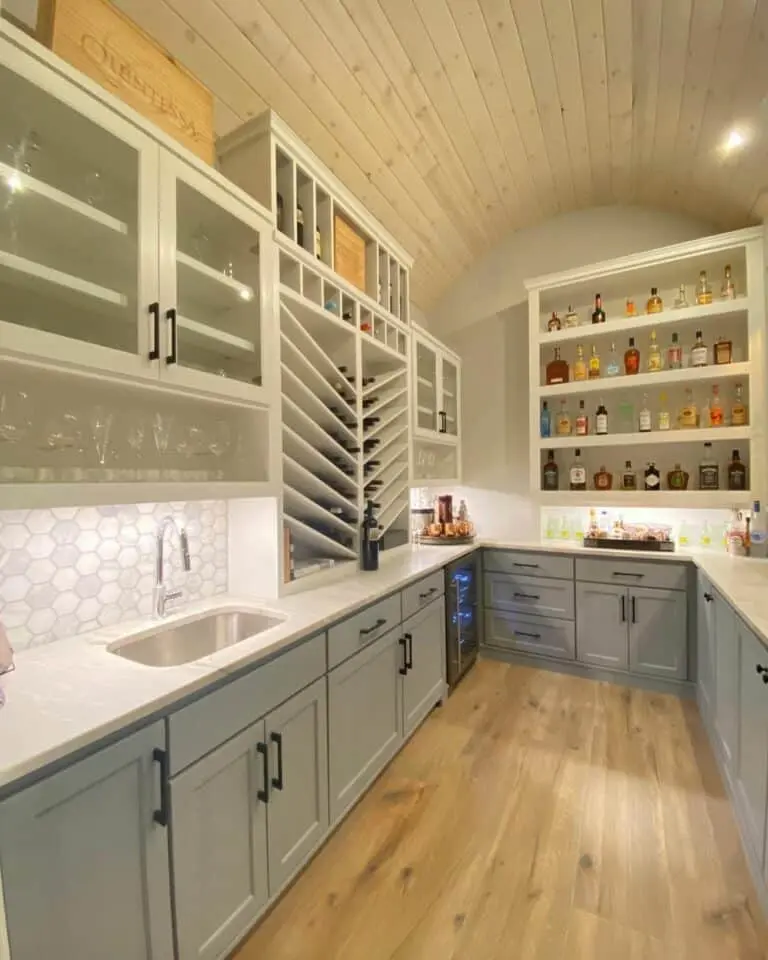 Credit: tredwayhomedesigns
Shop the Style
Chic and Functional: Cocktail Cabinet Display Ideas
Incorporate a touch of chic functionality with a gray storage unit that doubles as a stylish dry bar in your neutral-toned abode. Glassware glistens within upper glass-panel cabinets, while modern decor accents like ornaments and candles grace the wooden counter below.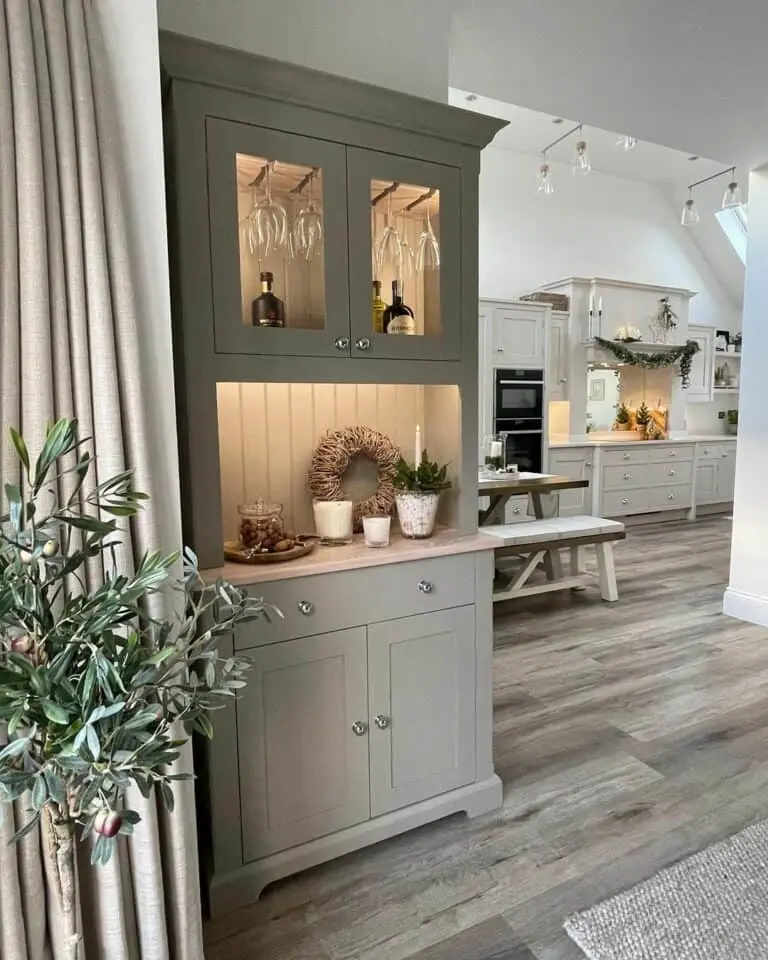 Credit: overton_renovation_
Shop the Style
Embracing Simplicity: Winter Touches for Kitchen Counter
Embrace the serene beauty of winter within a neutral kitchen adorned with white lower cabinets and a rich wooden countertop. Alongside open shelving, discover a simple yet captivating home dry bar, featuring an assortment of liquor bottles showcased on a rustic wooden tray.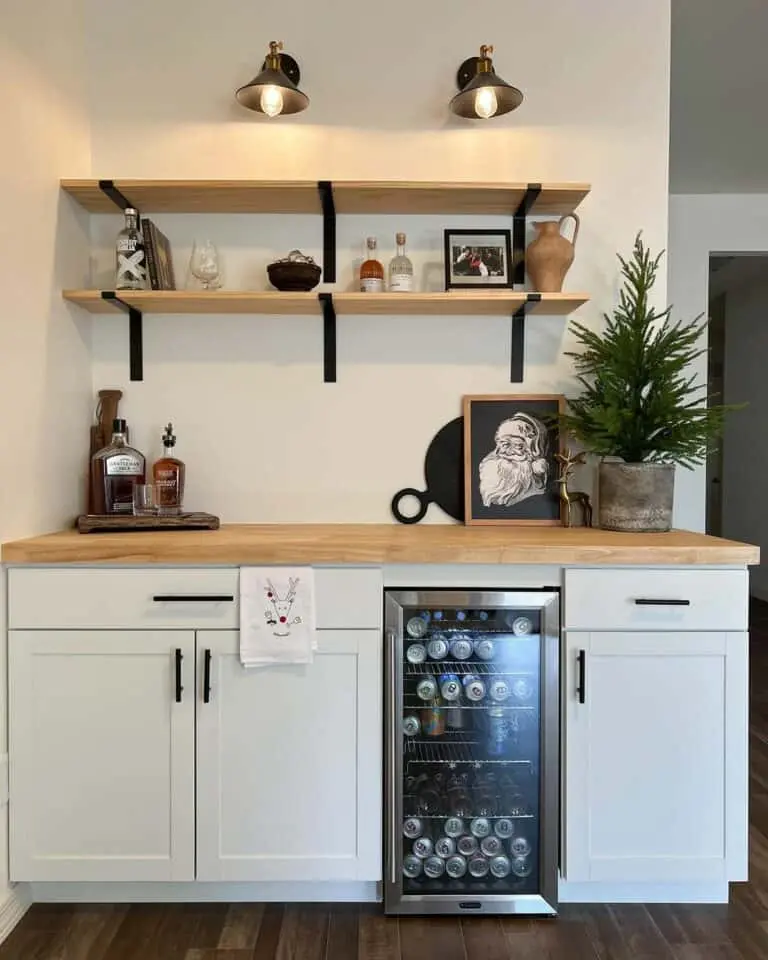 Credit: livingwithsummer
Shop the Style
Boho Vibes: Styling for Your Dry Bar
Infuse boho vibes into your dry bar setup, showcasing ceramic goblets, glassware, and delightful hints of greenery. Woven baskets and artistic ornaments playfully adorn the space alongside liquor bottles and a stack of inviting books.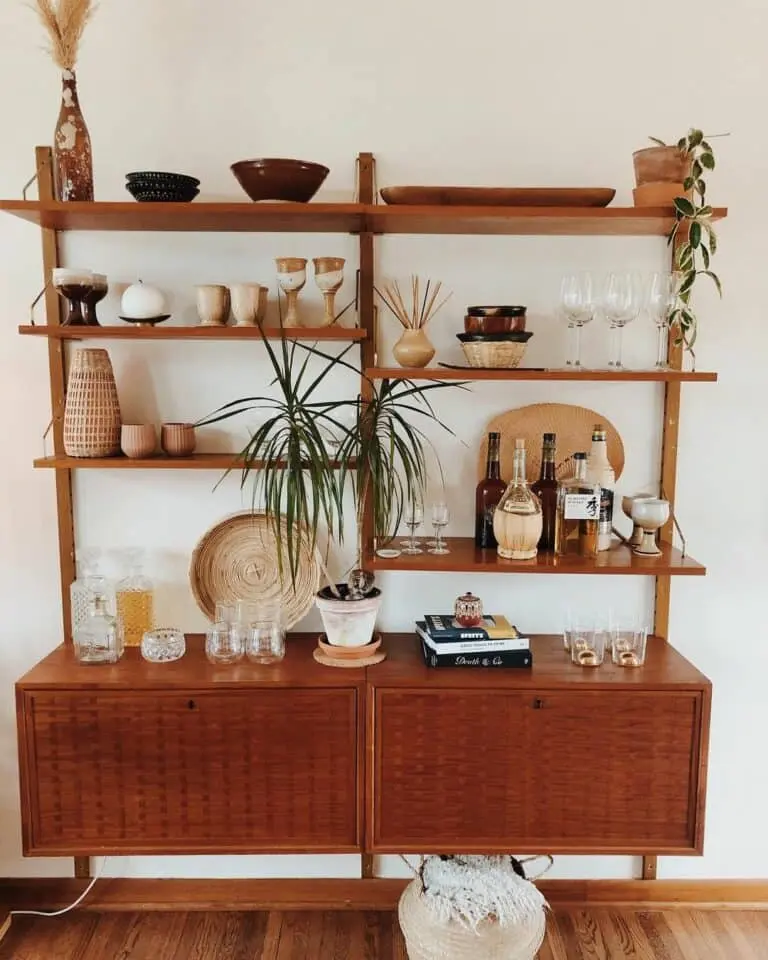 Credit: stefanie.zielke
Shop the Style
A Functional Addition: Neutral Kitchen With Island Trolley
Modern meets functionality in this kitchen, featuring a rustic wooden trolley as a versatile dry bar idea. Surrounded by white cabinetry and a neutral herringbone backsplash, the trolley hosts a charming display. Above, glass dome pendant lighting casts a gentle glow over the black granite peninsula counter.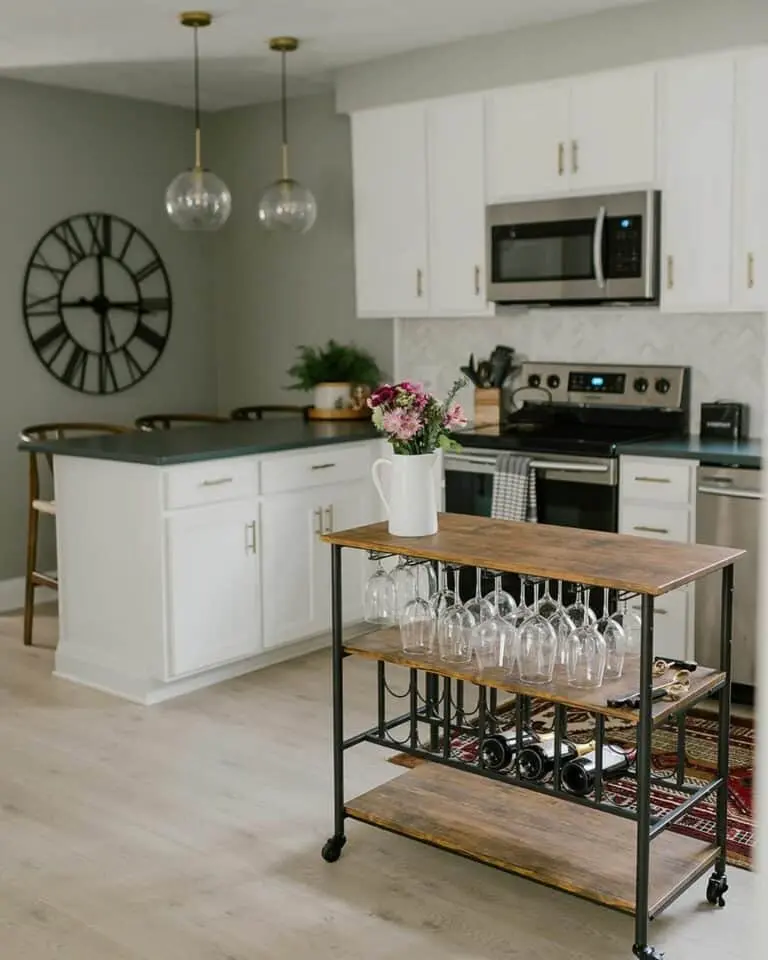 Credit: thoughtfullythrifted
Shop the Style
Rustic Nook Retreat: Home Bar in a Kitchen Nook
Discover a rustic nook that offers both comfort and style, creating an inviting home dry bar space. Alongside vintage jars and tubs, glassware and liquor bottles find their place. A wine fridge and lower wooden storage cabinet complete this rustic haven.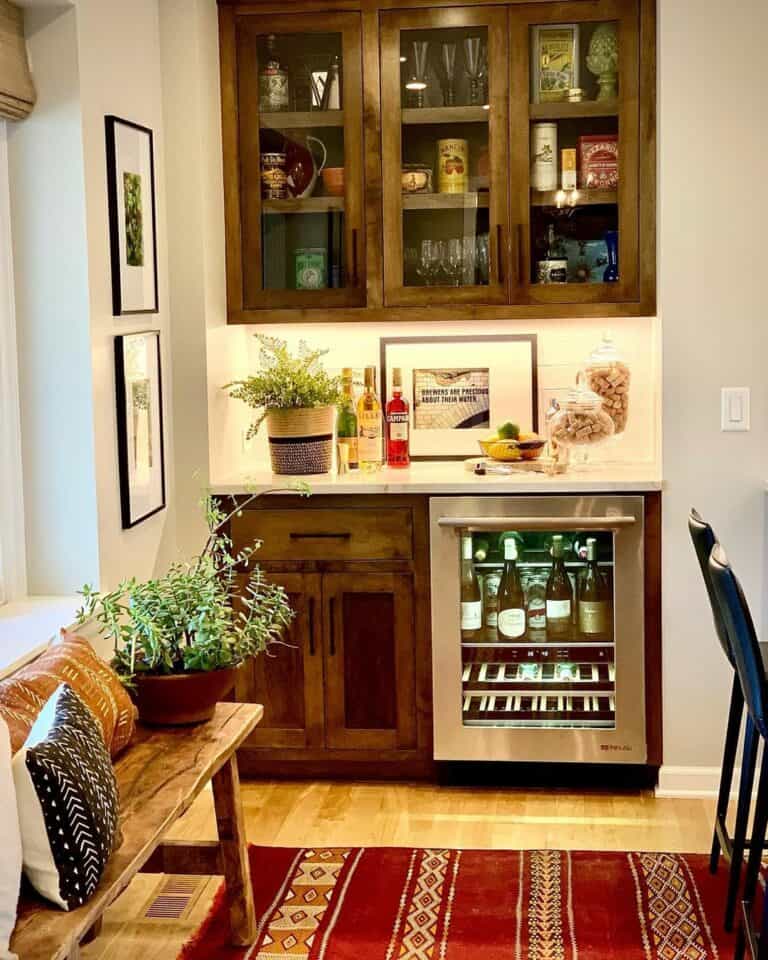 Credit: transitionmode.llc
Shop the Style
Green Oasis: Indoor Plant-Inspired Modern Lounge
Infuse your modern lounge with a touch of nature using a wooden butcher block countertop and glass shelf setup. Display glassware on a sleek black ladder fixture above stained wooden flooring, while a potted plant adds a refreshing touch near a generously sized window.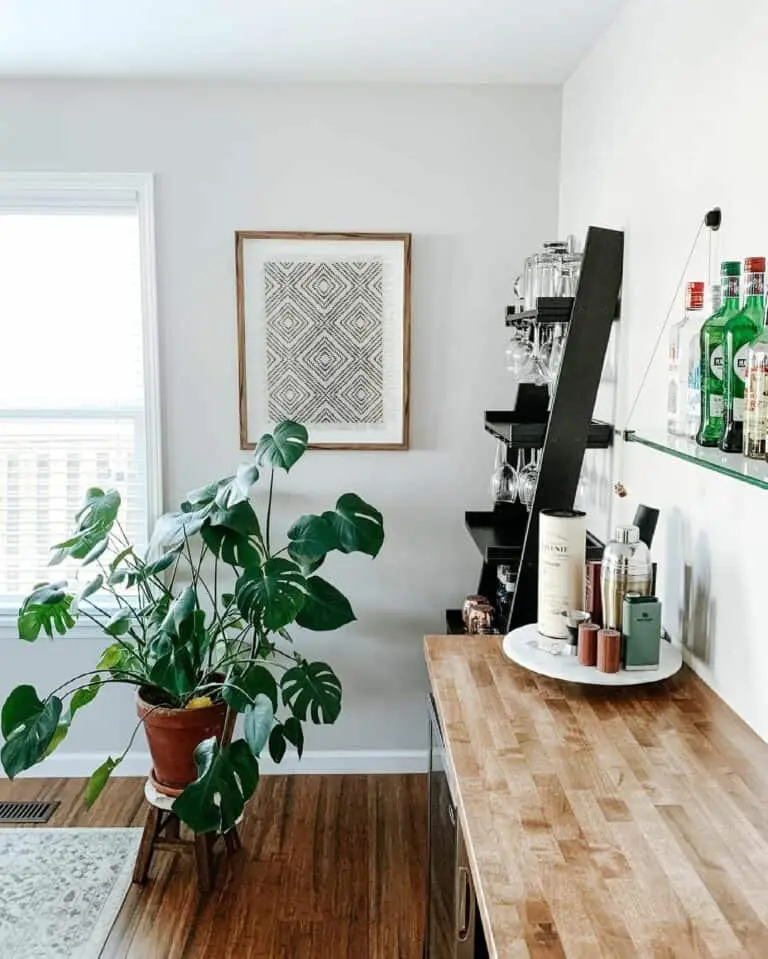 Credit: sammyonstate
Shop the Style
Wrap-up
Elevate your entertaining experience with the timeless allure of farmhouse dry bars. These seven elegant ideas blend the warmth of rustic design with the sophistication of modern functionality. By incorporating these inspirations into your space, you're not only enhancing your home's ambiance but also creating a welcoming haven for memorable gatherings and delightful conversations.