7+ Charming Farmhouse Living Room Window Style Ideas
Affiliate Disclosure: As an Amazon Associate we earn from qualifying purchases. Hence, if you click through and make a purchase, we will get a commission at no extra cost to you. For more info, read our full disclosure.
Discover a world of rustic elegance and timeless allure as we explore a collection of captivating living room window styles that infuse your home with the heartwarming charm of a farmhouse aesthetic. From the classic appeal of French bay windows to the intricate beauty of stained glass, each window style serves as a gateway to a cozy and inviting living space.
Join us on a journey through these 7+ enchanting window styles that are sure to bring the warmth of farmhouse living to your abode.
Ideas for Enhancing Your Living Room's French Bay Windows
A white linen sectional sofa takes center stage in front of a charming French bay window. The white roll-up drapes harmonize with the living room's neutral ambiance, ensuring unobstructed daylight. Complementing the setup, a modern wood drum coffee table is adorned with a rustic farmhouse centerpiece.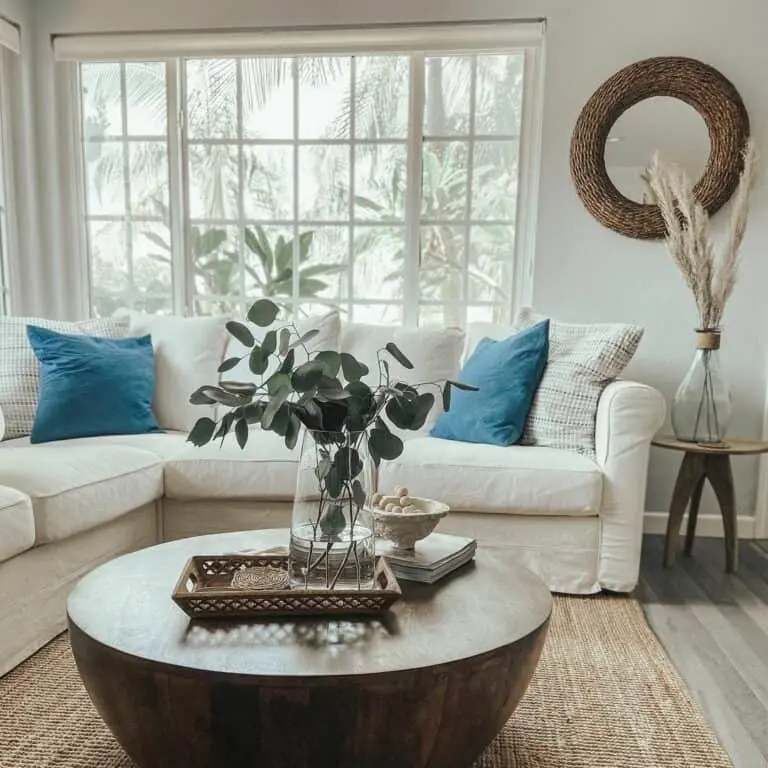 Credit: myhomeinlittlesquares77
Shop the Style
Embrace Elegance with Stained Glass Windows in Your Living Room
Elevate your modern neutral living room with the timeless allure of stained glass windows. These top panel additions grace the floor-to-ceiling expanse, perfectly paired with substantial wood blinds. Beneath them, a geometric farmhouse area rug complements a white stone coffee table and a sofa set in white and gray hues.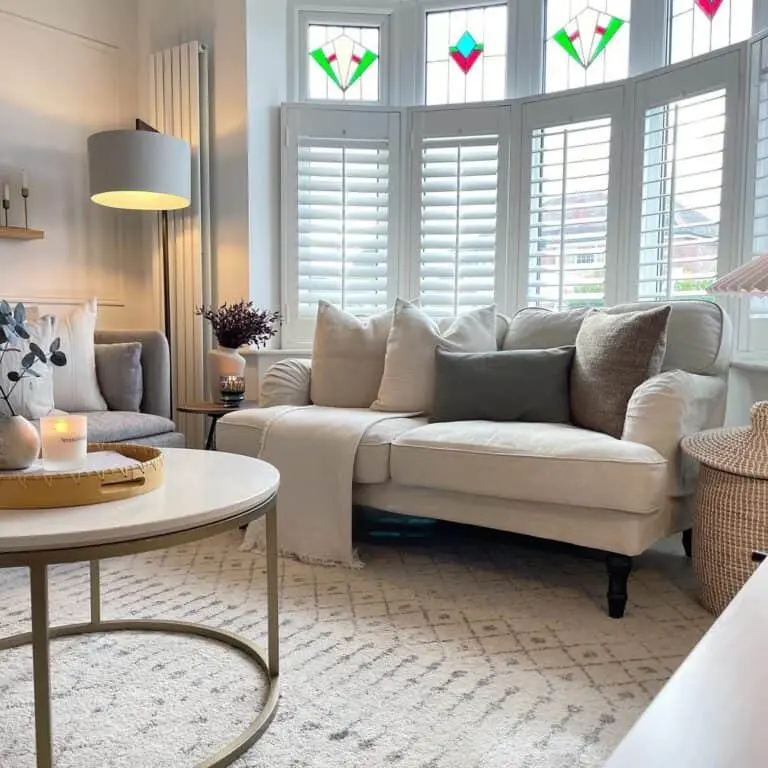 Credit: themillys1930shome
Shop the Style
Create a Seamless View with Slider and Casement Windows
Unleash stunning panoramic vistas from your living space with black slider windows framed by casement and transom counterparts. This captivating floor-to-ceiling arrangement effortlessly syncs with the room's neutral farmhouse aesthetic, characterized by a palette of black, white, natural wood, and gray.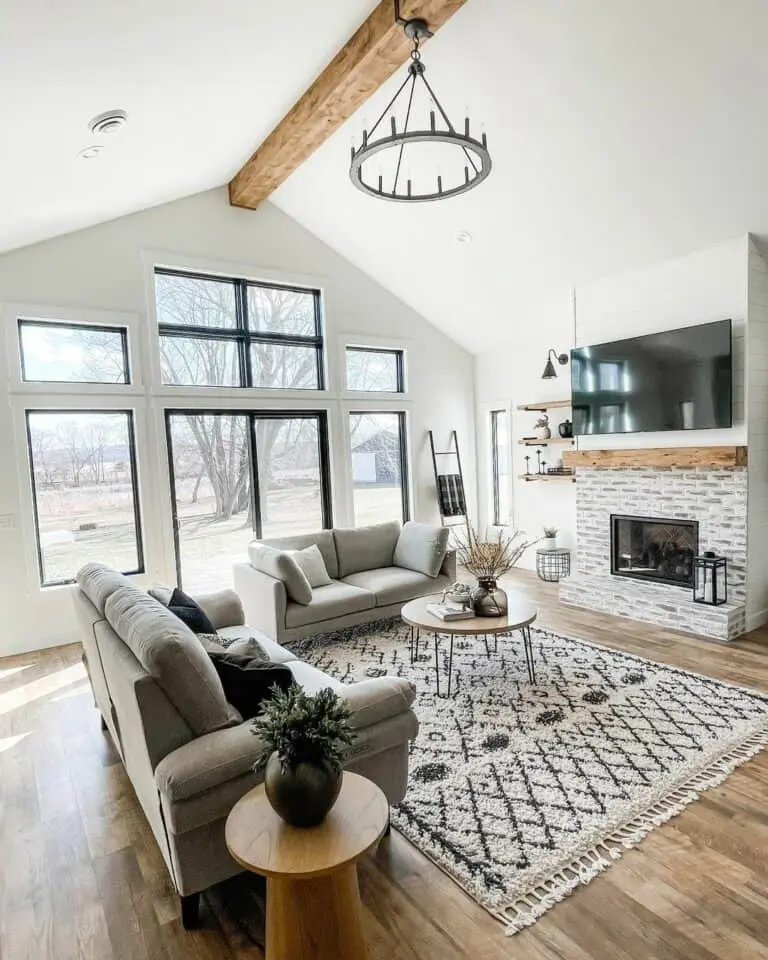 Credit: the_hoffman_homestead
Shop the Style
Infuse Elegance with Lunette Windows in Your Farmhouse Living Room
Elevate your modern farmhouse living room with a large picture window behind a gray linen sofa, accented by an overhead lunette window reminiscent of a French cottage. Radiant natural light bathes the seating area, enhancing the charm of the space, complemented by a subdued gray and white farmhouse rug.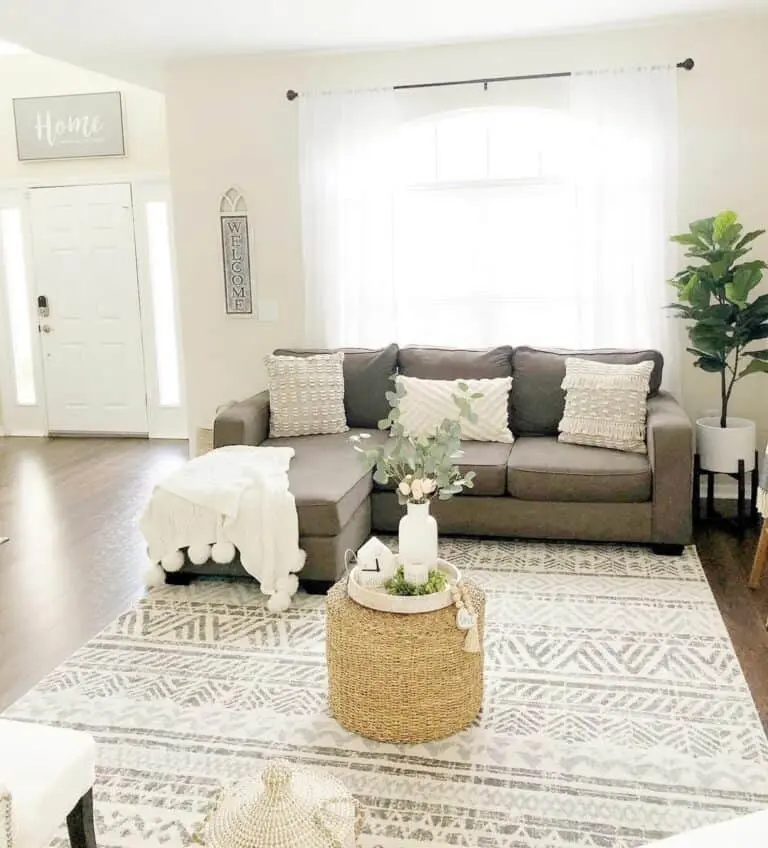 Credit: nita_home
Shop the Style
Curtain Concepts for Amplifying Your Neutral Living Room's Big Windows
Delve into an atmosphere of sophistication as white curtains drape gracefully from elongated rods, adorning a living room featuring pristine white walls and a dark wood floor with a subtle angle. Set against this backdrop, a white sectional sofa rests, crowned by black and white pillows, while a white armchair and black display cabinet complete the scene.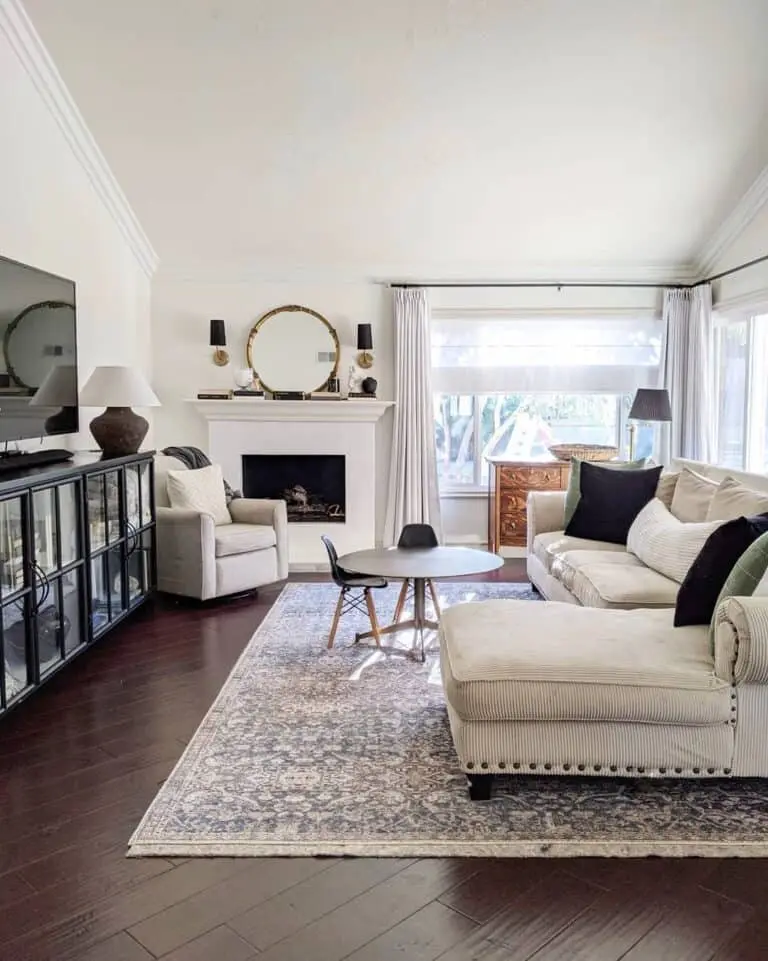 Credit: thehomebodyhouse
Shop the Style
Adorn Your Sash Windows with Lunette Accents and White Trim
Marvel at the rustic charm of sash windows enhanced with lunette inserts, framing a rich brown stone fireplace housing a generous flat-screen TV above a floating wood mantel. Completing this cozy tableau, a eucalyptus garland adorned with white candles and straw stems graces the mantel alongside clear glass vases containing frosted fern stems.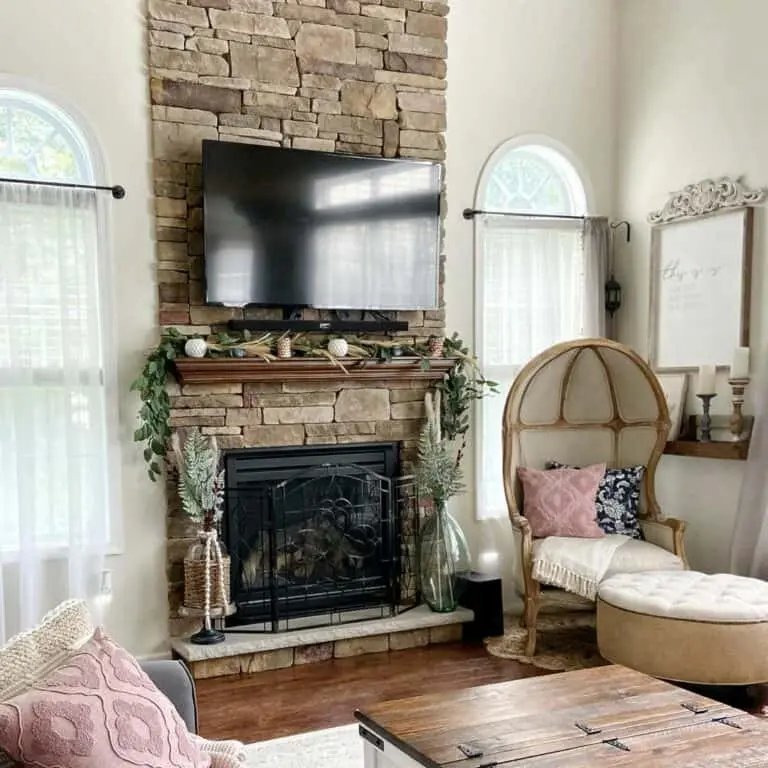 Credit: mysweetloie
Shop the Style
Elevate Your Cottage Living Room with Creative Sash Window Layouts
Sash windows, harking back to Victorian and Georgian influences, lend undeniable charm to cottage-style homes. In this space, they're adorned with white ruffled drapes, framed by a neutral gray wall and accented by lower white shiplap paneling.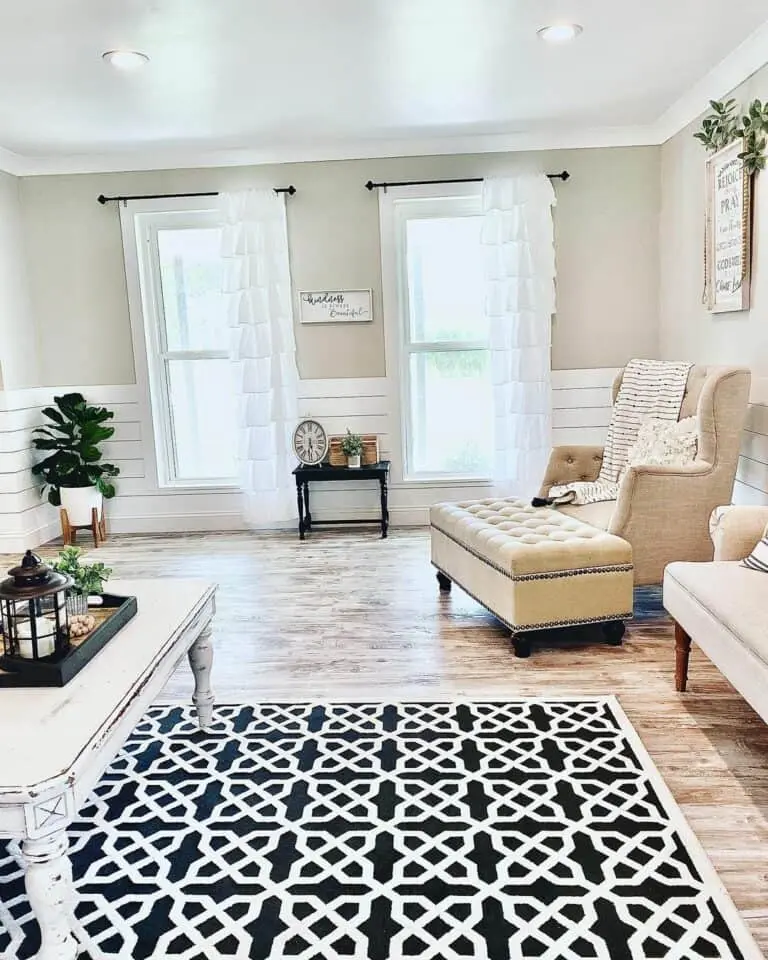 Credit: sabrina_king29
Shop the Style
Bask in Natural Light with Fixed Picture Window Layouts
Transform your gray living room with the addition of three adjoining, fixed picture windows. These architectural marvels are accompanied by flowing gray drapes and pristine white trim. Crowned by three transom windows atop the lower counterparts, this arrangement floods the space with an abundance of inviting natural light.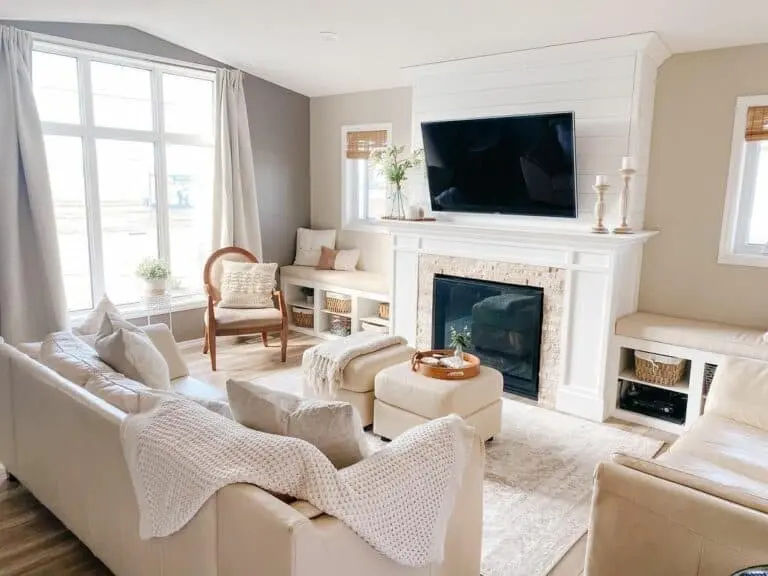 Credit: tayaspaige
Shop the Style
Wrap-up
As we conclude our exploration of these farmhouse-inspired living room window styles, it's evident that windows are more than just functional elements; they are design canvases that have the power to redefine the ambiance of your living spaces.
Whether it's the romantic allure of lunette accents, the panoramic views afforded by slider and casement windows, or the rustic charm of sash and French single-mount windows, each style brings a unique facet of farmhouse charm into your home.
By embracing these window styles, you're not only inviting natural light but also weaving the story of timeless rustic elegance into the very fabric of your living environment.