7+ Rustic Farmhouse Kitchen Backsplash Tile Ideas
Affiliate Disclosure: As an Amazon Associate we earn from qualifying purchases. Hence, if you click through and make a purchase, we will get a commission at no extra cost to you. For more info, read our full disclosure.
When it comes to transforming your kitchen into a rustic farmhouse haven, the backsplash plays a pivotal role. Its aesthetic charm and practicality combine to create a warm and inviting space. In this blog, we'll explore seven rustic farmhouse kitchen backsplash tile ideas that will infuse your kitchen with timeless appeal, creating a cozy and welcoming atmosphere.
White Herringbone Backsplash with Black Counter
Upon stepping into this exquisite kitchen, your eyes will be immediately drawn to the tasteful design elements. Floating wooden shelves grace the walls next to a pristine white hood, while sleek black handles adorn the white shaker cabinets. To elevate the aesthetics, contemplate installing a black counter, creating a striking contrast with the white herringbone tile backsplash.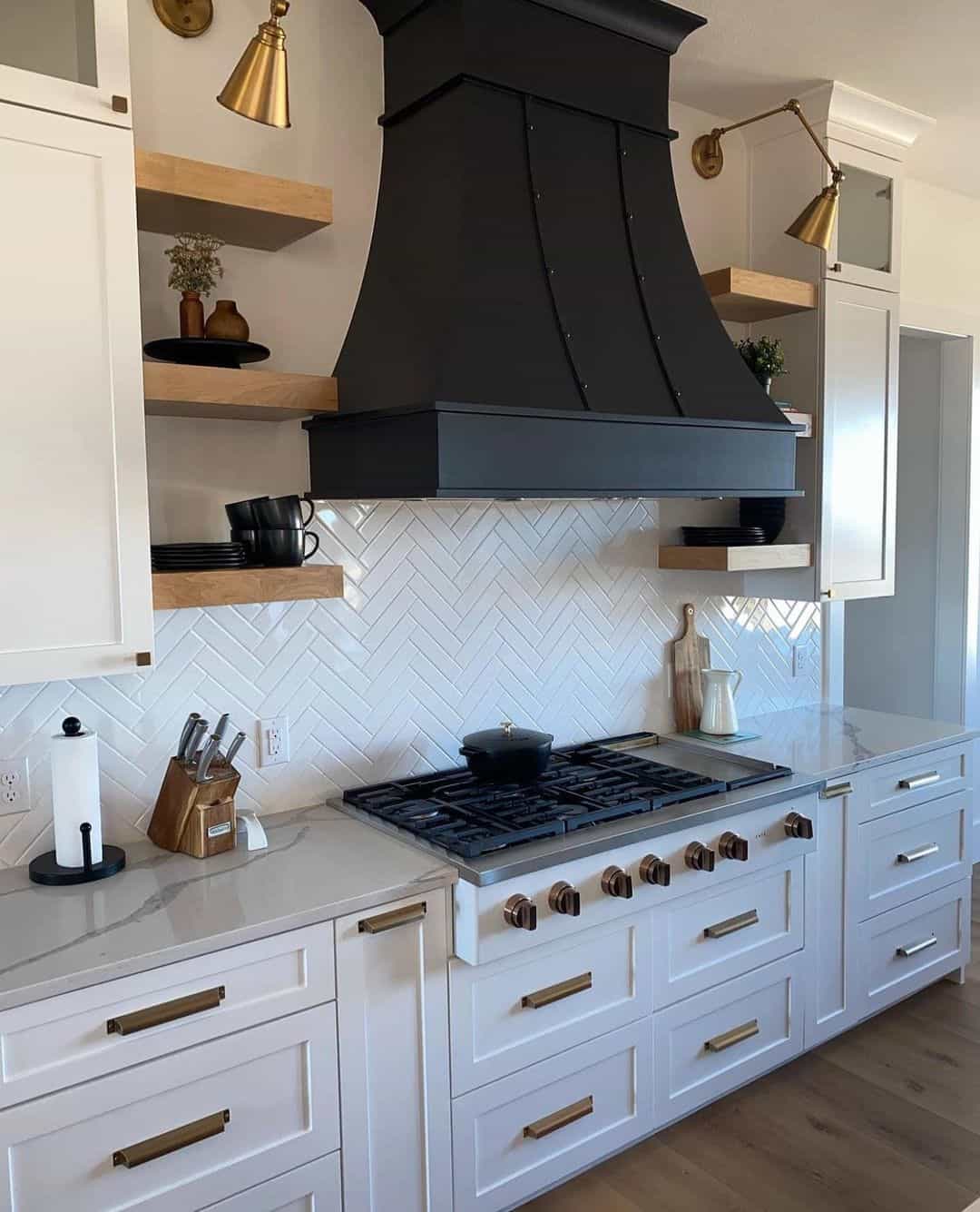 Credit: @farmhouseonwaters
Shop the Look
Autumn-inspired Decor and a White Backsplash
Exploring this kitchen will reveal the warm and inviting ambiance of the season. Notice the silver handles on the black cabinets and the white backsplash adorned with charming black accents. For a touch of autumn's magic, consider decorating with pumpkins, mums, and a welcoming orange wreath.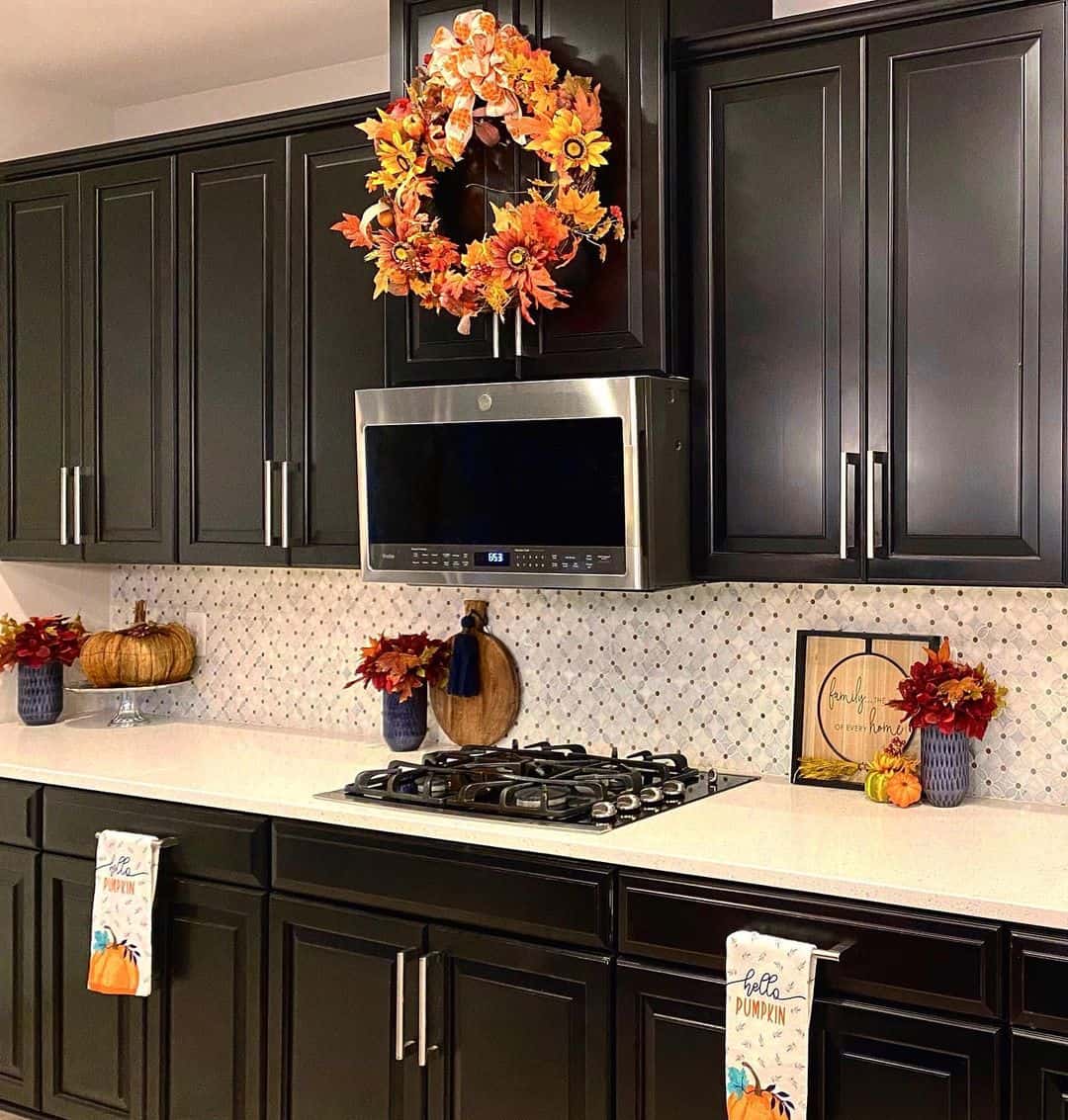 Credit: @willbeagem
Shop the Look
Light Gray Tile Backsplash
Serene and practical, this kitchen features wicker baskets adorning floating wooden shelves. A wooden cutting board leans casually against the light gray tile backsplash, harmonizing with white knobs on the pristine cabinets. The addition of a wooden chair provides a cozy element to the inviting wood floor.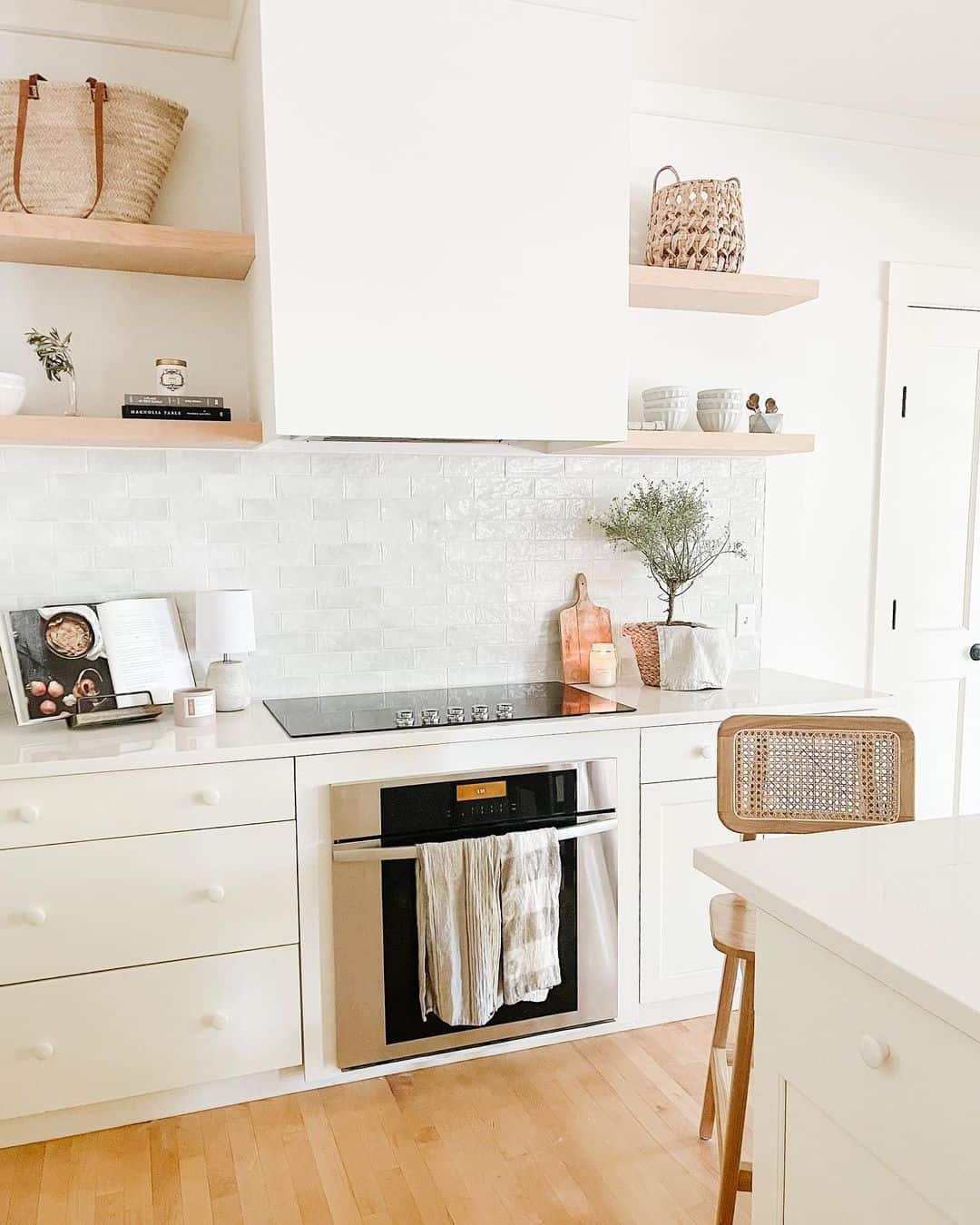 Credit: @littlefarmstead
Shop the Look
Kitchen with White Tile Backsplash and Wooden Elements
In this classic white kitchen, wooden floating shelves hang gracefully against a timeless white subway tile backsplash. These shelves are adorned with vases in neutral colors, mugs, canisters, and cutting boards. The white counters hold a tray with a white lamp, candles, and potted plants. Golden pendant lamps illuminate each set of shelves, while a brown runner adds warmth to the natural wood floor.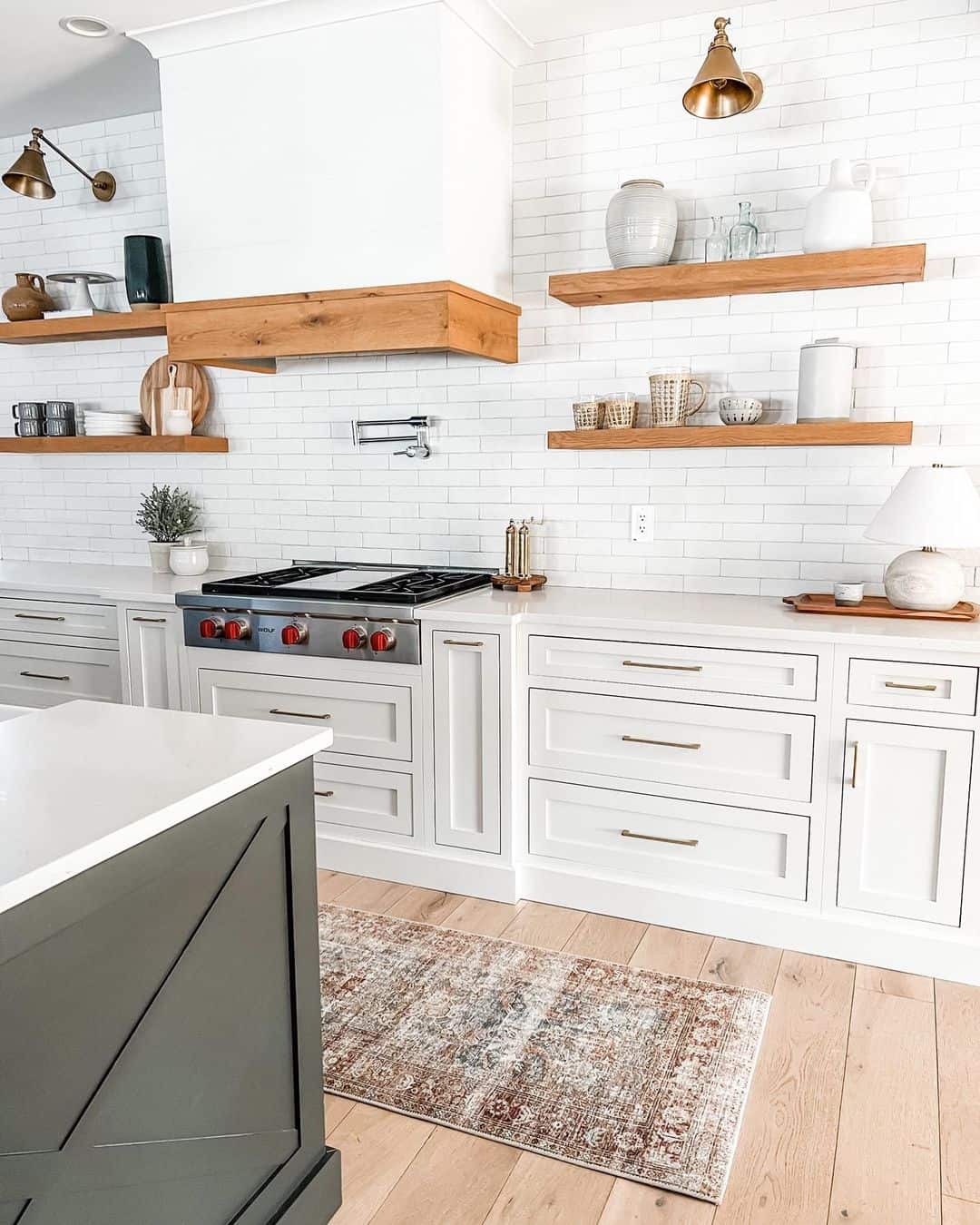 Credit: @purelyfarmhouse
Shop the Look
Quartz Countertop Illuminated by a Black Pendant Lamp
A touch of elegance defines this kitchen, with a black pendant lamp suspended above a pristine white countertop. A stainless steel grill is seamlessly integrated next to a white tile backsplash. To add a touch of nature, a group of green plants graces the corner beneath the white cabinets.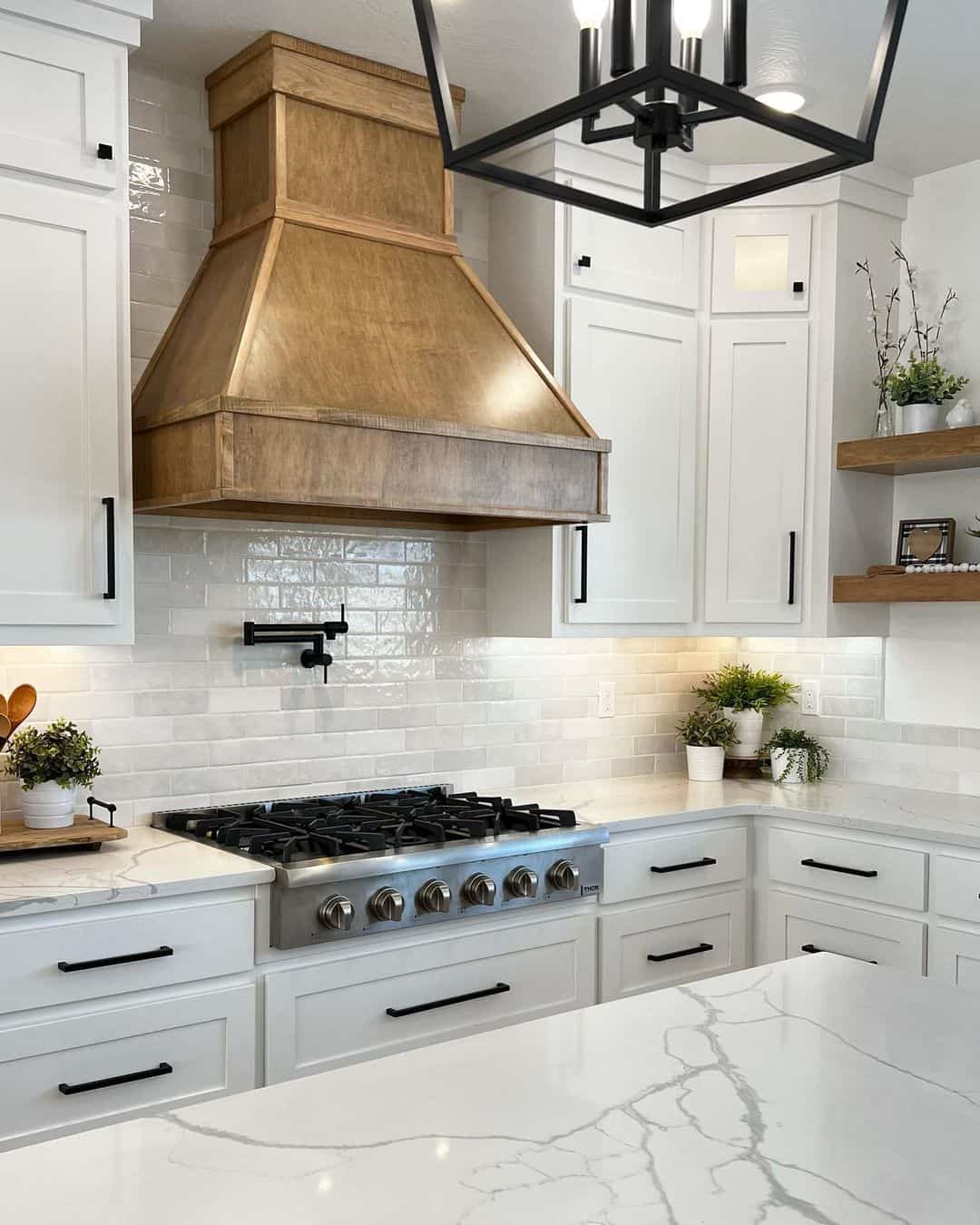 Credit: @sky_ridge_farmhouse
Shop the Look
Elegant White Subway Tile Backsplash with Gold Hardware
This kitchen exudes chic simplicity with wooden floating shelves against a classic white subway tile backsplash. The white cabinets are adorned with sophisticated gold hardware, and a brown rug enhances the inviting warmth of the wood floor.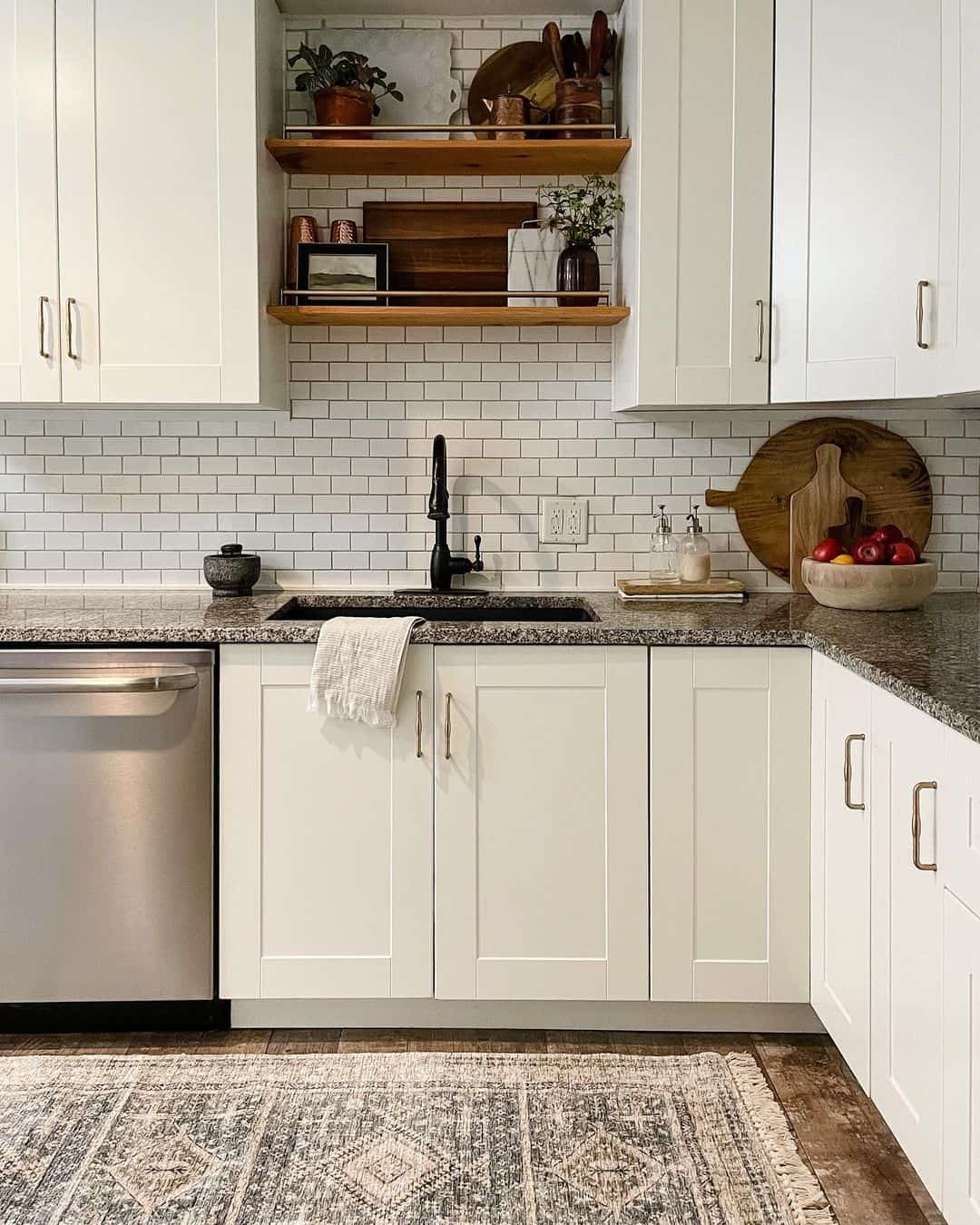 Credit: @oliveandmax
Shop the Look
Contrasting White Herringbone Tile Backsplash with Black Hood
Upon entering this modern kitchen, you are greeted by an embodiment of sophistication. A matte black hood stands proudly between golden sconces and floating wooden shelves. The lower white cabinets are fitted with opulent gold handles. A glossy white herringbone tile backsplash adds depth and texture to the room, creating an inviting and modern ambiance.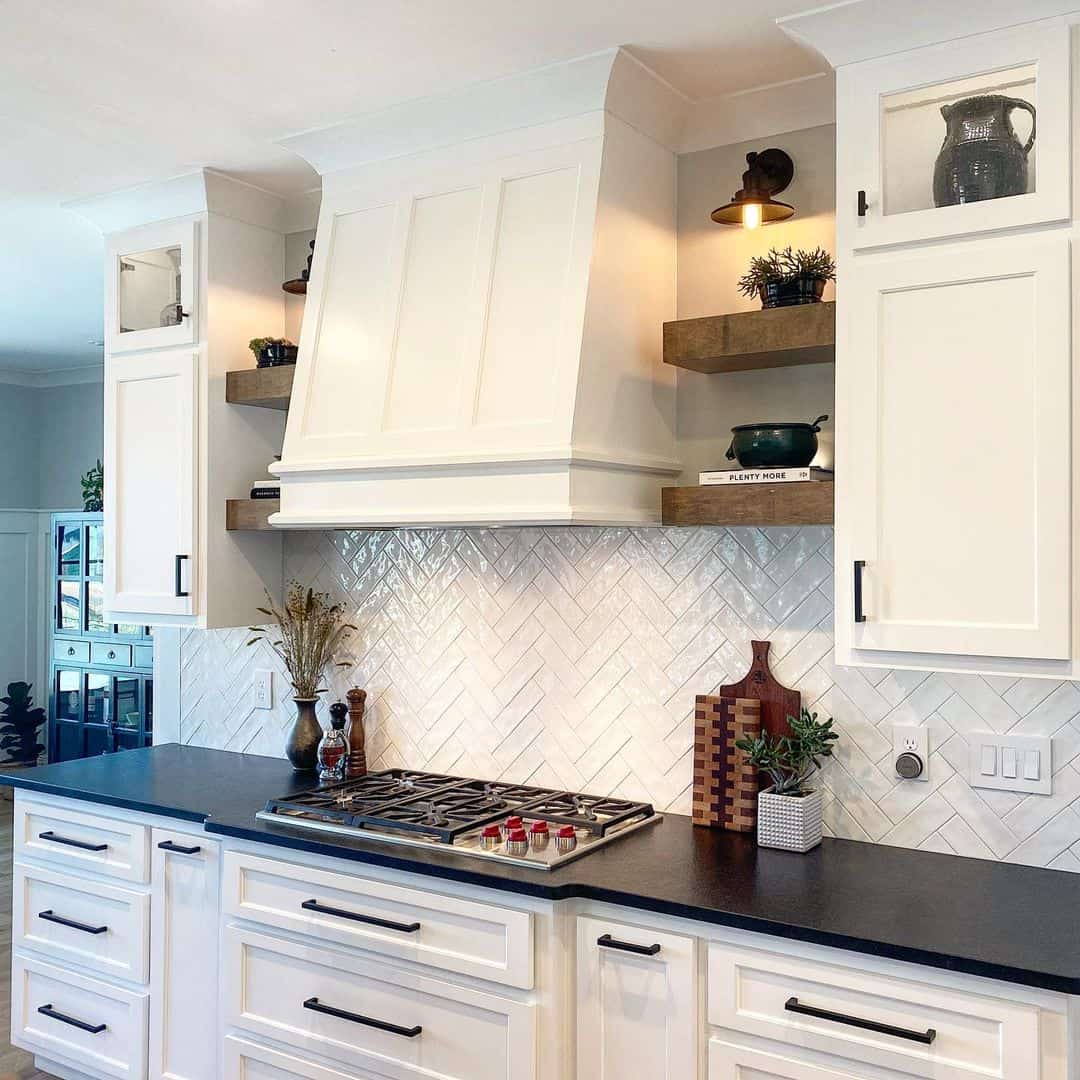 Credit: @myrusticmodernhome
Shop the Look
Sleek Stainless Steel Range with Light Gray Hood
A captivating rustic allure defines this kitchen with a light gray range hood adorned by a rustic beige cow head mount. It gracefully hovers over a stainless steel range, situated against a light gray marble tile backsplash and framed by light gray cabinets adorned with brass knobs.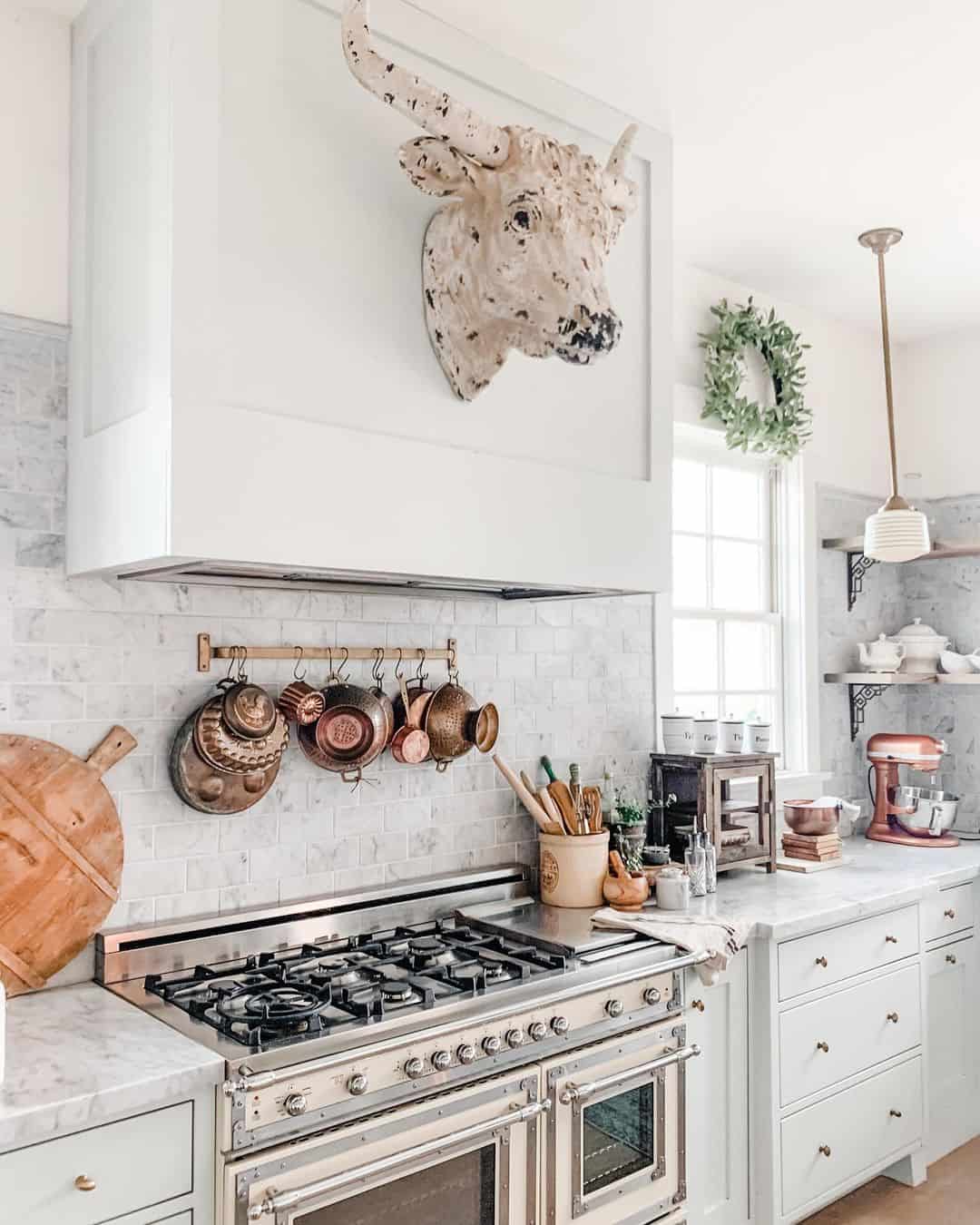 Credit: @thestonehouseroad
Shop the Look
Wrap-up
Incorporating a rustic farmhouse backsplash in your kitchen can be a game-changer. The right choice of tiles can transport your space to a charming and inviting countryside retreat. We hope these seven ideas have sparked your creativity and inspired you to embark on your kitchen transformation journey. With the right backsplash, your rustic farmhouse dream can become a reality.