7+ Adorable Easter Farmhouse Kitchen Décor Ideas
Affiliate Disclosure: As an Amazon Associate we earn from qualifying purchases. Hence, if you click through and make a purchase, we will get a commission at no extra cost to you. For more info, read our full disclosure.
Easter is a time for celebrating the beauty of spring, and what better place to infuse the spirit of the season than your farmhouse kitchen? In this blog, we'll explore seven delightful Easter farmhouse kitchen decor ideas that will fill your space with charm, warmth, and a touch of seasonal magic.
From pastel hues to whimsical accents, these creative ideas will help you transform your kitchen into an inviting Easter haven.
A Fresh Perspective on Spring Kitchen Decor for White Cabinets
Step into an enchanting farmhouse kitchen adorned with pristine white cabinets and complemented by light gray granite countertops. A light gray subway tile backsplash adds a touch of sophistication, while white walls and grout introduce texture and definition. The rustic pots filled with vibrant pink flowers deliver a delightful burst of spring energy, all bathed in the inviting embrace of natural light. Adding a festive touch, Easter accents grace the white vent hood.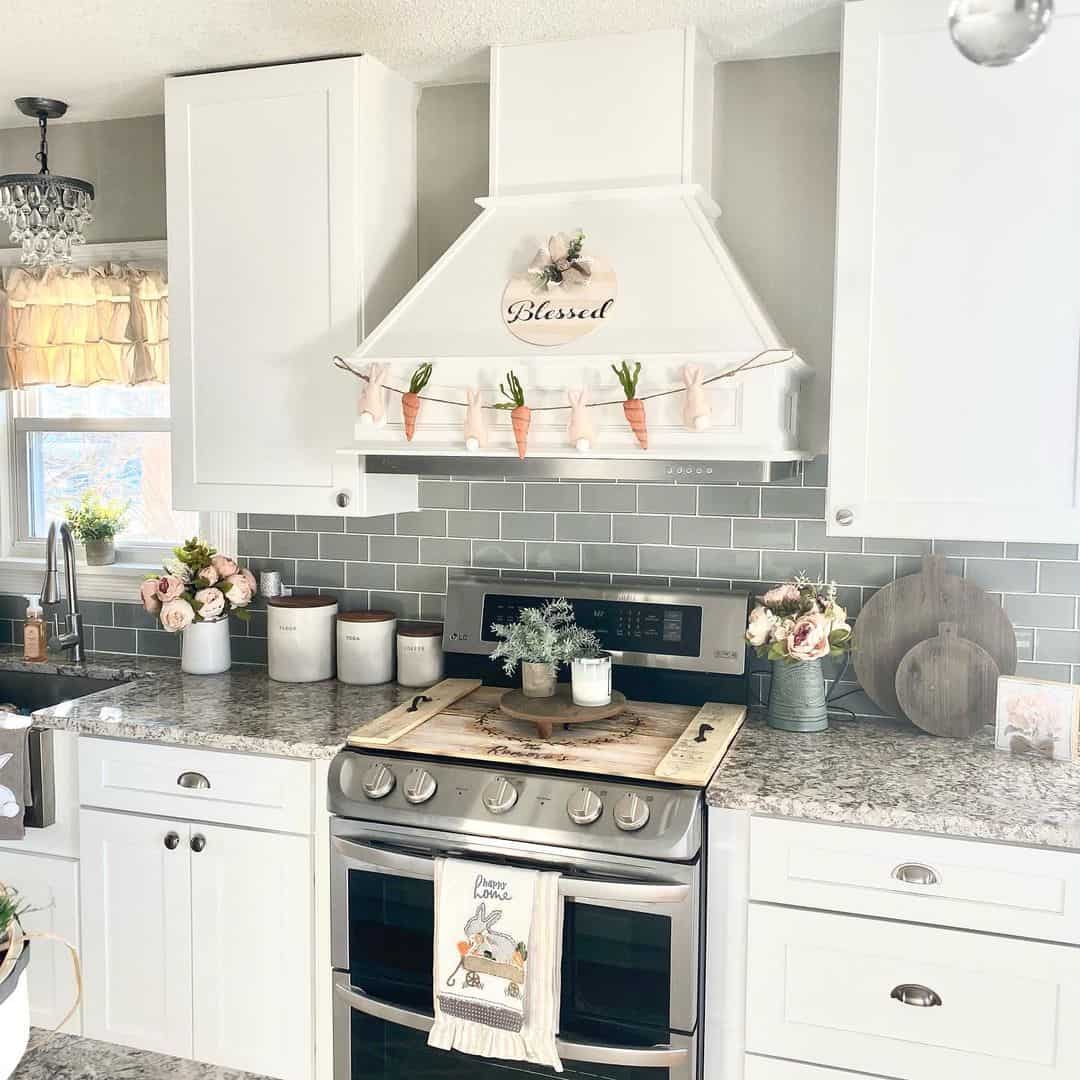 Credit: casa_de_lish
Shop the Look
Light Blue Easter Bunny Decor on a Wooden Trivet
In this kitchen featuring white cabinets, a decorative wooden trivet rests gracefully on a white and gray marble countertop. This exquisite trivet is meticulously styled with greenery and adorned with delicate light blue Easter decorations. Above the pristine white subway tile backsplash, a white window serves as a canvas for a vibrant and colorful array of Easter egg-themed kitchen decor.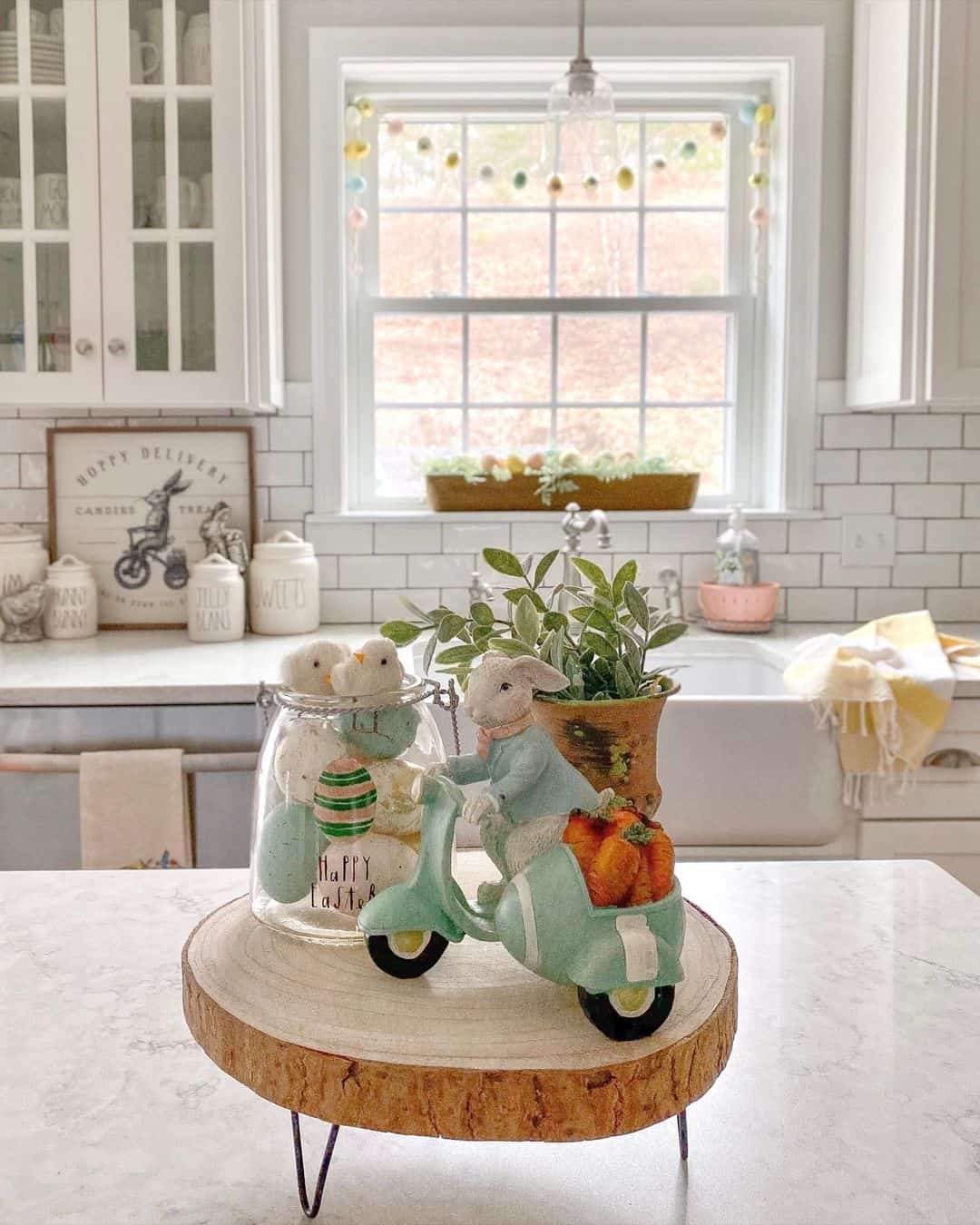 Credit: ondaisyhilldrive
Shop the Look
The Farmhouse Coffee Oasis with White and Tan Elegance
Behold a farmhouse coffee bar where a stained wood cabinet takes center stage, crowned by a white three-tier tray elegantly styled with a harmonious mix of white and tan decor. Adding a rustic touch, stained wood and black metal shelves are mounted on a whitewashed wood shiplap wall, providing a perfect backdrop. These shelves become a canvas for an exquisite display of white and tan Easter kitchen decor.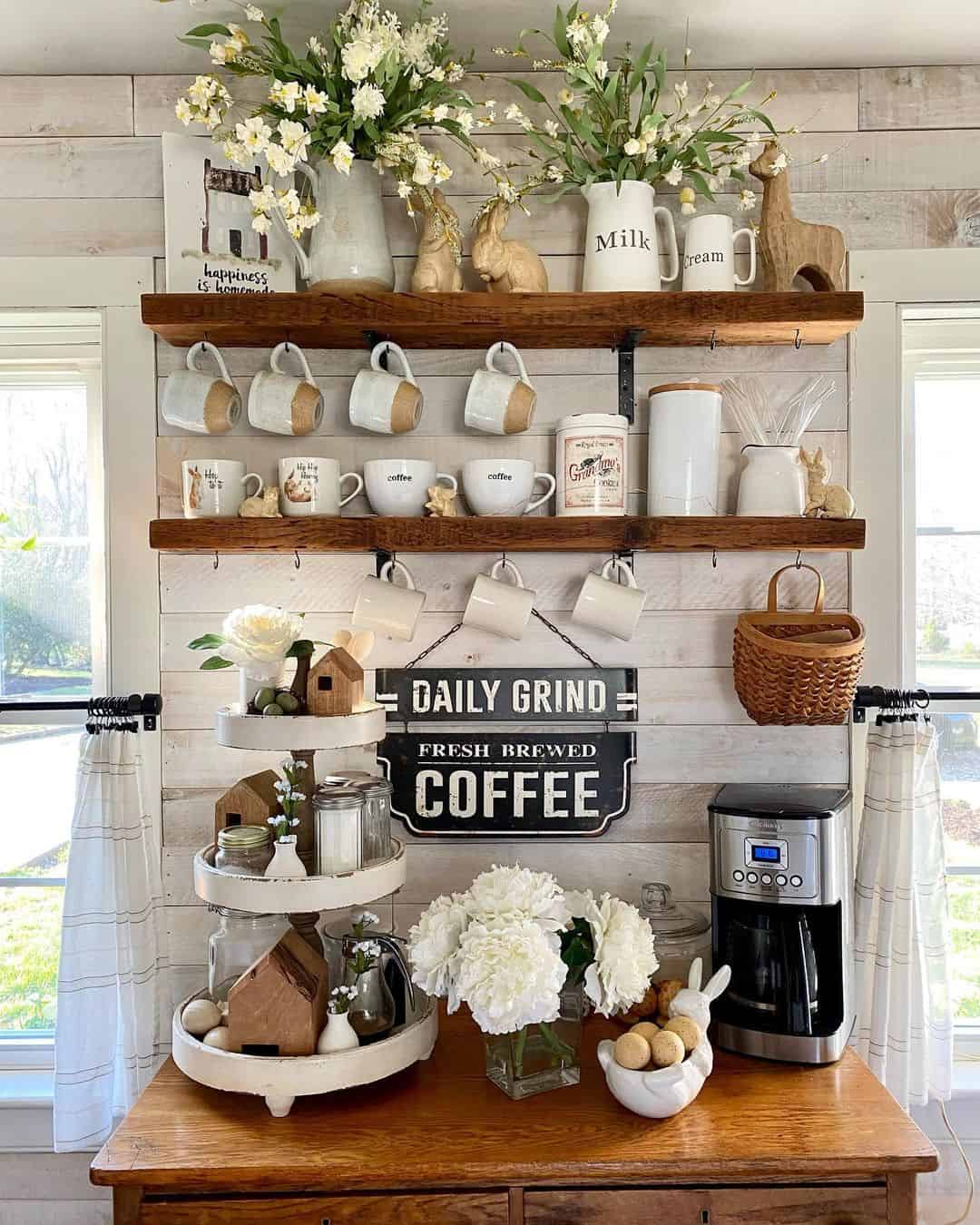 Credit: thelongawaitedhome
Shop the Look
Beige and Gray Easter Decor on a Black Tiered Tray
A stylish gray and black kitchen countertop sets the stage for a black-tiered tray, artfully perched on a round rustic wooden tray. These tastefully arranged trays are thoughtfully adorned with beige and gray Easter decor, enhanced by the presence of verdant greenery. Stained wood floating shelves, mounted to the wall, provide a perfect showcase for decorative wooden Easter rabbits.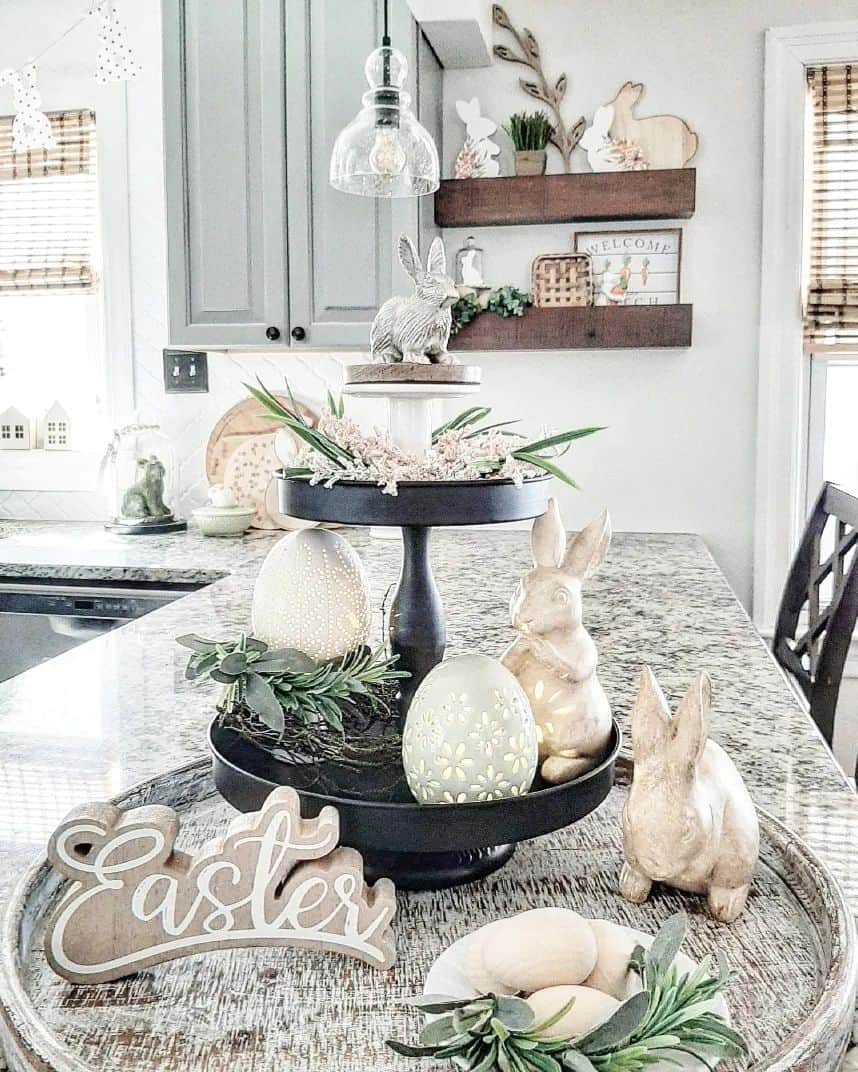 Credit: oakley.avenue
Shop the Look
Displaying White and Orange Easter Decor on a Wood Tiered Tray
A captivating centerpiece takes the spotlight on a kitchen island, adorned with a tiered tray boasting a delightful combination of white, orange, and green Easter accents. The kitchen island stands proudly in front of pristine white cabinets and a gleaming white subway tile backsplash. On the countertop, zesty orange flowers mingle with charming white Easter bunny decor, creating a vibrant tableau.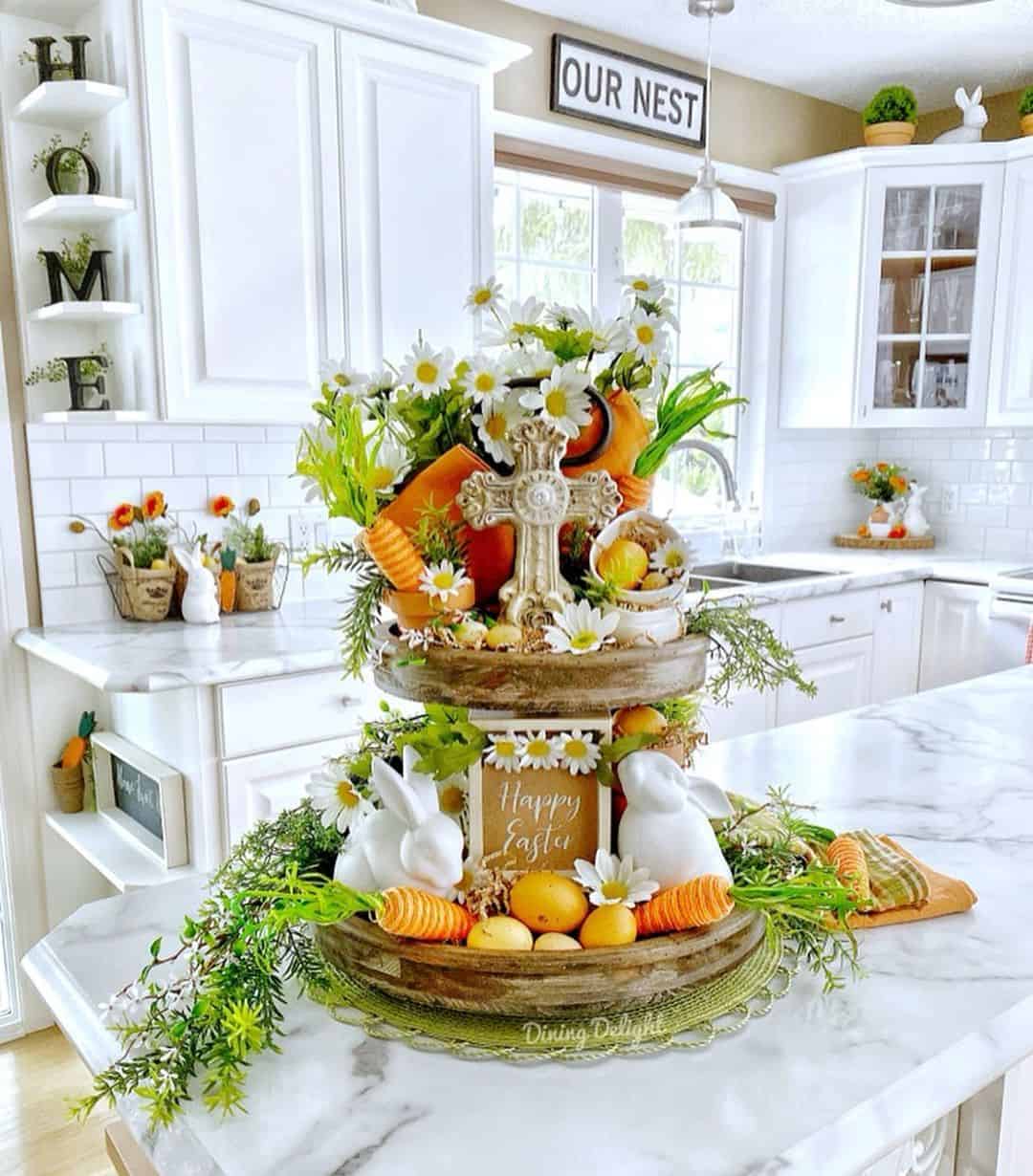 Credit: dining_delight
Shop the Look
Wooden and Woven Bar Stools Dressed in Easter Sashes
Elevating the decor, wooden and woven bar stools sport charming tan and white Easter bunny sashes. These stools take their place on a white kitchen island adorned with a lovely beige countertop. The island is further graced by a round woven tray displaying cheerful yellow flowers, a delightful white Easter bunny, and a vintage Easter sign.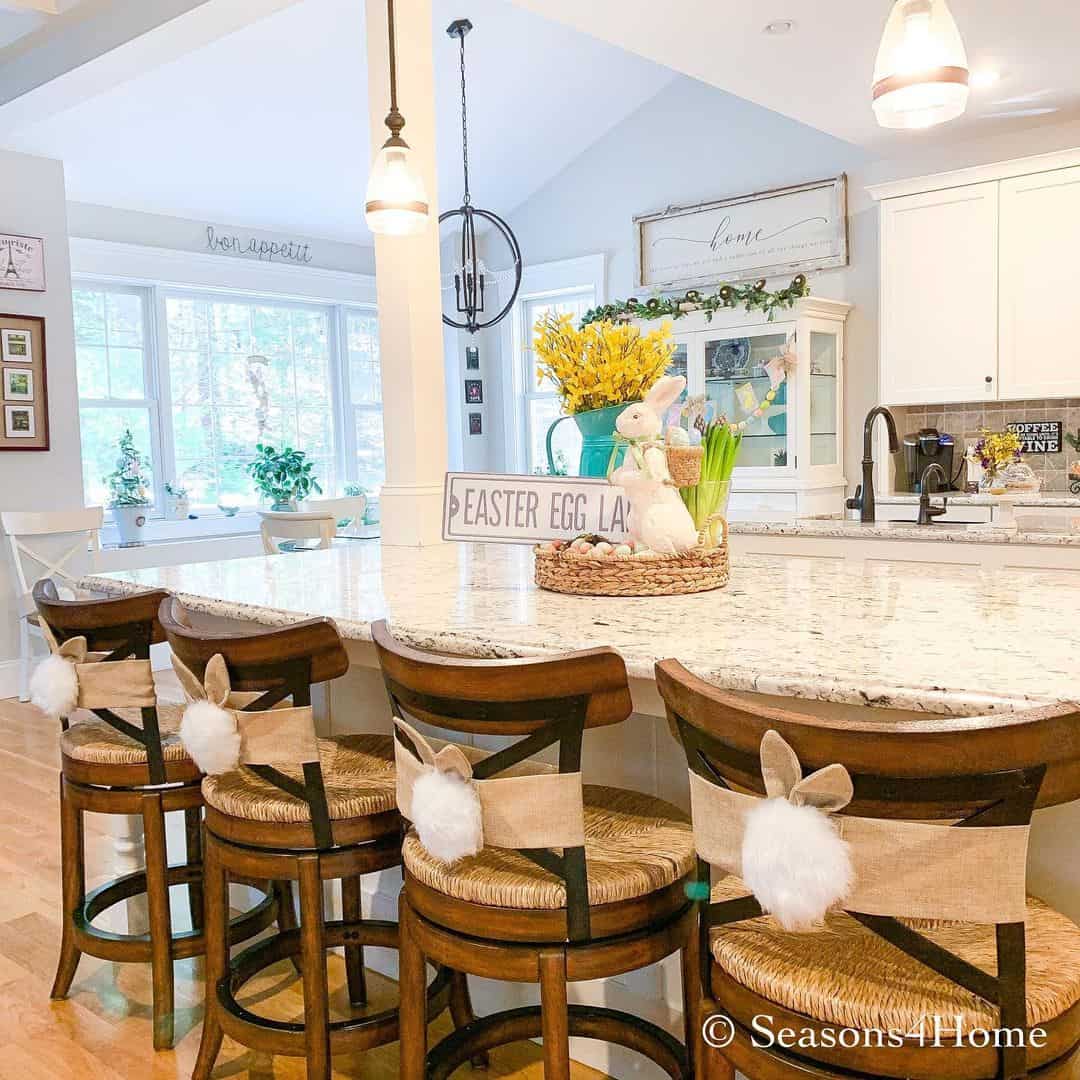 Credit: seasons4home
Shop the Look
Easter-Inspired White Subway Tile Backsplash with a Carrot Wreath
In this kitchen, off-white cabinets adorned with sleek black hardware provide a timeless backdrop. Atop these cabinets, a tan countertop adds a touch of warmth. A gray range hood is expertly fitted between the cabinets, positioned above a gas cooktop. A whimsical Easter carrot wreath takes its place on the white subway tile backsplash, adding a delightful Easter focal point.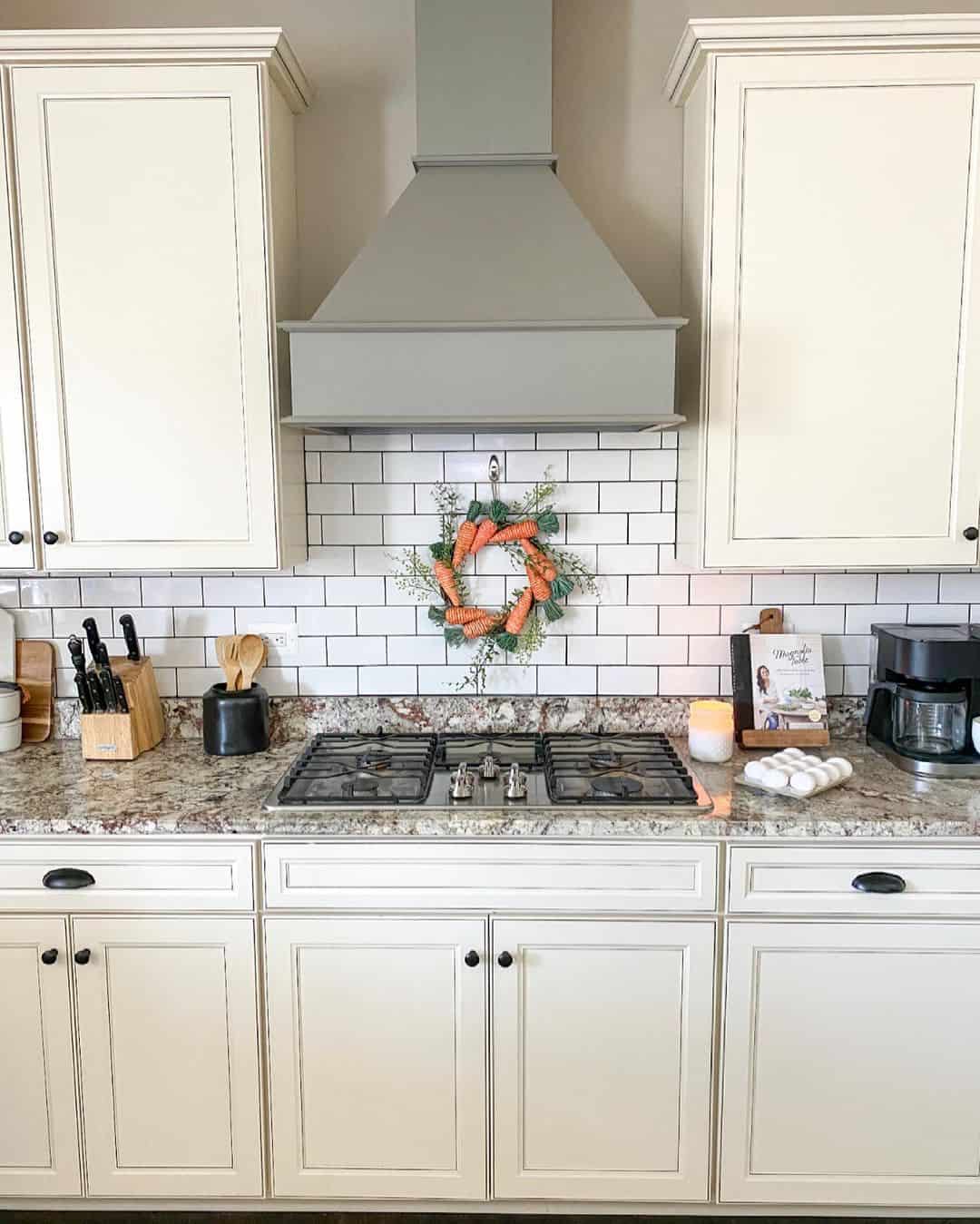 Credit: letsstayhometogether
Shop the Look
Easter-Themed Red and White Cabinets.
Embrace the elegance of stylish, lightly stained wood kitchen cabinets adorned with brass hardware. These cabinets are paired with a stunning gray and tan staggered tile backsplash. Below a gleaming stainless steel range hood, white and red Easter decor finds its place on a brass pot rack. A striking floral centerpiece featuring Easter eggs in a pristine white vase graces the wooden kitchen island.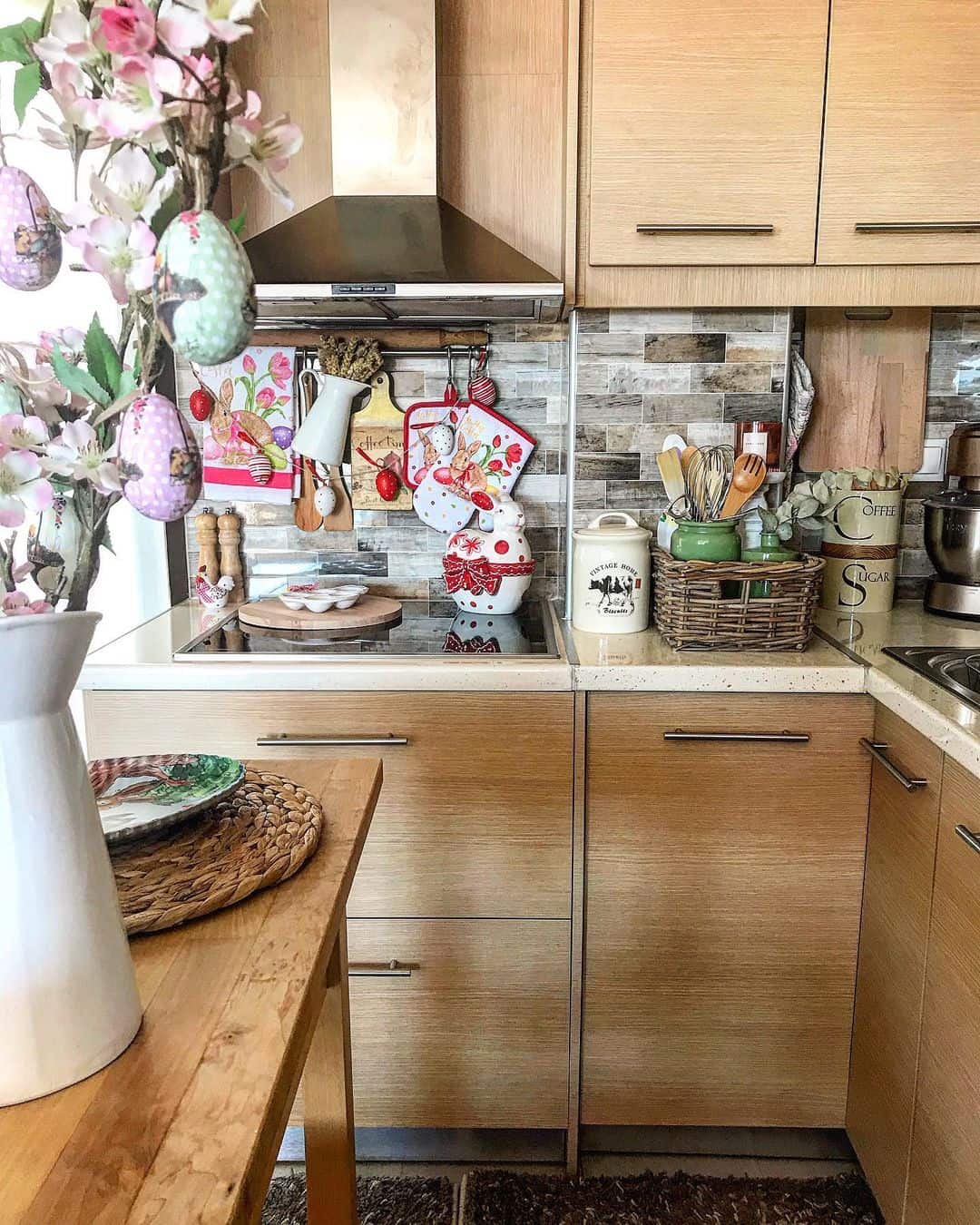 Credit: mylittleapartmentsdecor
Shop the Look
Wrap-up
As we wrap up our journey through these adorable Easter farmhouse kitchen decor ideas, we hope you've found inspiration to make your kitchen the heart of your Easter celebrations. Whether it's the soft pastels, the charming bunny decor, or the fresh spring florals, these touches will breathe new life into your farmhouse kitchen and create lasting memories. Happy Easter decorating!