7+ Eye-Catching Farmhouse Kitchen Cabinet Hardware Ideas to Impress Every Guest
Affiliate Disclosure: As an Amazon Associate we earn from qualifying purchases. Hence, if you click through and make a purchase, we will get a commission at no extra cost to you. For more info, read our full disclosure.
Step into the world of farmhouse kitchen design and discover an array of captivating cabinet hardware ideas that will leave your guests in awe. In this blog, we explore more than seven eye-catching choices that effortlessly blend rustic charm and modern elegance. Your kitchen is about to become the focal point of your home, impressing every guest who crosses its threshold.
Elegant Black Pulls Enhance White Kitchen Cabinets
Elevate your farmhouse kitchen with a touch of elegance by incorporating elongated black cabinet pulls. These exquisite hardware choices beautifully contrast with the pristine white kitchen cabinets and countertops, creating a bold and sophisticated statement. The warmth of the wood flooring grounds the space.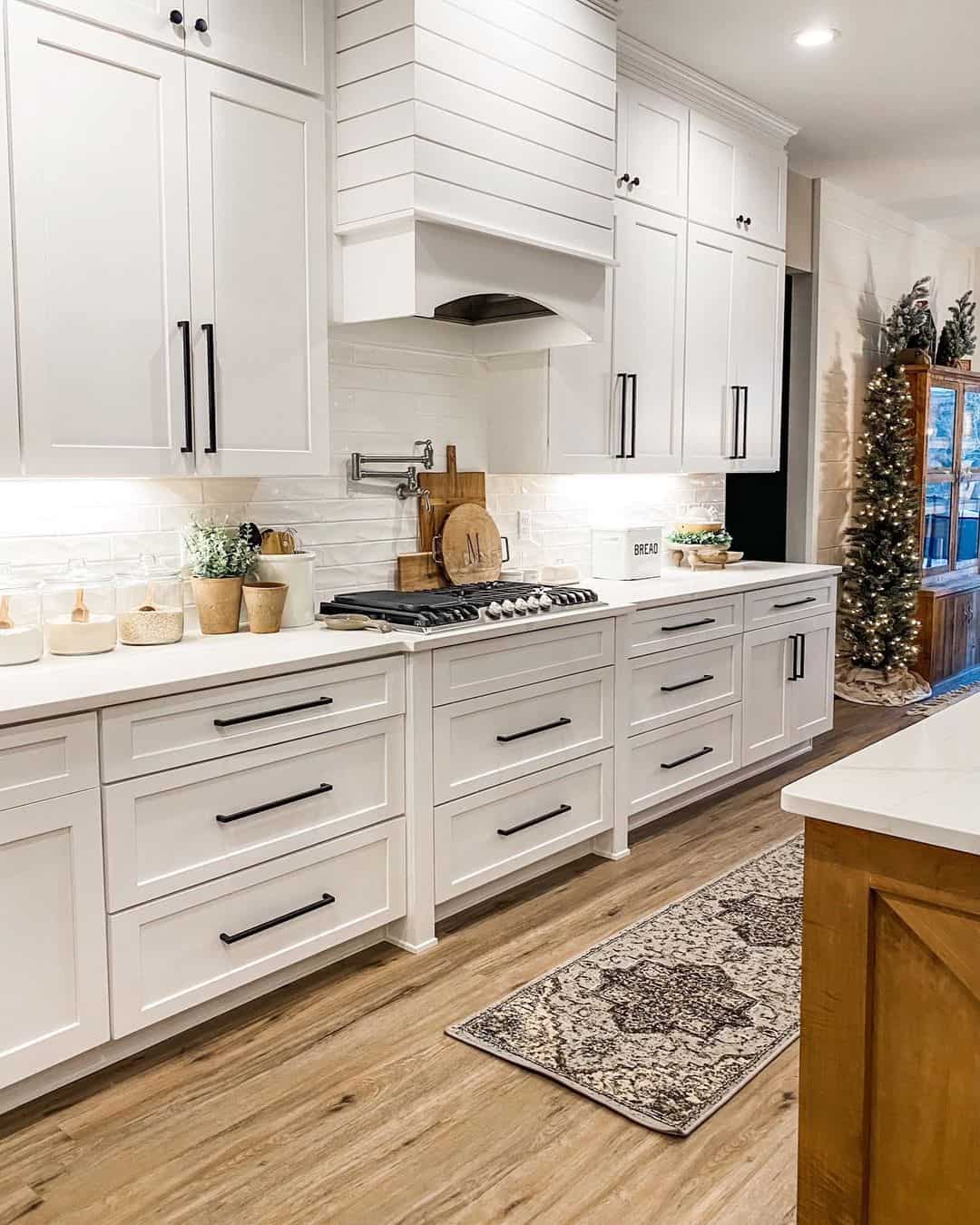 Credit: mcphersonmanor
Shop the Look
Cozy Compact Kitchen Adorned with Fall Décor
This charming compact kitchen is framed with slender white cabinets and beige countertops, creating a cozy atmosphere. Embrace the changing seasons by decorating with delightful fall accents that add a touch of warmth and charm to the space. A black kitchen island gracefully rests upon the rich backdrop of stained wood flooring, blending style and functionality.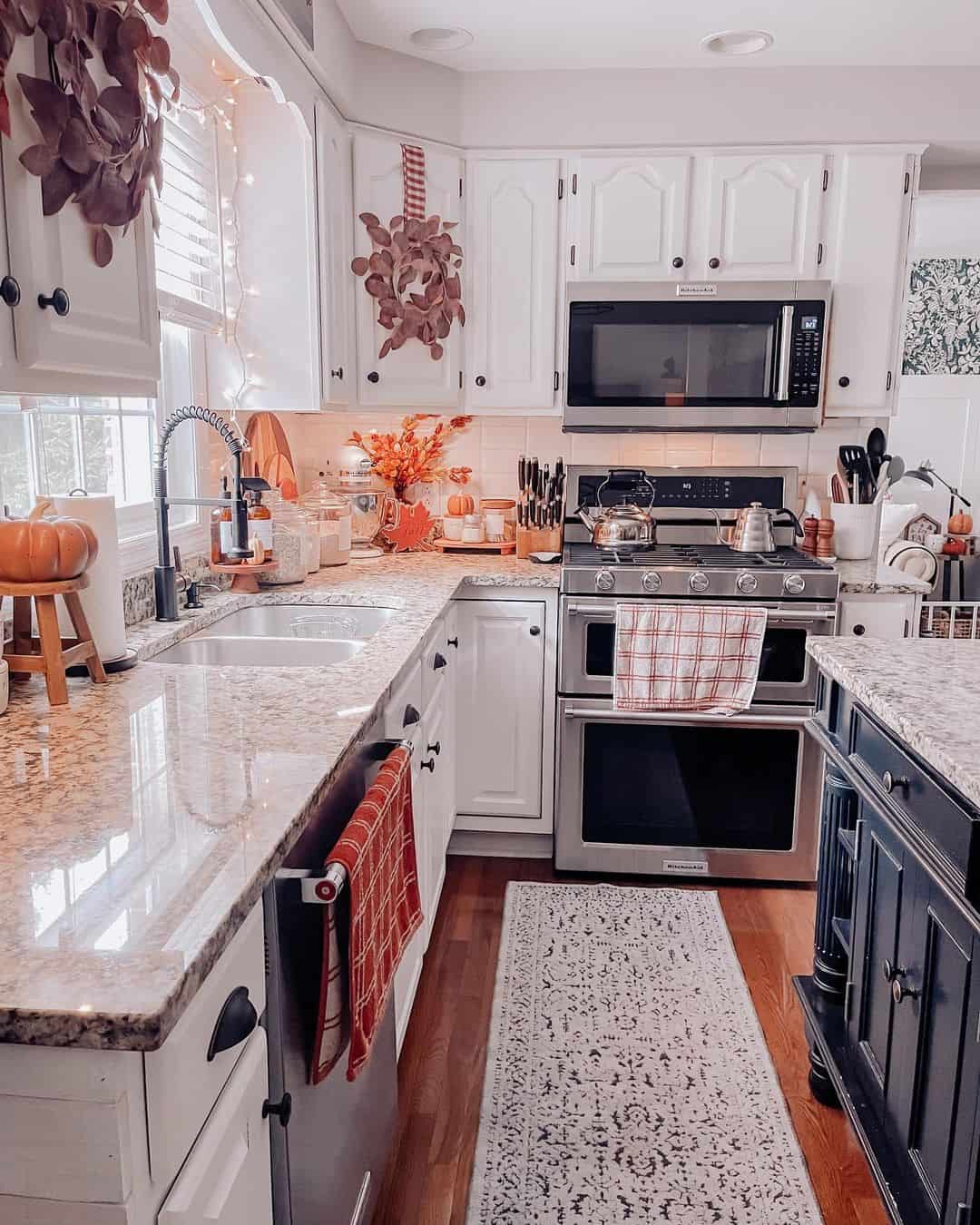 Credit: the_briarcottage
Shop the Look
Charming Vintage Hardware Adds Rustic Flair
If you're seeking to infuse rustic charm into your kitchen, farmhouse kitchen cabinet hardware ideas offer the perfect solution. These cabinets are adorned with black pulls, boasting a timeless vintage design. A brick backsplash complements the warmth of the wooden cabinets, creating a captivating rustic atmosphere.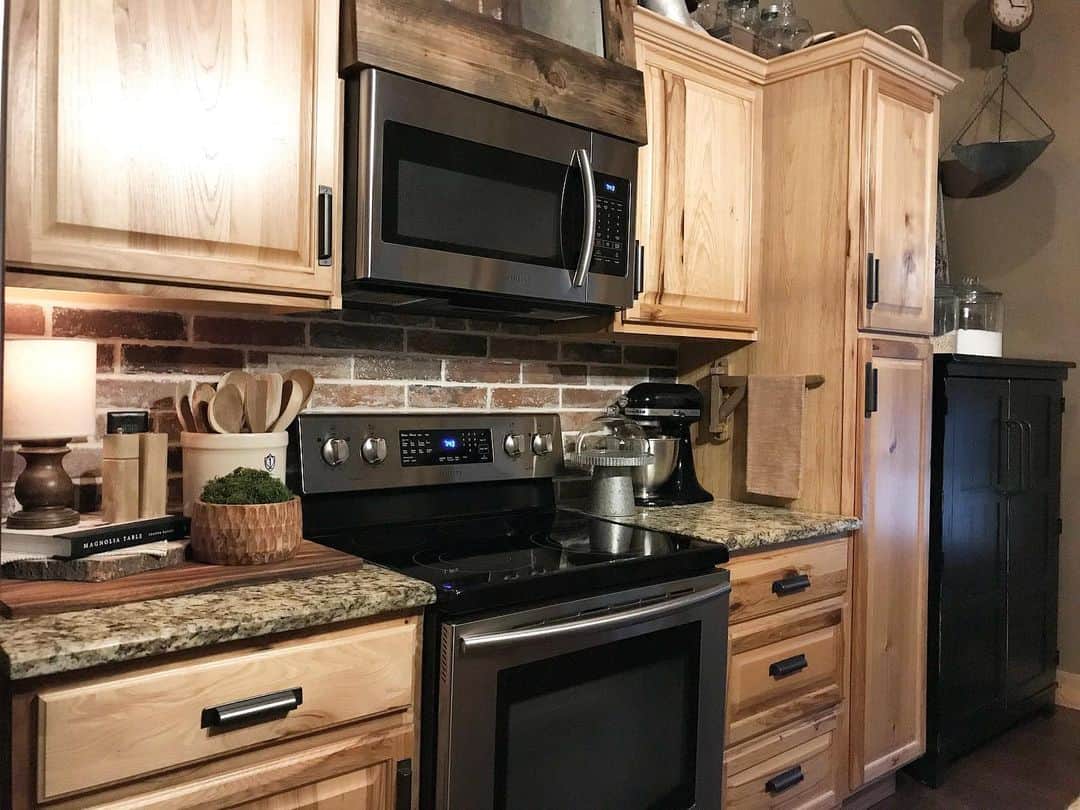 Credit: shady_pines3interiors
Shop the Look
Wooden Cabinets Grace a Light Gray Kitchen Wall
In this inviting space, a light gray kitchen wall sets the stage for the presence of wooden shelves, accentuated by robust black brackets. The addition of gold knobs and handles showcases unique kitchen cabinet hardware ideas while enhancing the allure of white cabinets. A gray countertop and light gray subway tile backsplash complete this harmonious setting.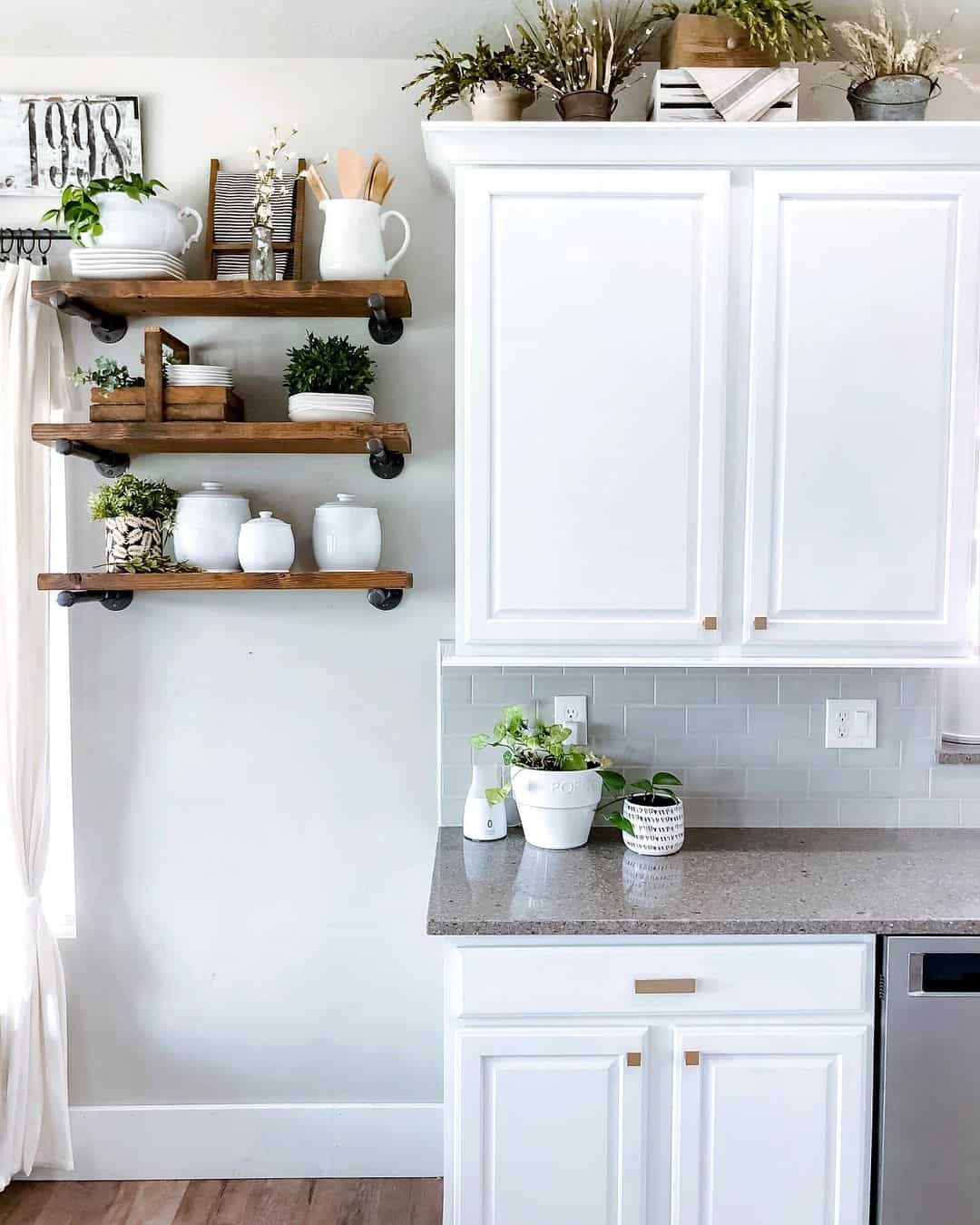 Credit: citygirlmeetsfarmboy
Shop the Look
Seamless Kitchen-to-Living Room Transition
White cabinets grace the walls of this kitchen, creating a seamless transition in the open layout. A light gray tile backsplash harmonizes with the cabinets, and a half-wall separates the kitchen from the living room, offering a view into the adjacent space. The intricate pattern of gray and white tile flooring adds a touch of character to the room.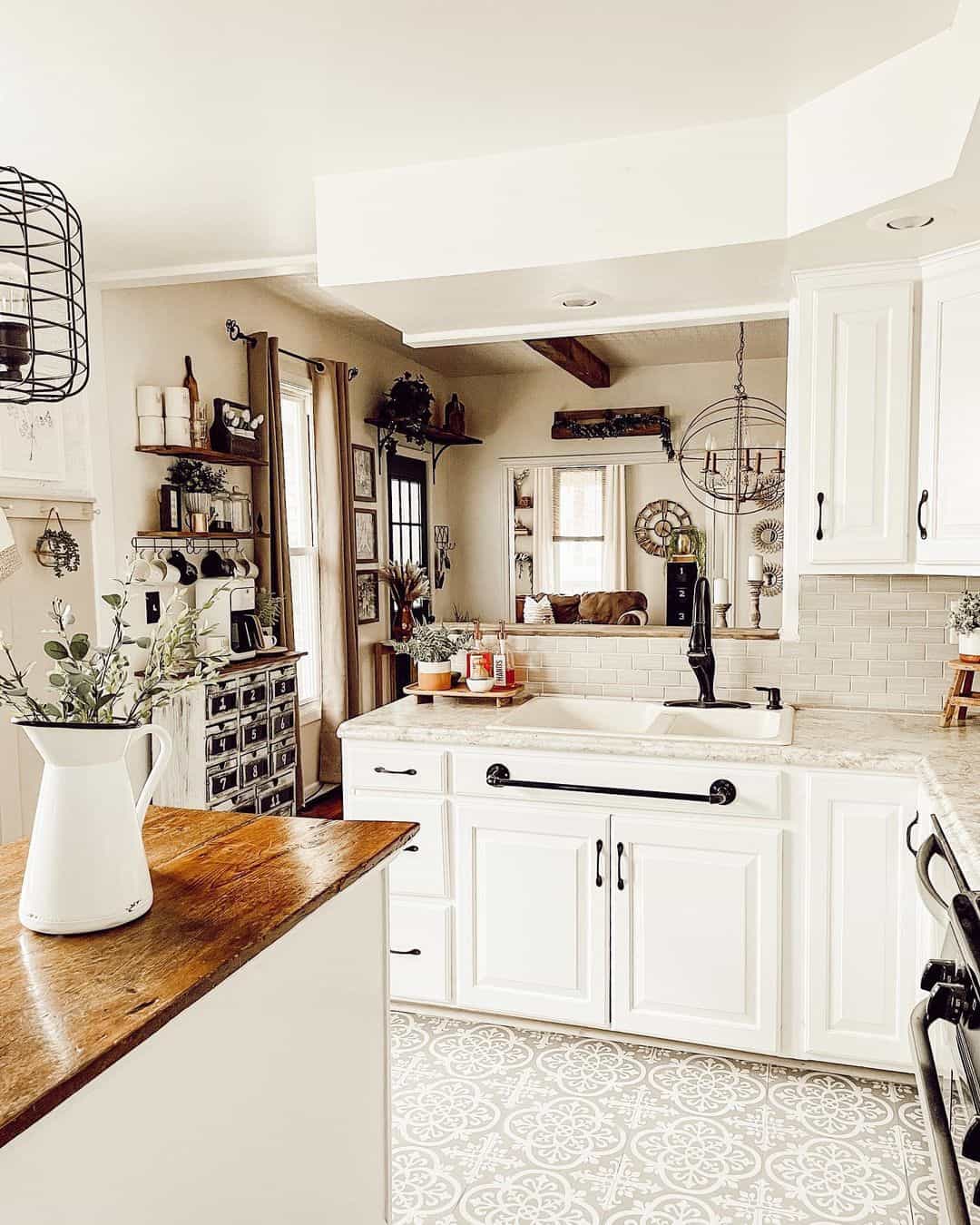 Credit: our.nohai.home
Shop the Look
Sage Green Cabinets Illuminated by Black Pendant Lamps
Sage green kitchen cabinets and a warm wood floor create a soothing atmosphere in this inviting kitchen. Two striking black pendant lamps elegantly hang above a pristine white counter, adding a touch of contrast. The far wall, adorned with three windows against a stone backdrop, fills the room with natural light. A black coffee maker finds its place on the white counter, harmonizing with the white cabinets.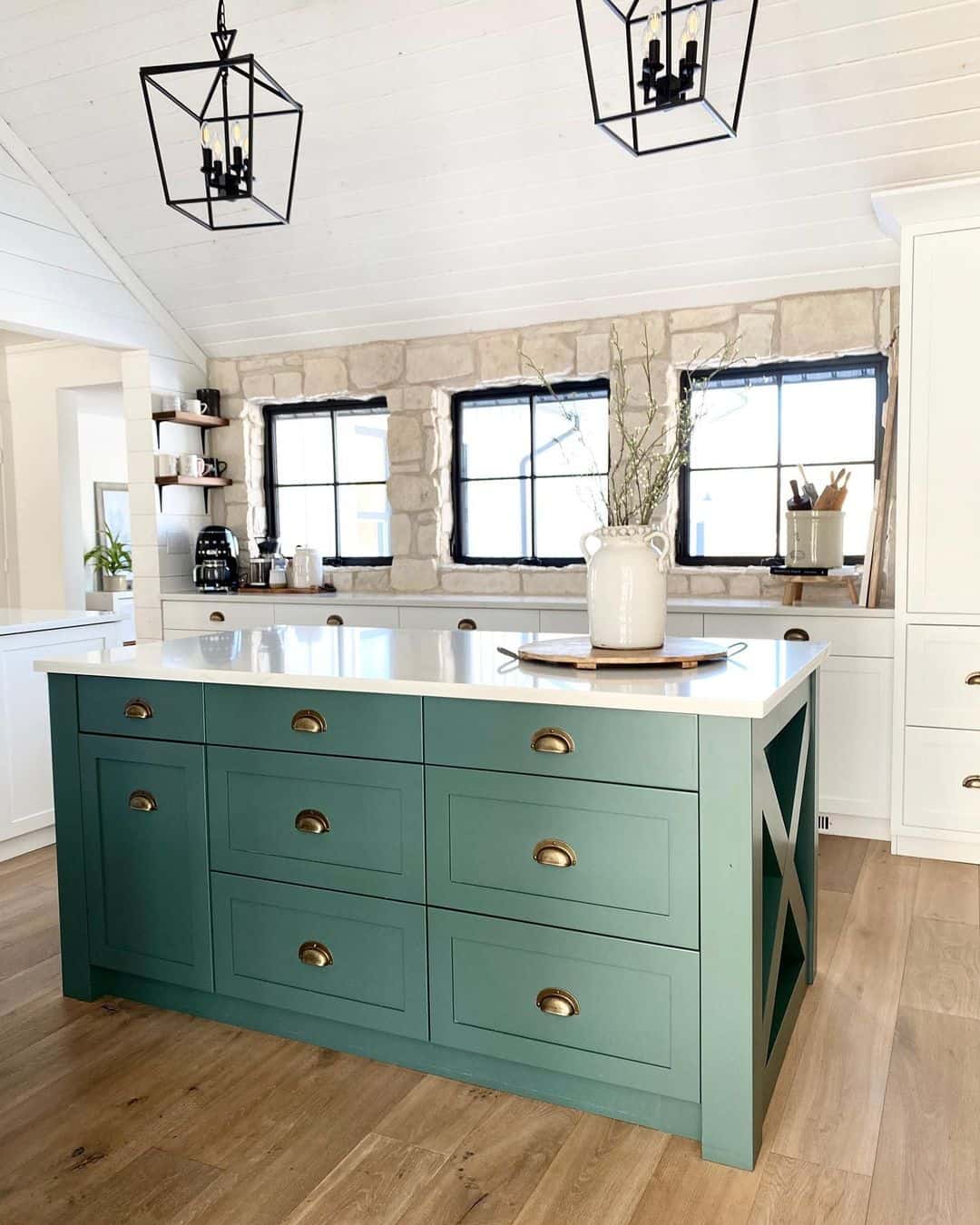 Credit: prairiefarmhouseliving
Shop the Look
A Blend of Hardware on Varying Cabinet Shades
In this kitchen, kitchen cabinet hardware ideas shine on white cabinets and a dark gray kitchen island, creating a captivating contrast. Black appliances stand out against the backdrop of a pristine white tile backsplash. The seamless wood flooring unifies the space, leading to a gray door that provides access to the kitchen.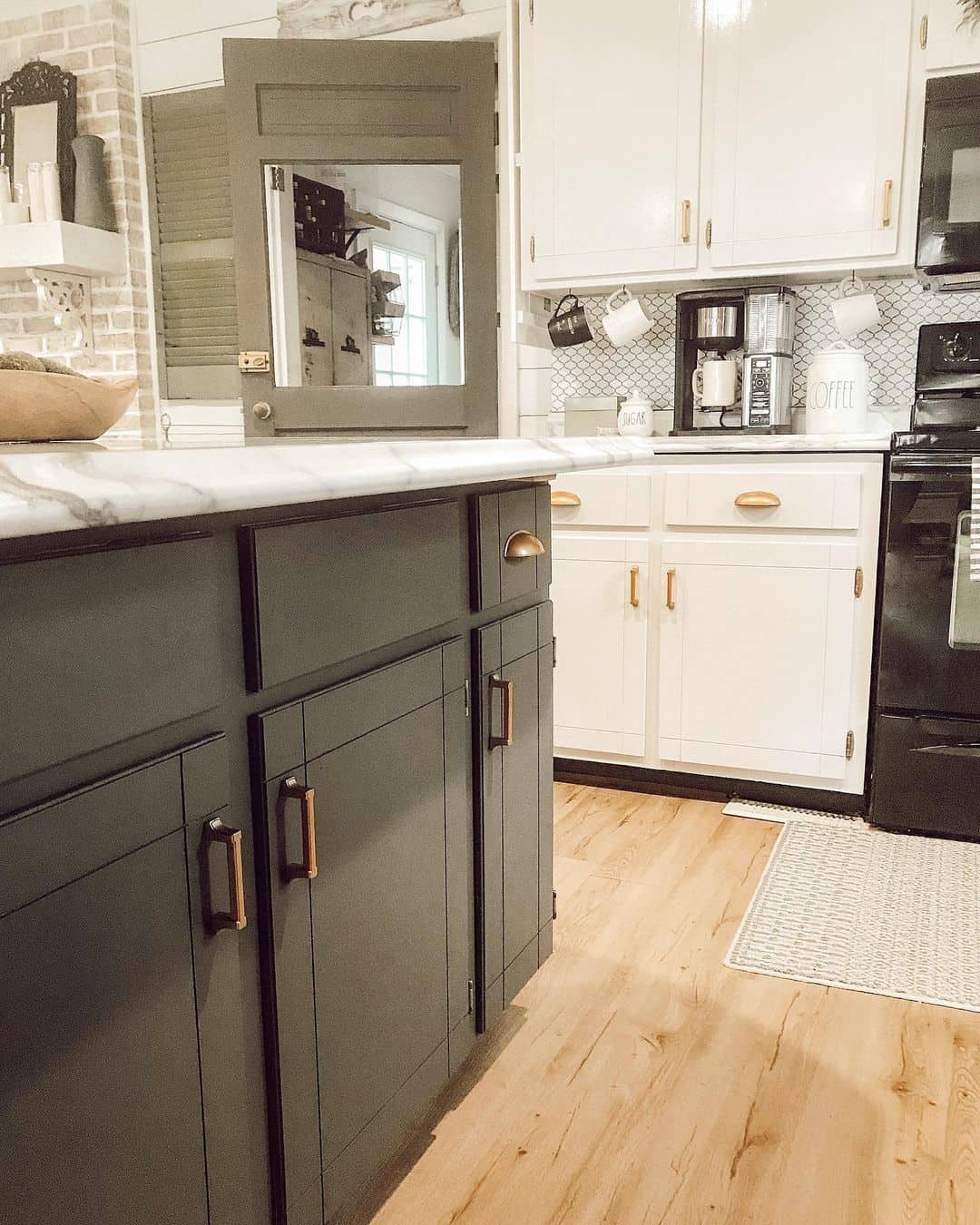 Credit: shadyoaklane__
Shop the Look
Modern Elegance on Shaker Cabinets
Elegance takes center stage in this modern farmhouse kitchen with stainless steel double wall ovens and white shaker cabinets. Modern kitchen hardware ideas, featuring brass pulls, add a contemporary touch to the farmhouse setting. A white subway tile with black grout serves as the backsplash, completing this chic and functional space.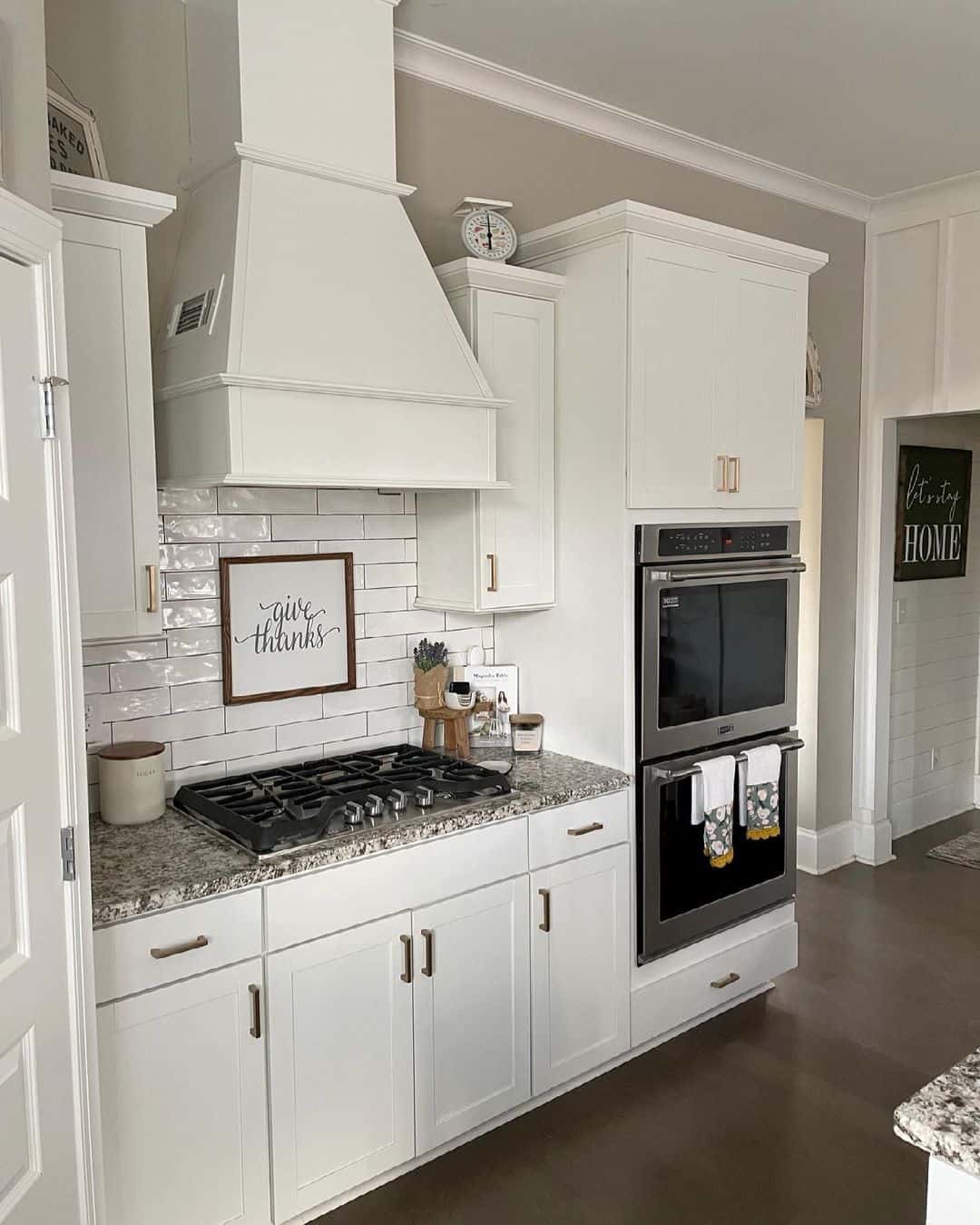 Credit: jk_farmhouselove
Shop the Look
Wrap-up
These seven-plus farmhouse kitchen cabinet hardware ideas have redefined kitchen design, offering a perfect blend of style and functionality. From the timeless appeal of classic pulls to the modern edge of unique handles, you now have the tools to create a kitchen that's truly unforgettable.
So go ahead, impress every guest and elevate your farmhouse kitchen to new heights of charm and sophistication.