7+ Practical Farmhouse Kitchen Cabinet Range Hood Ideas
Affiliate Disclosure: As an Amazon Associate we earn from qualifying purchases. Hence, if you click through and make a purchase, we will get a commission at no extra cost to you. For more info, read our full disclosure.
When it comes to infusing your kitchen with that sought-after farmhouse charm, the choice of cabinet range hood can be a game-changer. Farmhouse kitchens are known for their blend of practicality and aesthetics, and the range hood is no exception.
In this blog, we'll explore seven practical farmhouse kitchen cabinet range hood ideas that will not only enhance the functionality of your kitchen but also elevate its overall style.
Shaker-Style Cabinets and Stylish Black Pendant Lights
In this kitchen, you'll find a striking combination of light gray board and batten range hood seamlessly integrated among coordinating gray shaker-style cabinets. Over a wooden island with a pristine white countertop and chic black stools, black pendant lighting fixtures take center stage.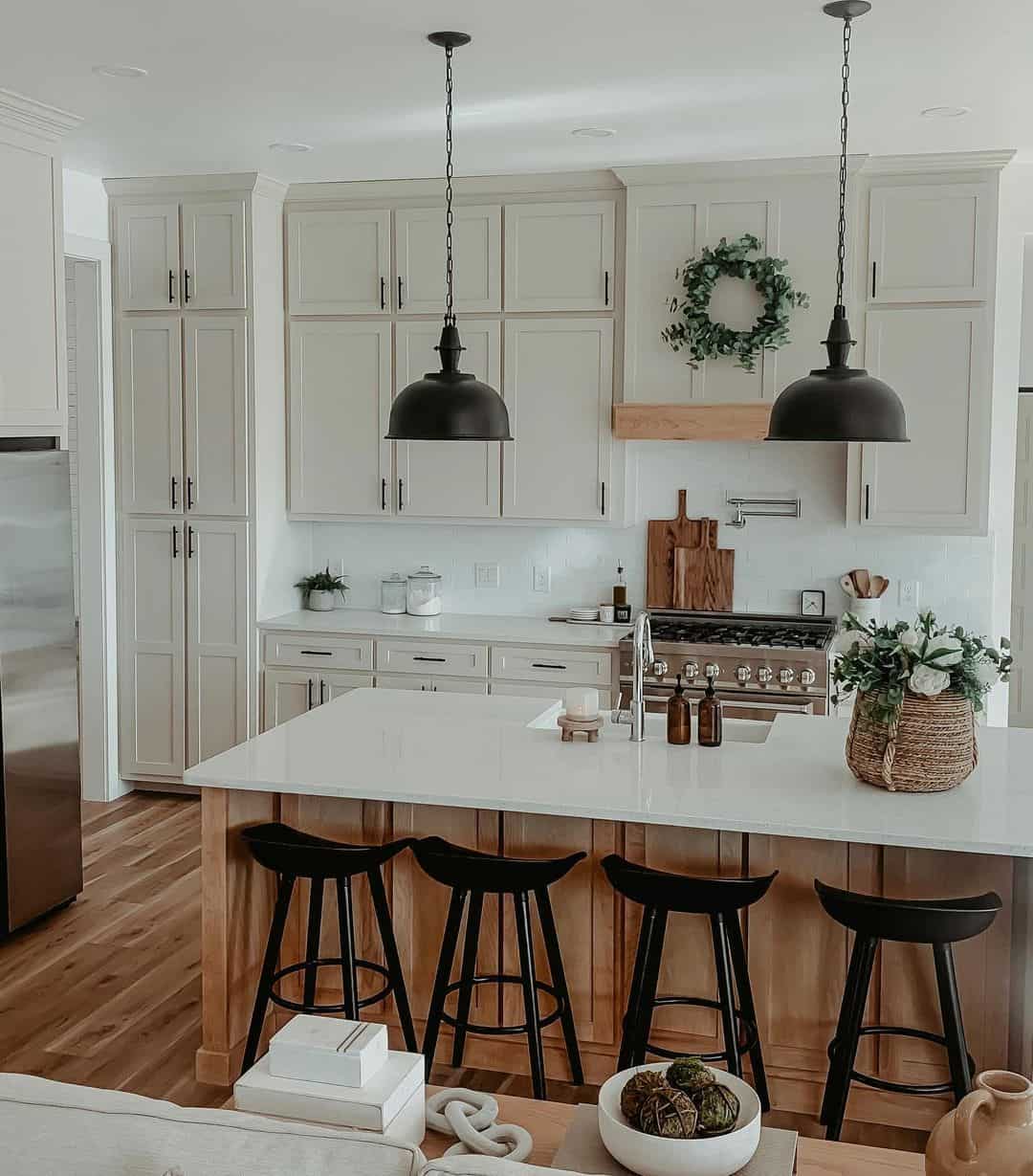 Credit: weepingwillow.farmhouse
Shop the Look
Creative Cabinet Range Hood Casing
Step into this modern farmhouse kitchen, where creativity abounds. The range hood above the built-in gas stovetop is cleverly concealed with an arched cabinet casing painted in pristine white. Glass apothecary jars, flourishing indoor succulents, a collection of cookbooks, and charming farmhouse utensil jars collectively infuse the space with a warm and inviting ambiance.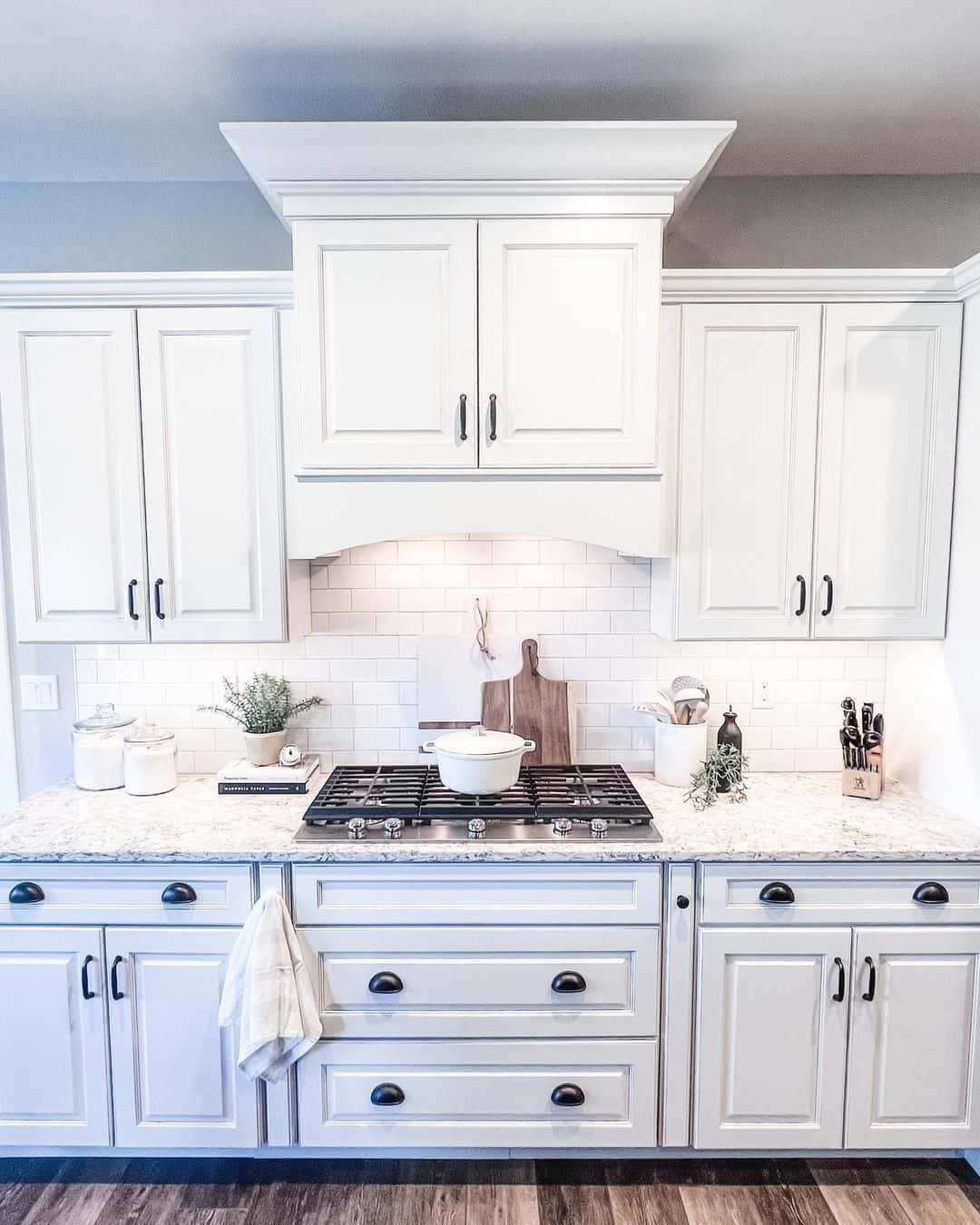 Credit: myillinoishome
Shop the Look
Cabinets Above a Stainless Steel Range Hood
This kitchen exudes elegance with its white cabinets adorned with stainless steel hardware. The stainless steel stovetop finds a matching companion in the form of a stainless range hood placed above it. Additional overhead cabinets enhance storage options, while a floating wood shelf complements the white tile backsplash beautifully.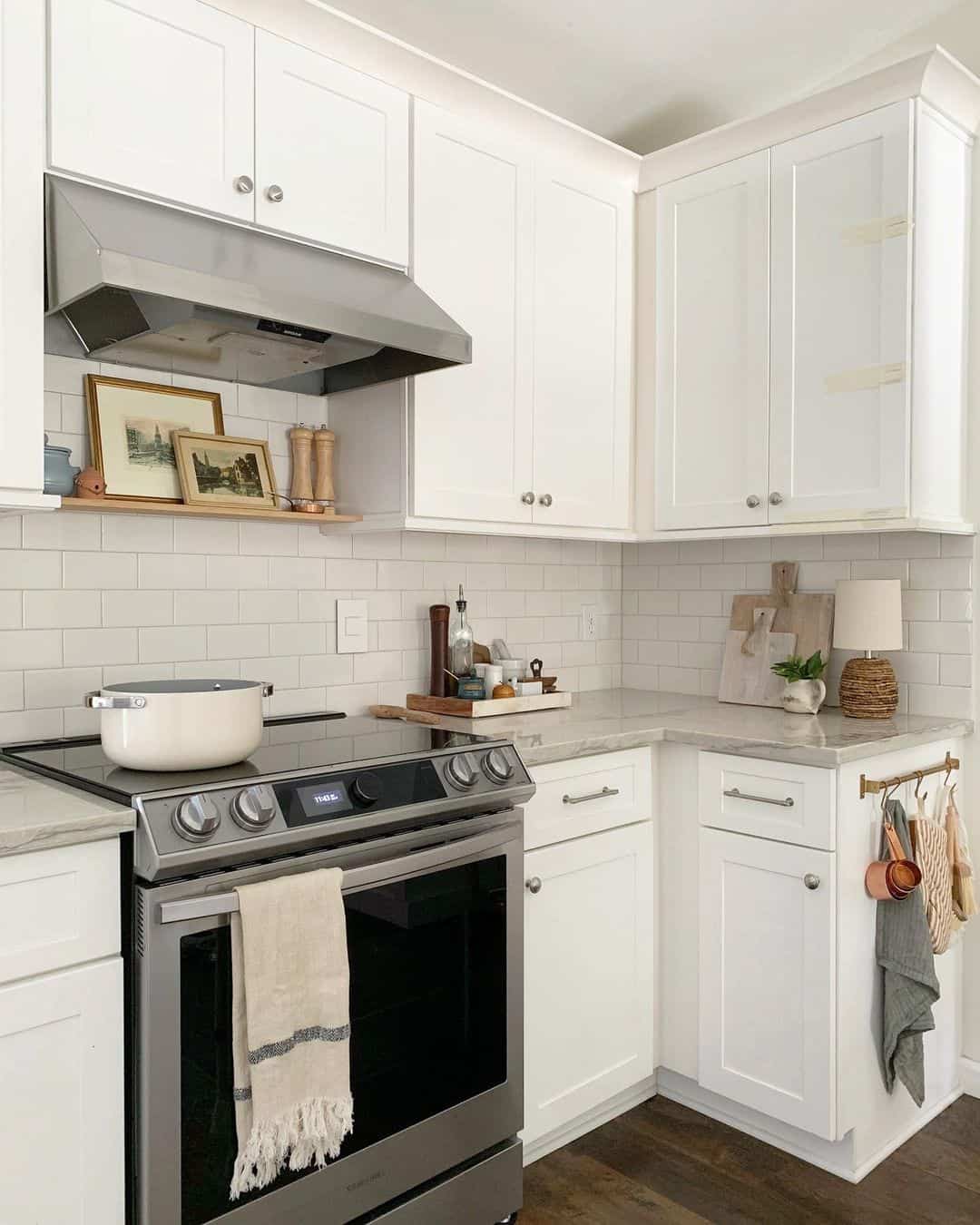 Credit: hartley_home
Shop the Look
Cabinet Range Hood Innovation
In this kitchen, innovation takes center stage as the range hood is ingeniously concealed within a white cabinet range hood casing, positioned above the induction cooktop. The use of sleek black hardware not only bestows a modern touch to the cabinetry but also creates a captivating contrast against the pristine white paint and the glossy white tile backsplash.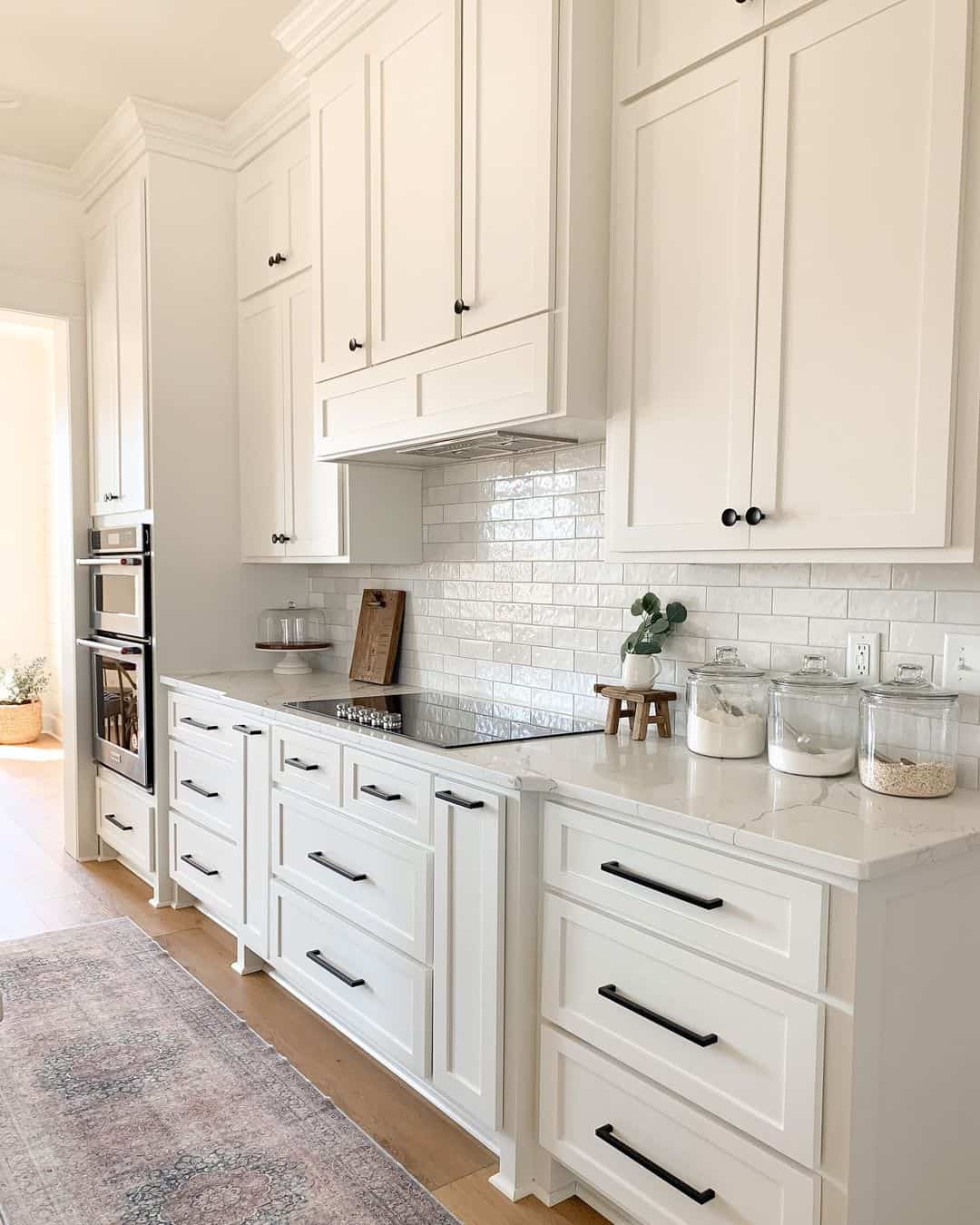 Credit: houseofkeene
Shop the Look
Shaker-Style Cabinets and Their Range Hood
Step into a world of farmhouse charm, where a neutral kitchen springs to life with the introduction of pristine white shaker cabinets. Above the stainless steel gas stove, a functional cabinet range hood takes its rightful place, seamlessly blending practicality and style. The timeless aesthetic is further enriched by the inclusion of a sleek black pot filler and the classic appeal of a white tile backsplash. Black farmhouse sconce lights delicately cast their warm glow over the sink area.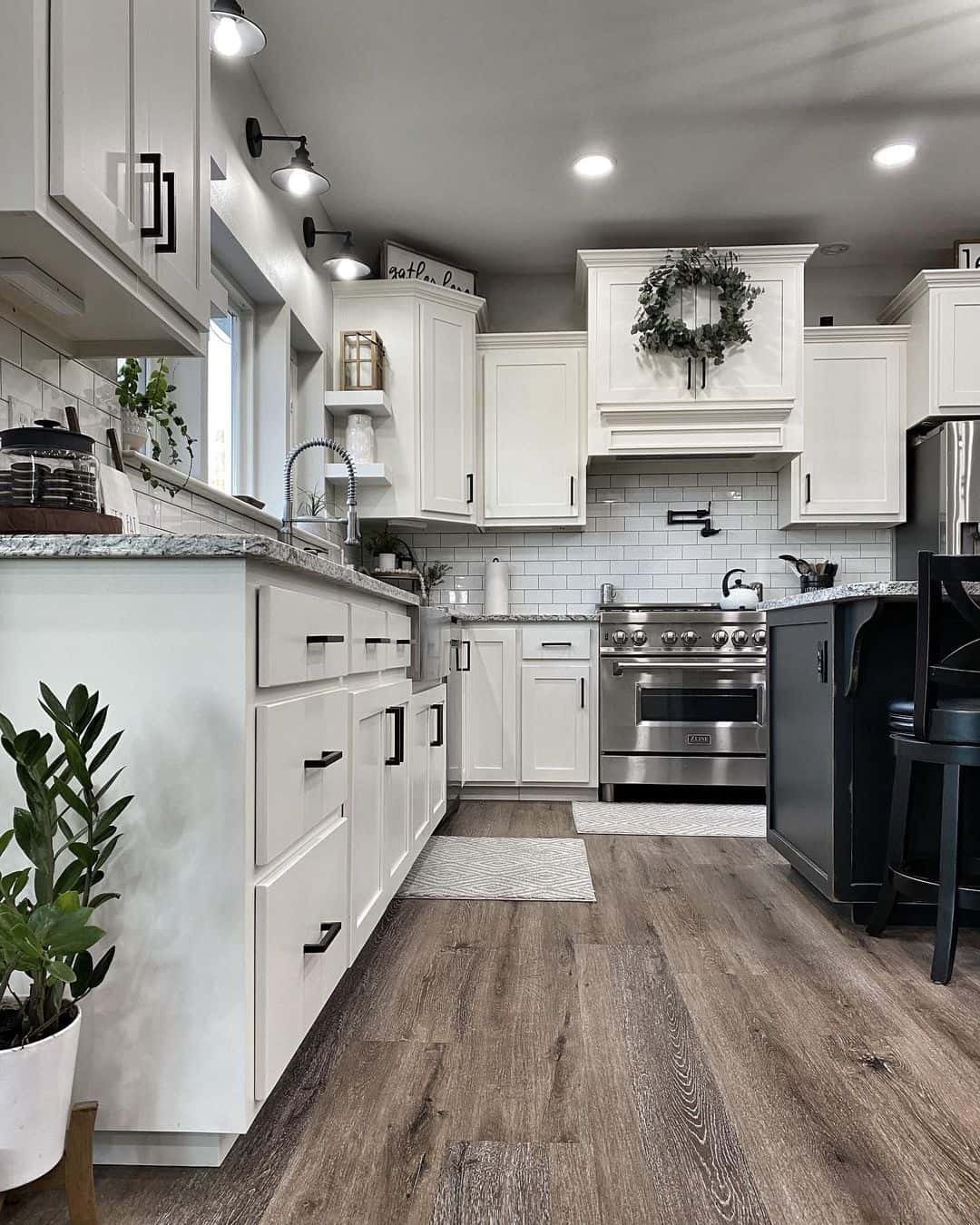 Credit: bear_creek_farmhouse
Shop the Look
White Subway Tile Backsplash
This kitchen exhibits timeless elegance with a white range hood seamlessly integrated between white cabinets, all set against a backdrop of white subway tile backsplash. The pristine white and gray marble countertops pair perfectly with a gas cooktop positioned beneath the hood and a stylish nickel pot filler.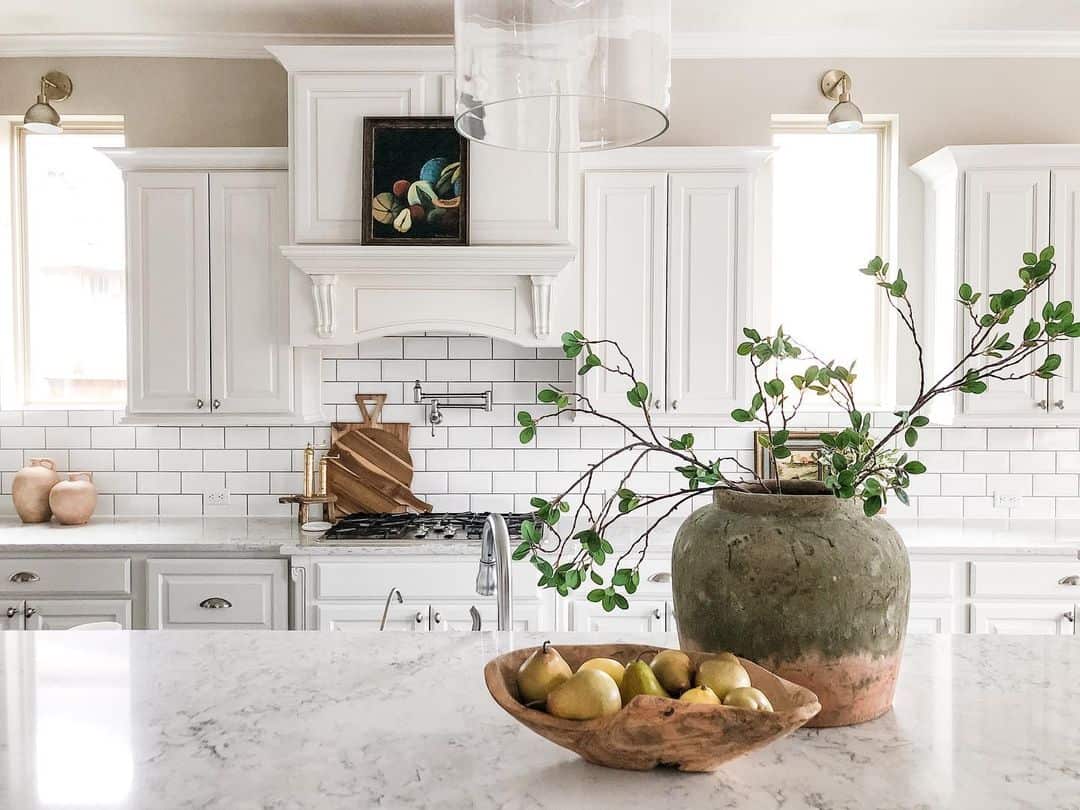 Credit: beigewhitegray
Shop the Look
Aesthetically Pleasing Tall White Shaker Cabinets
A stainless steel refrigerator takes center stage amidst a backdrop of tall white shaker kitchen cabinets adorned with flat crown molding that extends all the way to the ceiling. A black range graces the white countertop, while three glass pendant lamps delicately hang over a white counter situated on a wooden island. Four tall black chairs complete the charming scene on the warm wood floor.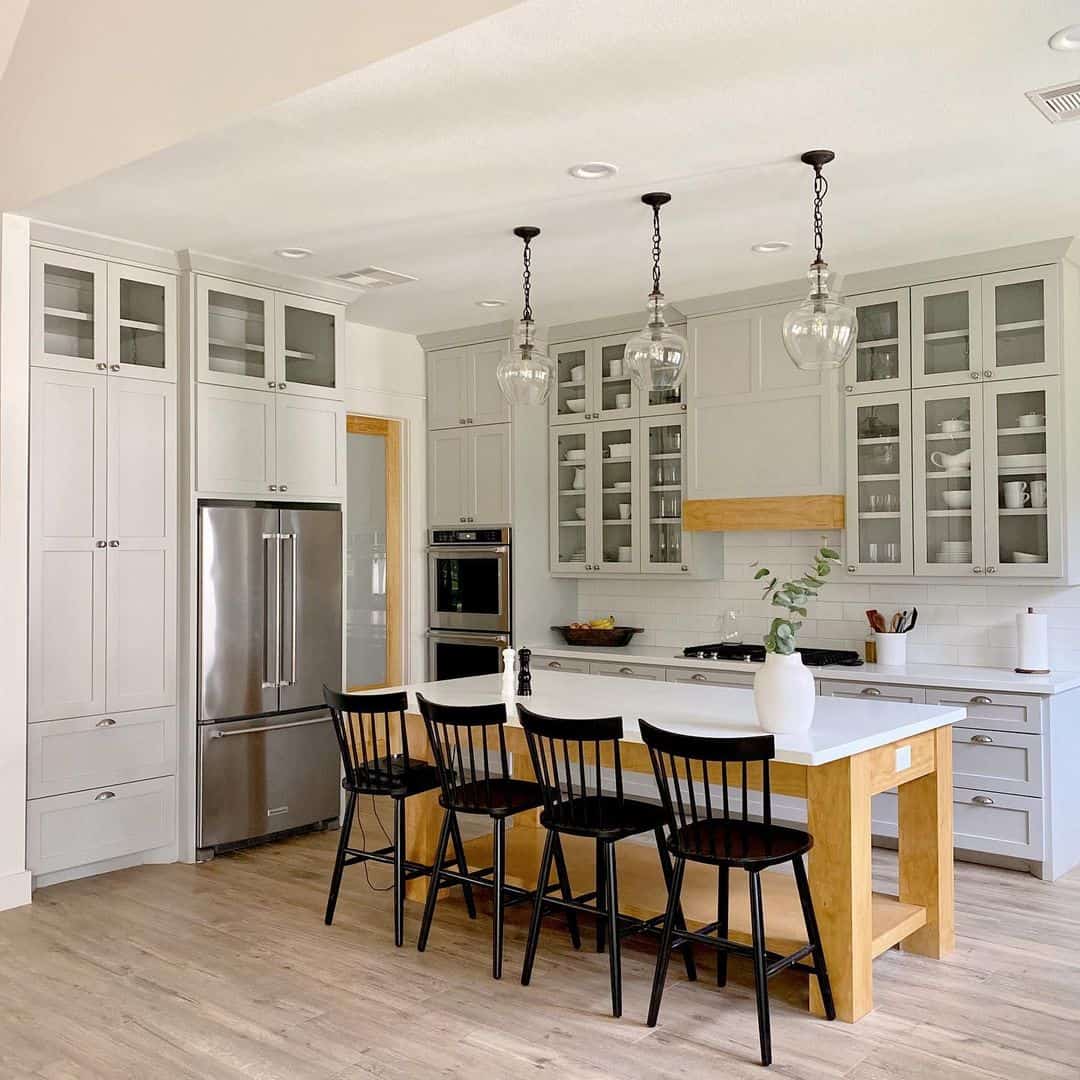 Credit: happilyeverafterinrosharon
Shop the Look
White Shiplap Kitchen with Rustic Flair
This kitchen features a delightful white shiplap design with a gray kitchen island supported by elegant table legs and crowned with a light wood countertop. Rustic ivory lantern pendant lights add character and illumination, mounted in front of a pristine white range hood.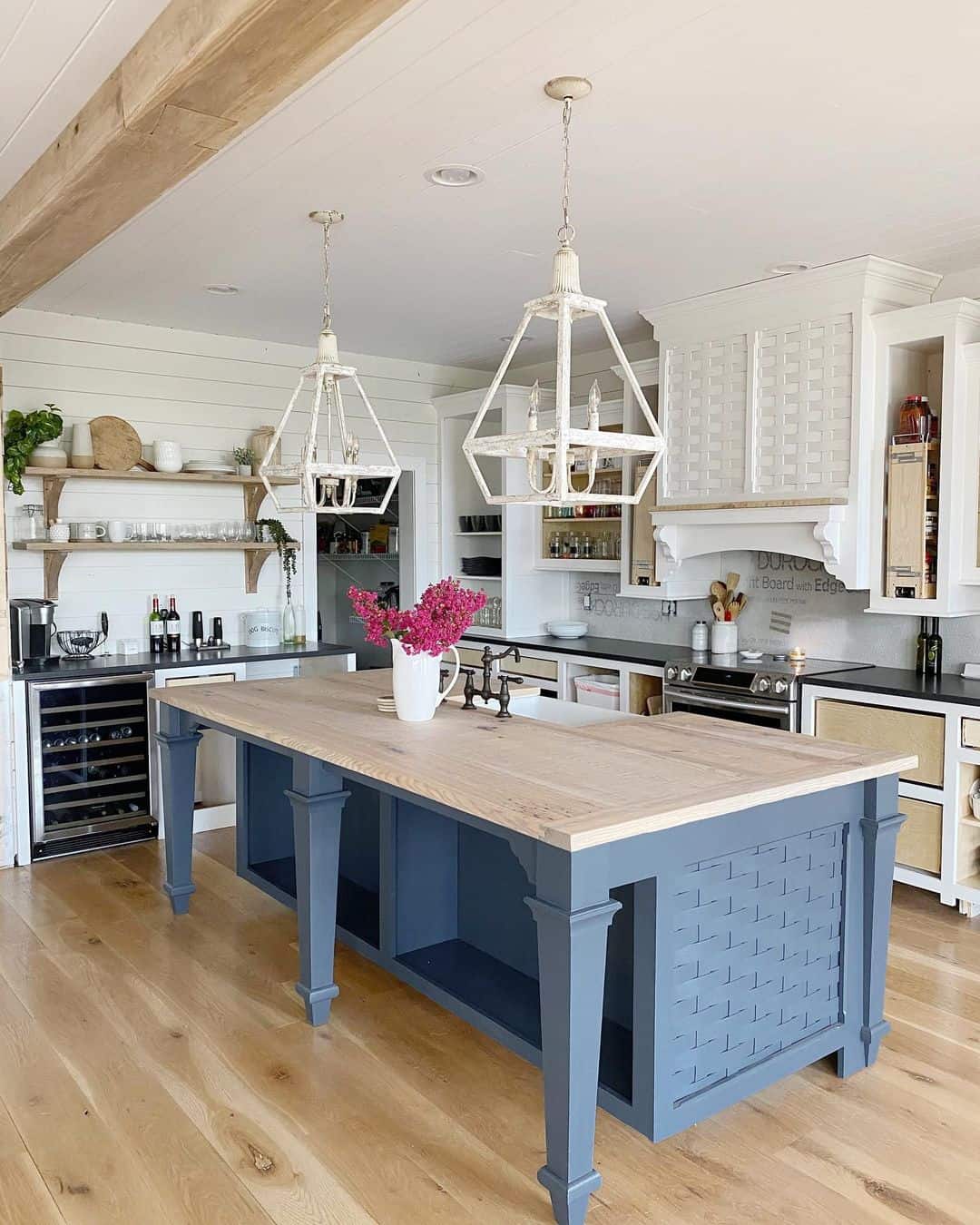 Credit: country_dog_homes
Shop the Look
Wrap-up
In the world of farmhouse kitchen design, the cabinet range hood proves to be a versatile canvas for creativity and functionality. From concealed hoods to rustic designs, these seven ideas offer a spectrum of choices for homeowners seeking to achieve that perfect balance between practicality and rustic charm in their kitchen spaces.
The right cabinet range hood can serve as the centerpiece, combining form and function seamlessly, making your farmhouse kitchen truly exceptional.