7+ Countertop Update Ideas Tailored for Your Farmhouse Kitchen
Affiliate Disclosure: As an Amazon Associate we earn from qualifying purchases. Hence, if you click through and make a purchase, we will get a commission at no extra cost to you. For more info, read our full disclosure.
Discover a world of farmhouse-inspired transformation with our curated collection of 7+ countertop refresh ideas. Uncover practical and stylish suggestions that seamlessly blend rustic charm into your kitchen space. From timeless classics to trendy innovations, elevate your farmhouse kitchen with these tailored countertop refresh ideas.
Gray-Toned Farmhouse Kitchen
Indulge in the allure of modern farmhouse aesthetics as you step into this cozy kitchen. White walls and transparent hexagonal patterns on cabinet doors create a homely ambiance. The organized decor gracefully sits atop a stylish gray countertop, accentuating the rustic charm heightened by natural wood flooring.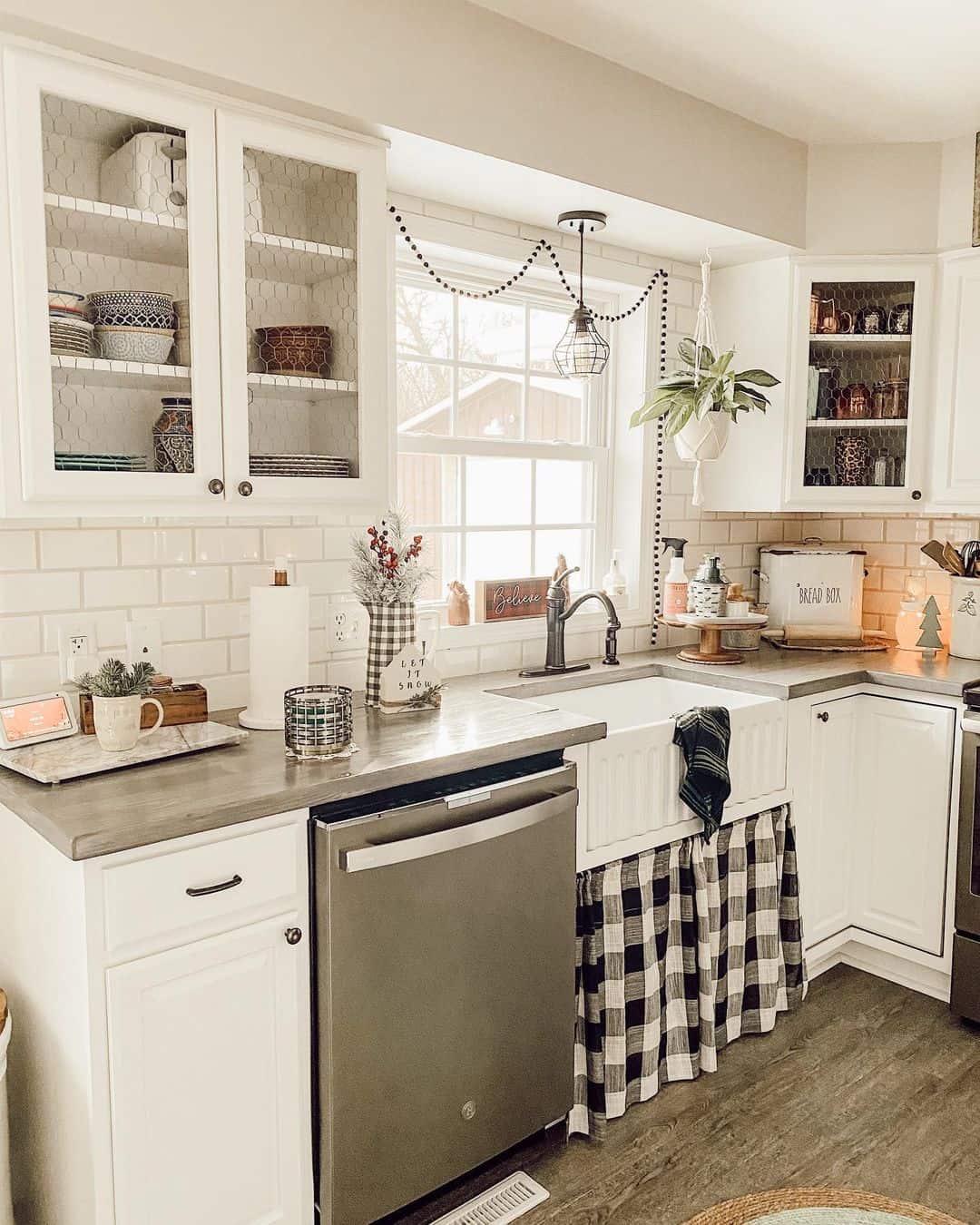 Credit: our.little.ranch.farmhouse
Shop the Look
Modern Farmhouse Kitchen Elegance
Experience the sleek beauty of monochrome in this modern farmhouse kitchen. White cabinets set the tone, while a bold black island with a polished quartz countertop becomes the focal point. A black brass light fixture illuminates neutral-toned gray tiles, and a simple diamond-patterned rug adds a touch of sophistication.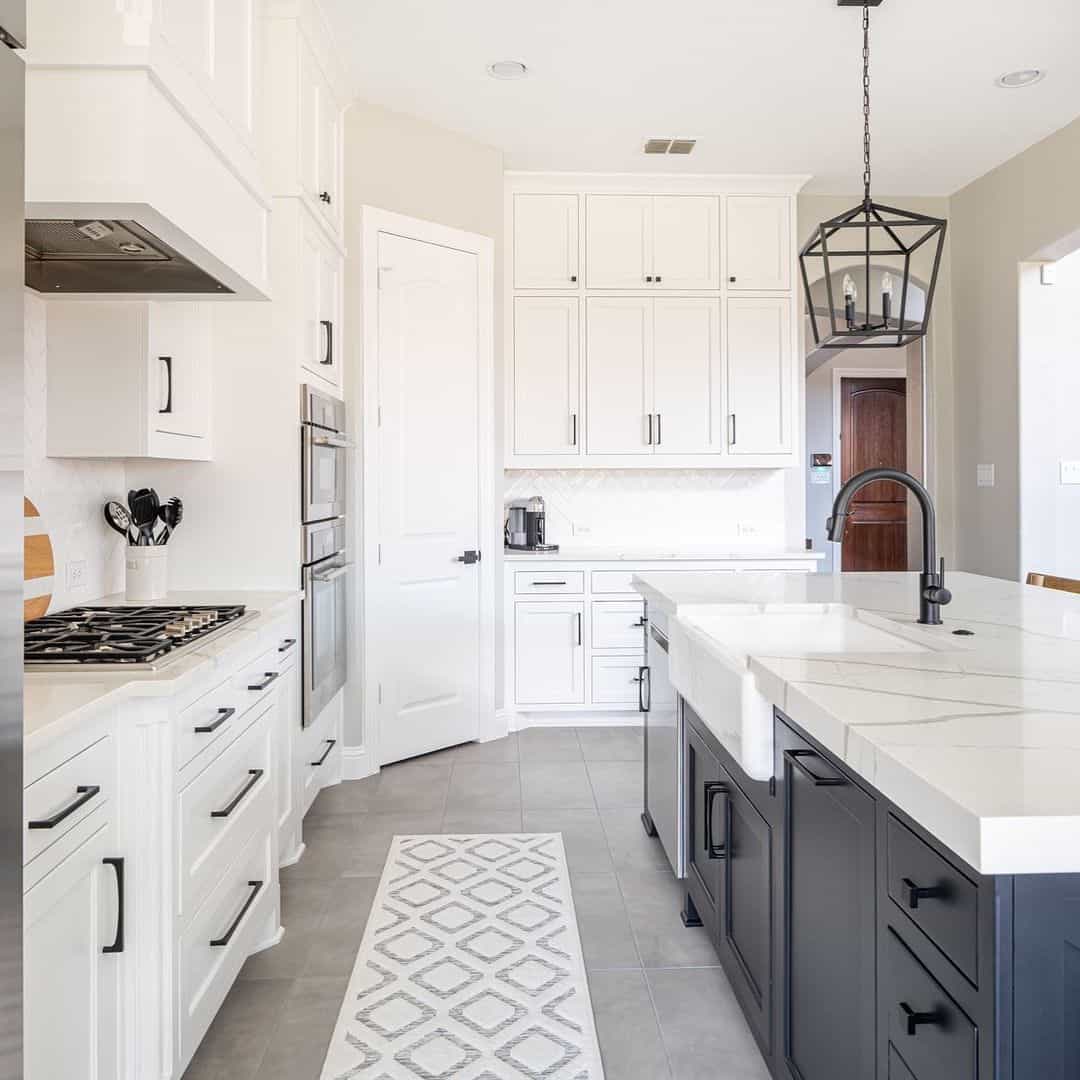 Credit: modernfarmhousebliss
Shop the Look
Inspiring Kitchen Countertop Ideas
Discover the charm of simplicity in this farmhouse-style kitchen. Light ashwood shelves and soft white cabinets coexist with light oak wooden floors and a warm white rug. The pièce de résistance is a beautiful terrazzo marble countertop, imparting a clean and fresh look to the entire space.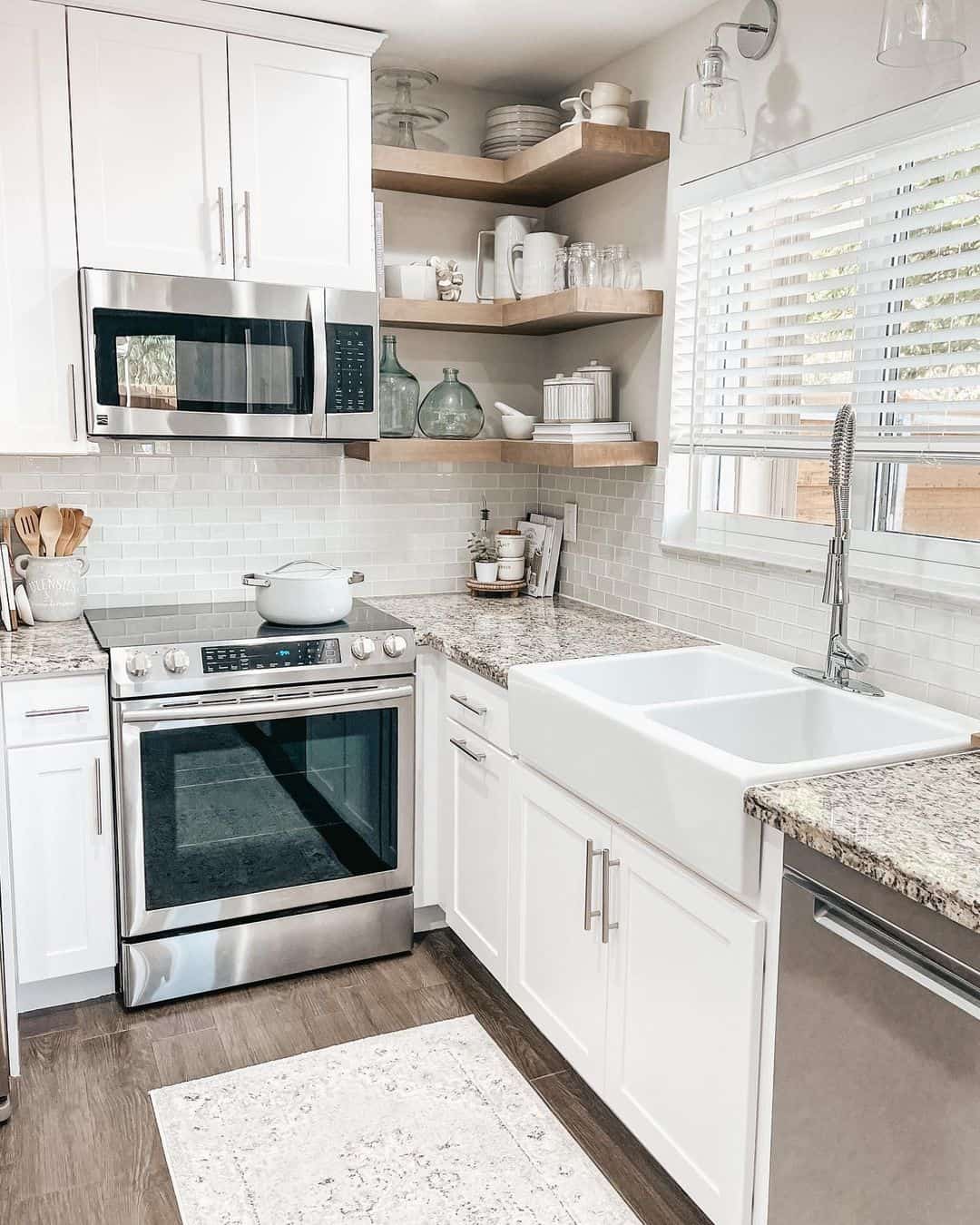 Credit: thefleiteslife
Shop the Look
Wood-Adorned Farmhouse Kitchen
The farmhouse kitchen boasts a countertop adorned with polished quartz, casting an elegant contrast against the backdrop of white tiles and cabinets. Adding to the allure are natural wood shelves and a wooden cabinet beneath the sink, introducing a rustic and natural aesthetic to the space. The outcome is a seamlessly blended kitchen that effortlessly marries modern refinement with the timeless charm of a farmhouse.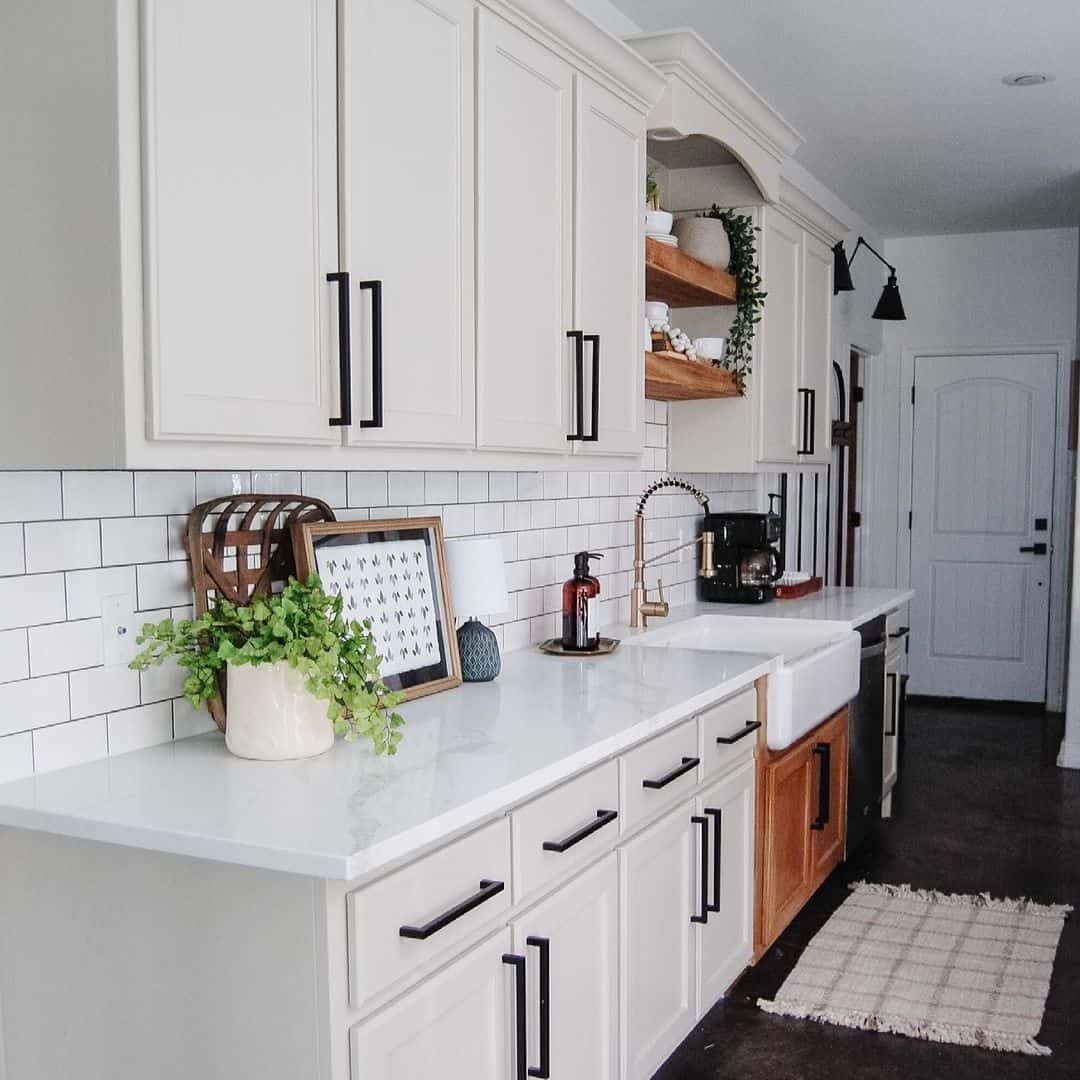 Credit: stylewithwisdom2
Shop the Look
White Kitchen with Floating Shelves
Embark on a culinary adventure within this farmhouse kitchen adorned in white. The cabinets, crowned with a gray marble countertop and complemented by black hardware, set the stage for a delightful cooking experience. Light wood floating shelves, strategically mounted against a white vertical tile backsplash, offer abundant space for organizing frequently used kitchenware.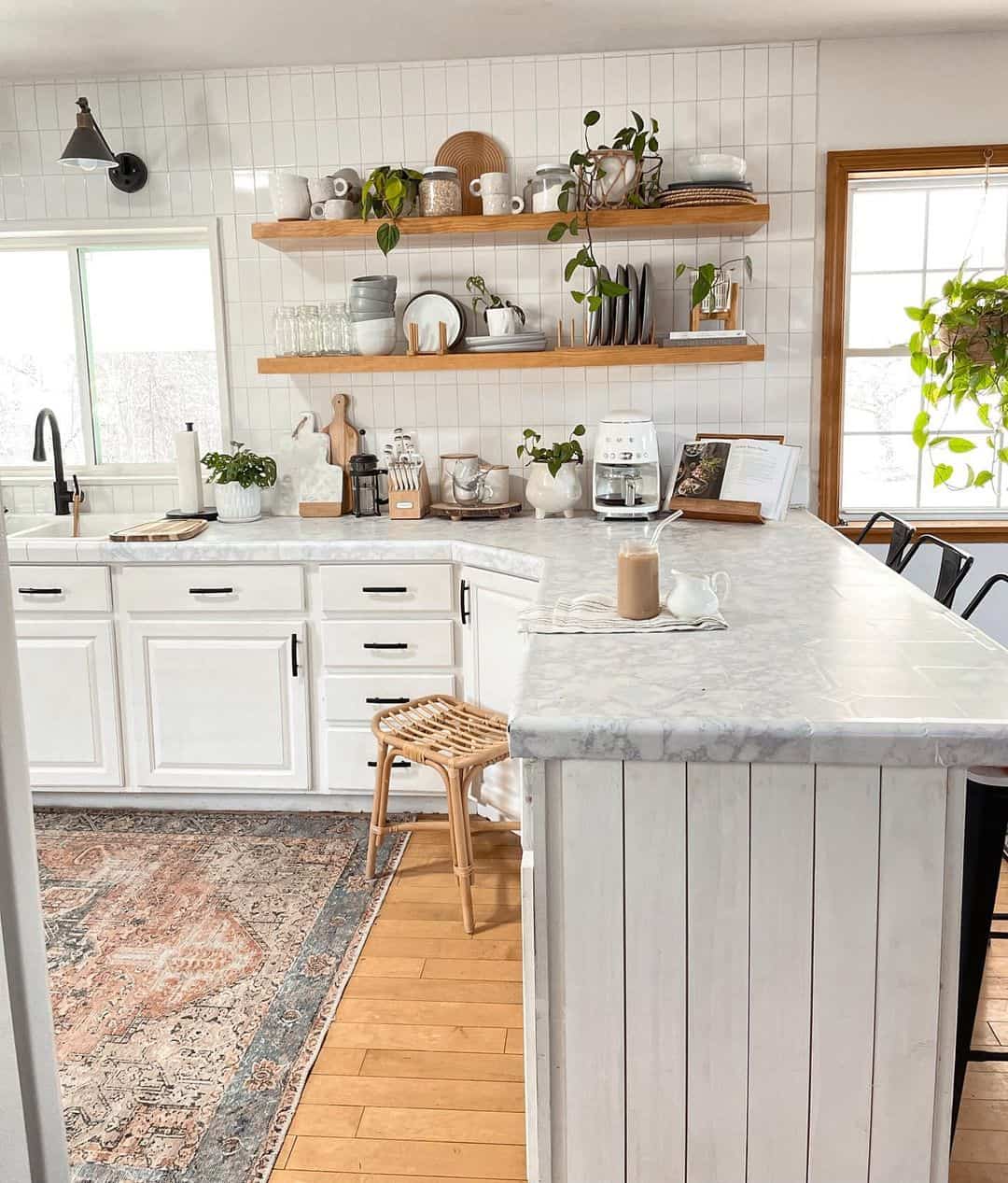 Credit: vt.diy.home
Shop the Look
Farmhouse Kitchen with Wood Shelves
Admire the simplicity and elegance of this white farmhouse kitchen, where mounted wood shelves grace the space between elegant gray cabinetry. The quartz countertop complements neutral tones, and rich natural wood tones add warmth. Complete with a steel sink and simple farmhouse decor, it's a beautiful culinary haven.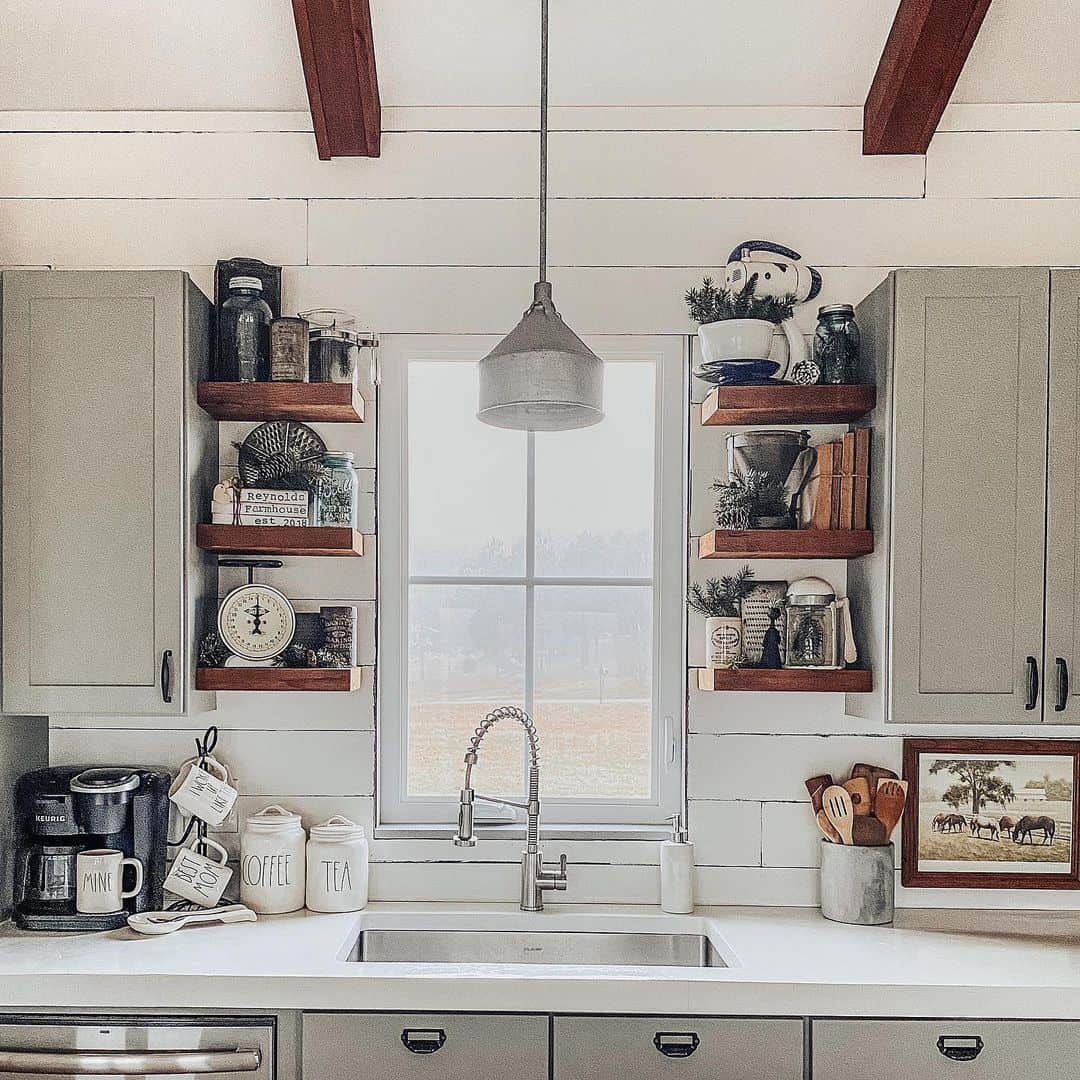 Credit: therustedroost
Shop the Look
Stylish Black and White Farmhouse
Dive into the stylish allure of this black and white kitchen, where monochrome tones and intricate patterns harmonize. A brass chandelier, hosting a lantern-style light fixture, bathes the space in warm illumination. Complementing the aesthetic, metal stools snugly fit under a rustic wooden table, rounding off the chic ambiance.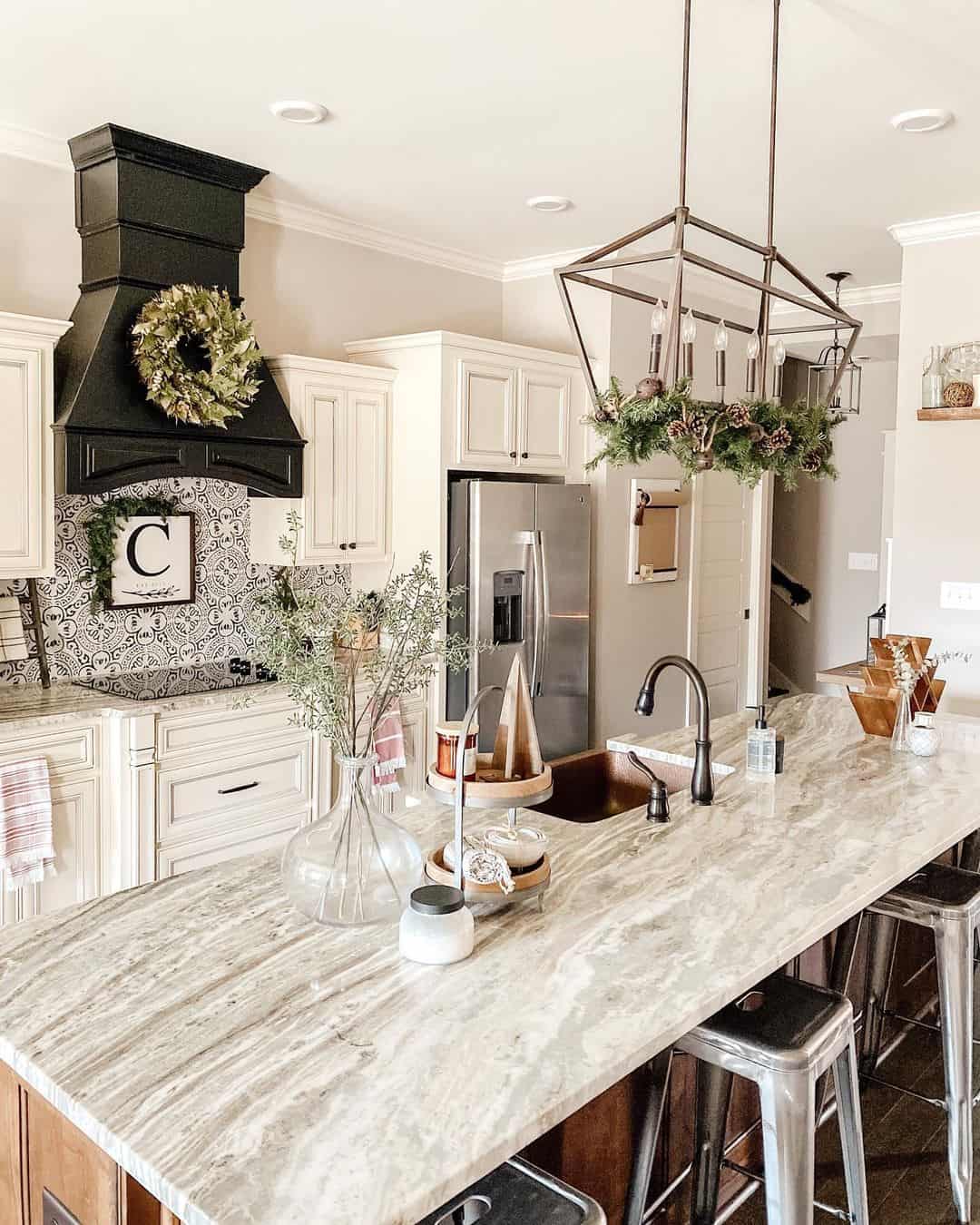 Credit: pamelacarlisledesign
Shop the Look
Quartz-Topped White Farmhouse Kitchen
Step into the enchanting ambiance of a farmhouse-style kitchen adorned with pristine white cabinets, each one elegantly crowned with a snowy wreath. The white subway tile backsplash seamlessly spans from the ceiling to the floor, creating a continuous and classic visual appeal. Adding to the inviting atmosphere, a patterned marble countertop brings a cozy warmth, transforming this kitchen into an adorable and welcoming space.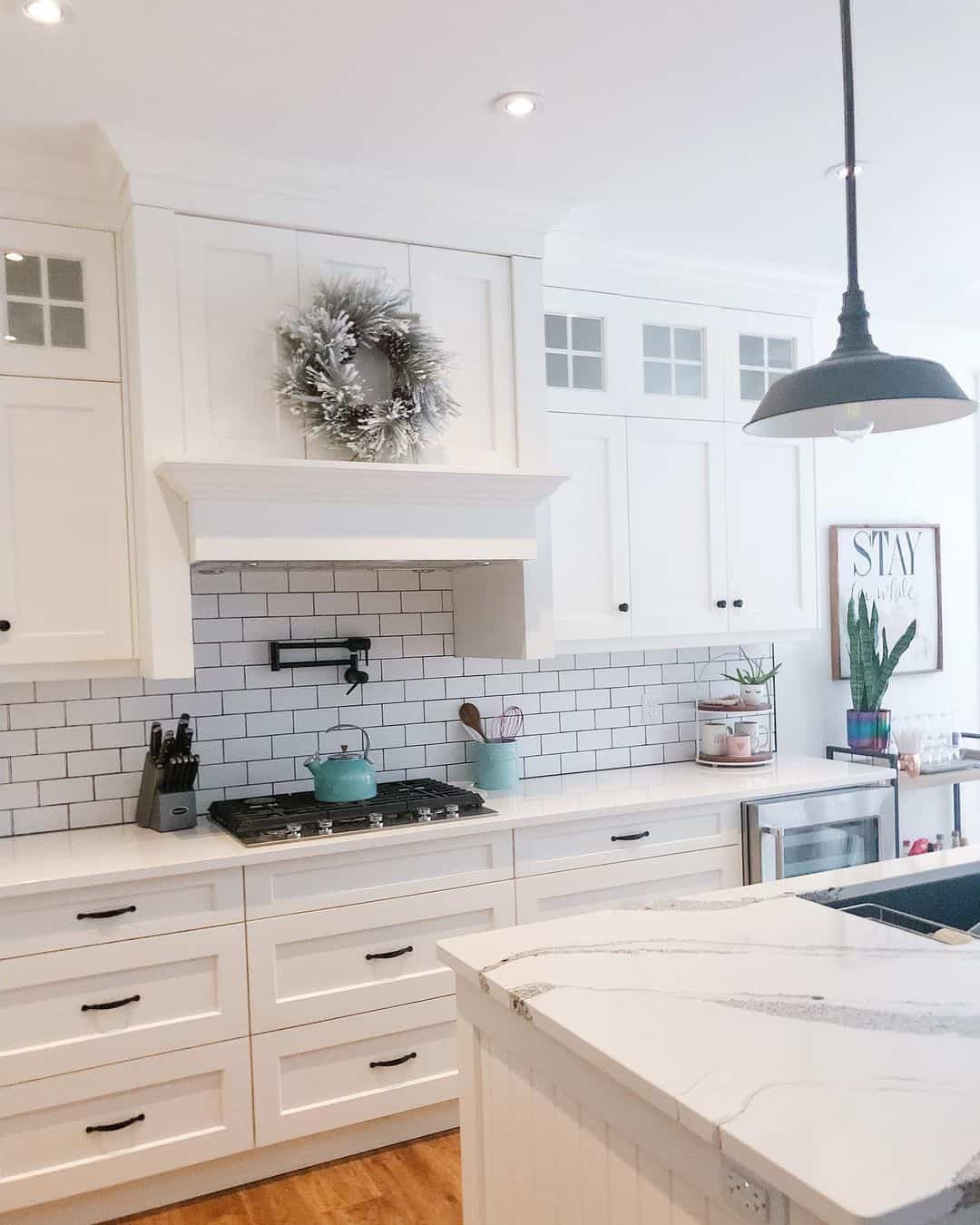 Credit: peachykeenfarmhouse
Shop the Look
Wrap-up
As we conclude our exploration, envision the renewed charm and character these countertop refresh ideas can bring to your farmhouse kitchen. Whether you opt for timeless elegance or embrace contemporary trends, the key is to infuse your space with warmth and functionality. Get ready to savor the delightful blend of traditional coziness and modern allure in your upgraded farmhouse haven.