7+ White Countertop Ideas for an Elegant Farmhouse Kitchen
Affiliate Disclosure: As an Amazon Associate we earn from qualifying purchases. Hence, if you click through and make a purchase, we will get a commission at no extra cost to you. For more info, read our full disclosure.
Step into the realm of timeless elegance with our curated collection of 7+ white countertop ideas designed to elevate your farmhouse kitchen. Immerse yourself in the beauty of classic aesthetics and discover the perfect blend of sophistication and rustic charm.
Whether you're aiming for a minimalist haven or a vibrant culinary space, these ideas are sure to inspire a kitchen transformation that embodies both style and functionality.
Quartz Countertop Showcase
Experience farmhouse charm as we unveil a quartz countertop adorned with graceful gray wavy streaks. The understated allure of a minimalist black faucet perfectly complements the countertop's intricate details. Pastel blue chairs introduce a refreshing burst of color, harmonizing with the encircling white cabinets. This kitchen masterpiece unfolds on a canvas of warm wooden flooring.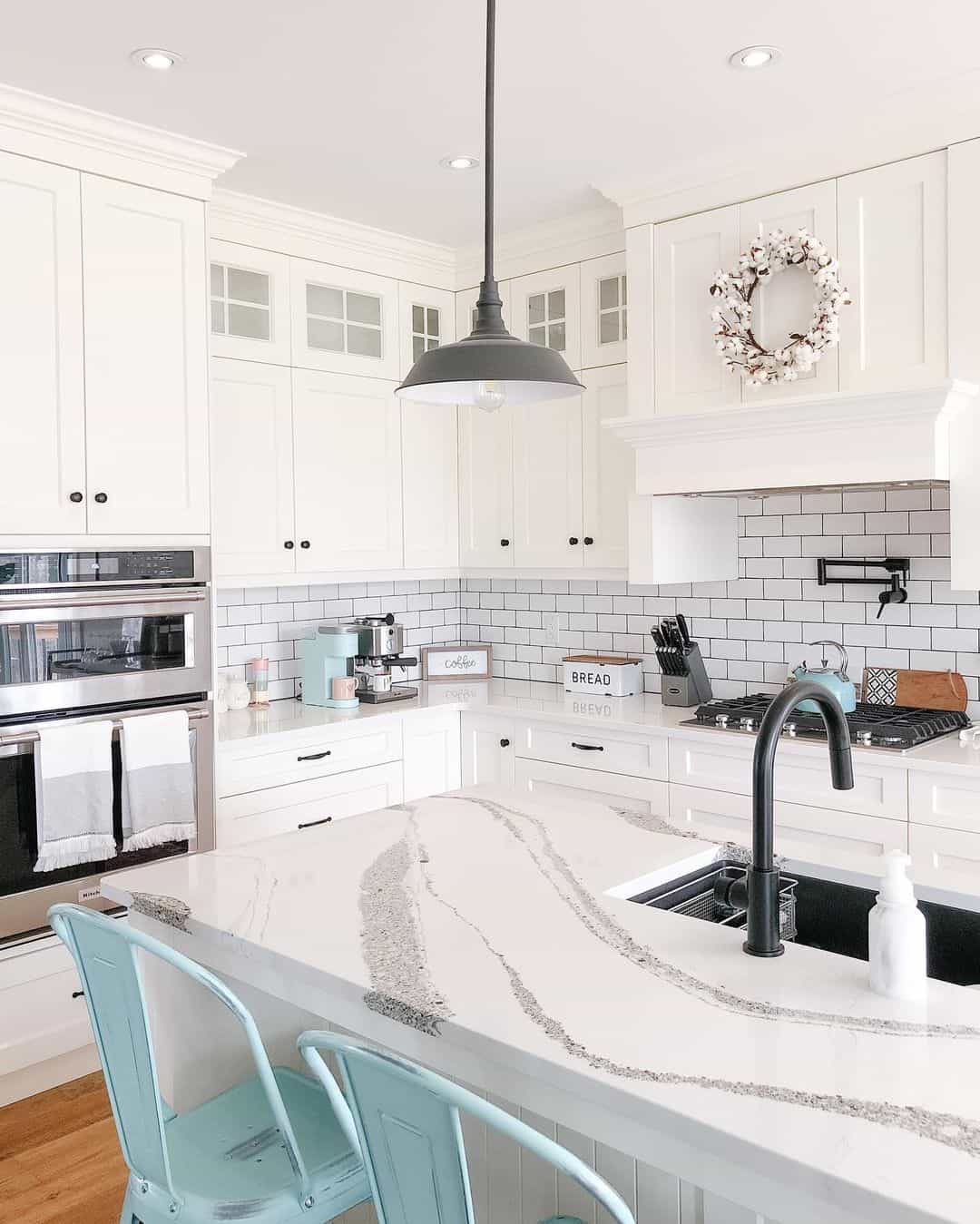 Credit: peachykeenfarmhouse
Shop the Look
White Quartz Majesty
Enter a realm of perfection with a farmhouse kitchen draped in the timeless sophistication of white quartz. Countertops, chairs, and cabinets unite in seamless opulence, creating a visual symphony of elegance. Gold faucets and cabinet handles add a regal touch, mirroring the grace of pendant lights suspended above the central island.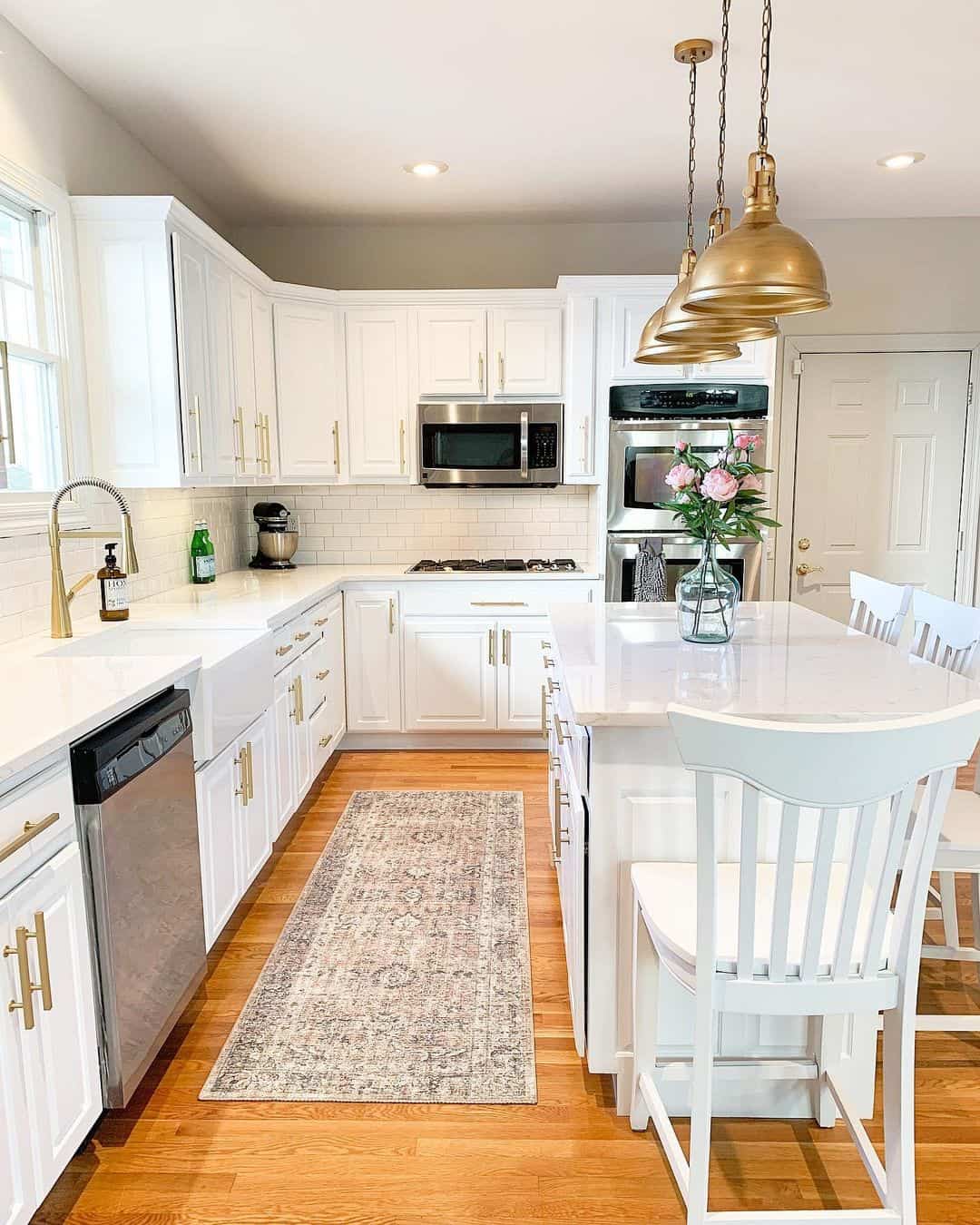 Credit: thehawkins.onthehill
Shop the Look
Vaulted Sage Splendor
Discover the rustic allure of a farmhouse kitchen with a vaulted ceiling, where sage doors and matching cabinets take center stage. Splashes of green and pink from artfully arranged floral decor infuse vibrant life into the white interior. A textured white brick wall adds depth, creating a haven of rustic splendor.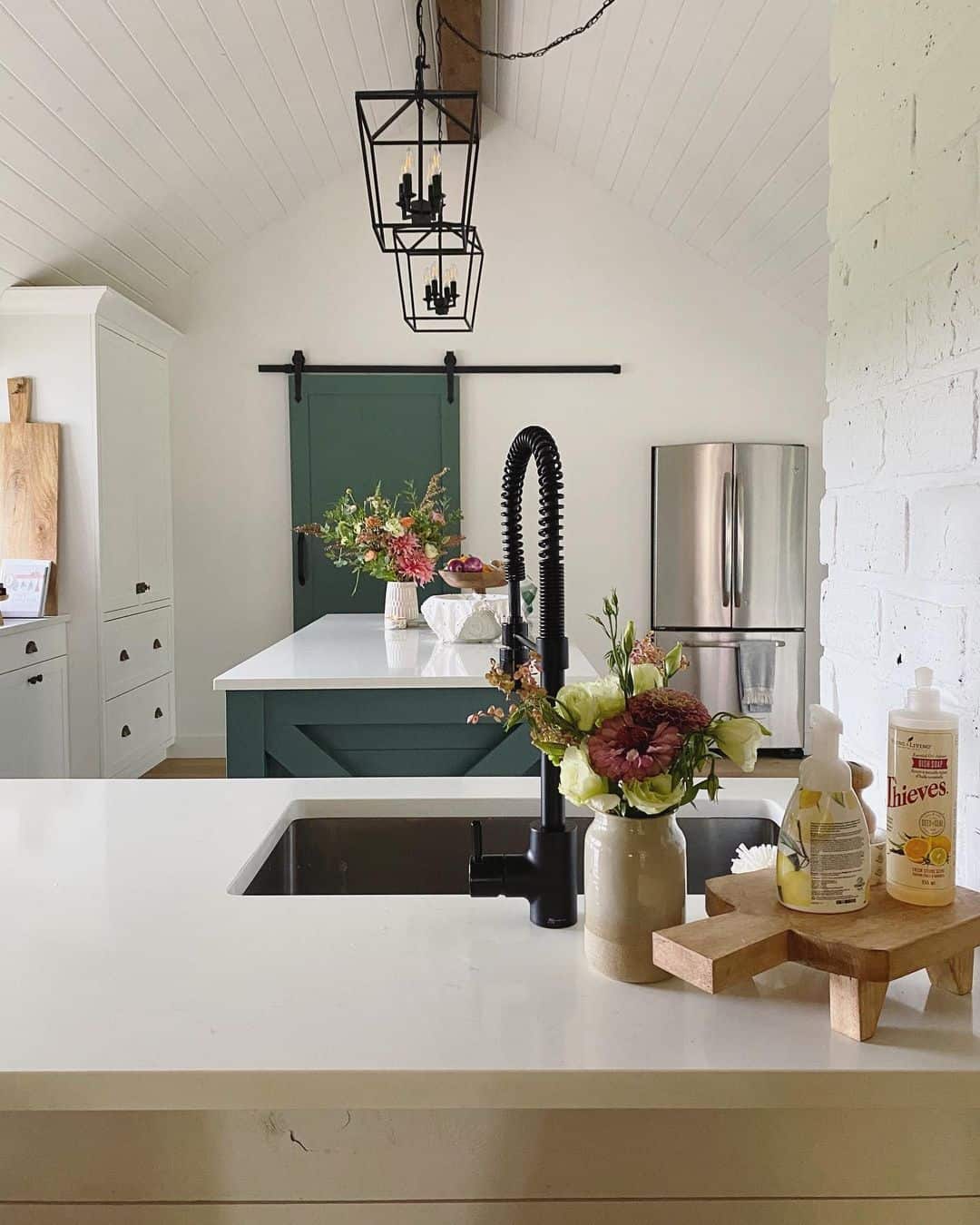 Credit: prairiefarmhouseliving
Shop the Look
Minimalistic Farmhouse Gem
Step into a farmhouse kitchen that embraces the beauty of simplicity. A sleek, minimalistic countertop extends seamlessly to cabinets, drawers, and walls, creating an effortlessly chic aesthetic. A red brick backsplash behind the stove introduces textural intrigue, perfectly complementing a standalone wood cabinet above.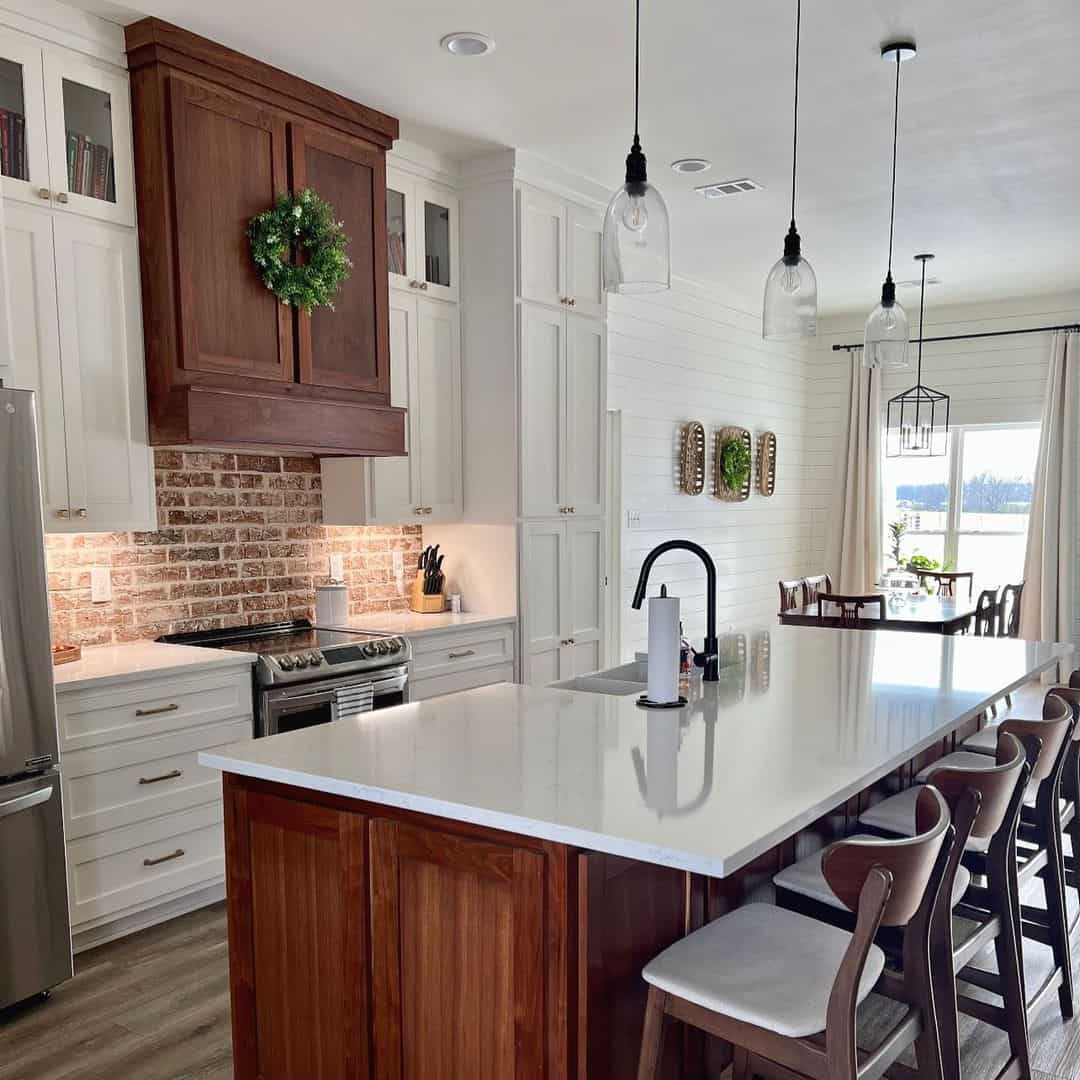 Credit: little_white_house_on_brown
Shop the Look
White Quartz Radiance
Bask in the sublime radiance of a farmhouse kitchen adorned with white quartz countertops, elegantly veined in gray. The marriage of white cabinets and drawers with the quartz creates a timeless harmony. A lively green wreath above the stove introduces a refreshing pop of color, completing this classic culinary haven.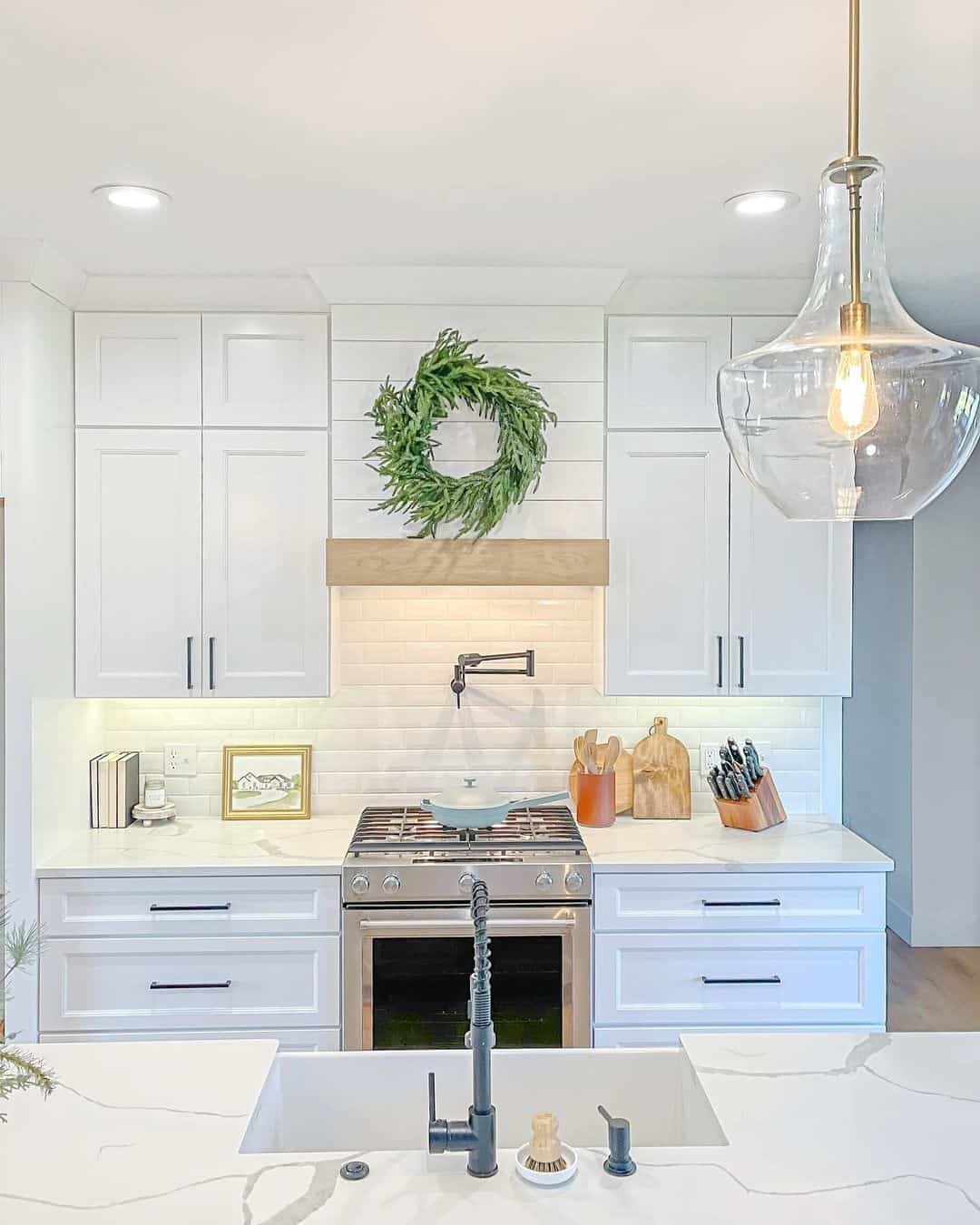 Credit: pleasantlybuilt
Shop the Look
Marble and Wood Symphony
In this farmhouse kitchen, simplicity takes center stage with a white marble countertop and chic black faucet. Wooden cabinets beneath seamlessly match the warm wooden floor, introducing a neutral tone. The result is an understated charm that radiates throughout the space.
Credit: our.lakehouse.living
Shop the Look
Glass Pendant Luminescence
Immerse yourself in the modern elegance of a farmhouse kitchen adorned with striking glass and gold-plated pendant lamps. A pristine white countertop seamlessly blends with surrounding cabinets and walls. White and bronze-toned chairs introduce a modern vintage touch, creating a captivating fusion of contemporary and farmhouse aesthetics.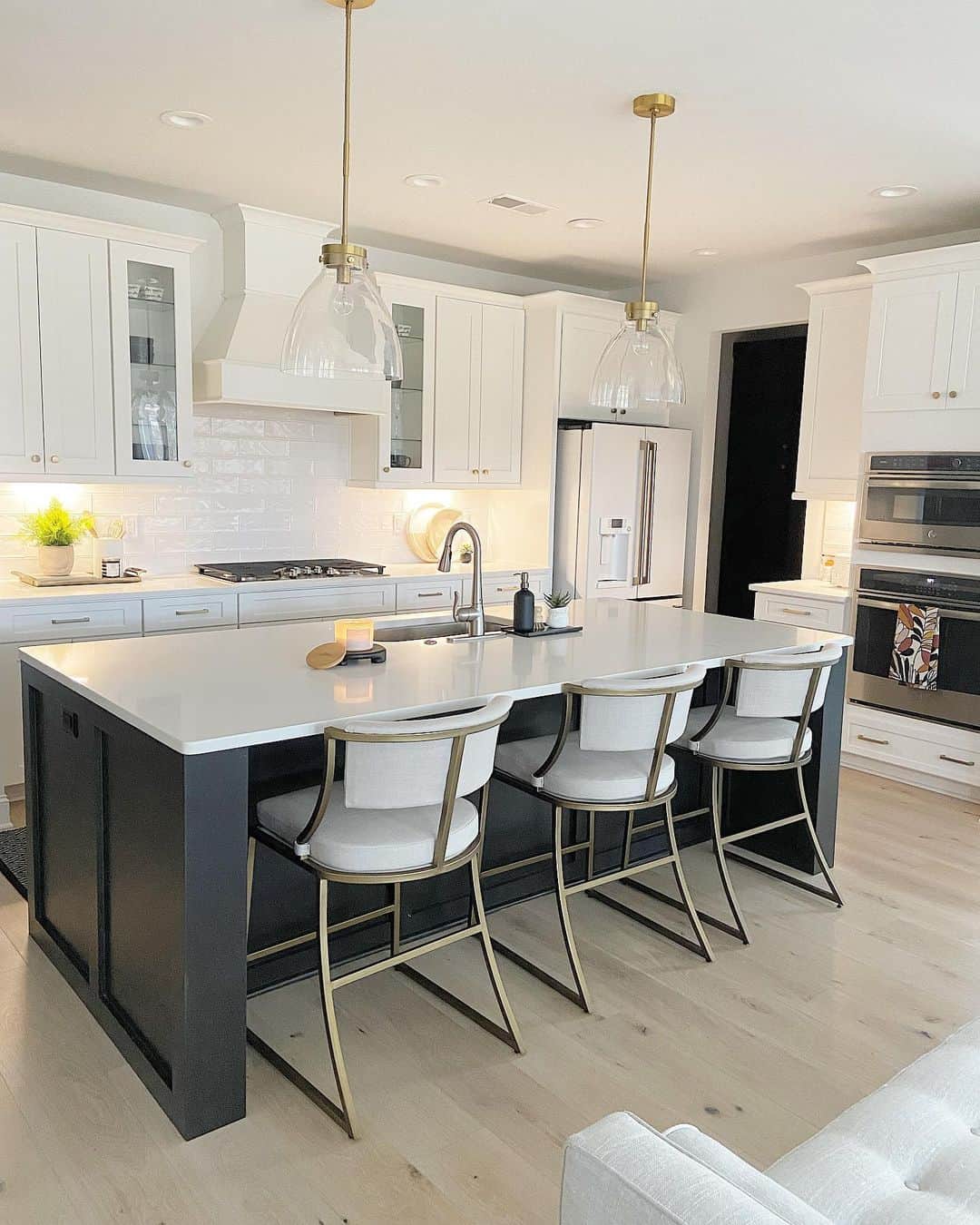 Credit: passion_4_decor
Shop the Look
Black Brilliance in the Kitchen
This kitchen embraces bold contrasts with off-white walls and white cabinets adorned with striking black handles. Pendant lamps in deep black hang over a white countertop situated on a bold black kitchen island, contrasting against the warm wood floor. Angular black pulls on the island's drawers add the final touch to this striking culinary space.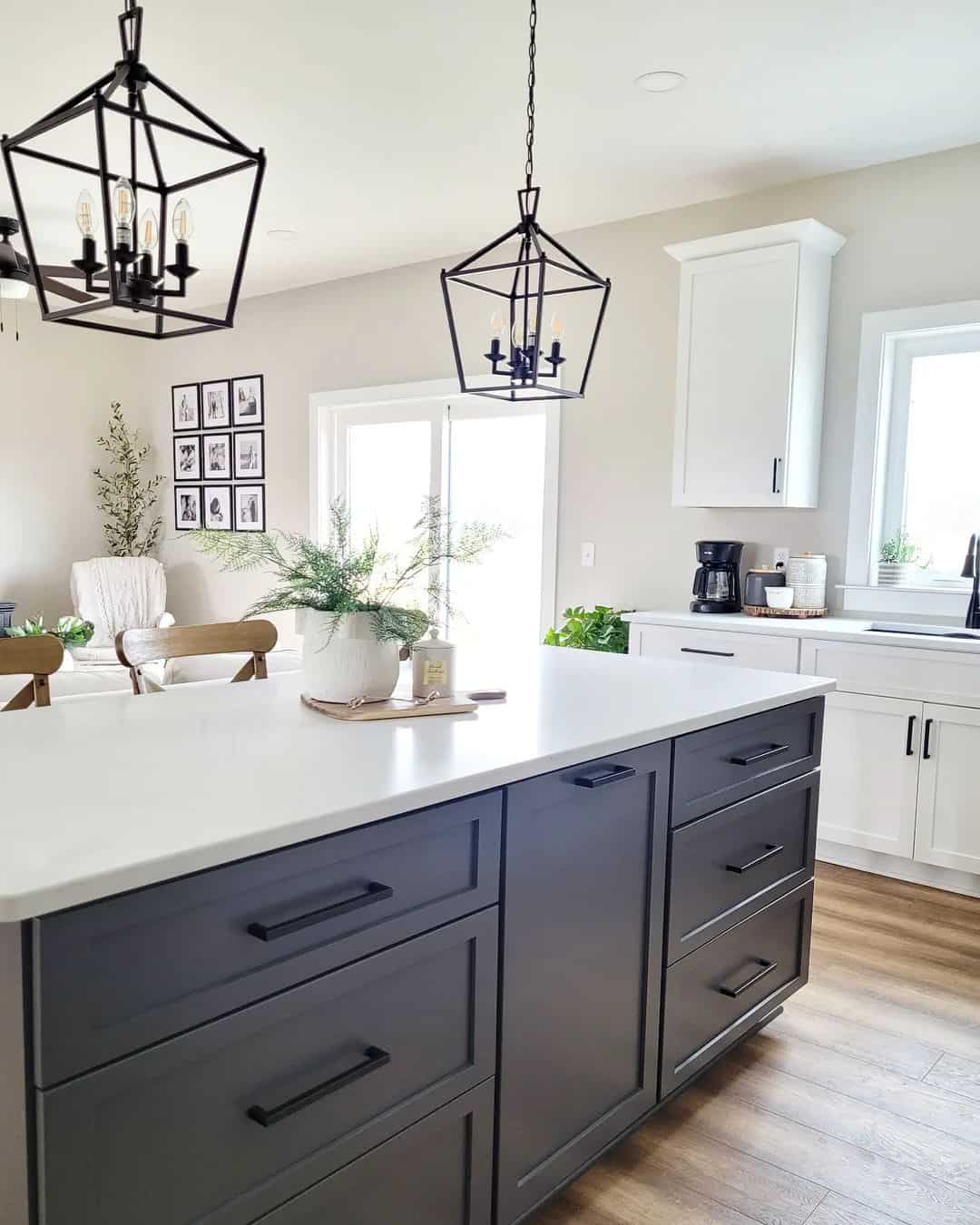 Credit: the_millerhomestead
Shop the Look
Wrap-up
In conclusion, embrace the allure of an elegant farmhouse kitchen with these 7+ white countertop ideas. From the simplicity of minimalist designs to the vibrancy of carefully curated spaces, each concept offers a unique approach to infusing timeless charm into your culinary haven. Elevate your kitchen aesthetic and create a space where elegance meets functionality, leaving a lasting impression on both guests and family alike.