7+ Farmhouse Kitchen Sink Ideas That Marry Function with Rustic Style
Affiliate Disclosure: As an Amazon Associate we earn from qualifying purchases. Hence, if you click through and make a purchase, we will get a commission at no extra cost to you. For more info, read our full disclosure.
Discover the perfect blend of functionality and rustic charm with our curated list of 7+ farmhouse kitchen sink ideas. In this blog, we explore innovative designs that not only serve practical purposes but also infuse your kitchen space with timeless, rustic style.
Whether you're a fan of classic simplicity or seeking a more eclectic look, these ideas are sure to inspire a farmhouse kitchen transformation.
Farmhouse Kitchen with Floating Shelves
Indulge in the allure of a contemporary farmhouse kitchen adorned with light wood floating shelves. The setting features white cabinetry, sleek black hardware, and a white quartz countertop complemented by a large stainless steel sink and chrome faucet.
Potted greenery and charming farmhouse accents adorn warm wood floating shelves, creating a picturesque scene by a spacious kitchen window. At the center, a large island with a white quartz countertop becomes a focal point, complete with jar candles arranged amidst greenery on a vintage silver scale.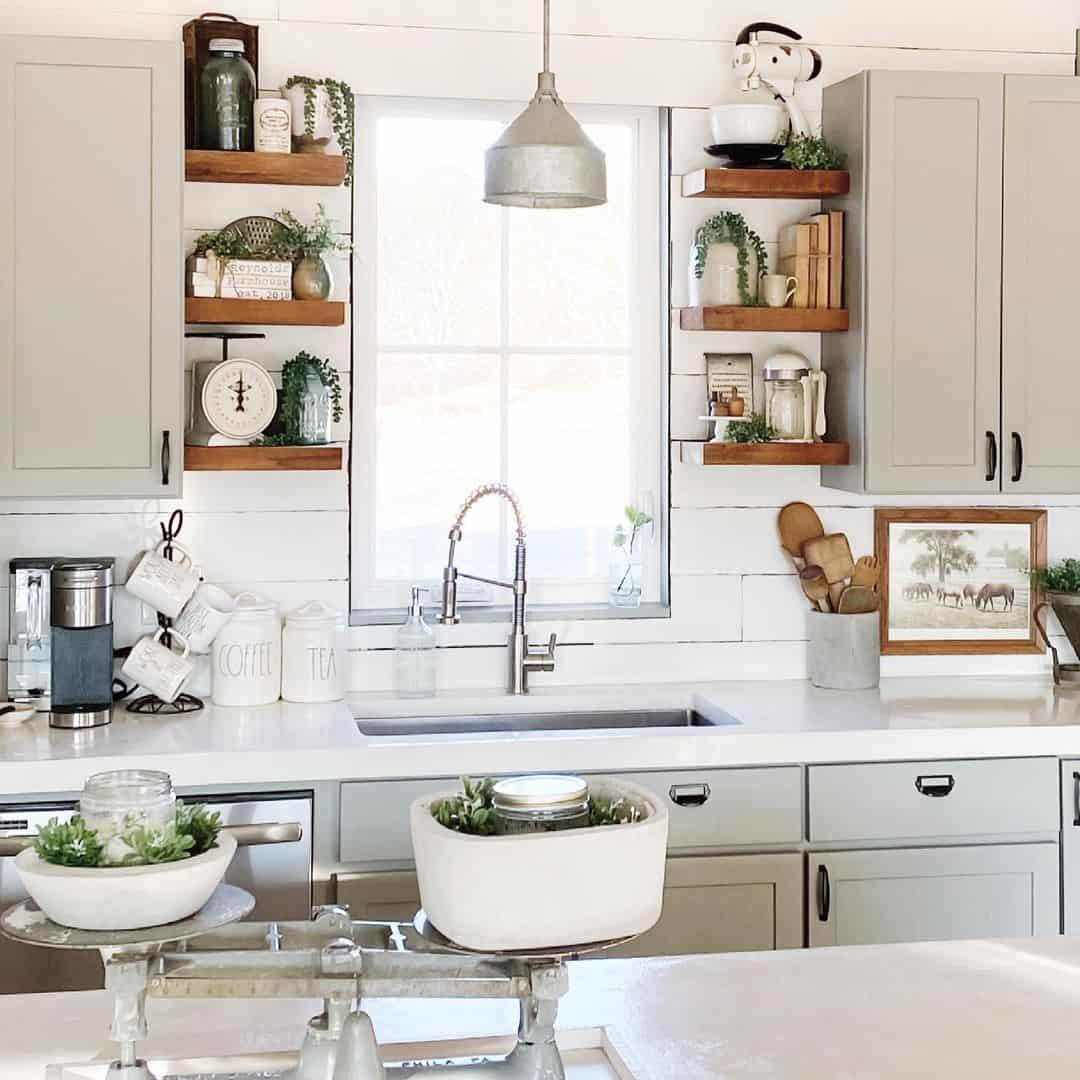 Credit: The Rusted Roost
Shop the Look
Herringbone Tile Floor Kitchen
Discover the farmhouse-inspired elegance of a kitchen showcasing white cabinetry with stainless steel hardware and a light gray marble countertop. The space is illuminated by the natural light pouring in through large windows, highlighting a stainless steel sink and a chrome gooseneck faucet. A touch of charm comes from a rattan basket filled with flowers resting on the countertop, while herringbone tile flooring adds a timeless element.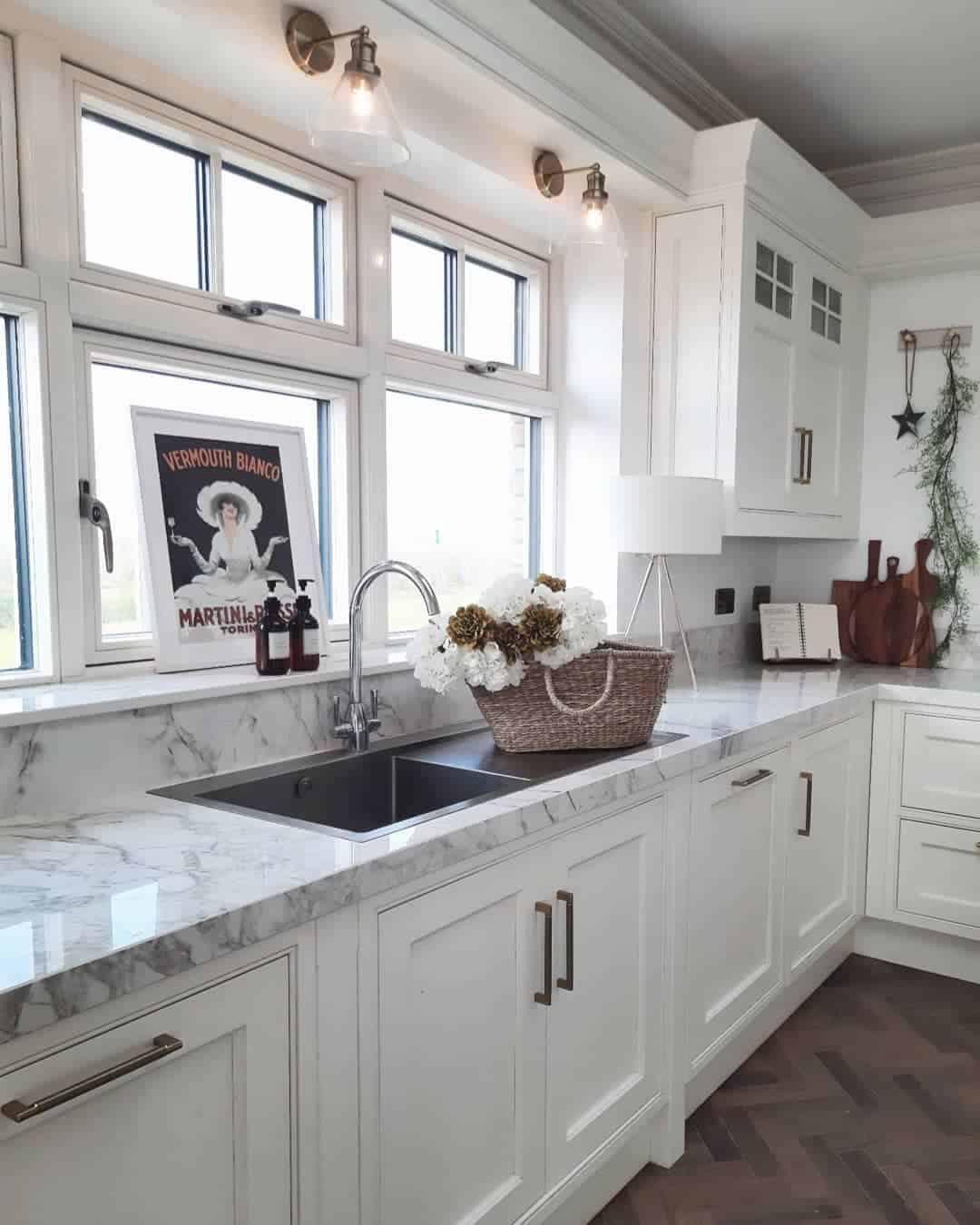 Credit: Life as Mrs. Builder
Shop the Look
Gold Hardware on Black Cabinets
Make a bold statement by adorning your dark-colored cabinets with the luxurious touch of gold kitchen cabinet hardware. Within this white shiplap kitchen, the cabinets are gracefully complemented by a black sconce, while a gold faucet introduces an element of sophistication to the double sink situated beneath the window.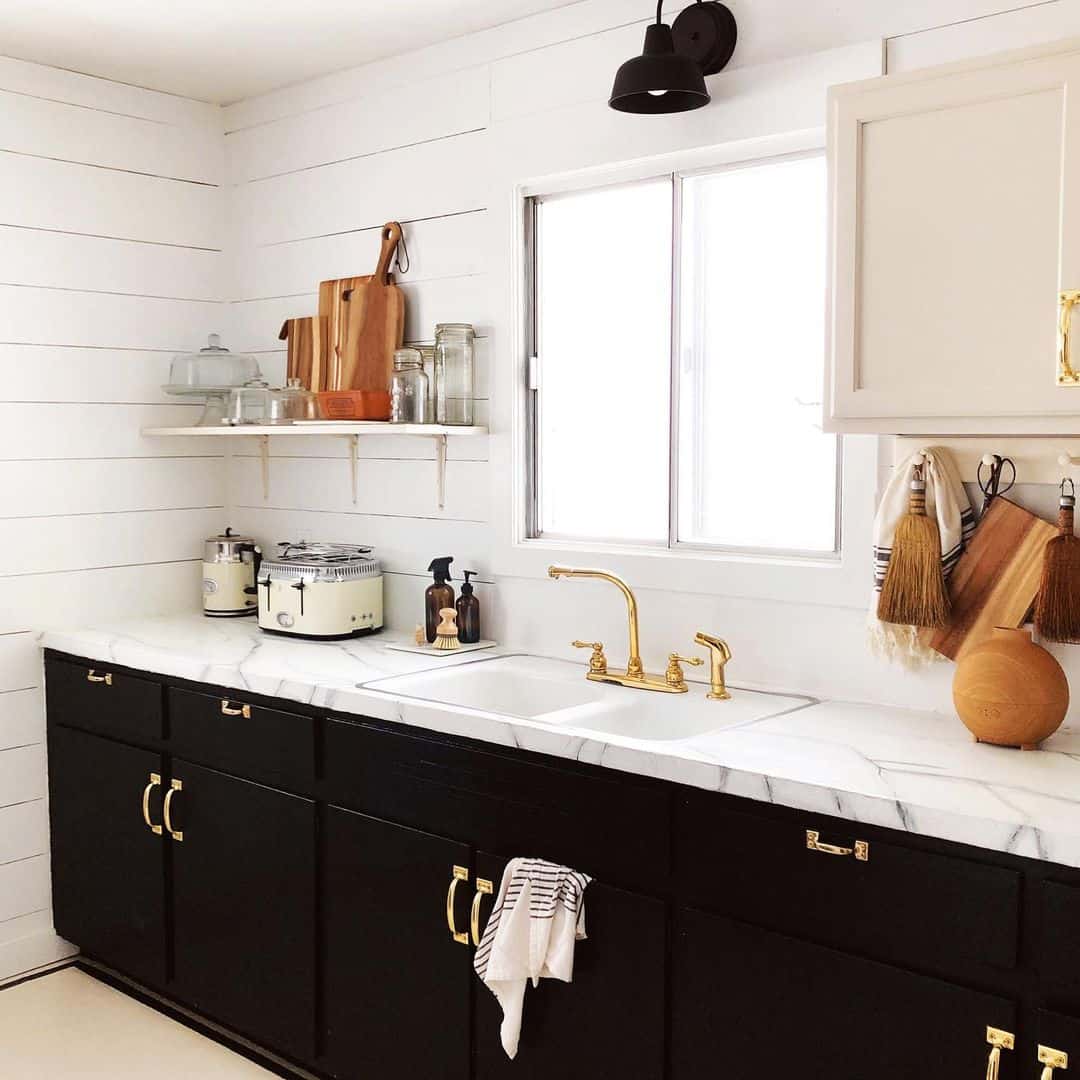 Credit: Melissa Kristyne
Shop the Look
Black and White Kitchen Accents
Enter the realm of contemporary elegance within a black and white kitchen boasting streamlined white cabinetry, striking black hardware, and a pristine white marble countertop. At the heart of this design, a large ceramic sink, accompanied by a black gooseneck faucet, takes center stage.
Light wood floating shelves, embellished with greenery and modern accents, frame a spacious kitchen window, creating a captivating interplay of light and shadow. Enhancing the modern aesthetic, a trio of black sconce lights and an abstract black and white rug contribute to the overall contemporary ambiance.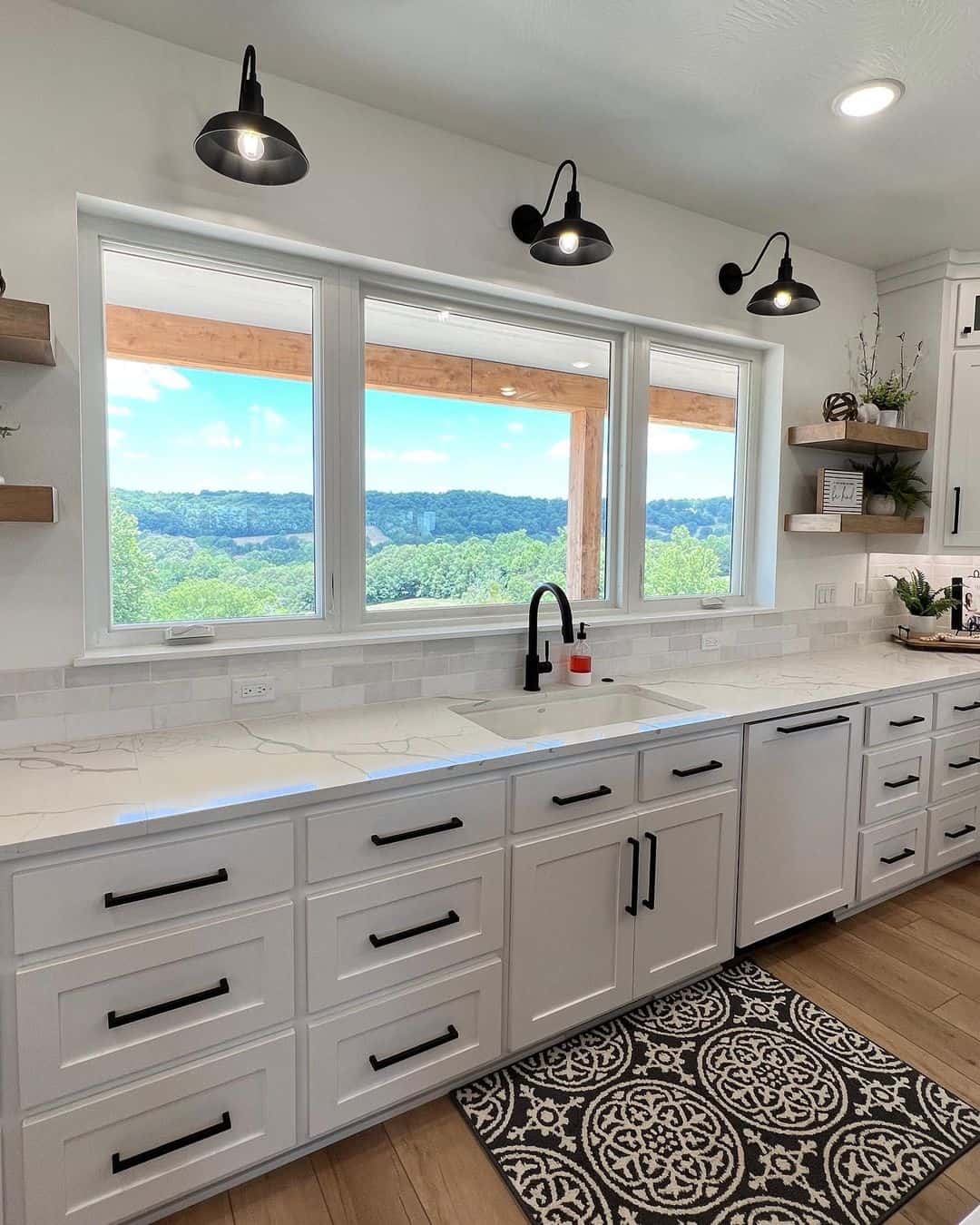 Credit: Sky Ridge Farmhouse
Shop the Look
White Floating Shelves with Greenery Embellishments
Indulge in the delight of a charming farmhouse kitchen, crafted with neutral cabinetry, bronze hardware, and a pristine white quartz countertop. The centerpiece is a white ceramic kitchen sink complemented by a chrome gooseneck faucet. Positioned against a white subway tile wall, inviting white floating shelves are adorned with serving ware and greenery, cultivating an atmosphere that is both welcoming and enchanting.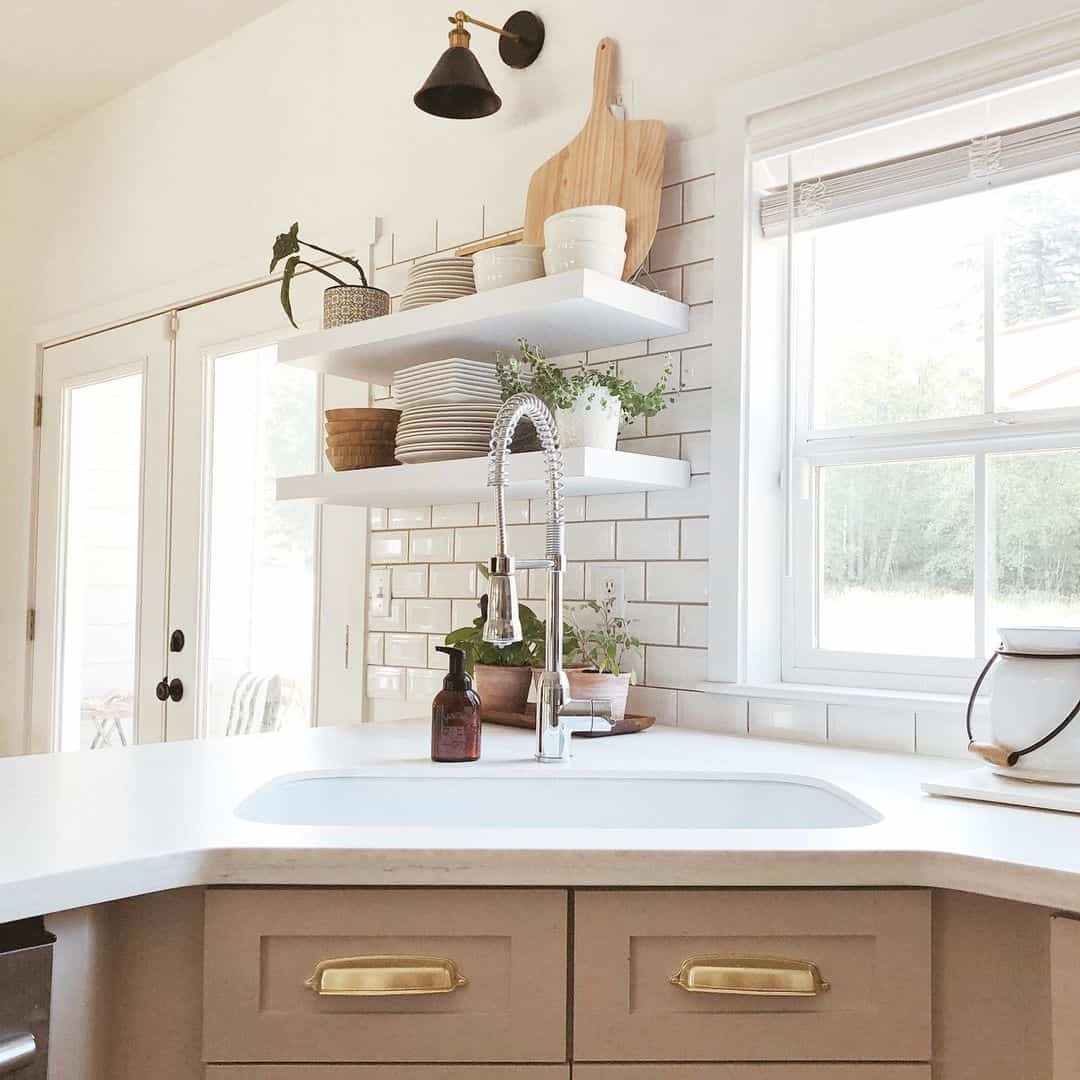 Credit: Kennington Corner
Shop the Look
Farmhouse Kitchen Enhanced by Potted Greenery
Enter a modern farmhouse kitchen with white cabinetry, brass hardware, and a white quartz countertop showcasing a large stainless steel sink and chrome faucet. The room is illuminated by filtered natural light through a substantial kitchen window adorned with wicker blinds.
Adding a soft textural element, a white tile backsplash is complemented by the presence of potted greenery on the countertop, infusing the space with a touch of freshness.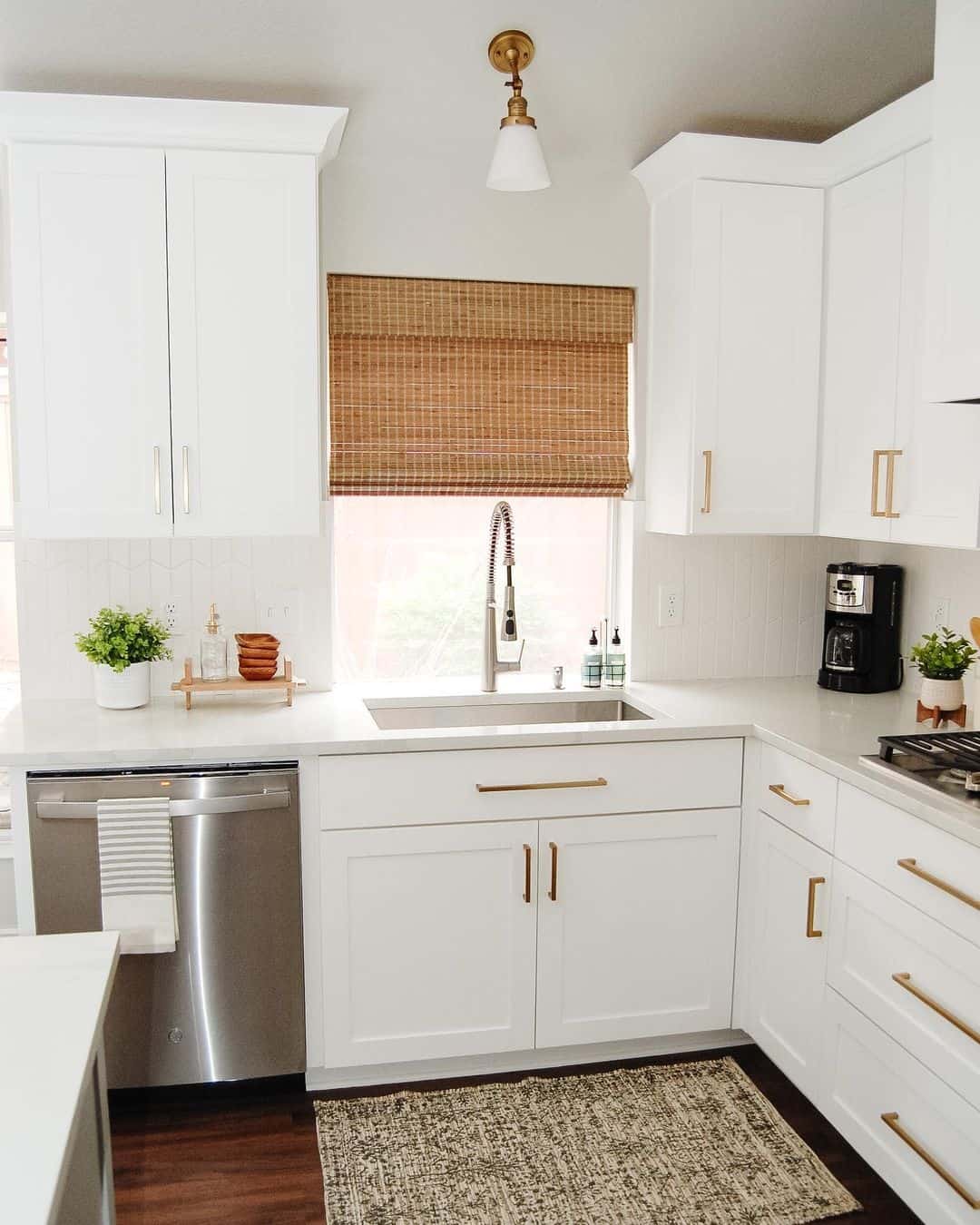 Credit: Style with Wisdom
Shop the Look
Farmhouse Kitchen with Black Countertop
Experience the coziness of a farmhouse kitchen crafted with warm wood cabinetry coupled with a black granite countertop. Adding a touch of sophistication, a stainless steel sink and chrome gooseneck faucet grace the space.
Abundant natural light streams through a large window, highlighting potted greenery on the countertop. A printed towel casually drapes over the sink, and a window wreath of greenery enhances the welcoming ambiance.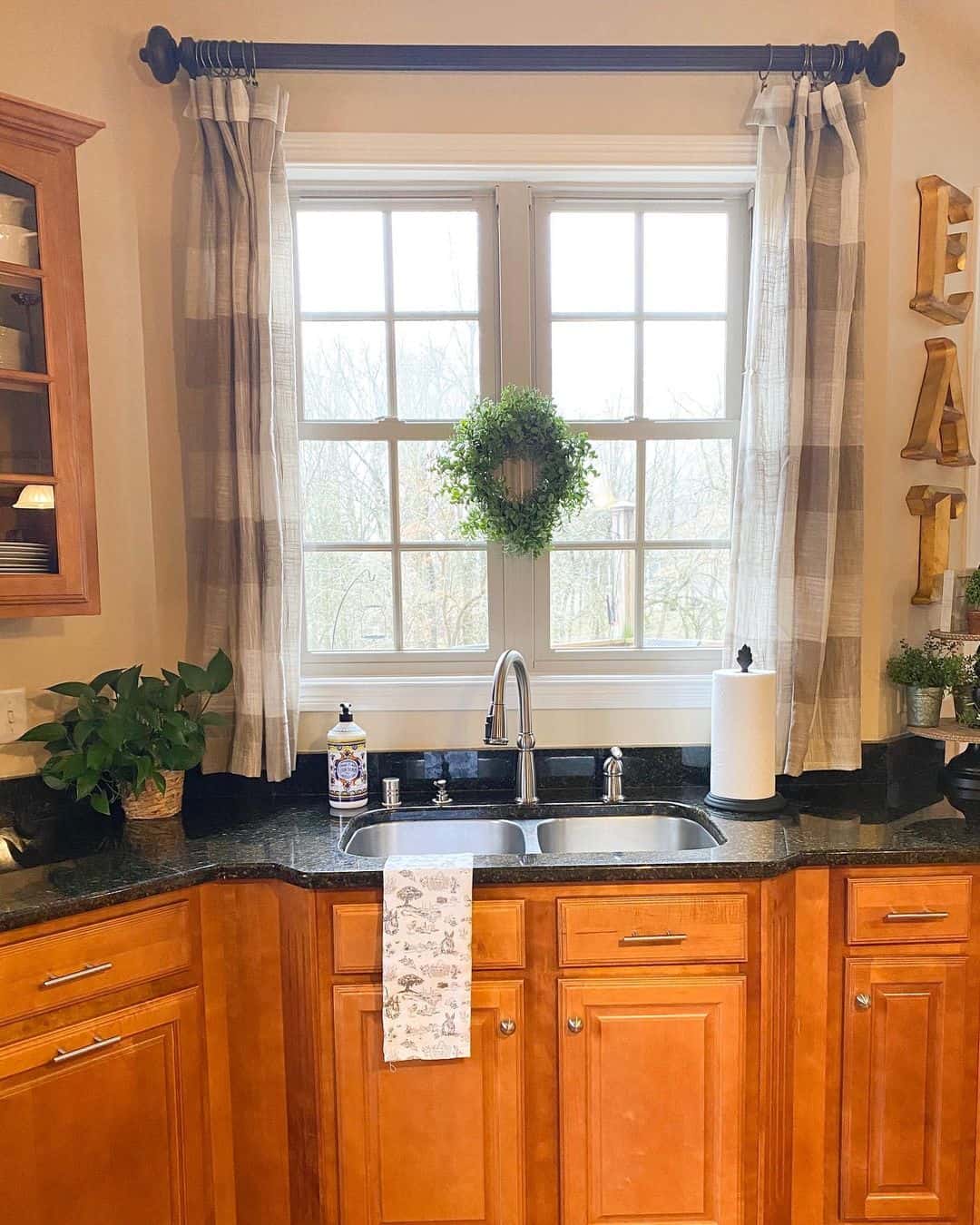 Credit: Fallen Leaf Living
Shop the Look
Beige and Gray Kitchen
Explore the subtle sophistication of a beige and gray kitchen featuring an angled island. The dark gray speckled countertop stands out against the light gray base, providing a unique visual contrast. The island incorporates a conveniently built-in sink and is adorned with a cake stand featuring a candle, a bell, and a bottle holding an arrangement of evergreen branches.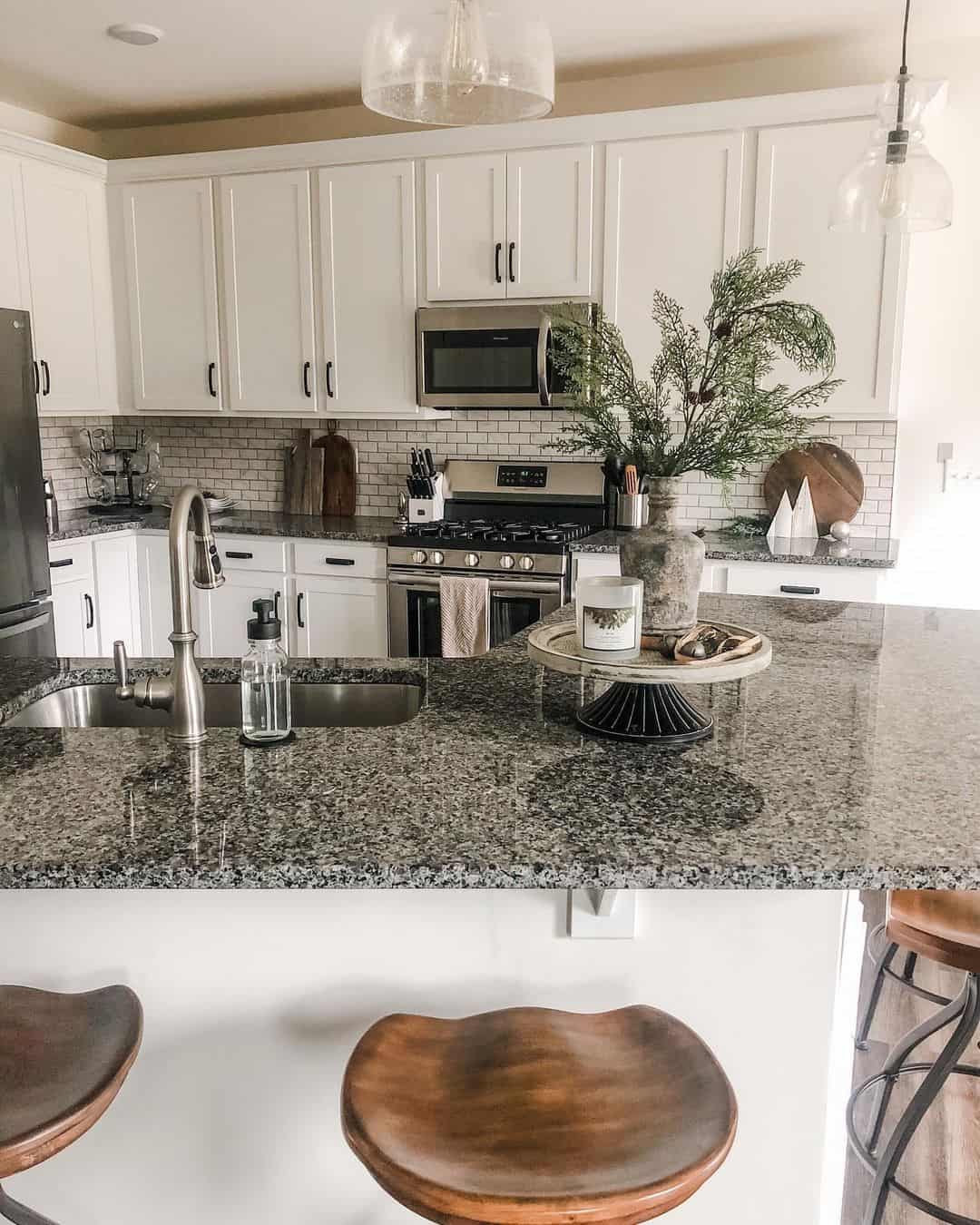 Credit: The Vintage Farmhouse
Shop the Look
Wrap-up
As we conclude our exploration of farmhouse kitchen sink ideas, we hope you've found inspiration for creating a space that seamlessly marries functionality and rustic aesthetics. From classic designs to more eclectic choices, each suggestion offers a unique perspective on how to enhance your kitchen with a touch of farmhouse charm. Elevate your culinary haven with a sink that not only serves its purpose but also becomes a centerpiece of rustic elegance.