7+ Window Trim Ideas to Infuse Farmhouse Appeal into Your Home
Affiliate Disclosure: As an Amazon Associate we earn from qualifying purchases. Hence, if you click through and make a purchase, we will get a commission at no extra cost to you. For more info, read our full disclosure.
Discover the perfect blend of charm and simplicity with our curated collection of 7+ window trim ideas designed to infuse a touch of farmhouse appeal into every corner of your home. From timeless elegance to modern rusticity, these window trim concepts will transform your living spaces into cozy retreats that exude the warmth and character of farmhouse-inspired design.
Sheer Elegance with Café Curtains
Elevate your kitchen's atmosphere with a captivating interplay of contrasts. A sleek black faucet commands attention above a pristine white porcelain farmhouse sink. The scene is perfected by a compact black curtain rod tastefully mounted across the window. Delicate sheer white cafe curtains gently drape over the lower half, providing a subtle veil to the outside world.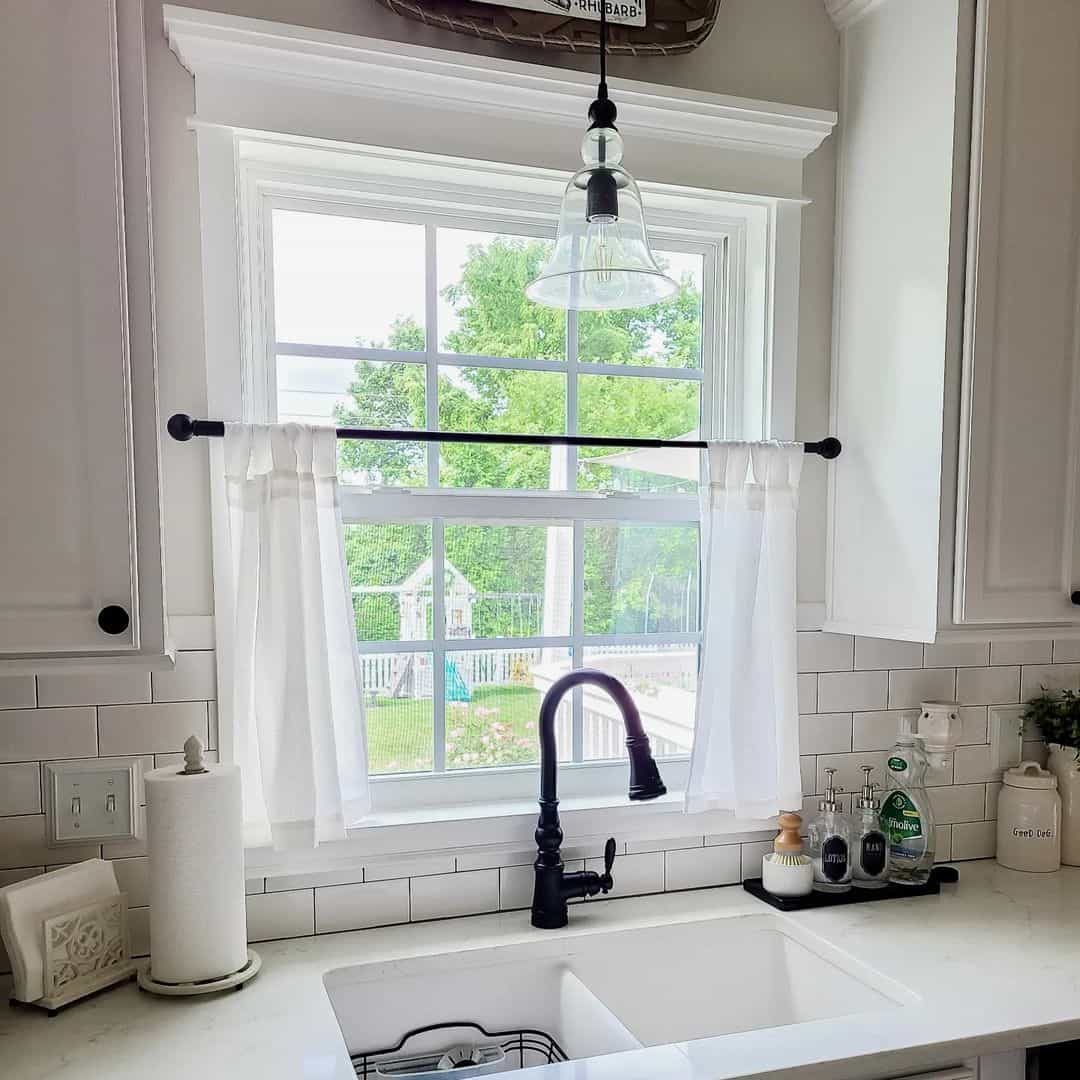 Credit: blessedfarmhouselovingmama
Shop the Look
Window Over the Sink
Embark on a transformative journey in your farmhouse kitchen, where a subtle archway takes center stage. A petite window with immaculate white trim gracefully rests above a generously sized double sink. Noteworthy features include a slightly protruding sill and the option to slide open the bottom portion, inviting in the freshness of the outdoors.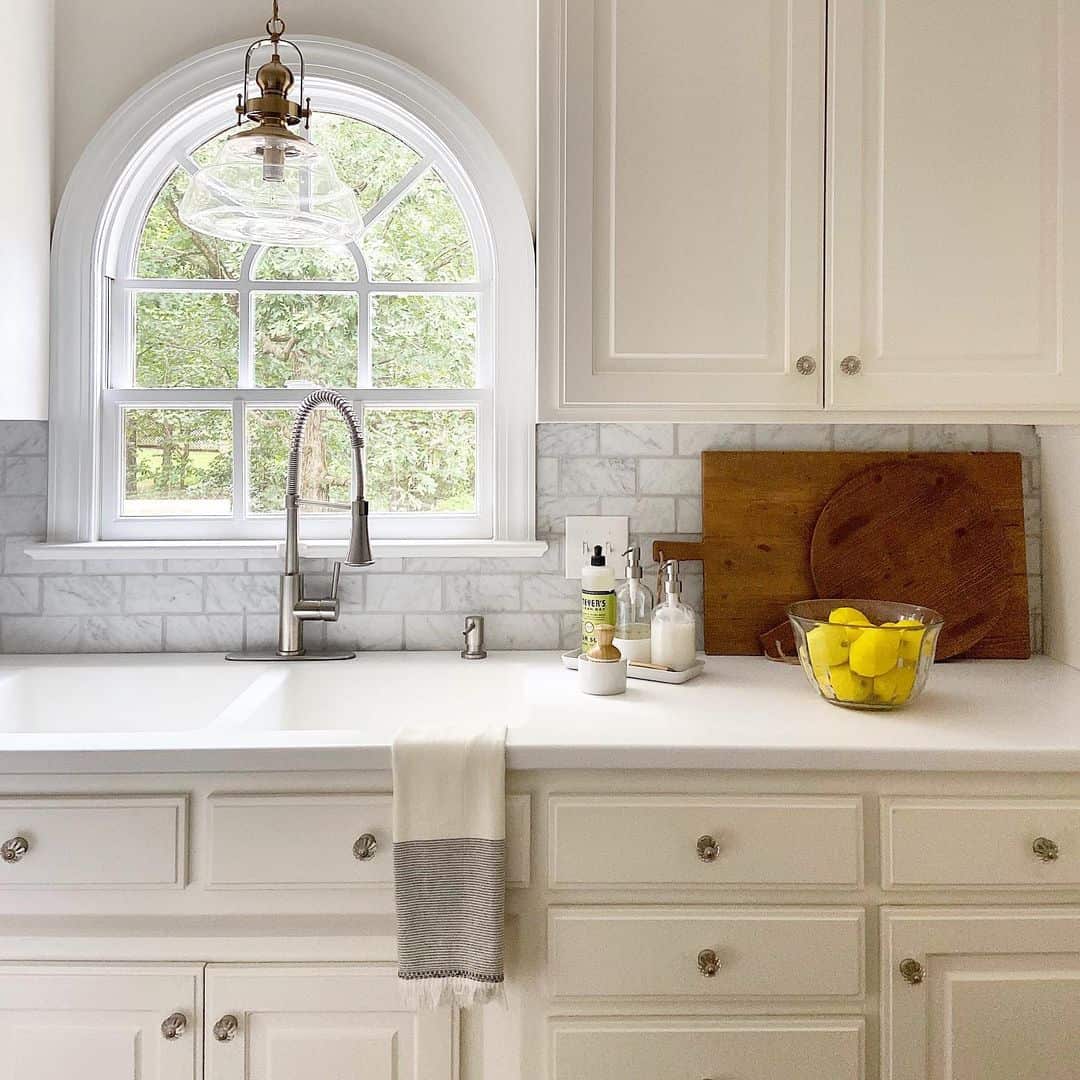 Credit: southern_charm_cottage
Shop the Look
Rosette-Embellished Vintage Trim
Infuse your space with timeless allure through intricate details framing a tall window. From rosettes to fluted molding, each element adds a touch of sophistication. Adjacent to the window, a faux white mantel proudly displays an ornately framed mirror and twin topiaries, creating a captivating vignette.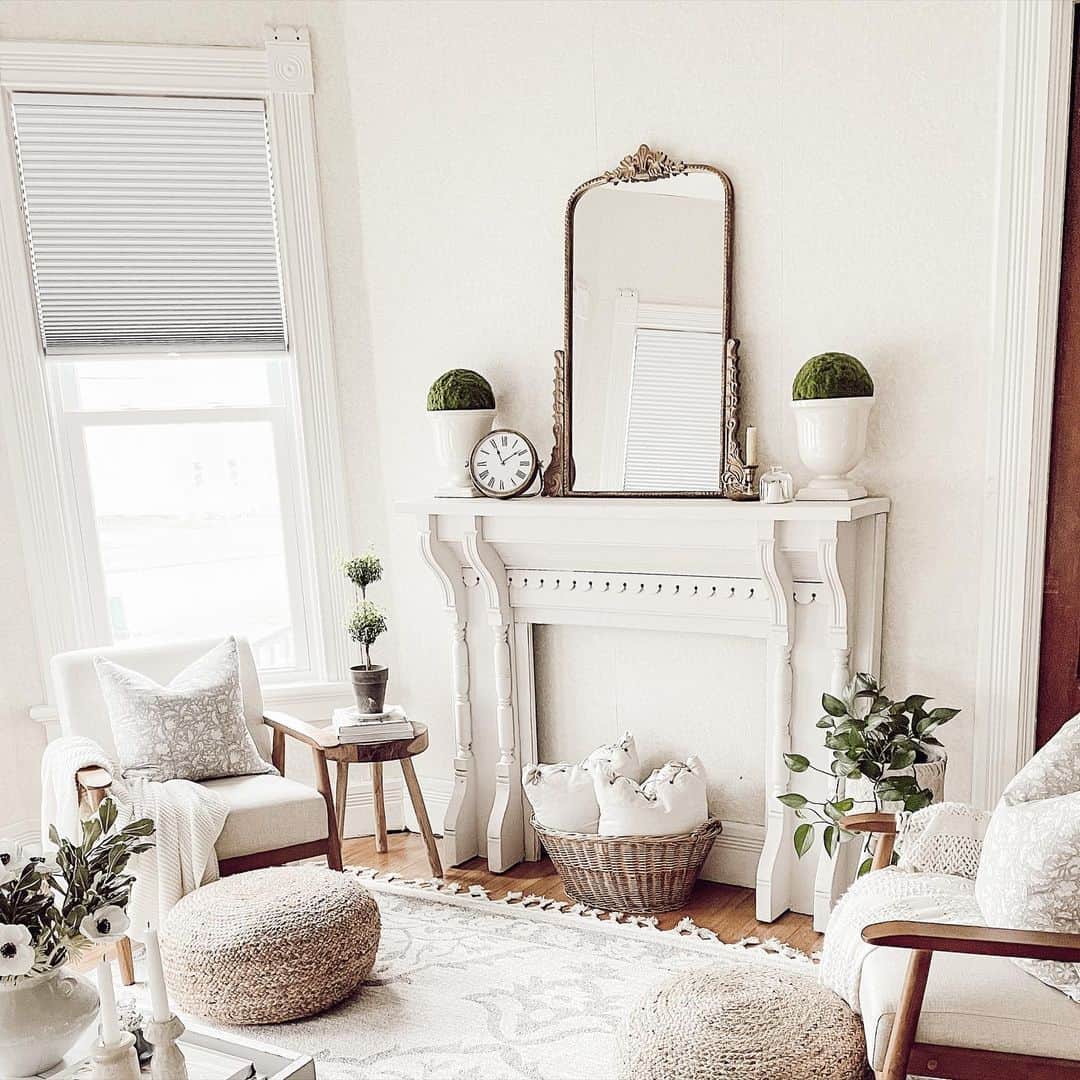 Credit: rusticvintagelife
Shop the Look
Modern White Window Trim
Craft a rustic dining haven that seamlessly marries modern aesthetics with classic charm. Bright double doors, adorned with sleek white trim, beckon natural light into the space. A pristine white table takes center stage, offering a picturesque view, complemented by a generous potted plant basking in the sunlight.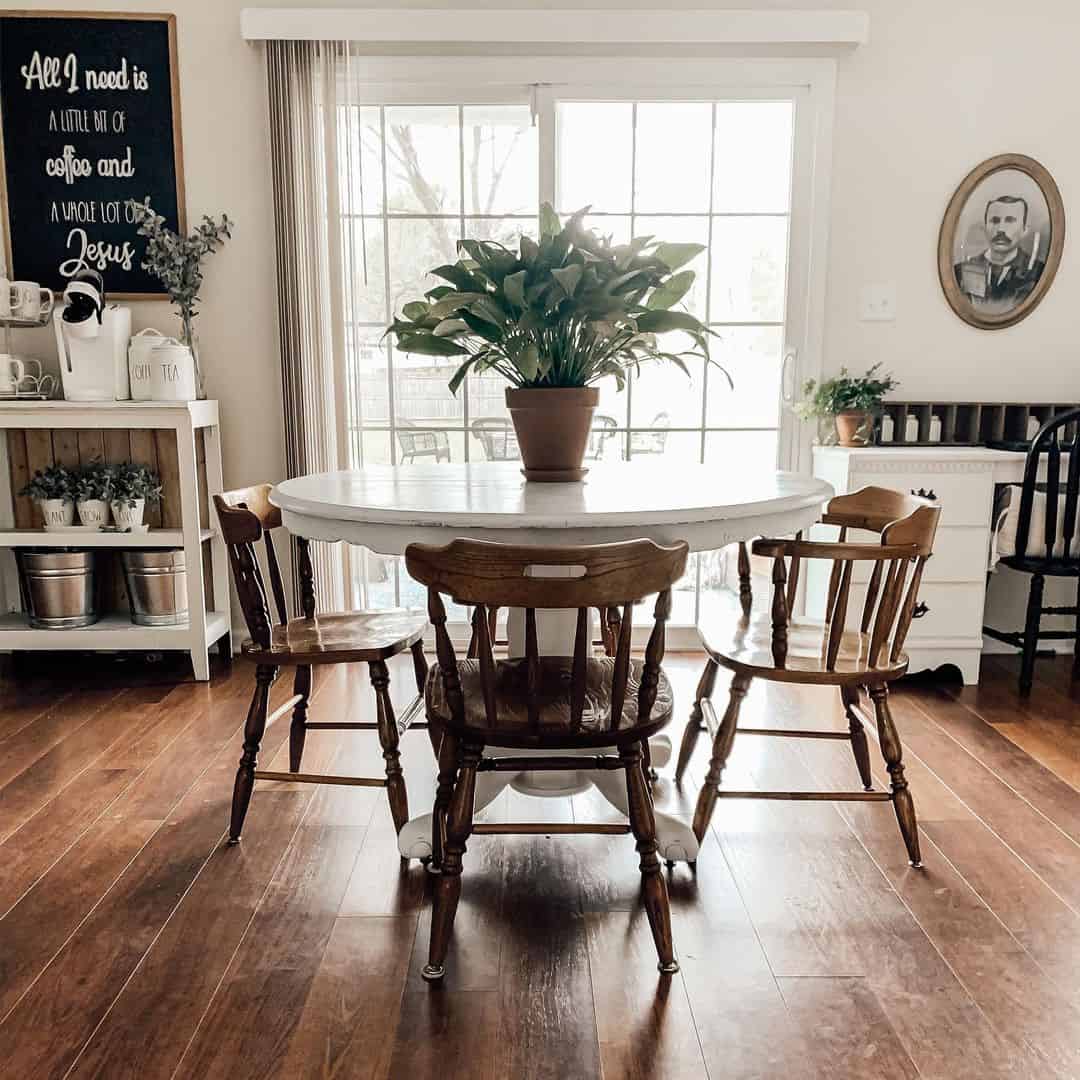 Credit: thesimplyblessednest
Shop the Look
Minimalist Trim in a Contemporary Dining Setting
Experience the allure of simplicity in a dining room adorned with fully framed windows featuring understated white minimalistic trim. The windows blend harmoniously into cream walls, creating a seamless backdrop. On the perpendicular wall, a rectangular framed art print mirrors the elegant form of the windows.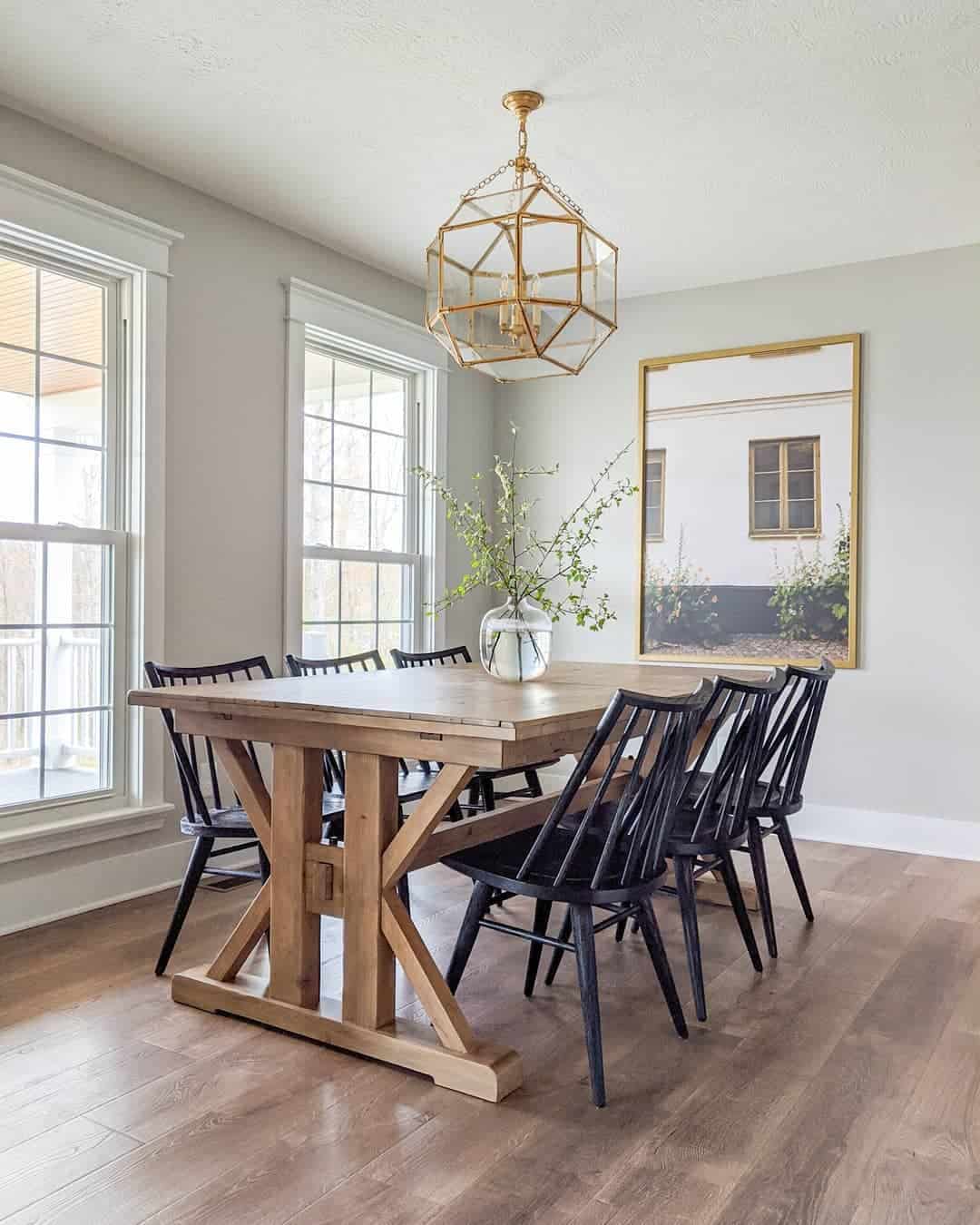 Credit: wv_modernfarmhouse
Shop the Look
Farmhouse Living Room with Wooden Trim
Envelop your living space in the inviting warmth of farmhouse aesthetics. Large windows adorned with wooden farmhouse trim steal the spotlight, complemented by matching crown molding and extended wooden rods supporting cream curtains. Vintage white furniture completes the cozy and welcoming atmosphere.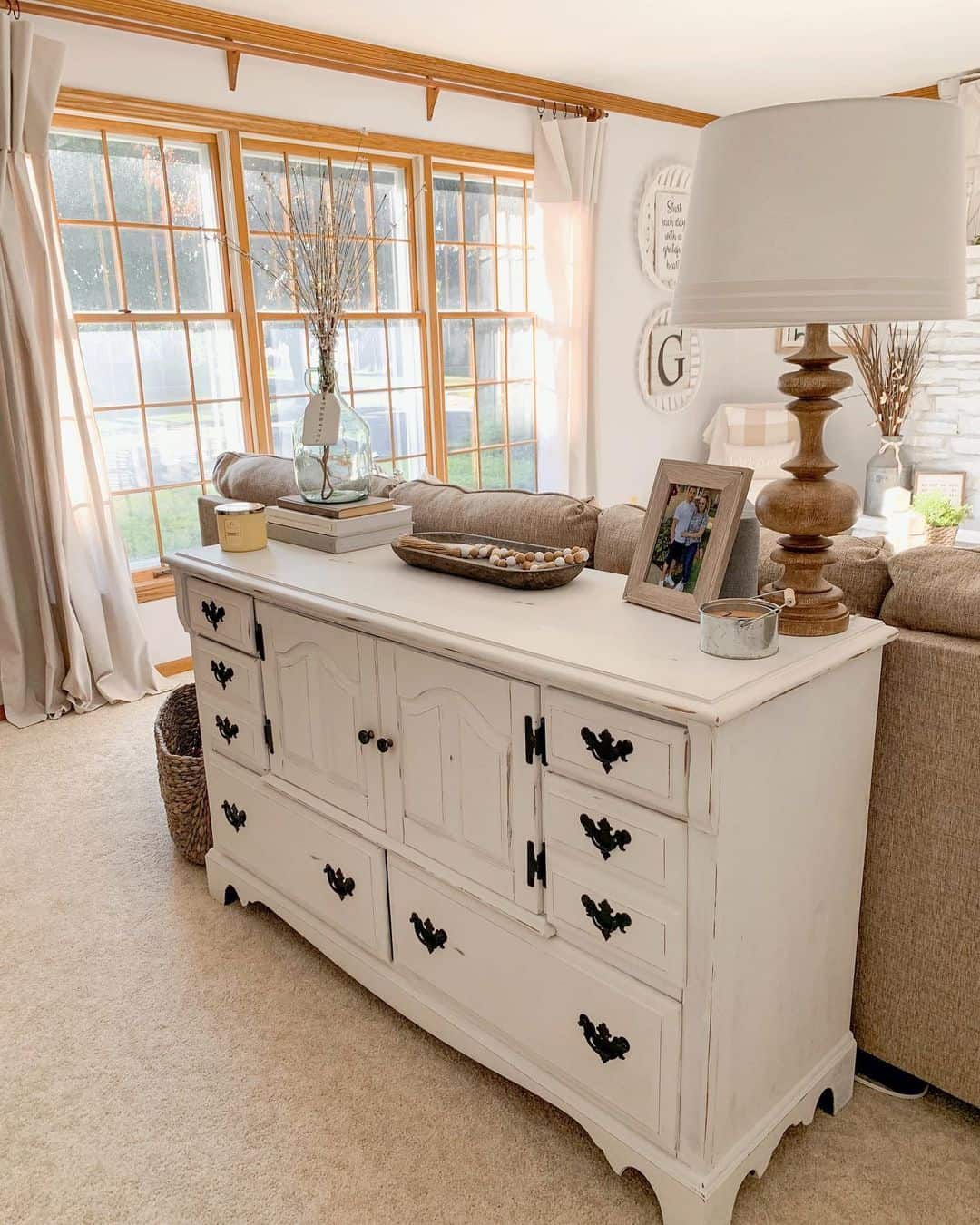 Credit: our.grace.filled.home
Shop the Look
Farmhouse Charm with Wood Accents
Enter a rustic dining sanctuary where the pristine combination of white board and batten wainscoting harmonizes with the gentle hues of soft gray upper walls. Character is effortlessly woven into the space through the thoughtful addition of wall baskets and a round mirror. Meanwhile, the allure of timeless farmhouse charm is heightened by the presence of three windows adorned with distinctive white trim, complemented by black inner jambs and glazing bars.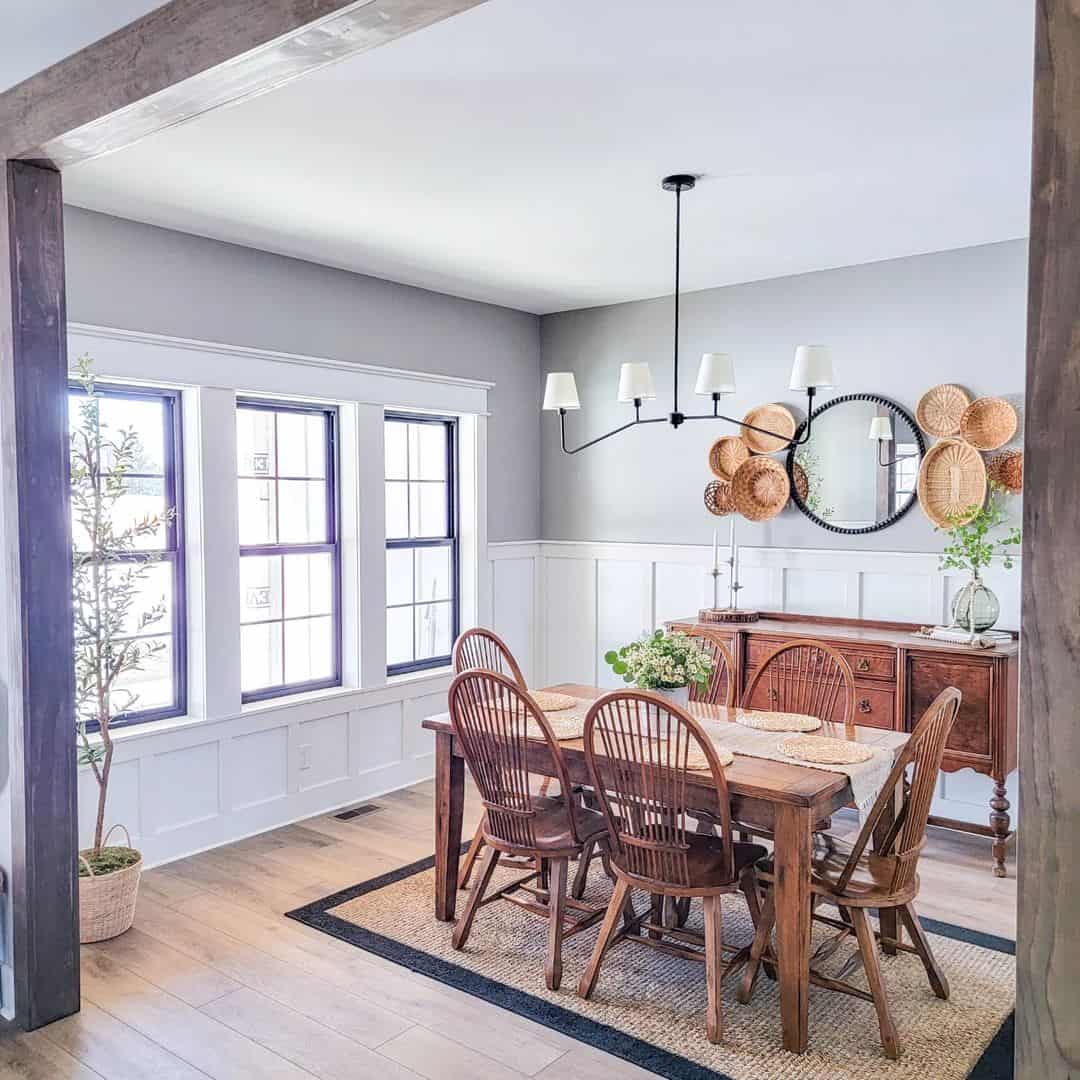 Credit: homeonspringwood
Shop the Look
Bright and Breezy Farmhouse Living Room
Immerse your farmhouse living room in luminosity with flowing white drapes elegantly suspended from black rods above tall windows. Traditional white trim frames the windows, while a scattering of black wall sconces adds a subtle touch of sophistication to this bright and breezy space.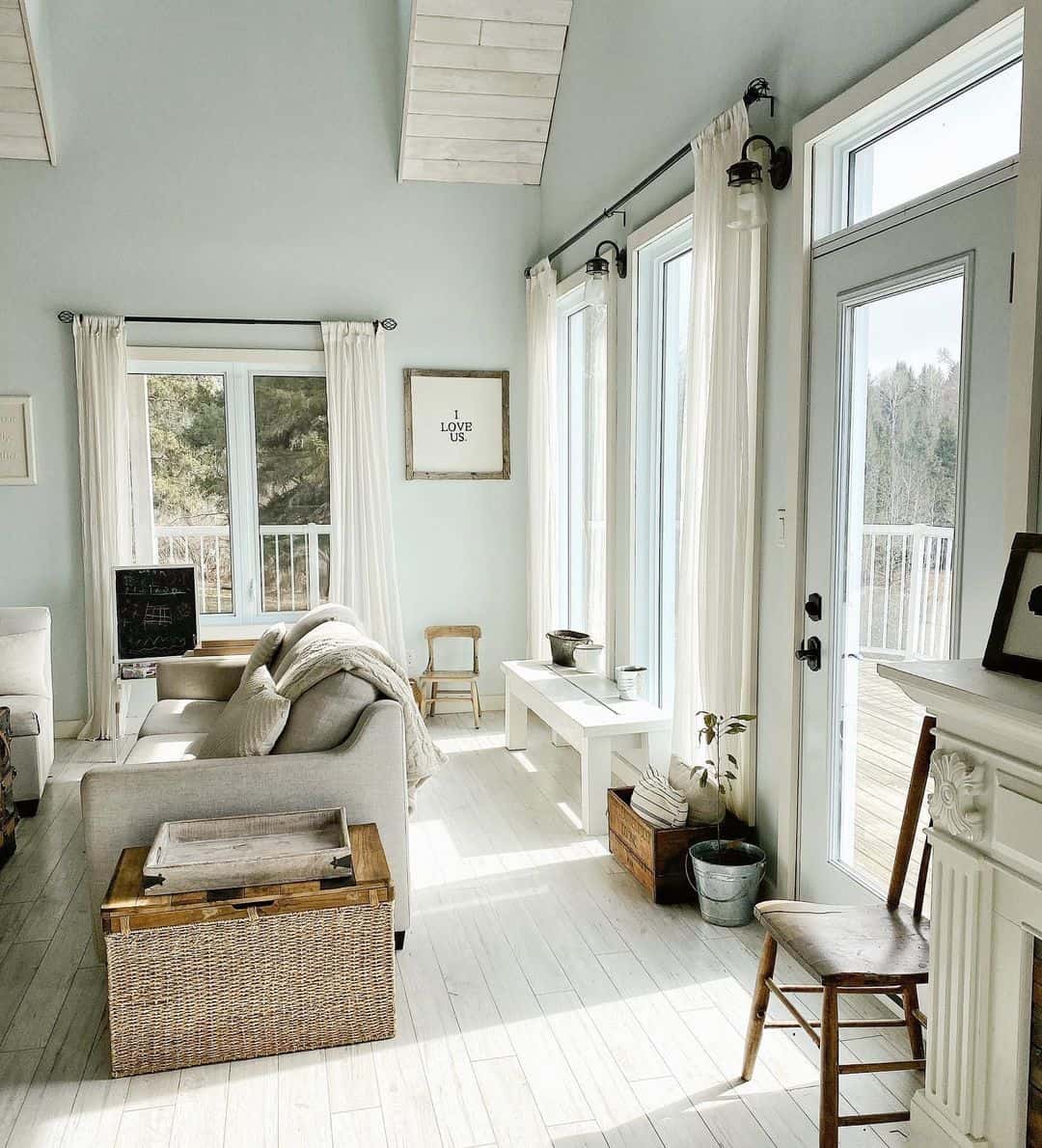 Credit: thishouseofsix
Shop the Look
Wrap-up
As we conclude this exploration of farmhouse window trim ideas, we hope you've found inspiration to elevate the aesthetic of your home. Whether you prefer the classic allure of timeless designs or the clean lines of modern minimalism, these window trim ideas offer a versatile range to suit your style. Embrace the essence of farmhouse living and embark on a journey to create spaces that radiate comfort and timeless beauty.