7+ Stunning Farmhouse Rooms Boasting Vaulted Ceilings and Fireplaces
Affiliate Disclosure: As an Amazon Associate we earn from qualifying purchases. Hence, if you click through and make a purchase, we will get a commission at no extra cost to you. For more info, read our full disclosure.
Farmhouse-style decor has captured the hearts of many with its timeless charm and cozy aesthetic. Among the many elements that define this style, the combination of vaulted ceilings and inviting fireplaces stands out as a hallmark of farmhouse elegance.
These stunning spaces effortlessly blend the warmth of a crackling fire with the grandeur of high-reaching ceilings. In this article, we'll take you on a tour of seven farmhouse rooms that beautifully showcase the marriage of vaulted ceilings and fireplaces, each telling a unique story of rustic comfort and design finesse.
Vaulted Ceiling with Wooden Beams and Skylights
In this expansive space, you'll find a vaulted ceiling adorned with elegant white shiplap. The aesthetic is further elevated by the presence of wooden beams and skylights. These exquisite features define the ambiance above a living room that centers around a luxurious brown leather couch.
The design also incorporates a meticulously crafted tile fireplace and a wooden mantle, positioned between two generously sized windows that offer not only a view but also comfortable bench seating. One of the most appealing aspects of this design is its skillful use of natural light, creating an environment that is both inviting and ethereal.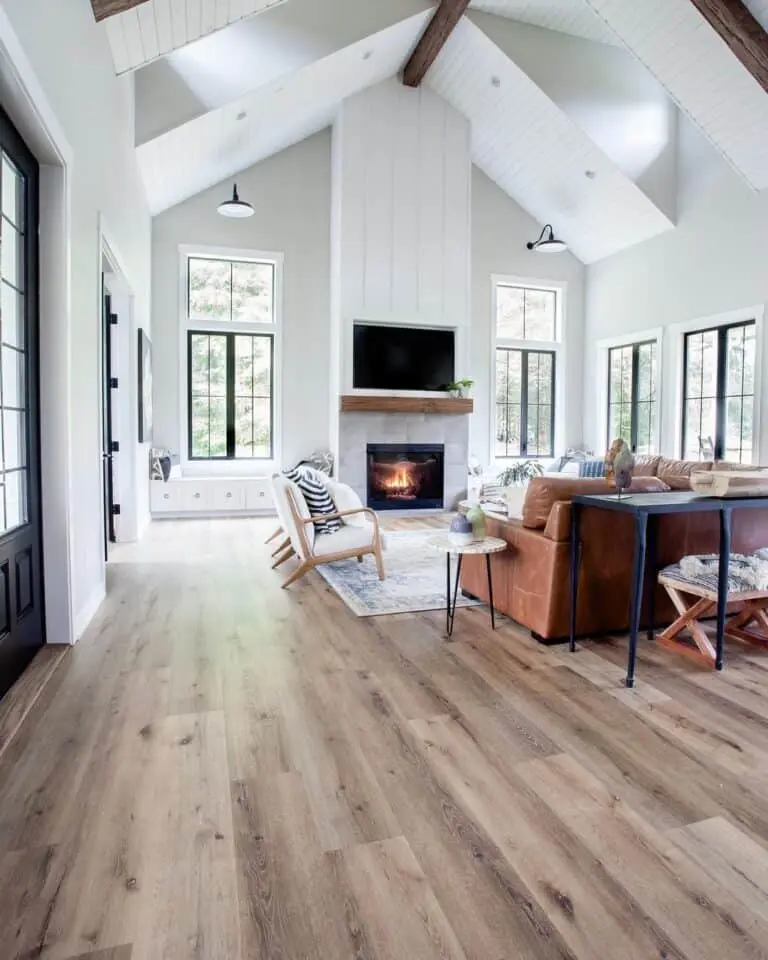 Credit: kristin_kgdesigns
Shop the Style
Exquisite Fireplace Beneath a Vaulted Ceiling
Step into this farmhouse-inspired living room where the wide plank hardwood floors bask in the natural light that filters through the white vaulted ceiling adorned with skylights. The abundance of light is further accentuated by a series of windows that provide a captivating view of the outdoors.
This enchanting setting illuminates a light brick fireplace and finely crafted wood built-in cabinets. The design concept of a fireplace beneath a vaulted ceiling holds remarkable versatility, extending beyond its traditional farmhouse roots. For those aiming to infuse a modern touch, consider swapping the brick fireplace for a sleek linear gas variant, complete with a minimalist concrete or metal surround.
Enhance the aesthetics by opting for built-in cabinets defined by clean lines, and harmonize the ambiance with a neutral color palette for both walls and ceiling. As you explore contemporary furnishings, envision the placement of a low-profile sofa and an elegant glass coffee table.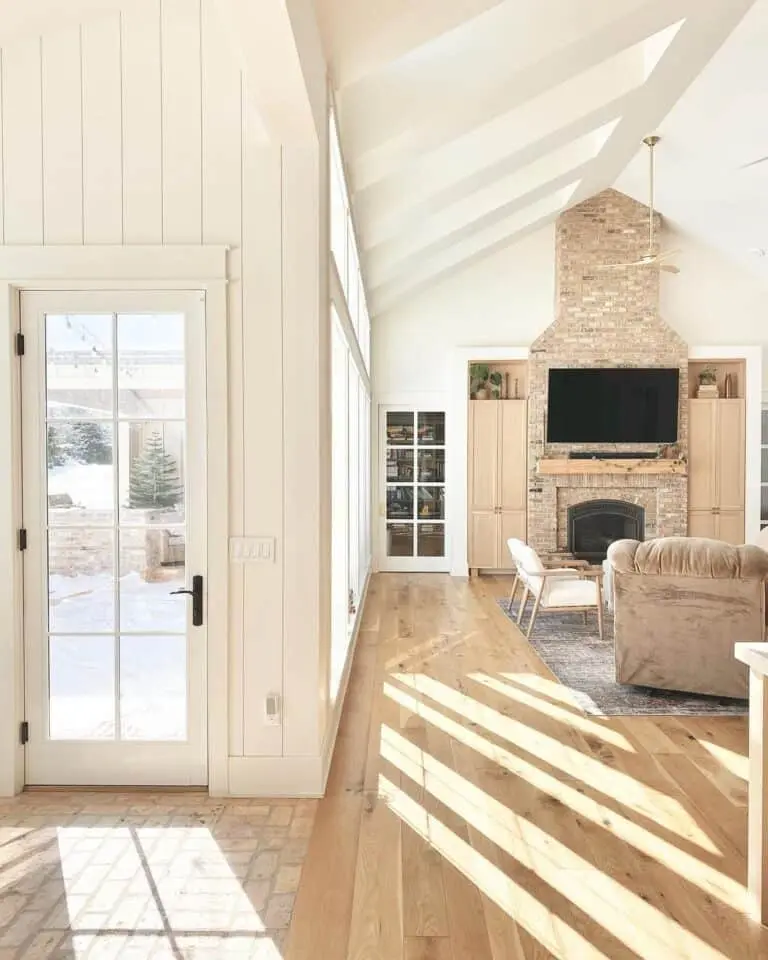 Credit: juniper.hills.farmhouse
Shop the Style
Contemporary Modern Farmhouse with Fireplace and Elevated Ceilings
Immerse yourself in Heather Casteel's ingenious modern farmhouse design. Here, vaulted ceilings adorned with tasteful grey-toned wood beams gracefully preside over a pristine white brick fireplace.
The symmetry is completed by built-in cabinetry and shelves that frame the fireplace, creating an ideal canvas for adorning with potted plants, elegant vases, and thoughtfully selected framed prints.
Anchoring the room is a meticulously chosen patterned rug, harmoniously positioned beneath a captivating round coffee table, where inviting white sofas invite relaxation and conversation.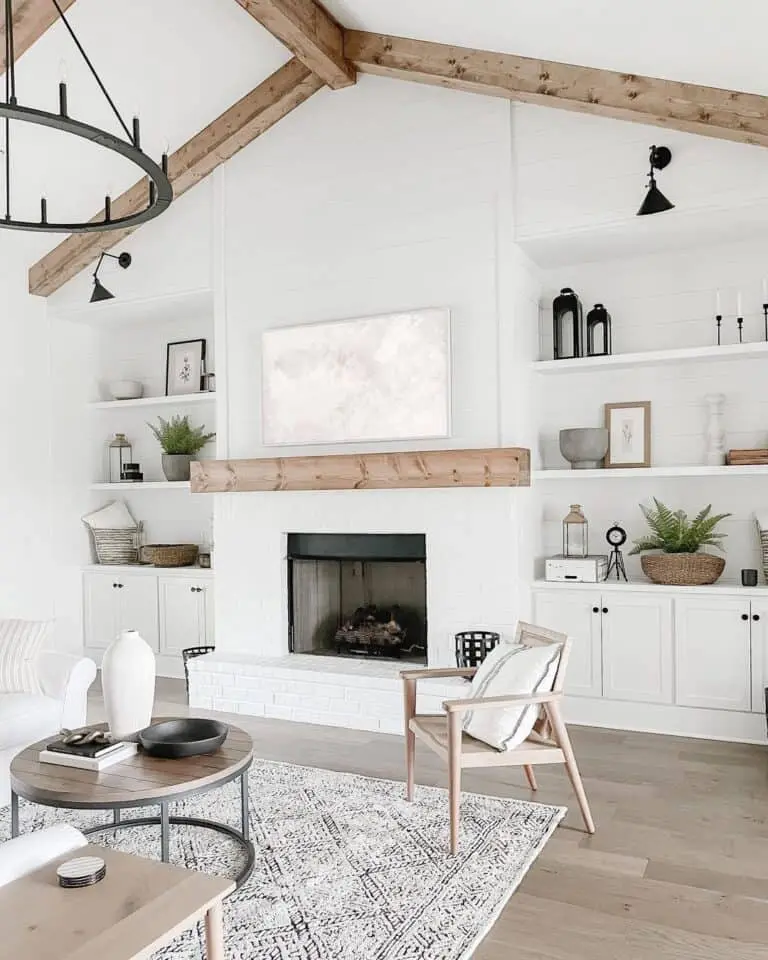 Credit: practical.designs
Shop the Style
Fireplace Elegance Beneath a Vaulted Ceiling with Chevron Shiplap
Prepare to be captivated by the interplay of light as it gracefully bathes this living room through two grand windows. A carefully constructed brick fireplace, crowned by a distinctive chevron shiplap chimney, serves as the centerpiece beneath a vaulted ceiling adorned with rich dark wood beams.
In this intimate space, a serene white rug and a thoughtfully arranged seating area invite you to unwind. A wire basket side table and a delicate plant add touches of sophistication. This design, seamlessly marrying comfort and elegance, stands as a personal favorite.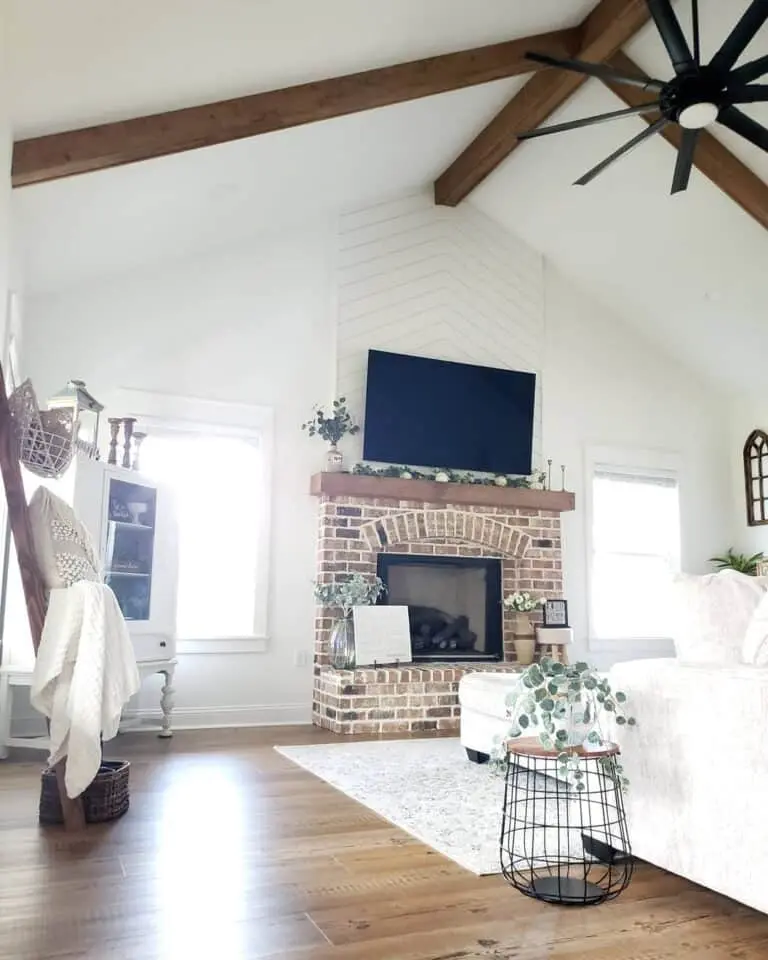 Credit: gregoryfarmhouse
Shop the Style
Harmonious Blend: Brick Fireplace and Shiplap Vaulted Ceiling
A striking contrast captures the essence of this space, where a vaulted ceiling showcases a tasteful shiplap adorned with substantial white wooden ribs. A large round light fixture dangles gracefully, casting its glow over a brick fireplace that occupies the heart of the room.
Flanked by two generously sized windows, the fireplace harmonizes beautifully with the matching brick wall that extends along the room's length. Dark grey tile floors, elegantly enhanced by a sisal rug, create an inviting foundation for white sofas and a cozy armchair, all encircling a generously proportioned wooden coffee table.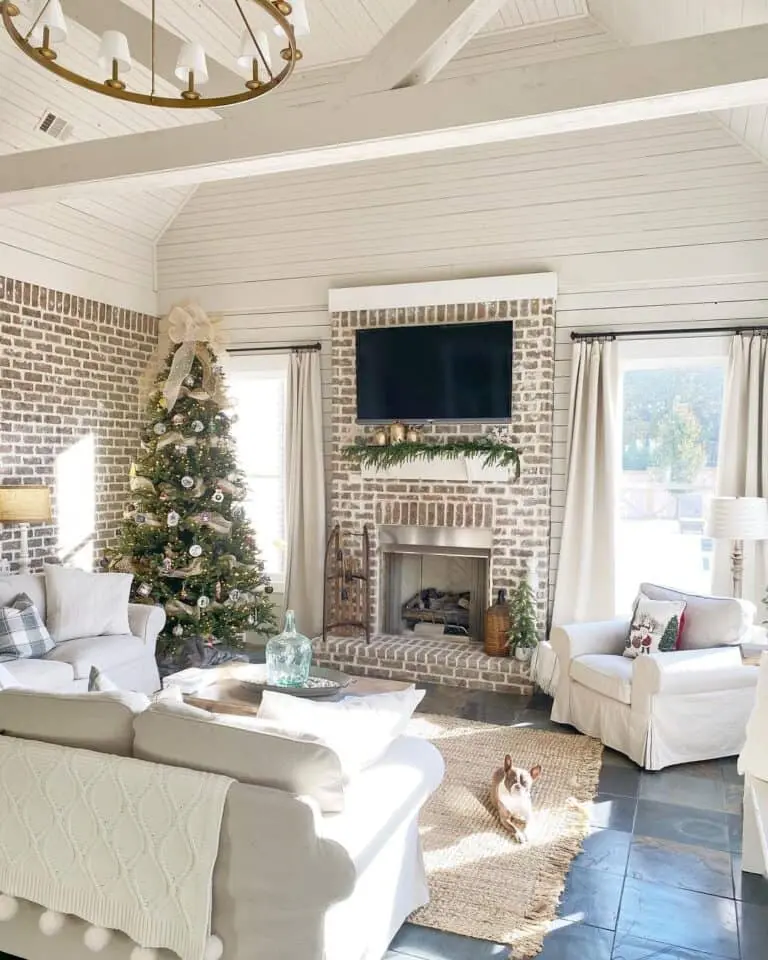 Credit: jennifersusanstyle
Shop the Style
Contemporary Aesthetics: Black Fireplace in a Vaulted Setting
The allure of black shiplap has swept through the design world, particularly in monochromatic living spaces defined by a black-and-white color palette. Enter a modern living room where a remarkable black fireplace makes a bold statement, stretching from floor to ceiling.
The surrounding white walls offer a canvas for an arrangement of hexagon shelves and carefully positioned potted plants. Abundant natural light highlights the beauty of hardwood floors and a pristine white sofa. To complement this contemporary ambiance, a matching black coffee table stands proudly at the room's center.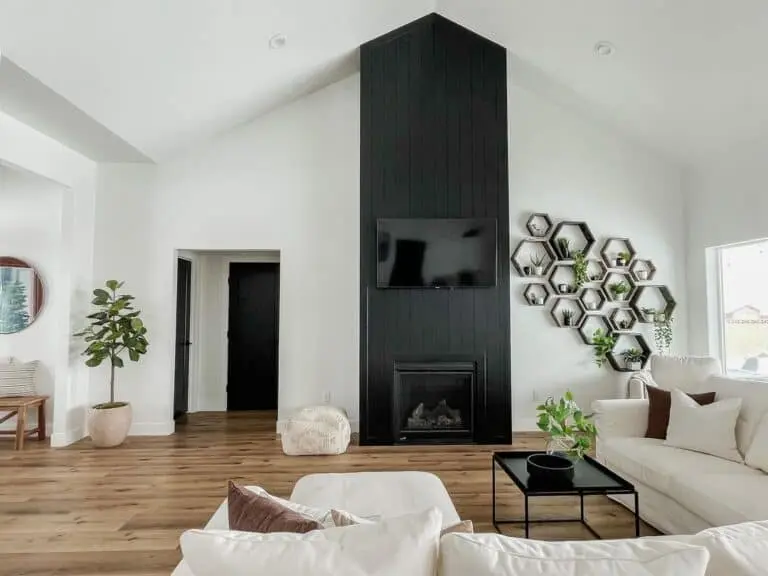 Credit: 25thandbrick
Shop the Style
Enchanting Harmony: Shiplap Vaulted Ceiling and Fireplace Focal Point
Enter a realm of enchantment as you step into this stunning living room. Suspended from a shiplap vaulted ceiling adorned with delicate white-painted ribs is a captivating white wagon wheel light fixture.
The room's festive aura is heightened by a majestic Christmas tree, while a beautifully crafted brick and wood fireplace serves as the visual centerpiece. The fireplace is adorned with garlands and charming plaid stockings, all while two luxurious blue velvet armchairs offer comfort and style.
Expert advice from Eric Bramlett, a prominent realtor, and owner of Bramlett Residential, underscores the importance of selecting complementary colors for fireplaces. This space epitomizes the concept, using a brick fireplace to create a subtle yet visually appealing contrast against the white shiplap ceiling, resulting in a harmonious and inviting atmosphere.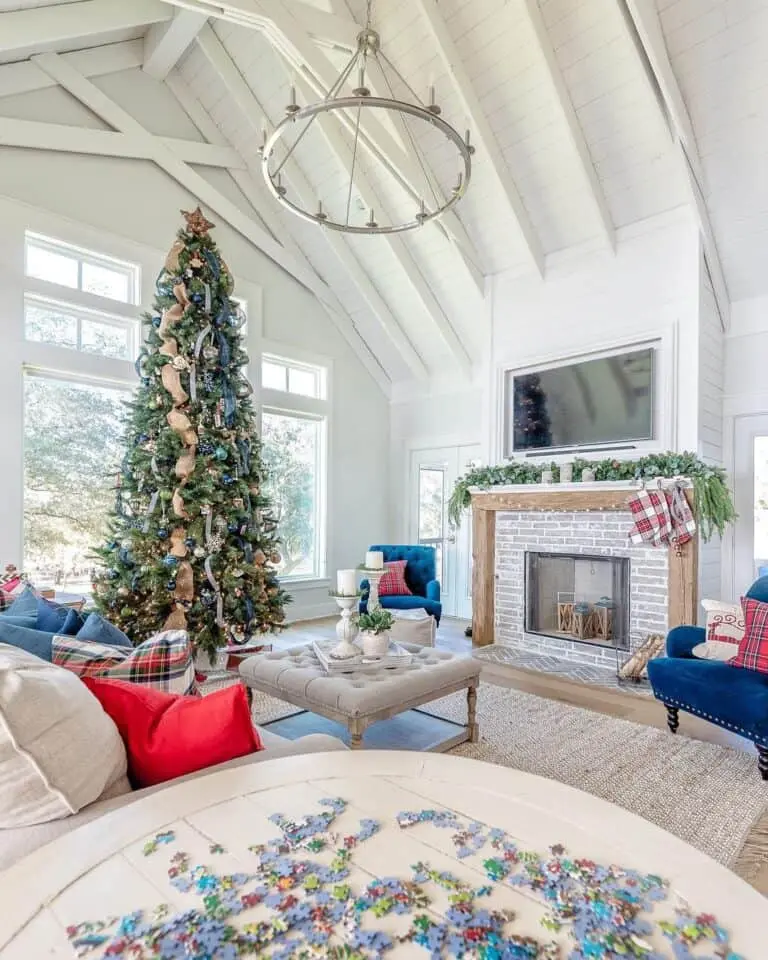 Credit: the.old.barn
Shop the Style
Balance and Elegance: Shiplap Living Space with Brick Fireplace
Enter Stacey's well-lit living room, an embodiment of refined taste and thoughtful design. White shiplap vaulted ceilings and a complementary chimney above a brick fireplace define the space. On either side of the fireplace, built-in cabinets and shelves offer both functional utility and an opportunity for artistic expression.
Light hardwood floors extend gracefully throughout the room, leading the eye to a gathering of inviting white armchairs and a sofa encircling a distinctive trunk-style coffee table. Achieving harmony between the shiplap and brick elements is a triumph, accomplished by meticulous coordination of color tones and the careful selection of neutral furnishings.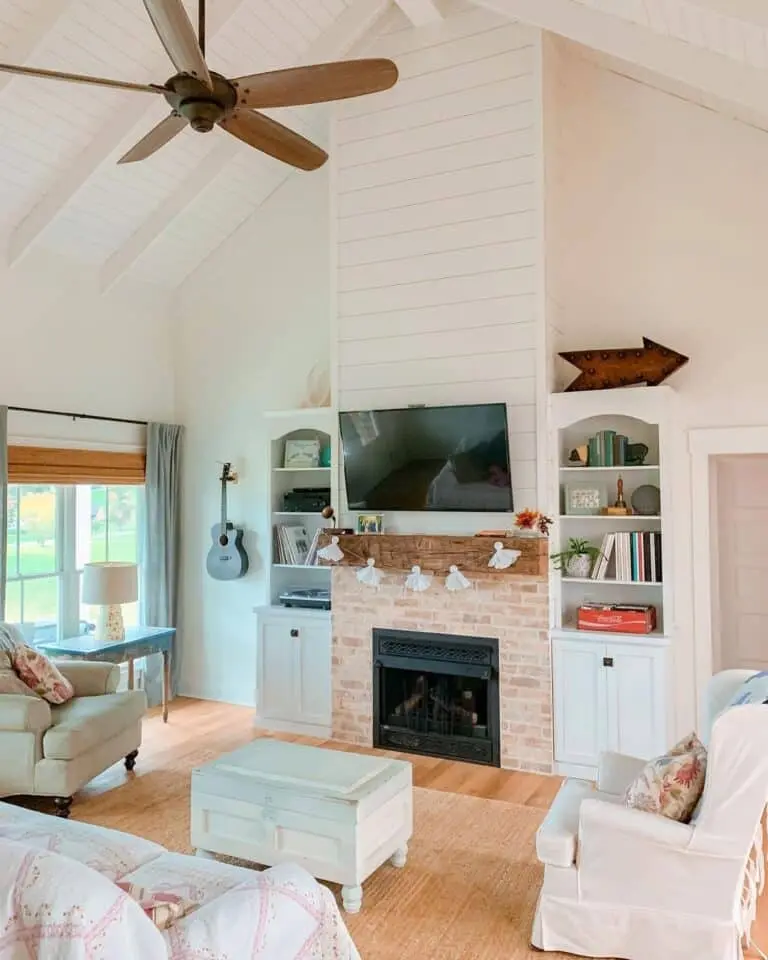 Credit: greenvalleyga
Shop the Style
Wrap-up
As we conclude our tour through these seven farmhouse rooms, it's evident that the combination of vaulted ceilings and fireplaces is a match made in design heaven. The juxtaposition of soaring heights and cozy hearths creates spaces that are both visually captivating and invitingly snug.
Whether it's the rustic charm of exposed wooden beams or the modern twist on this classic style, these rooms showcase the versatility and enduring appeal of the farmhouse aesthetic. From traditional to contemporary interpretations, each room paints a picture of comfort, style, and the timeless beauty of rural-inspired design.