7+ Rustic Farmhouse Wall Decor Ideas to Refresh Your Space
Affiliate Disclosure: As an Amazon Associate we earn from qualifying purchases. Hence, if you click through and make a purchase, we will get a commission at no extra cost to you. For more info, read our full disclosure.
In the world of interior design, rustic farmhouse decor holds a special place, emanating warmth, tradition, and timeless charm. From quaint bedrooms to enchanting sitting areas, the fusion of classic and contemporary elements in farmhouse decor creates spaces that are both inviting and stylish. Dive into our curated collection of over seven farmhouse wall decor ideas that promise to refresh and rejuvenate your living spaces.
Rustic Farmhouse Bedroom Accents
A serene farmhouse bedroom showcases a bed dressed in elegant blue bedding, complemented by matching accent pillows and draped in a light gray knitted blanket. The wall above features a Scottish cow print encased in a frame, nestled beside a wooden shelf. A wind vane print stands out, gracefully mounted over a pristine white dresser. Greenery cascades from a wall-hung wooden planter while a charming white bunny statuette rests on the bed inside a wooden tray.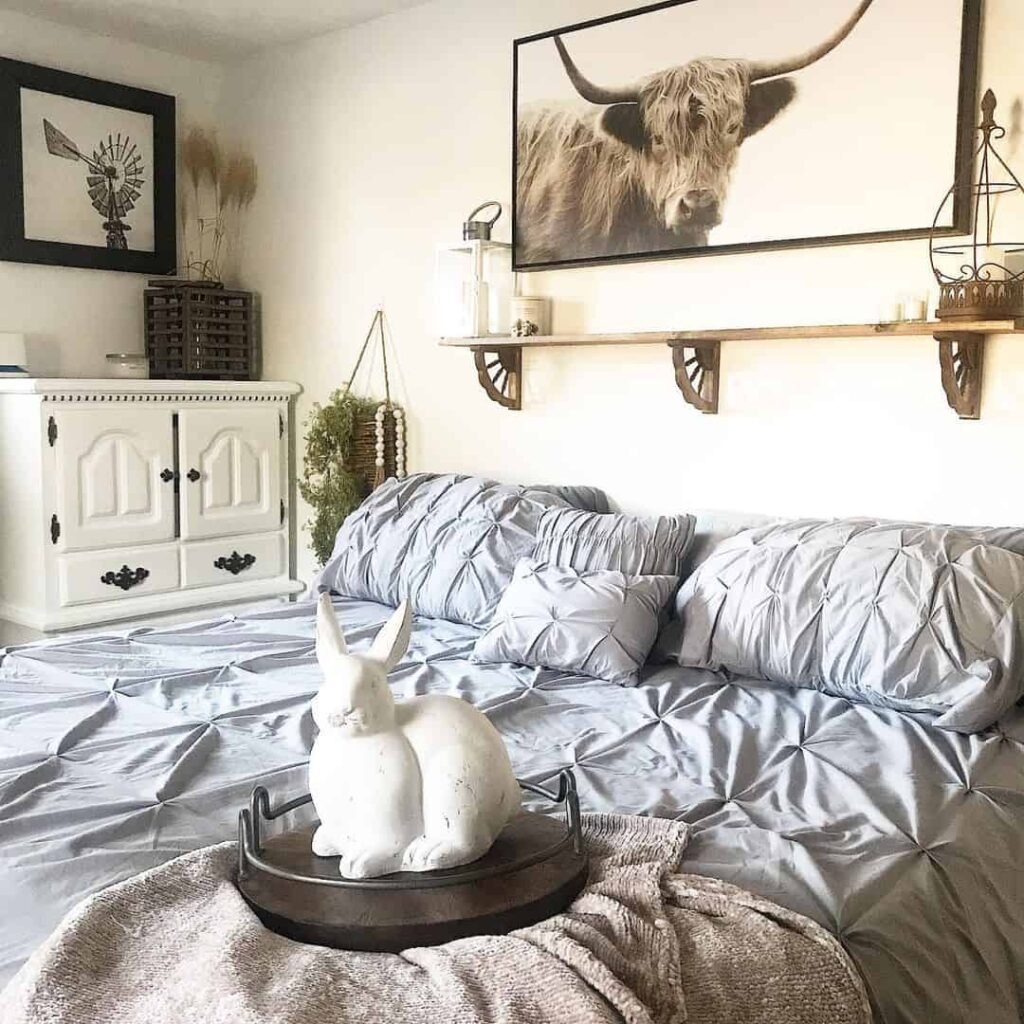 Shop the Style
Farmhouse Sitting Area Elegance
A pristine white armchair, coupled with a matching ottoman, occupies a delightful corner. An adjacent white side table hosts potted green plants, creating a soothing ambiance. The rustic charm of a woven accent paired with a wooden ladder draped in vintage white blankets contrasts beautifully with the white shiplap backdrop. The room is caressed by soft neutral lighting and cushioned by plush neutral carpeting.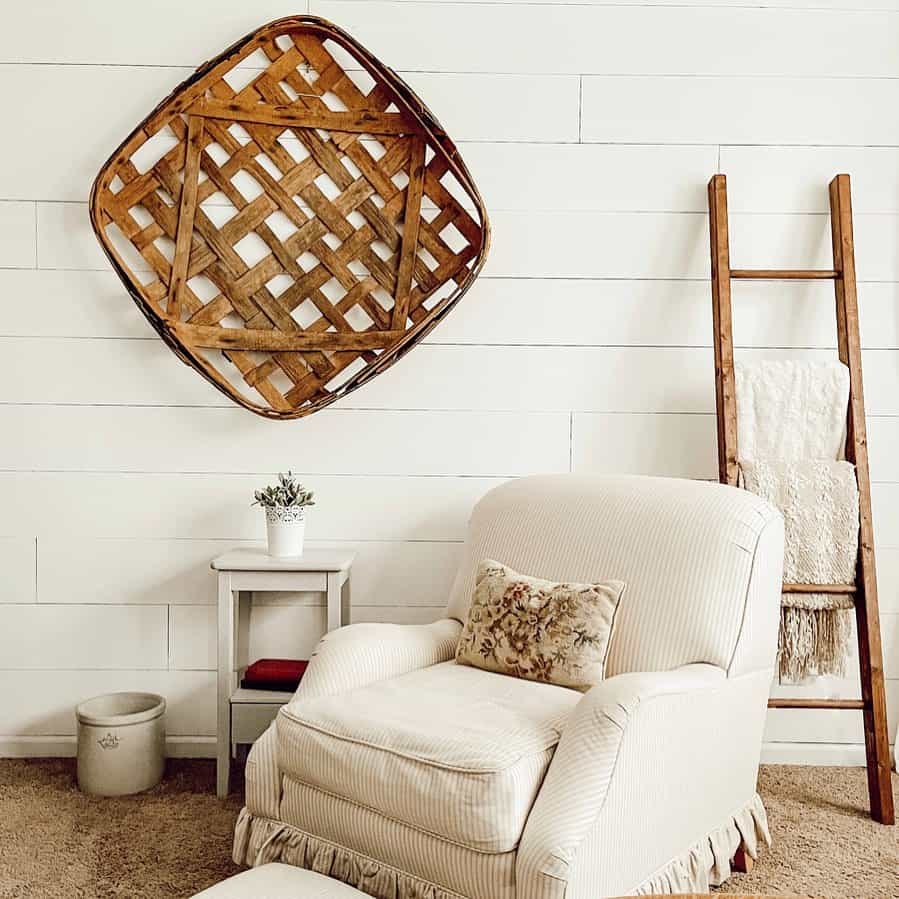 Shop the Style
Kitchen Charm with Farmhouse Wall Decor
Step into an enchanting farmhouse kitchen featuring rustic wooden cabinets and neutral granite countertops, all adorned with classic farmhouse decor. A wooden frame containing prints, a dry-erase calendar, and a key holder stand out against a backdrop of light wood planks supporting black wire baskets. Abundant natural light streams in, amplifying the allure of light wooden floors.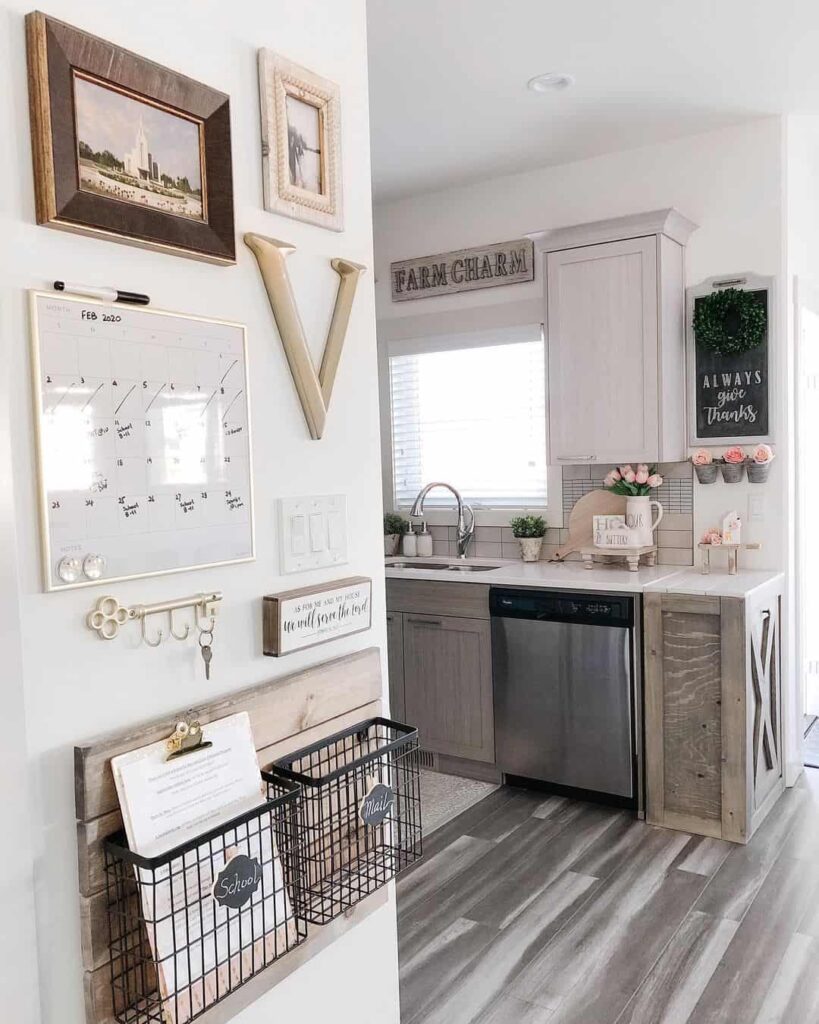 Shop the Style
Vintage Farmhouse Bedroom Elegance
A beautiful farmhouse bedroom is dominated by a rustic white wooden bed, elegantly dressed in vintage lace bedding and matched with coordinating pillows. A rustic wooden saw horse adorns the foot of the bed. Grapevine wreaths with faux white berries contrast against the pristine wall above the bed. Adjacently, an antique metal tray is mounted, while a captivating black chandelier hangs from above.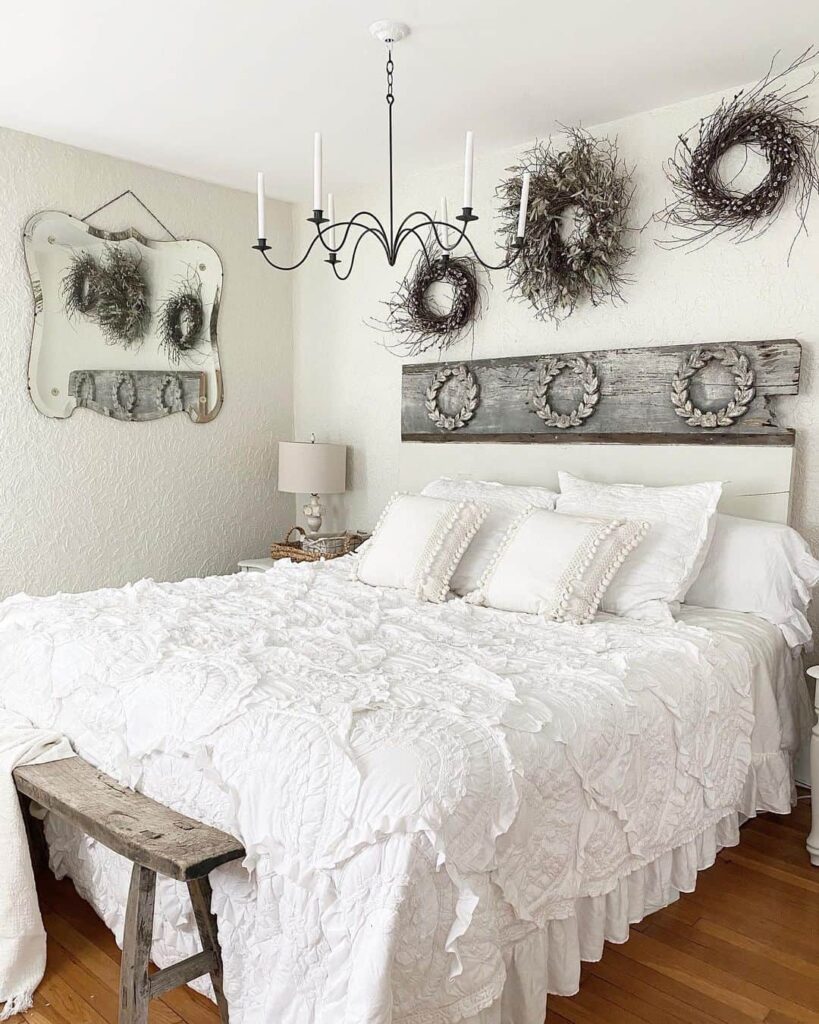 Shop the Style
Welcoming Farmhouse Entryway Decor
This inviting farmhouse entryway features a white bench, elegantly layered with accent pillows. The wall behind showcases framed prints, antique amber bottles, and fresh greenery. A white rattan basket brimming with white hydrangeas and a ceramic vase enhance the wall's aesthetic. Beneath the bench, wooden boxes are neatly tucked away, while a textured rug sprawls over the white tile.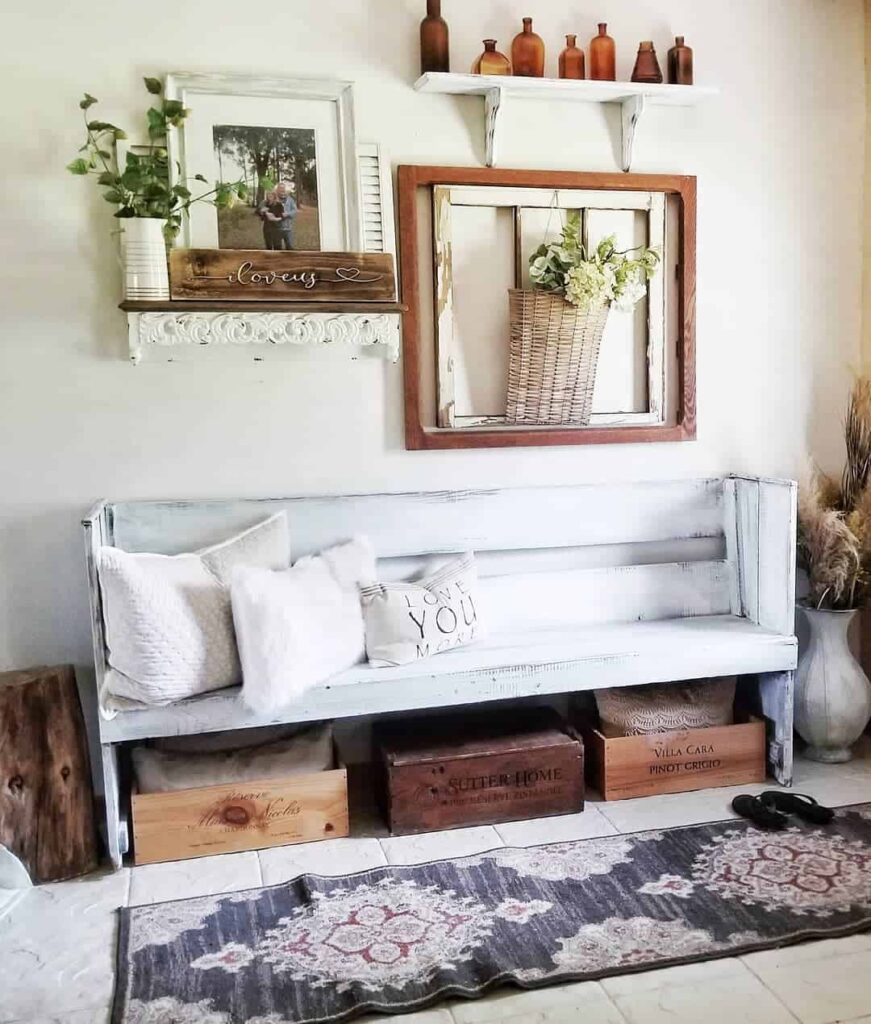 Shop the Style
Dining in Farmhouse Splendor
A grand farmhouse dining space showcases a warm wooden table, adorned with white pumpkins, pillar candles on white stands, and greenery on a pristine white linen runner. Rustic wooden window frames are juxtaposed against a white shiplap wall, hovering above a sideboard filled with autumnal accents. Natural light bathes the room, illuminating white and warm wooden chairs meticulously arranged around the dining table. Above, a rustic metal chandelier casts a soft glow.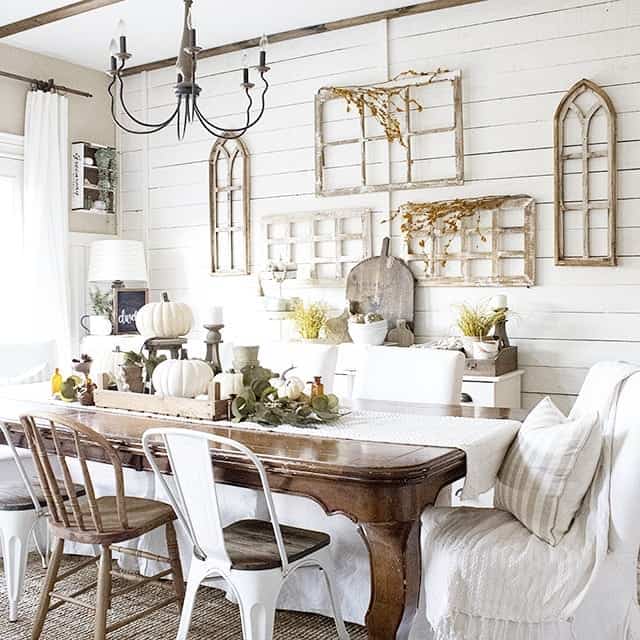 Shop the Style
Farmhouse Living Room Sophistication
Experience comfort in this exquisite farmhouse living room, dominated by a white sectional sofa, layered with pillows and draped in a cozy blanket. A rustic wooden trunk sits proudly in the center, functioning as a coffee table, adorned with vintage decor pieces. Classic antique accents decorate the white wall above the sofa. The entire setup is underscored by warm wood flooring, with a crystal chandelier hanging elegantly from a coffered ceiling, and bright sunlight enhancing the ambiance.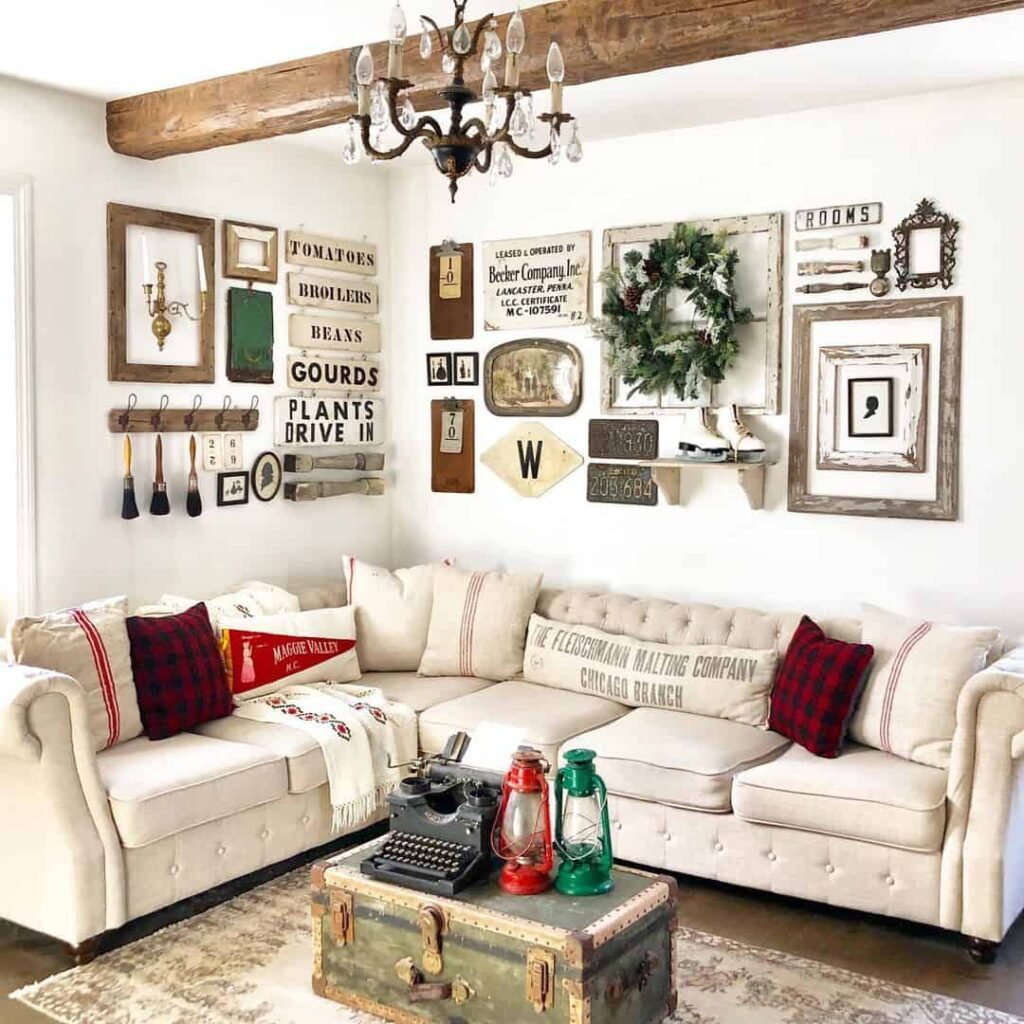 Credit: thelittlewhitefarmhouse
Shop the Style
A Wall Adorned With Rustic Farmhouse Wallclock
An elegant wood farmhouse console piano stands adorned with fresh greenery in a clear vase, flanked by terracotta pots, more green plants, and timeless books. Above, a grand wooden clock is mounted on a stark white wall, and to its side, a white wooden hat rack stands accessorized with a classic brown leather bag.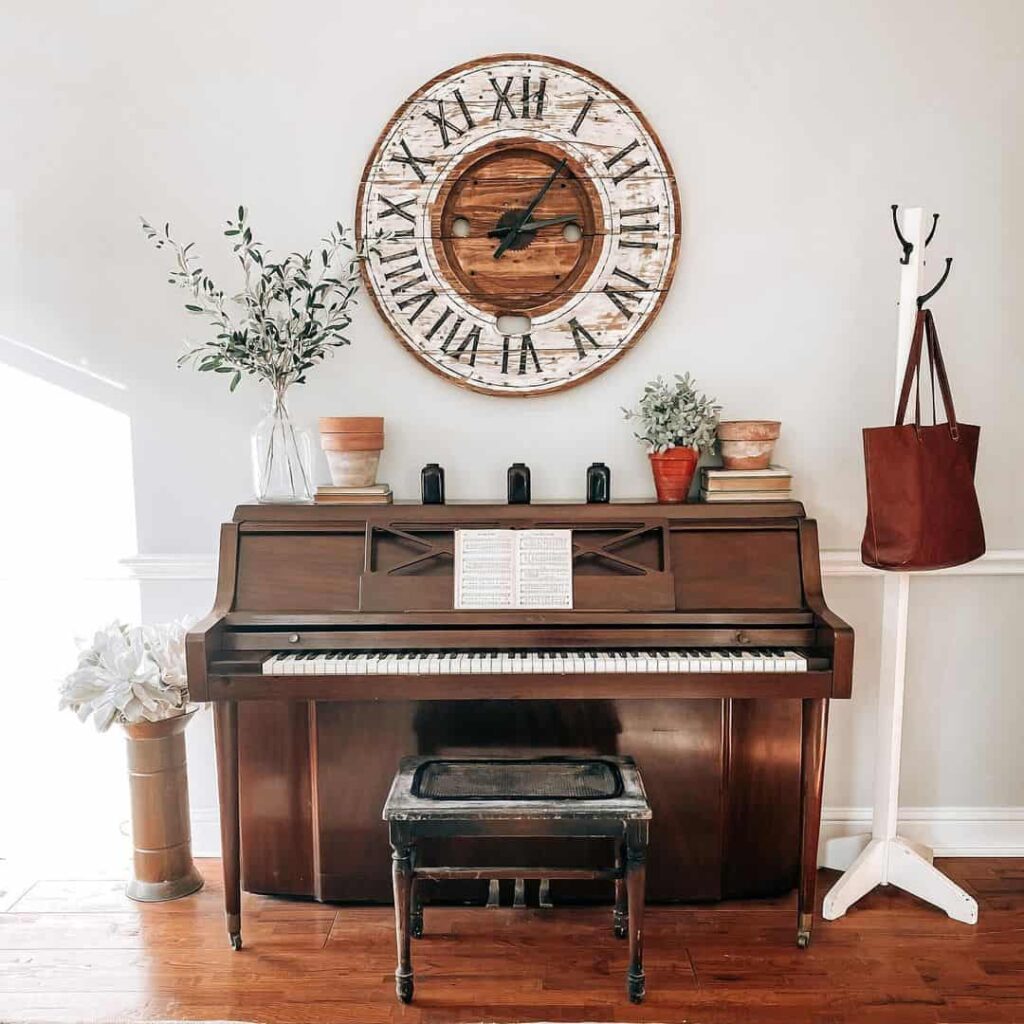 Credit: theyellowrosefarmhouse
Shop the Style
Wrap-up
Embracing the rustic farmhouse aesthetic is about celebrating simplicity, nature, and heritage. Through our selected decor ideas, we hope you've found inspiration to breathe new life into your space. Remember, the beauty of farmhouse decor lies in its flexibility – it's all about creating a story that resonates with you. So, mix, match, and let your walls tell a tale of charm and tradition.