7+ Charming Rustic Farmhouse Décor Ideas for a Welcoming Space
Affiliate Disclosure: As an Amazon Associate we earn from qualifying purchases. Hence, if you click through and make a purchase, we will get a commission at no extra cost to you. For more info, read our full disclosure.
Discover the allure of rustic farmhouse décor that effortlessly transforms your space into a warm and inviting haven. From weathered wood accents to cozy textiles, these charming design ideas capture the essence of rural charm while creating a welcoming atmosphere.
Whether you're revamping your living room, dining area, or bedroom, these seven rustic farmhouse décor concepts promise to infuse your home with timeless elegance and comfort.
Rustic Elegance: A Mesmerizing TV Feature Wall
At the heart of this living room, a truly captivating TV feature wall takes center stage. The gray backdrop elegantly showcases an arrangement of elements, including a television, a clock inspired by farmhouse aesthetics, a DIY branch adorned with paper snowflakes, and a charming rustic wooden cabinet. The coffee table, adorned with a wooden tray brimming with evergreens and pinecones, becomes the centerpiece of the room.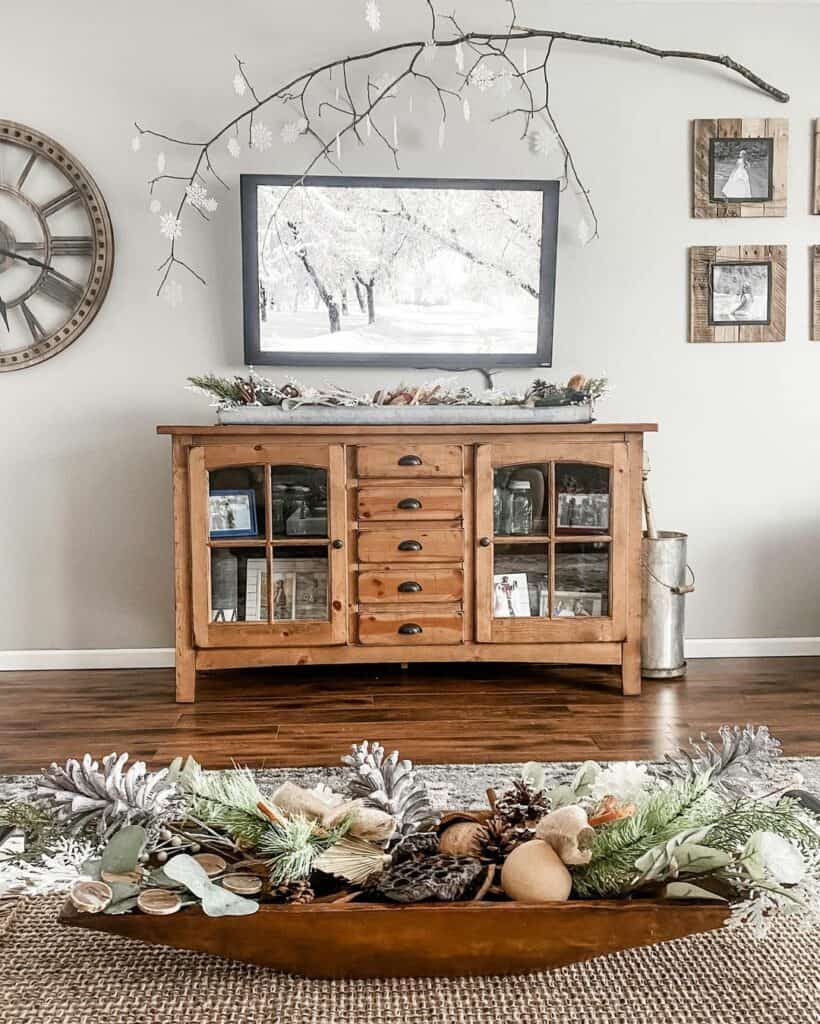 Credit: smalltownnest
Shop the Style
Shiplap Living Room Infused With Plant Décor
Exuding the essence of a farmhouse, this living room proudly displays plant décor as a highlight. The wall becomes an artistic canvas for a bundle of tree leaves creatively positioned and encased in an amber bottle. The addition of reddish-brown glass bottles introduces a warm and inviting tone that perfectly complements the white shiplap wall.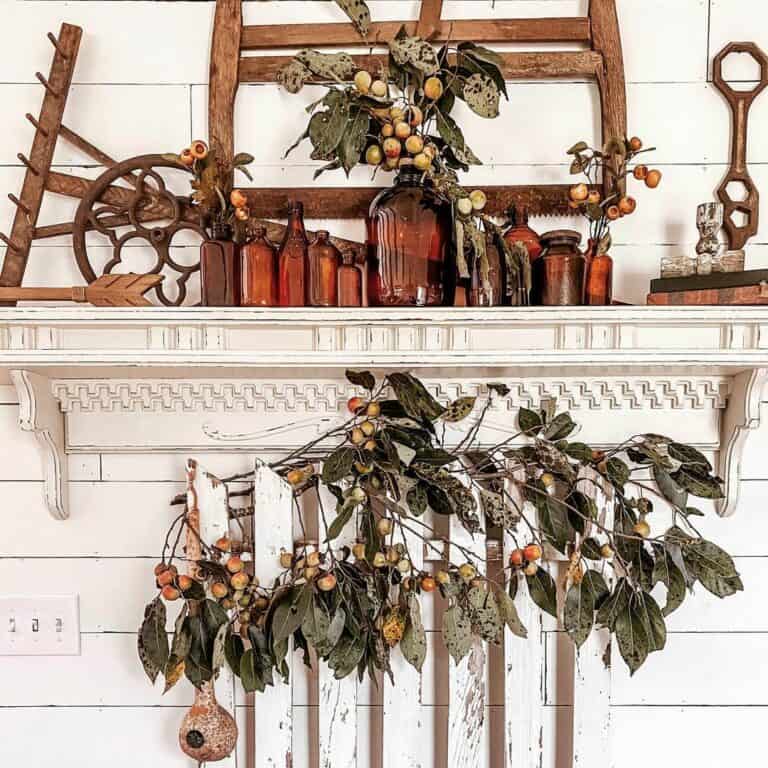 Credit: therustedroost
Shop the Style
Floral Delight: Rustic Farmhouse Living Room Adorned with Blossom Accents
The rustic charm of this farmhouse living room comes to life with an assortment of faux flower décor in neutral tones. A sophisticated gray sofa harmoniously blends with the surrounding wooden and white furniture, while the marble-framed fireplace adds a touch of refined elegance to the setting.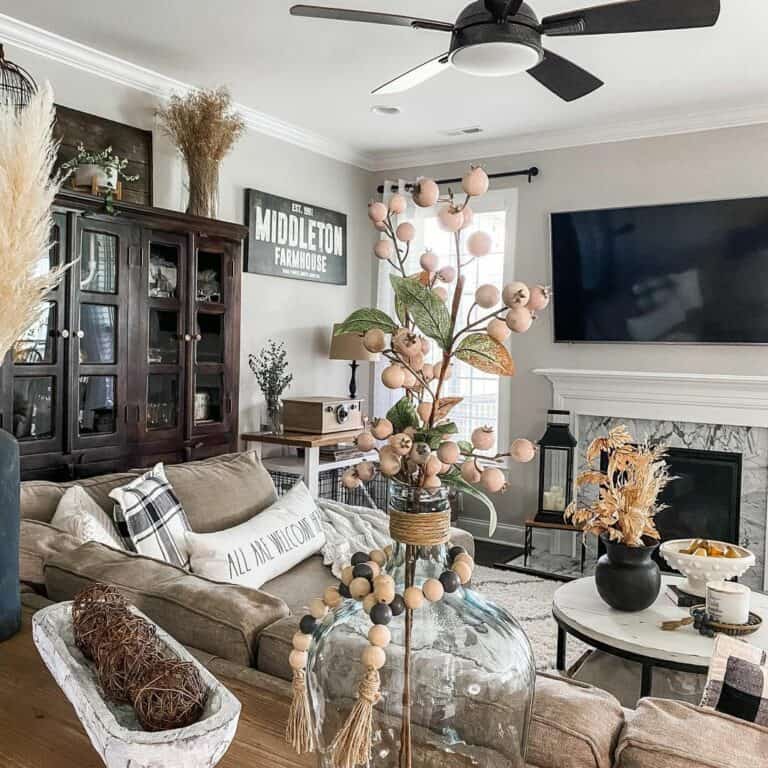 Credit: sweetfarmhousechic
Shop the Style
Contrasting Large Wall Baskets Against a Dark Background
In this rustic farmhouse dining room, a striking contrast is created by the arrangement of black, white, and tan basket wall décor against the backdrop of black paneling. The baskets, clustered in an artful composition, showcase an array of unique patterns and textures. These elements beautifully resonate with the cream-colored dining room chairs and the area rug, resulting in a cohesive design.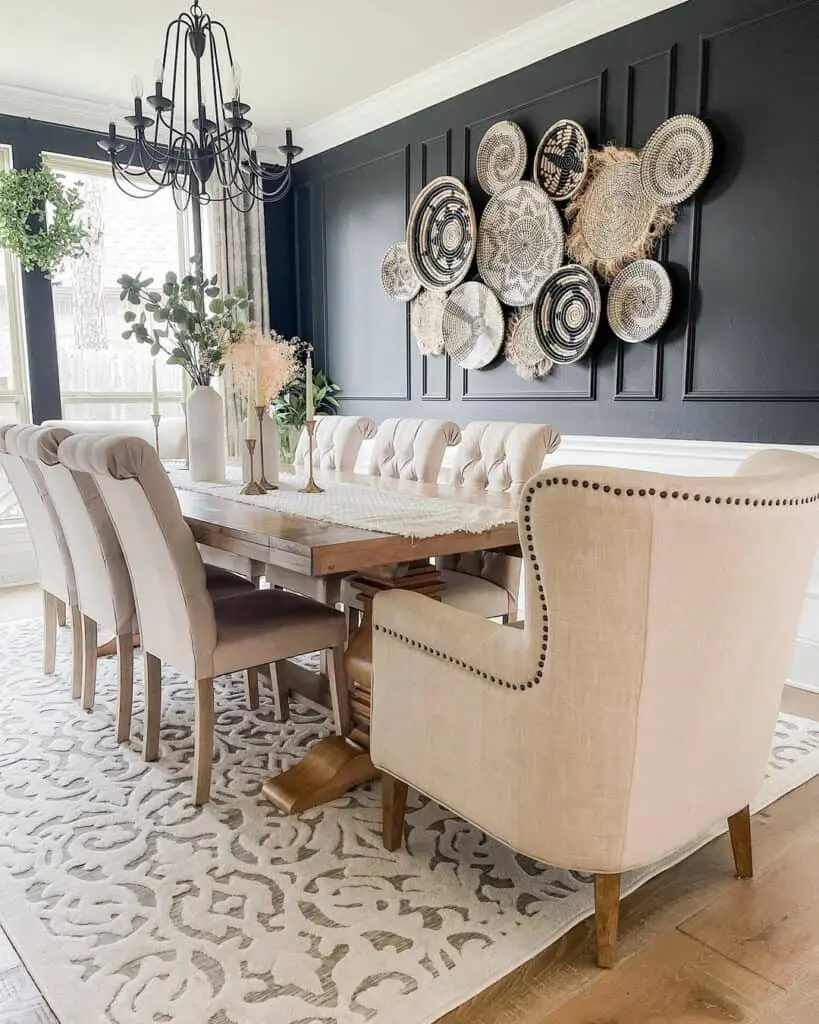 Credit: touchesofwood_lexi
Shop the Style
Cottage Kitchen Adorned With Wooden Furniture
A cottage ambiance envelops this kitchen, accentuated by the presence of wooden furniture that includes dining chairs, cabinets, and shelves. The space receives a burst of character from a playful blue and white wallpaper design, which extends seamlessly into the connecting dining room, infusing the area with a delightful touch.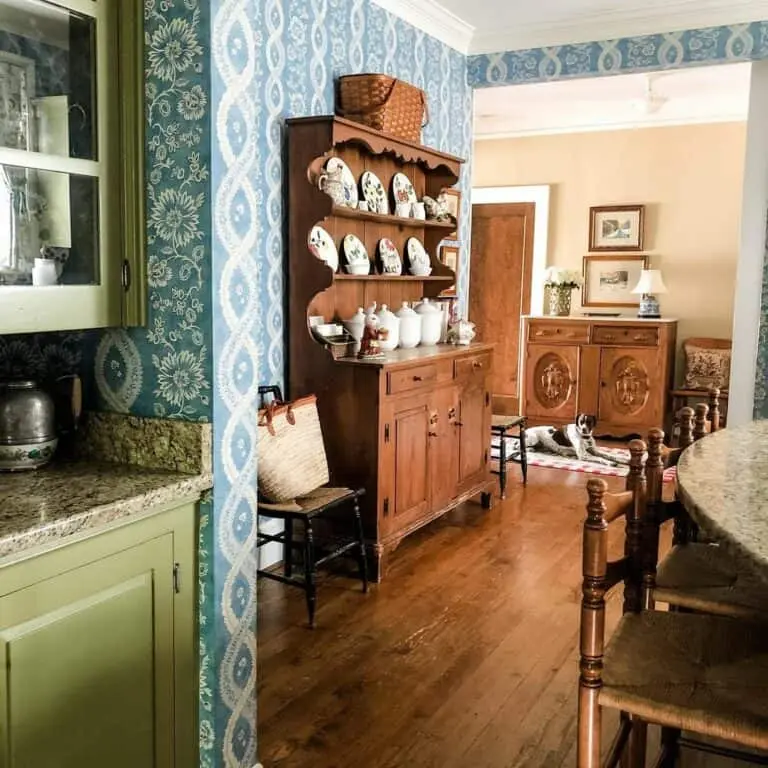 Credit: rachelrsimon
Shop the Style
Farmhouse Bedroom Enhanced by Rustic Décor
In this farmhouse bedroom, a wooden cabinet becomes the focal point, adorned with a collection of rustic décor items. A wreath, leaf stalks, books, a photograph, and a framed poster grace the cabinet's countertop, while the beige-brown carpet provides a comforting backdrop that complements the surrounding wooden elements and white walls.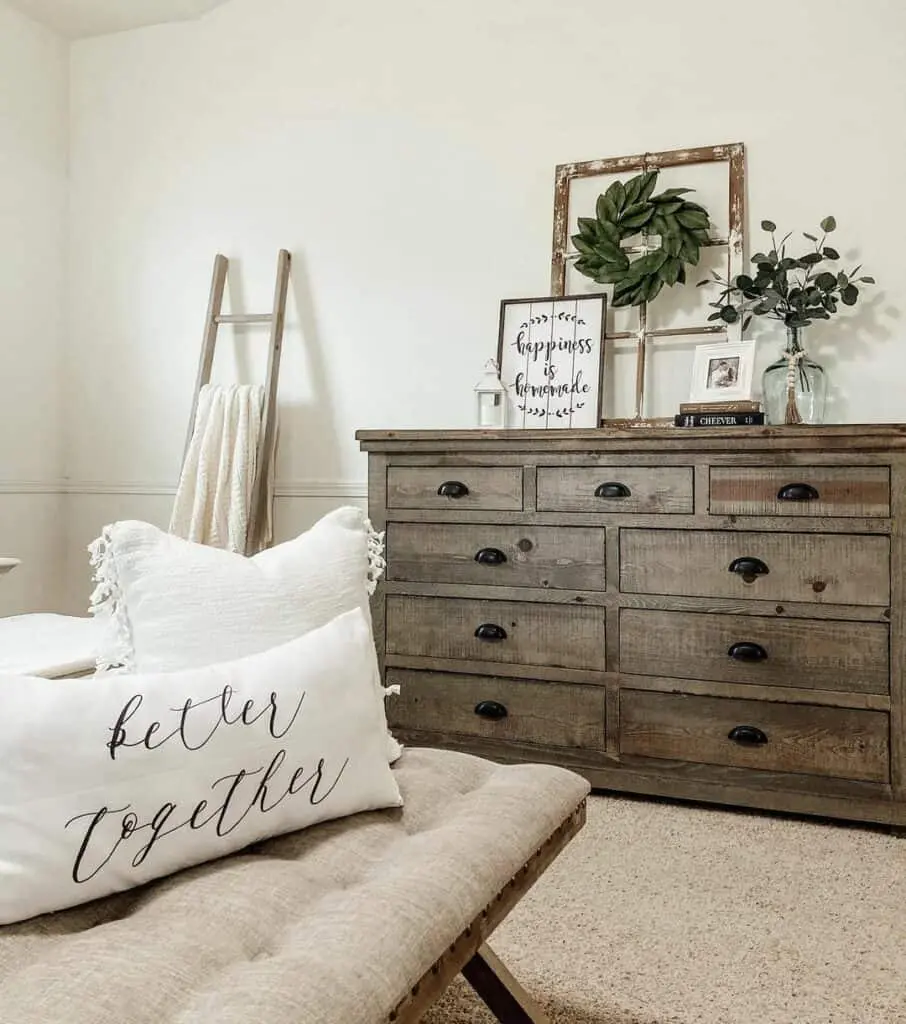 Credit: thebrooksnest
Shop the Style
Vintage Table Elevates Shiplap Living Room
This farmhouse living room exudes rustic charm, with a touch of vintage appeal introduced by a gold-framed photograph adorning the wall. The white table and chair seamlessly blend with the white shiplap wall, creating a harmonious composition that resonates with the inviting wooden floor.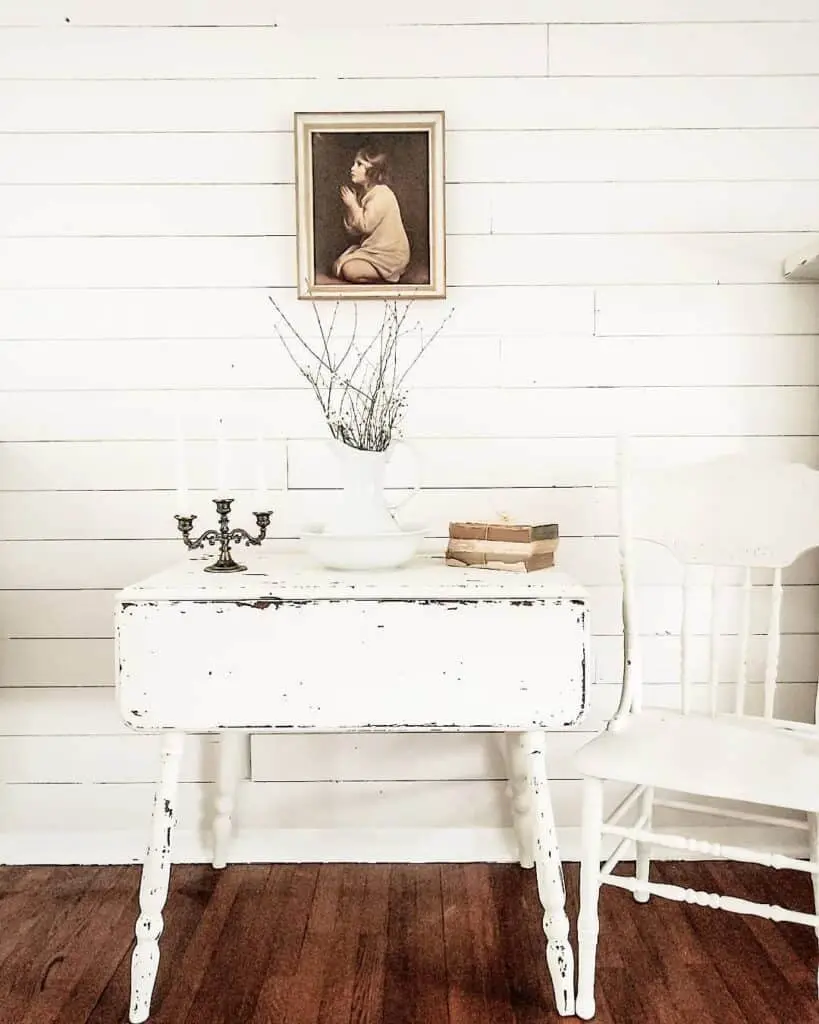 Credit: vintageandgraceliving
Shop the Style
Farmhouse Dining Room Embellished With Vintage Accents
Emanating vintage elegance, this farmhouse dining room is adorned with an array of vintage accents. The mounted paintings on the white shiplap wall command attention and set the tone for the space. A striking juxtaposition is achieved with the inclusion of a dark wood cabinet that not only contrasts with the white backdrop but also complements the surrounding wooden furniture.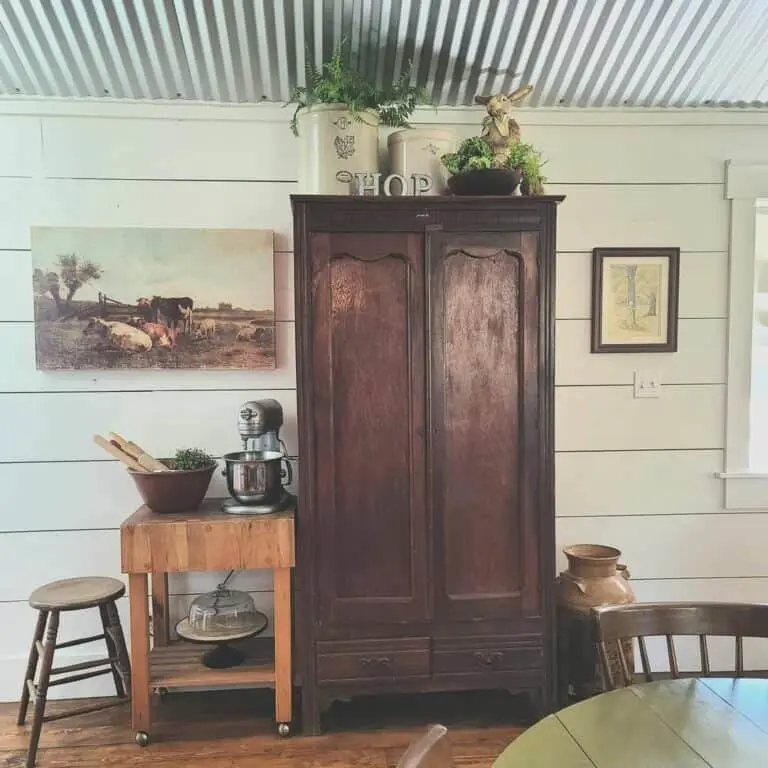 Credit: thecrowdedfarmhouse
Shop the Style
Wrap-up
As you explore these seven charming rustic farmhouse décor ideas, you'll find that simplicity and authenticity are at the heart of creating a welcoming space. Each element, from distressed wooden furniture to vintage-inspired accents, contributes to the overall sense of comfort and charm.
By incorporating these design concepts, you're not just decorating your home, but also creating a haven where every corner reflects the beauty of rustic living.