7+ Black Wall Ideas for a Dramatic, Farmhouse-Inspired Interior
Affiliate Disclosure: As an Amazon Associate we earn from qualifying purchases. Hence, if you click through and make a purchase, we will get a commission at no extra cost to you. For more info, read our full disclosure.
When it comes to interior design, the color of your walls plays a pivotal role in setting the tone and ambiance of your space. If you're drawn to the timeless charm of farmhouse aesthetics and are looking to make a bold statement, incorporating black walls could be the perfect choice.
Black walls might seem daring, but they can create a dramatic yet inviting atmosphere that's both modern and farmhouse-inspired. In this blog, we're excited to present you with 7+ captivating black wall ideas that will transform your interior into a haven of rustic elegance.
Vintage-Inspired Charm in a Modern Farmhouse Nursery
Experience vintage-inspired charm in this modern farmhouse nursery room that embraces a blend of past and present. The presence of elements like the black patterned carpet and elegantly framed mirror evokes nostalgia. A bold touch is introduced by the black paneled wall, harmoniously contrasting with the warmth of the wooden flooring.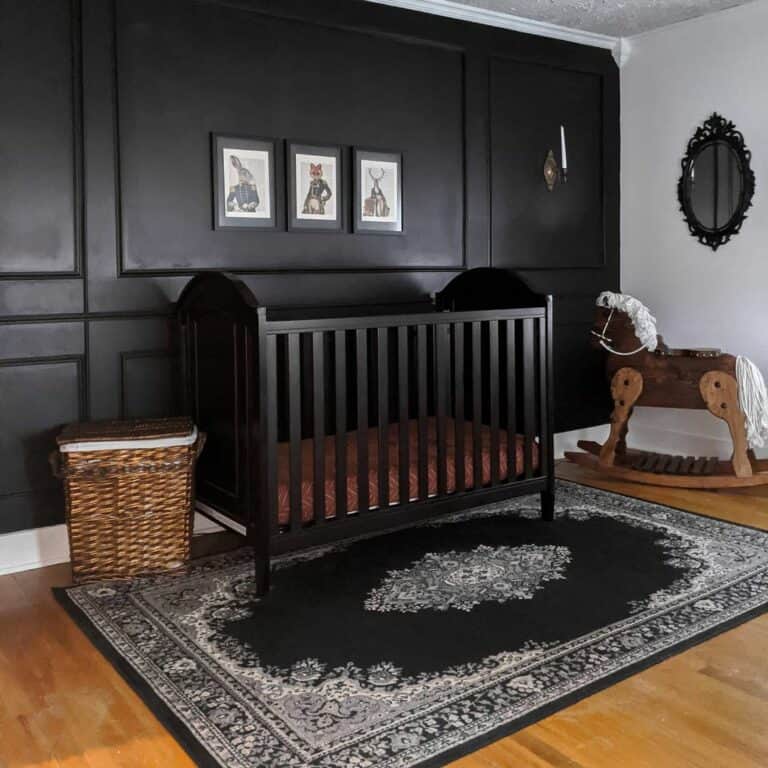 Credit: krystameeker
Shop the Style
Natural Elegance in a Modern Bedroom
Step into a serene farmhouse bedroom that embodies natural elegance through its wooden wall accents. A clock, signboard, and storage pouch grace the walls, all boasting wood-inspired aesthetics. The backdrop of black elegantly enhances the wood elements, while white-striped bedsheets offer a soothing contrast.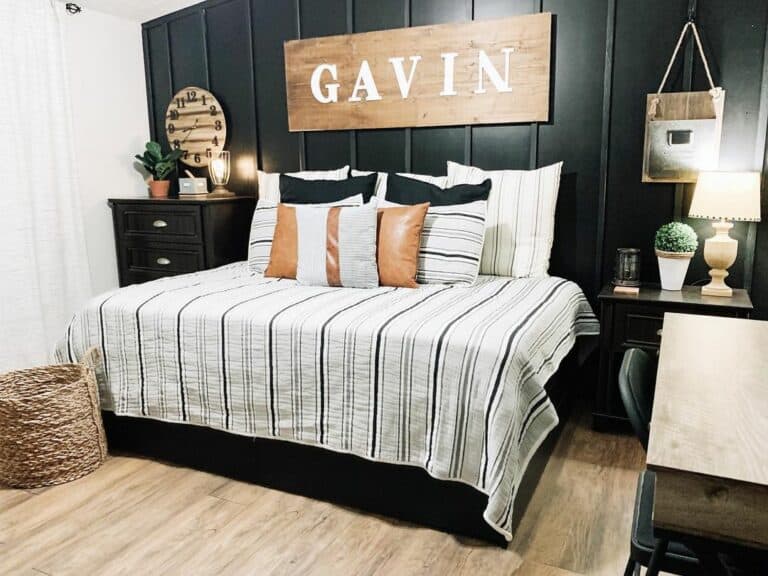 Credit: houseoftransformation
Shop the Style
Timeless Black Dining Room with Botanical Delights
Discover a timeless black dining room that marries a captivating color palette with botanical delights. The harmony between black, white, and neutral elements is captivating. White framed windows stand out strikingly against the black walls, while they mirror the allure of the wooden floors. A burst of fresh green from potted plants infuses vitality into the space.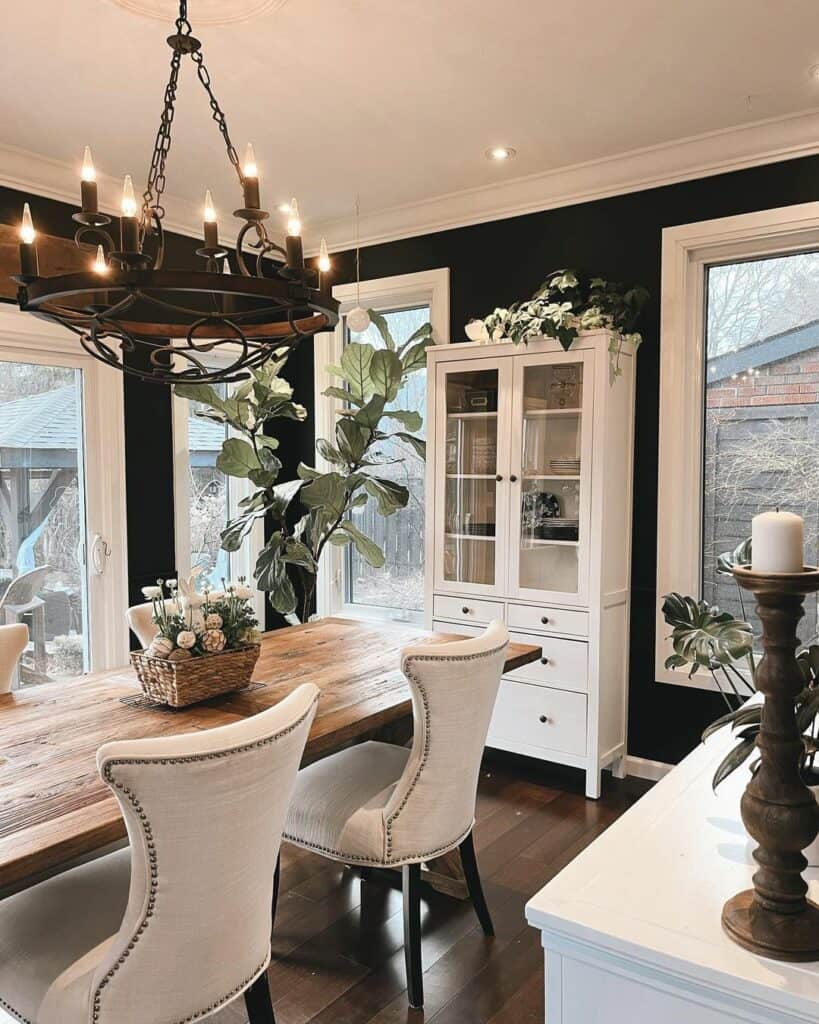 Credit: shariblivin
Shop the Style
Rustic-Chic Farmhouse Bedroom Oasis
Indulge in rustic-chic tranquility within this farmhouse bedroom that transforms into a soothing oasis. Wooden wall decor takes center stage, featuring framed posters, woven hats, and a headboard that eloquently contrasts with the dark backdrop. The monochromatic walls find harmony with bed set covers in shades of white, brown, and grey.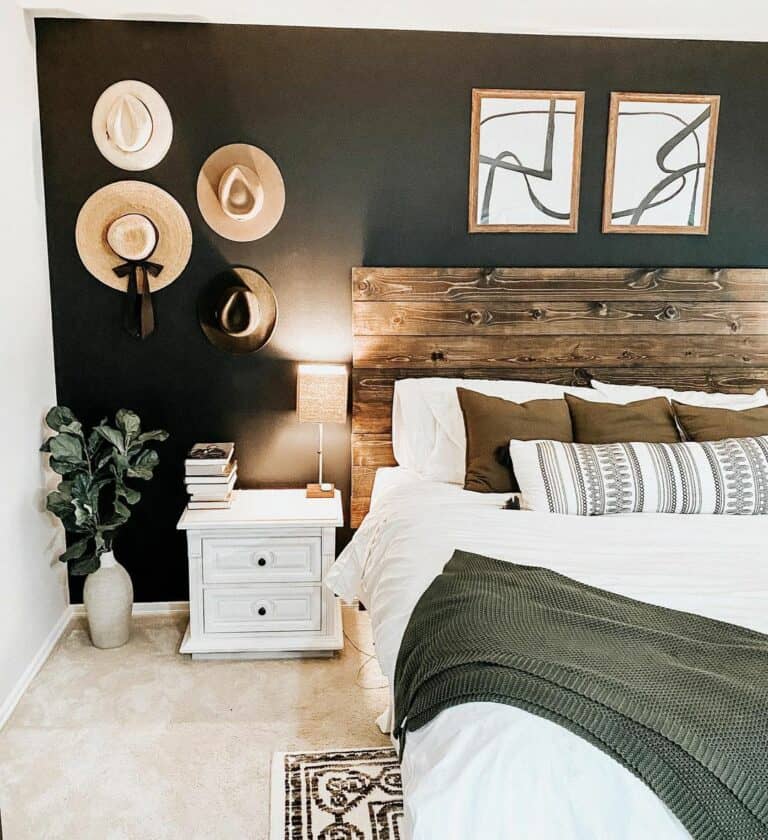 Credit: home.and.ro
Shop the Style
Striking Contrast in a Modern Farmhouse Living Room
Embrace striking contrast in this modern farmhouse living room that pairs a black fireplace with bold black walls. A vintage round mirror adorns the white shiplap wall above the fireplace, infusing character into the space. The arrangement of vintage mirrors on the wall crafts a distinctive and artistic display.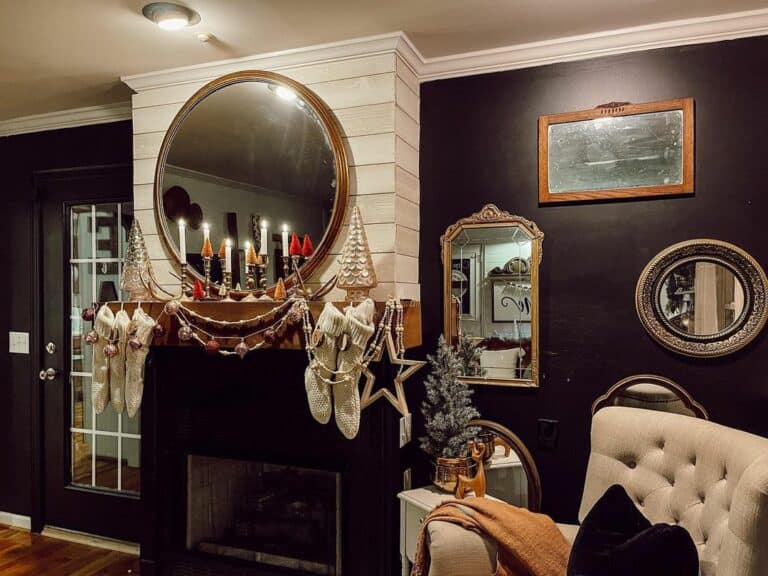 Credit: margaretsdaughter
Shop the Style
Classic Plaid Elegance in a Farmhouse Bedroom
Experience classic plaid elegance in this inviting farmhouse bedroom adorned with plaid bedsheets and pillows. The timeless combination of white and grey plaids becomes the focal point, harmonizing effortlessly with the soothing beige carpet. A wooden headboard introduces an earthy texture against the dark backdrop.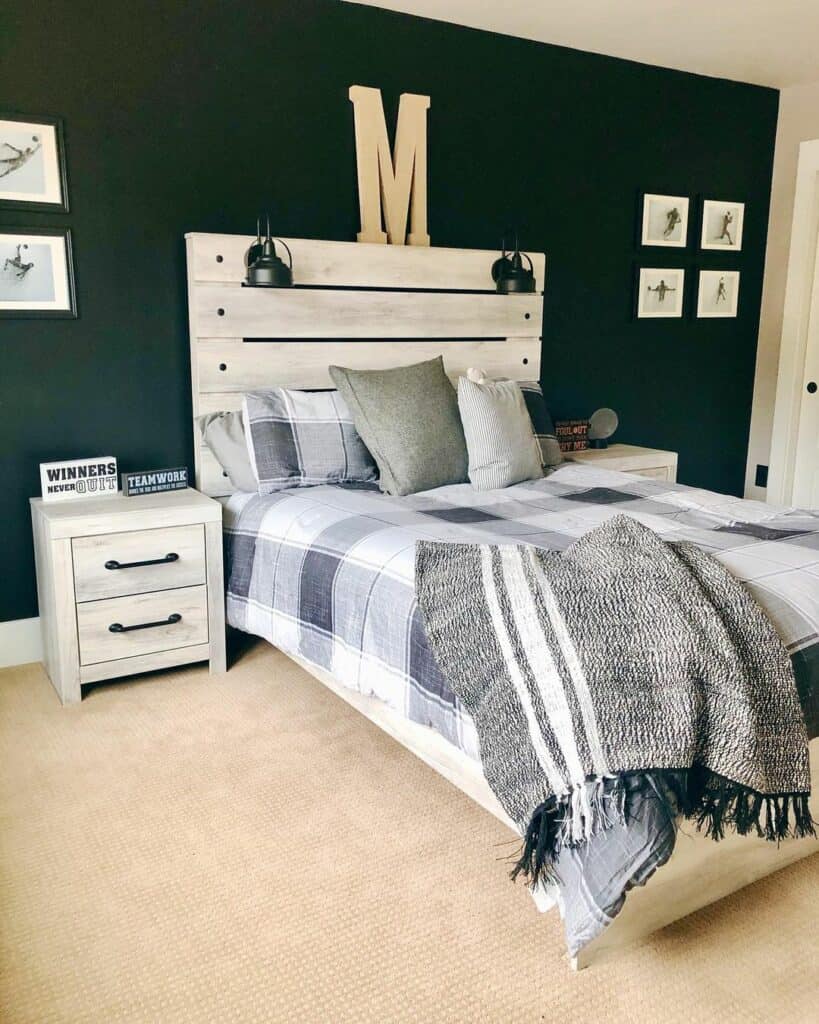 Credit: mykcvalleylife
Shop the Style
Timeless Rustic Ambiance in a Living Room Retreat
Step into a living room that encapsulates timeless rustic ambiance through its captivating wall decor. Vintage frames mount weathered wood-framed images on the black wall, invoking a sense of nostalgia. The wooden table and vintage carpet complement each other, adding layers of texture to the wall's story.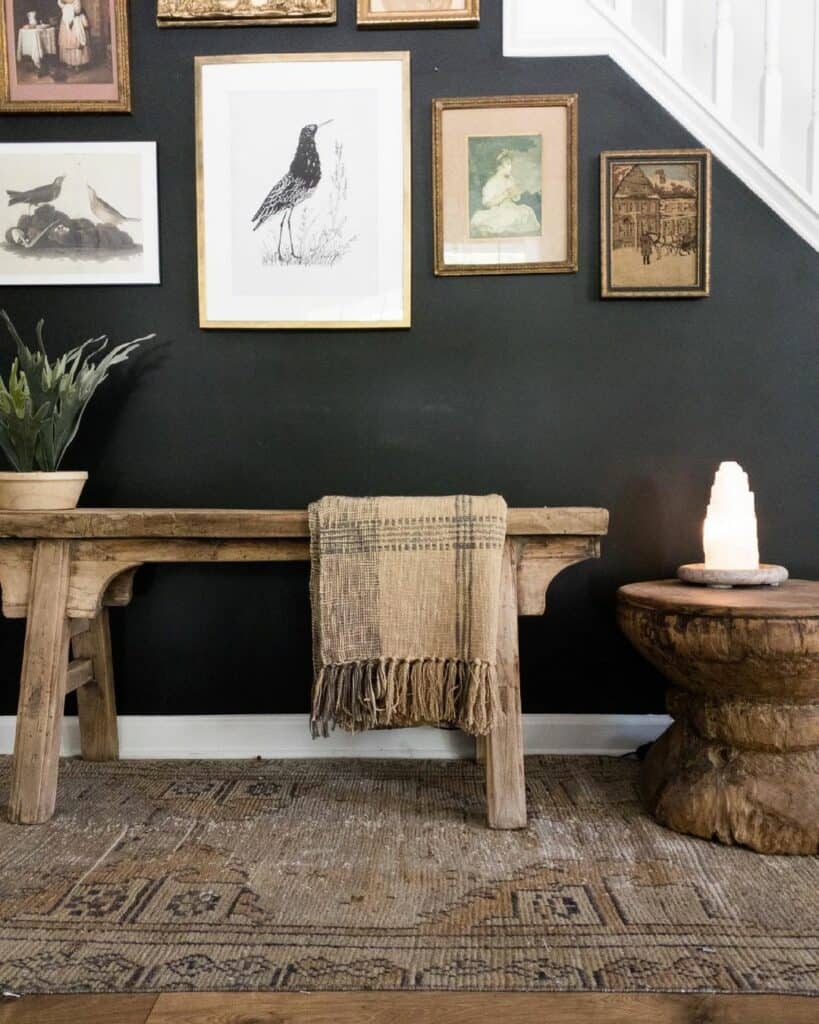 Credit: house_of_7feathers
Shop the Style
Whimsical Floral Haven in a Modern Country Study
Immerse yourself in a whimsical floral haven within this modern country study, where botanical elements reign. Various botanical images grace the black wall, infusing life into the space. A delicate flower vase finds its place on the wooden cabinet, while neutral-toned furniture fosters a snug and inviting atmosphere.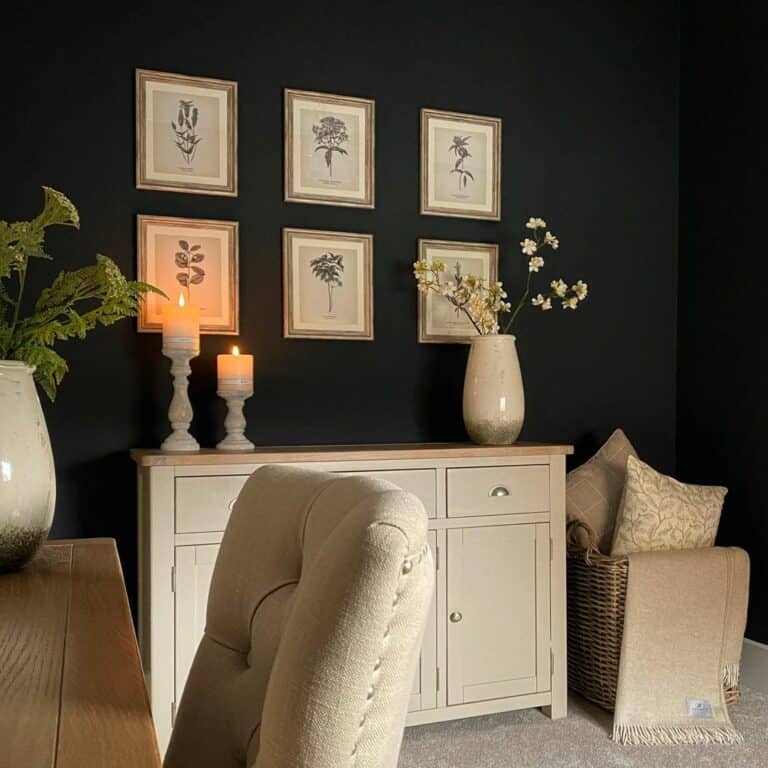 Credit: ourruralnest
Shop the Style
Wrap-up
Embracing the farmhouse-inspired charm with a touch of drama, black walls have the power to redefine the aesthetics of your living spaces. From rustic living rooms to cozy bedrooms, these ideas have showcased how black walls can effortlessly blend with farmhouse elements, creating a harmonious and striking ambiance.
Whether you're seeking to create a cozy retreat or a bold conversation piece, these black wall inspirations offer a creative way to infuse depth, character, and a touch of modernity into your home.