7+ Flexible Entertainment Center Designs for an Appealing Farmhouse Living Room
Affiliate Disclosure: As an Amazon Associate we earn from qualifying purchases. Hence, if you click through and make a purchase, we will get a commission at no extra cost to you. For more info, read our full disclosure.
When it comes to creating the perfect farmhouse living room, an essential element to consider is the entertainment center. A well-designed entertainment center can not only provide functionality but also enhance the overall aesthetic of the space.
In this blog, we'll explore seven flexible and appealing entertainment center designs that will elevate your farmhouse living room.
Whether you prefer rustic charm, modern simplicity, or a blend of styles, you'll find inspiration and ideas to suit your taste and make your living room the heart of your home.
Elevate Your Winter Living Room and Entertainment Center
Enhance your winter living room and entertainment center with a touch of elegance. Surround a large white entertainment center built into the wall with white shelves, and adorn them with baskets, wooden bowls, stacked books, and lush plants for a stunning focal point.
Create a harmonious balance by combining bold furniture colors with soft neutral linens, and complete the look with stacked books and vases of greenery adorning the coffee and side tables.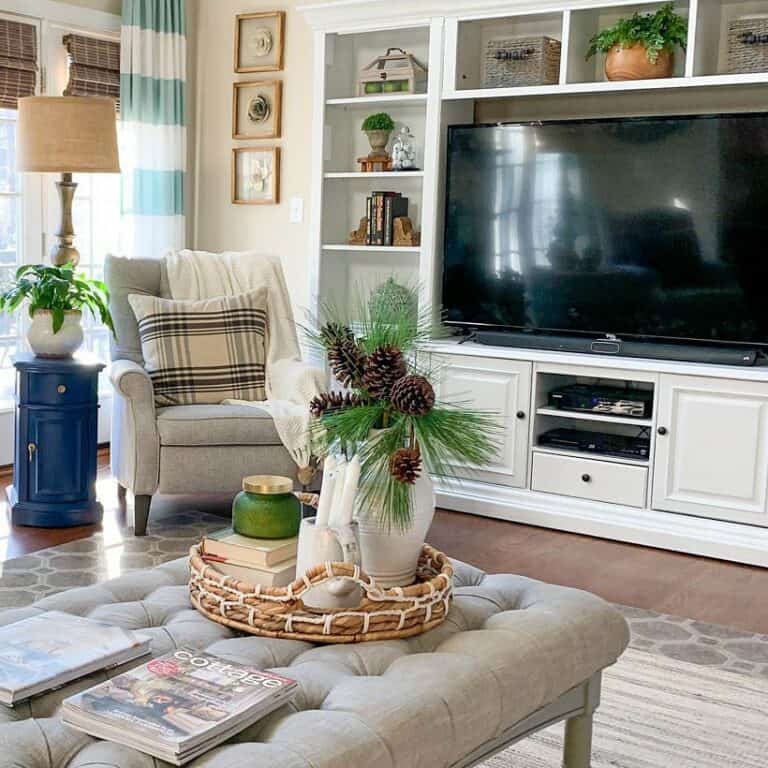 Credit: worthingcourtblog
Shop the Style
Embrace Fall with Cozy Entertainment Center Decor
Transform your living room into a cozy autumn retreat. This farmhouse-inspired space comes to life with vibrant fall decor featuring the warm hues of orange, black, and white. Hang a farmhouse sign above the console and arrange small matching accessories on the shelves.
Prepare your living room for the fall season with charming basket trays filled with pumpkins and fall flower arrangements. Use patterned pillows and throws to add a touch of comfort and casual style.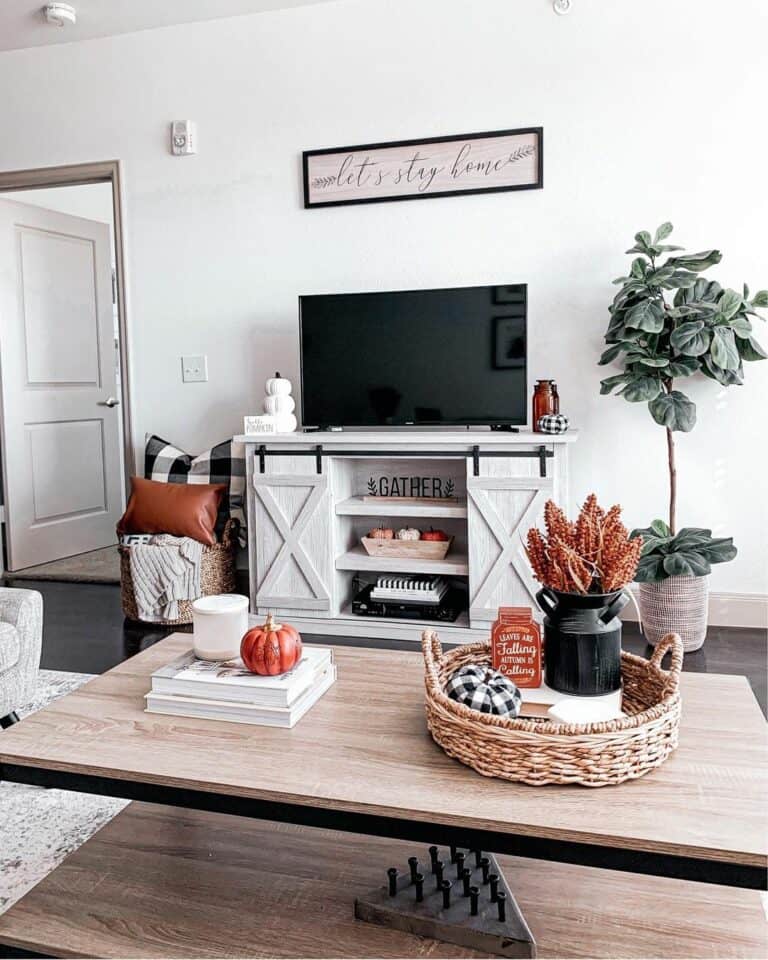 Credit: myhomebodylifeblog
Shop the Style
Modernize Your Living Room with Tropical Elegance
Transform your living room with a modern and revitalizing atmosphere through a neutral color palette and tropical accents. The soft, natural rattan furniture beautifully complements a rich dark wood floor.
Infuse freshness and style with vines, plants, and white accessories. Elevate the space with coordinated wood furniture, a blend of white and brown decor elements, and the lush presence of leafy tropical plants in decorative vases.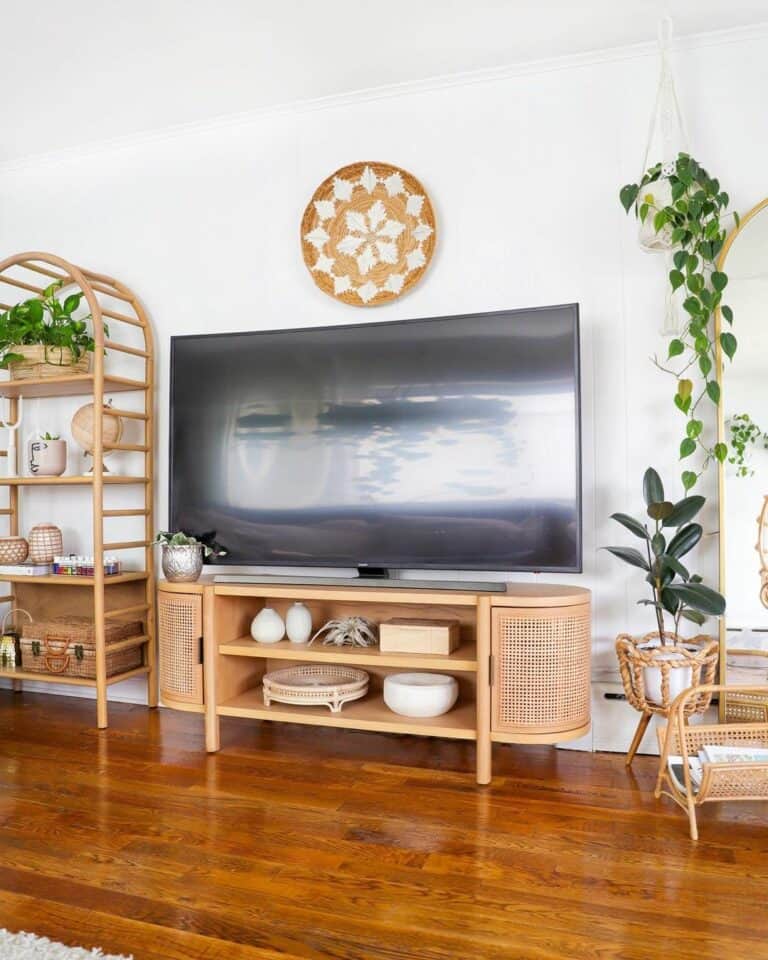 Credit: anaisazacarpio
Shop the Style
Create a Cozy Fall Haven
Welcome the cozy allure of the fall season into your home with an inviting entertainment center. Slide open barn doors to reveal a white and brick fireplace, serving as a captivating backdrop for a generously sized TV. Scatter fall pumpkins and seasonal decorations around the hearth to set the mood.
A natural wood coffee table takes center stage, adorned with sunflowers and a vintage whiskey jug. Create a warm and inviting atmosphere with brown and orange accents, complemented by wicker baskets filled with soft linens and stacks of books.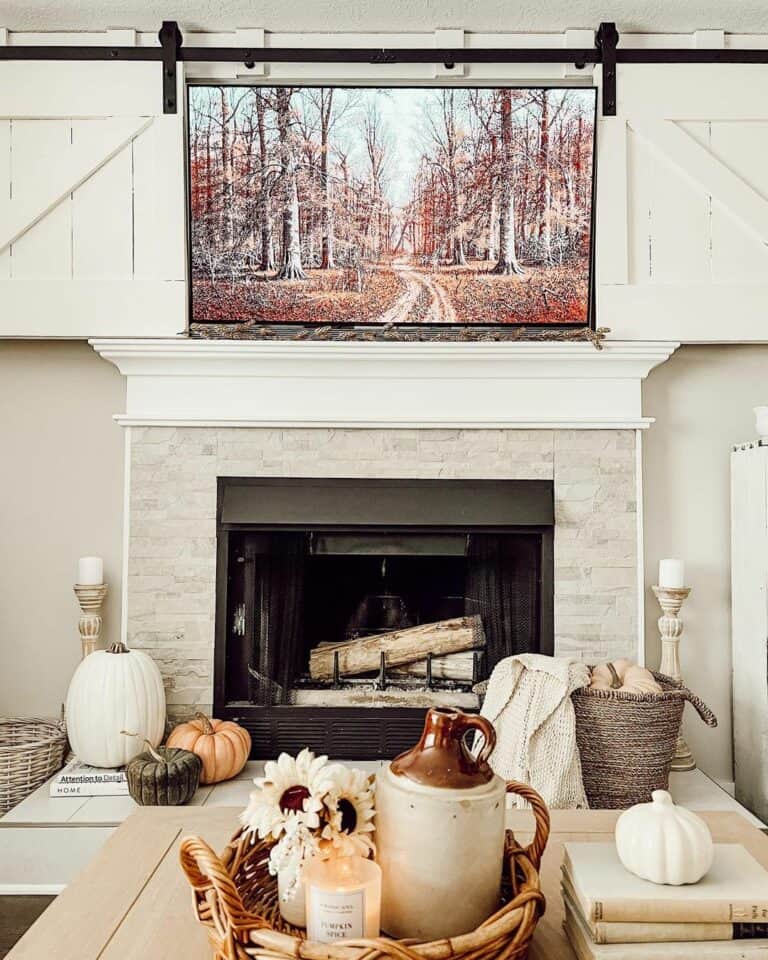 Credit: thewhitewoodcottage
Shop the Style
Farmhouse Charm Meets Rustic Entertainment
Experience the charm of a farmhouse-inspired TV entertainment center. A white cabinet with drawers and shelving provides support for a large TV, creating a focal point in the room. Accentuate the space with a large antique glass jug containing an arrangement of lavender, placed atop a rustic white stool.
A rattan basket filled with an accent pillow and blanket complements the rustic decor. Light-colored walls brighten the room, and light wood flooring adds warmth.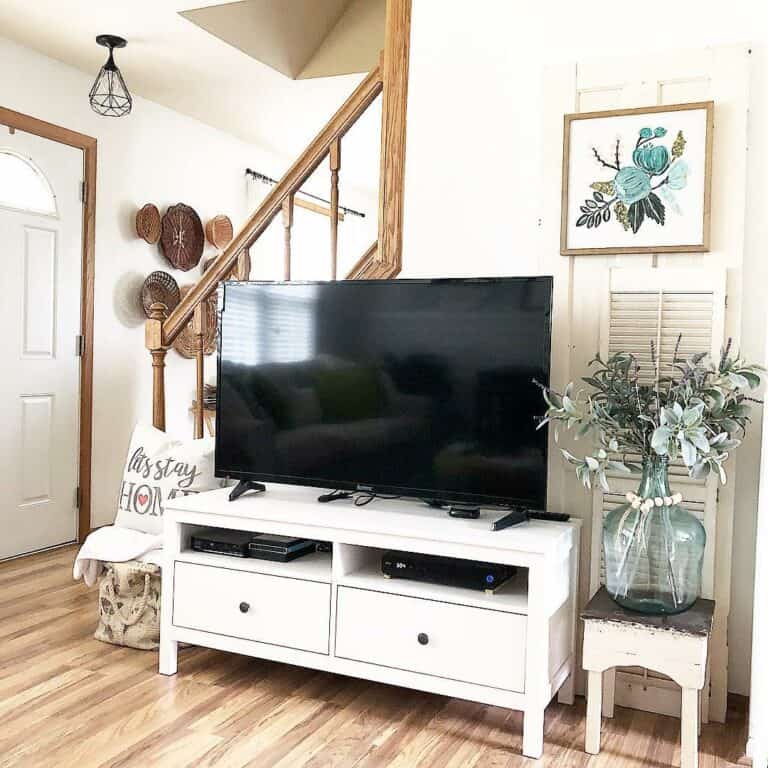 Credit: sweethoneycottage
Shop the Style
Rustic Elegance in Your TV Entertainment Center
Elevate your entertainment center with a rustic farmhouse accent. This large white board and batten wall panel pairs harmoniously with a white rustic farmhouse accent cabinet, serving as a charming TV entertainment center. Concealed white storage cabinets hold electronic equipment, while large rattan baskets filled with accent pillows and blankets flank each side.
A white coffee table, adorned with greenery arranged on a rattan tray, sits atop a textured area rug, facing the TV. Warm wood flooring runs throughout, and a light neutral accent wall provides a pleasing contrast.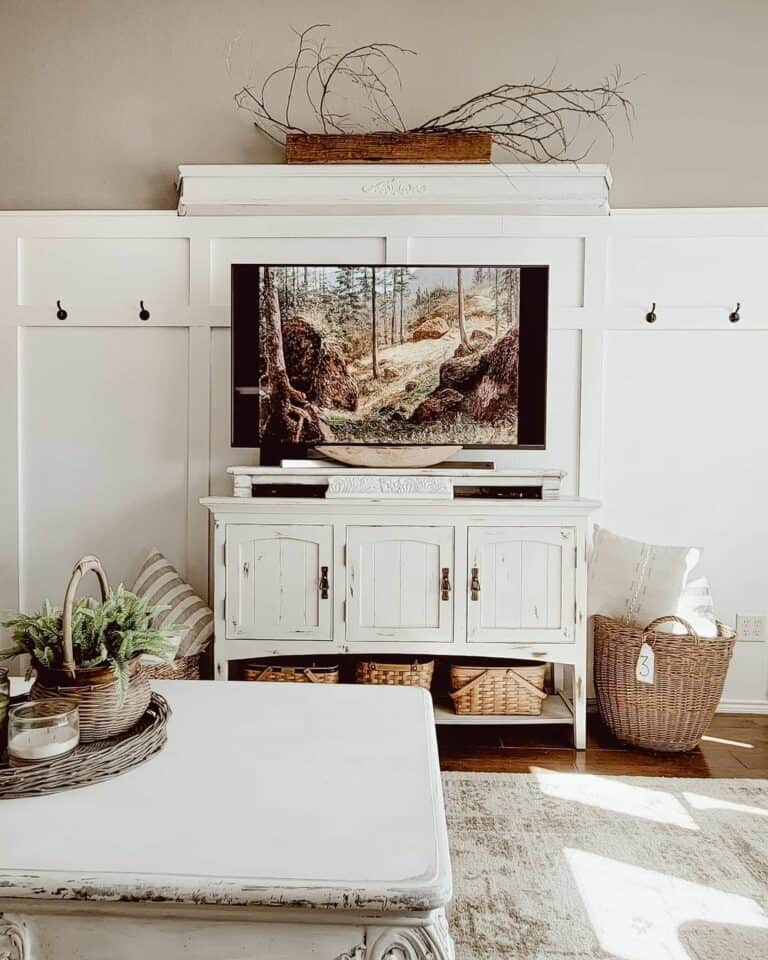 Credit: lambertcottage
Shop the Style
Cozy Pastel Retreat for Your Living Room
Design a serene and inviting living room by embracing a soothing pastel color palette. This carefully curated white and beige living room radiates comfort, featuring gentle hues, textured pillows and blankets, and intricate floral patterns. You can replicate this warm and welcoming ambiance in your own space by combining white and wood furniture, layering them with a variety of textured throws.
To infuse a touch of style, enhance the overall atmosphere with decorative baskets filled with carefully chosen accessories and elegant metallic planters.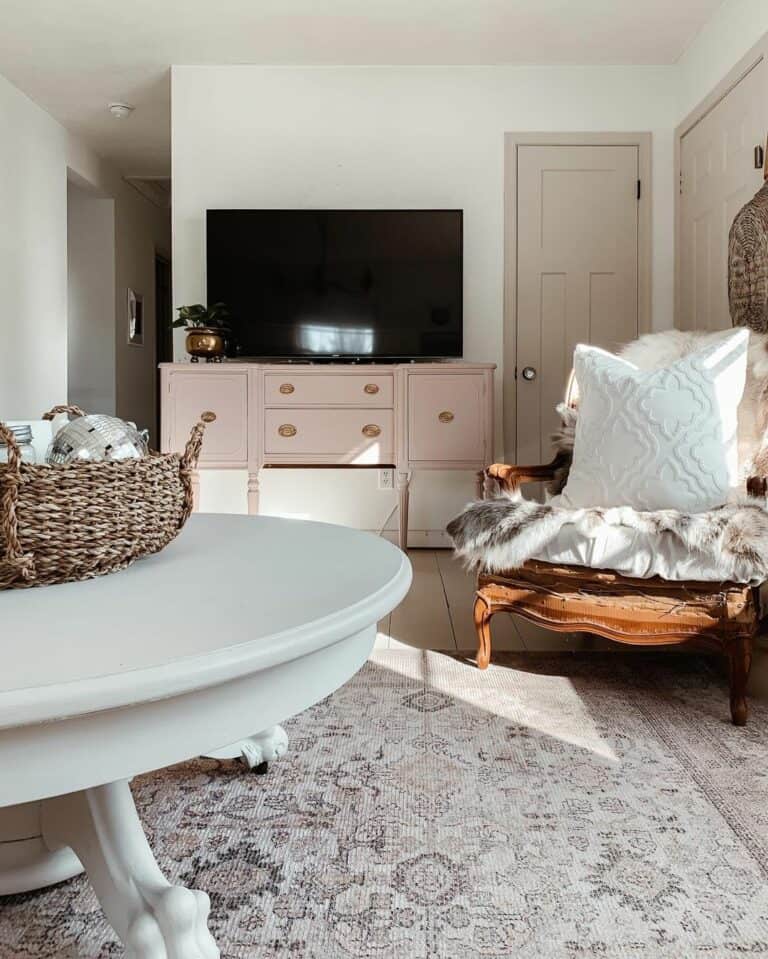 Credit: margaretashleighh
Shop the Style
Bohemian Bliss in Your Living Room
Transform your living room into a vibrant oasis of bohemian charm and a kaleidoscope of colors. The focal point is a captivating display of diverse wall baskets positioned above a pristine white fireplace, effortlessly converting it into an eclectic entertainment center with a TV and clusters of pristine white candles.
An eye-catching blanket ladder proudly exhibits an inviting orange blanket, introducing both color and texture to the area. Bring this lively aesthetic to life within your own home by incorporating a spirited rug, lush potted plants, and sumptuously textured blankets.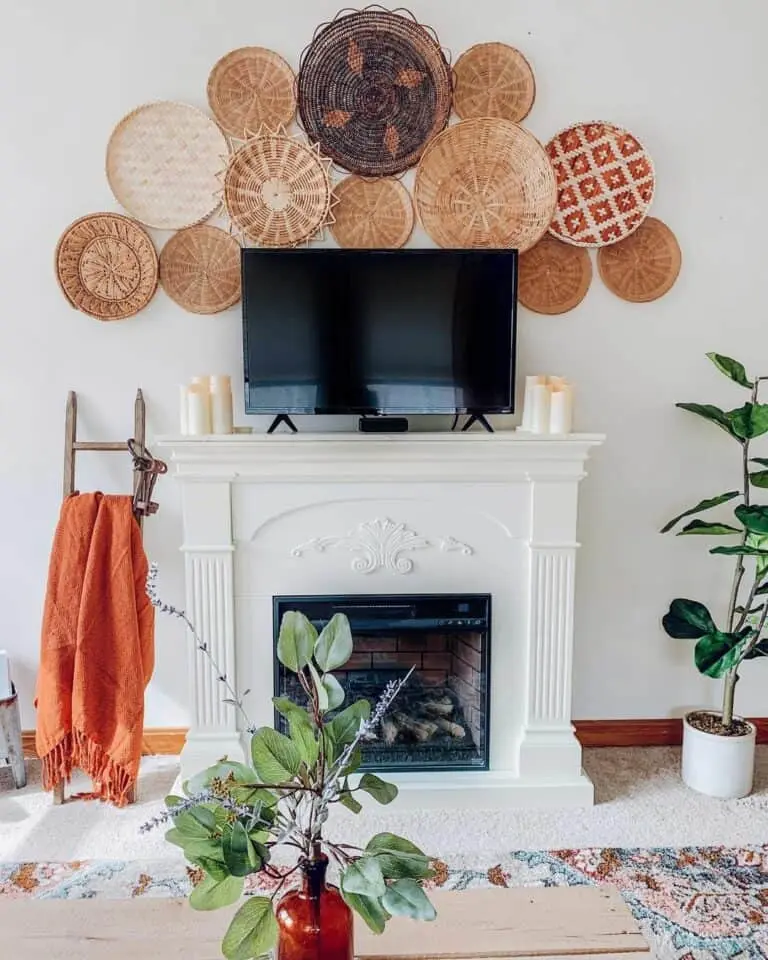 Credit: athomewitherin
Shop the Style
Wrap-up
Your farmhouse living room deserves an entertainment center that not only serves its purpose but also adds character and style to the space. With these seven flexible designs, you can transform your living room into a cozy and inviting haven where you can relax, entertain, and create lasting memories.
Whether you opt for a rustic farmhouse look or a more modern design, these ideas offer versatility and functionality that will make your entertainment center a focal point of charm and appeal.