7+ TV Accent Wall Inspirations for a Classy Farmhouse Living Room
Affiliate Disclosure: As an Amazon Associate we earn from qualifying purchases. Hence, if you click through and make a purchase, we will get a commission at no extra cost to you. For more info, read our full disclosure.
Welcome to our blog, where we're about to embark on a journey through the charm and elegance of farmhouse-inspired living room designs. In this post, we'll be showcasing seven-plus TV accent wall inspirations that will add a touch of class to your farmhouse-style living space.
Whether you're a fan of rustic stone, cozy shiplap, or coastal accents, we've got the farmhouse TV wall ideas that will transform your living room into a haven of timeless style and comfort.
A Rustic Stone Accent Wall with TV and Fireplace
This inviting lounge is dominated by a rustic stone TV accent wall that steals the spotlight. The space is adorned with wooden decor elements like a cozy blanket ladder and oversized beads, creating a warm and inviting atmosphere. A wooden coffee table and wicker armchair sit atop a large beige rug, completing the rustic charm.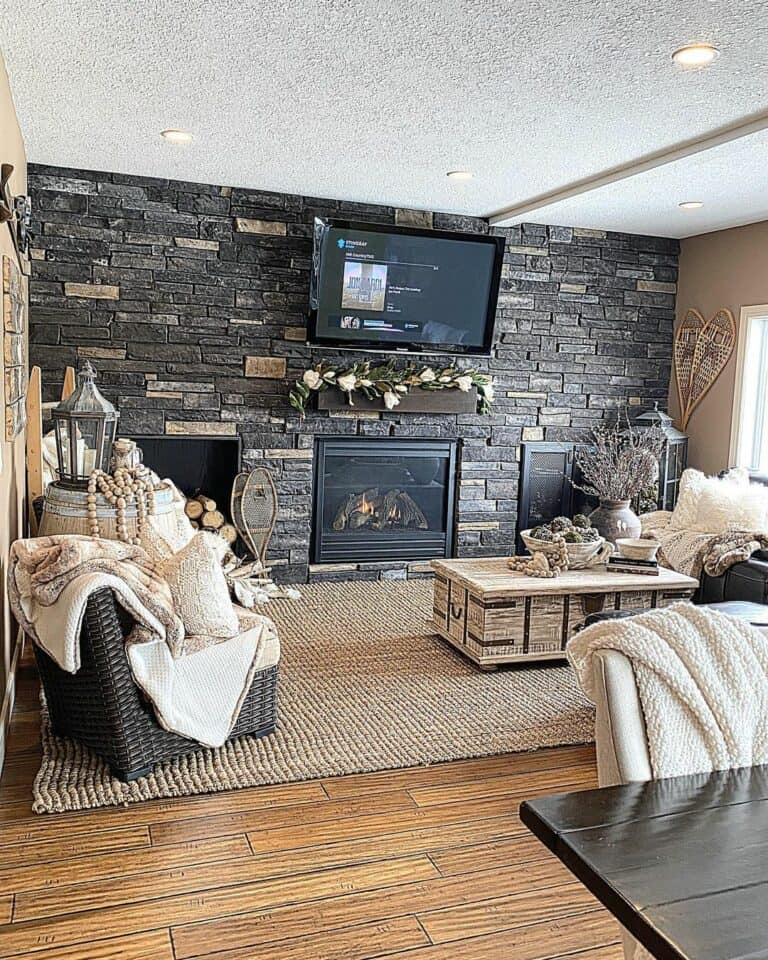 Credit: the.executive.way
Shop the Style
Natural Living Room Featuring a Nature-Inspired TV Feature Wall
Step into this living room where a TV wall with white cabinets beautifully contrasts with the wooden shiplap feature wall. The room exudes a natural ambiance, featuring a black sofa, a plush white tasseled rug, and a bench accompanied by a large potted plant.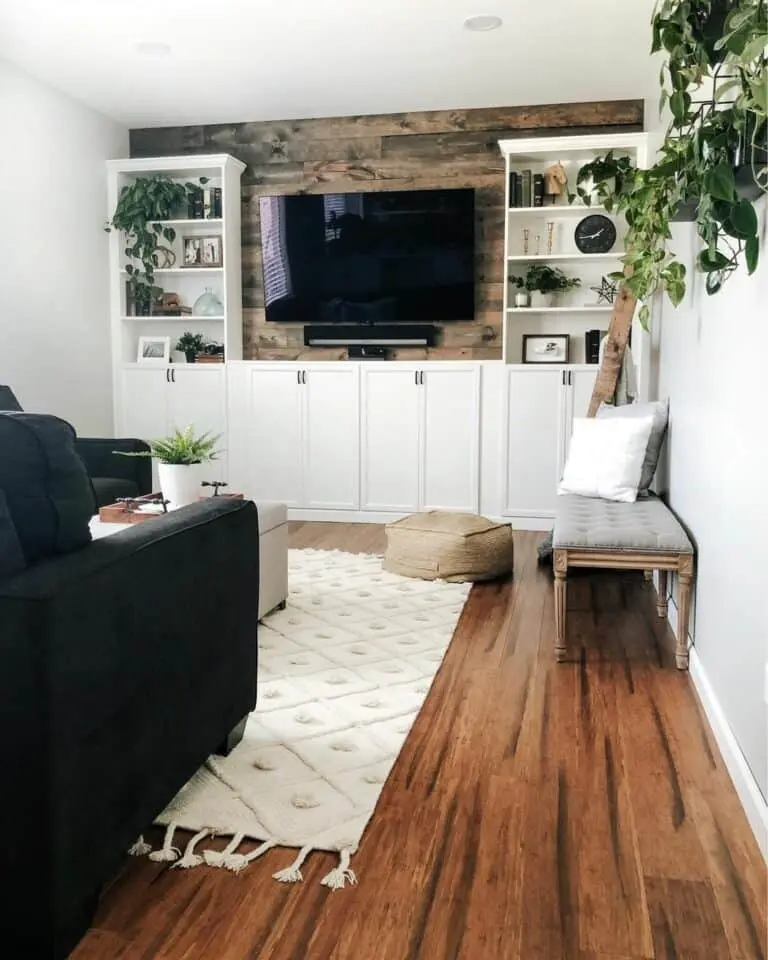 Credit: sammyonstate
Shop the Style
Coastal Farmhouse Décor in a Living Room Setting
Immerse yourself in the coastal-inspired ambiance of this living room. The focal point is a TV mounted on an accent gray brick wall. A sage green media console table is thoughtfully adorned with greenery, candles, and a lamp, adding a touch of serenity. A plush gray sectional sofa provides comfort on a textured gray rug, complemented by the warmth of wooden flooring.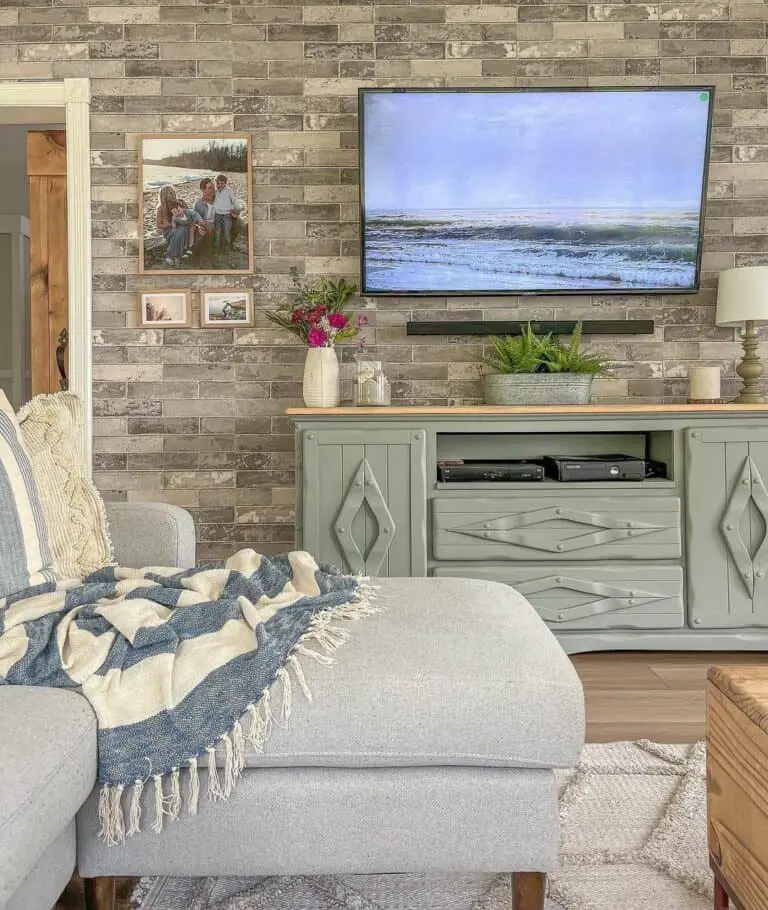 Credit: homesweetlakehouse
Shop the Style
Cozy Rustic Lounge with Gray and White Farmhouse Accents
Step into the cozy embrace of this rustic lounge, where a striking gray TV accent wall takes center stage. The wall's modern farmhouse decor blends seamlessly with the pristine white console table. A comfortable white sofa invites you to relax on glossy wooden flooring, while a nearby white display cabinet adds to the room's charm.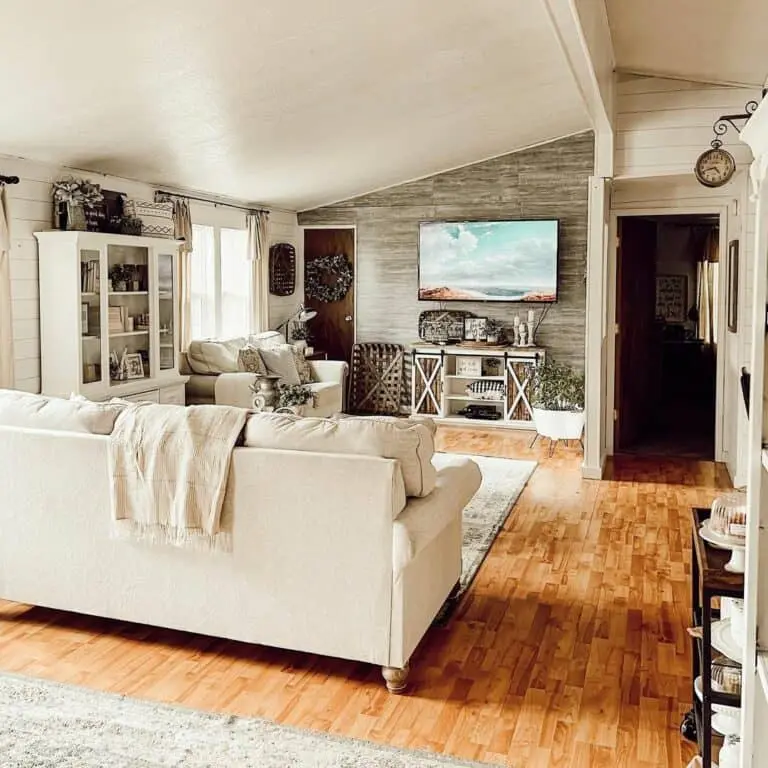 Credit: theturquoisefarmhouse
Shop the Style
Traditional Christmas Décor and a Brick Fireplace Wall
Experience the enchanting holiday ambiance in this rustic lounge with a charming shiplap ceiling. Traditional Christmas decor takes the spotlight, with an exposed brick accent wall serving as the canvas. Above a wooden mantel adorned with stockings and garlands, a TV creates a focal point. Vintage skates and lanterns enhance the festive charm.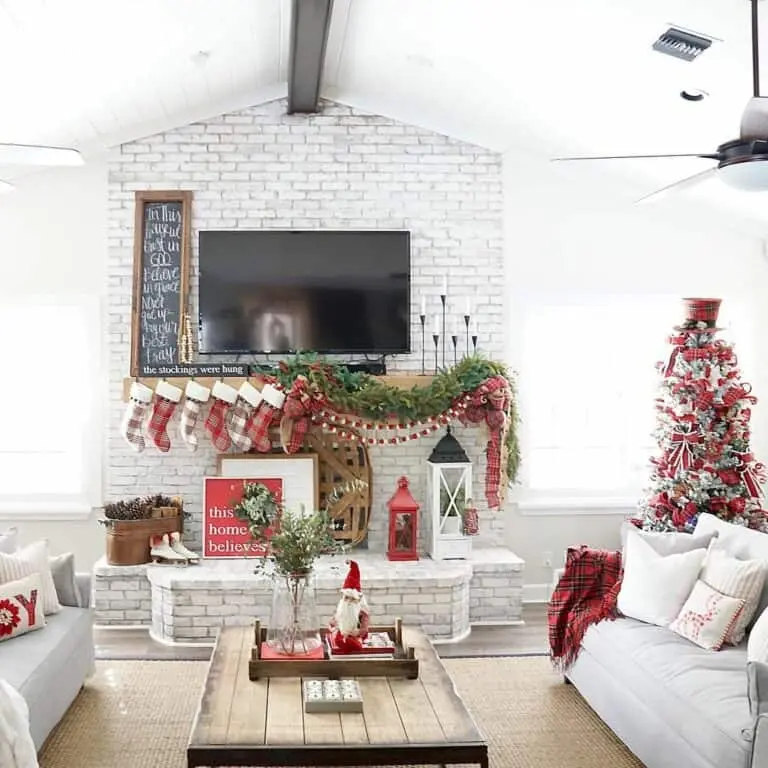 Credit: redesignedspace
Shop the Style
Navy and White Modern Lounge
Step into this modern lounge exuding sophistication. A captivating black chandelier hangs above a sleek black metal and glass coffee table, set atop a generously sized patterned rug. A dark gray console table is an artful display for contemporary decorations, standing adjacent to a navy accent wall that houses a TV and tastefully framed art prints.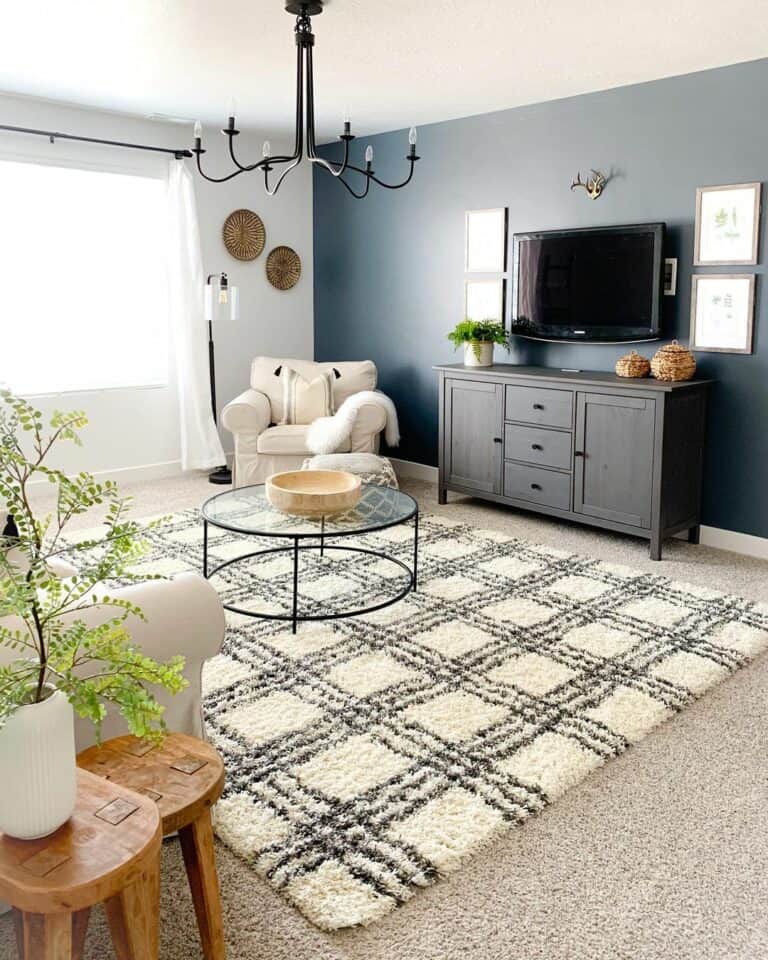 Credit: thefontaineflat
Shop the Style
Stylish Christmas Décor for a Modern Lounge
Immerse yourself in the enchantment of the season within this pristine white lounge featuring a striking dark accent wall. Elegance abounds as a TV is tastefully mounted above an ornate console table, artfully adorned with festive ornaments and woven baskets. Further enhancing the holiday spirit, additional Christmas-themed items are thoughtfully arranged on a woven tray atop a round wooden coffee table.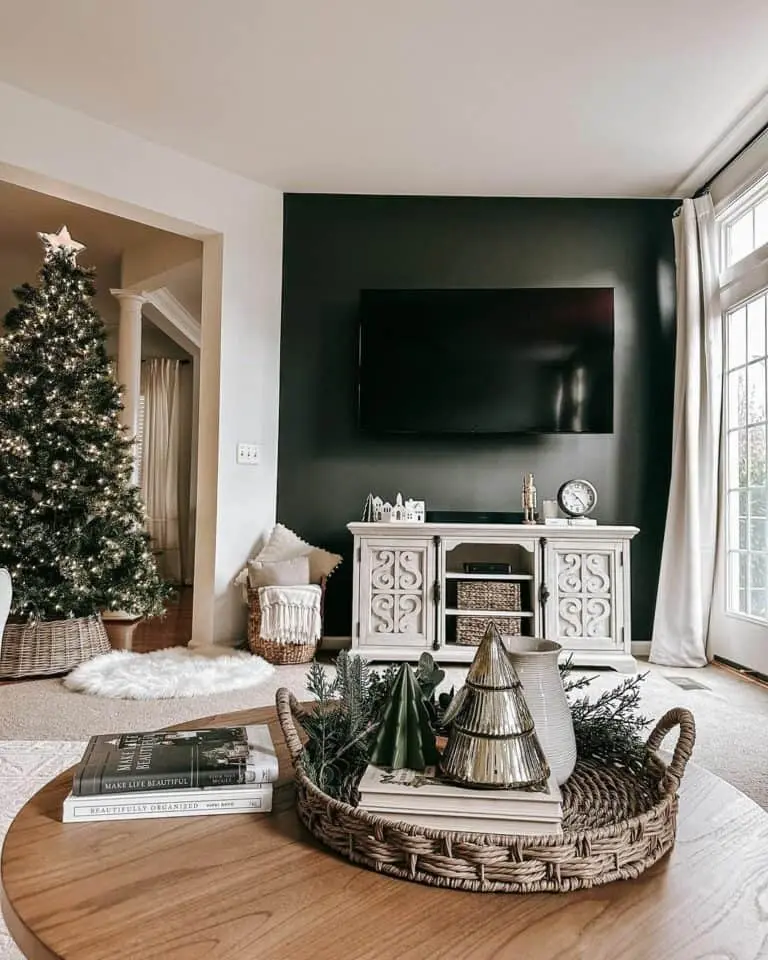 Credit: housebyjulieann
Shop the Style
Open Wooden Shelving Ideas and Stylish TV Wall
Discover inventive wooden shelving concepts harmonized with contemporary decor, all encircling a captivating black shiplap TV and fireplace accent wall. Adding a touch of practicality and style, a black round coffee table serves as the centerpiece, bridging the gap between a cozy beige sofa and an effortlessly chic pale brown armchair in this inviting lounge.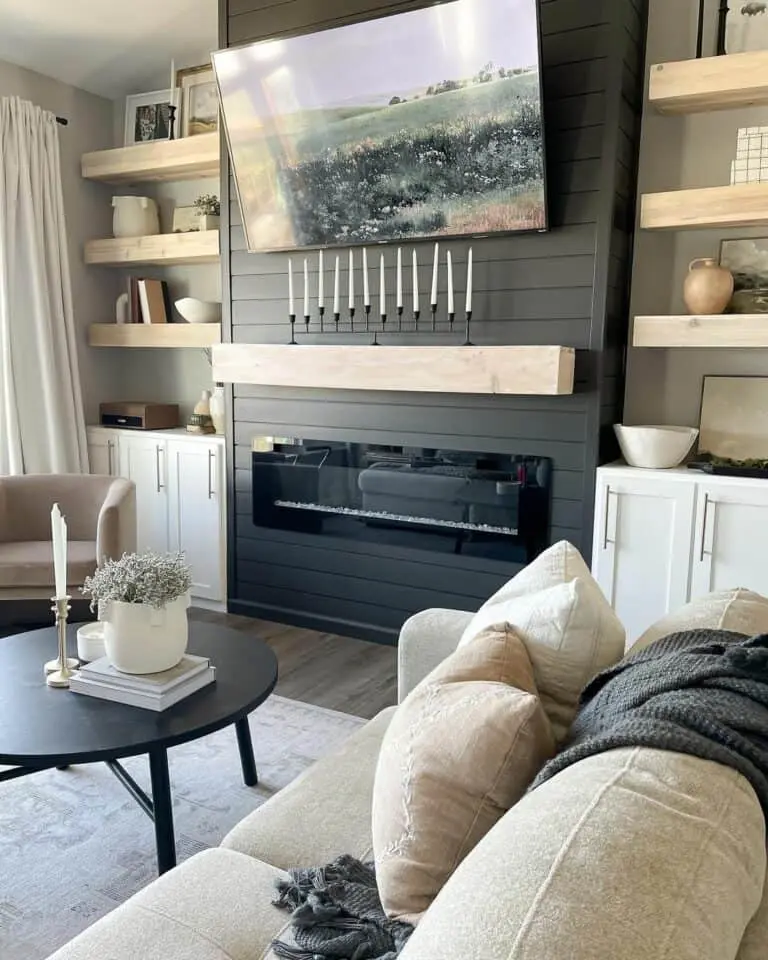 Credit: justanotherwhitehouse
Shop the Style
Wrap-up
Incorporating farmhouse elements into your living room design can bring a sense of warmth and sophistication to your home. With the TV accent wall inspirations we've shared, you have the tools to create a classy farmhouse living room that reflects your unique style.
Whether you opt for the rustic allure of stone, the cozy appeal of shiplap, or the coastal charm of beach-inspired decor, your living room can become a welcoming retreat that combines classic aesthetics with modern comfort.
We hope these ideas have sparked your creativity and inspired you to embark on your farmhouse living room transformation.