7+ Tasteful Furniture Ideas to Complement Dark Wood Floors in Your Farmhouse Living Room
Affiliate Disclosure: As an Amazon Associate we earn from qualifying purchases. Hence, if you click through and make a purchase, we will get a commission at no extra cost to you. For more info, read our full disclosure.
Welcome to the world of farmhouse living room design where rustic charm meets elegance. In this blog, we'll explore seven tasteful furniture ideas that harmonize beautifully with the timeless allure of dark wood floors. These handpicked suggestions will help you create a warm, inviting, and stylish space, perfectly suited to your farmhouse aesthetic.
White Furniture and Dark Wood Flooring Complement
Elevate your interior design game by exploring the seamless blend of white furniture with rich, dark wood floors. In this inviting setting, a pristine white slipcovered couch and armchair take center stage, artfully arranged in front of a faux dark wood fireplace mantel. For a touch of rustic allure, introduce a weathered gray trunk coffee table right in front of the sofa.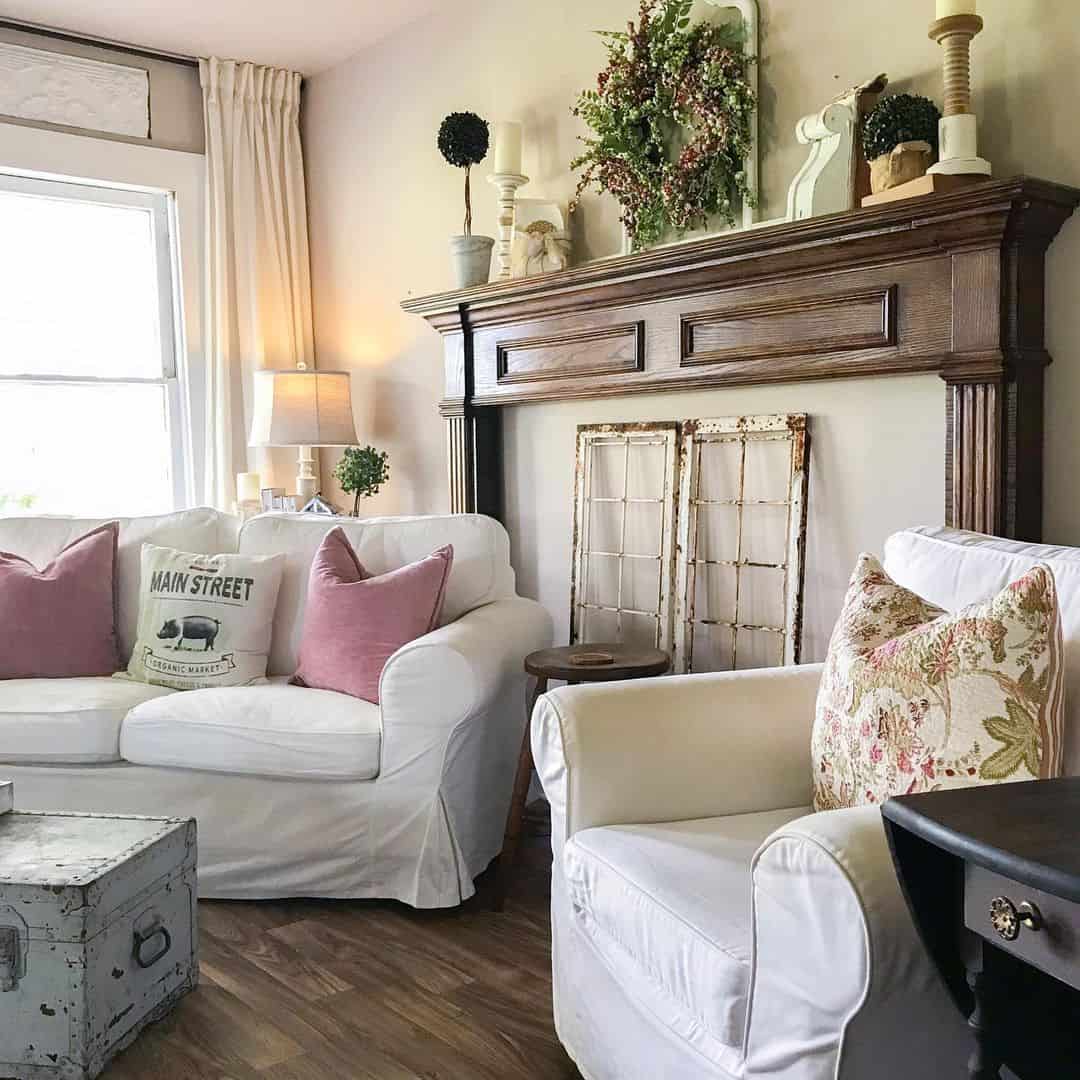 Credit: cindy.countyroad407
Shop the Look
A Living Room Featuring a Gray Couch on Wood Floors
Step into a realm of relaxation within this living room adorned with a sleek gray couch gracefully positioned atop polished wooden flooring. Accompanying this centerpiece are a finely stained wood cabinet and a sophisticated black wood sofa table, perfectly harmonizing with the couch. To balance the room's aesthetics, consider a dark wood entertainment center placed opposite the couch.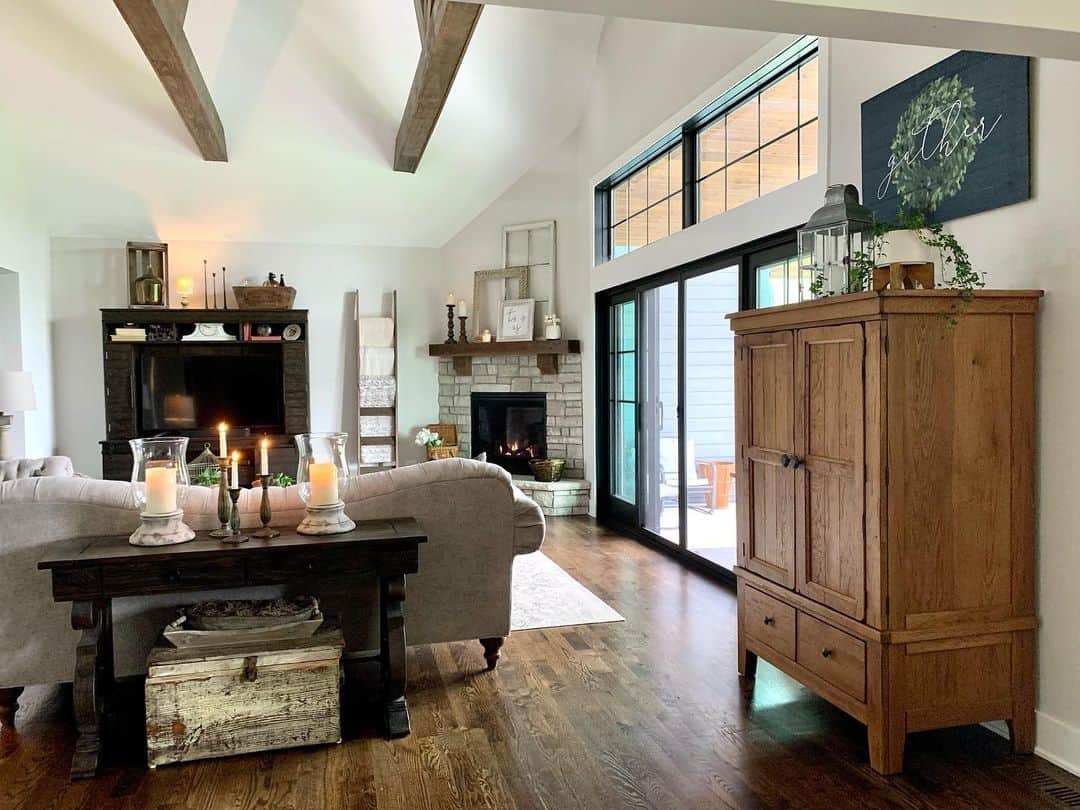 Credit: houseatwhitetailridge
Shop the Look
A Beige Chaise Lounge Sofa in the Living Room
Unwind and bask in the ambiance of a spacious living room featuring a luxurious beige chaise lounge sectional, elegantly perched upon a backdrop of exquisite dark wood flooring. The sectional's focal point is a classic white subway tile fireplace nestled within a white shiplap wall. To accentuate the room's character, crown the dark floors with a tasteful dark wood mantel mounted just above the fireplace.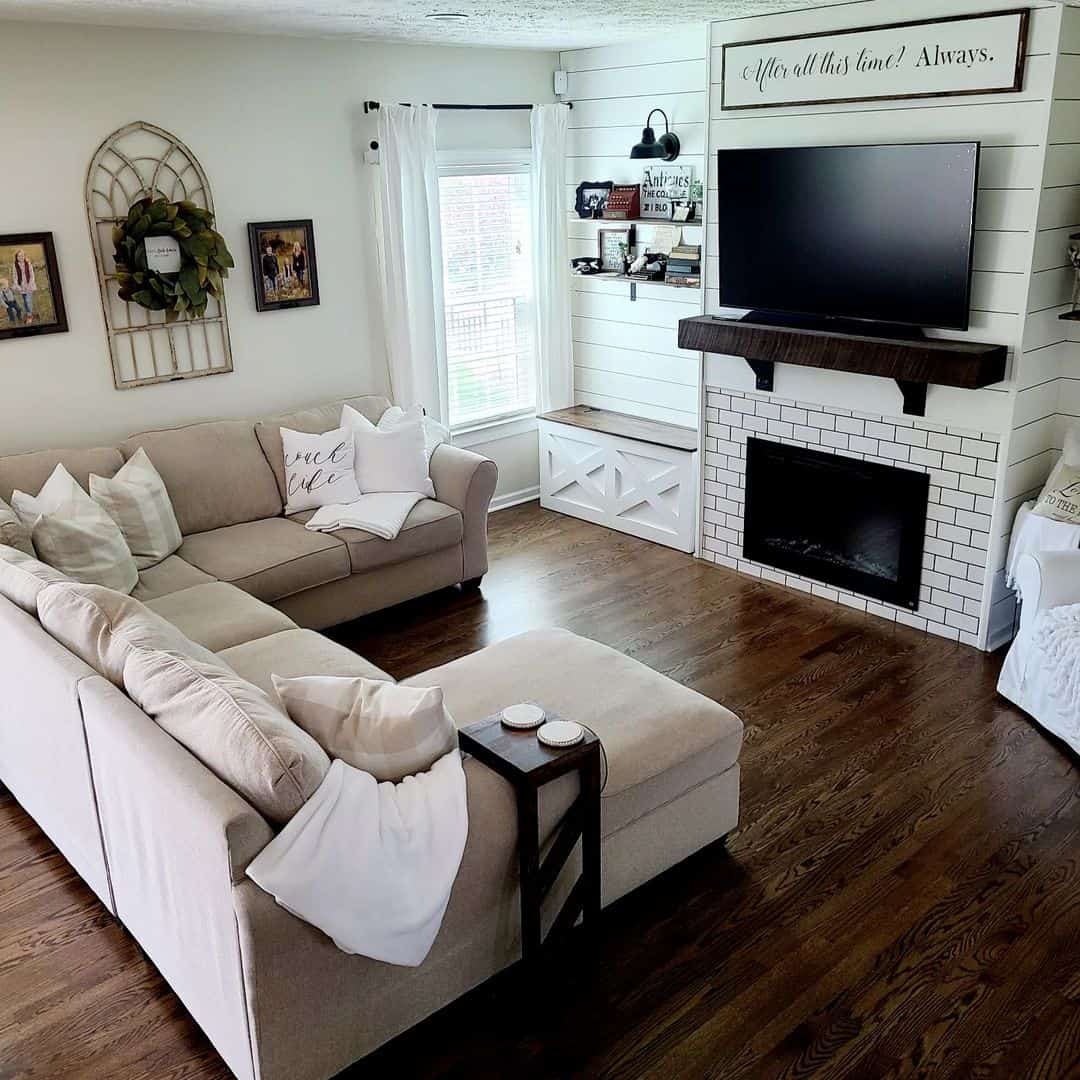 Credit: blessedfarmhouselovingmama
Shop the Look
Beige Furniture Paired with Dark Wood Flooring
Sink into the lap of comfort with a welcoming beige studded sofa that finds its perfect companion in these dark wood floors. The sofa is thoughtfully arranged in front of a rustic wooden cube shelf adorned with vintage frame mirrors, allowing your unique personality to shine through the display. Enliven the space by adorning the shelves with an array of white decor accents.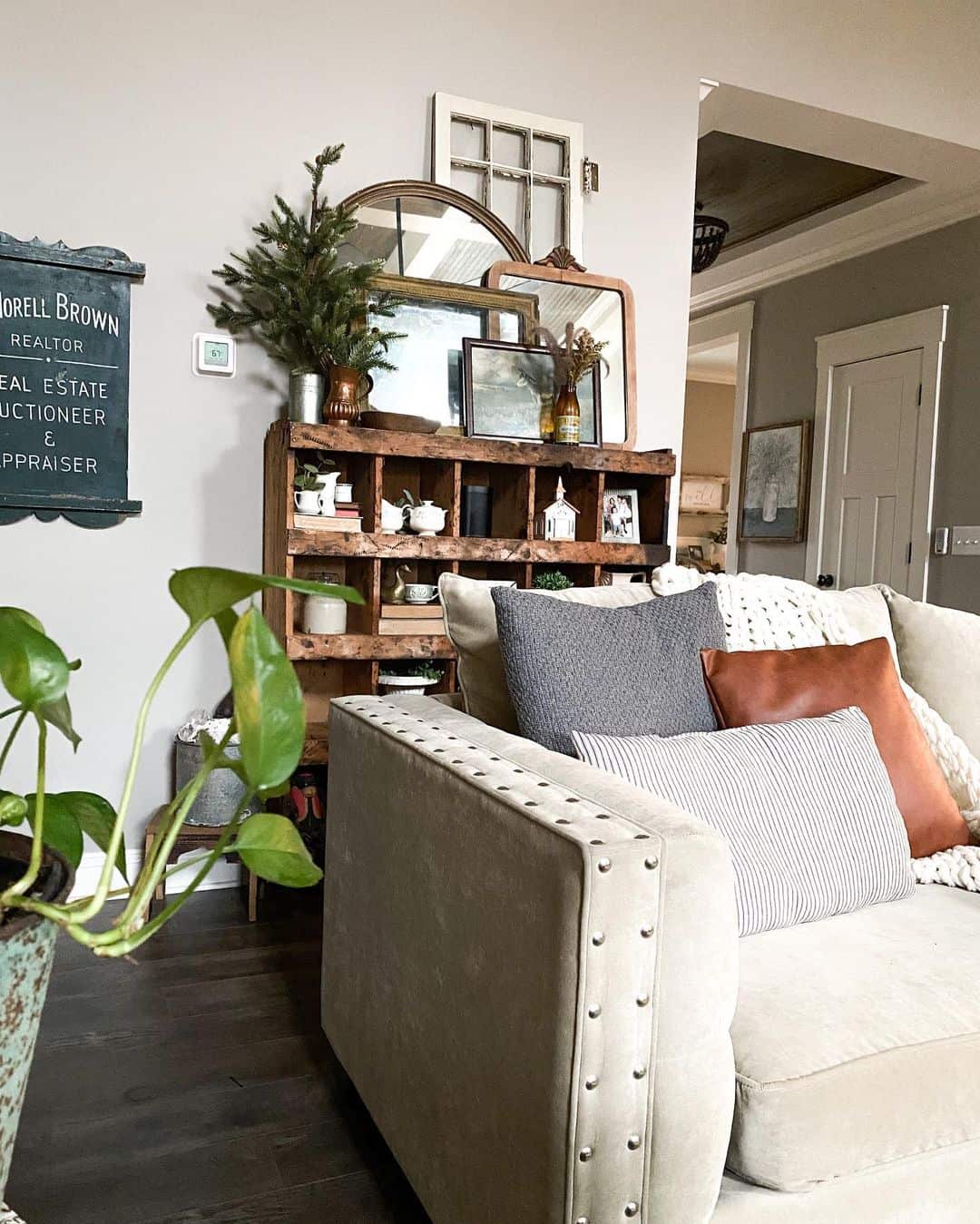 Credit: maple.and.dickerson
Shop the Look
Living Room with a Two-toned Dark Wood End Table
This stylish gray living room showcases the timeless affinity between beige upholstered furniture and dark wood floors. A tastefully designed two-toned stained wood end table rests gracefully between the seating, adding character to the room. Welcome ample natural light into your space with the inclusion of white-framed windows dressed in bamboo Roman shades and complemented by flowing beige drapes.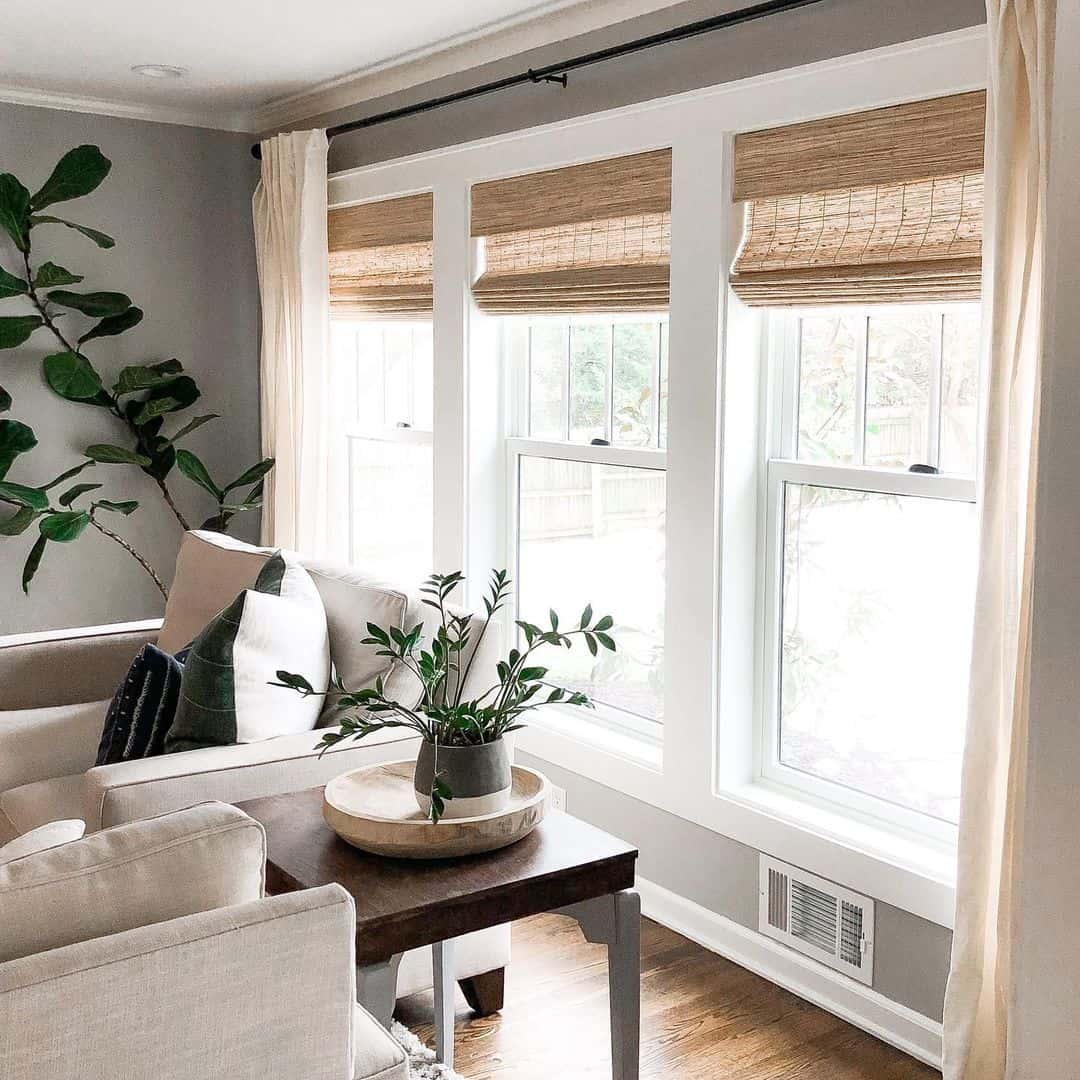 Credit: mindfullygray
Shop the Look
Dark Wood Floors and Gray Living Room Furniture
Embark on an elegant journey up two-toned stairs leading to a living room featuring a plush gray couch as its centerpiece. This inviting couch rests comfortably on dark wood floors, facing a stylish gray plaid ottoman coffee table. To enhance the room's aesthetics, incorporate a light wood media cabinet positioned beneath a sleek flat panel TV.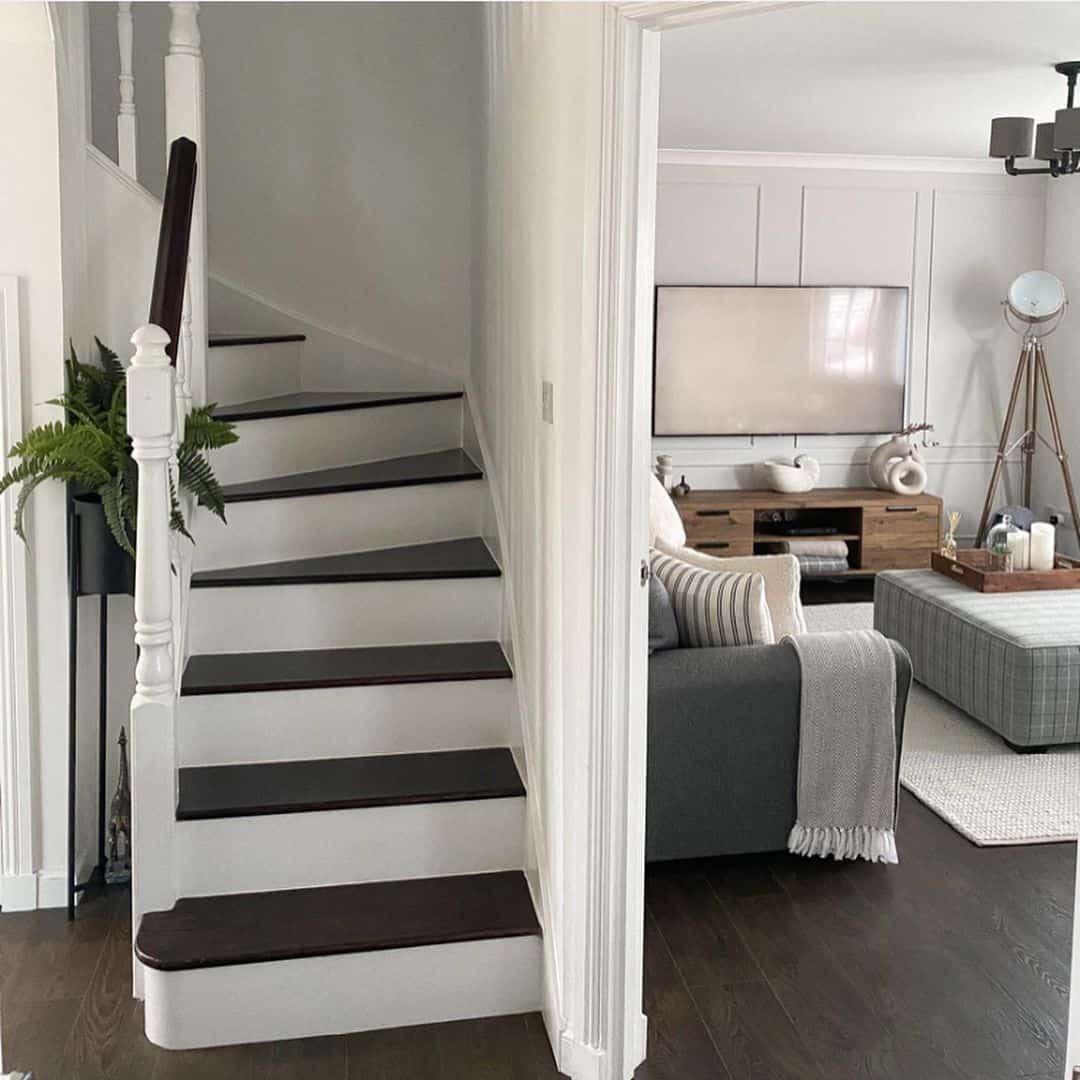 Credit: wrightathomescotland
Shop the Look
Dark Wood Furniture in Harmony with Dark Wood Floors
Witness the enchanting synergy of dark wood furniture against a backdrop of dark wood flooring. A beautifully dark-stained wood bookshelf proudly stands against a white shiplap feature wall, accented by charming wooden trunk decor. Keep the room bright and airy with the addition of a white slipcovered couch.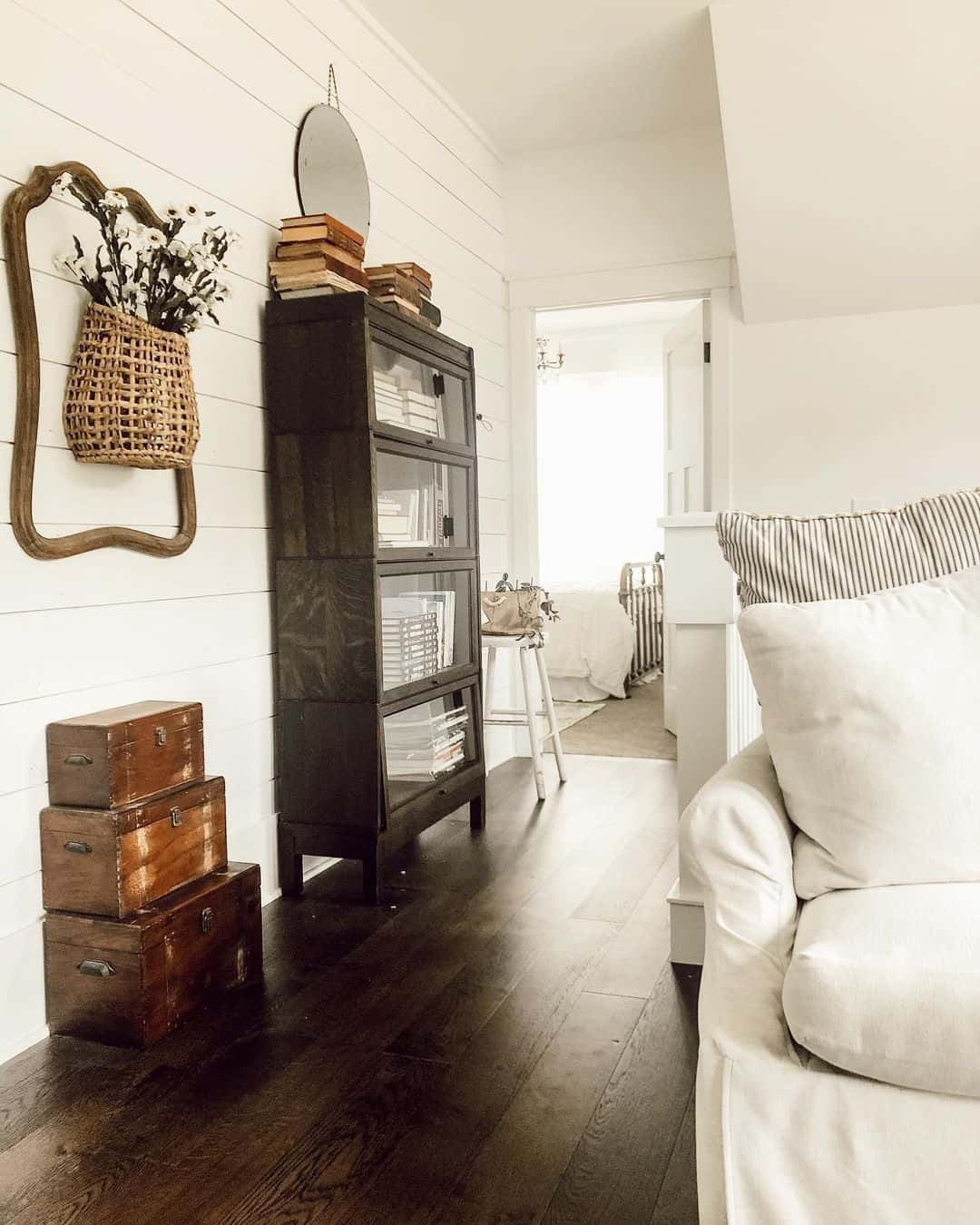 Credit: houseonvalleyroad
Shop the Look
White Corner Chair Placed on Dark Wood Flooring
Indulge in your reading nook, nestled within a cozy white and wood corner chair resting on dark stained wood flooring. The chair is elegantly arranged in front of a wooden piano, situated behind a white dining table. Infuse a touch of warmth by placing a soft beige braided area rug at the feet of the chair.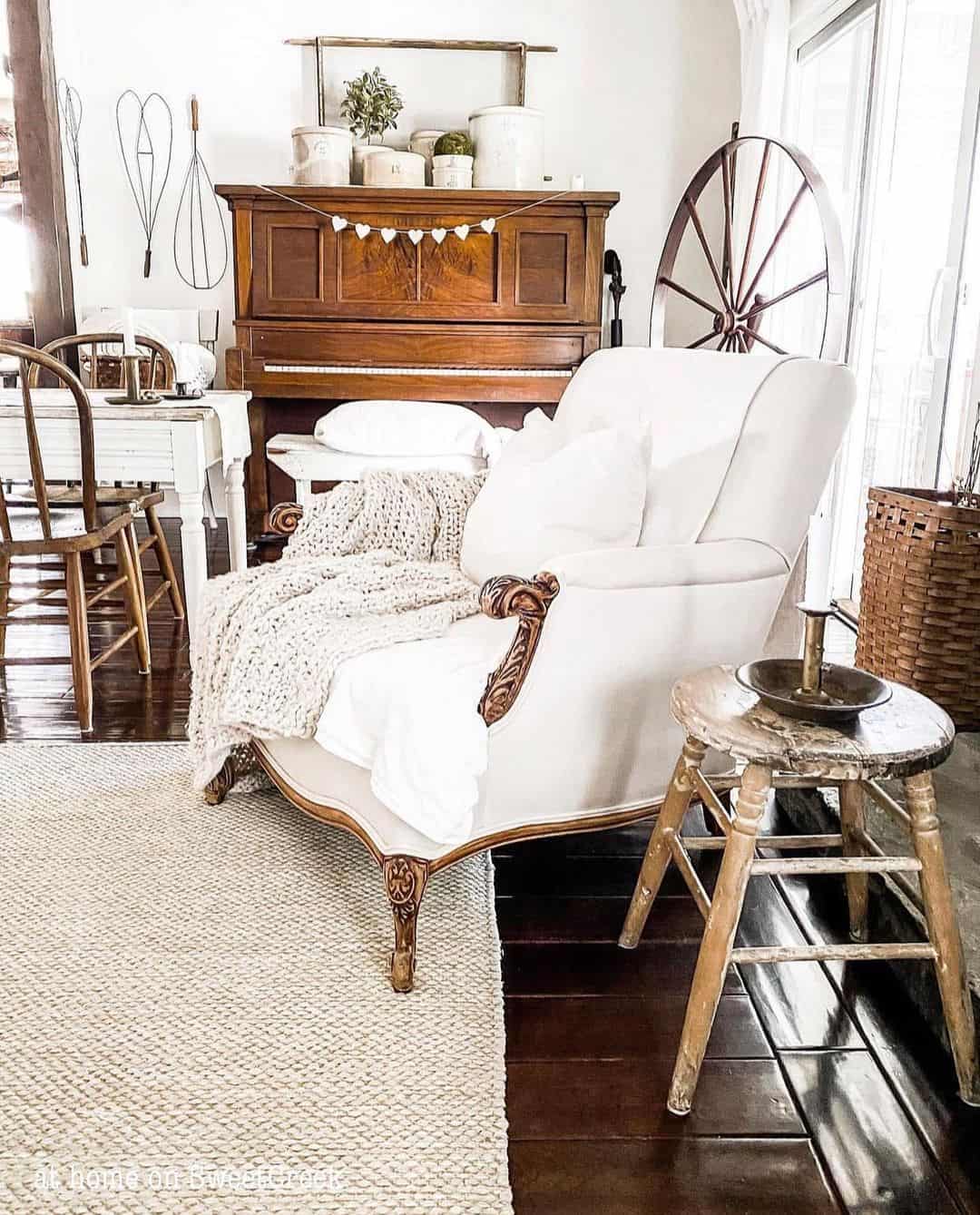 Credit: athomeonsweetcreek
Shop the Look
Wrap-up
Incorporating the right furniture into your farmhouse living room with dark wood floors can make all the difference in transforming your space into a cozy, yet chic, haven. These seven furniture ideas provide a perfect blend of functionality and aesthetics, elevating the overall ambiance of your farmhouse living room.
It's time to embrace the warmth and character of dark wood floors and let your furniture choices complete the picture.