7+ Herringbone Gray Tile Ideas to Break Monotony in Your Farmhouse-style Home
Affiliate Disclosure: As an Amazon Associate we earn from qualifying purchases. Hence, if you click through and make a purchase, we will get a commission at no extra cost to you. For more info, read our full disclosure.
When it comes to farmhouse-style home design, the classic white and beige tiles are undeniably charming, but sometimes, a touch of uniqueness is all you need to break the monotony. Herringbone gray tiles offer a fresh perspective, seamlessly blending rustic and contemporary elements.
In this blog, we'll explore seven inspiring ways to incorporate herringbone gray tiles into your farmhouse-style home, infusing character and personality into your living spaces.
Fresh Farmhouse Kitchen Decor Inspiration
Explore the allure of a modern farmhouse kitchen with captivating wooden accents. This beautiful house showcases a perfect blend of style and functionality, featuring checkered stools, wooden planks, and a stunning herringbone backsplash atop the counter.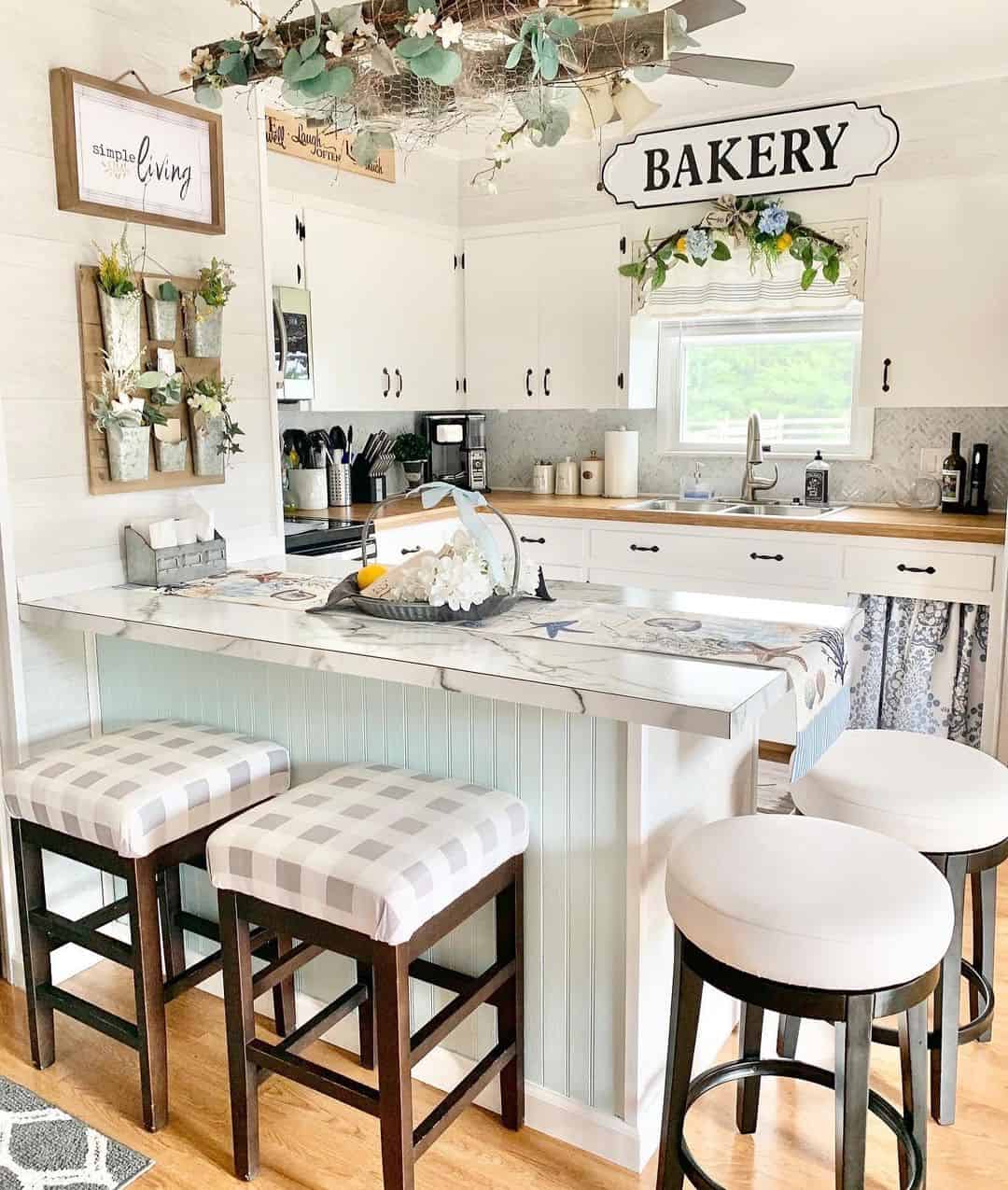 Credit: @theholidayhousedecor
Shop the Look
Elegance of Herringbone Grey Subway Tiles
Admire the sophistication of a dark wood hood vent adorned with farmhouse decor, candlesticks, and white crockery paired with dried flowers. White cabinets grace both sides, framed by a dark gray herringbone subway tile backsplash. Light granite countertops are graced with a metal jug filled with cotton bolls.
Credit: @our_rustic_farmhouse
Shop the Look
Chic Kitchen with Gray Herringbone Tile Backsplash
Step into a kitchen that harmoniously blends rustic charm with modern flair. The gray herringbone tiles used in the backsplash create a captivating visual appeal. Notably, the black tap provides a striking contrast against the oak and white marble tiles, infusing the space with contemporary elegance.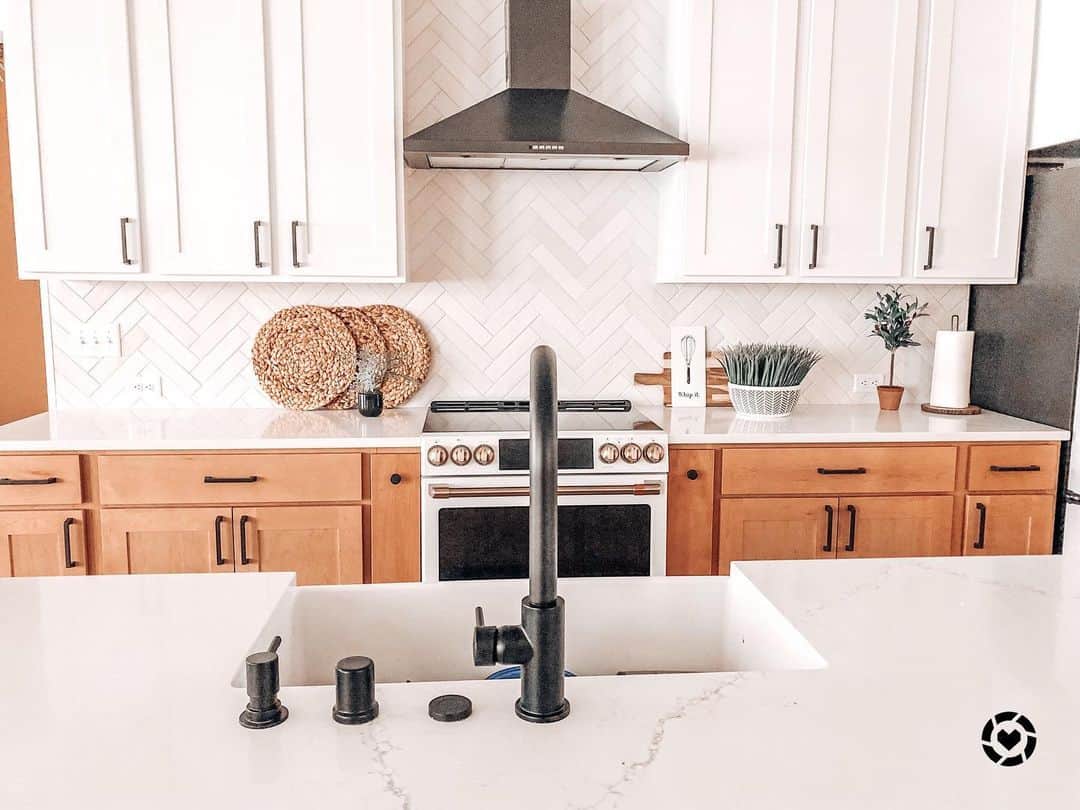 Credit: @mt.hope.farmhouse
Shop the Look
Gray Herringbone Tile Flooring in the Monochromatic Mud Room
Discover a monochromatic haven with white stone walls, open cabinets, and a stylish black-accented chair. The cabinets are thoughtfully adorned with gray boxes, rustic wooden lettering, and lush potted plants. Completing the picture are the gray herringbone floor tiles and a cozy rustic gray rug.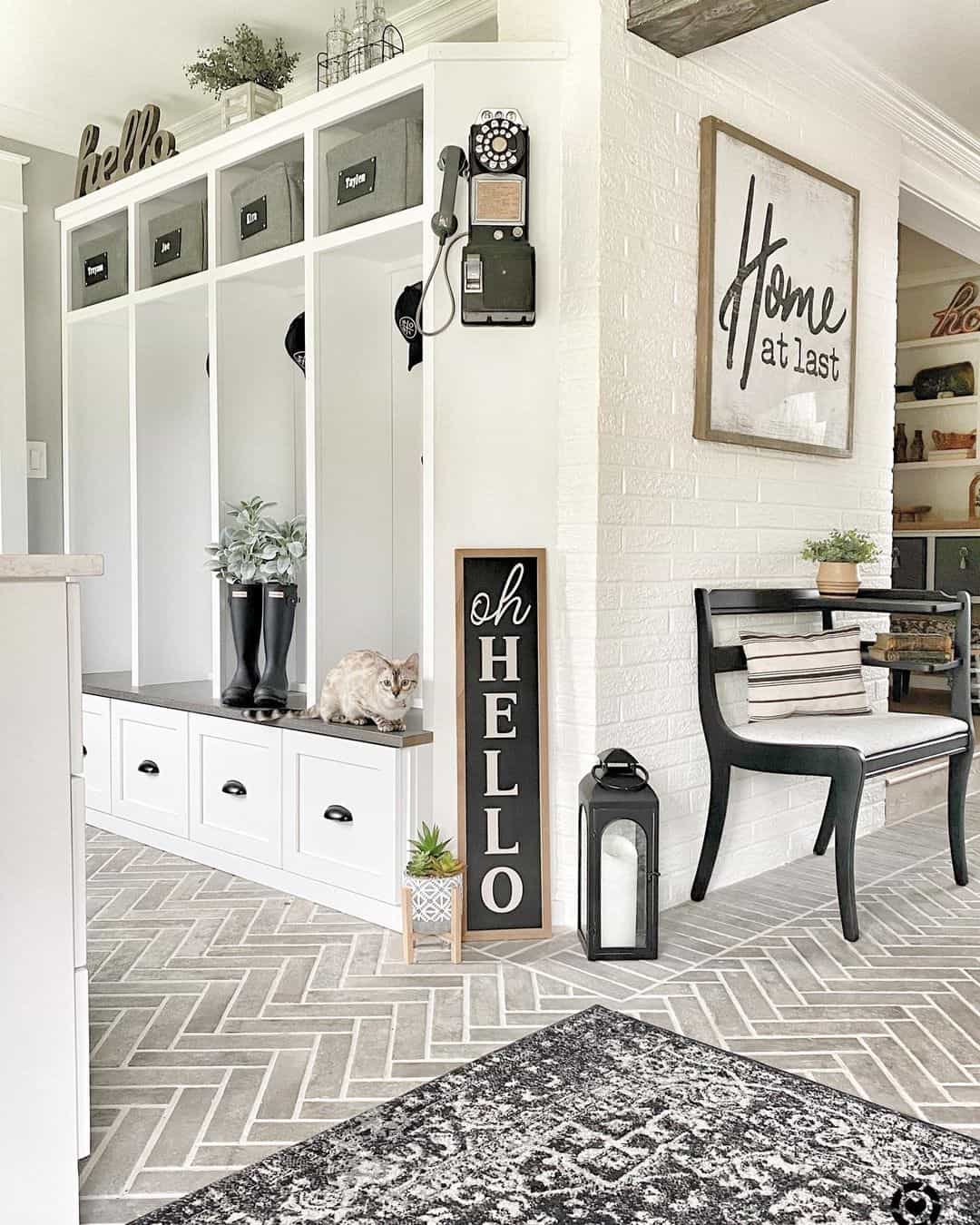 Credit: @kira_turner
Shop the Look
Entryway with Farmhouse Flair
Step into a farmhouse-inspired home with an entryway that exudes warmth and hospitality. The herringbone tile pattern gracing the front sets the stage for a welcoming ambiance. Adorning the pristine white walls are wooden-framed photographs and wall hooks, adding a personal touch to the space.
Credit: @the_little_homesteader
Shop the Look
Timeless Herringbone Pattern in Farmhouse Kitchen
Witness the timeless appeal of a farmhouse kitchen, where stained wood cabinets with white and gray marble countertops perfectly complement a white and gray herringbone pattern backsplash. Adding a dash of character, black letters are mounted to the backsplash tiles above a sleek stainless steel electric range.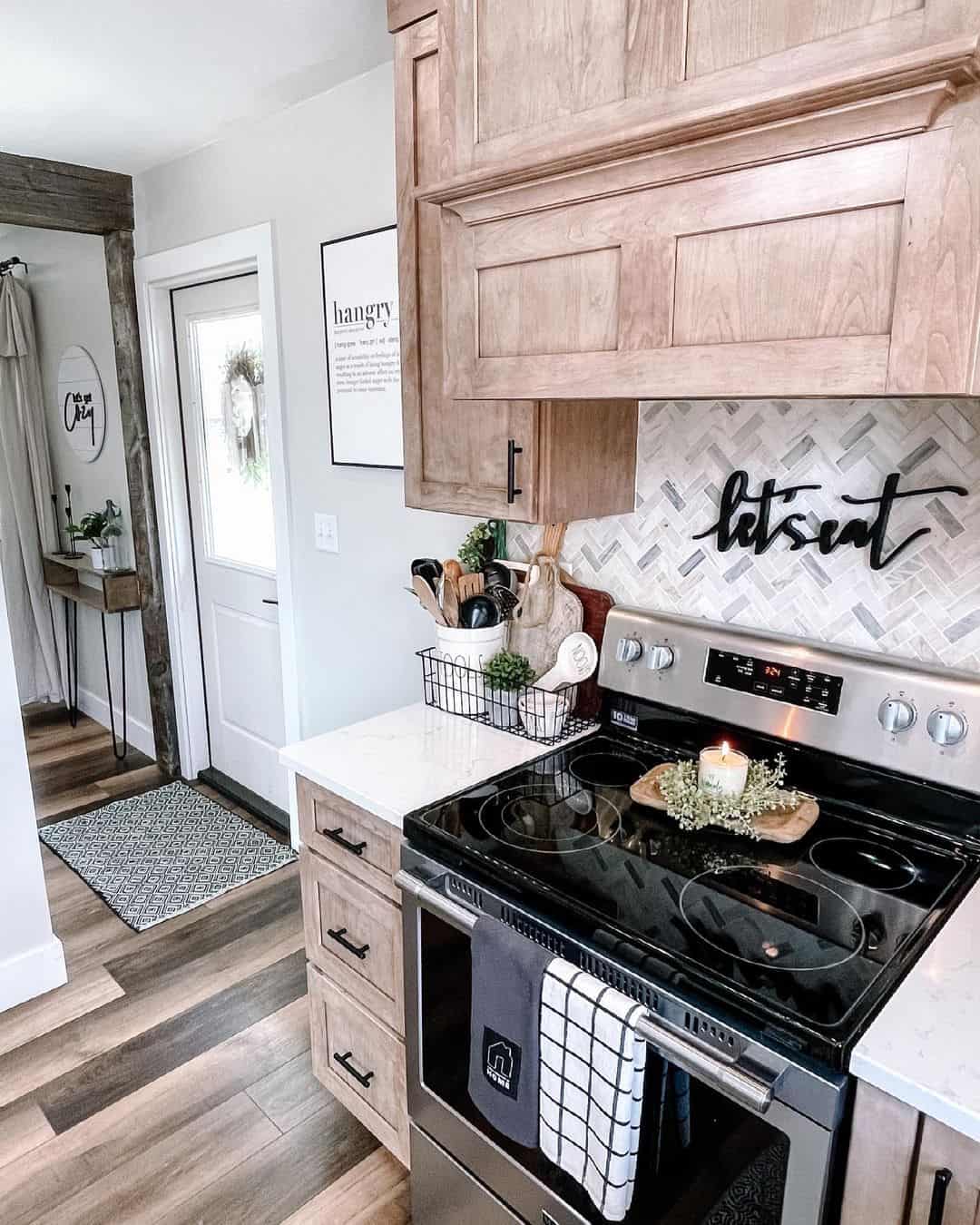 Credit: @littlefarmhouseontaylor
Shop the Look
Natural Wood Door Trimmed with White Lattice
In a charming laundry room, a lattice-framed natural wood door takes the spotlight, accentuated by crisp white trim. The light herringbone tile floor effortlessly harmonizes with modern farmhouse-style gray cabinets and pristine white walls, achieving a perfect balance of form and function.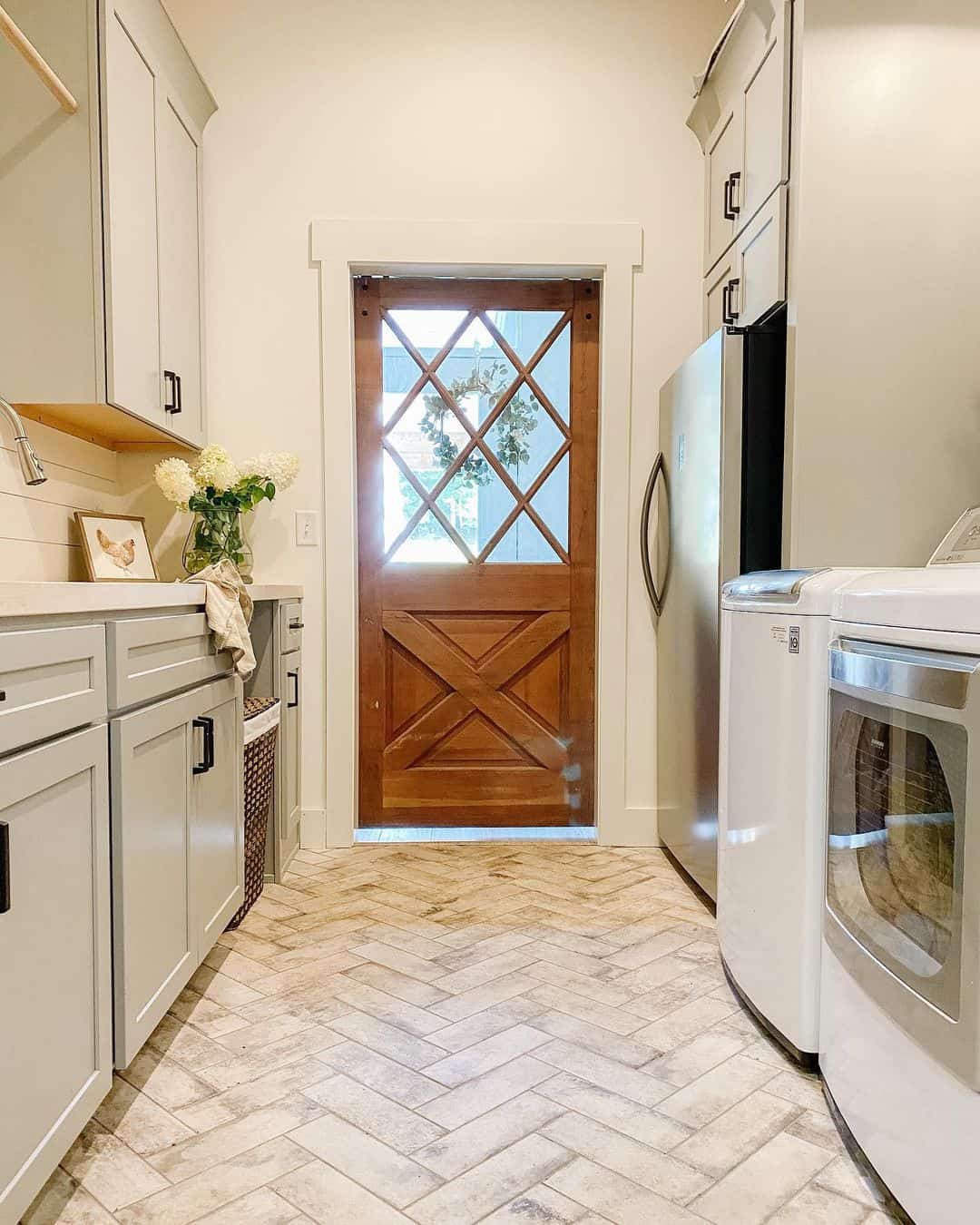 Credit: @sweet_southern_homestead
Shop the Look
Tranquil White Bathroom with Freestanding Tub
Step into a tranquil white bathroom illuminated by abundant natural light. White shiplap walls provide a serene backdrop for a white vanity with a sleek gray countertop. The floor is adorned with large-format gray herringbone tiles, leading to a pristine white freestanding tub, complete with a nickel faucet and shower head. A natural wood stool adds a touch of practicality and elegance.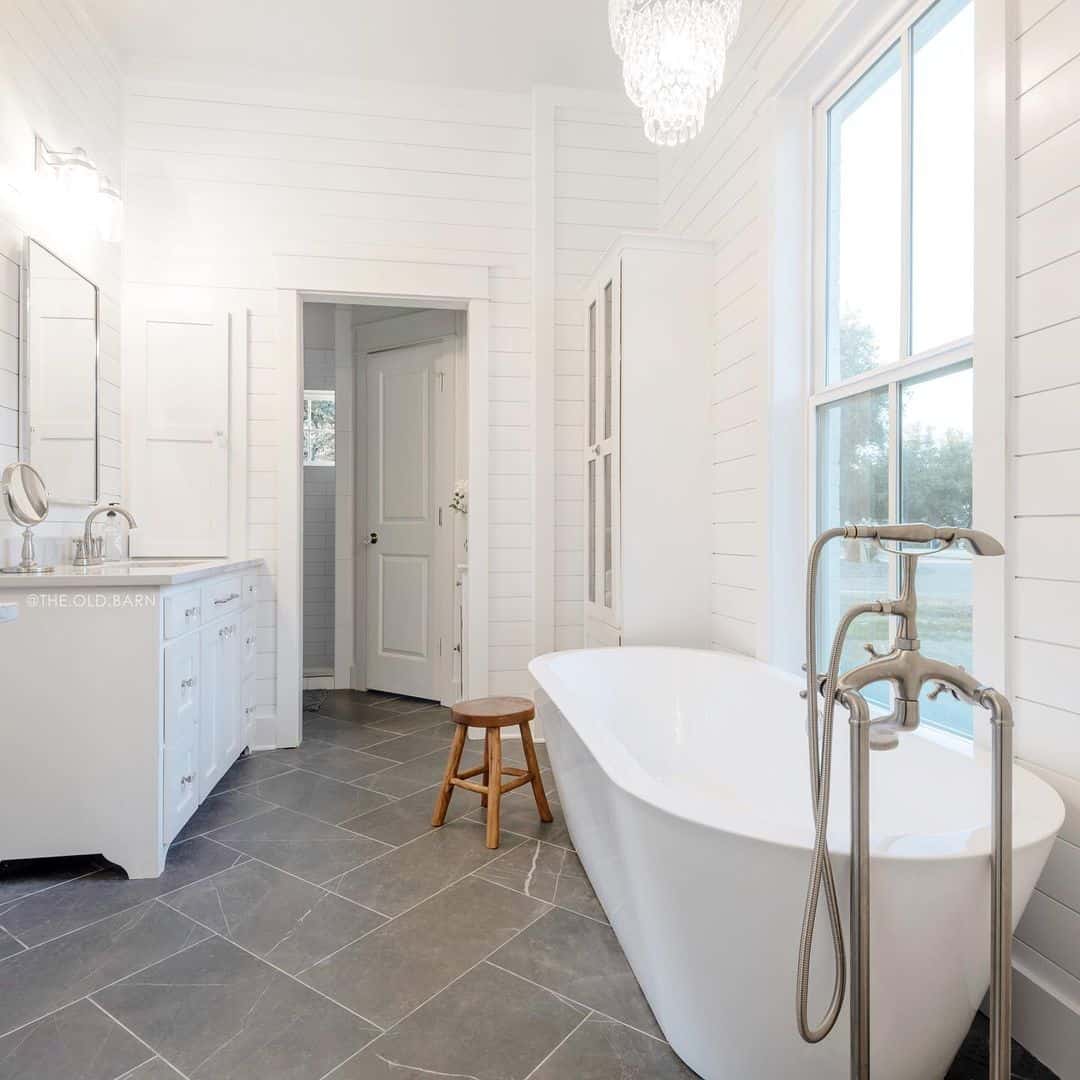 Credit: @the.old.barn
Shop the Look
Wrap-up
In the world of farmhouse-style design, embracing innovation while preserving tradition can result in breathtaking interiors. The herringbone gray tile trend is an exceptional way to infuse your farmhouse home with modern elegance, without compromising on the warmth and coziness that defines this style.
Whether it's your kitchen, bathroom, or any other area, these tile inspirations can help you create a timeless yet unique farmhouse space that exudes character and charm.