7+ Illuminating Farmhouse Kitchen Lighting Ideas to Enlighten Your Space
Affiliate Disclosure: As an Amazon Associate we earn from qualifying purchases. Hence, if you click through and make a purchase, we will get a commission at no extra cost to you. For more info, read our full disclosure.
When it comes to creating a warm and inviting atmosphere in your farmhouse kitchen, the right lighting can make all the difference. Whether you're a fan of modern aesthetics or prefer a more rustic feel, finding the perfect lighting solution can truly enlighten your space.
In this blog, we'll explore seven illuminating farmhouse kitchen lighting ideas that will not only brighten your kitchen but also add a touch of charm and character to your home.
Sophisticated Monochrome Kitchen with a Touch of Gold
Step into a modern farmhouse-inspired kitchen where the timeless combination of black and white takes center stage. Above the stove, a wooden wall-mounted shelf proudly displays an array of kitchenware, adding both functionality and charm to the space. The kitchen is further elevated by exquisite gold-accented pendant lighting, and at the heart of it all stands a breathtaking marbled kitchen island—a masterpiece for both culinary artistry and hosting guests.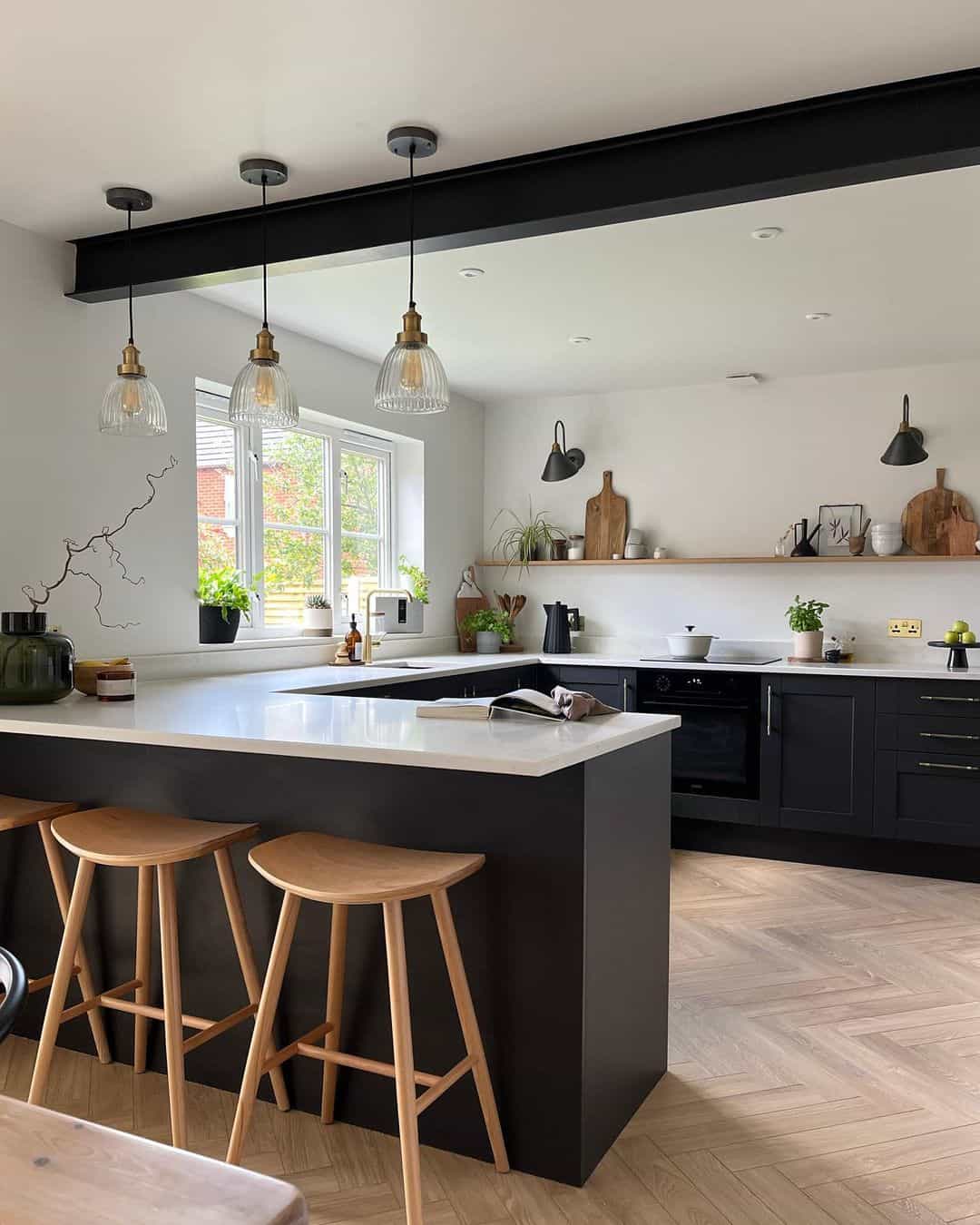 Credit: @athomewiththeraines
Shop the Look
Radiant White Kitchen Island Illuminated by Pendants
Beneath the soft, inviting glow of white pendant lighting, a pristine white kitchen island takes its place. Topped with a gray marble countertop, it gracefully stands on the warm wooden flooring. Above the island, a white hood vent cover, complemented by a wooden border, hovers above a canvas of white subway tiling and upper cabinets. A sliding white barn door adds a touch of rustic elegance.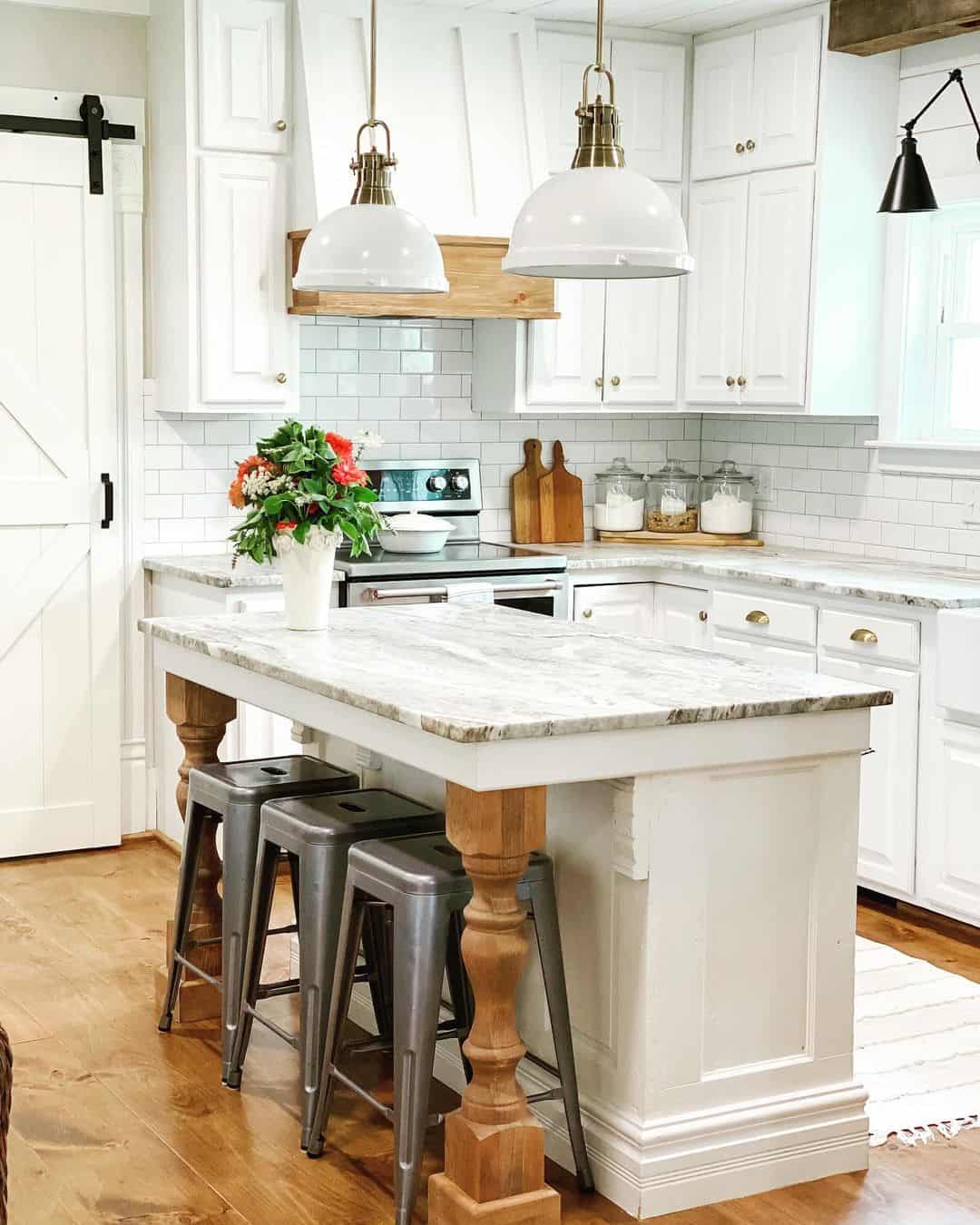 Credit: @delightedwiththedetails
Shop the Look
Elevated Farmhouse Kitchen Decor Inspiration
This farmhouse kitchen exudes modern charm with its pendant lighting that beautifully highlights the elegance of white wooden cupboards and marbled countertops. The addition of wooden bar stools and an antique rug furthers the room's rustic theme, creating a space that's both functional and aesthetically pleasing.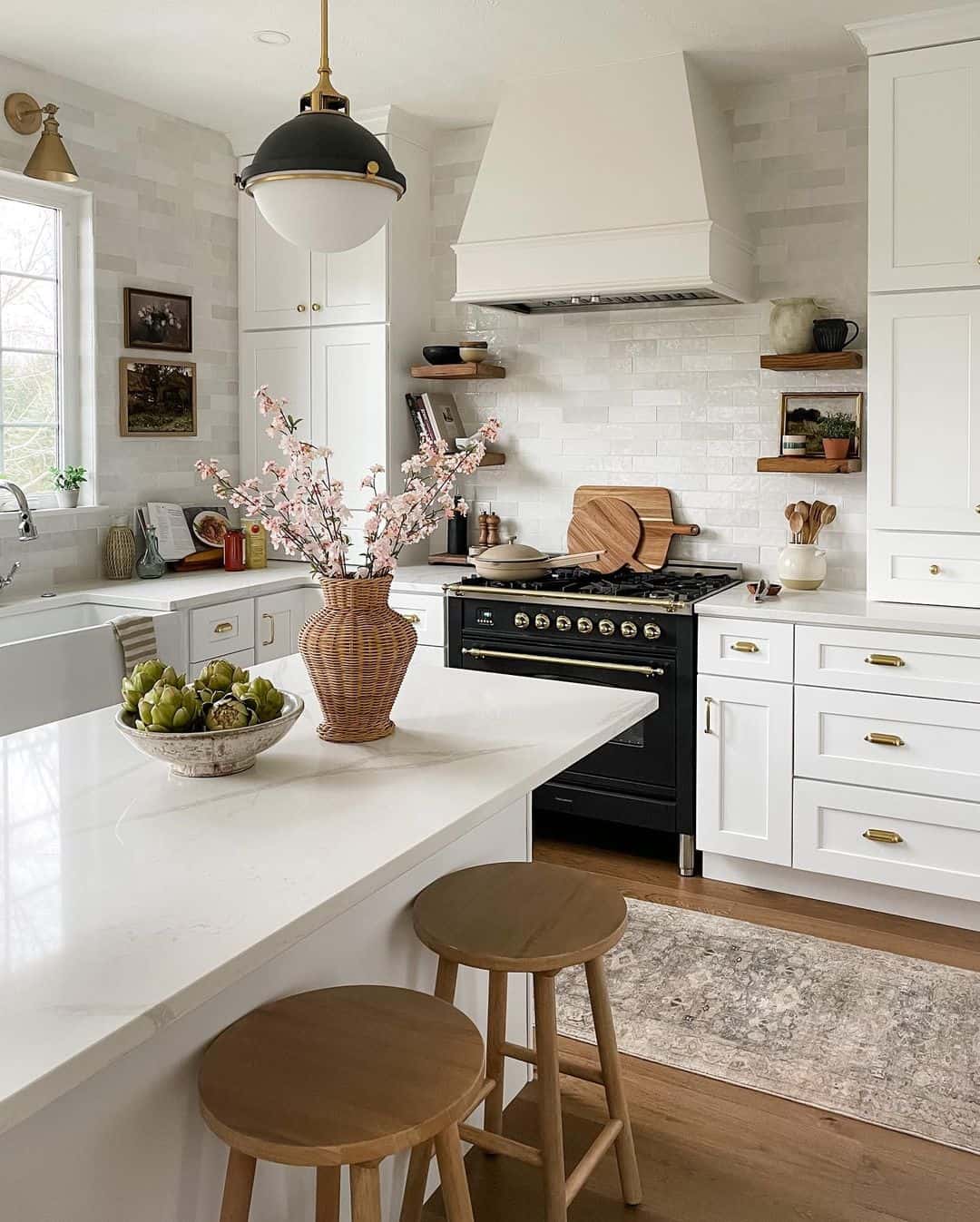 Credit: @homeonharbor
Shop the Look
Contemporary Kitchen Design with Shiplap Accents
Take a journey to the second floor, where this kitchen showcases crisp white tiled flooring. The corner of the kitchen houses a spacious refrigerator, while a striking black-accented farmhouse kitchen lighting fixture casts a warm glow over the unique shiplap wall covering, making it a distinctive design element.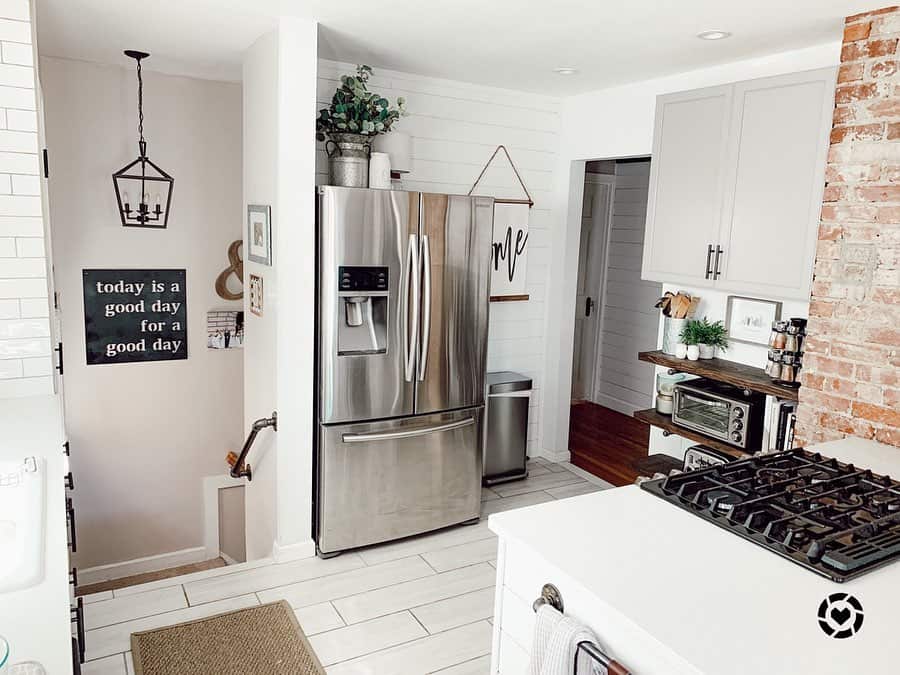 Credit: @homesweetspaces
Shop the Look
Crisp White Shiplap Backsplash for Shaker Cabinets
A pristine white shiplap kitchen backsplash elegantly bridges the gap between white shaker cabinets and gleaming countertops. Atop the counter, a gas cooktop seamlessly blends into the design, nestled beneath a stained wood range hood mounted on a brick accent wall.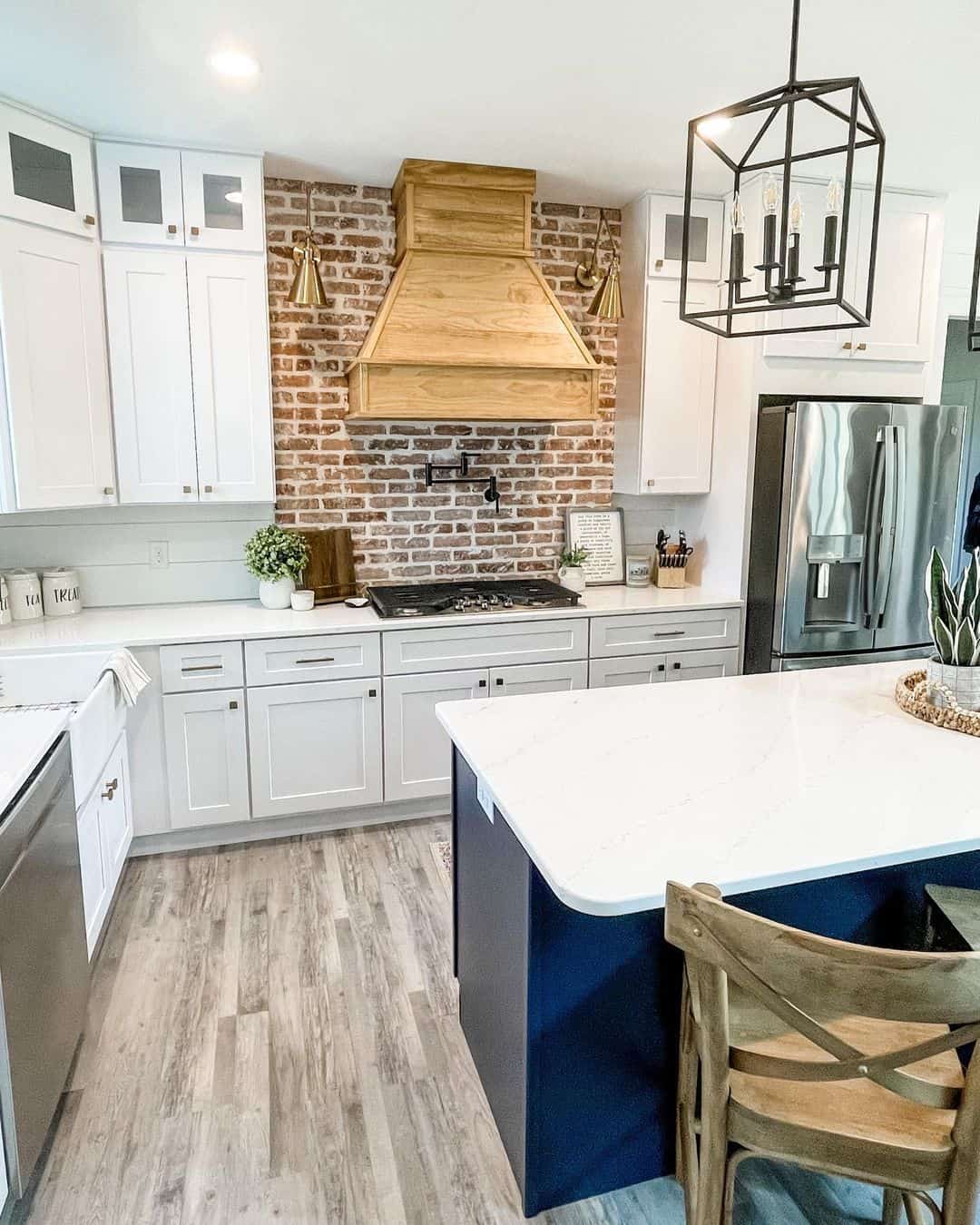 Credit: @farmhouseonchapel
Shop the Look
Wood Bar Stools in a Cozy Farmhouse Kitchen
Discover a cozy farmhouse kitchen featuring a charming white faux brick island topped with a granite countertop, adding an intriguing element to the space. The mixed-material bar stools, with their pear-shaped metal legs, make a bold and stylish statement, contributing to the inviting and well-lived atmosphere.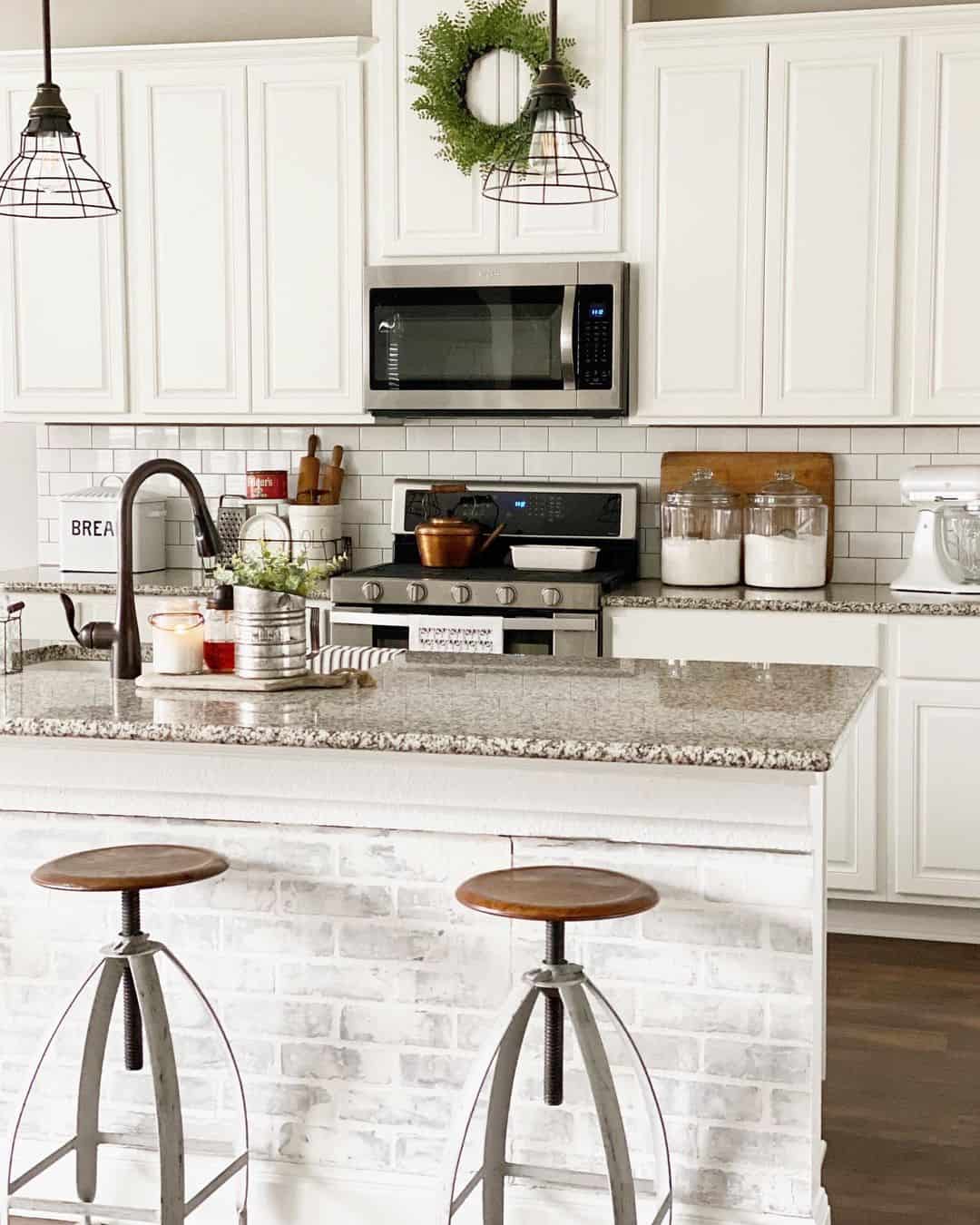 Credit: @fostermomfarmhouse
Shop the Look
White Shiplap Kitchen with Dual Sinks
Black lantern pendants create a captivating centerpiece in this bright white shiplap kitchen, complete with expansive white countertops. Comfortable seating is provided by white bar stools with backrests and wooden frames, positioned beneath a white farmhouse kitchen island. Two chrome spring sprayer faucets adorn the farmhouse sinks, infusing a touch of modern functionality.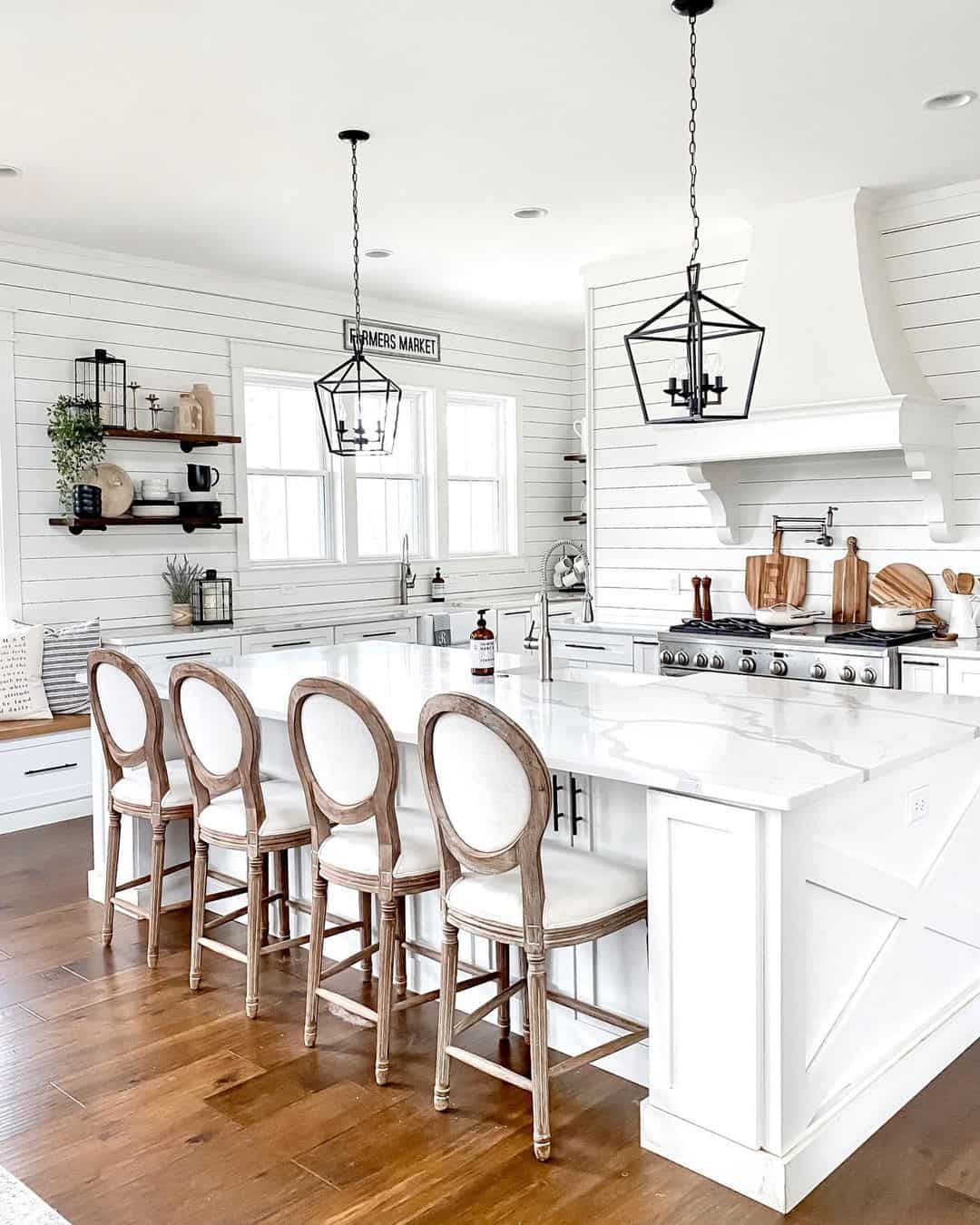 Credit: @brunoandlibby
Shop the Look
Bronze Pendant Lights Over White Shiplap Island
In this inviting kitchen, white shiplap walls, pristine white cabinets, and a gleaming white subway tile backsplash create a clean and welcoming atmosphere. The warm wood floor adds a touch of rustic charm, and on the gray countertop, a vibrant red mixer provides a pop of color. Above the kitchen island, two exquisite bronze pendant lamps cast a warm and inviting glow over the sleek gray countertop, making it the heart of the kitchen.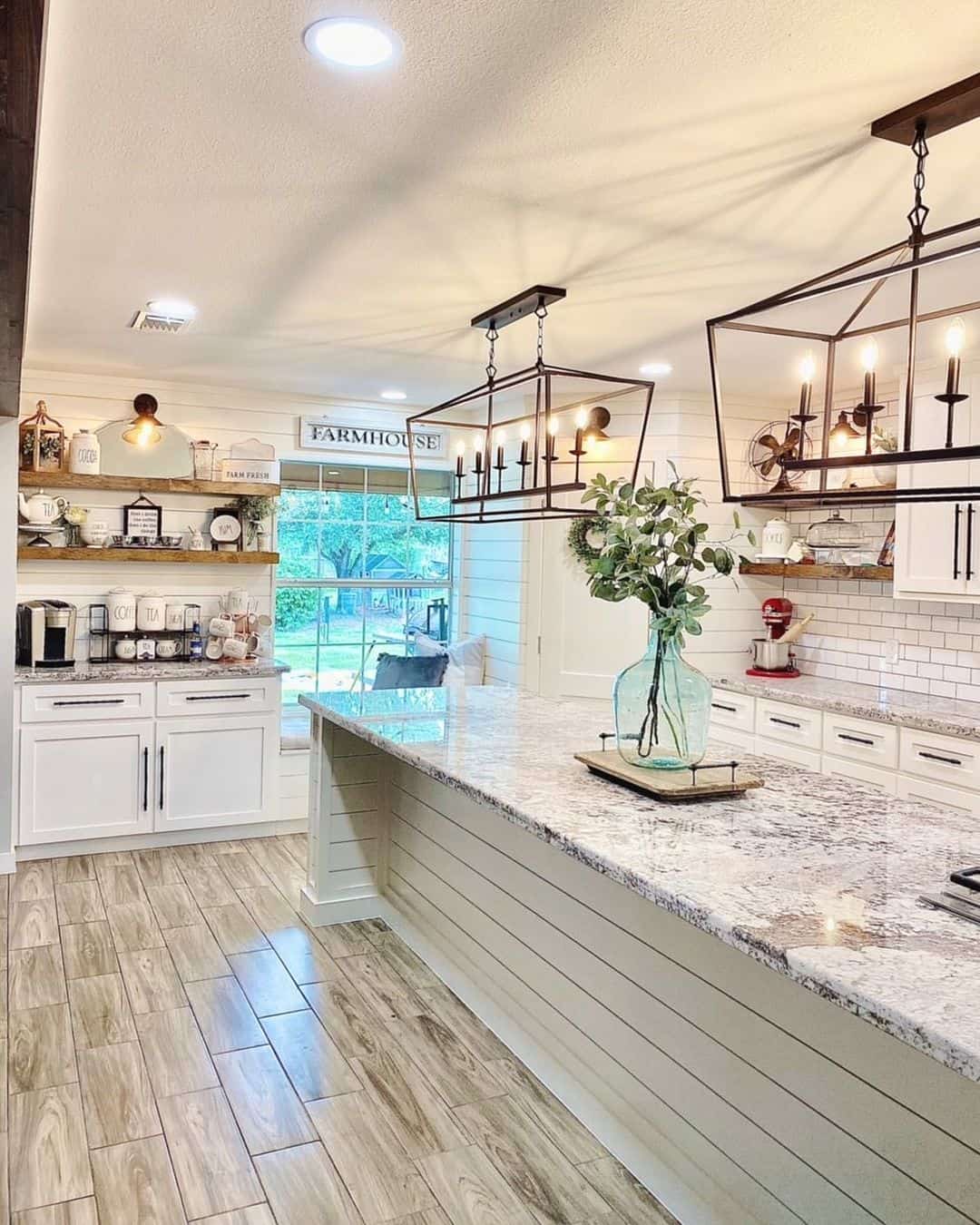 Credit: @fairytalefarmhouse
Shop the Look
Wrap-up
Lighting is an essential aspect of any kitchen's design, and in a farmhouse-style kitchen, it plays a crucial role in enhancing the overall ambiance. These seven farmhouse kitchen lighting ideas offer a range of options to suit your personal style and the specific needs of your space.
From pendant lights to chandeliers and everything in between, finding the right lighting can transform your kitchen into a welcoming and cozy hub for family and friends. So, go ahead, illuminate your farmhouse kitchen, and let its radiance be the heart of your home.