7+ Homestead-Inspired Window Decor Ideas for Your Farmhouse Kitchen
Affiliate Disclosure: As an Amazon Associate we earn from qualifying purchases. Hence, if you click through and make a purchase, we will get a commission at no extra cost to you. For more info, read our full disclosure.
Welcome to a world of homestead-inspired charm for your farmhouse kitchen! If you're yearning to infuse warmth and character into your home, look no further. In this blog, we've curated seven-plus delightful window decor ideas that perfectly complement the rustic allure of farmhouse living.
From quaint trinkets to elegant curtains, discover creative ways to transform your kitchen's windows into focal points that embody the essence of homestead living.
Elevate Your Kitchen with a Half-Window Valance Curtain
Discover a touch of farmhouse elegance by introducing a half-window valance curtain to your kitchen adorned with off-white cabinets. The frosty window over the sink becomes a focal point with a curtain rod gracefully hanging midway.
Delicate sheer curtains showcase three small clay-potted plants, imparting a sense of freshness and charm. This clever curtain arrangement not only enhances aesthetics but also creates the illusion of a larger, unobstructed window view.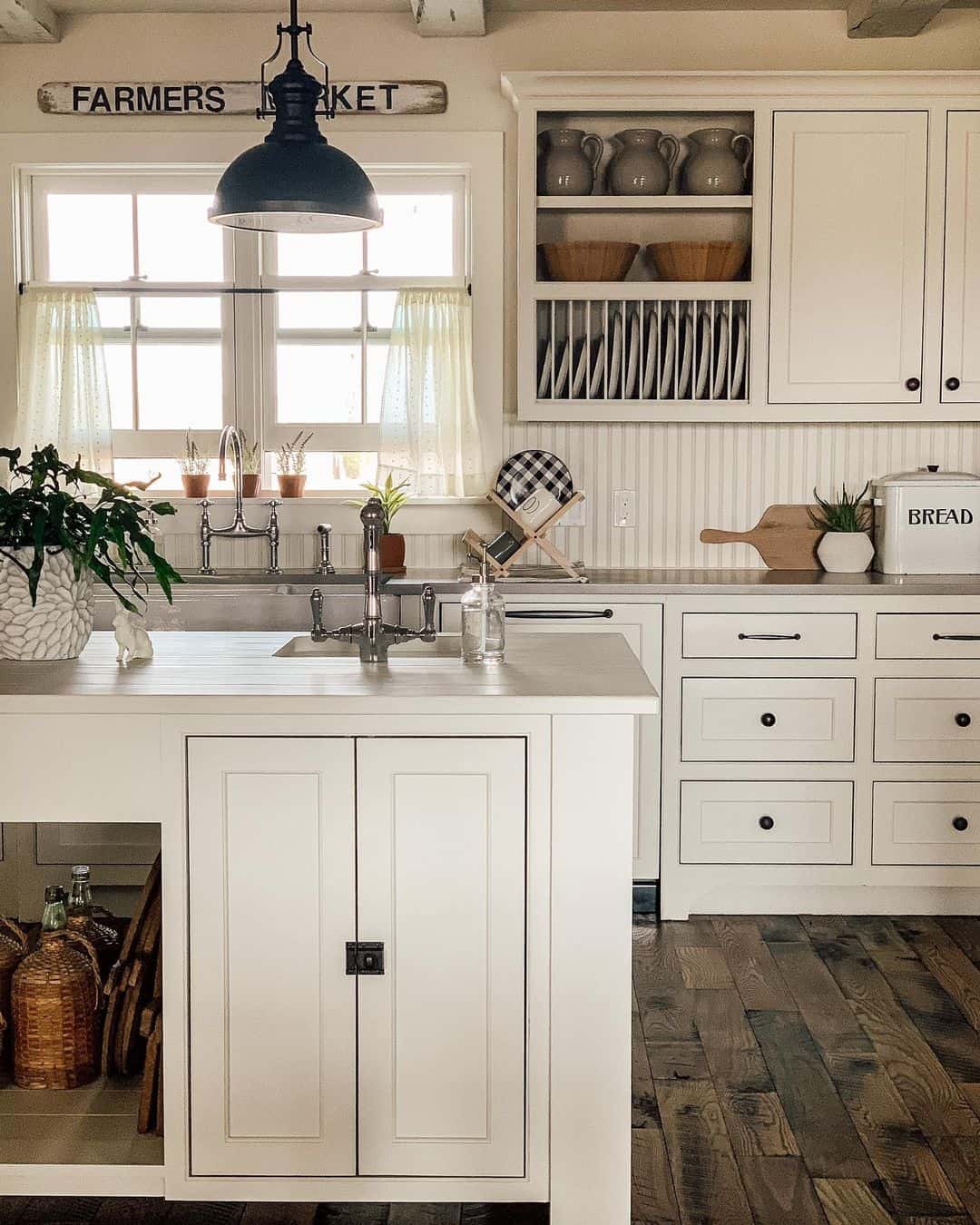 Credit: wholeheartedfarmhouse
Shop the Look
Infuse Color with Magenta Roses and Floral Curtains
Inject vibrancy into your kitchen with clear cabinet doors by incorporating beautiful purple floral curtains and a splash of bright pink fresh roses. Even the smallest accents, such as a bouquet of flowers, can make a substantial impact on the color palette of your neutral kitchen, creating a lively and inviting atmosphere.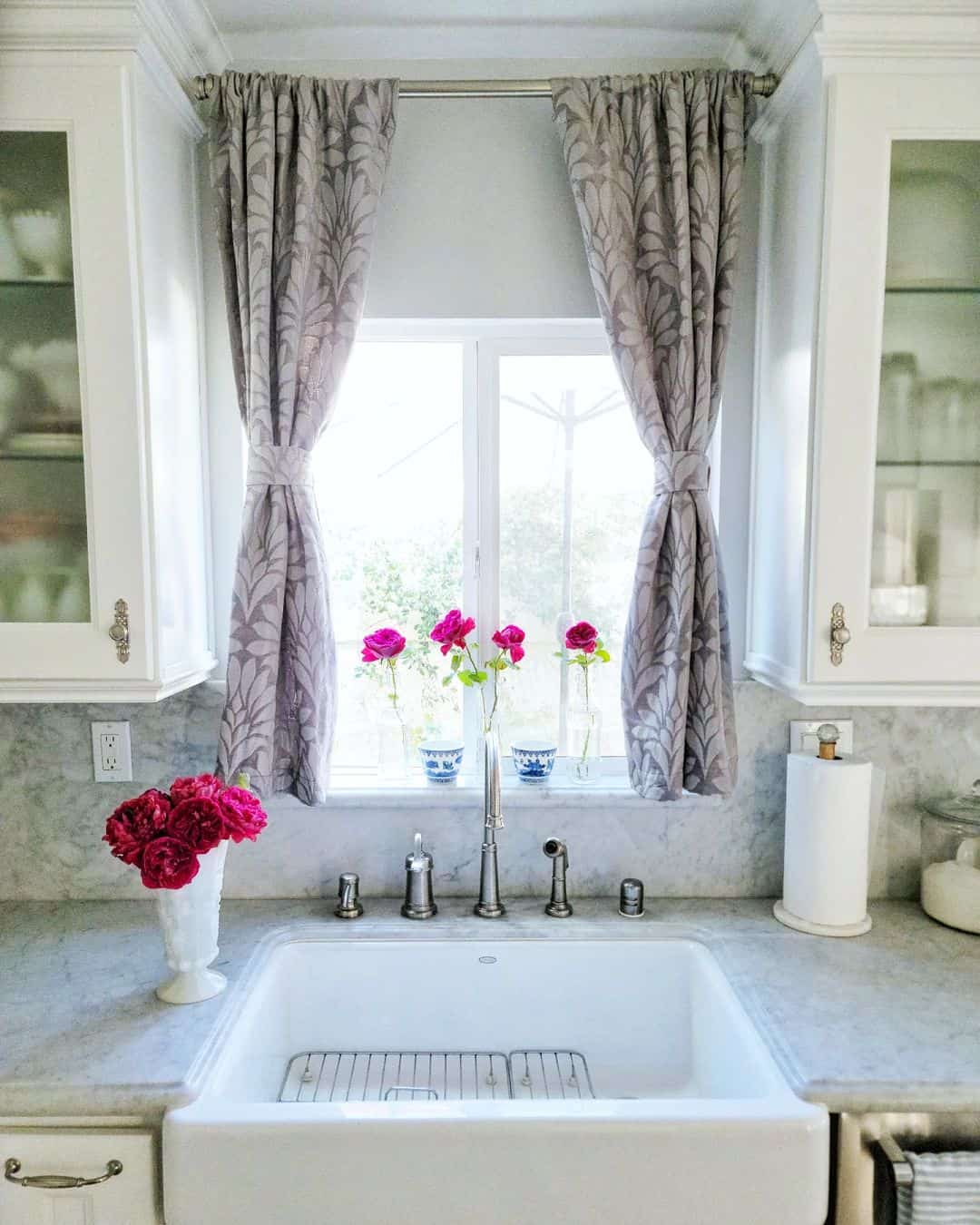 Credit: vintagechicdecor
Shop the Look
Adorning a White Kitchen with Draped Window Garland
Break away from seasonal conventions and embrace year-round charm by adorning your kitchen window with draped garland. Opt for earthy tones like brown or orange, coordinating seamlessly with the brown and green shelf decor over your farmhouse sink. This timeless touch adds warmth and visual interest to your kitchen space.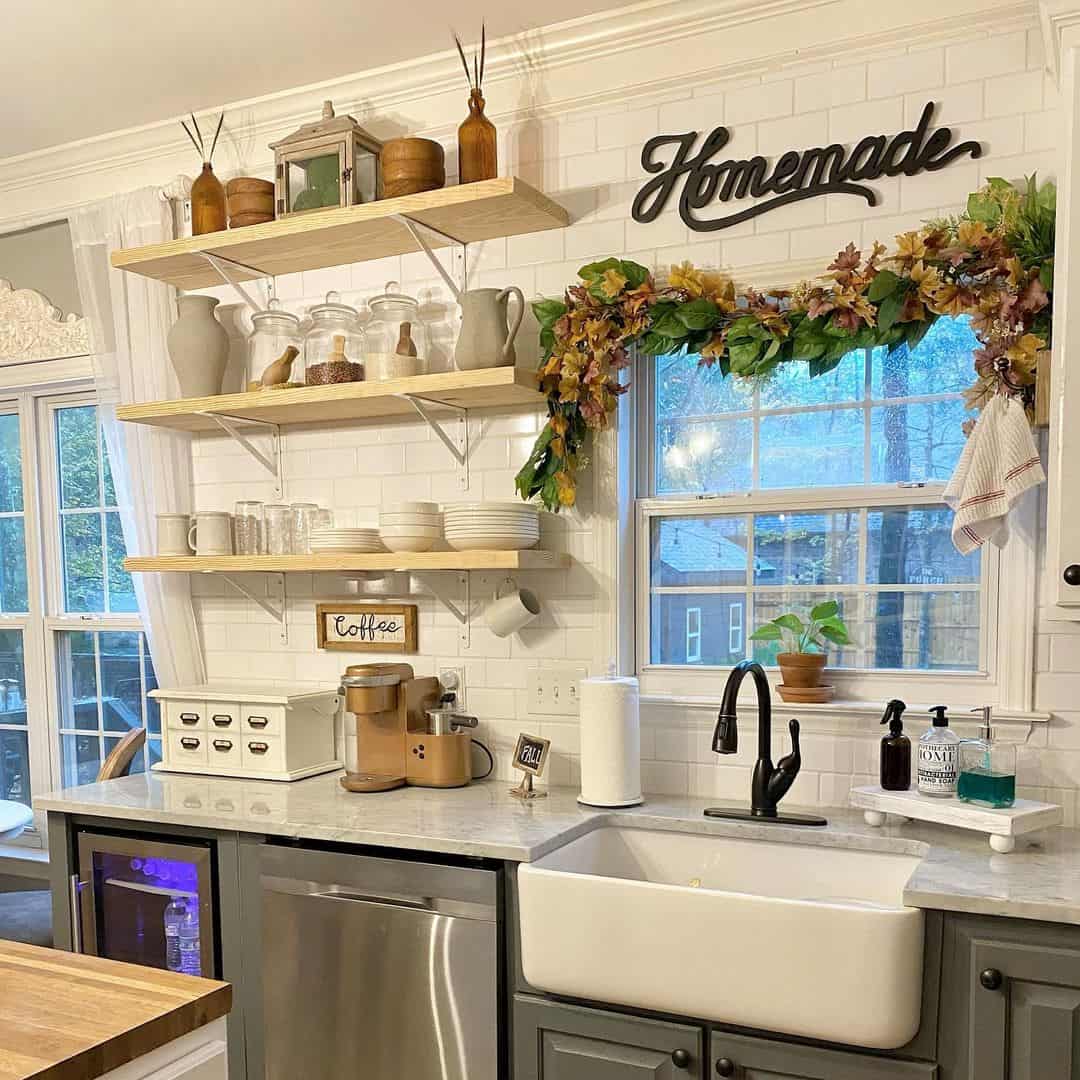 Credit: the_melton_homestead
Shop the Look
Refined Decor with Urn Plants and Sheer Curtains
Maximize your window decor possibilities with a small bench, perfect for narrow window sills. The white bench becomes a canvas for trees, succulents, and other charming items, while draped sheer curtains above add a finishing touch to create a delightful and cozy corner in your kitchen.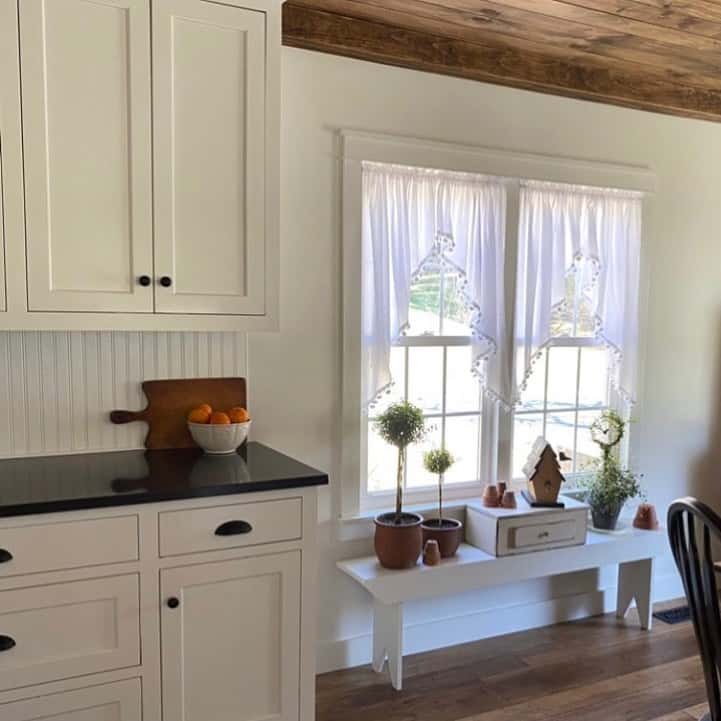 Credit: white_pine_cottage
Shop the Look
Window Trim-Embedded Curtain Rod
Preserve the intricate details of your window molding by situating the curtain rod within the window trim. The window's depth is heightened by elegant white and black striped curtains, and the addition of small potted plants further enhances the overall aesthetic, ensuring the window retains its timeless elegance.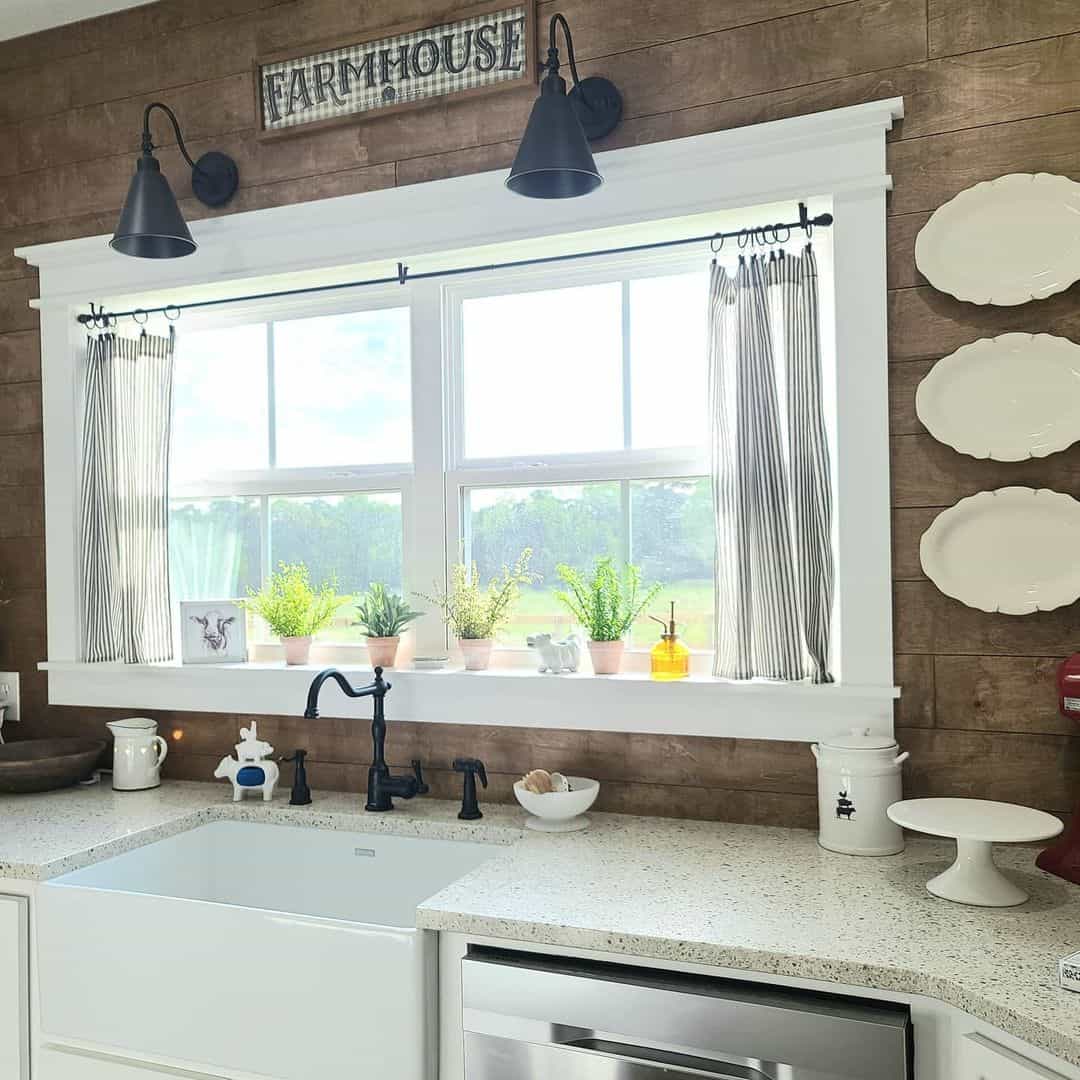 Credit: thecrowdedfarmhouse
Shop the Look
Unadorned White Window Wall, Sans Backsplash
Craft a tranquil and neat kitchen ambiance by integrating a white apron sink into light gray cabinets, complemented by a flawless white countertop. The absence of a backsplash on the window wall introduces a minimalist essence, guaranteeing both simplicity and functionality in the design of your kitchen.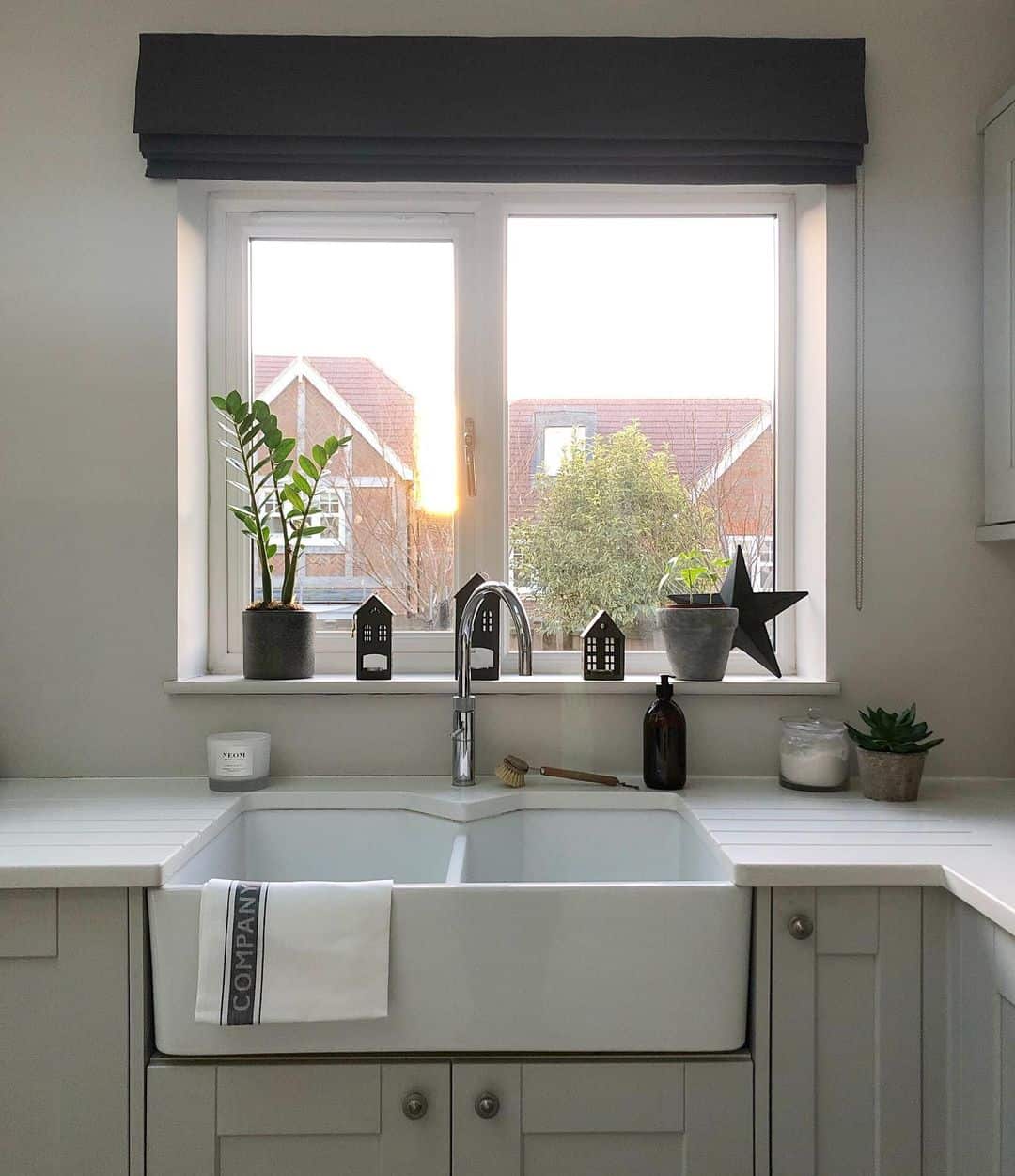 Credit: hollybushhome
Shop the Look
Floral Accents for the Kitchen Window
Bring a touch of modern elegance to your kitchen with petite potted florals, especially fitting for black trimless windows devoid of curtains or blinds. Set against a neutral palette of cabinetry, countertops, and floors, these real flowers introduce a refreshing and intimate connection to nature.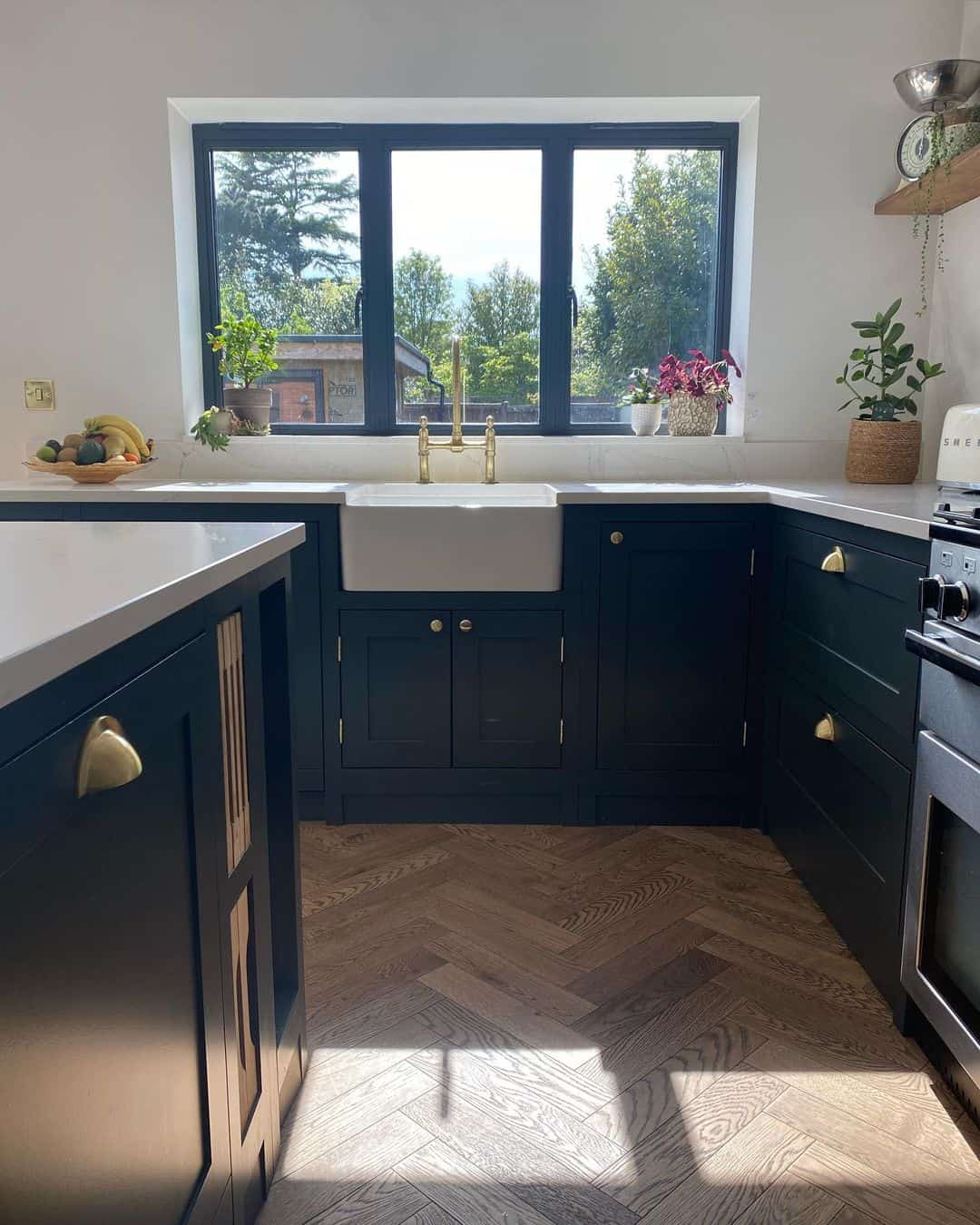 Credit: the_foreverhome_projec
Shop the Look
Window Sill Trinkets for Farmhouse Charm
Within this farmhouse kitchen, the window corners are adorned with an assortment of trinkets, encompassing an antique scale, florals, succulents, and petite salt and pepper shakers. Leveraging the window sill as a canvas allows for the presentation of small decorative items, ensuring an aesthetic touch without overwhelming the available counter space.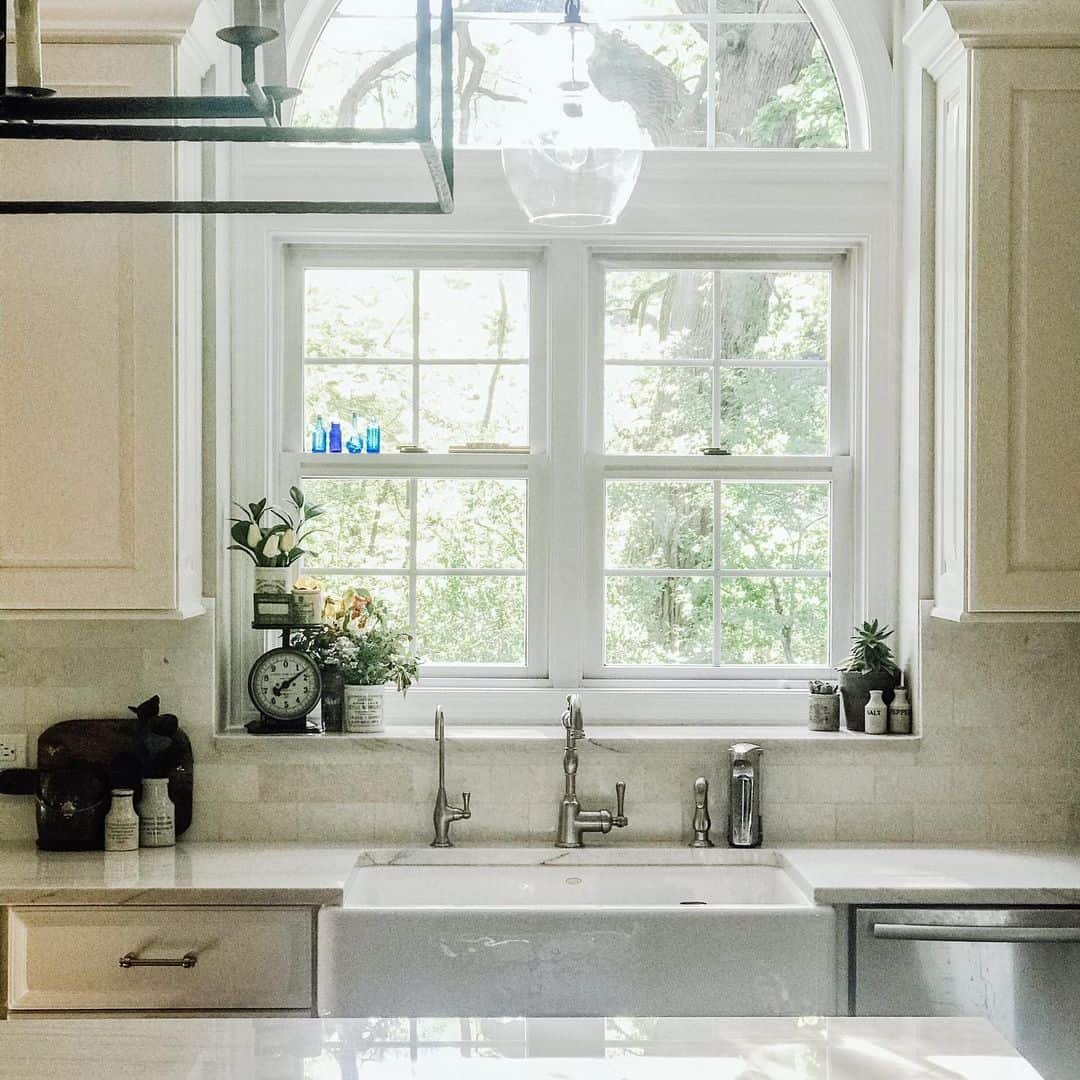 Credit: thevintagebreadbox
Shop the Look
Wrap–up
As we conclude our exploration of homestead-inspired window decor, we hope these ideas have sparked your creativity and brought a touch of rustic elegance to your farmhouse kitchen. Embrace the warmth of homestead living by incorporating these charming elements into your space. Whether it's draped garlands, potted florals, or vintage trinkets, each idea adds a unique layer of character to your kitchen, making it a true heart of your homestead.