7+ Wall Accent Ideas to Enliven Your Farmhouse Kitchen Walls
Affiliate Disclosure: As an Amazon Associate we earn from qualifying purchases. Hence, if you click through and make a purchase, we will get a commission at no extra cost to you. For more info, read our full disclosure.
Transform your farmhouse kitchen into a captivating haven with these seven-plus wall accent ideas. Elevate your space and infuse personality into every corner. From rustic charm to modern flair, discover diverse ways to enliven your kitchen walls and make a statement that resonates with your farmhouse aesthetic.
Personalized Family Picture Board
Enhance the visual appeal of your kitchen by introducing a personalized touch with a hanging family picture board. This innovative solution not only keeps cherished memories within arm's reach but also provides a designated space for displaying Christmas cards, art projects, and polaroids. Say goodbye to refrigerator clutter and make this delightful idea a permanent fixture on your kitchen wall.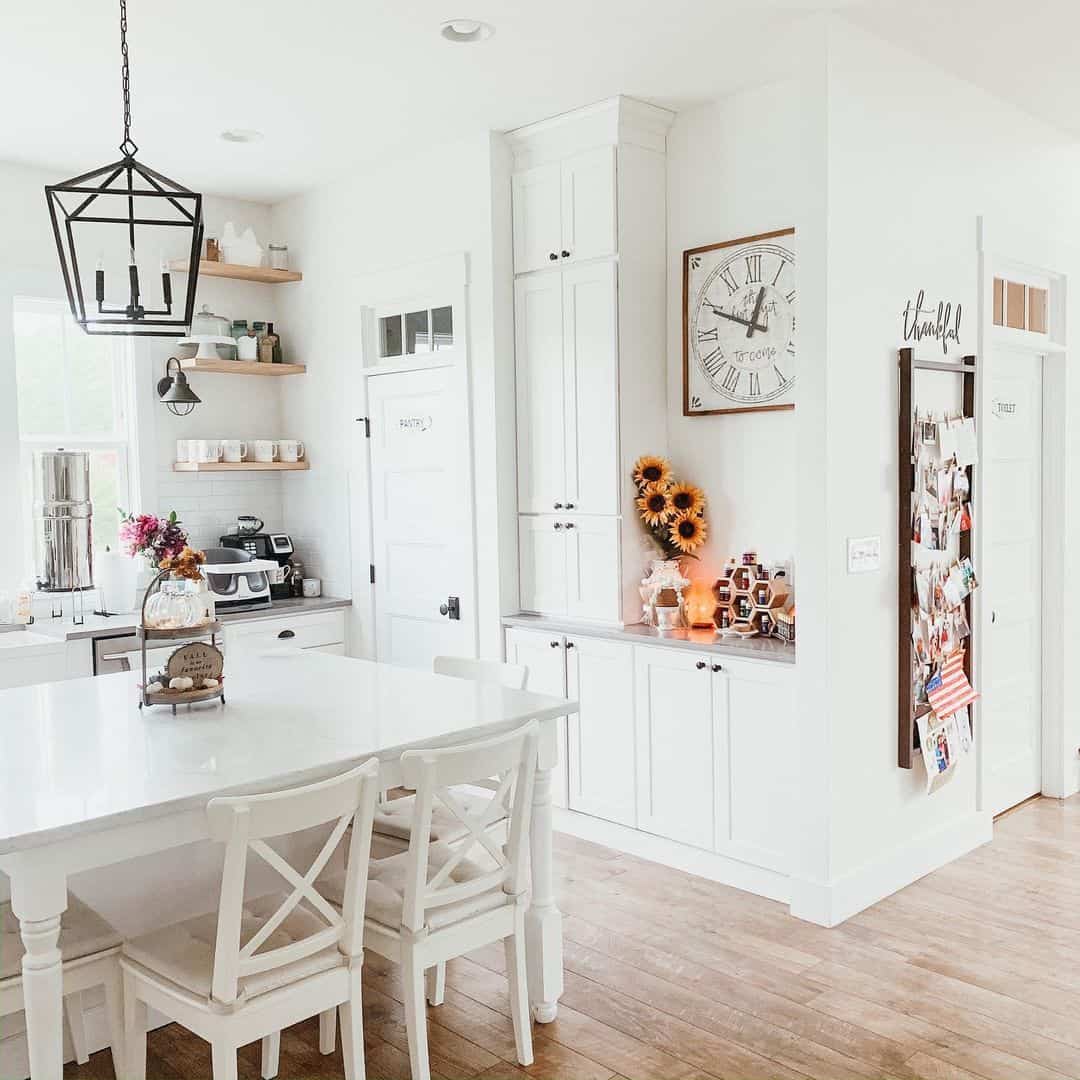 Credit: tennessee_farmhouse
Shop the Look
Elegance with Limewash Brick Backsplash
Reimagine the conventional kitchen backsplash with a modern twist by opting for limewash brick. In this design, the unique choice of brick creates a striking contrast with white cabinetry. A wainscotted wall adorned with delicate picture frames completes the look, providing a contemporary yet charming aesthetic for your kitchen.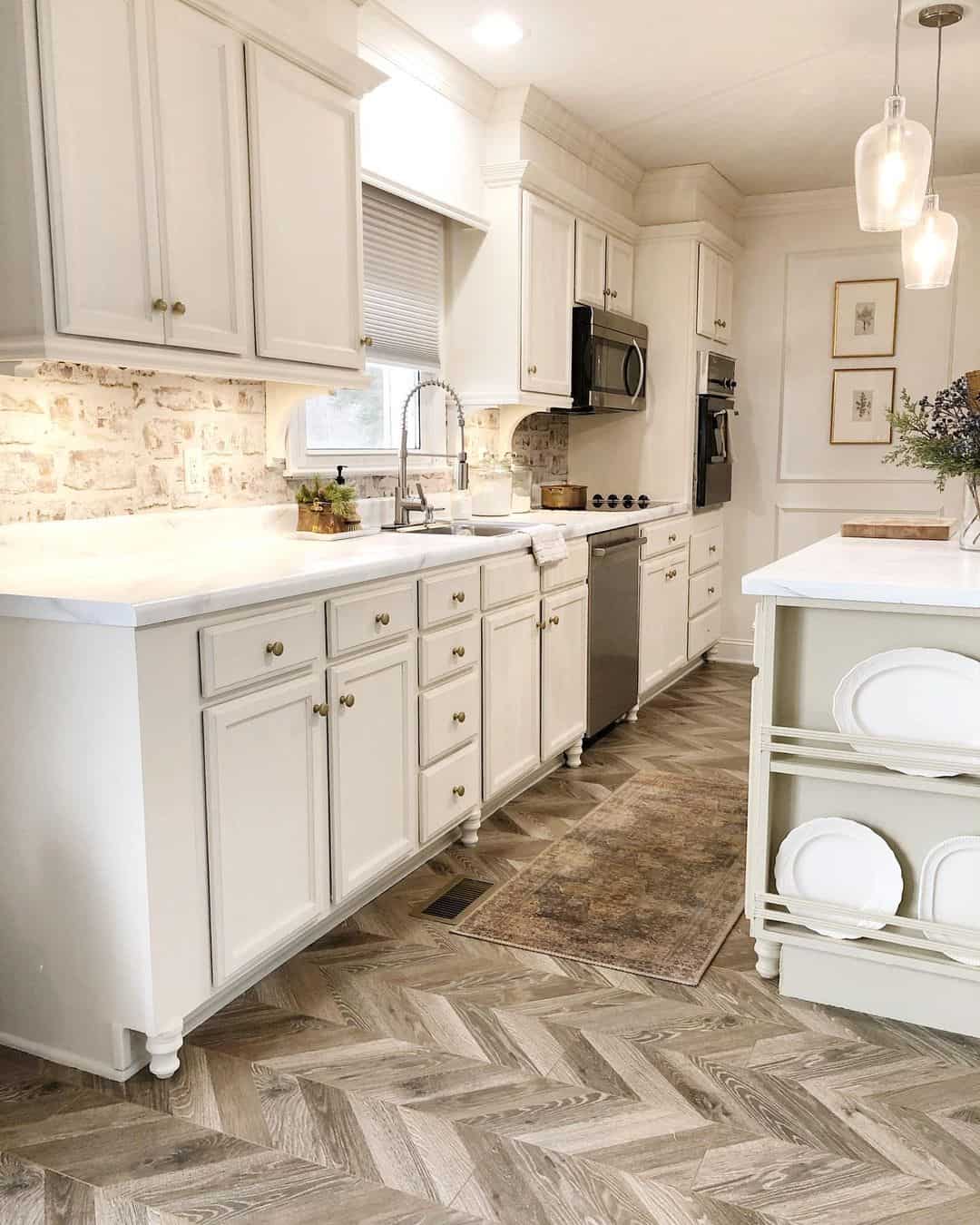 Credit: theboglecottage
Shop the Look
Gray Cabinets with Trim Accents
Discover the beauty in subtlety with this kitchen's understated wall decor. Gray-trimmed cabinets set the tone for an elegant atmosphere, featuring a small analog clock and a cleverly placed hook with a gray dish towel at counter height. The stove hood becomes a focal point with charming gray and white figurines, adding a touch of sophistication to the space.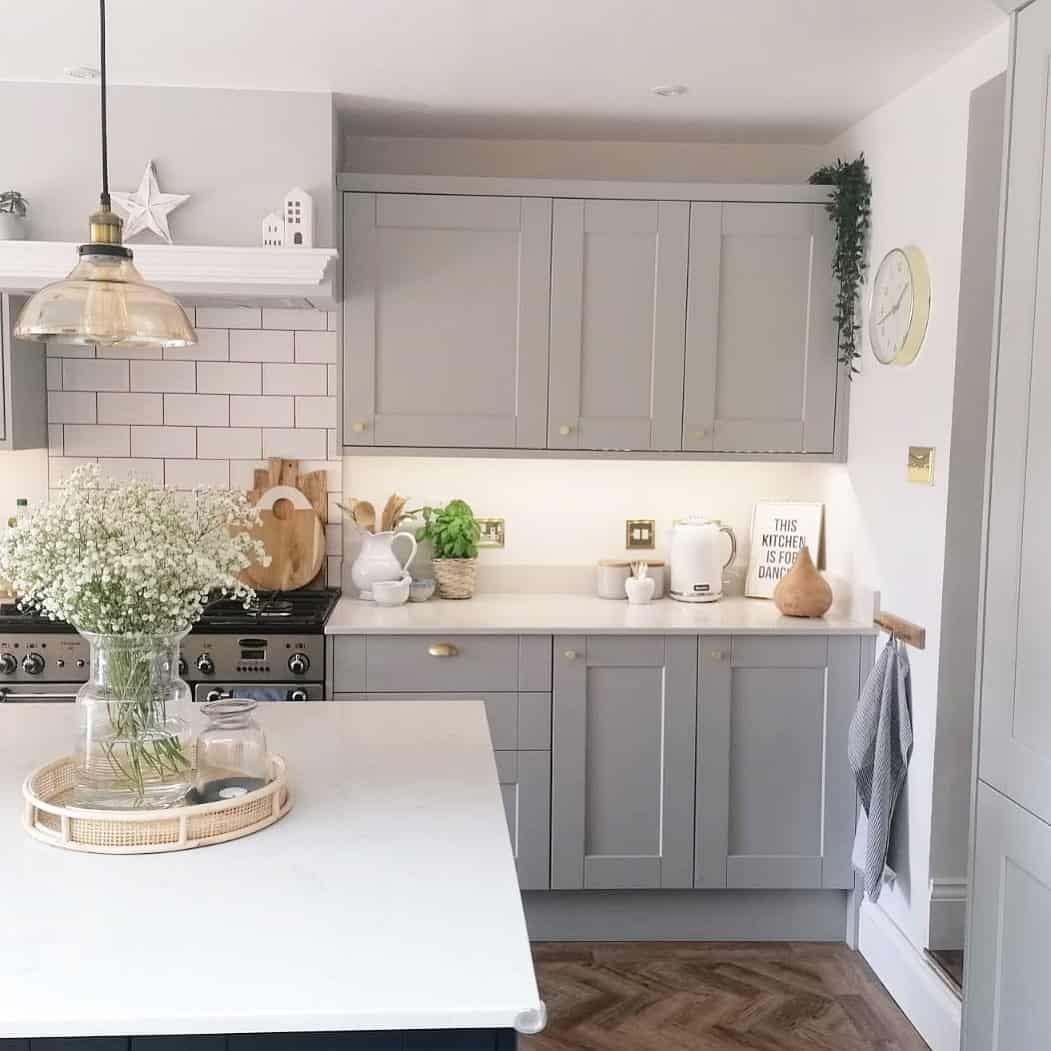 Credit: ourvictorianhome_66
Shop the Look
Country-Style Shelves on Planked Walls
Transport your kitchen to a bygone era with vintage-inspired decor. In this country-style kitchen from the 1830s, an antique china cabinet and brown shelving over the coffee bar take center stage. Planked walls envelop the space, adorned with coordinated plates, jars, and cups on rustic shelves. Embrace the charm of history in your kitchen aesthetic.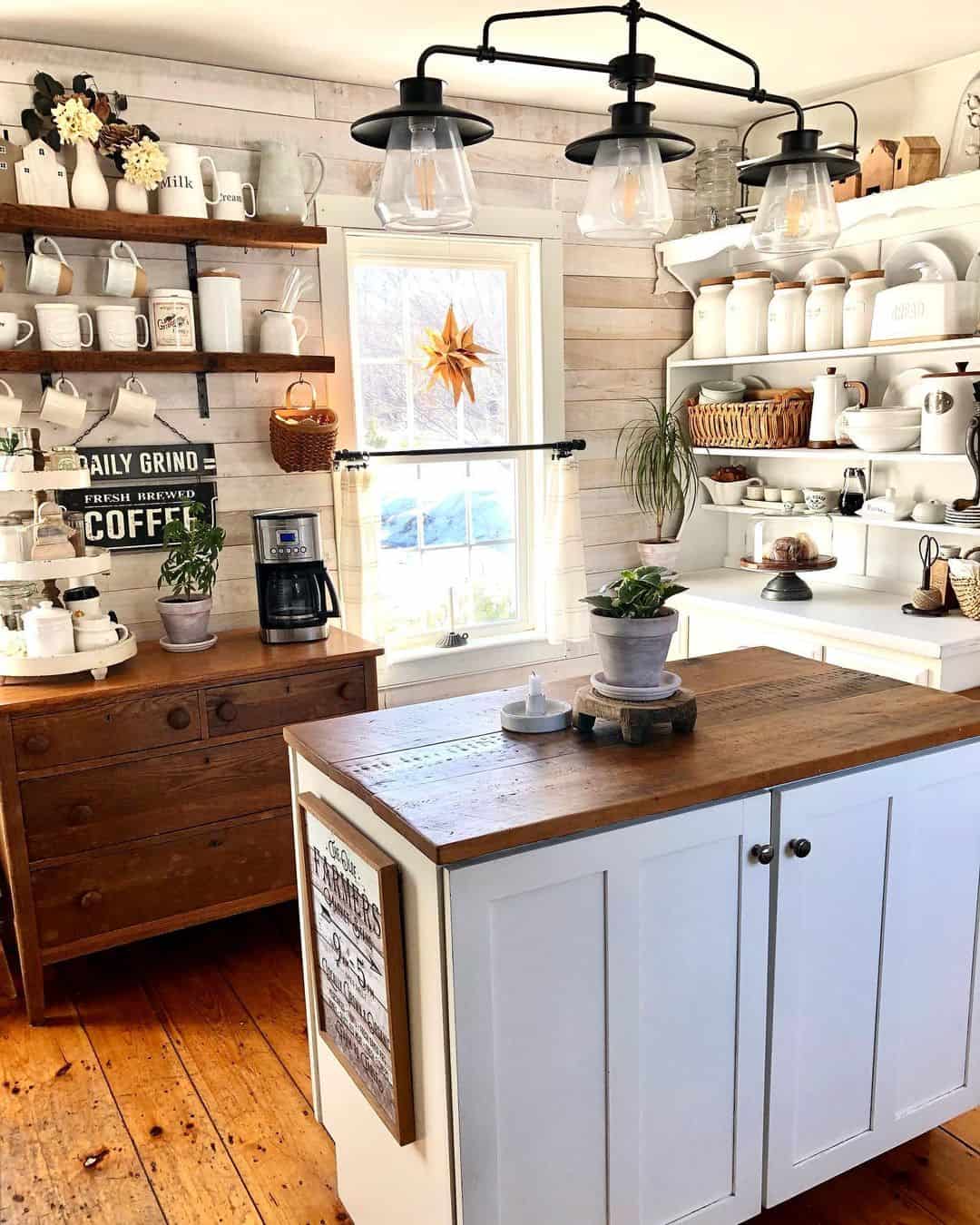 Credit: thelongawaitedhome
Shop the Look
Metallic Wall Script
Infuse rustic charm into your farmhouse kitchen with wall decor crafted from functional materials like wood and metal. In this home, brass metal piping forms elegant letters on the wall above the wood block counters, adding a touch of rustic elegance to the space.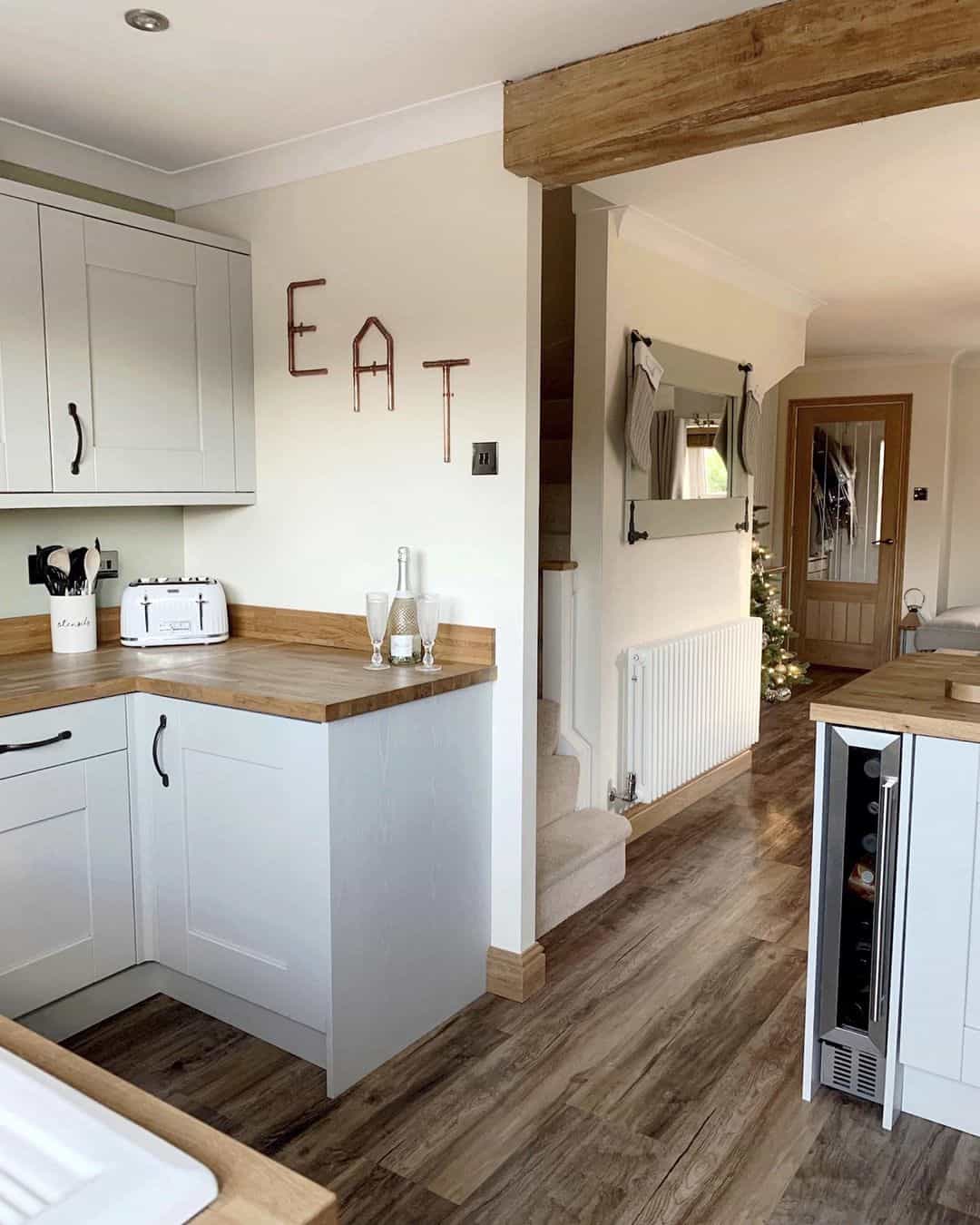 Credit: our_oaktree_home
Shop the Look
Woven Basket Wall Art Concept
Immerse your kitchen in a spectrum of natural hues by designating a wall for handwoven basket art in diverse neutrals. Enhancing the off-white and black cabinet ensemble, numerous baskets are suspended on the wall above a series of cabinets. This artful display introduces warmth and character, fostering a seamless fusion of colors within your kitchen ambiance.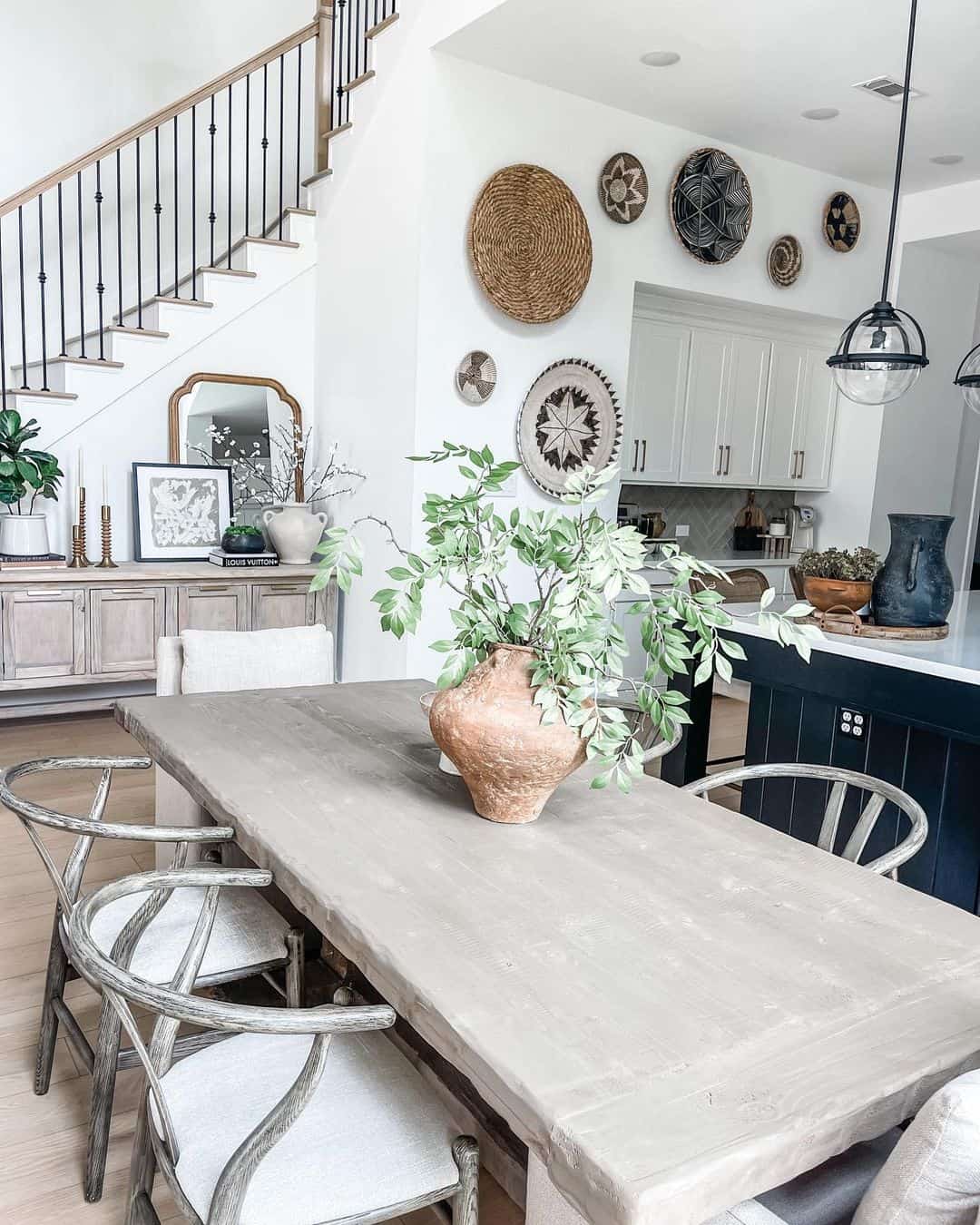 Credit: styledmicasa
Shop the Look
Cabinet Top Ornaments
Maximize the often-overlooked space on top of your kitchen cabinets with a display of charming decor. This farmhouse kitchen showcases antique scales accompanied by a hanging woven basket above the oven and stove. Transform your cabinet tops into a stylish focal point that adds a touch of farmhouse elegance to your kitchen.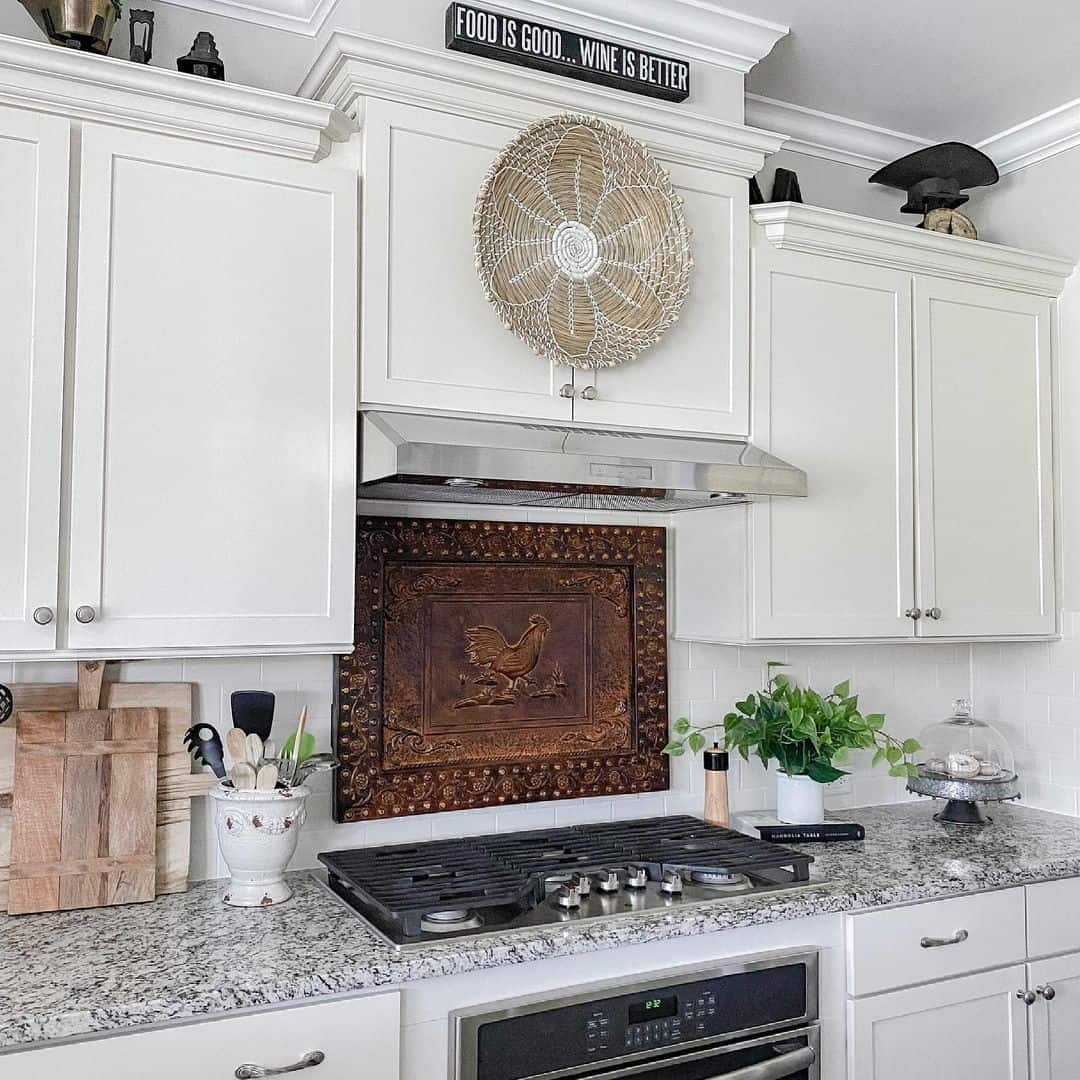 Credit: sweetfarmhousechic
Shop the Look
Stovetop Art Display
Incorporate artwork into your kitchen space by utilizing the area above the stove hood. Not all kitchens have extra wall space, but this creative solution allows you to infuse artistic flair into the heart of your kitchen. Choose an inspired art piece that coordinates with your decor, turning the space above the stove into a captivating focal point.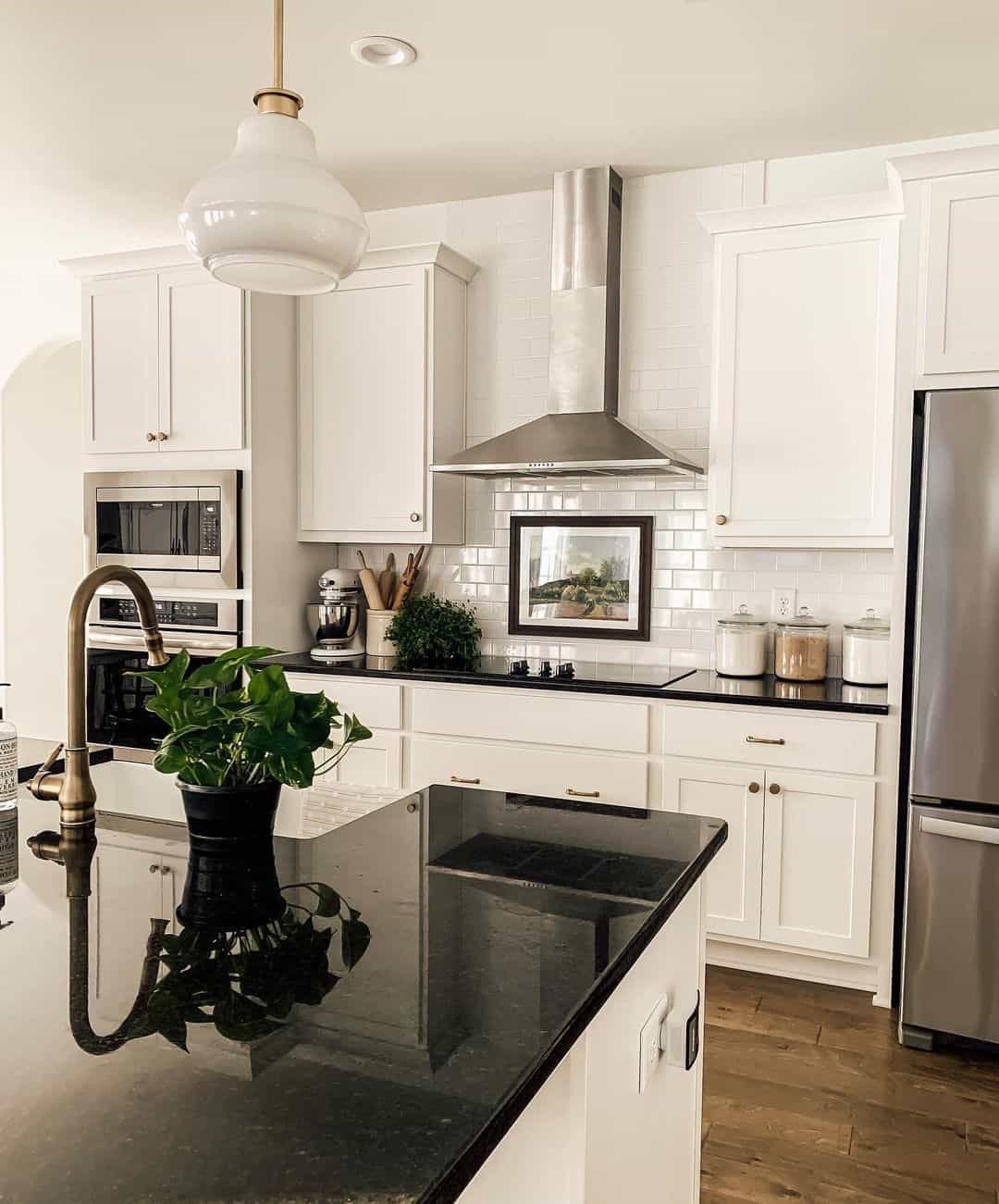 Credit: thesimplyblessednest
Shop the Look
Wrap-up
Revitalize your farmhouse kitchen by embracing the power of wall accents. With these seven-plus ideas, you've explored creative ways to breathe life into your space. Whether it's vintage charm, contemporary elegance, or rustic allure, your kitchen walls can now tell a story of style and individuality. Elevate the heart of your home with these inspiring accents.