5 Serene Light Blue Wall Ideas to Bring Peace to Your Farmhouse Living Room
Affiliate Disclosure: As an Amazon Associate we earn from qualifying purchases. Hence, if you click through and make a purchase, we will get a commission at no extra cost to you. For more info, read our full disclosure.
Transforming your farmhouse living room into a serene sanctuary is easier than you might think. With the soothing embrace of light blue walls, you can infuse tranquility and peace into your space.
In this blog, we'll explore five inspiring ideas to help you achieve that perfect blend of farmhouse charm and peaceful ambiance. Say goodbye to stress and hello to serenity in your farmhouse living room.
Serene Living Room with Stone Fireplace
In this serene living room, abundant natural light pours in through large windows, creating an atmosphere of tranquility. The backdrop of light blue walls provides a perfect contrast to the prominent stone fireplace, adding a distinct natural touch to the space. An inviting gray couch beckons, offering a cozy spot to unwind.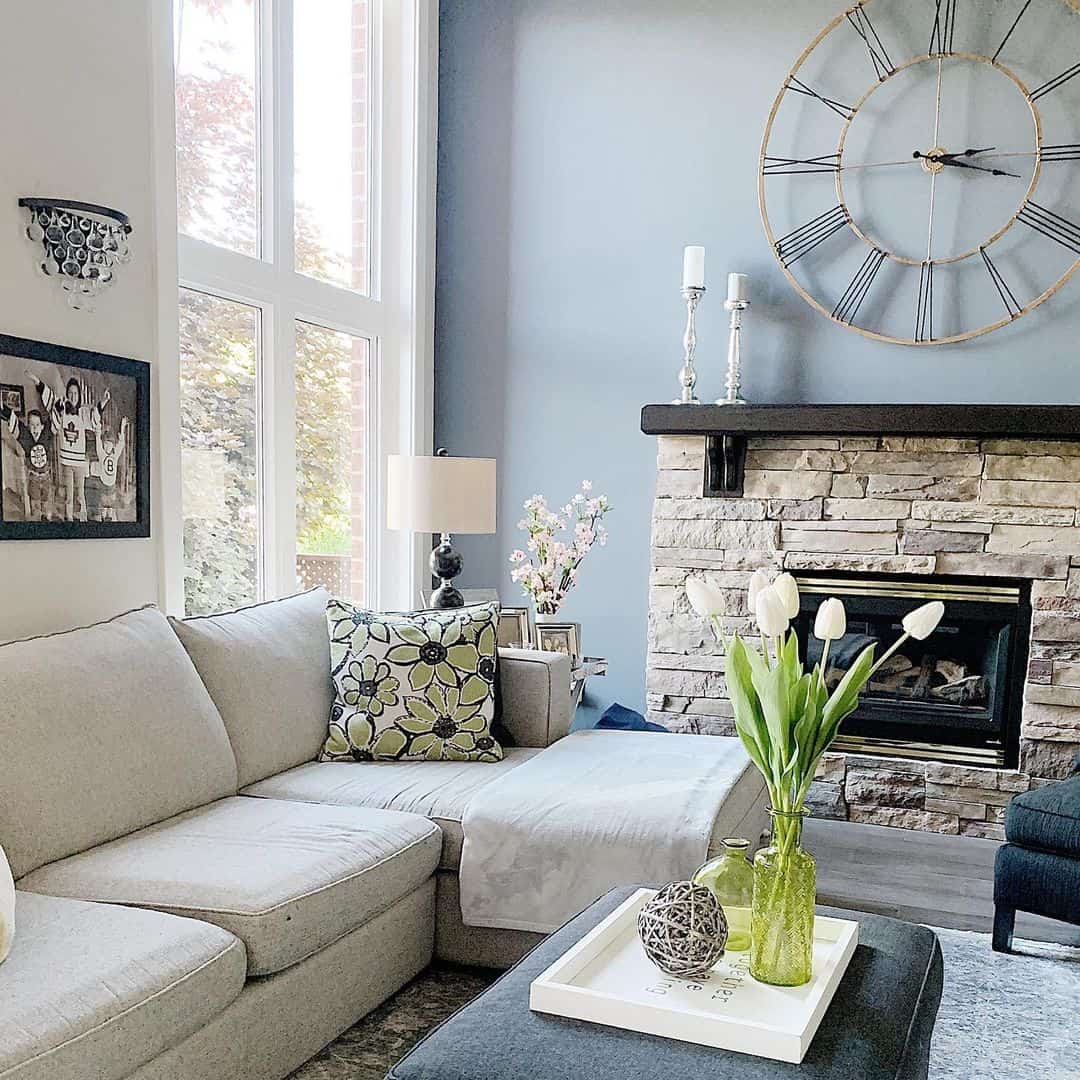 Credit: mysuburbannest
Shop the Look
Rustic DIY Wood Shelving Display
Transform your space with these effortlessly installed DIY shelves, designed to showcase your cherished items and notable achievements. These rustic wooden planks, artfully mounted on the light blue walls, are supported by unassuming black brackets. Don't miss out on this minimalist shelving concept that exudes both simplicity and elegance.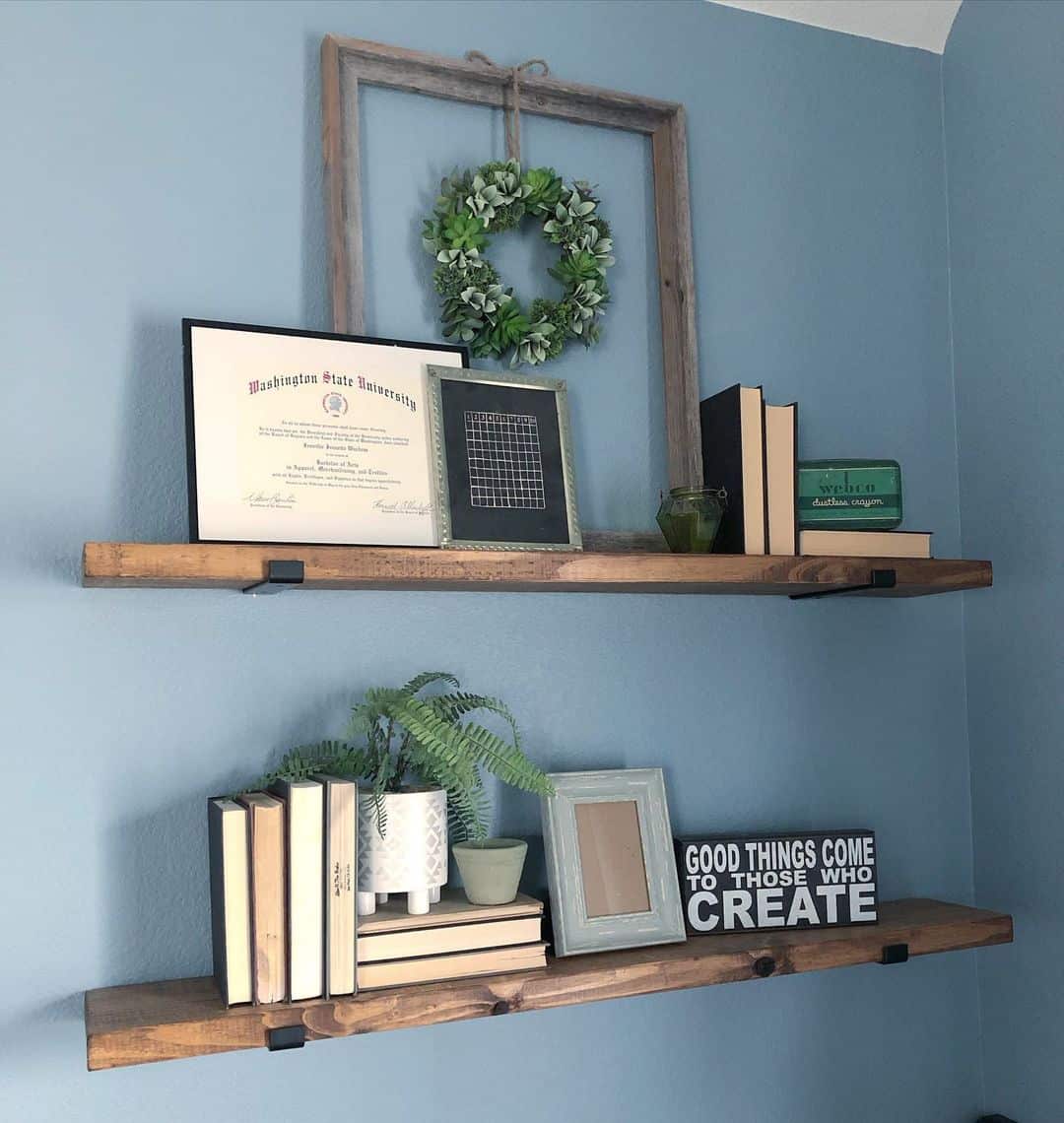 Credit: stylewithwisdom2
Shop the Look
Enchanting Cottagecore Decor with Delightful Prints
Step into a charming cottagecore aesthetic within this delightful setting. Harmonious tones of natural wood blend seamlessly with the dreamy whites of the cabinetry. The endearing pagoda prints echo the amalgamation of wood, white, and light blue that defines the room's character.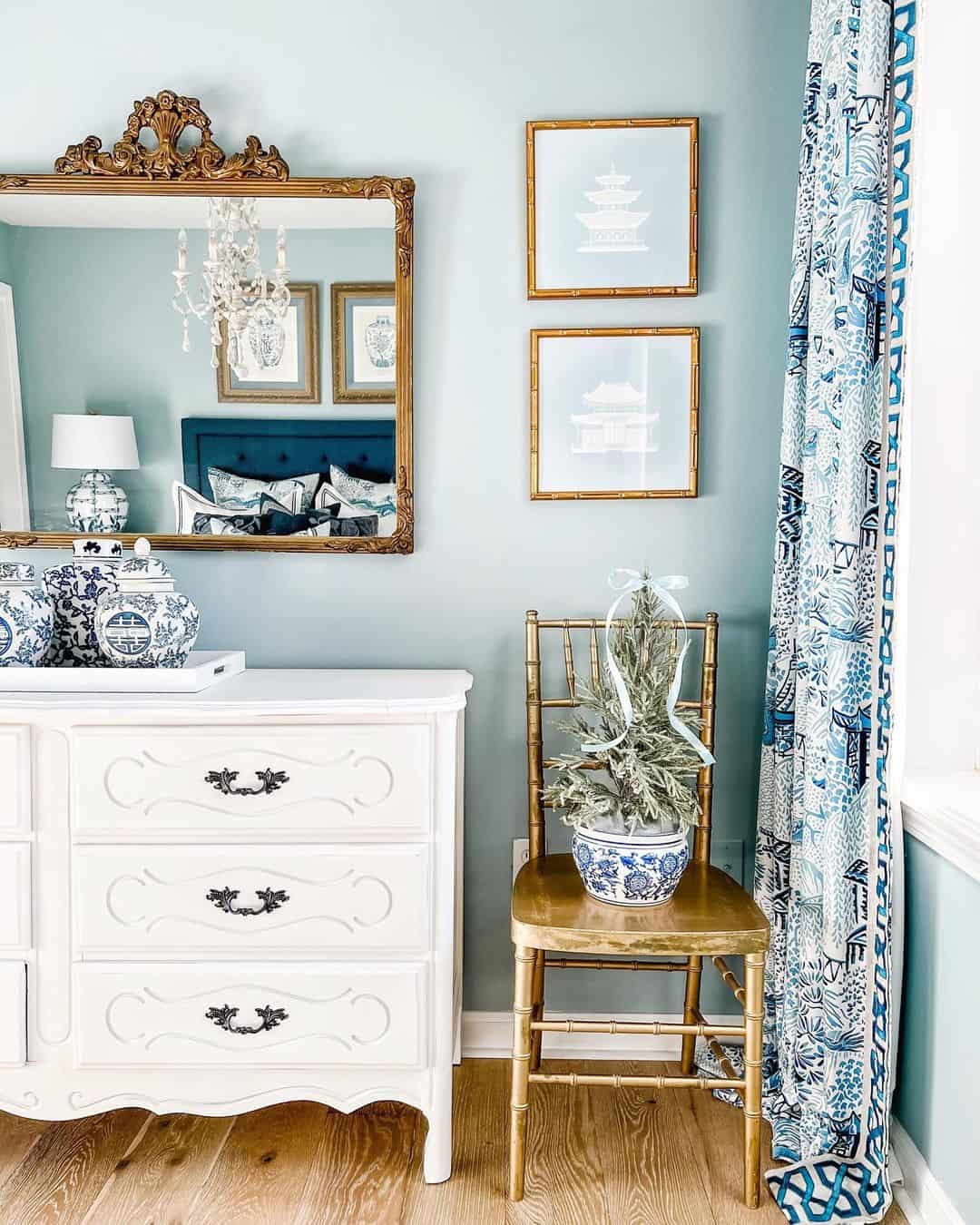 Credit: homeonfernhill
Shop the Look
Elegant Blue and White Living Room with Piano
This elegant living room emanates a sense of peace and comfort at first glance. The soft light blue walls harmonize with ethereal white curtains, which bask in the warm morning sun. At the heart of the room, the light blue piano takes center stage, encircled by serene white accents that grace the entire space.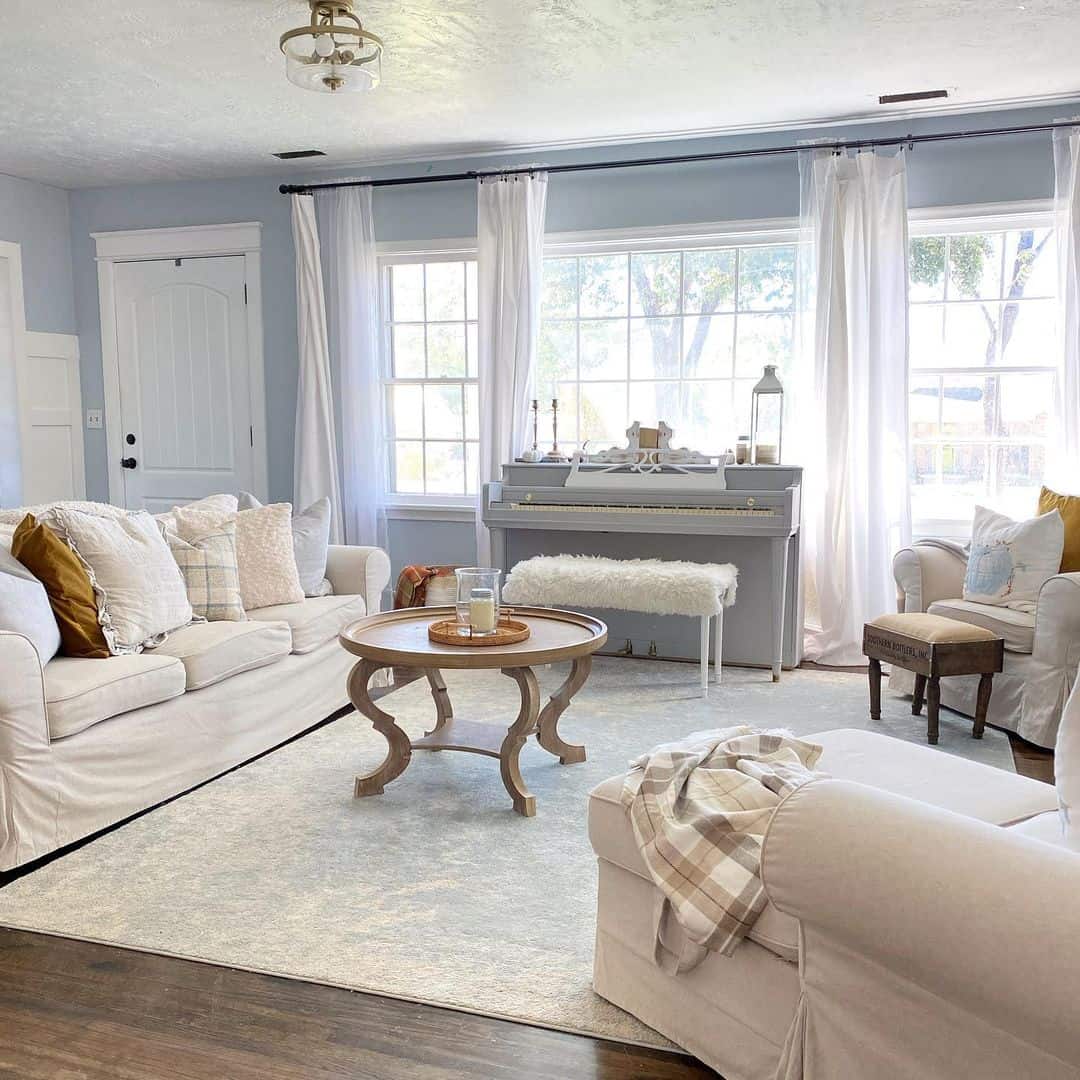 Credit: ourlittlewhitebungalow
Shop the Look
Farmhouse-Inspired Room with a Gray Armchair
Experience coziness in this corner of the house, where soft light blue walls set the backdrop. A gentle white blanket and floral cushion embrace a plush gray armchair, creating an inviting spot for relaxation. The rustic wood-framed vase adds the finishing touch, capturing the essence of a simple farmhouse aesthetic.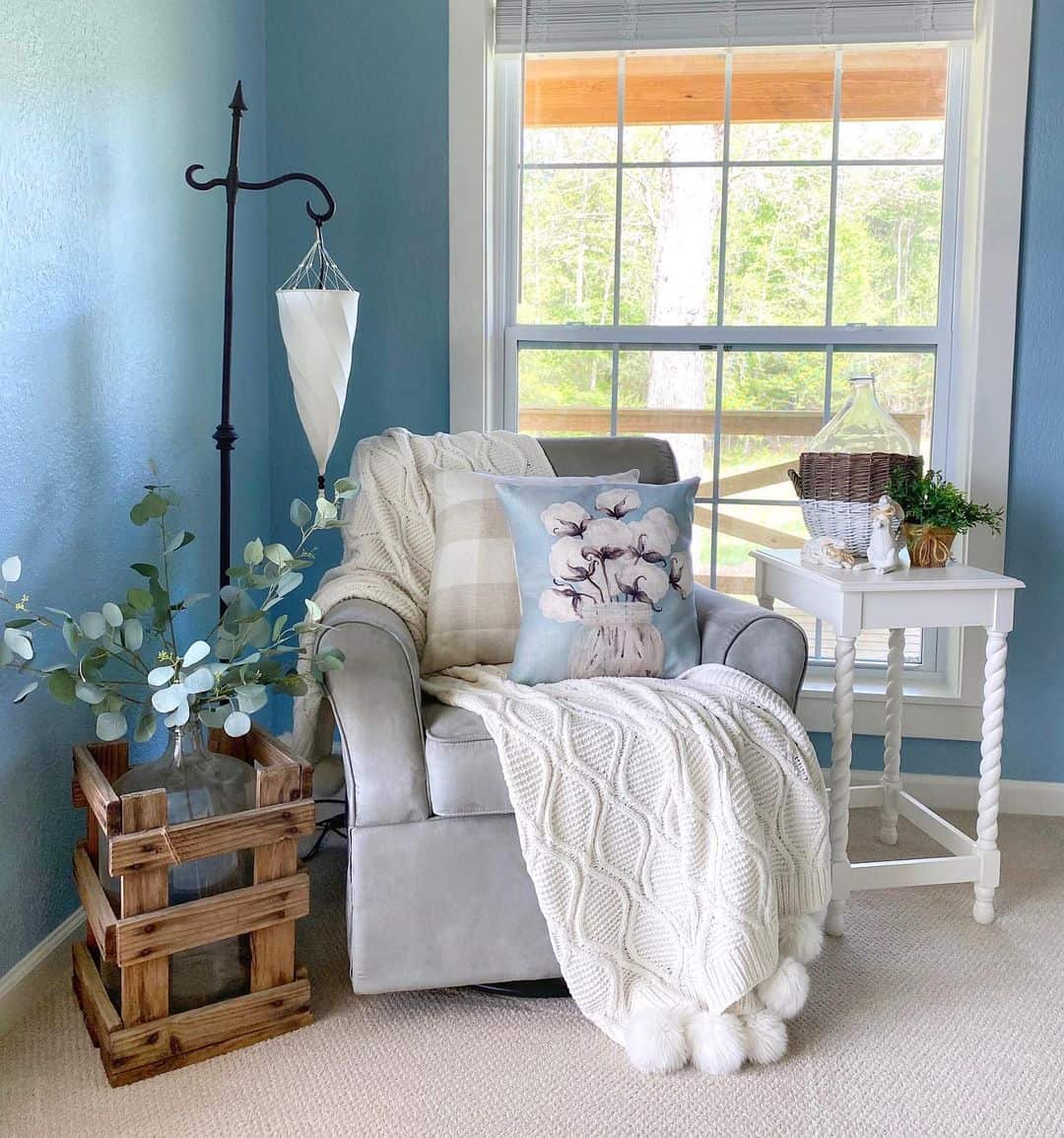 Credit: southern_styleandhome
Shop the Look
Wrap-up
Incorporating light blue walls into your farmhouse living room can have a profound impact on the overall atmosphere. These five ideas showcase the versatility of this serene color, from accentuating rustic elements to enhancing cottagecore aesthetics.
By choosing the right approach that resonates with your style, you can create a peaceful haven where you can unwind, relax, and savor the essence of farmhouse living