7+ Blue and White Living Room Ideas to Revitalize Your Farmhouse
Affiliate Disclosure: As an Amazon Associate we earn from qualifying purchases. Hence, if you click through and make a purchase, we will get a commission at no extra cost to you. For more info, read our full disclosure.
If you're looking to breathe new life into your farmhouse living space, the timeless combination of blue and white may be just the inspiration you need. In this article, we've curated a collection of seven stunning blue and white living room ideas that will transform your home into a haven of serenity and style.
From coastal charm to elegant shiplap walls, these design concepts are sure to revitalize your farmhouse and leave you inspired to create a space that truly reflects your personal taste and comfort.
Vibrant Pomegranate Stems Infuse Life into Blue and White Living Room
The clear glass vase proudly displays vibrant pomegranate stems that introduce a refreshing burst of orange to the serene light blue backdrop of the room. A cozy gray sofa is adorned with plush pillows, while an elegant round marble coffee table graces the space, adding a touch of graceful charm.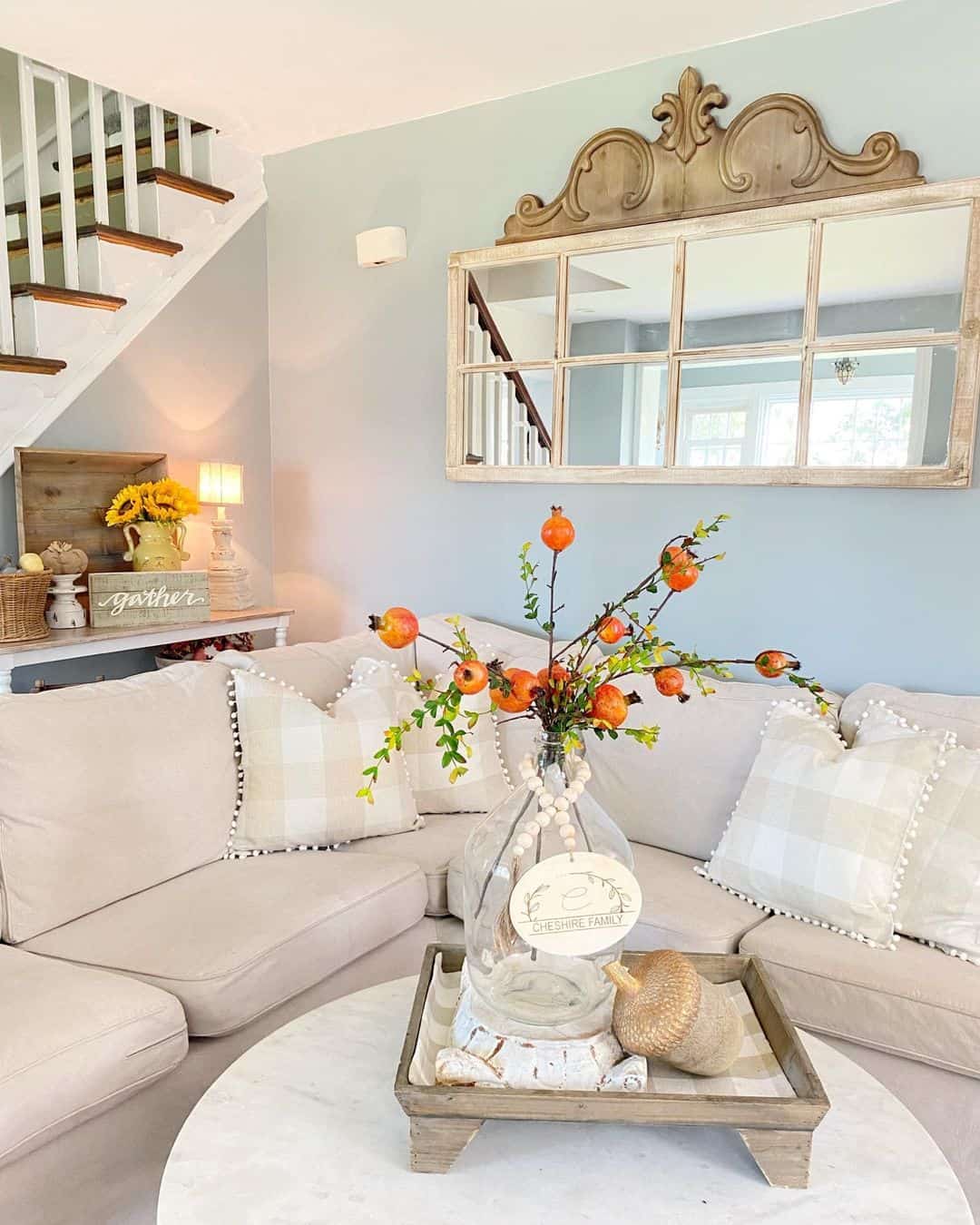 Credit: thelittlecottagethatcould
Shop the Look
Elegant White Shiplap Walls Elevate Blue and White Living Room
This sophisticated sanctuary blends the brilliance of bright ashwood with dynamic blue and white elements. Crisp white shiplap walls provide a pristine canvas for exquisite ashwood shelves adorned with tasteful farmhouse decor. A deep navy blue armchair takes center stage before a circular white coffee table, topped off with a delightful hydrangea plant.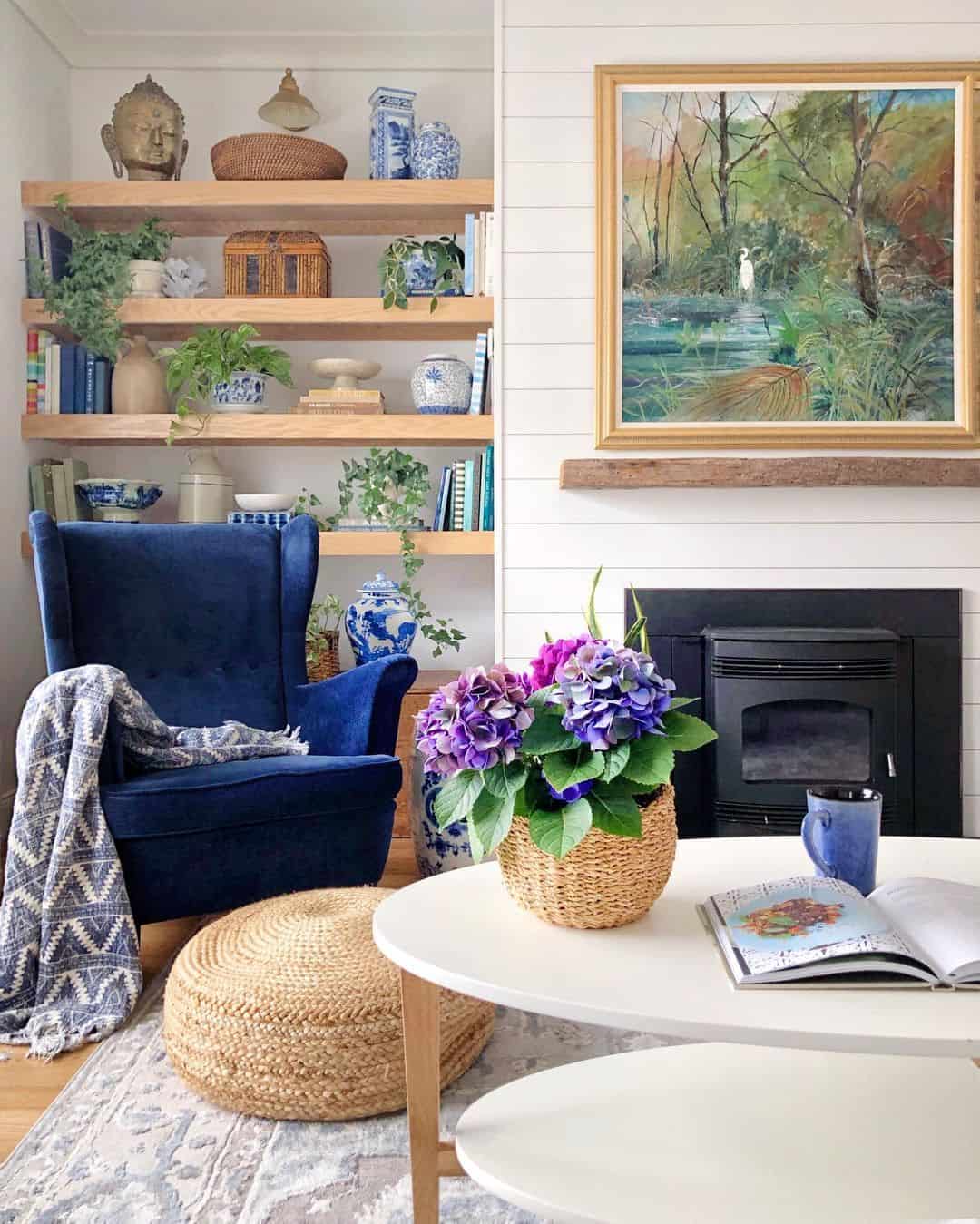 Credit: jogalbraithathome
Shop the Look
Cobalt Blue Walls Radiate Warmth in Living Room
Natural hardwood floors infuse warmth into this blue and white-themed living room, while striking cobalt blue walls harmonize with dreamy white windows and a fireplace. Plush sofas find their place atop a soft white rug, creating a welcoming retreat.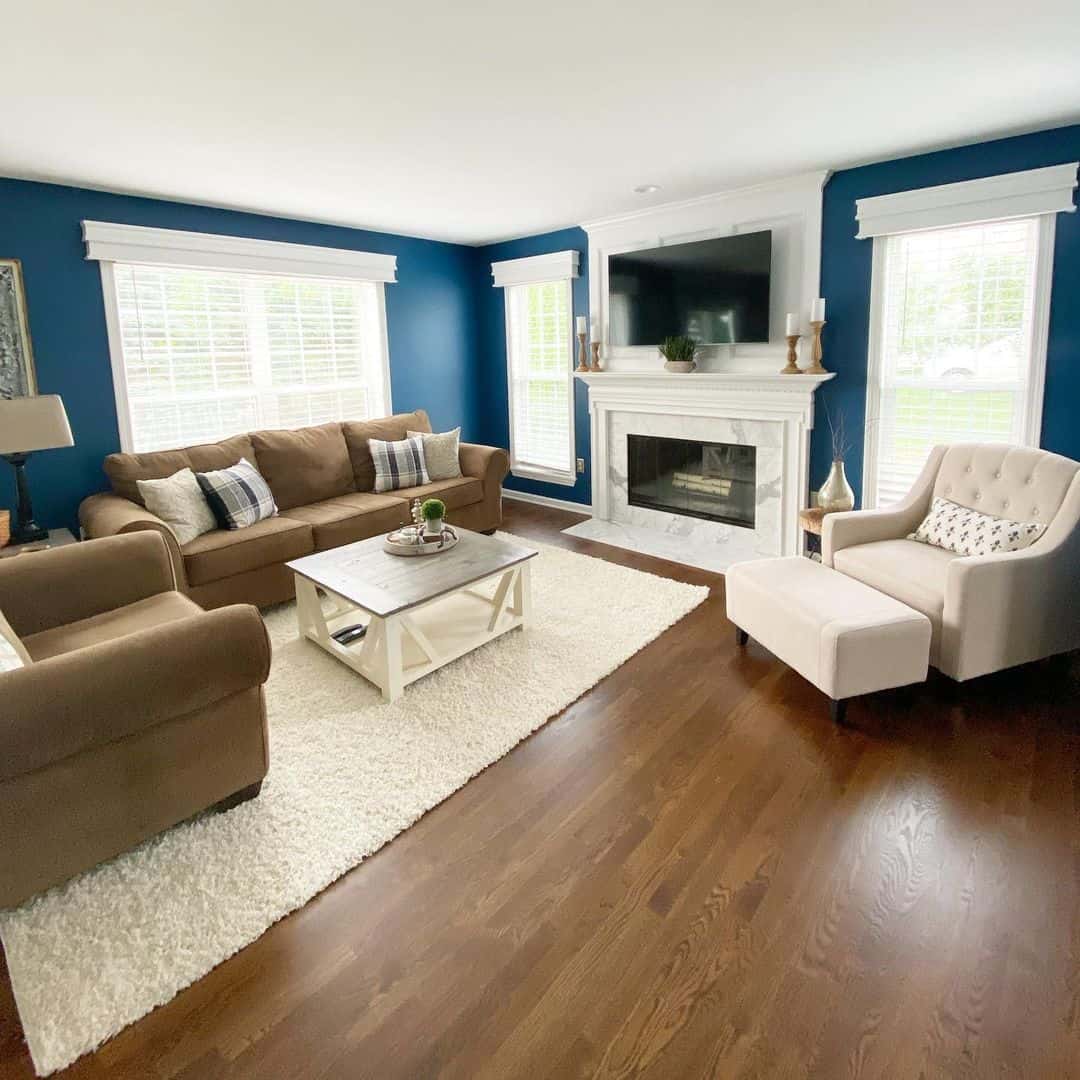 Credit: houseonwooster
Shop the Look
High Ceiling Living Room with a Touch of Elegance
Elegance abounds in this high-ceilinged living room, featuring a sumptuous navy jute rug reminiscent of Hampton style. Beige walls provide a neutral backdrop, crowned by a grand white chandelier. A glass coffee table takes center stage, encircled by plush grey cushioned seats.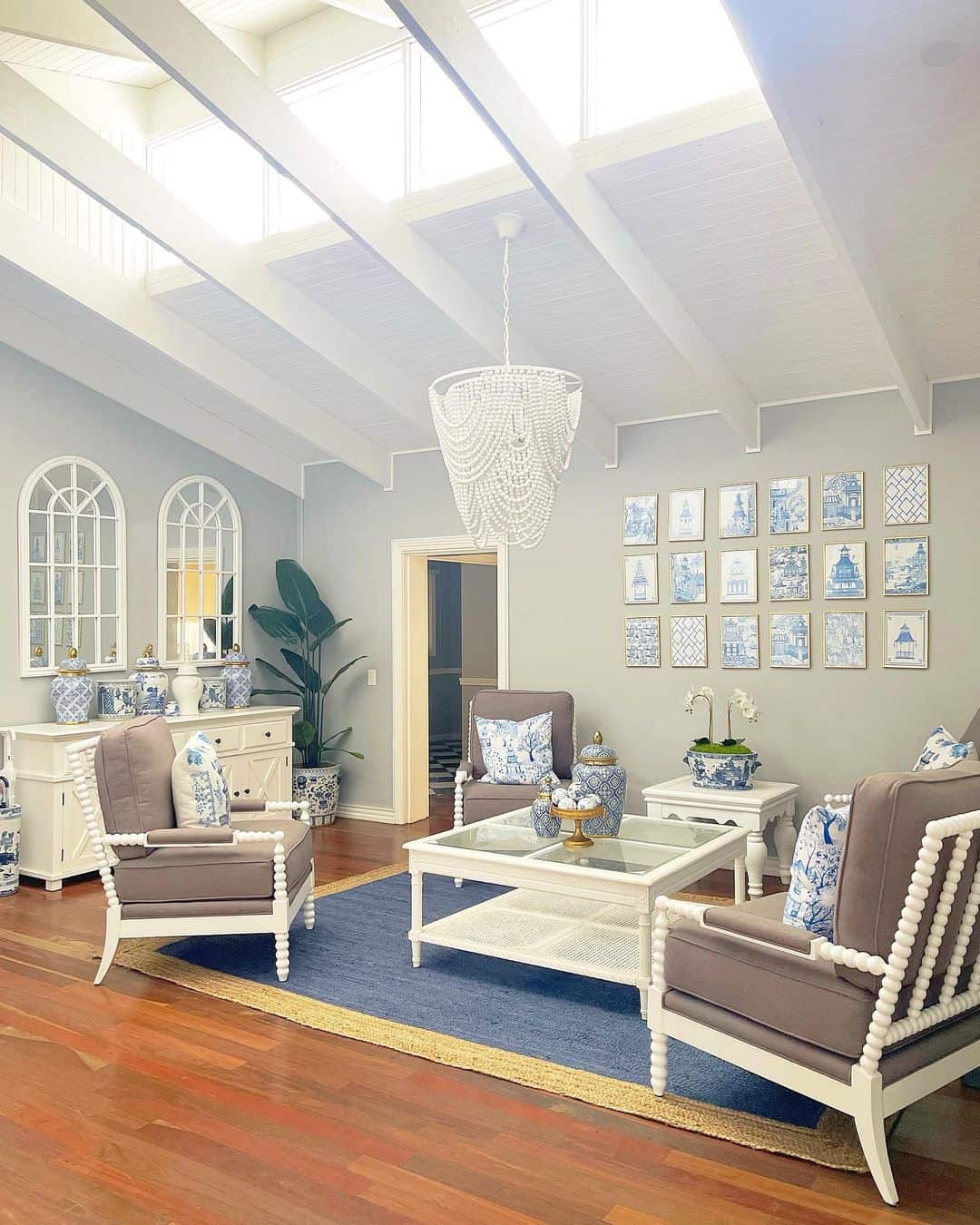 Credit: hamptonsdiaries
Shop the Look
Coastal Charm with a Stone Fireplace
White shiplap walls harmonize with captivating ocean-blue walls, creating an inviting coastal living room. The stone fireplace exudes character and charm, while adorable blue cushions adorn the soft gray sofa, completing the coastal ambiance.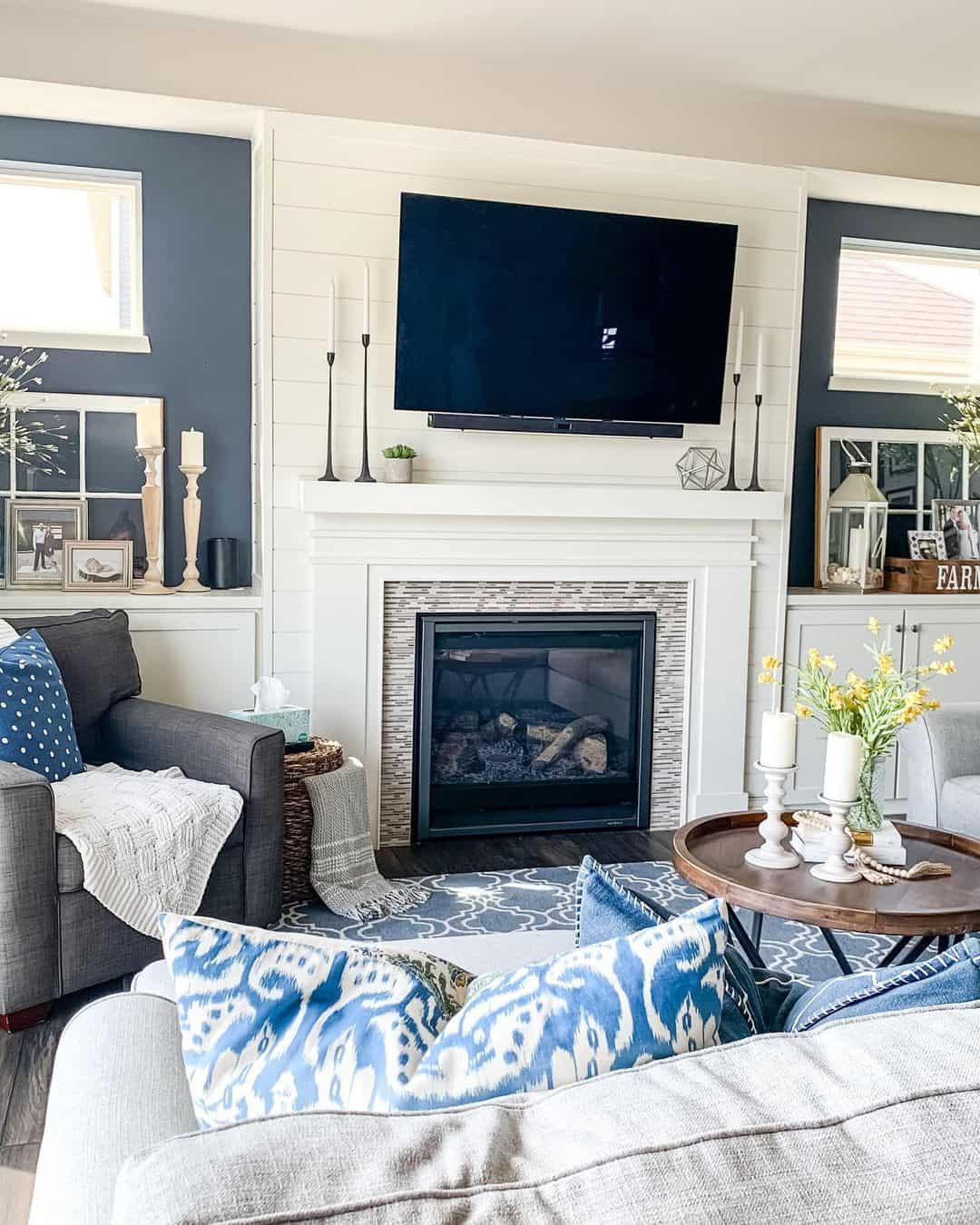 Credit: the.westnest
Shop the Look
Captivating Blue and White Décor
At the heart of the room, a gleaming round wooden table stands proudly, graced with a collection of books and an exquisite white and blue ceramic vase overflowing with vibrant yellow blossoms. Two alluring blue velvet seats flank this centerpiece, creating an inviting ensemble.
Surrounding this focal point, the rest of the living room boasts an effortlessly chic blend of white furnishings, embellished with plush blue pillows and tastefully adorned with scattered gold frames and decor accents.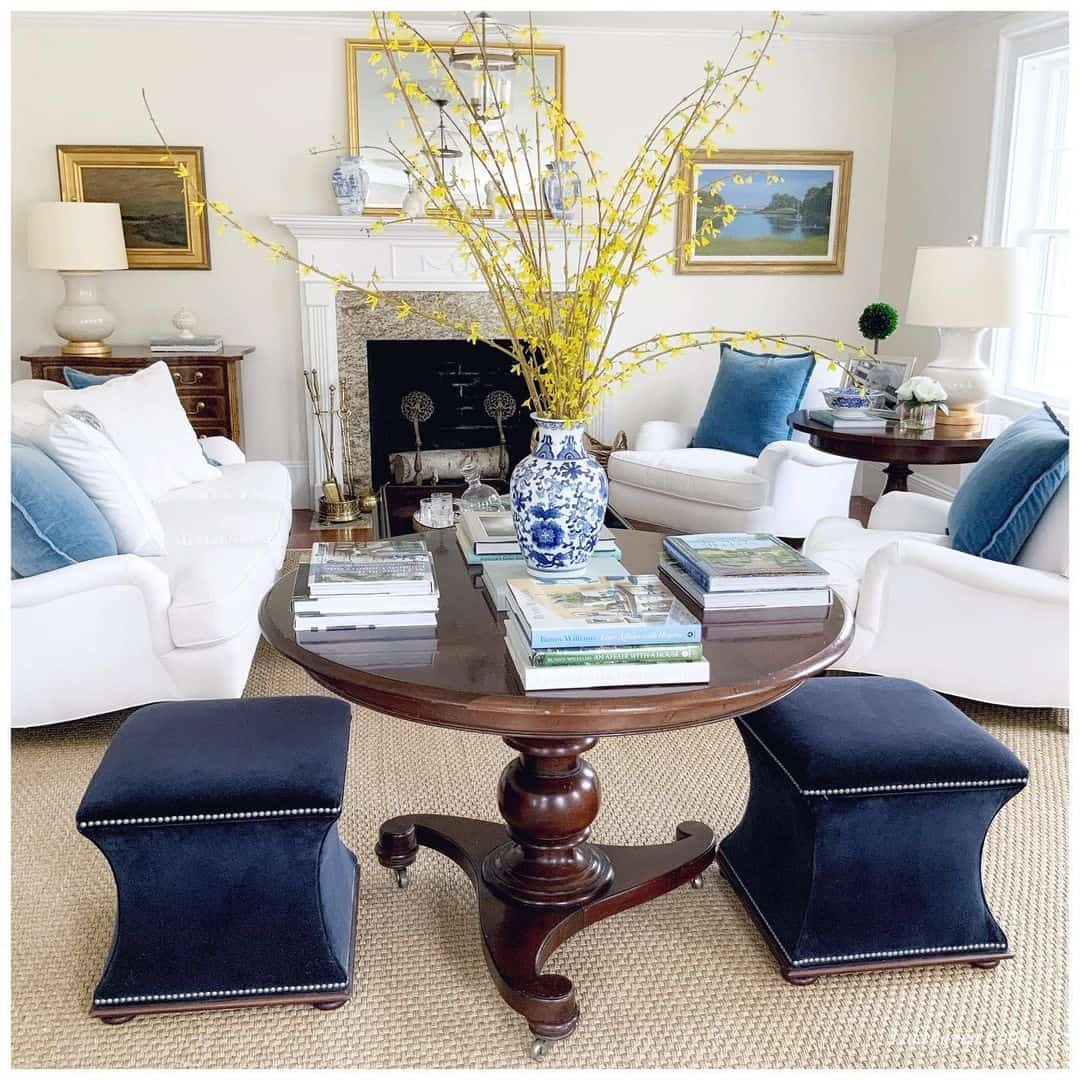 Credit: lakehavencottage
Shop the Look
Serene Light Blue Piano in Blue and White Living Room
This living room exudes tranquility, with soft light blue walls and ethereal white curtains bathed in the warm morning sun. The light blue piano stands as a serene centerpiece, surrounded by a soothing white ambiance throughout the room.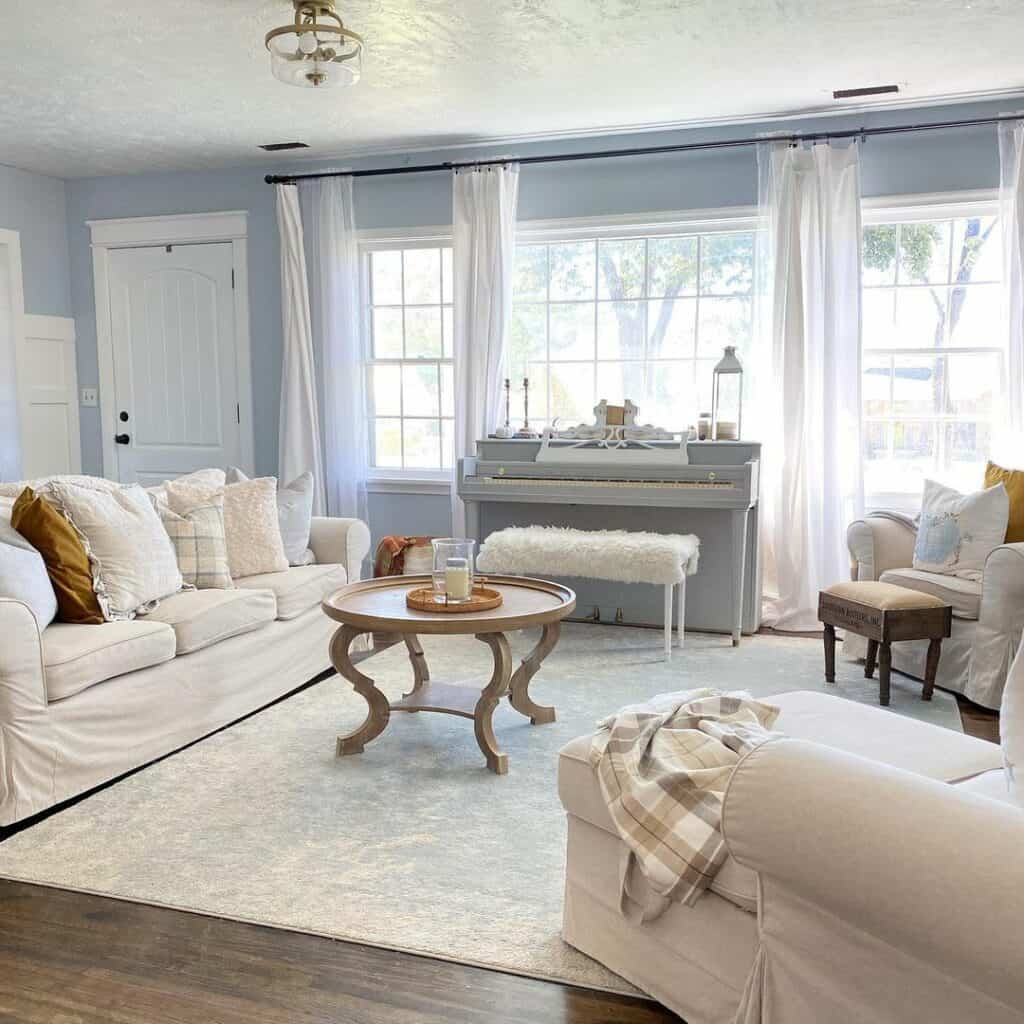 Credit: ourlittlewhitebungalow
Shop the Look
Pearly White Sofa and Tranquil Blue Pillows
Step into this unique living room, where a pearly white sofa invites you to relax amidst an array of calming blue pillows. At the heart of the room, a rustic wooden coffee table rests atop a soft, welcoming rug, while wispy blinds allow gentle natural light to fill the space.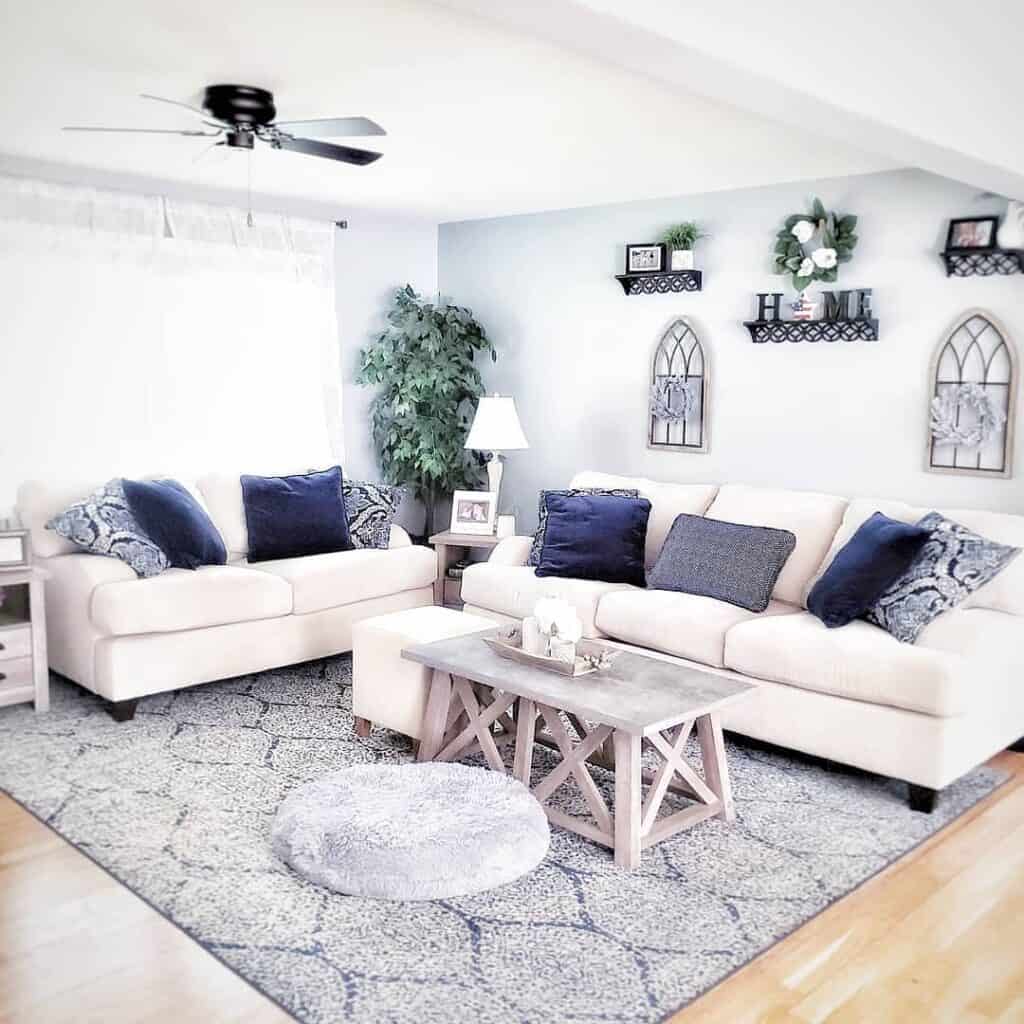 Credit: driftscapedesigns
Shop the Look
Wrap-up
Incorporating blue and white elements into your farmhouse living room can have a transformative effect, infusing your space with a sense of tranquility and sophistication. Whether you opt for coastal-inspired decor, elegant shiplap walls, or other creative design concepts, these seven ideas provide a starting point for reviving and revitalizing your farmhouse.
With a little creativity and a touch of inspiration, your living room can become a true reflection of your style and personality, ensuring that it remains a welcoming and cherished part of your home for years to come.