7+ Edgy Modern Farmhouse Kitchen Backsplash Ideas
Affiliate Disclosure: As an Amazon Associate we earn from qualifying purchases. Hence, if you click through and make a purchase, we will get a commission at no extra cost to you. For more info, read our full disclosure.
Modern farmhouse kitchens have become the epitome of stylish and functional design. With their perfect blend of contemporary aesthetics and rustic charm, these spaces are increasingly popular among homeowners. One of the key elements that can transform your kitchen into an edgy modern farmhouse haven is the backsplash.
In this blog, we'll explore seven edgy modern farmhouse kitchen backsplash ideas that not only elevate your culinary space but also reflect your unique style and personality. Get ready to be inspired as we take a deep dive into the world of cutting-edge backsplash designs.
Elevating Farmhouse Charm with Wood Flooring and Subway Tile Backsplash
Within the realm of this farmhouse-inspired kitchen, the rich contrast of black granite countertops complements the gleam of stainless steel appliances and the pristine allure of white kitchen cabinets. The timeless appeal of white subway tile clads the walls, accentuated by subtle gray grout, while the warmth of wood flooring adds a delightful layer of diversity to the space.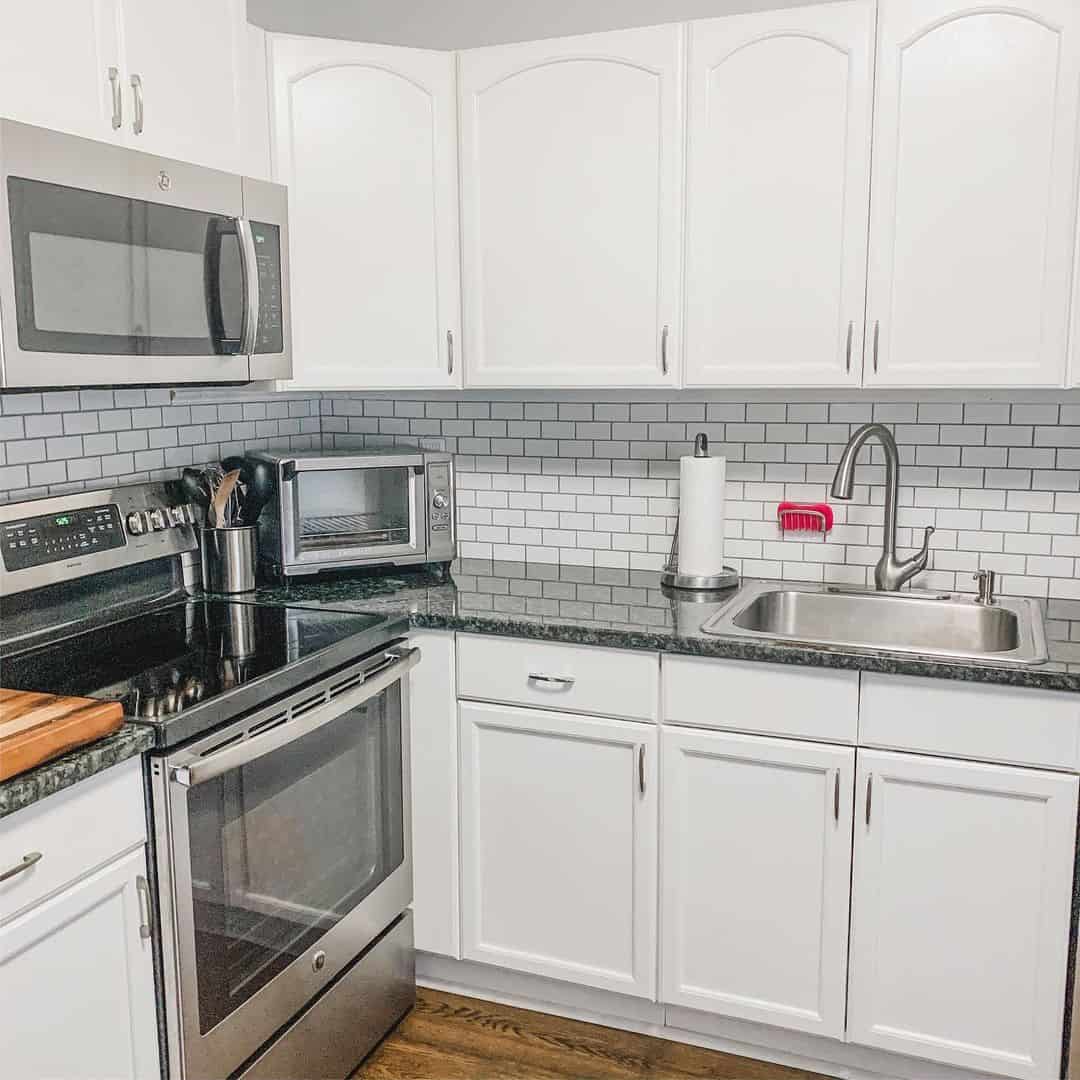 Credit: practicallybasic
Shop the Look
Illuminating the Kitchen with Black Sconces and a Brick Backsplash
In this European-inspired kitchen, a wooden island takes center stage, complete with open-side shelves, crowned by the elegance of two brass dome pendants. The wood flooring seamlessly complements the pristine white walls and cabinets. A charming play of contrast is introduced by the two black sconces and a white vent hood set against the backdrop of a textured brick kitchen backsplash.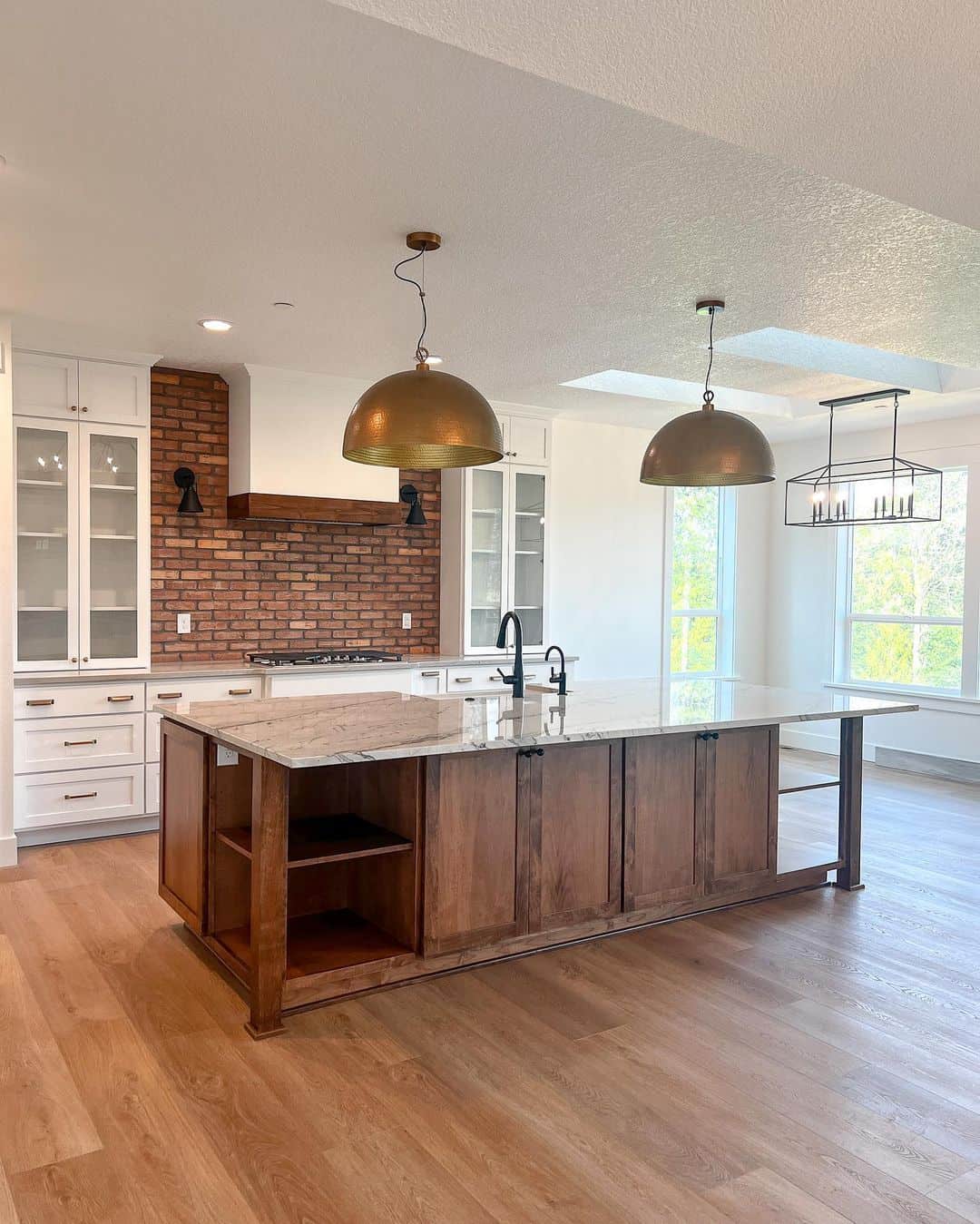 Credit: our.homebuild.story
Shop the Look
Crafting an Intricate Backsplash for a Compact Kitchen
In the heart of this vintage farmhouse kitchen, a sleek black vent hood is thoughtfully nestled amidst a sea of crisp white cabinets. The piece de resistance is the black and white kitchen backsplash, adorned with intricate patterns, enhancing the depth of this compact space. This striking black and white backsplash is a striking highlight set above a beautiful marble countertop.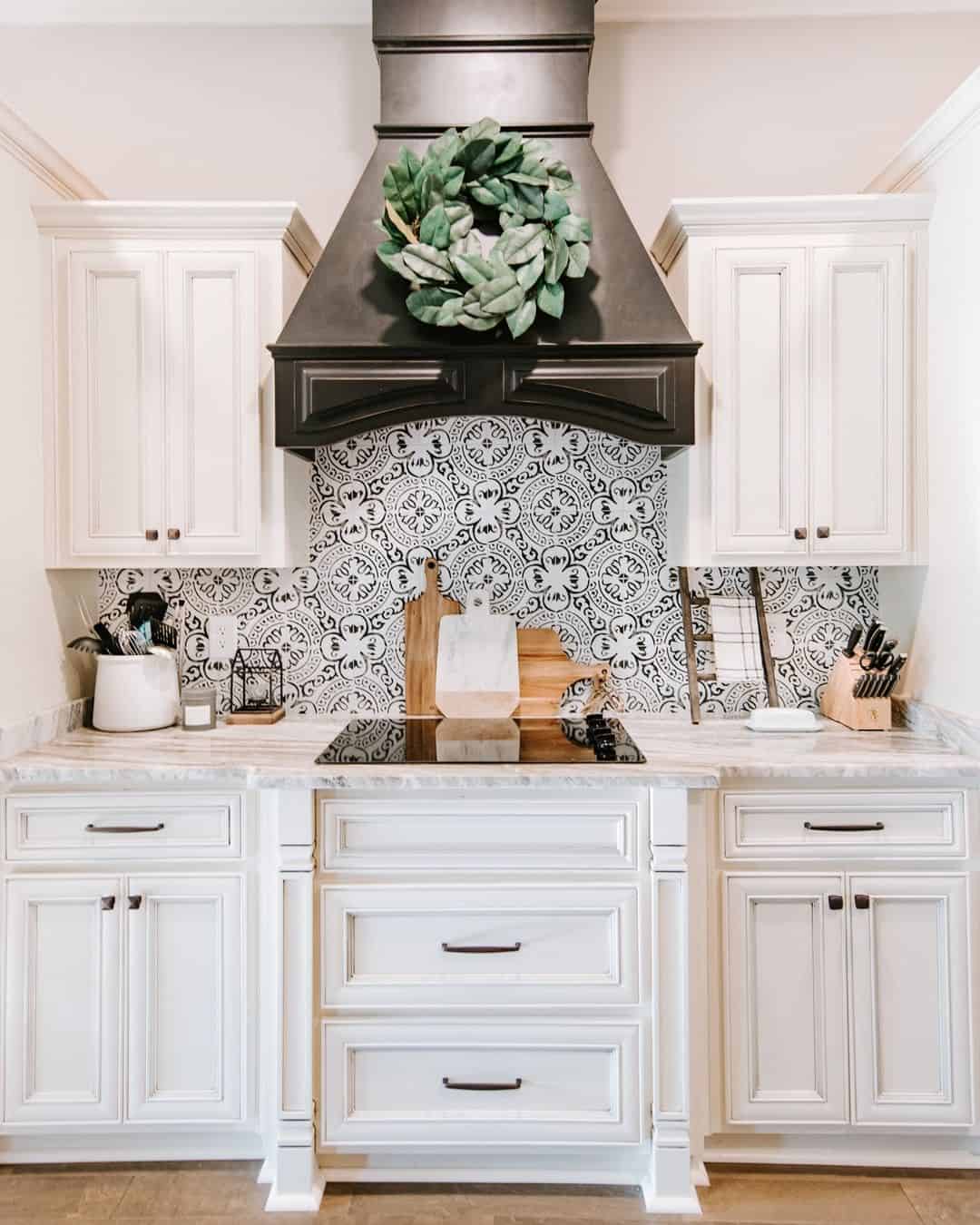 Credit: pamelacarlisledesign
Shop the Look
A Modern Farmhouse Oasis with Wood Accents
This modern farmhouse kitchen is a testament to contemporary charm. Floating wood shelves gracefully adorn a pristine white tile wall, harmonizing with white shaker cabinets featuring gleaming brass hardware. A rustic wreath adorns the inviting white shiplap hood, which incorporates tasteful wooden accents to create a cozy and welcoming atmosphere.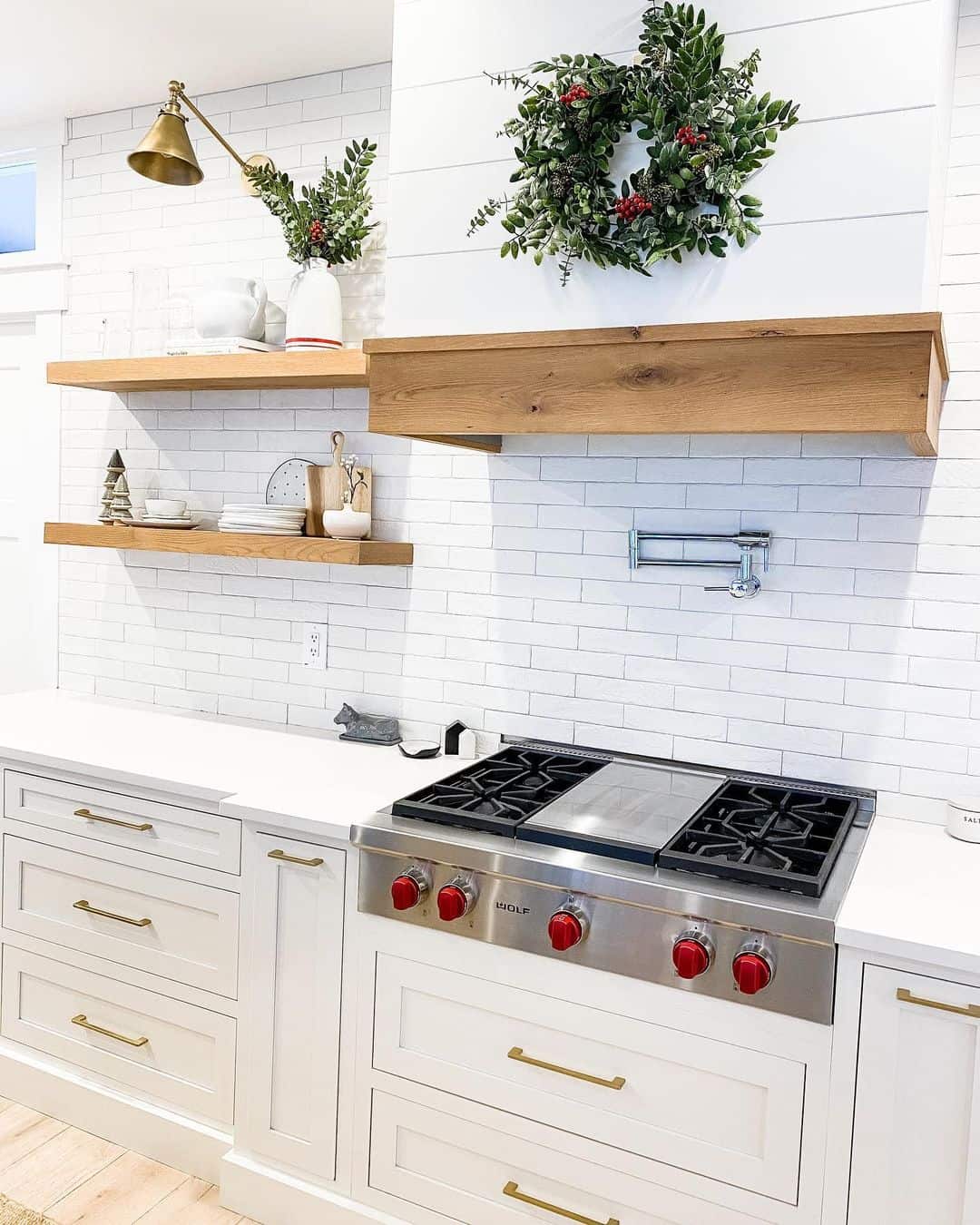 Credit: purelyfarmhouse
Shop the Look
Timeless Elegance with Gray Subway Tile and a Farmhouse Sink
The heart of this kitchen revolves around a striking white kitchen island adorned with charming cross-back counter stools. A lustrous gray subway tile serves as a backdrop, offering a captivating contrast to the pristine white shaker cabinets and matching countertops. A classic farmhouse sink nestles beneath a petite kitchen window, infusing the space with timeless elegance.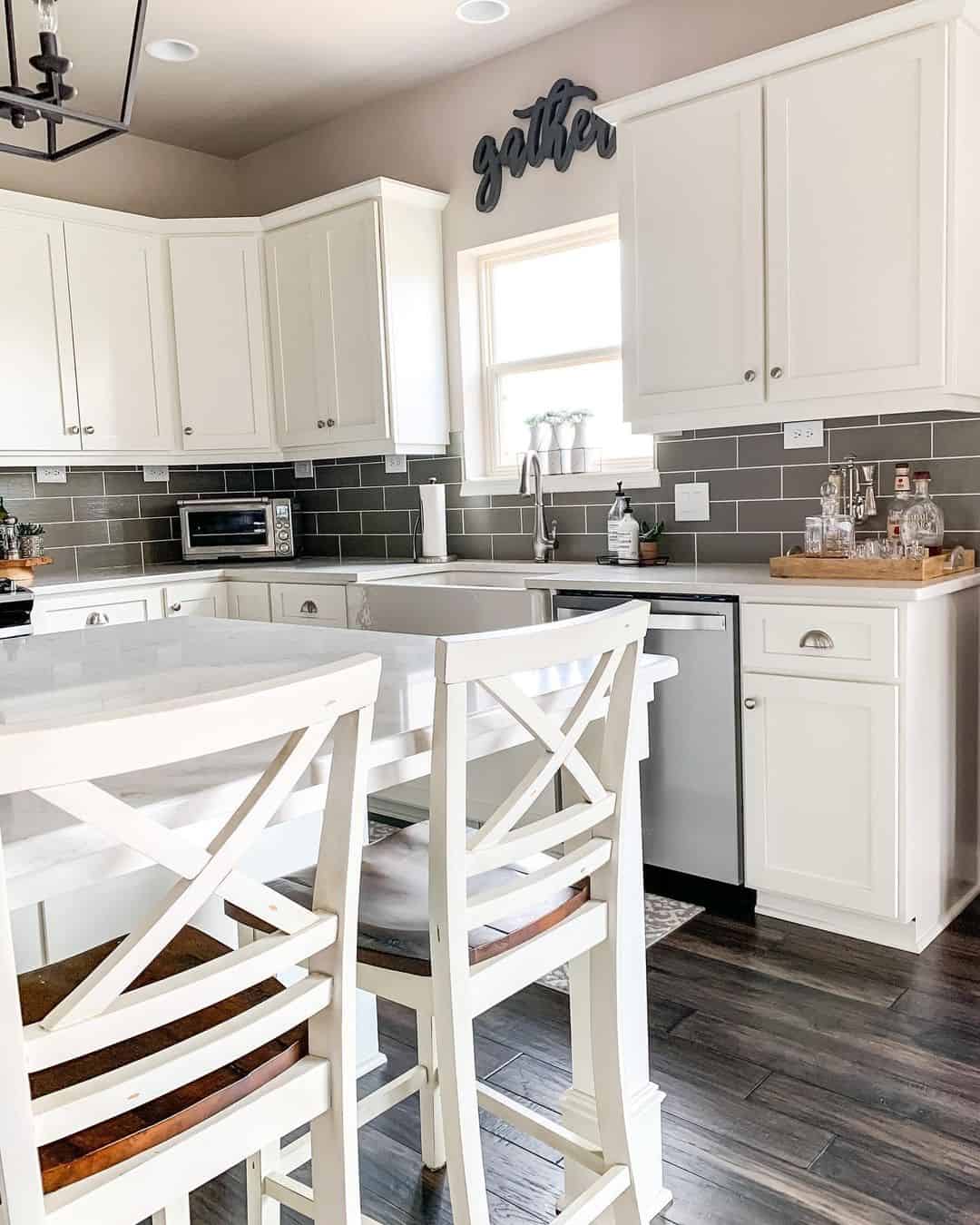 Credit: the.westnest
Shop the Look
Stylish Hardware Ideas for a Black and White Kitchen
Step into a kitchen that exudes modern elegance. A generously proportioned black breakfast bar, crowned with a luxurious white marble top, showcases a striking black faucet and holds the essentials, from dish soap to a pristine sink. Four inviting brown chairs tuck neatly under the bar, while three sleek black pendant lights hover above.
The white cabinets are tastefully punctuated with black hardware, artfully arranged around a stately wood range hood and gleaming stainless steel appliances. A marble countertop serves as a canvas for an assortment of canisters, a knife block, a crock of wooden utensils, and an array of farmhouse signs and decor.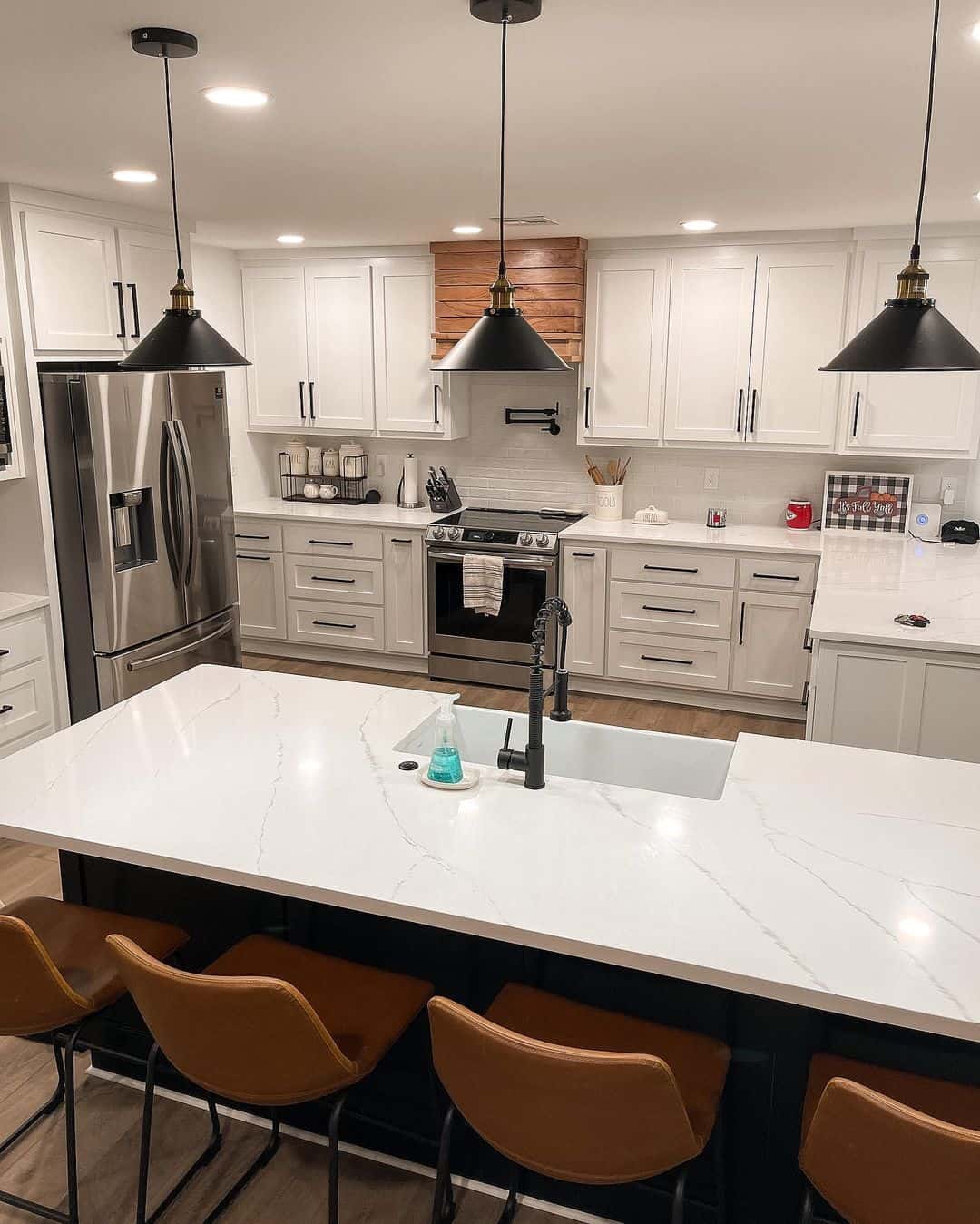 Credit: thishomehere
Shop the Look
Impeccable Organization with Full-Overlay Cabinets and Glossy White Tile
This kitchen stands as a paragon of organization and elegance, thanks to the full-overlay shaker cabinets that bestow a sleek and polished appearance. A decorative spring wreath adds a touch of grace to the pristine white range hood, while the glossy white tile backsplash hosts a gleaming stainless steel pot filler, effortlessly complementing the marbled countertop.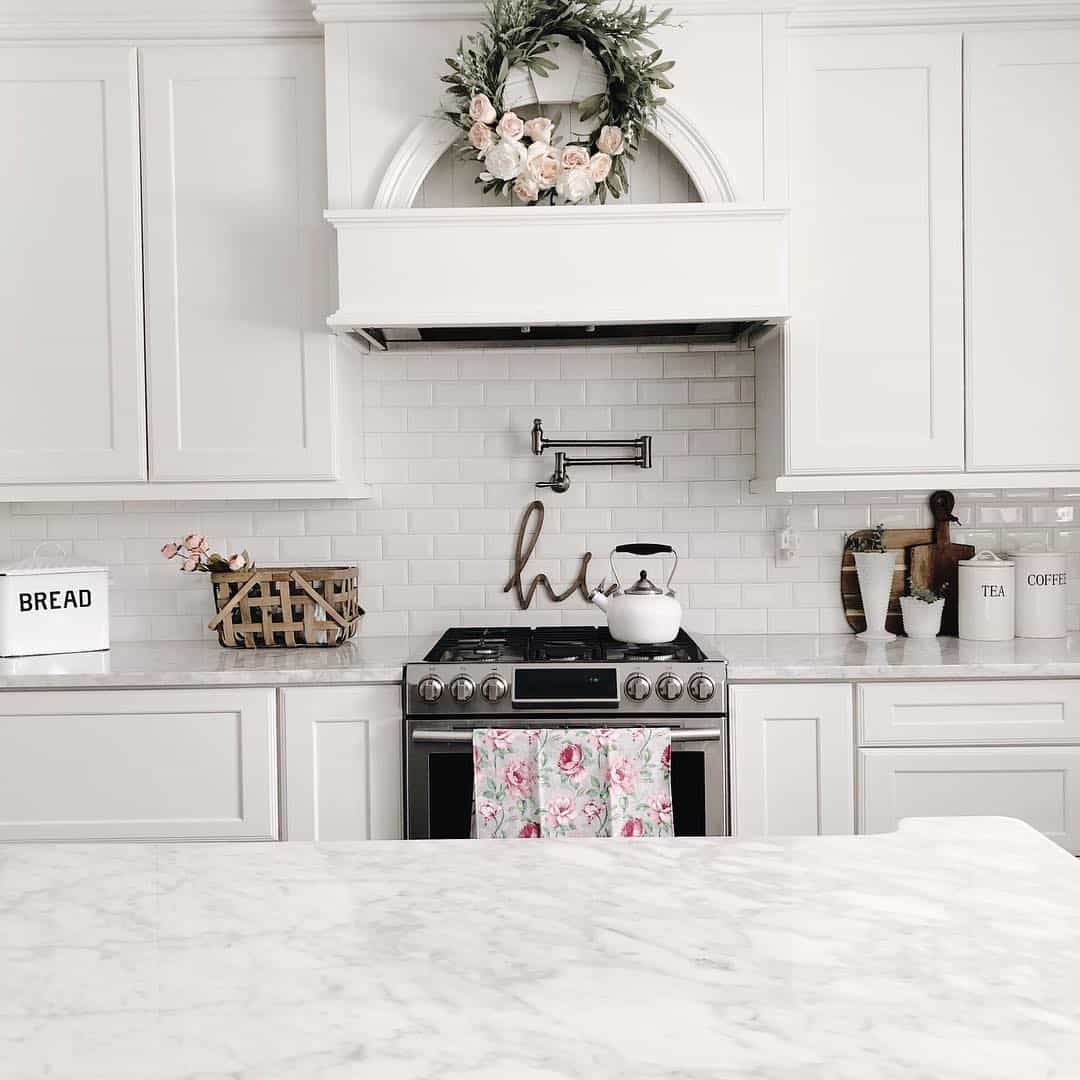 Credit: our_modern_farmhouse
Shop the Look
Rustic Elegance with a Marbled Backsplash Surrounding a White-Trimmed Window
Incorporate rustic charm into your modern farmhouse kitchen, as rustic wooden kitchen utensils play an integral role in enhancing the aesthetic of this space. A marbled white and gray tile backsplash is thoughtfully installed, framing a range and embracing a white-trimmed window. Small bronze knobs act as the finishing touch, adding an extra layer of character to the white inset cabinets.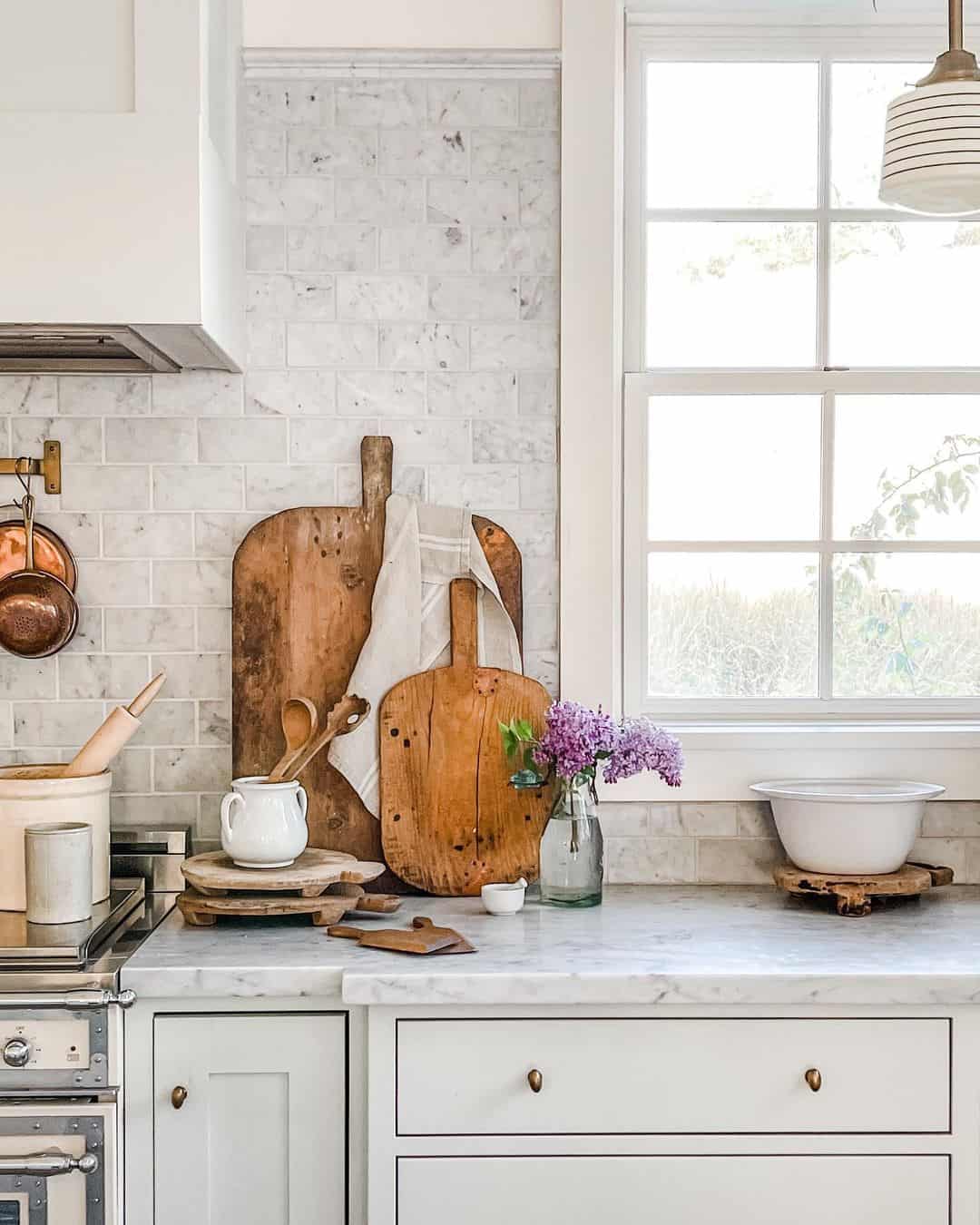 Credit: thestonehouseroad
Shop the Look
Wrap-up
Incorporating an edgy modern farmhouse kitchen backsplash can be the game-changer your home needs. It adds a personal touch, defines your space, and merges the best of contemporary and rustic worlds. Whether you prefer bold patterns, unconventional materials, or timeless subway tiles, there's an edgy backsplash idea to suit your taste. By implementing these ideas, you can transform your kitchen into a stylish and functional hub that's sure to impress both family and guests.