7+ Classy Farmhouse Kitchen Designs With White Quartz Countertops
Affiliate Disclosure: As an Amazon Associate we earn from qualifying purchases. Hence, if you click through and make a purchase, we will get a commission at no extra cost to you. For more info, read our full disclosure.
Step into the world of timeless elegance and rustic charm with these 7+ classy farmhouse kitchen designs featuring pristine white quartz countertops. Whether you're a fan of the modern farmhouse aesthetic or prefer a more traditional look, these captivating kitchen designs offer a perfect blend of style and functionality.
From rustic wood accents to sleek black hardware, each kitchen tells a unique story, and you're about to embark on a journey through these inviting spaces that celebrate the heart of the home.
White Quartz Countertops in a Rustic Farmhouse Kitchen
Discover the charm of this rustic farmhouse kitchen, where a barnwood kitchen island takes center stage, adorned with pristine white quartz countertops. Complementing the island are stylish black leather barstools, infusing a modern twist into the classic farmhouse feel. The elegance extends to the black metal pendant lights hanging above the island, harmonizing with the wood-paneled range hood casing and the soft sconce light above the sink.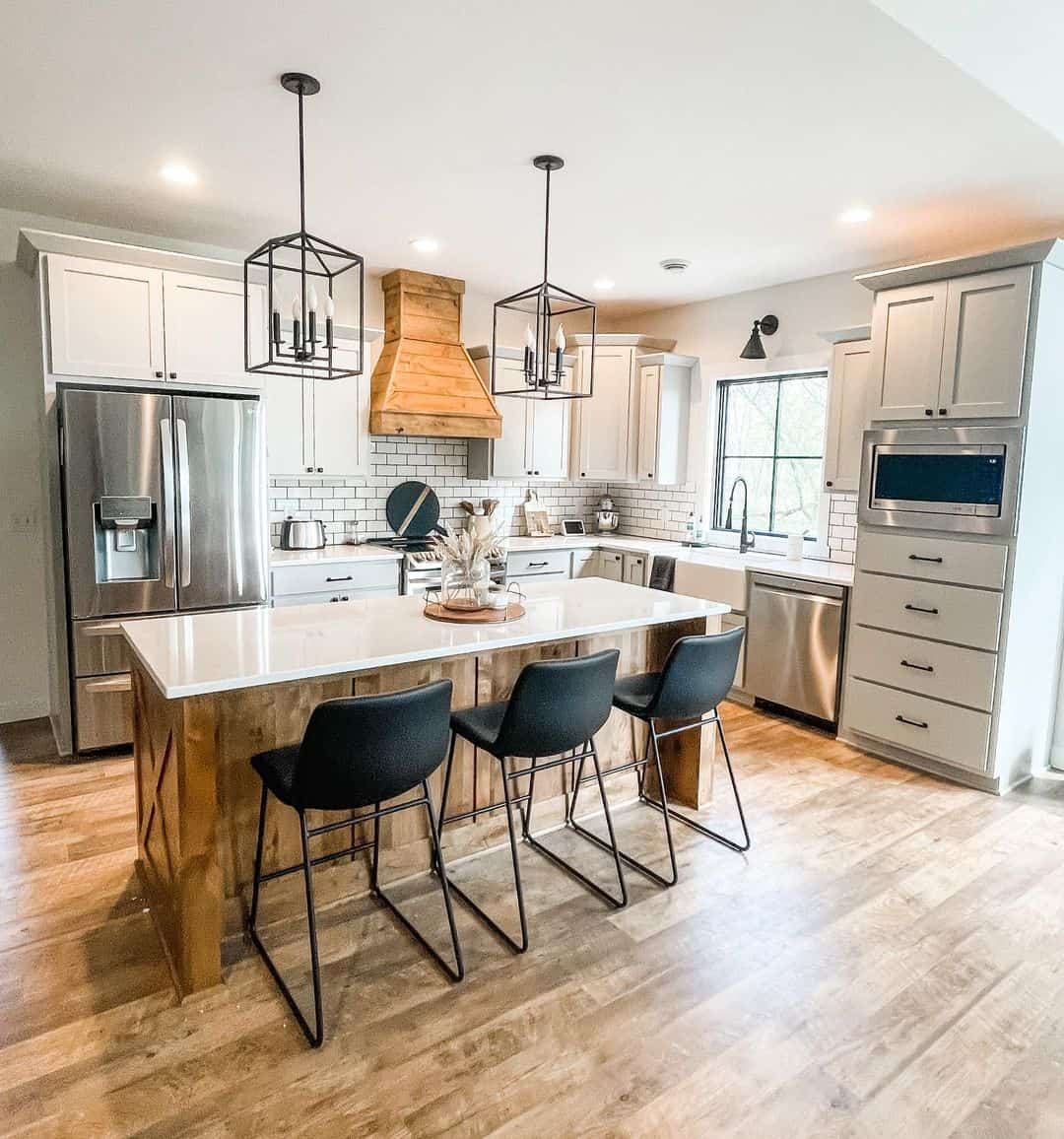 Credit: @the_hoffman_homestead
Shop the Look
White Quartz-Adorned Farmhouse Kitchen Island
This farmhouse kitchen island exudes an air of elegance through simplicity. Ashy barn wood panels grace the sides, concealing built-in cabinets with sleek black hardware. The black accents continue with two vintage pendant lights, adorning the island and a black faucet gracing the white quartz countertop, featuring subtle grey marbling. The lower cabinets alternate with pristine white overhead cabinets.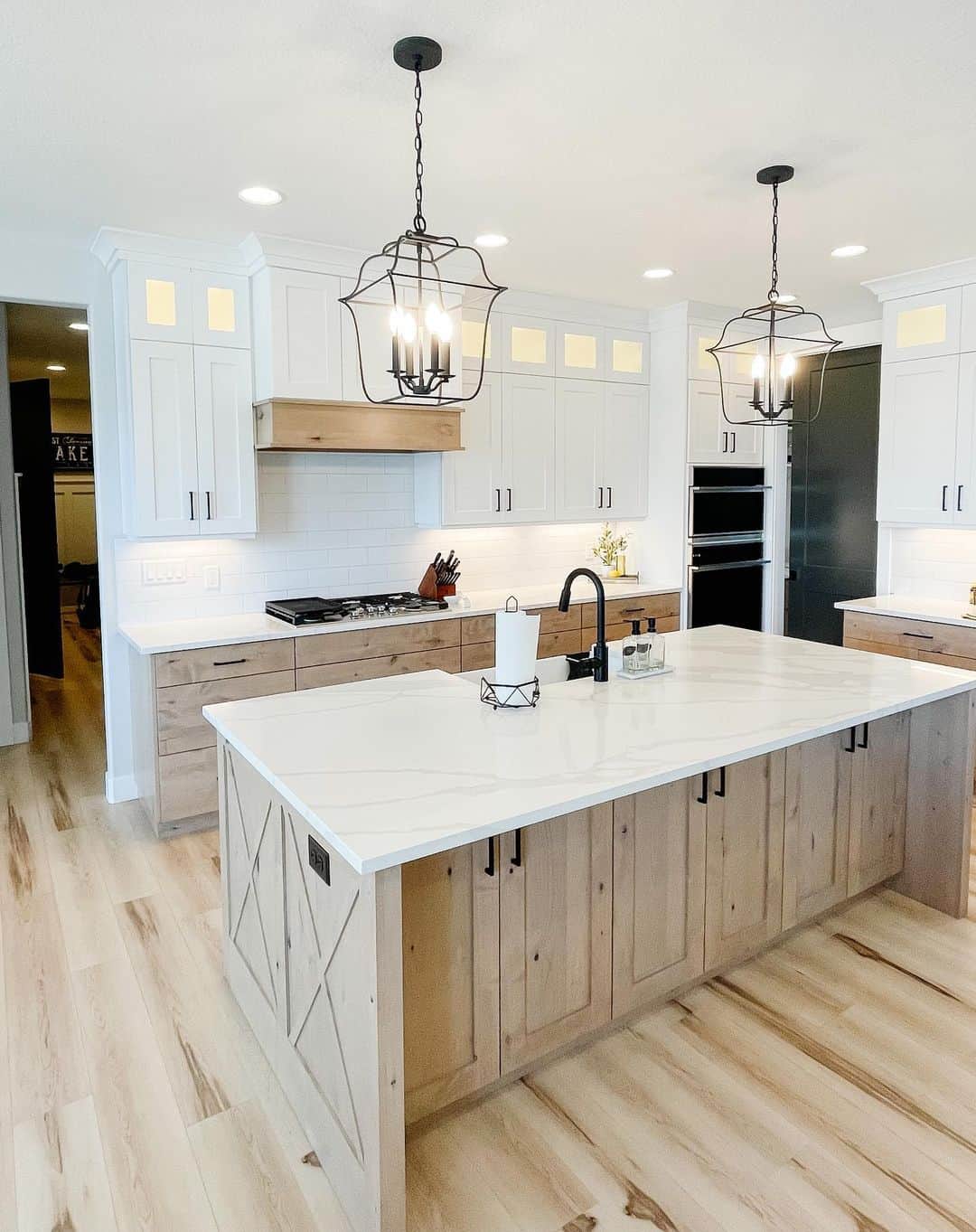 Credit: @our.lakehouse.living
Shop the Look
Pristine White Quartz Counters in an All-White Kitchen
Step into a timeless kitchen where a luminous all-white setting is enhanced by a barn wood island featuring pristine white quartz countertops. The rustic wood barstools, with their warm ashy finish, seamlessly blend with the warm wooden floors, exposed ceiling beams, and the golden glow of farmhouse pendant lights above the central kitchen island.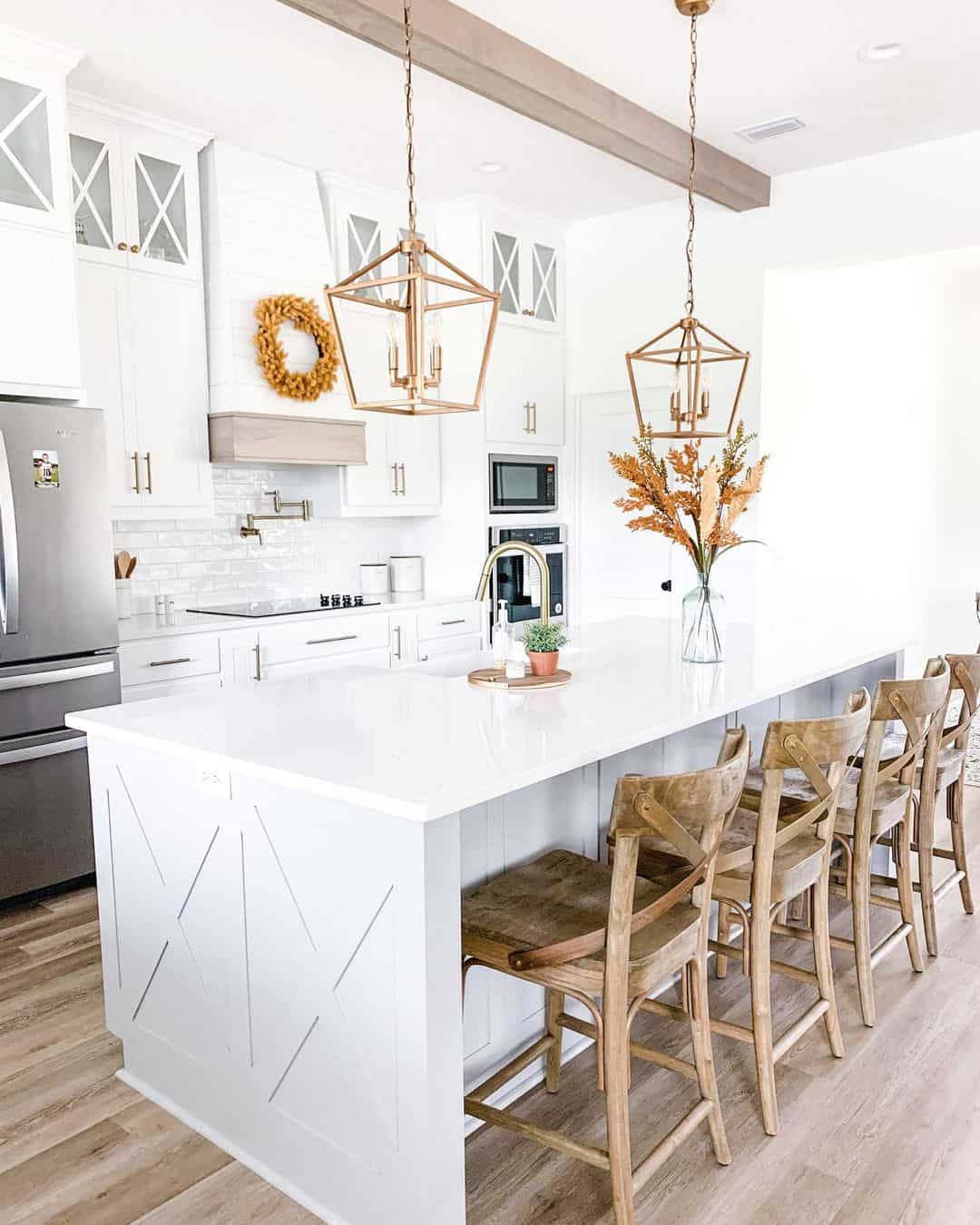 Credit: @styled_by_jadeleah
Shop the Look
White Kitchen Infused with Charming Rustic Accents
In this pristine white farmhouse kitchen, an opulent touch emerges from a white marble kitchen countertop. The kitchen's elegance is further accentuated by a custom wood-paneled range hood cover that beautifully complements the vintage metal chandeliers casting a warm glow over the kitchen island. To complete the picture, inviting farmhouse white barstools seamlessly blend rustic and modern aesthetics.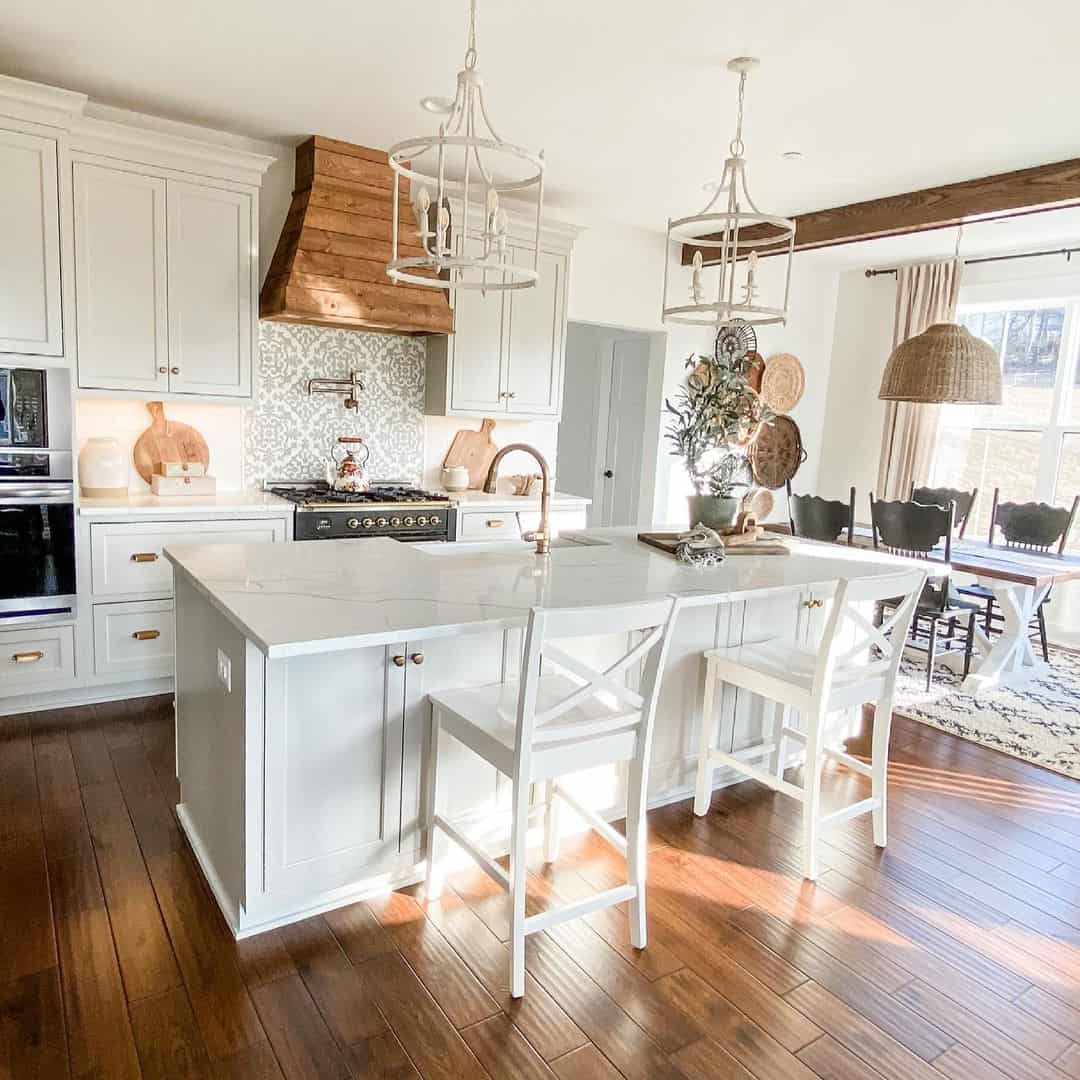 Credit: @whitebohofarmhouse
Shop the Look
Elegance with White Quartz Counters
Experience the magic of a monochromatic farmhouse kitchen, where a white quartz countertop, featuring subtle gray marbling, crowns a sleek black kitchen island. The island stands in stark contrast to the white cabinets, adorned with black hardware. Black metal pendant lights, suspended over the island, create a modern farmhouse ambiance.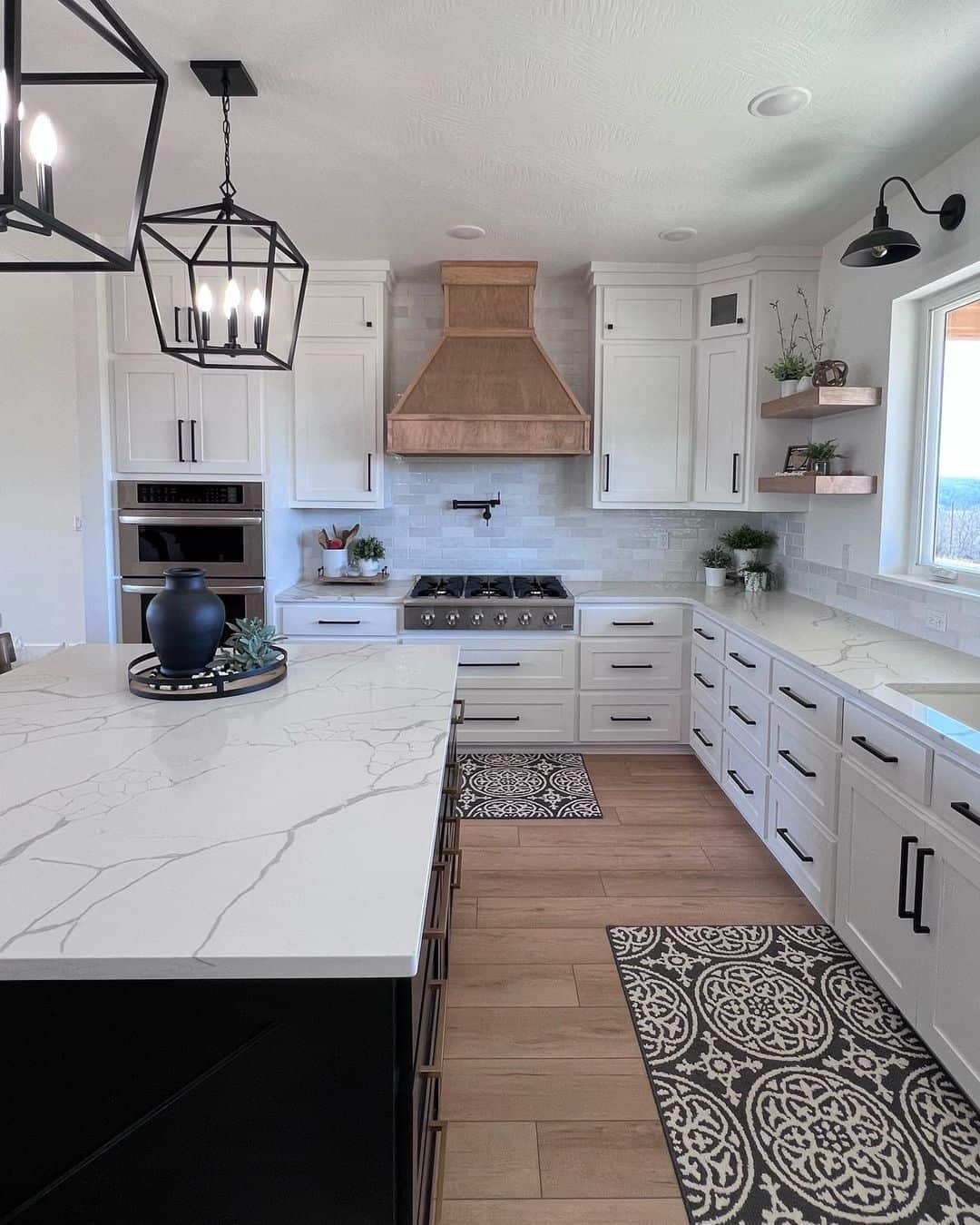 Credit: @sky_ridge_farmhouse
Shop the Look
Shiplap-Embellished Island with White Quartz Countertops
The charm of shiplap comes alive in this farmhouse kitchen, where vintage cage lights dangle above pristine white quartz counters. The light ashy wood flooring and white cabinetry enhance the room's brightness, drawing attention to the inviting black metal barstools.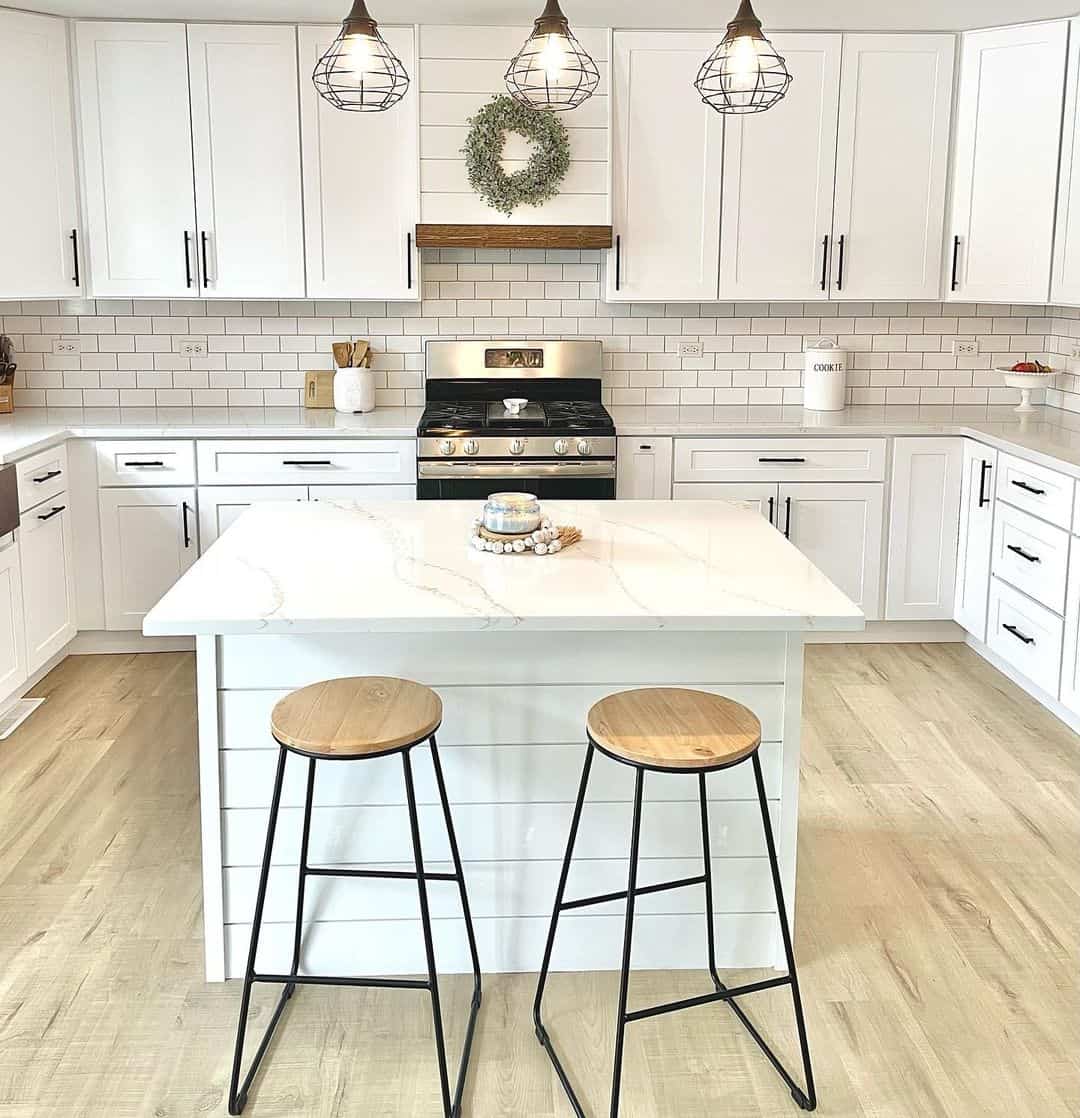 Credit: @rufflesandblush
Shop the Look
White Quartz Countertops and Subway Tile Backsplash Harmony
Take a step into a serene, all-white culinary space, where durability meets style with durable quartz countertops, white shaker cabinets, and sleek black hardware. A white tile backsplash adorned with contrasting black grout adds a subtle touch of elegance to the predominantly white decor, creating a harmonious and inviting atmosphere.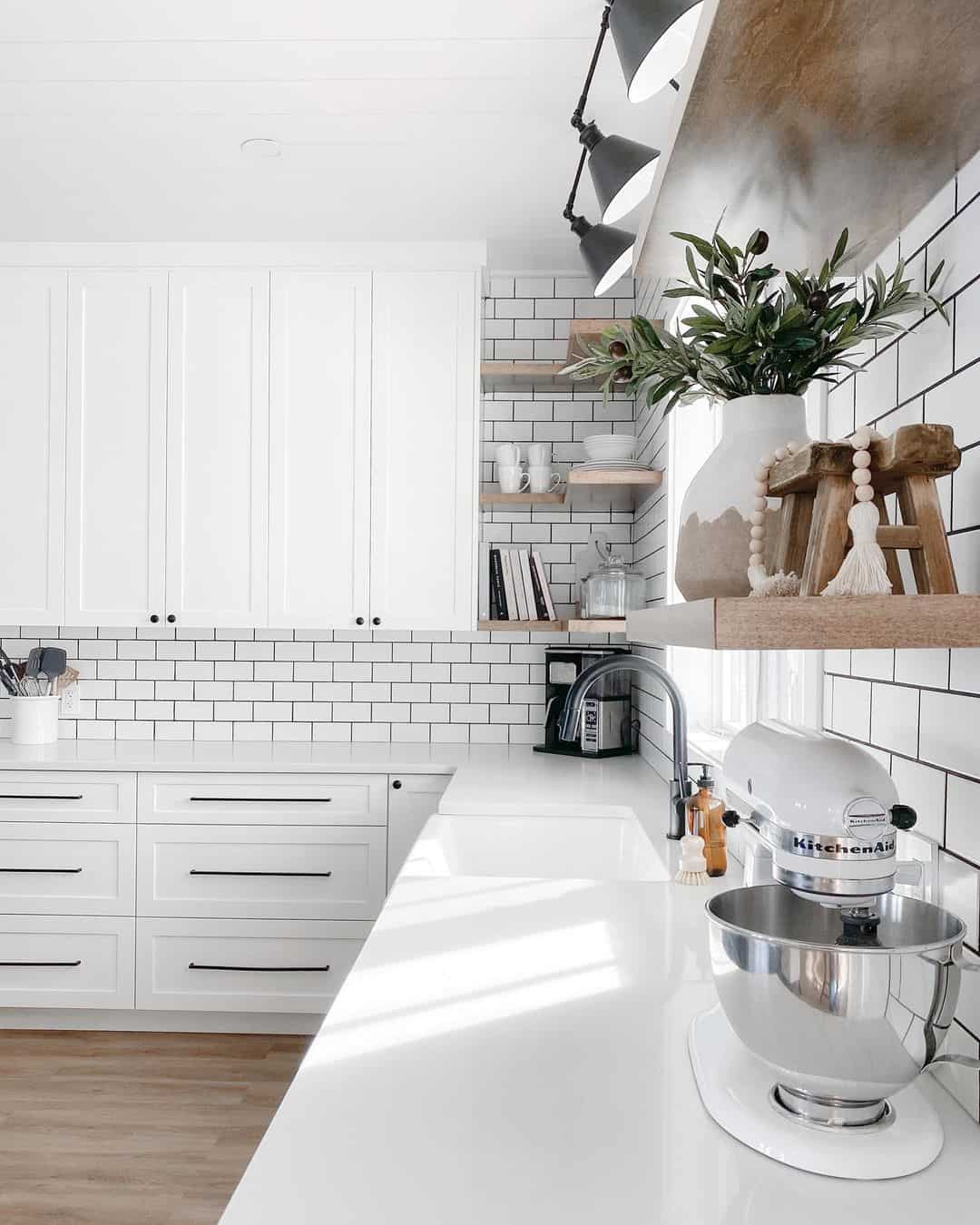 Credit: @this_simple_farmhouse
Shop the Look
White Quartz Countertops in an Open Kitchen Space
In this contemporary open kitchen, black farmhouse pendant lights illuminate a pristine white shiplap kitchen island, complemented by wooden farmhouse barstools and white quartz countertops. The bright white cabinetry surrounding the island, along with stainless steel appliances, creates a refreshing modern kitchen space.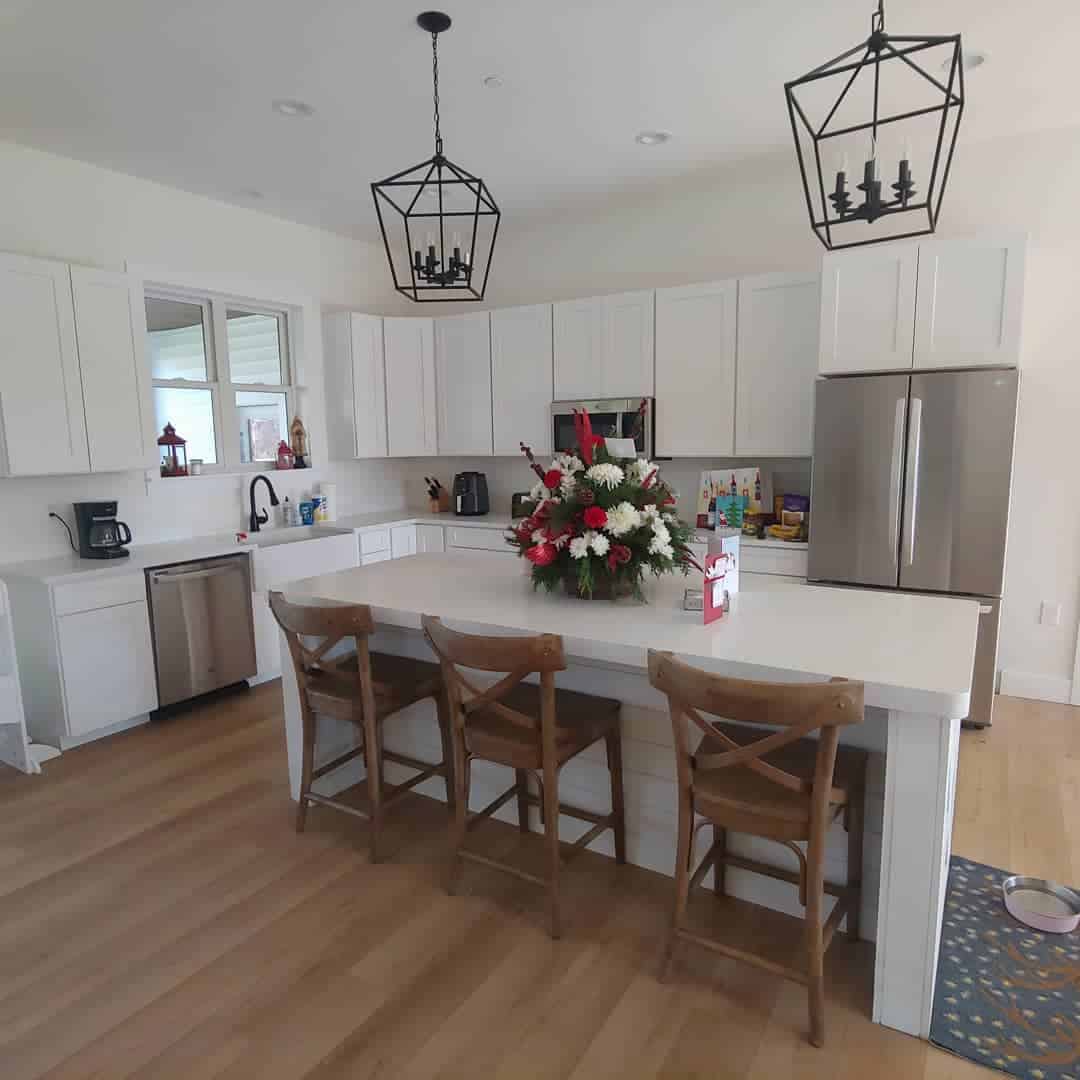 Credit: @thisnewfarmhouse
Shop the Look
Wrap-up
As we wrap up this exploration of classy farmhouse kitchen designs, we hope you've found inspiration for your own culinary haven. White quartz countertops serve as the canvas for these timeless spaces, marrying modern sophistication with the warmth of farmhouse charm.
Whether it's the shiplap elegance, monochromatic magic, or the allure of rustic accents, each design showcases the versatility of farmhouse style. Your dream kitchen may be just a few design elements away, and these examples have certainly set the stage for your culinary masterpiece.